Guide to the Anti-Social Behaviour, Crime and Policing Act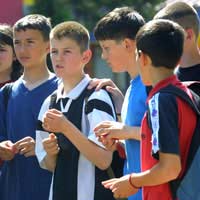 The Anti-Social Behaviour, Crime and Policing Act 2014 aimed to provide additional powers to those provided by the AntiSocial Behaviour Act 2003. It consolidates provisions in a number of other Acts including the Dangerous Dogs Act 1991, the Police Act 1997, and The Terrorism Act 2000.
Injunctions
Under the 2003 Act Registered social landlords can apply for an injunction preventing certain persons from attending the landlord's property. The injunction will be given in respect of people who cause nuisance or annoyance to neighbours surrounding a particular property.
The 2014 Act widened the circumstances in which the Court could grant an injunction:
The Court can now grant an injunction against people as young as 10 years old if they a) engage or threaten to engage in anti-social behaviour, and b) it is just and convenient to grant in order to prevent anti-social behaviour
If the injunction is made against someone under the age of 18, it can only last up to 12 months
If the person is 18 years or older, the injunction can exclude them from their home if there is a risk of the use of violence (or threat of use), or a significant risk of harm to others
The injunction can be requested by a number of different parties including the Local Authority, Police (including British Transport Police), a social housing provider and The Environment Agency
A power of arrest can be attached by the court so that the person can be arrested for breach of the injunction
Parenting Orders and Criminal Behaviour Orders
The 2003 Act introduced Parenting Orders. Parenting Orders can be given to parents to identify steps that they must take to control their children. In particular, this controversially introduced "parenting contracts" which make parents responsible if their children truant.
"We live in a council estate & it clearly states NO BALL GAMES on a sign posted placed on the wall where everyone can see it! Yet time & time again these young boys continue to play all types of ball games! Especially during the summer, they play until 10 in the evening. Recently one of them kicked the ball so hard that it smashed one of the windows."
It may be worth contacting your local council about this one. Unless the "no ball games" rule is a local by-law the police will be unlikely to take action. However if the children are causing a nuisance to local residents (i.e. by breaking windows), the Council may consider asking their parents to control them. Has a window only been smashed once though? If so, the Council may argue that a one-off event doesn't constitute a "nuisance".
The 2014 act created Criminal Behaviour Orders, which switch the onus back to the offender themselves. These can be granted if two conditions are met:
The person has caused, or is likely to cause, harassment, alarm or distress to others, and
The court considers that the order will help to prevent criminal behaviour
If the person is under 18 years, the order will last 1-3 years. If the person is 18 years or older, the order will last a minimum of 2 years, with no maximum limit.
It is a criminal offence to breach a Criminal Behaviour Order, which could result in up to 5 years imprisonment and/or a fine.
Dispersal
Under the 2003 Act, the police have the power to disperse groups of two or more people who have gathered in any public place, if their presence 'has resulted or is likely to result in any members of the public being intimidated, harassed, alarmed or distressed'. This does not however apply to authorised protests or pickets. The police may also accompany any child under the age of 16 years to their home between 9pm and 6am.
The 2003 Act also strengthened the powers of the police to move unauthorised travellers' sites. It gave the police powers to disperse a public assembly of just 2 or more people who were likely to 'cause serious public disorder, serious damage to property, or serious disruption' to the community.
The 2014 Act confirmed this power, and allows any police officer of the rank of inspector or above to authorise dispersal for up to 48 hours. It is an offence to not comply with police dispersal, which can result in up to 3 months imprisonment and/or a fine. However the dispersal can't prevent a person's access to their own home, work place, medical treatment, or education. (You may have to go a different and perhaps longer way round though.)
Public Spaces Protection Orders
In addition, the 2014 Act created Public Spaces Protection Orders. This allows police officers to prevent certain activities being carried out in a particular area, in order to prevent public nuisance. (For example no skateboarding on a particular public space.) The police can therefore disperse anyone failing to comply with that order. Public Space Protection Orders last for up to 3 years, but can be renewed.
Alcohol consumption
The 2014 Act allows police to prohibit alcohol consumption in public places. You may most commonly notice this in city centres, where bars will not allow you to take your drink outside when you leave.
There is a well documented link between alcohol consumption and the increase of antisocial behaviour and crime. The idea behind the prohibition is therefore to ensure closer monitoring of public drinking (bars should refuse to serve you alcohol if you are too intoxicated), and to try to curb antisocial behaviour and associated crime.
This supports the 2003 Act provisions which gave Accredited Community Support Officers and Rail Community Officers the power to issue Fixed Penalty Notices in respect of a number of offences. These include the consumption of alcohol in a public area, or using insulting or abusive behaviour likely to cause 'harassment, alarm or distress'. The use of threatening or abusive words or behaviour is also an offence under the Public Order Act 1986 (section 5).
"Every other night there are annoying loud drunks who feel the need to have conversations at 3am in the morning around the back. There was a fight next door a couple of weeks ago and since then (tonight included) there are people that being aggressive and threatening to each other: screaming, swearing all sorts of vulgarities, threatening to stab, kill etc."
Try reporting this to your local police (the non-emergency number is 101) as they can take action using Section 5 of the Public Order Act 1986. Note however that it will be a defence for your neighbours if they are inside and had no reason to believe that their behaviour would be heard outside their house. It may therefore be best to speak to your neighbours and explain that you can hear them shouting first.
Closure of Premises
Under the 2003 Act, the police can apply to a Magistrates Court to close residential premises either:
" Concerned in the use, production or supply of Class A drugs (usually cocaine) and which have been of serious nuisance or disorder to members of the public within the last 3 months, or
" Associated with significant and persistent disorder, or persistent serious nuisance to members of the public within the last 3 months
The 2014 Act widened this power, so police don't have to wait until nuisance has already occurred. The police can now close premises which have or are likely to result in nuisance to the public, or which have or are likely to be associated with disorder near the premises.The closure can last up to 72 hours (not including Christmas Day). However it can't prevent access to a person's home, or prevent the owner from entering their own premises.A copy of a closure notice must be fixed to the premises in a prominent place so it would be seen by anyone trying to enter. The police can also secure premises against entry, and are authorised to use reasonable force to carry out the closure if required.
It is an offence to breach a closure order, which can result in up to 51 weeks imprisonment, and/or a fine.
Recovery of residential premises
In good news for Landlords, the 2014 Act assists them in recovering residential property from misbehaving tenants. Under the 2014 Act, the residential premises can be recovered if:
The dweller is convicted of a serious offence that was committed in or around the area of the property; or
The dweller has breached a 2014 Act injunction in the locality of the premises; or
The dweller has breached a Criminal Behaviour Order.
Control of dogs
The 2014 Act helped to provide some clarity on the test for animal destruction under the Dangerous Dogs Act 1991. It states that the court should consider the temperament of the dog, its past behaviour, whether its owner was a proper person to be in charge of it, and any other relevant circumstances.
This is potentially good news for animal lovers, as it reduces the likelihood of a dog been killed due to being unfortunate enough to have an improper owner.
The Act also increases the sentences for the owner of a "dangerous dog" in the hope that this will promote more responsible dog ownership:
If the attacked person dies - up to 14 years imprisonment
If the attacked person is injured (but doesn't die)- up to 5 years imprisonment
If an assistance dog is injured - up to 3 years
Possession of firearms
The 2003 Act made it illegal to be in the possession of an airgun or imitation firearm in a public place. It is also illegal to sell a realistic imitation firearm unless the buyer legitimately needs it.
The 2014 Act makes it illegal to manufacture, sell, transfer or possess any prohibited weapon or ammunition. Further, the 2014 Act confirms that it is illegal to possess a firearm for any reason within 5 years of a person being imprisoned for a period of 3 months or more. The penalty for improper importation of firearms also dramatically increased from a maximum of 7 years to potential life imprisonment; a real sign of the government's crackdown on the "underground" firearm industry.
Graffiti
Under the 2003 Act, Councils can serve a graffiti removal notice on the owner of any street furniture (e.g. a bus stop or telephone box). There is however a defence to a graffiti removal notice - 'the defacement is neither detrimental to the amenity of the area nor offensive'.
"My next door neighbour has made huge bizarre chalk drawings on the side of his house. It's the first thing we see when we look out of our door or window. He does them on his driveway too but the rain washes them off. However, it doesn't wash the chalk drawings from the walls. It's bizarre and unsightly and is blighting the street and is making us depressed."
If the drawings are making you depressed, try speaking to your neighbour. Can he draw them on a side of his house that does not face yours? You could speak to your local council and ask them to use their powers under Section 6. However if the nature of the drawing is not offensive (i.e. not a swear word) then the council may be unable to make your neighbour remove it.
High Hedges
Town planning legislation controls the height of fences, (these cannot usually be over 2 metres high,) but hedges are not controlled by that piece of legislation. The 2003 Act attempted to deal with this issue by giving local authorities the power to investigate complaints about the height of hedges and if necessary order that their height is reduced. However Councils can charge a fee for dealing with these complaints. The fee varies from area to area and can be from a few pounds, to a few hundred pounds. Check with your local council for the cost of an application. Note that if you "dock" your neighbour's hedge without their permission, this could constitute criminal damage.
Other questions
"We have moved house to a generally peaceful and respected area but as we have two young kids we have been targeted by so called friends of the same age, constantly calling at our house to PLAY.. but as our child does not want to associate with these certain kids they persist to ride their scooters in front of our window (which is through the gate and down the drive!) and when they are asked to leave the property we get stones and anything else they have , thrown at us and our property... How are we supposed to deal with this as they are only kids?"
If these children are acting in an aggressive way (i.e. throwing stones at you), report this is your local police. The age of criminal responsibility in England and Wales is 10 years old. They can therefore be held responsible for their actions. Note that if the stones hit you, or damage your property, this is a criminal offence (assault or criminal damage).
"My next door neighbour's ... garden is a 'mish-mash' of strange dead wood and log 'features' that he seems to think are attractive..."
Unfortunately we all have different tastes, and as long as the "features" are not considered offensive (for example a large swastika), then your neighbour is entitled to have whatever "features" he wishes in his garden. If they upset you, can you take action to prevent you from seeing these, for example planting a small hedge at your property boundary?
You might also like...
My mothers neighbours who are Iranian play loud music at all stupid hours, and because off the language barrier it is difficult to even talk to them about any issues, and now because off this disbute the neighbour has smashed our window but the police can't do anything, there ignorant dogdy and disrespectful
CourtneyJade
- 22-Dec-17 @ 6:16 PM