How to Deal With Environmental Nuisances Caused by Neighbours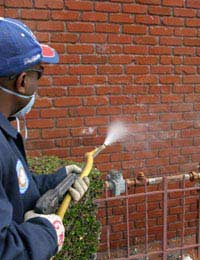 Graffiti and fly-posting, fly-tipping and burnt out or abandoned vehicles are just some issues which can cause problems among neighbours, and can ruin a community.
These are all criminal offences and can become a blight on a neighbourhood. Although these crimes may seem somewhat incidental to others that may be prevalent within a particular community, they can start the ball rolling into the rapid deterioration of a neighbourhood.
Dealing With Graffiti and Fly-posting
Graffiti are drawings or words that have been written, painted, scratched or sprayed onto the surface of any building, and fly-posting is the illegal promotion of events which are often attached or glued onto buildings or lamp posts in poster form without the express permission of the local authority or the owner of the building or property in question.
Both graffiti and fly-posting are criminal offences which can lead to fixed penalty notices of £80 being issued to the perpetrators by the local authority or police and, in some cases, a magistrate can impose even higher fines. If you witness graffiti or fly-posting activity, you should Report It To Your Local Authority's Environmental Health Officer.
Your local council is usually responsible for cleaning up public buildings, street furniture and public monuments, although in some cases, such as with telephone boxes and bus shelters, for example, it's the responsibility of the company who have placed them there to remove the graffiti or posters. You should report any instances to your local authority who will get in touch with the appropriate companies, if it's not their direct responsibility to remove it.
If a person's own property has been defaced by graffiti, many councils will offer a free or subsidised service to help with the removal, although you would need to check first.
Dealing with Fly-tipping
Fly-tipping is the illegal dumping of waste materials, often discarded bulky furniture, or any other form of rubbish in an area which has not been licensed for these purposes. Often it involves a vehicle simply dumping rubbish at the side of the road or in a nearby field or patch of waste land. This is a serious offence and fines of up to £20,000 can be imposed on fly-tippers, as well as their vehicles being seized.
If you witness a fly-tipping incident, you should take down as many details as possible. This should include the time, date and location of where the incident took place, as well as a description of the vehicle, people, material and, if possible, the registration number. Obviously, the more detail you can recall, the more likelihood of bringing the perpetrators to justice.
Contact your local authority as soon as you can after you have witnessed a case of fly-tipping. It's important to do this quickly as there could be dangerous items such as disused syringes, broken glass, asbestos or toxic chemicals in the rubbish or, alternatively, if the rubbish has been dumped near water, it could contaminate the local water supply. What you shouldn't do is to interfere with the rubbish because of the dangers of the waste as outlined above.
Dealing with Abandoned Vehicles
There are several reasons why a vehicle may be abandoned. It may have been stolen and used as part of a crime, or the owner may leave an unlicensed or untaxed vehicle rather than spending money having it towed away and scrapped.
The real issues surrounding abandoned vehicles is that they could be part of a crime scene, they attract vandalism and rubbish, and they may be at risk of possible explosion.
If you know or suspect a vehicle has been abandoned, you should contact your local authority who will investigate matters further. They will usually work in conjunction with the police and DVLA to establish whether or not a vehicle constitutes being abandoned, and will try to trace the owner before removing it. Obviously, if the vehicle has not been stolen or involved in any form of criminal activity and the owner can be traced, they will be liable for any removal or disposal costs.
If the vehicle is deemed to have some monetary value and the owner is traced, they'll be given a week's notice to remove the vehicle themselves. However, if the vehicle is only fit for the scrapyard, it can be removed by the local authority without any need to give notice to the owner.
We all want to live in neighbourhoods which are safe, clean and environmentally friendly so if you see any instances of the above, the sooner you contact your local authority, the sooner you can be rid of the problem and prevent a particular problem from escalating.
You might also like...
We live in a block of council flats and relatives of the the flat below continues to dump rubbish in communal bins leaving them full for no one in the flats to use. Is this classed as fly tipping due to the rubbish being put into a bin and not the side of the road?The same people dumped animal carcas and remains in clear bags prior to this. which had to be removed desposed of and replaced with a entire new bin. The entire block of flats then get charged a yearly fee for bulky waste and services of extra waste removal all by someone that doesn't live in the flats.Council have been informed but nothing ever gets done about it.
Sputnik
- 17-Oct-20 @ 8:13 AM
I have a neighbour dumping wood into my garden, I know where it's came from, should I put it back to where I seen it?
Muppetbanjo
- 9-Oct-20 @ 2:44 PM
Neighbor leaving waste bin with too full and not closed , waste flying everywhere.what to do and whom to inform
Paul
- 16-Sep-20 @ 8:18 PM
My next door neighbour who we are not friends with has dumped a Material on are side of the shared drive way they have purposely done this we have proff on the ctv we have with there face shown that they have put it there should we report it to the cops and is this allowed?
Unknown
- 10-Sep-20 @ 7:44 PM
My next door neighbours have been putting all their rubbish behind my shed in my garden. I am in housing association property. They have done this before and the HA asked them to stop doing it. I paid someone to clear behind it. I spoke to the family behind my house yesterday who said they'd seen my neighbour dumping again, and there's a mattress behind there now. The previous tenant had built two sheds at the bottom of my garden across the width, so cannot get behind them at all. The only reason I managed to get it cleared last time is that the family behind me were changing their fence. I have only just become on speaking terms with my neighbours after the previous time, so I feel really disgusted and upset they are still doing this. What can I do?
Fed up
- 30-Aug-20 @ 12:30 PM
Opposite us communualbins which is behind my wall in my back garden. First the smell coming from the bins means we cant sit in our own Garden as the smell makes us feel sick, we sat in our Conservatory today with the window open and again the smell meant we had to close the window. I have 2 Kids who normally stay in the garden for most of the day but they don't want to go outside anymore saying the smell is to bad. Secondly we are getting rubbish thrown over our wall exactly where the bins are so it looks like people are throwing rubbish into the bin and missing which means it comes in our garden. One of my kids is nearly 2 and we are also scared of him picking up the waste in case it is something sharp or worse already contct with councel they said private company they have so i dont know wht to so
Brittany
- 24-Aug-20 @ 11:07 PM
My neighbour has on several occasions thrown half eaten fruit ontomy property. Some has hit my car on the front drive and some has landed on my patio at the rear.
Goink
- 10-Aug-20 @ 11:37 AM
One of my neighbours apparently just leaves bin bags full of rubbish, and cardboard boxes on their doorstep. This is in an apartment block and the common area now smells quite bad, and there has been an outbreak of fruit flies. Who do I contact about this? I am afraid there will be worse outbreaks, mice for example, also the smell is unbearable, it looks like there is months' worth of used tampons inside one of the bags.
Jacques
- 26-Jul-20 @ 1:09 AM
We have realised today our neighbour at the end of our garden has been dumping Thier waste behind our shed on my side of the fence . The reason we were up there is cause the bottom of the shed has rotted away . We now realise the it is duethe waste that has mounted up behind it . Garden waste that has formed in to soil am I within my rights to demand he move it ? I didnt put it there so do not feel I should be clearing it out . Also pretty annoyed about the damage it has caused to our shed
Lou
- 25-Jul-20 @ 8:26 PM
My neighbour uses the land at the back of my house as their personal dumping ground, its a shared access area part of which my land but is not big enough to use because of the access issue. Is there anything I can do about the dumping?
Vexed
- 14-Jul-20 @ 7:15 PM
Last 2 wkend my neighbours keep throwing eggs over the wall into my yard
Pepsi
- 12-Jul-20 @ 8:57 PM
Neighbour is retired has kept a trailer at side of his house for over 20 years. He cant see it. It is my view from all my front windows and seen by everyone who visits me. It is constantly overflowing and a complete eyesore. He only empties it when he basically cannot squeeze any more in. He has now added a boat to his collection!! Can I do anything about this? Our rates are £1700 a year. They are both "professional" people who obviously dont give a damm about their neighbours.
Annie
- 9-Jul-20 @ 10:56 AM
My problem is my neighbour has dumped rubbish in there garden for years. They have Piles of household waste, a mattress Stuffed near my back door which smells horrendous, dog waste they scrape into a corner. They rarely bother to put out there bins for collection so the front garden is piled up too. Rats are a regular visitor but the flies at the moment are unbearable. I complained to the housing association I rent from 2 years ago and they have done nothing. Who else can I complain to?
Jaqjaq
- 29-Jun-20 @ 4:23 PM
My neighbours have dumped their garden waste and wood/plasticbetc in our garden and created hills out of soil from their garden left overs in ours. Is this illegal??
Angry
- 24-Jun-20 @ 8:48 AM
My neighbour has had her drive cleaned it has left a mess of sand and mud outside my house on pavement and in the gutter. Is there anyone I can complain to ? No good asking her as she is neighbour from hell long as her side is ok she doesn't give dam about anybody.
Annoyed
- 22-Jun-20 @ 2:16 PM
My neighbour has had her drive cleaned it has left sand and mud on the path and gutter at front of my house is there anyone I could report this to. No good saying anything to her as she is a neighbour from hell long as her property is ok .
Annoyed
- 22-Jun-20 @ 2:13 PM
I have a neighbour that has dumped rubbish in my garden I believe to try and provoke me, is this fly tipping and what would be the fine for this??
Bored
- 15-Jun-20 @ 7:15 AM
We have a neighbour that's constantly using the access for moving bins which is causing damage to our property he does have room outside his front where bins could be kept like all our other neighbours do. I'd just like some advice please. Thank you
Hanzie
- 9-Jun-20 @ 8:25 PM
I live in houses converted into flats above shops, in the ground floor flat. There's about 7 people living in the 2bed flat above me. They don't speak any English and they've been consistently dumping household waste on the flat roof below my bedroom window. There's rats and mice everywhere, it's disgusting. I'm too scared to approach them about this as it's all men. Are they allowed to do this? None of them appear to work, I've been on holiday from work so was indoors for a week, no one up there goes to work and there's someone there 24, 7. I'm at my wits end over this, it's doing my head in!
Loulou
- 1-Dec-19 @ 11:44 AM
My problems mild compared to the comments I've read here but I live in a converted house with two flats. I share two general waste bins and one recycling bin with my neighbours in the building which get taken biweekly. My neighbours are wasteful. Both of the gen waste bins are full a few days in, which means by the time the bins are collected, the bags are piled up next. We're lucky our bin men just take them. But the recycling bin is a state. They throw whatever in there which means I'm cleaning it out every other day, and even when I do, they manage to get that last bit in there before the recycling men come, which means our bins don't get taken. I've spoken to the council who says it's up to our landlord to deal with them but he refuses to. And the neighbours aren't nice, the don't like being told if they can't do something so dealing with them for me is impossible, it makes it worst. I'm tired of getting my clothes and self filthy digging out their rubbish from the recycling bin. So what can I do?
JVR
- 30-Nov-19 @ 4:38 PM
My neighbour has taken to storing piles of his household rubbish on his property boundary but right under the only opening window of my living room. If open the window just get smell of rotting rubbish. I have seen rats on the rubbish pile in daylight! He is an unapproachable idiot we have found. What can I do?
Bobby
- 23-Nov-19 @ 8:27 PM
Hi, we live in a block of 6 flats, new tenants have moved in.The ground floor flats have a large front garden each and the other 4 flats have a communal garden at the rear.My elderly neighbour had paid for part of the garden to be made into a patio, with a beautiful raised garden and she had bought a bench so she could sit outside and enjoy it.The new tenant has broken up her bench without permission. This new tenant is a bully and had done a number of things which has upset the rest of the tenants.Can we charge him with vandalism?
Lainey
- 15-Oct-19 @ 4:54 PM
We have a neighbour about 1/8th mile away, and he is renovating a large house which is fine.What isn't fine is he is dumping contruction rubble and rubbsih onto a piece of wasteland between our houses (neither of us own it...a local farmer does) and having his workers park there.This is of course, once my husband and I cleared out the bricks/metal, etc flytipped there. And,we have to stare at it.I understand he is working on the parking area, so the cars I can take temporarily.But the pile of rubble is 8 feet high and growing I've asked politely six months ago, when is that going to be taken away...oh, he says, I've taken away 80 tons of rubbish so far out of my garden.Right, but what about this pile here.Oh, I'll take it away once it is a wagon full.Believe me, it is more than a wagon full.I'm just sick of it.
buglet
- 27-Aug-19 @ 11:36 AM
Hello there, I'm a house owner and in our neighbourhood of terrace house we have alleyway at the back, and everyone has access to it . I always clean my side of weeds and making it nice and tidy like the others do but after cleaning there's always someone who will dump their rubbish on my side. I don't know who it was. Pieces of wood, metals, pvc and plastics. I'm getting fed up with this, before I can tolerate and just clean it but that was when we were new in the area but as time goes. There's always some pieces being dumped. Just can't pinpoint and very scared to ask them. This happened again yesterday. Need help and advice please. What to do and can I report this ? Is it fly tipping? HBM45
HBM45
- 28-Jun-19 @ 12:56 PM
I live in a flat and have one of those old bricked off sections in the garden that used to be for all the wheelie bins before they were taken away and replaced with street dumpsters. One of out neighbours have decided this is the best place to discard their unwanted bulk rubbish like a bed, mattress, and buggy. I am very afraid of confrontation and do not want to go up to them face to face about this issue. Is there a way to get it reported as it is a shared garden space?
Thorncraft
- 26-Jun-19 @ 9:01 AM
The land at the side and rear of our property (beyond our enclosed garden) is very untidy, and resembles a scrap yard. There are 5 abandoned vehicles which have not moved for over 10 years, and have just been left to rot. There are 3 truck body containers which are in a dilapidated state. We live in a beautiful rural area, and the land is visible from the road, for everyone passing to see. Beyond this area, there is a field, (which I am guessing is green belt land) the field sits directly behind our garden fence, this field is also owned by the same person. He has abandoned 2 high sided vans in the field, one has been there more than 5 years. And another van has been dumped recently,this one is about 8ft from our garden fence, and has been left in an elevated position, (hill incline) which makes it more visible and it has totally taken our view from Our garden and house. He has done this intentionally, He has said in the past that it is His land, and He can do what He likes with it. Surely, He shouldn't be allowed to leave vehicles to rot, whilst blocking Our view, intentionally.
Stressed Sue
- 21-Apr-19 @ 8:15 PM
Question We have moved onto paying for garden waste to be collected. On day of collection I found someone had put garden waste in a black bag in my dustbin. I assumed it was next door so took it out and put it at the side of their gateway. For a couple of days it moved between us. Came home and it was in my gateway. I took it to the local recycling and left my neighbour a note saying this was not my rubbish and I had disposed of it also do not put bags in the brown bin. My neighbour returned my note stating the bags were not hers and if I go near her car again she will take her web cam to the police when I am caught scratching her bonnet.I have never been near her car.Where do I stand?
Worried
- 28-Mar-19 @ 12:27 AM
I have a young neighbour with his own gas company. Most of the people living in the cul de sac have lived here since the houses were built around 25 years ago.This person has lived next door for the last 3 years and has made ours and others lives a misery.He has company vans arriving early morning banging doors. He has blocked the pavement with rubble and although his drive is the biggest on the estate with parking for around 4 cars, he still parks on the pavement. We have had words with him several times, he is noisy, arrogant and obnoxious. Our neighbour opposite has been in tears several times.She lives on her own and the lights he has all over the front of his house shine right into her bedroom. He has, of course, a hot tub which is noisy and a noisy jet wash which he has used as late as 10.45pm. He has threatened us and although we cannot point the finger (not allowed without concrete evidence) last summer our lovely car was sprayed with yellow paint in the middle of the night. He has a very volatile friend who did some work for us (badly) and he has also made our life a misery by parking his old noisy van outside our house when actually working somewhere else.The police know all of this, we reported our concerns a long time ago and they did nothing. We knew it was a matter of time before something did happen and when the car was spray painted the police still weren't very helpful. We now live with security lights and CCTV - something I never thought I would have to do.My husband and myself are in our 60's and our lives and the way we live has changedwondering what is going to happen next.A bag of empty McDonalds cartons was thrown into our front garden last week and today I found an empty beer bottle on the lawn.We have always wanted to grow old in this house but now I don't know, we don't feel safe anymore.
Lin54
- 10-Mar-19 @ 6:21 PM
We all live a Mabws bridge caravan park Mathry Haverfordwest and one of neighbours has starterd dumping rubbish over this year in her garden and no matter what anybody says or does nothing is getting done to remove it or stop it. The mound is getting bigger and more stinks and this is causing rats etc. When we do complain we are just given excuse after excuse why the site manager and site owners will not make them move there stinking rubbish.
Jeggin
- 3-Dec-18 @ 2:38 PM
We have wasteland to the back of our property which is overgrown and is a breading ground for vermin which tend to find their way into my garden, even when the children are playing. I have tried for years to find out who owned the land via the council, land registry neighbours etc. to no avail. My 2 year old grand daughter had a close encounter with a rat in our garden, it was only the vigilance of her mother than stopped any damage being done I decided after this incident do something about the land, i.e clean it up at my own expense, I have cleared away the waste, stripped the land and am now in the process of adding top soil, the owner of the land has suddenly appeared enquiring about what we are doing, so we explained. if he decides to prosecute, what rights do I have?
PM
- 29-Oct-18 @ 10:53 AM