Legal Aid Cuts Make Fighting Disputes More Expensive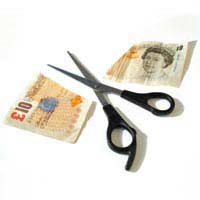 Changes to the legal aid system could mean it becomes more difficult for people to pursue a claim against a problem neighbour in the future. In late 2010, it was announced that the income for people who provide legal aid for civil cases could be cut by up to £154m. This will severely restrict the amount of money available to people who needed help pursuing cases such as boundary disputes.
A consultation paper, published in November 2010, outlined proposals that would see over half a million civil cases being denied legal aid (and not just neighbourhood disputes, but divorce and family matters were also likely to be affected). The court fees will be cut by 10%, but as most people who become involved in legal action will be able to tell you, it's not the court fees that are the problem, it's the ever-escalating solicitor's costs.
Legal aid firms are likely to lose between £144m and £154m per year due to the cuts, which are being proposed to save the ministry of Justice around £350m by 2014/15.
What if You Can't Afford Legal Costs?
If you have a dispute that you might be
Considering Taking Legal Action
, the advice from the Ministry of Justice is to try alternative dispute resolutions first. The Ministry has also suggested that funding for cases that would have been supported by legal aid in the past could be taken from the interest generated from solicitors' client accounts, or even a new 'supplementary' legal aid scheme, where money is taken out of the damages won by successful claimants who were given legal aid to fight their claims.
If you need advice and can't afford a solicitor, the alternative dispute resolution services on offer include other formal ways to resolve disputes such as:
Expert Determination
RICS Neighbour Disputes Service
Mediation is the only method that leaves the decision-making totally down to the people involved. The mediator is simply a facilitator and doesn't make any decisions. Anyone you choose to be a mediator should have a background in property law.
An expert determination is a contractually binding decision which should be carried out by an expert who will thoroughly analyse all of the documentary and the physical evidence, then draw conclusions based upon his analysis of the evidence.
The RICS Neighbour Disputes Service is a part-expert determination and part-mediation service for boundary disputes, which costs over £3,000, and can be paid between the parties or by just one. A chartered surveyor has to be appointed jointly and there are no solicitors involved, keeping the costs down. It seems a lot of money, but to put it into perspective, taking this sort of case to the county court can easily cost in excess of £20,000.
The Future of Neighbour Disputes?
The director of the Legal Action Group said that he believed the cuts meant that the government was, in effect, walking away from 'ordinary members of the public', and they were all about making quick savings, which would devastate civil legal aid services without causing too much political damage.
There are possibilities for more no-win no-fee personal injury style litigation for boundary disputes or similar cases, but these tend to be expensive and time consuming, and don't follow the same guidelines as personal injury claims. So it's hard to imagine that this style of litigation will be adopted for protracted neighbourhood disputes.
The Ministry is reviewing civil litigation as a whole, including looking at the no-win, no-fee (or conditional fee) agreements, and is already discussing abolishing the practice of getting the fees and insurance premiums recovered from losing parties in civil actions, and instead allowing legal fees to be paid out of the winning party's damages. It's likely that taking any neighbour-related case to litigation will become more difficult and certainly more expensive in the future, so watch this space for updates.
You might also like...
@alpha1. We have a new article about the antisocial behaviour act. Take a look
here
.
ProblemNeighbours
- 27-Aug-14 @ 11:16 AM
try asking the council to issue an asbo agaist the people concerned
alpha1
- 27-Aug-14 @ 9:46 AM
Moved into upstairs flat beginning June. Lady living alone on ground floor is one of those who smiles to your face, but she's done the following behaviours since I moved in:1. Pouncing on me soon as I leave, or return home, normally it will be a complaint, but she says it with a smile all the time, the complaints are unreasonable (she complained that my little fan in my bedroom was a noise disturbance to her, claiming it kept her up all night, and that when I use my stairs it is 'thunderously' loud and gives her a migraine) I hardly use my stairs2. Deliberately leaving her front door open when my young son is over, with her Staffordshire terrier right there, unleashed and barking, then later going on about how vicious her dog is, how he would kill another dog if it came into the house3. Causing late night noises, most recently outside by my front door, this was at midnight, and it scared me. I realised it was her because next day she told me it was her, laughing. Gardening or hammering just outside my window until 11pm. Allowing her dog to constantly bark and growl outside my window all day long.4. I am supposed to have half the back garden, by contract. But she has taken over the garden. I cannot access it because of the aggressive dog.5. She was on and on about me putting in carpets, claiming the noise without carpet was bothering her. I finally got the money to put in cheap carpet. When the carpet van arrived, she phoned the company to complain they were 'blocking her drive,' when they weren't. She then moaned that it was still noisy because it didn't have underlay. I am hardly home.6. Buzzing me regularly just as I sit down to dinner, within minutes of me getting home.She has lived in her flat for years and has loads of family nearby. So I am scared to complain. Scared of retaliation. What do I do??? Please any advice appreciated. Oh, and before I signed the contract to move in, she tried to put me off, claiming that the heating was 'astronomical' and that the area had a bad stench often from the sewage. I feel she is not happy I am here, and it's because I am not from the UK, I think this is about that, cause Ive done nothing to cause her to dislike me Ive been nothing but polite
dani
- 3-Jul-13 @ 8:44 PM
my next door neighbours and i had an altercation about a year ago it has come to a head this week and since then i have had verbal abuse from the family everytime we come in contact this cant be avoided as we share a common path what are my options to stop this it is making me very anxious,my husband andi are pensioners not that makes a lot of difference but we could do without the harrasment.thank you
rothesay
- 3-Jul-13 @ 2:24 PM
my neighbour harassing my child. my child age is 11 years old. please tell me what action taken me for my neighbour.
SANGITA
- 17-Nov-12 @ 7:19 AM