Letter Template: Neighbour Blocking Shared Access Way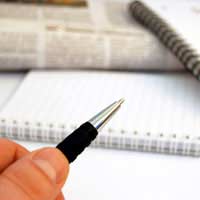 Many older properties share access rights either across a rear garden or via a shared passageway enabling access to individual rear gardens. Details of the nature of access will usually be described in your title deeds.
In general neighbours treat these shared areas responsibly and they work well as access routes. We do however, receive plenty of comments from people experiencing significant problems. So if your neighbour hasn't considered that access for a pram or bin is required, or they're simply unaware that the area must be kept clear, what can you do?
Talk to Your Neighbour
Our advice as always, is just pop round and have a polite word. If your neighbour's never in when you knock, or you don't feel comfortable talking to them, start with an informal note. If this does not have the desired effect, you might want to consider a more formal letter advising them that you may consider further action if the problem is not addressed.
To help you, we've provided sample templates for both an informal note and a subsequent letter below:
Initial informal note:
Dear [name]
Just a quick note regarding our shared access way. I've/We've noticed [bin bags/ a bicycle/ chairs etc] is/are currently restricting the access.
If these are yours would you mind keeping them somewhere else? If not, we'll do some further investigations to find out who they belong to!
Thanks and see you soon
[Name] [Your house number]
If this does not resolve the problem send a more formal letter as in this example:
Letter to Neighbour About Blocking a Shared Access
[Your Address]
[Neighbour's name]
[Address / 'Delivered by hand']
[Date]
Dear [Neighbour's name]/[If unknown, just address as 'Dear Neighbour'],
Re: Shared access way
I/we live at [address], next door and I/we contacted you recently about problems using our shared access way.
You may still be unaware of this problem but [your bicycle/bin bags etc] is/are preventing me/us from accessing the [area e.g. garage] of my/our property.
There is a legal right for residents of both our properties to use the shared access way. In addition there are covenants in the title deeds of our properties which determine how the shared access way can be used.
By blocking the shared access way, you are in breach of these covenants. I would therefore be entitled to seek an injunction to prevent blockage of the access way, and financial compensation for the period during which I have been unable to use it.
I am keen to resolve this amicably; we are after all neighbours! I would therefore be grateful if you could avoid blocking the shared access way, at any time, going forwards.
Thank you in advance for your cooperation.
Kind regards,[Your signature]
[Your name]
If you'd like more information on dealing with more larger obstacles blocking access routes read our guide How to deal with environmental nuisances caused by a neighbour
You might also like...
We have rear access through an arch to parking 1 for each property neighbor other side of arch has a garage built on his space Constantly requesting the car to be moved in the shared turning space has his 3 bins and bags of building rubbish When asked to move he came round drunk and verbally abusive police called now its happened again advise please
Hi we live in a street with 4 houses we have an acces road on one side that we can use or drive around to gain access to the rear off our property our house is the 3rd house then ther is a 4th then at that side the road is private so no problem ther . The problem we have is that number 2 house which we have to drive past around the back have 2gates either side which open up to let car through the neighbour haven't claimed possession of the piece of road that runs through the gate but we are having an issue with them about getting through to the rear of our house ?
Andy
- 3-Mar-20 @ 11:15 AM
My neighbour has put a gate with key pad lock on my rear access. It never seems to work. Can I remove the gate. I have asked him to repair it but no luck
I too have a shared driveway and my neighbour and his family block me in all the time. He has almost come to hit me and has pushed my mum. The police have been called and still harassing my mum every morning. They are tenants the the housing association are doing nothing!!!!
Tmac
- 19-Dec-19 @ 10:47 AM
My dad owns lives on a piece of land given by his deceased father.he was born on said land and is now 77 years old and still lives there. His sister is now the owner of the land and wants him to buy the land. He has no problem doing so, except he has a walkway of approx. 18 inches to walk up to his house at present. There is a ttec pole in the middle of this walkway. On the cadastral sheet showing the entire property the specifications for the access way is 1.52 meters. What can he do?
Tasha
- 18-Nov-19 @ 10:44 PM
Ive got a neighbour who has deliberately blocked shared access which is on both house deeds. He's abusive and threatening on sight to me. Police have been called to him 3 times. Hes been told not to speak to me under threat of prosecution for harassment.He is after me hitting him or doing something that will cause me to be arrested for a crime. His landlord couldn't care less. Police aint much better.After moving a load of scrap blocking my access he moved it back with his brother deliberately blocking my access.So i moved it out of the way which i was videoed with the police being called accused of criminal damage harassment smashing up his back garden and items. Boy the lies that he told. Police didnt even attend. So now hes put a fresh new shiny mortice lock on the access gate that can only be accessed under his cctv. I have no key.Next stop legal advice to see if i can legaly open the door without a key.5years of this rubbish he thinks its a laugh.
Him
- 29-Oct-19 @ 5:54 PM
The owner of an adjacent property also owns the deeds to the path that runs along the back of our short terrace. Permission was given some years ago for the said terrace houses to also use the path as access. Do they have the right to block the path, in any way? Can they stop a gardener from using the path to reach our garden? Can they stop my son-in-law from removing my old cooker, from my property, via this same path?
Helpneeded
- 1-Oct-19 @ 7:16 AM
Hi we have owned plots for over 16 years without any problems from others as we were told when we purchased our right of way into plots was protected .nobody owns any land other than us there so gated.we went away and when we returned had papers on gate saying to remove as a land agent had purchased the rights of ways ,he made our turning points at right of way into plots .now the buyer has dug up the rights of way and parked ten cars on it and we cannot access our fields due to deep soft mud .this person is also trespassing g on our land and cutting down our bushes and fruit tree but we cannot prove it's him as we are not living there .
Peewee
- 30-Sep-19 @ 5:12 PM
HI , we live in a terraced cottage since last January and have to go through a stable like underpass then past our neighbours house to reach our cottage, our neighbours garden is at the back of our cottage and really big, to access it there is an asbestos like shell of a garage , quite large so they walk up and down regularly. The problem we have is we park our bicycles neatly on the side against the wall through the passage way which leaves over 2 meters of ample space for us all to walk through width ways, they park their scooter which is far larger and yet the other day they dumped our bicycles outside our property where they can get wet and my sons tools which were there to be dumped this weekend. they never clean outside there house and their dog poos often along our bit and wanders in my house and I never say a word, just want to know my rights and whats the best course of action as the man seems to be quite obnoxious about it all.
Faeaki
- 20-Aug-19 @ 8:44 AM
Neighbour parking outside my house for no reason other than causing a problem
My neighbor and I shared a driveway at the side of my property 6ft wide 3ft is theirs and 3ft is mine, but they wouldn't let me use it. My lawyer claim that their side is now not shared because of a error or mistake on their deed that says their side is private. This doesn't make sense to me, is this possible? Can I do anything to fix this?
Ameer
- 13-Jul-19 @ 5:56 PM
Hi Our house is rented however we maintain our garden and in2006 we had conifers putin to form a privacy fence. We have just noticed that out trees are all now dying as their tops have all been chopped off by the neighbours on the other side of the trees only are left without been chopped as we think they could not reach them but 6/7 have been chopped and are all dying now. we paid a lot of money to plant these trees and we loved our trees as they where doing the job they were meant to do. We are left shocked and upset what should we do/ Please advise Shelly
Shelly
- 1-Jul-19 @ 7:59 PM
Hi, Myself and joinkng neighbors share an accessway at the rear of our property, the access has a secured gate that we all have a key for. There has been a house recently built where the wall to the access is we kindly allowed the owner/builder to use the access way when building, and have sneakily added a gate to access way also. As the access way is visible on all our deeds, does this new house need to have proof of access on deeds in order to share? How do we approach the situation? Please advise.
Steph
- 17-Jun-19 @ 5:14 PM
I live in a four flat block of social housing. Each flat has it's own driveway . The upstairs neighbour has put a fence around her driveway with a gate. She has also put a gate outside the communal hallway that we all have to use to get bins out. She has now closedall the gates and has put a bench up against them so that they cannot be opened. There is another walkway to use. But this is the one that is more convienent for me. I own my property and .she does not. Does she have the right to block my right of way .
Ru67
- 18-May-19 @ 1:48 PM
I own the alleyway at the back of our roads. All the houses have an easement to cross over the alleyway but one of the owners has started building an extension to his garage and is using the alleyway to put down scaffolding and a skip. As the alleyway is privately owned and is meant to be used as a thoroughfare, can the builder do this? Can I ask him not to use the alleyway in this way? Thanks in advance Louise
loc
- 30-Apr-19 @ 1:30 PM
HI there, We have a side and back access road that goes round the back of our terraced houses. Its on the deeds to the house form 1900 that we have rights of way access down the back and out of the side onto the main highway one way road. There are double yellow lines in front of the access, so people cant park on the road but some local residents are parking their cars in the entry of the access road... The council say they cant do anything as its not an adopted highway, and the police say they cant do anything as its not a driveway.. We have had heated arguments with various neighbours and need to stop them parking there asap. We want access for bins, kids bikes to get out of the back garden, and the odd tip run, but when people block the side road you cant get anything out... Any ideas, apart from bollards or big rock which would totally block it for vehicles...? cheers
Paul
- 20-Apr-19 @ 7:23 PM
I live in a cul-de-sac. There are 6 terraced houses. I live in one of the mid terraced houses. I have about 10' of front garden lawn and so are my neighbours on either side. beyond the front grass lawn the area is tar mac. We all have a car parking space. There are no lines to separate the spaces. Also we have an extra space on the opposite side of the tar mac- grounds. My neighbour has putup a 3' wooden fence separating our car park spaces. I find it hard to open my car door. The fence aligns with my front door which looks awful too.Although I have about 10' garden in the front it is an inconvenience too. The car park is used by all 6 residents. Can he put up a fence on the tar mac? What are my rights.
pushpee
- 20-Mar-19 @ 1:38 PM
I live in the upper flat of two and access is via a front gate but my neighbour keeps wedging in a block of wood so his dogs don't get out ( he lets them both roam free unsupervised).The Fire brigade paid a visit recently after Grenfell and said all evacuation points should be unhindered but it takes me forever to undo the wood so I can get into my front door. This must be a health & safety issue - surely human life is more valuable than a dogs life?
Janeyb
- 13-Mar-19 @ 4:50 PM
Hi There I own a property which I usually rent out, however due to divorce I am selling the property. It is a semi detached house, with a driveway at the side. The neighbours driveway runs right across the front of my property's front garden I have had a few people like it but don't like the way next doors driveway runs right across the front of my property, as the neighbour parks his car, on his driveway, but right in front of my property's living room window. Is there any law to say he cannot park right outside my property's window and blocking the view? Even though it's his driveway ????. Thanks
Hello there.I own a shared top landing flat situated next to one other, access through stairs.Properties are both owned and let by landlord's. Having approached the neighbour then landlord, asking firstly not to make the landing a storage area for a bike, garden seat, bin bags, table and chair, said neighbour is now being difficult by placing items at either side of entrance at top of stairs, giving as little area of a 2.5ft gap to walk through. Can the tenant be told to clear the access and by how much clearance? I have with little response, asked the landlord to take action but if done, the situation is now getting worse by tems being placed nearer the stairs.Where do I stand with this?Many thanks for your attention to the above.
telegraphist
- 6-Mar-19 @ 11:13 AM
We share an accessway with 2 other detached properties, it was designed so that we could all manoeuvre our vehicles so as to drive on and off forward due to the close proximity to a main junction and traffic lights. Both our neighbours think it's theres as extra parking and the original builder has since provided us with tracking of all properties to prove the area is only large enough to move a car around when not obstructed and our deeds say not to obstruct. Both properties are currently being marketed and buyers are being told that both have more parking than they actually have which would greatly interfere with our rights and difficulty in getting to and from our property. It actually affects us more than the other 2. What can we do to stop this as the estate agents will not change the particulars on either.
Angelb
- 28-Feb-19 @ 9:51 PM
We live in social housing bungalows, and the area between ours and next door is gated, to reduce unsocial gatherings. For the past 6 months one of our other neighbours has been using the gated space as their own private garage (it measures approximately 15 ft sq), but this means that we can no longer take our bins from the front to the back when doing the garden, or even wheel my disabled mother through in her wheelchair, as it's completely blocked with motorbikes. We've tried speaking to the social landlord, but each time we phone, it's a different person and they don't understand the problem, and haven't been out to view it either. Is my neighbour allowed to simply claim this space as a private garage and what if anything, should my landlord be doing about it? Thanks in advance.
HJohnson
- 22-Feb-19 @ 7:08 PM
Myself and my neighbour both live in ex local authorities properties and I have a legal right of access from my back garden around his property to put out bins and get them back in as well as access for workmen to get round to work on my property. This access has been since houses were built 50-60 years ago and my neighbour has put up a barrier at the side of his house and across the gate to my access stating he doesn't want anyone cutting through his gardens. I am disabled and dragging bins up 5 steps and through the house to put out is not easy, can he block my access
Liz
- 25-Jan-19 @ 10:56 PM
Halo,I need advise I bought land where my land agreement shows that I have an access road but when I started building process my neighbor who at same time was among the witnesses claimed that she bought the road hence denying me access. So what should I do.thanks
Dav
- 23-Dec-18 @ 3:56 PM
Hi thank you in advance for your considered thoughts on my dilemma. We have recently had a new elderly neighbor move in. Our property is one of four others that share access to a privately demised parking courtyard each property has a garage and one parking space demised in front of each garage door. Car circulation within the parking courtyard is very tight and it relies on all residents parking considerately and mutual respect by not obstructing the shared access route in. My issue is the son and daughter of the new neighbor are each parking their cars a Discovery and larger MPV style car in front on the garage which blocks and restricts clear access to my car park space and garage. To add insult to injury the land immediately in front of my parking space where they park obstructively is demised to us but provides 'shared access rights' I wouldn't have been too bothered if they had the common decency to ask me first if it was ok to park there temporarily but they haven't bothered so I'm a bit disappointed. I'd like to nip the inconsiderate double parking out quickly and appreciate any words of advice or wisdom before doing so.
Fishman
- 13-Nov-18 @ 11:00 PM
Hi I live in a council house in a row of 8 properties all with defined fenced boundaries and footpath from road to front door and rear door apart from ourselves and elderly neighbor. Because I am disabled I requested permission to make a hardstanding to enable me direct access to my car, as it's approx 70ft from footpath and main road to my front door. This was agreed and the council replaced the damaged 2 rows of our slabs and the one row for next door (their other row had been grown over by their lawn ) .since this day the neighbours family park on the new driveway which council have declared access only to our hardstanding ...they constantly block us and we have had to involve police due to neighbours grandson running me over with his car which he was washing and ignored my requests to move...since then they had had visits and letters all they still repeatedly block us ...I have contacted council asking for boundary to reinstate the fence (at our cost)and it's taking forever I just want to divide the access only driveway and prevent any more hostility. But they are having problems as the land these houses were built on was bought by the council as a "Lot" and there were no official boundaries just a large plot ...
Mumsky
- 9-Nov-18 @ 9:01 AM
Hello I have a alleyway between my house and my neighbours that we share so we can both get to are back gardens I wanted to know the rules of keeping it clear as they keep putting there bikes and rubbish in the way witch means when i leave my house though ally way I constantly have to move there stuff and when i do they shout at me its my ally way to I have spoken to them many times on with my kids n puchchair I have to use my back door as puchchair won't fit thought front door and asked them to keep ally way clear so i can get in and out of my property am I right in thinking it should be kept clear ?
Tam
- 28-Sep-18 @ 8:07 AM
Hello, I was hoping to get some advice. We have just bought a property and want to refurbish. As part of our plans we want to add a toilet to our bathroom and one to the ensuite in the master bedroom. Both rooms are on the right side of the property which is a detached house and the waste pipe is an open pipe that is going into an open gully and into the manhole in our neighbour's garden on the right. the open gully system is also causing rising damp on the right side of the house. (currently all our toilet is downstairs on left side of the house). Our neighbour does not want to allow us access to do this. They are saying that its their manhole and therefore we arent allowed to do anything. They also dont want us to do any refurbishment to the property because they are worried that we will sell up after we refurbish and that the advised 4 inch pipes we need are "ugly". We feel the latter points are unreasonable. There is clear damage happening to our property. Not to mention the rodents that are coming into our house through the pipe. We are unable to connect to our own waste pipes/manhole as they are on the left side of the house. Our property and the other 4 on our street are exactly the same and each neighbours waste from the right is directed to the neighbour's manhole. So we are carrying next door's waste and so on. I have checked with Thames water and the current connection is definitely incorrect. But can our neighbours stop us updating the current system. They are suggesting we plumb the waste through our house. and that we should move the existing pipes all together even though they have been there for decades. Any advice would bemuch appreciated. Thanks
APT
- 21-Sep-18 @ 11:51 AM
Charles - Your Question:
We have a shared drive between 6 houses, that allows access to the rear of the properties and garages. The house next to the driveway has put a trailer at the top making it very tight, they are planning to put a wall along there boundary. I have been to the land registry and got the title register and plan, which state that there is right of way for cars on to the back and this needs to be keep clear. If a wall is built then no cars will be able to get round, he is arguing that it's his boundary and he can build one. On the plan, it has a dashed line along where he wants to put a wall, so although he maybe sticking to his boundary with a wall, he will be blocking the right of way as stated in the title register. This will mean none of the houses will be able to get a car up and into their garages. How can stop the right of way from being blocked.
---
Our Response:
You will need to apply to the courts to prevent the construction fo the wall citing the right of way in your deeds.
ProblemNeighbours
- 12-Sep-18 @ 12:50 PM
We have a shared drive between 6 houses, that allows access to the rear of the properties and garages. The house next to the driveway has put a trailer at the top making it very tight, they are planning to put a wall along there boundary. I have been to the land registry and got the title register and plan, which state that there is right of way for cars on to the back and this needs to be keep clear. If a wall is built then no cars will be able to get round, he is arguing that it's his boundary and he can build one. On the plan, it has a dashed line along where he wants to put a wall, so although he maybe sticking to his boundary with a wall, he will be blocking the right of way as stated in the title register. This will mean none of the houses will be able to get a car up and into their garages. How can stop the right of way from being blocked.
Charles
- 4-Sep-18 @ 1:12 PM