Letter Template: Neighbour's Children & Ball Games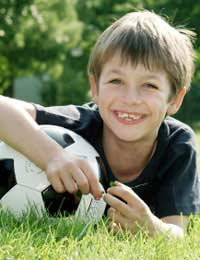 If a neighbour's children regularly play ball games next to your windows, conservatory or greenhouse, you may have concerns that windows may be accidentally smashed or perhaps the constant noise is starting to drive you mad!
If balls regularly come into your garden, you are obliged to give the ball back (either throw it back over or keep it safe to give to the owner when you next see them). If a child simply climbs into the garden to get it themselves however, it can cause further damage and is also trespass.
What can you do if you experience these problems?
We would always recommend initially just speaking to your neighbour about any problems; it may be that they are unaware of where their children are playing or the problems caused by it. If you can't do this, try sending an informal note. If this doesn't resolve the problem, then a more formal letter may be required.
To assist, a template informal note and more formal letter are below:
Informal Note About Children's Ball Games
Dear [name]
Just a quick note regarding your children's ball games.
[CHOOSE APPROPRIATE SECTION]
[I am concerned that they play ball games right next to my windows / greenhouse / conservatory and so are likely to accidentally hit and smash the glass. Please could you ask them to play a little further away so that we don't have any accidents?]
[The ball regularly comes over into my garden and then the children come into the garden to retrieve the ball. Please could you ask them to try to avoid throwing the ball into my garden? If it does accidentally come over, I would prefer for them to come and knock on the door and I will happily return the ball, rather than them just jumping into the garden.]
Thanks for your help.
Best wishes,
[Name]
[Your house number]
Formal Letter to Neighbours About Ball Games
[Your Address]
[Neighbour's name]
[Address / 'Delivered by hand']
[Date]
Dear [Neighbour's name/If unknown, just address as 'Dear Neighbour'],
Re: Problems caused by ball games
I live at [address], next door. I am writing in relation to ball games played by your children in [description of area, e.g. the grass verge area in front of my property].
The problem(s) caused by the children's ball games is/are: [select appropriate]
The ball hits my property and has/could cause damage
The ball regularly ends up in my garden
Damage is being caused to my property by the children entering my garden to retrieve the ball
My private property is being trespassed onto by the children entering my garden to retrieve the ball.
You may have previously been unaware of this problem. I am keen to resolve this issue amicably; we are after all neighbours! I would therefore be grateful if you could [ensure that your children don't play ball games in this area / ask your children to knock on the door to get their ball back rather than just enter my garden.]
Thank you in advance for your cooperation.
Kind regards,
[Your signature]
[Your name]
You might also like...
Hi, I have 18months old toddler and he likes running and when he is cheerful he stomps his foot a little...that is the main reason why our downstairs neighbor bangs the ceiling every eveing! He is a very lonely man and seems quite rude and unfriendly. We live in a first floor flat (two floor building) and the floors are all carpeted. I am trying not to encourage my son to run too much or stomp his feet but I feel guilty for not letting him be a child!! What can I do to make my neighbor understand that it's not us making the noise but our son and that I can't really do much about it at the moment as he is so young? Forgot to mention that he is usualy up at 7am and goes to sleep at about 8:30pm...and makes no unusual or excessive noise during the night.
Katerina
- 22-Dec-16 @ 11:15 PM