Neighbour Drainage and Guttering Issues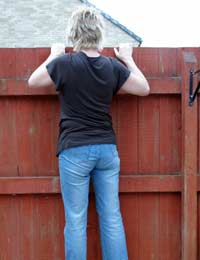 It's nobody's favourite scenario – there's a blocked drain and you aren't sure who's responsible for it. There are three possible outcomes to this one, depending on whether the blockage is a drain, a private sewer or a blocked public sewer. There are actually strict definitions of all three, according to Public Health law, so hold your nose and try and establish which one is your issue.
What is a Drain?
A drain is simply a pipe that only takes drainage from a building or buildings within the same property boundary. It might be a drain for foul water like toilet waste or for surface water such as rainwater from the roof, but whichever it is, if it's on your property, you are responsible for unblocking or repairing it until the point where it reaches someone else's property.
What is a Sewer?
A pipe becomes a sewer at the point where it takes drainage water from the private drains(and then lateral drains) groups of properties.
When it comes to any problems, the law generally requires owners or occupiers of the properties that use and connect to the sewer to repair any damage and remove any blockage that occur in drains within their own property boundary.
Your local Water Company is responsible for clearing blockages, maintaining and repairing public sewers. Before a 2011 law change, some groups of properties were connected to what were called private sewers - and the owners in that group of properties were responsible for the upkeep (including blockages) of those sewers. Since the law changed you are now only responsible for maintaining and clearing drains within your own property boundary.
How do I Know Who is Responsible?
Since the law changed, it has become clearer and generally works as follows:
Detached homes - Before 2011 you were responsible for maintaining drains up to the point where they met the main sewer pipe. This meant you may have been responsible for the drains under the pavement and possible part of the road outside your home. Since 2011, you are responsible for the drain only up to the point of your property boundary e.g end of your drive/front garden.

Semi-detached homes - Before the changes you and your attached neighbour were responsible for the drain up to the point where it met the main sewer (often under the road outside your properties). Since the 2011 changes, you are responsible only for the part up to your boundary with the adjoining house. If the drain runs across your property from your neighbour's before continuing towards the sewer then your responsibility ends at their boundary (the water company is responsible for the remaining part across your property) - so even though that part of the drain is within your property boundaries you are not responsible for it.
Terraced houses - Before the changes in 2011, each home was responsible for any part of the drain that crossed their property boundary before it reached the sewer. Since the change, you are only responsible for the part immediately before it connects to the drains of the other terraces in the row. So if the drain runs from one end of a row of terraces to the other you only need be responsible for the part of your drain before it connects to it (the water company is responsible for the rest of the drain).
Other Privately Owned Sewers
Some properties, particularly those in rural areas do not connect directly to a public sewer - those with a cesspit, septic tank or treatment plant have not been affected by the law changes and will normally have their own arrangements for blocked drains and maintenance.
Private Pumping Stations?
Some small groups of properties are not connected directly to a main sewer but via a private pumping station. Previously the owners were responsible for the pumping station, the pipes and the connection to the main sewer. This is going through a phased change and by 2016 the water companies will (in general) be responsible for maintaining the pumping station and the pipe work.
Blocked Sewer or Drain?
If you think there is a problem with a blocked sewer, contact your local water company. If they discover the blockage is actually within your drain (the part for which you are responsible), then you will have to take steps to clear the blockage yourself.
If Neighbours are Uncooperative over a Blocked Drain
Most drain un-blocking companies will invoice the person who called them out, no matter who is actually responsible in law for covering the costs. If you live in a terrace or semi detached home for example and discover the blockage is due to a neighbouring drain then you will have to approach them for payment. Your local council has powers to serve legal notices on anyone who fail clear a blockage under various Public Health acts.
What About Guttering?
Shared land also means shared responsibility for repair, and so if there are damaged gutters, it's reasonable to share the costs of repairing them. If guttering and water egress drainage is shared between two properties (look at your deeds and it should say whether this is the case) there is normally a joint responsibility (and liability) for maintenance and repair.
Talk to your neighbour before you organise anything, once you've checked the deeds to make sure you're in the right. Most neighbours will be reasonable, especially if you have the deeds to back you up, and a polite request should be all you need. If they refuse, you have no choice but to get the work done and then request reimbursement of their share in writing. If they still won't play ball, you'll have to get down to the county court – but the law is certainly on your side…
You might also like...
We are living in our own private house , on the right hand side there are around 9 or 10 houses that have removed their roof drainage pipes because they dont want to see any water falling from their gardens or maybe because they made a porch hence why they have removed it ,now all the water is coming to our roof drainage pipe with a very high pressure that has now caused very bad damage to our property thats why our house is damp and our electric metre is also damaged. A special team from our electric metre came and even confirmed we have a damp because water is coming inside .Now we are paying money around nearly 1 thousand pounds from our own pockets to Npower and its not fair that we are paying this amount of money because of our neighbours removing their water drainage pipe and causing the damp and damage to our electric metre.
Shaz
- 15-Feb-21 @ 1:36 PM
Neighbour has installed a pipe from his garage roof across my garage roof to the shared drain that is on my property. Without telling me or asking permission.My garage roof - timber is now suffering rot.What can I do?We are my Neighbour and myself old people.He is 91yrs. I am81yrs.His son in law appears to be taking care of his home and garden and will not co-operate with me.I am of the opinion that we should sort it out between us.He has refused to give me his contact details, employed a roofer and had some remedial work on my neighbours garage.Neighbours garage roof is higher than mine but his son-in-law says that's my problem. Told me to look after my own garage and he will look after the other.How to proceed!
Jellybean
- 12-Feb-21 @ 11:54 PM
I have lived in my present home for over 30yrs.A !Inked detached bungalow.My garage is joined to a similar property next door. This situation has always been problematic!My neighbour is very stubborn but I have always been on friendly terms with his wife. We have therefore managed to coexist on that basis.However, unfortunately his wife is now living in an old people's home as she has dimentia.He is now 91yrs old, still as stubborn,but quite frail also quite deaf which makes communication extremely difficult because of course he doesn't use a hearing aid! My problem is that my neighbour, who after years of refusing to have his garage re-roofed eventually had it done.He did not involve me in this decisionHe also had a pipe installed on my roof without permission which leads into the downspout pipe on my drive.This is the only downspout for the two garages. The way this pipe is fixed dominates the downspout and is affecting my timber roof.What can I do?
Jellybean
- 12-Feb-21 @ 11:35 PM
I live in a semi-detached property and have a down pipe on my side of the boundary that takes rainwater from both my and our neighbours property (rear only). This went to a soak away that did not function and as such it was connected to a pipe that flows to the drain that takes away all other water waste from our address. 1. Is this ok under Uk regulations ? 2. does this constitute a shared drain for the purposes of building extensions 3. Can a request be made of the neighbours to make provision to take away their own rainwater on their own side of the boundary? Both houses were built in the 1920's and have each been extended over the years since. Thanks
Mr G
- 5-Jan-21 @ 6:50 PM
Hi! We live in a semi-detached house, in a line of six houses. A neighbour says he had to get a plumber to clear a blockage in the drain in his garden. The apparent cause was wet wipes. He now wants all six houses to pay the bill of the plumber. Where do we stand with this? We don't flush wet wipes (who does??) so do we have to help foot the bill?
MelD
- 1-Jan-21 @ 3:48 PM
My next door neighbors 2nd bath drains into a waste drain into my garden its not been a problem up to now as they are never there and only really use the other bathroom but there house is now up for sale and my concern is that if that bathroom keeps getting used my garden is going to end up with there water waste and bubbles....my question is , is this actually aloud by law and what could I do about this as I belive the new buyers wont even no about this
Dannybetto
- 16-Nov-20 @ 10:40 AM
I live on semi detached house with what was a joint first floor roof guttering. Neighbour cut the guttering added stopper to my end and built a extended conservatory glass roof their side I've noticed that rain water is sitting high and still on my guttering and naturaly flows to the stopper side . what should I do they are not very friendly and theynever informed me when stopper was added. Canstopperbe removed should notthe builder have added a down pipe between conservatory and my dividing outside wall
Mani
- 11-Nov-20 @ 1:12 PM
My neighbor replaced her guttering sometime ago , as a result it is not joined up to my existing guttering ,which means when it rains the water all runs into my property and as a result my bedroom wall has become damp , I spoke to her about it but she has done nothing , her guttering is a few inches over onto my property ... should she be providing a downpipe and drain for the water to go into instead of my property ?
I live in a terraced house...the water drains of the roof into a shared hopper with my neighbour the drainpipe is on their property. (It is cast)Who is responsible for replacing it?
Nutty
- 29-Oct-20 @ 5:31 PM
My new neighbour has had a tarmac drive laid by dubious workmen who only dug out the edges of his drive and laid a new skin of tarmac over the existing tarmac and the edges. I had a block paved drive laid shortly after by a reputable firm. It replaced my crumbling tarmac drive. During the recent heavy rains my neighbour drive, which it not level by any means is now draining onto my drive leaving large deposits of water. Whilst they drain away into my drive I do not want any damage causing. I have notified my neighbour who has yet to contact me. What do I do next?SAT
Jane
- 4-Oct-20 @ 9:36 PM
My neighbour built a tin garage with no guttering ,15 inches from boundary with my driveway where I have parked my car for 20 years, up until this week his boundary fence took the brunt of the water that flows of the roof obviously over the years since he built said garage the fence had rotted out,the recent wind brought down the fence,now the water that comes off that roof which is 70inches to gutter level comes into my drive and my car, he refuses to put a gutter on ,not very neighbourly or respectful, what can I do about this, I am now unable to park my car on my driveway to keep an eye on it ,
JAP
- 29-Sep-20 @ 5:03 PM
Joined guttering with neighbour's is not coping with the amount of rain coming off the roof down my down pipe can I make them instal there ownthanks
Swivel
- 14-Sep-20 @ 10:07 AM
I live in aterraced house andhave a problem with glittering. When I bought my house the gutter had intermittently overflowed and caused dampness and water ingress in my back room. The neighbour side of gutter is raised causing flow of water to come to my house and all debris from the roof and the neighbour side washes into mine and the dowmpipe in my garden. I tried explaining this was causing a problem to my neighbours who did not show any interest and say it is my problem. I explained of my intention to have replacement guttering and dowmpipe which are on my property,and suggested they use the same builder to get the gutter on their side cleaned and repaired. Updated. I received no response . I went ahead and had my gutter replaced and my side separate and stop end. To prevent further flow of debris washing into mine and causing water ingress and overflow. However the neighbour is not happy and threatens to take action saying He has a right to use my gutter and dowmpipe. I suggested he have his own installed which would solve the problem but he refuses.
My neighbour down pipe from gutter is blocked and as I live in a terrace house we share the same gutter. Because of blocked pipe the water overflows on my living room walls. I have tried a polite conversation with them , but they do refuse tolisten. What do I do next ?
Ema
- 28-Aug-20 @ 12:27 PM
My neighbors have been stalking me for a while now watching all my online activities such as smartphone and laptop. They have spy devices in or around my house. I don't feel like I have any privacy in my own home. My room is bugged Everything I say or do is being hurd by neighbors next door. My WiFi is weird cause I haven't payed it this month and it's still working. I DON'T KNOW what's going on. Should I call the police to investigate???? I promise I'm not high ??????
MNSTR
- 17-Aug-20 @ 6:09 AM
i have a semi detached house with a shared downpipe on my neighbours property, the soakaway drain is also in the neighbours garden.The drain ( soakaway) has failed . Who is responsible for this ?
Suzanne
- 15-Aug-20 @ 5:57 PM
We live in a semi-detached house and our elderly neighbour died of Alzheimer's last autumn, leaving a married daughter who lives in Swindon and his unmarried son in his early 50's who has always lived at home.We share a downpipe with this neighbour who, some years ago while we were on holiday, built a foot-high, 2-foot long wall between our properties to force the postman to walk back to the sidewalk and up again to deliver his post.He also moved the downpipe a couple of inches to our side and chipped a piece out of his low wall tohave the downpipe exit into our driveway. We didn't notice as our car obscured the view and it wasn't really a problem since there wasn't that much rain.However since the old man has been ill (about five years) nobody has cleaned the gutter on his side and last winter because there was a lot of rain and the downpipe was completely blocked the water was pouring out of his gutteronto our side and running into our driveway and up the side of our house, it was that deep.We tried to contact the son but he just shut the door in our face.We contacted the daughter about the problem and she accusedus of trespassing when we looked into her gutter and suggested getting rid of the low wall that was part of the problem, forcing us to take all the water into our driveway. In the end we had to hire a solicitor to write to her, and also a groundworks team to replace the downpipe, remove the wall, and construct a soakaway on the borderline under the lawn.This has cost us about £1500 and we haven't heard from them at all since the daughter accused us of trespass.I don't suppose we shall ever see any money from them. This continues under "Overgrown and messy gardens".
worriedgardener
- 13-Jul-20 @ 4:50 PM
my neighbours gutter is broken and the water is coming onto my side. I am concerned it will damage my new roof and the plaster by it. The rain doesn't shoot down it comes across when its really windy. I have spoken to the sister that's was 3 days a go. Can I go legal on them.
Jo
- 11-Jul-20 @ 10:41 PM
I live in a duplex and for some reason or gutters are connected and we each have a down drop but we clean ours 3 times a year and in the 7 years we have lived there we have clean both houses but enough is enough so we stoped going it. Now we have ours clean but because the neighbor side isn't ours get clogged again we have asked him to clean and he just responds i jus cleaned it last fall to which i said well needs to be cleaned again you have trees growing 6 months fall show melts we clean again and now we have have to clean again e months later because all the leaves from last year have come rolling over to our side. Can I clean his side and send him a bill?
Vanda
- 5-Jul-20 @ 7:15 PM
I live in an ex council property and have my neighbours soil pipe (toilet waste) on my property. The pipe is located inside my out building that connects to my house so it's internal and I want this moving off my property or at least replacing. What are the laws of responsibility for these pipes?
Byrnsey
- 1-Jul-20 @ 7:26 AM
We have a very similar issue to None above re. next door neighbour's guttering adjoining our house whorefuses to install a downpipe.How do we access the discussion above on None's issue? Kind regards. Bernie
Next doors guttering overlaps and runs into ours. In heavy downpours our gutter overflows in the middle and onto ourextension roof . We had the kitchen ceiling repainted after we fitted new guttering and asked the neighbour on the other side to drop his far end of guttering , which he did . We asked the neighbour who's water runs into our drain to have a down pipe fitted as he had a drain out side his back door already . He refused saying thats how he brought the house , not his problem ! What is our next step
None
- 20-Jun-20 @ 1:40 PM
I live in a terraced house and no the design of the estate my neighbours down pipe (rain water only) is in our garden however this down pipe is not connected to our guttering or waste in anyway just a bad design from 1950's council estate housing. Our neighbours and I now own the properties but how do I legally get this removed as we don't want it on our property or do we not have a case as it's been in our boundary for us over 70yrs.
Scott
- 18-Jun-20 @ 12:06 PM
When my upstairs neighbour runs her kitchen sink tap it flows down the waste pipe but there is a leak in the cast iron pipe, the water leaks onto my decking below. I have used gorilla tape to try and stem the leak but it is still trickling. Am I responsible for the repair on this as this pipe isnt used by me?
Shengus
- 15-Jun-20 @ 6:35 PM
We are a block of 5 terraced houses. Ours is the middle. Over the years my 2 immediate neighbor's have removed downpipes at the back. This is causing all rain to head for our downpipe and consequently onto our flat roof. Is it legal to remove downpipes like this.
Maddie
- 11-Jun-20 @ 10:57 AM
Neighbours gutter is leaking at front of the house. It is located on their side (it's a semi detached house). The problem is te front windows are bay windows. So the water is not dripping on the ground but on top of what is essentially the living room roof. It's extremely noisy and can be heard in front bedroom also. I have spoke to them about it and assured me someone was coming to fix it. It has now been over 3 weeks and nothing has changed. What is my next step? Is there some sort of legal action to take as it is a constant disturbance every time it rains. Thanks
My neighbor's builder has put my neighbor's central heating out let pipe into my conservatory guttering without my knowledge the my foof uf filthy with morter what can i do
Cags
- 7-Jun-20 @ 9:16 AM
Hello I share a downpipe with my neighbours property. They have changed their guttering however they have not joined my guttering correctly onto their new guttering which is causing rainwater to run down the front of my property. Am I in the right to correct this and send them the cost of the repair.
Usher
- 6-Jun-20 @ 11:28 AM
Hi my neighbours garden floods and they are now creating channels to move water to my garden which will cause my garden to flood. Thus will also cause our wooden fence to now sit in a channel of wet earth/water. They have also installed a pump further up the garden again with pipe going to my garden. Pipe is 3 inches max from my boundary fence. I know they are intent on flooding us. What are my rights (Scotland)
Ella
- 18-May-20 @ 10:48 AM
On my road all houses are terraced houses and every house has a gutter pipe on the border my neighbour connected his gutter on my pipe ,if this pipe goes together with the waist water this means that I pay more ?
Laur
- 12-May-20 @ 8:16 PM