What to do if Neighbours are Spreading Rumours About you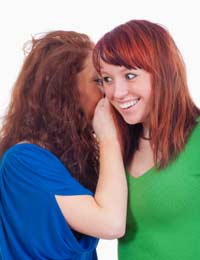 Unfortunately, we live in a world where gossip and rumour-mongering is prevalent throughout the whole of society. Often, it comes about as a result of the person who is spreading the rumours about you being very insecure, and may even be jealous or envious of you for whatever reason.
Try To Rise Above It
Firstly, although nobody enjoys being gossiped about, it's important to realise that most gossip and any rumours that are spread about you will probably be pretty harmless. Wherever possible, you should try to keep a cool head and let it rise above you.
Much of the time, the person(s) who is spreading rumours are hoping that they can provoke you into some kind of retaliatory action so the more you can ignore them the better. Laugh things off if another neighbour approaches you with some gossip, and the likelihood is that they will lose interest, too. The rumour 'spreader' is more likely to start to feel that they're the one that other neighbours are starting to pity.
What if it Starts Becoming Malicious?
Although most gossip and rumours are pretty harmless, even if they can be a bit hurtful, sometimes they can start to get out of control and, before long, you can feel quite victimised, especially if the person spreading the rumours have been able to coerce other neighbours to 'jump on board'. This can sometimes be very damaging to the mental health of the victim.
You might start feeling as though everyone is laughing at you or condemning you and this can lead to you feeling paranoid or suffer symptoms of anxiety and depression. If this happens, there is a real case of harassment taking place now and you are Protected By Law Against Harassment. You may wish to approach the police or, perhaps a better course of action would be to contact your local authority's anti-social behaviour team, if they have one, and explain the issue to them.
Confronting the Rumour Monger
Before considering taking any of the actions above, it may well be worth contacting the rumour monger first to discuss the situation. This doesn't necessarily mean that you'll end up becoming friends with them but sometimes rumours originate as a result of complete misunderstandings, so it might help to ask them why they have been spreading rumours about you and on what grounds are they basing their assumptions.
It's also useful to tell the person how their actions have affected you, especially if there are no grounds for the rumours in the first place. Even if you don't get the desired response, it may be worth asking your neighbour if they'd be prepared to Speak To A Mediator with you to help reach some kind of agreement.
Taking Legal Action
Unless the rumours can be proven to constitute some kind of harassment, taking the person to court is fraught with danger. Firstly, you'll need to be able to provide proof that their comments are slanderous and have caused defamation to your character, and that's often quite difficult to prove. Also, not only will legal action be costly, a defamation lawsuit may not necessarily result in any restoration of your character, and may even damage your reputation further.
Therefore, simply ignoring or laughing off rumours are usually the best way to go about dealing with them and people will soon get bored. However, if they do start to cause you harassment and make you feel that you're being wrongly persecuted, then the threat of involving the police or actually involving them is perfectly acceptable under laws to deal with harassment.
You might also like...
For over a year things have got worse. First it was about my garden which i sorted then it was about noise and me watching tv all day. I have recently sorted the noise problem out buying headphones. After about 21.00 or 22.00 i put my tv on subtitles. On my days off i hear them complaining and making fun of me all day and until late at night. They listen to my conversations i have with my mother on the phone. They are now talking about what i do or rather whst i don't do in my house. Do they have the right to tell me what i can do in my own house?. I suffer from depression and anxiety. I am always feeling guilty about being or what I'm doing in my house. Can someone please help me?
Depressed
- 3-Apr-21 @ 11:35 PM
The neighbour we live by has totally destroyed our life.Shes lied to the police about us when we rang them they said they'd never said a word about us lied to environmental health again proven it was lies. Spreading malicious gossip and turningpeople against us.We want to move but can't afford. We are living in fear every day and do not know what to do.
Sunshine
- 2-Apr-21 @ 1:24 PM
Ive endured attacks by a village community overtime. Humiliated publicly by a councillor, excluded in my endeavours to help in my community by parish members, laughed at, listened to childish sarcastic remarks. Luckily, Im used to such behaviour having worked in mental health and identified the instigator to be controlling, manipulative and show signs of NPD. Immediately, I stopped that person getting too close to me. When I did this that person went to great lengths to near myself and my husband. Using powers of their standing in he community to breach our human rights. That was the only way to stop the problems. Thereafter, I identified more and more people joining forces with this individual that to include officials. People in a community subtly attacking you each time you make a comment, each time you share something nice on social media, its all evidence which should be collected. Any opportunity someone could complain about you this person would engage in thebusiness to form haters. Persons with contacts and seen to be abusing powers to assist communities myst be removed. They cause harm to people and peoples lives. If you starve them of power supply they will go to great lengths to ruin the reputation of all those they involve to self serve the control they so desperately need to exist. They do bot take responsibility for their actions and will never admit to their crimes, cleverly acting though they are the injured party when they are the perpetrators. Always go through the legal channels to complain never rise to the triggers, this is done to provoke you into negative retaliation so you will become the problem. You must bring this to the attention of the police and record everything. People who attack you subtly, gang bullying, exclusion,intentional attempts to harm are crimes of harassment. The police will help if you give them enough collated data evidence to pursue it to court and stop it!
Goldie
- 26-Mar-21 @ 7:27 AM
I had a heated conversation with two different sub committee members. Both are very controlling and manipulative. When I responded calmly and refused to engage in arguing the way they expected they both became angry and insulting. Before of the conversationended both attempted to put a. dagger in me by telling me that other group members were angry with me or that they were talking about me. I calmly told them both that I don't care to hear it because it wasn't meant for me to hear,so it's none of my business. I also told them that if someone has something they need to say to me that they could definitely come and speak to me about their concern. I also asked them why did theyfeel comfortable enough to bring me gossip, about me. I told them that I was concerned that they took the time to listen to this gossip about me because to hear it they had to participate in the gossip, This is my regular way of dealing with gossip that people bring me about me. When I confront them in this way they usually stop in their tracks. I never hear another word about the gossip.These mysterypeople never come to me with concerns.I truly believe did that they are the source of the gossip.What do you think about my strategy.Thanksyou. 1 Luv
deborah gary
- 19-Feb-21 @ 10:09 AM
My dad's neighbor enjoys talking about other neighbors on a regular basis. He also always answers his cell amongst people and talks to the caller on speaker phone so everyone can hear both conversations. It's like he's screaming for attention. He also brought his new Rottt Weller into my dad's back gated yard without any permission or notice when my senior pit bull was enjoying the sun back there because he said he wanted me to see his dog. I packed up my senior dog and left.
Kelsie Rae
- 27-Jan-21 @ 3:31 PM
I had people spread rumors about me all you can do is raise above it don't let them see your upset just walk away real friends don't gossip. I had my ex partner for 4 and half years spread the most hurtful and hateful gossip and rumors about me I was in a relationship with him for some years before splitting up. It still hurts now I believe in karma what comes around goes around.
Lil
- 26-Jan-21 @ 6:35 PM
IF you need urgent help to fix your relationship or Marriage?? check on Google about _______ [ Robinson. buckler ]]]]]]..... My ex who left me came back after with his help This is absolutely wonderful, i cant thank him enough...
Lisa
- 30-Dec-20 @ 6:45 PM
She stabbed her husband with a sword (SHOULD HAVE BEEN ATTEMPTED MURDER OR ATTEMPTED MANSLAUGHTER AT LEAST)and went to jail for like two years. For some INSANE reason he took her back, CODEPENDENCY MUCH? Ironically when she was gone we were friends with him. Got along great!She gets along with literally NO ONE. Everyone literally HATES HER. If anything I am the rumor spreader, but she threatens everyone. She practically attacked one old man neighbor for moving her garbage cans which blocked HIS parking spot. She was SCREAMING AT HIM. She is terrifying. I am so afraid of confrontation that I cant go on one entire side of my house and am afraid to leave my house. Three kids cant play in their yard for fear they encounter HER or her son who has behavior problems as well. I don't look forward to years as them being my neighbors and I hope they realize that they have worn out their welcome here...
move bitch
- 13-Dec-20 @ 6:26 AM
I been living with my mum in a one bed flat before I move in March my mum can't walk and she was shouting for help neighbours where calling police and ambiance I been staying with my mum because off my mum shouting all the time with can't be helped because she as mental health issues and as carers every day and on meds I telling my mum to stop shouting or when I cook dinner or tea she want eat so I shouting so it looks like to the neighbours I am drunk all the time I just lied panic all the neighbours now have complete about me and watching what I buy from shopping which I hear my mum's neighbours talk about they just want me out I started the gym just for my metal health but because off lockdown I couldn't go it now open so I be going I have tryed to explained the situation to my mum not understanding I want to stay with my mum and support her I have a sister she comes down as well I have the support why do my mum's neighbours think this about me
Green
- 5-Dec-20 @ 3:03 AM
I'm a single parent and moved into a council estate beginning of the year there was a couple who was overly friendly towards my daughter saying they will look after her when I'm a work and giving her sweets and I thought they was being nice however a few months I had a council phone call saying they had a complaint I was not living at my property. I am an agency care worker and I also do senior shifts so I can afford a comfortable life and provide the things my little one would like so I work quite a bit purely for this reason my rent is always paid.I have a feeling I knew who it was but never approached this. I see them now and they won't even say hello which is why I'm surethey was the one who reported me. They have now given me anxiety as I'm feeling they are watching me and I'm worried they will report me for other things. They don't know anything about me or what I do/ the times I work or the routine I have in place. Any advice? Thanks
DD95
- 2-Dec-20 @ 8:47 PM
We are out in the country on a 10 acre. One house looks down at our property. They watch us with binoculars. This elderly couple has bible studies, wine parties, and constant visitors. She was the clerk to the small-town judge for 35 years. May be used to drama. We share a 279 linear foot gravel easement with them and one other. They were the first to befriend us. We did not join their bible studies.We woke up and saw the Mr. in our back yard. There was a bong in the window. This is Oregon. We are light some timers.Hubby earns a six-digit income, has no criminal history, and carries a top security clearance on his resume. Many times an unsung hero to our country. Also served during 2 wars. Is low end on the spectrum. Communication skills are not on top of the accomplish list. I am a stay at home wife, grandma, and mother. Currently, I am raising 2 grandsons 6 and 7 due to Covid 19. Neighbors and our previous tenants told us they are spreading fear. They watch us and any personal drama goes out to the community. In the first 6 years, they would come over and said the t-post was their's, I said take what you think is yours. Then they came for the cast iron tub, 15 2x5x20' cedar boards, then gates. Then they took our front gate when we were gone. Always saying it was theirs before we bought the house. We have an easement crossing our property an acre above the shop. One of their bible attendants dug up a water pipe and faced it toward the shop so winter water floods the shop now. They also clear-cut, toxic chemicals ran off into the creek and killed over a dozen 40 to 60-foot trees. These tree's died within months. Foam in the creek increases after the rains when the water table goes up. Neighbors from another side sprayed pesticides on a windy day and killed our half-acre food garden after we put in several months of labor. None of my livestock reproduces and I have rabbits. We are very sick. Just checked well water. It's toxic, not drinkable. These are just a few examples. My husband has a lump on his face and his lymph node is swollen. I am paralyzed with fear and rage. My husband can not deal with this.The water company owner who is friends with the threatening neighbors knows our well and equipment, tested the water, knew it was bad, and waited 5 days to tell us. This is just a sample of the horror stories. I have been dealing with this in addition to a pandemic, evacuation, daughter on death's door, family drama, death of a friend, heart attack from dad, and almost thrown into a cargo van by two drugged out bad guys. I was looking for my lost rooster at dark thirty, in the city. (evacuation) I was saved by the non-emergency cop while looking for my bird. I am done. The monster mode is coming out of me on my husband and grandkids. I am now studying anger management on the internet. I am grateful for being able to tell you this.Good news we now can afford insulin and food. My husband just got re-employed after a year. If you feel an
Grandma Dianna
- 1-Dec-20 @ 1:57 PM
My neighbour said in local pub I was a peodo as a so called joke.it went viral over nite,I been attacked spat on,lost out on Alot of gardening work,can't go out unless door to door taxi to take me shopping,advice am now a dead man walking now.some people in town are intent of killing me , seriously.cant move due to finances but wld be no point anyway as whole South Lanarkshire plus Glasgow all have my pic which neighbour put online also have ppl thinking there secretly taking my pic when out.i do see them but can't do a thing abtit as I'd be battered once again or worse.
Stu
- 22-Nov-20 @ 7:24 PM
My neighbor is trying to make me look mentally unstable. I am having problems with chemical exposure in my flat. Which causes symptoms that look like mental health problems. I have tried reporting it to the council but she gets there first and makes them think I'm a lunatic. She has involved other neighbors in this and spreads my business around the flats. So I am struggling to get anyone in council to take me seriously. For some reason. She has managed to involve the new neighbors in her games and they think it's funny to switch on switches and laugh at me. It's very hard to prove chemical exposure but I have a the symptoms. So I am going to the doctor the physciatrist and working with them. Because of gangland involvement it's hard to report her and her partner for fear of retaliation. I have lived here for 5 years. Because of the exposure I can look a little loopy as I am constantly trying to prove it to no avail. She will talk to my face and have a joke with me while going outside and spreading lies about my mental health and my past addiction's. I am trying to stay really calm so I don't come across physcotic. She is able to repeat personal conversation back to me that I have had with my partner in private. My privacy is been invaded daily. It's getting hard to live with but I have not done anything wrong. I do suffer with severe anxiety due to this and have struggled in past to leave the house. Now that I am in recovery I am pushing through these feelings and attending all the appropriate courses councelling etc. I don't understand what I have ever done wrong on this person. I respect her privacy and when she confided in me I don't spread gossip around. I do vent to my partner how upset she makes me but I have stopped that because he looks at me like I have a mental problem. It's a very lonely existence. I am staying calm and proving the chemical exposure. The symptoms range from rash skin burning coughing choking from fumes etc. It's so hard to prove with the council as she has everyone convinced I am a physco. What they are doing is illegal but also effects my physical health badly. I am very frustrated and angry. Her and her partner also suffer with addiction issues and still smoke weed and take pills .where I am totally free of drug dependence. Can someone please advice me what to do as my next step will be going to the police and talking to someone that will listen. Last time I done this they sectioned me because I sounded insane. An ambulance came for me once and they stopped the man coming up the stairs and told them I was a mental patients. So I went to hospital with them and once I was away from the chemical exposure I recovered only to have to return to the flat and suffer the same faith again. I am hoping now that I am in recovery from drugs and using the proper services that someone will listen to me and take me seriously. I do understand I can seem a bit loopy but it is a side effect of chemical exposure. Not a menta
Hurt
- 19-Nov-20 @ 11:13 PM
I when to a new work place in 2018 and from I came to the place there was a lady who i work with started to throwshade almost like a harassment about my personal life by saying things about me and families.what happen in my past in my house when me and sister argue things my mother said to me in past and present the person whoI amdating etc. O know she was meaningme because everythingsounded familiar and atone point she said she knows myneighbor and thiscontinue to go on for longest time keep repeating things what I say in the house especially if I say something about her of what's going on.And what play like she was talkingabout personknows and start pointing on me putting me downindirectly in my face. about somewoman are so ugly andhave big teeth and they think their body is going to save them.And then pointon my hip and its like she telling co-workers I uses my body to get man and also the parents. I approach her at one point and she said she dnt know what I am talking about. So I when to HR and they push it under table like nothing I also asked for tranfer, they told me I have be in place for three years in order for this to take place. And to top it of I move out from my family house on my own and the lady find out where Iliveagain, and say i movenext to someone she knows again start repeating everything I say in house. I catch her tellinga coworker when I came in thatimove next to someone she knows. And my neighboris the only one who in Education and the landlord also lives in the front. She was able to throw shade indirectly where I move. and I know every time I do talk I hearhim opening and slamming the door. I also approach him after i pick up everything I said is repeated in my new apartment when Igo to work again. and he saidhe dnt know her, but he kept opening and slammingthe dooronce I on the phone .And every time I return to school she throwing things I say at me. at one point i asked again why she doing she play crazy like she dnt know what I am talking about. Now I amfeeling frustrated by it like i am begin stalk and my voice not begin heard. and it's playing with me emotionally physically and mentally until I can't trust no one. and when tell people who closeto methey think I amgoing crazy because they dnt think no one will waste their time doing this. Can give me some advice to dealwith this
kell
- 22-Oct-20 @ 6:46 PM
My new neighbor's house was broken into. He's only been on our street now for almost three months. I've been here since 2005. This is a beautiful neighborhood.His home has had many bad people in it before he moved in. There were two drug raids, a woman killed her infant in the home, and meth heads cooked meth in there. He moved in and didn't change his locks. I think he's telling some of the neighbors that we broke into his house. I don't have proof, but I'm starting to see neighbors give me strange looks. I wanna confront him, but I'll lay him out, and I don't want that. I'm not a confrontational person. I hate trouble, but I won't have this man ruining my name. Should I try to get to the bottom of it, or just let it be? I'm going to be looking for a new bigger home next year, maybe I'll just let it go. He's not worth it.
Kelly
- 19-Oct-20 @ 5:35 PM
My neighbours have never talked to me since my abusive partner had an argument with them, since then he was arrested for violence towards me and never allowed to return. My neighbours still don't speak to me 5years later, and I am 99% sure they are spreading serious bad rumours about e being a prostitute and my son being a drug dealer. Neither is remotely true, but this week someone phoned my son's college and told them this was going on. The police and social services instantly got involved and came round to check out my house and talk to my son. Of course they had no concerns and immediately dropped the case as it was all lies....but how do I stop this happening again? And why would anyone do this?
jan
- 16-Oct-20 @ 8:00 AM
I have a gossiping and snitching neighbour in my complex,She thinks she runs the whole complex because she put her self forward for maintenance management,I suffer from bi polar anxiety depression and one night had a breakdown in my own home I was no threat to anyone,The next week I received a letter that residents are living in fear of my outbursts ( I had 2 in one year and have been living here 7 years), I asked other neighbours about this and they said no we didn't hear nothing from your house nor would we snitch on you if we did,I confronted the snitch and she denied it at first then admitted it was her,After telling her about my mental illness and that it's not drunken raging outbursts she sort of got the point,But now because of her snitching and gossiping to other neighbours I feel like an outcast and target living here,She also had renovations going on for 2 months and didn't inform me about it so I had to withstand the noise along with her barking dog and annoying birds,and now she has cut down a tree which gives me no more privacy and neighbours can see right into my kitchen and dining,I also found a spyhole in my garage where there was a line in the brick work which could see from her garage into mine,I confronted her about it and she was like ohhhh I'll get it fixed never knew about that,I feel like she's out to get me or doing all she can to get me evicted or move out,I try to no longer come home anymore,I now stay at my gfs or parents as much as I can,
Chaz
- 9-Oct-20 @ 2:23 AM
I have moved12 times in the past due to abusive backstabbing neighbours making my life a misery, just moved last Christmas and started having problems near anough straight away. Had the paramedics round as I was upset and had self harmed, the unprofessional woman paramedic shouted " why are you self harming for its Christmas"? So I said " well thank you for that now all the neighbours and neighbourhood are going to know" seeing that these ceilings and walls are only thin and they can hear everything what is said especially when she shouted at the top of her voice at me . Before you know it I was walking up the road and two youths were walking down the road and one asked me " why do you self harm for"? I just ignored him . I realized my next door neighbours are friends with a couple across the road and had told them about me self harming , then them across the road especially her has been going round telling folk I,m mad and mental , since then I,ve been targeted at by loads of other youths in the neighbourhood and adults and the man nextdoor on the other side pointed his finger at me and said " your mental" and he also speaks to her across the road , it was a few weeks ago I wrote a letter and posted it through her letterbox asking her to stop telling folk I,m mad as I,m not I suffer from depression and anxietyand the other week I heard her talking to him nextdoor and I knew she would tell him about the letter I wrote to her that's what made him say I,m mental. But he,s a terrible backstabber too, he always talks about everyone in a bad way then before you know it he,s having a chat and a laugh with them, their all backstabbers round here and are ganging up on me everytime they see me . I,ve rung the police before but them across the road pretended they were out when the police were knocking on their door , I knew that was going to happen and I,ve just rung the police on Monday about my nextdoor neighbour what he said to me. Better to let them know than bottle it in like I have been doing for so long now .
Gill
- 27-Sep-20 @ 9:21 PM
I was moved I to my flat 2½ years ago after a very traumatic time in my life caused me to become permanently disabled.I did get on with the neighbours upstairs for the first year or so until the housing association refitted our kitchen, wetroom and replaced our front door. While doing the wetroom they ground asbestos and we were moved into a caravan in a nearby seaside town. I had to stay there alone while my partner worked at night. It was terrifying for me.The neighbours stopped talking to us nicely and made nasty comments about Flagship having favourites and sending people on holiday for free. It didn't stop there, they've been racist against my Polish girlfriend, been homophobic to the both of us, made unnecessary complaints about overnight door banging when it hasn't even happened. I e just been to see my friend at the other end of our road only to be confronted by a drunk woman calling my girlfriend a Polish C***, saying if any one of my 3 cats enters her garden she'll poison them and told me that I'm the one who is 'supposed to have a bad back' insinuating that I am faking it. My neighbour is the only one who knew these things and it doesn't take Columbo to work out who has been spreading gossip. Any advice would be gratefully received.
JellyBean
- 29-Jul-20 @ 7:50 PM
Everyone in burghley Court great Holm spreading rumours not true.think I stay people window not true and moan about my ctv cameras at side my house. I have problem in eye sight I can, t see very well, I'm partly deaf, my health is getting worse. I lost my husband how past away 2018.know I'm on my own in the house. I can come full unwell at Blueevery four or five times in themonth and claps any time at home. Or I have to get in bed sickness. trouble get up with in lot pain I do struggle a lot. we put ctv camera outside for my son who got autism and learning disabilities trouble get in the house without stress him self. His grandparents got Ctv aswell to make sure he was safe. And we got security button in side house just in case I claps in side the house for him reach for help also. I want report this bad rumours to stop. I'm scared go out my house because these rumours. People in burghley Court should report and try stop this im very depress, bad health lonely, lost partner, scared go out because the rumour it's true all pack off lies. The people come around are my help me clean house I can, t do much because my health, gardener is a friend comes around help me do my garden for me because my health problems, if people in burghley court think my health not true. I give every letters from hospital in Oxford, Milton Keynes hospital, Northampton hospital doctors every two weeks and other places I go. I take 10 different pain relief to help my pain. And also not clue the other tablets I take. Other problems. PLEASE CAN YOU HELP ME STOP HORRIBLE PEOPLE IN BURGHLEY COURT GREAT HOLM. JUST LEAVE ME ALONE AND STOP SPREADING RUMOURS THAT'S NOT TRUE PLEASE.
Catz
- 30-Jun-20 @ 7:41 PM
So I moved to this neighborhood was so excited everyone was so nice at first. Next we had some trees removed and the neighbor kept walking into our backyard and took pictures this happened multiple times a day. When I confronted the neighbor he stated I was crazy. Mind you I stated why are you taking pictures I think you need to stop. Since then we have noticed some of the neighbors not taking to us and ignoring us. I'm not sure what to do. I felt I had stood up for myself as I don't think it's not right to come on someone's property and take photos I just don't know what to do
Kat
- 9-Apr-20 @ 10:52 PM
Hi When our new neighbours moved in next door were very friendly.My husband did a new drive for them saving them $5000,I gave them a lot things they needed for free from my deceased mums things,visited each other couple times a week.Out of the blue she complained about my cats(I have a few but in builtup area there are lots of other cats)She has been a smoker for 40 odd years arrived with a terrible cough but now blames my cats for being unwell.Also cat poo in her place was my cats only and started throwing it across the fence on our drive.After she spread the rumours about me & my cats at the local cafe people I had milk own for a long time were siding with her.I went around to the cafe to say my side of the story and it just got worse(I was at the time very unwell and after an operation recently it got way worse)She came over to make peace and I was sleeping so my husband coped with the women involved.She bought her husband with her and straight away ran me down saying I called her names was texting her friends horrible things about her and told my husband I had a mental problem.My husband stood up for me and said she had better leave cause it wasn't making peace it was being very unkind.She has been quite since but I don't trust her at all.I have lived in this area for 40 years and this is the first problem I have ever had??
Lyn1457
- 19-Jan-20 @ 8:17 PM
We used to be close and I have given her food, money and a second hand smart phone...really I went for extra mile by helping her by doing some gardening for her. She used me and she screamed at me that I have told her to her face she is ungrateful, it went out of control with harsh words. Now she is playing mind games and spreading nasty romours about me, it is effecting me very badly and I suffer with mental health problems, I have aspergers too. She won't stop and she is poison, I avoid her at all time, I am petrified.
Julie
- 20-Dec-19 @ 6:28 AM
We were emptying a discead relative home in June when a new couple moved in next door but 1. Being very devastated & vulnerable from our loss and because they didn't know anyone we started chatting and became friends or so we thought. To cut a long story short about 2 months ago they stared not talking to us. As "friends" do on an evening they had come to us on an for a drink and a natter, Sometimes we had to walking them home and open their door like friends do to make sure they home safely because he was so pisssed & she didn't help much. About a month a very good friend told me that the woman was going round to neighbours telling them that me and her husband were having an affair. We just laughed as it was so ridiculous and didn't think too much of it. We new she potty. I later found out she was also saying that I tried to get her husband drunk one night at our house and that he was giving me money. Their daughter had told her he was taking the money from their account to give to me Now that really got to me and I am so angry and upset that she would do that.. So I reported it to the our H Association. I wanted it to be registered as an official complaint. I was told just to ignore it and ignore them which is exactly what we were doing, and what she was doing wasn't something that could affect their tenancy agreement. I was so mad that I couldn't stop crying on the phone. All I wanted was for the Association to contact them and tel them an official had been made and her behaviour had to stop. I know my true friends know it not true and think she is a nutter, but it still gets me so angry.
Peed off
- 6-Nov-19 @ 12:42 AM
I have been having problems with a neighbour who has been gossiping to other neighbours about me since I became disabled in 2016. I have heard her telling others that I'm not that bad. That I dont need a wheelchair. That she knows worse than me. Only last week I heard her and another neighbour talking about her daughter. The a neighbour asked her if her daughter and partner know all about me which she responded with oh yes they know all about her. I have done absolutely nothing to this woman I've always been nice and friendly towards all my neighbours. In fact this person has gossipped about me so much to others that I'm being treated differently by others now. Because they have been brainwashed by this person leading them to think bad of me. This woman has also started to touch stuff that belongs to me like my section of the communal garden under my bedroom window and claimed it as hers. She has also put her washing line outside my window where mine is ment to be. Last night I noticed that after a friend had been kind enough to help place my rotary line in another area that it has been tampered with. Everyone leaves there lines up but she has put my line down without even asking me. I have damaged tendons in my wrist at the moment so I'm unable to push it back up. Also because of my disabilitys I am struggling to hang washing out and only do large bedding items as and when I can. So to see my line had been tampered with is going to put me in another awkward position to ask for help from a neighbour. It has made me so ill stressing over all the bad things that are being said about me that aren't true and now my personal possessions are being tampered with behind my back. I already suffer from ptsd after an assault that took place in my flat and been mentally abused by an ex. So having this on top of everything I cant cope. What should I do? Please if anyone can help me I'm at the end of my tether.
Birdy
- 27-Jul-19 @ 11:44 AM
My nebours in block of flats in Srbija heat ther flats by burning solid fuel and not caring for chimneys . This have resolted in fire that burned part of roof . Fier men pourde water down chimney that flooded my kitchen cosing damage to my floored parke flooring and wood went black .( this is my holidey flat I was not told till monts letter abouth fire ) Oners of ather flats are very nasty and expect me to pay for repers and I have never used solid fuels and my chimney are blockt ( cant be used ) Fire ?? in this block happens often and ather problems cosed by negolekt of of ather nebours (choping wood above me in flat cosed my seeling to fol down and floding me lots of times. They leave doors un lockt and poblick use our stair well as Wc ,shop on ground flor store rubish from sm supermarket and our entry in to block is dangeres they store heavu metal agenst window ( breking glas .) and very high crates of beear leaving us 30 cm to enter in to flats .shop have turned our back garden in to rubesh tip faoull smeling and flys,rats cocroches are geting in to flats . This is Srbija where low do not apply ef you have importent friends ! I am trying to sale flat with anonymous loss just to get out from hell . I was going back to live in Srbija when retired. My pension is state pension ( UK amonst loest in Europe) and now there is no wey to take problems to court for in Srbija that takes years and solicitars are mony grabing and usles ( once that I delt with ) Please help , Do I have to pay for damages ather iresponsible oneras are cosing. Insurance in Srbija is bad and no meany people get any money for damages from them so they and I are not insured .
Joka
- 29-Jun-19 @ 9:46 AM
How do we edit our post Can you upgrade your site Thanks much
Arrogantaramus
- 13-Mar-19 @ 1:32 PM
We live in a world today where you have to be very careful with whom you make friends with just in case you no longer see eye to eye with them for example disagreeing with something . Some people think that every one must be against youit's no rocket science it's a simple few words saying:"Don'ttalk to these people" thatdoes all thesedamages to the minority This is all the people youhad adisagreementsayfirstly beforethey starts the othermaliciouslyingrumours aboutyou Nointelligentwordsno proofthat you deserve this treatmentsisneeded From then on you are then falselycreatedand painted intopublic enemey number oneas sillyas thismay soundandbefore you know it the wholecommunityeven people you havenotmet!in lifeknowsandheardabout you. This is why it sounds silly . Theyheard aboutthings about you whichprobably neverexisted. Onceonemakean enemey out of you this one have to spread the word and there come another ant and take a grain of peas and another and another and it never ends. Sobefore you make friends with people thinkcarefully forjustincase Some!!!Peopleare only meanttobe in your lives for aseason . How people let go saysa lot aboutwho!!! they are. If they are meant to be in your life the universe will bring them back to you no devilin hellcould stop it with all the childishgamesyousee playingbefore your eyes . Theywill not be back in your lives if it's not meant to be Sayinglive andlet live should mean you are not guilty of the same Andif not don't say it. Don't mock it Havealookin your mirror and stop justyfing your wrongs. So the nice one yesterday is nowthebadone the next day Theprettyonelast night is now the ugly so and so this morningbecauseyou fell out It's a very thin line Lastjy please stop joiningin childishgames.?
No outspoken people
- 13-Mar-19 @ 1:27 PM
We live in a world today where you have to be very careful with whom you make friends with just in case you no longer see eye to eye with them for example disagreeing with something . Some people think that every one must be against youit's no rocket science it's a simple few words saying:"Don't talk to these people"thatdoes all thesedamages to the minority This is all the people youhad a disagreementsayfirstly beforethey starts the othermaliciouslyingrumours aboutyou Nointelligentwordsno proofthat you deserve this treatmentsisneeded From then on you are then falselycreatedand painted intopublic enemey number oneas sillyas thismay soundandbefore you know it the whole community even people you havenotmet!in lifeknowsandheardabout you.This is why it sounds silly . They heard aboutthings about you which probably neverexisted. Onceonemakeanenemey out of you this one have to spread the word and there come another ant and take a grain of peas and another and another and it never ends. So before you make friends with people thinkcarefullyforjustincase Some!!!Peopleareonly meanttobe in your lives for aseason . How people let go says a lot aboutwho!!!they are.If they are meant to be in your life the universe will bring them back to you no devilin hellcould stop it with all the childishgames youseeplaying before your eyes . Theywill not be back in your lives if it's not meant to be Sayinglive and let live should mean you are notguilty of the same And if not don't say it. Don't mock it Have a lookin your mirror and stop justyfing your wrongs. So the nice one yesterday is nowthebad one the next day Thepretty onelast night is now the ugly so and so this morning because you fell out Its a very thin line Lastjy please stop joining in childish games.
No outspoken people
- 13-Mar-19 @ 1:08 PM
My wife and I have been subjected to physical assaults, intimidation, harassment and vandalism on a constant daily basis now for the five years of our social housing tenancy with our local LA. The root of our problem is that I am an Irish Citizen and my neighbours do not want us living in their park. The Police are dealing with our issues but our landlords (Castle Point Borough Council) are not. Their stance is they do not get involved in matters of anti social problems. They told me to stop sending emails to them that they are not referees between neighbours. The most recent assault on us was a vicious physical assault that resulted in that neighbour, her boyfriend and a friend getting a Community Resolution Order (Each) and the tenant a 'Community Warning' from the Police. This however was pointless as this neighbour is continuing to attack us and harass us. She has now also begun to coerce other neighbours to 'jump on board' with her and they too are attacking us. We sought the help from the LA (Council) but they told me to stop bothering them. We would leave but we cannot afford to. Our life living here is hell on earth.