Your Rights Under the Crime and Disorder Act 1998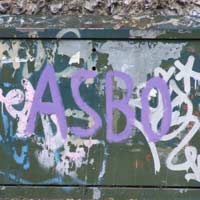 The primary objective of the Crime and Disorder Act 1998 was to give more responsibility to local authorities with regards to implementing strategies to help with the reduction of crime and public disorder within the local community.
Although the Act also abolished the death penalty for piracy and treason and abolished the presumption that a child under 10 years old could be incapable of committing a criminal offence, the key areas are concerned primarily with Anti-Social Behaviour orders, commonly referred to as 'ASBOs', sex offender orders, parenting orders and racially aggravated offences.
Anti-Social Behaviour Orders
These orders are issued against people who have carried out anti-social behaviour which has caused (or is likely to cause), distress,
Harassment
or alarm to a person(s) who does not reside in the same household as the alleged offender him or herself. In other words, the ASBO is deemed necessary to protect people from potential further anti-social acts being carried out by the alleged offender.
Sex Offender Orders
These orders run along similar lines to ASBOs in terms of their conception in that they are designed to prevent sex offenders from causing any further harm to the public as the result of previous offences which has resulted in them being placed on the sex offenders register.
For a sex offender order to be issued, the offender must have been convicted of a sex offence under part 1 of the Sex Offenders Act 1997, or has been cautioned and where they were not found guilty as a result of insanity. They can also be issued where the offence was committed outside of the UK but would still be considered a sex offence under UK law.
The order can be for a minimum of 5 years, unless a court decides to uphold a complaint that its term should be changed or completely discharged. If the order is breached, then the offender can be sent to prison for up to 6 months on summary conviction and for up to 5 years for a conviction on indictment and/or they can also be fined.
Parenting Orders
These apply to cases where the parent(s) of a child who has been issued with an ASBO fails to keep to their part of the conditions of the ASBO, which places requirements on the parent(s) of ensuring that the child does not commit another similar act that has led to the ASBO being issued in the first place, or has been engaged in any other kind of criminal activity.
They can also be issued where the parent(s) has not attended the agreed counselling/guidance sessions aimed at improving the welfare of the child, in order that the child does not go on to offend again. A parenting order can be issued for up to 12 months and, if breached, the parent(s) can be liable for a fine.
There are, however, restrictions on orders which might interfere with the parents' or child's religious beliefs or where the times interfere with the time when the parent(s) would normally be at work or attending any kind of educational institution.
Racially Aggravated Offences
This part of the Act covers issues where additional separate offences were introduced for crimes which were aggravated by the race, or presumed race, of the victim. It includes crimes of assault, public order offences, criminal damage and harassment, where additional fines or extended prison terms can be imposed if the crimes can be proven to have been racially aggravated.
In introducing the Act to give more power to local authorities in their effort to tackle crime, it also places upon them a responsibility of ensuring that they work in conjunction with their local police force, probation authority and health authority in formulating a strategy to reduce disorder and crime within their own local area.
PROBLEM NEIGHBOURS IS FOR SALE.
This website is for sale [more info].
You might also like...
My husband & I have lived in our home since 1996. It was built over here and we've raised all three of our kids in this home. We respect everybody around here in this neighborhood without a doubt. But back in June of 2015 a couple and their kids moved into the neighborhood. At first everything was all good. But then the first Sunday evening whiles trying to rest for work Monday morning, A loud noise of music and dancing was coming from the front yard. My whole house was shaking. My husband was resting in the bedroom, I was watching TV in Livingroom, and could feel the vibrations as if my house wanted to collapse. I jumped up and set off the alarm system but that didn't work because they did not here it. So I started to yell and they could not here that either. I had to go to the middle of the of the street and then they looked up and saw me yelling. I asked them to cut it off, Turn it down or something because people do work you know and besides it's after midnight. So about a few months later I noticed a lot car activity going and coming outof this house all times of day and night. I didn't think nothing of it at first but then I noticed the people were really bad looking. I said ' Oh LORD this isn't good this is all so bad. I cannot deal with this and I won't deal with this. That's when the harassment started. The cars parking in front of my house blocking my driveway, loudvicicious pitt bull dogs all over the place with any restraint's what so ever. I went to the police, I went to code enforcement, I sat down with the chief of police. I had meetings with who ever you could think of I did it. Now it's 2020 and it's worse they've threaten my life twice. I've wriiten the Land Lord about the tenants in her home and what they are doing and how if we work together this can be stopped but she won't respond. I had to upgrade my system on my house for more added security. It's bad when you are at lost with no one to turn to until you are dead.
So ( SIC OF IT)
- 6-Dec-20 @ 1:27 PM
I posted a very lengthy request for advice yesterday but my comment has disappeared, please can someone tell me why? Kind regards
Paula Smith
- 23-Jul-20 @ 9:41 AM
My neighbour use my weak point . Knows that i have panick attacks anxiety problem and ruins my health by everyday banging the drawers and by hitting with hammer on the walls, on the woods and makes so much sounds deliberately. Mentioned that does it to get rid of me. I need your advice please.
Jasmine
- 3-May-19 @ 3:29 PM
I have problems with foreign neighbours who continue to play loud music constantly and who have been arrested over 3-400 times over drunken behaviour violence with intent and various other incidents.this has been going on for 4yrs and still nothing gets done about it and one day will take law into my own hands.
Begsey
- 20-Aug-17 @ 11:51 PM
We have neighbours from hell their land lord is not interested I am registered disabled and they female has called me a cripple on numerous occasions ive reported her to Staffordshire police to do what the law says but she keeps getting away with it. The Council which is Stoke on Trent have put in noise monitoring equipment and we have been able to record the noise being made. But I can't take it anymore im sick of it I just want someone to help.
Andrew
- 4-Sep-16 @ 6:20 AM
Having read the various comments made here over excessive noise and the like it really annoys me that others will not allow children to be children any more. Don't they remember when they were young .....it seems not.
we have that is our whole family been harassed/stalked by a council licensed taxi driver, whom upon seeing us, both outside our home and inside our home sounds his horn at us - this has been going on for 15years, we have asked our local council to serve him with a noise abatement order, even though we have endless footage of this behaviour (and others including more serious behaviours) the head of ASB team refuses to assist us, she will not give a reason why, she just wont help us! and the offender has performances outside her own office. she even sent an email declaring the man "innocent" despite our footage which is continuing to accumulate by the day.The licensing department also refuse to deal with him on the grounds of "do not want to act as do not want to effect his income", our MP has also told us "the police should not be involved in this situation despite the stalking element of his behaviour of which an organisation has confirmed his behaviours are constituting to stalking and breaching the legislation, given that the offender was bound over some years ago after admitting to harassing the family, and a more recent violent attack from the offender, on footage committing offences has been dismissed (NFA) by police.our situation is a desperate one, whereby no matter what the laws to protect us, they are simply not being used, and we were even deceived by our local council with a risk assessment which did not follow procedure, and having raised this with our local council "that we know the correct procedure" was not followed they refuse to do the correct assessment, as we have advised them the cause for deceiving us was to deprive us deliberately from further assistance.
jagjane
- 13-Dec-15 @ 1:08 PM
@Fed up. This is a common problem when you have a flat above you. They sound like normal household noises, but if you are hearing loud TVat 3 or 4 in the morning then you should firstly ask them if they would turn it down a little. If they do not do so, contact your environmental health department who will conduct an investigation and if necessary serve an abatement notice.
ProblemNeighbours
- 27-Nov-14 @ 10:24 AM
Hi we own aflat on the ground floor in a 3 storey house converted to 3 flats, the rest are council tenants. The tenants above have wooden/ laminate floors so we hear every single footstep, they also have 3 cats who run across the floors at all hours 3/4 in the morning. At bedtime ,( 11ish as I get up at 6 in the morning) Ican hear their tv/radio, every cough, footstep, cats ball rolling across the floor, every comment anything they do basically. It's not excessively loud butAt that time of the night it echoes even louder and without fail wakes me up every night at 1, 2, 3, or even 5 in the morning. This is every night they both don't work so have no reason to go to bed early!! Am I being unreasonable in asking them to turn the tv off at a respectable hour, and going to bed like normal people???
Fed up
- 26-Nov-14 @ 12:32 PM
@Rupa. They should report this behaviour to the police. If the situation is severe, they can take action under either the Protection of Freedoms Act 2012 or the Protection from Harassment Act 1997.
ProblemNeighbours
- 25-Nov-14 @ 12:13 PM
my boss n his wife both r mentally harassed by a woman. she calls, msgs,mails hundred times in a day to my brother. how d law can help them.
rupa
- 24-Nov-14 @ 6:25 AM
@Jan. Not really, it's quite common for kids to be up at this time especially during school term time. While the weather is good, it's also natural for them to be outside. If it was earlier (4am for example) - then yes it could be considered antisocial but 6.45 is not really that unreasonable.
ProblemNeighbours
- 9-Sep-14 @ 11:33 AM
Every morning the kids next door are outside at 6:45 screaming and singing and shouting slamming the door is this antisocial
@keeyk - if you're unwilling to complain to your environmental health officer then there is not much other action you can take apart from having a friendly word with your neighbour. As you said yourself, the latter may not be possible if you are not on good terms. Whilst indoors, you could try additional soundproofing measures? Outdoors, there's not much you can do apart from headphones really.
ProblemNeighbours
- 29-Jul-14 @ 1:55 PM
We live in a mid terraced house in a good area in town.Neighbours have moved in next door and are creating excessive noise.The family now have 5 children (ranging from 13 to 1) and there is constant screaming and crying coming from the house/garden.When the children play in the garden they scream and shout to one another and they shout louder and louder for their mum's attention.My husband and I used to use our garden a lot and it was a very quiet neighbourhood but now I don't want to go out there as it is just too noisy.Their children scream and shout very early in the morning - it can be as early as 6.40am and their noise quite often wakes up my teenage son (in his GCSE year).They have also just bought a BBQ and firepit and placed both close to the fence next to our garden so we are constantly having to close windows and doors to stop the house from smelling of smoke.I have lived here for 43 years and grew up here as a child.I loved my house but I now hate living here and feel that I cannot use the garden because I just have to listen to their screams, shouts and crying all the time.It is a living hell.I cannot speak to them about it because we don't get on.The mother doesn't like where I park my car, even though it is legally parked and we have had to contact the police before because she went through a stage of parking bumper to bumper with our car, pushing our car back so that it lurched forward when she drove away.When we politely asked her to move her car so that it wasn't touching ours she refused.It was at this point that the police became involved and she has stopped since - although both her and her husband pack excessively close.They have also recently decorated their house and every sound from inside echoes down the street so that if I am in bed I can hear the children shouting and screaming.I am used to working with children as I am a primary school teacher but even with a class of 30 children the noise is more tolerable.There is also the worry that if I complain about them it will jeopardise our chances of selling the house if it comes to that in the end.Can you offer some help or guidance as to where we stand legally and what we can do.Thank you.
kerryk
- 29-Jul-14 @ 10:43 AM
My son got in trouble and went to court in April were he was found not guilty the Bolton council offered him a flat but then said he could not have it for that reason he needs to see his 4yr old son and spend quality time with him he had a council property with his ex girlfriend but left he had no choice but to leave so why won't Bolton at home help him he his homeless and sleeping on friends floors and no one will help him thank you
I'm a single mom that lives next door to a young couple that smoke a lot of drugs the smell is very strong, so now my house smells of drugs, many people to my horror has commented on it, it'smainly in my 10 year old daughters room. what are my rights, the police were called and did nothing!! please help as I'm scared its affecting our health???
Last straw
- 17-Dec-12 @ 11:57 PM
I am a young lad who plays in the streets with my mates but I have recently stopped because a man has started taking pictures of us is he breaking the law I am worried he now has my picture!! Thanks, Jammyboii
Jammyboii
- 20-Jul-12 @ 9:28 PM