Adverse Possession and Your Neighbour's Fence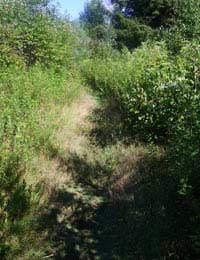 The most common way of establishing who owns land or for example a boundary fence is to look at the title deeds. Usually there will be a clear demarcation of who owns which part of the land and boundaries.
It is however sometimes possible for the original owners of land to lose their ownership due to another party's adverse possession of it.
What is 'adverse possession'?
Essentially adverse possession is where someone who is not the owner of land possesses (has sole use of) it.
For example:
Farmer A owns the Land X. Farmer B owns Land Y. Part of Land Y (owned by Farmer B) has been used solely by Farmer A for the last 20 years to park his caravan and he built a fence around it can only be accessed from his (Farmer A's land)
This land may be owned by Farmer B according to the title deeds, but Farmer A has had sole use and possession of it for a lengthy period. Ownership of the land has therefore transferred to Farmer A due to adverse possession.
When does adverse possession exist?
I have owned my property for over 25 years. There is an existing fence line put in when the plots were separated in the early 70s. The fence is concrete and wire. I've used and maintained the land and retaining wall to the right of these concrete posts for the past 25 years. Our neighbours now want to enforce the legal boundary and move it effectively further towards the right, claiming the land and wall we have been maintaining. Can they do this or have do I have rights under adverse possession?
The test for adverse possession (as confirmed by the House of Lords in J A Pye (oxford) Ltd v Graham) [2002]) is whether the trespasser has possessed the land for the requisite period.
The 'requisite period' is:
If the land is unregistered - 12 years
If the land is registered but the adverse possession period occurred before 13 October 2003 - 12 years
If the land is registered but the adverse possession period did not occur before 13 October 2003 - 10 years

Note:

An application to the court for adverse possession is only recommended where the party taking possession does not have an entitlement to neighbouring land. If the party taking possession has rights to a neighbouring land (like Farmer A above), whilst they may have adverse possession, the application that should be made to the court is one to simply alter their and their neighbour's title plans to show the new boundary.

Application under Options 1 or 2 above (unregistered land or registered land with adverse possession from pre-13 October 2003)

To show adverse possession, you must prove:
That you have factual possession of the land
That you intended to possess the land
That possession is without the owner's consent
That all of the above have been true for at least 12 years prior to the application
Factual possession is very dependent upon the circumstances of each individual case. However the court has offered the following guidance:
The possessor must have exclusive possession of the property
The possessor has been dealing with the land in question as an occupying owner might have been expected to deal with it and no one else has done so (eg cutting the grass / maintaining the boundary)
Erecting a fence around the land is a positive indicator of adverse possession
I have a four foot border at the side of my property and have exclusively used this as a flower bed for 27 years. New neighbours have moved in and have claimed that the strip is part of their property. They are demanding that it is returned to them. What can I do?
A claim can only be brought within 12 years of the right to claim existing*:
Eg: Going back to our example above, the adverse possession by Farmer A commenced 20 years ago. The right to claim existed after possession for 12 years, so 8 years ago. Farmer A has 12 years from when the right to claim existed to actually make a claim, so now has just 4 years left.
20 years ago - adverse possession commences 1996
8 years ago - 12 year possession complete so right to claim arises 2008
4 years away - 12 year limitation period in which a claim can be made expires 2020
* There are slightly longer periods for government departments or spiritual organisations taking adverse possession, along with other specific but rare scenarios.
Application under Options 3 (registered land with adverse possession completing after 13 October 2003)
You must still prove the same criteria for adverse possession as above, but the relevant period for possession is shorter:
That you have factual possession of the land
That you intended to possess the land
That possession is without the owner's consent and
That all of the above have been true for at least 10 years prior to the application
There are however a number of exceptions that prevent an application under the new regulations being made:
The owner is or has been in enemy territory in the 12 months leading up the application (making it difficult to make an application for adverse possession against anyone in active military service)
The owner is suffering from a mental illness which means that they are unable to make decisions about issues such as possession / maintenance of land
At any point during the 10 years leading up to the application, the owner died and their state was passed on, the owner became bankrupt, or (if the owner is a company) the company was wound up
The process of making either of the above applications can be tricky, and your claim will be rejected if the forms are not completed correctly and relevant supporting evidence not provided. It is therefore recommended that you contact a lawyer if you are considering a claim for adverse possession; this is an extremely complex area of property law with plenty of exceptions, loopholes and technicalities!
You might also like...
I have moved into a housing association property last August. My neighbour has taken the majority of my garden and built a hideous studio on it. He got planning permission for the building (after 2 attempts )in 2012. I have no garden now. He burns stuff all the time in the alleyway between our houses so the little space I have I can't use. The studio is a massive eyesore too. He has made no effort for it to be aesthetically pleasing to us. Can I do anything.
Amy
- 31-May-20 @ 11:21 AM
I HAVE LIVED IN MY CURRENT RESIDENCE FOR 30 YRS MY NEIGHBOR NEXT DOOR HAS A 2FT SPACE BEHIND HIS GARAGE WHICH PREVIOUS 2 OWNERS AGO PUT A FENCE ON BOTH SIDES BUT NOT ACROSS DUE TO ME HAVING A GARDEN. THE CURRENT NEIGHBOR NOW WANTS TO PUT A FENCE ACROSS..ONE SIDE IS WOOD ONE SIDE IS CHAIN LINK.. I HAVE FENCED IN A SQUARE FOR MY CURRENT GARDEN...... NO NEED FOR HIS FENCE DOES HE HAVE RIGHTS EVEN THOUGH I MAINTAINED IT FOR 30 YRS AND THE PRIOR OWNER PUT HER FENCE PURPOSELY THAT WAY
Jilli
- 29-May-20 @ 12:31 AM
I have a dividing fence to the right of my property as you look out of the back door it has been in the same place since I moved in the old neighbours replaced it about 15 years ago and now the new neighbours are saying it's on their property and I have to move it how do I stand on this
Nessab
- 12-May-20 @ 6:51 PM
I moved out of my house for a couple of years and on my return my neighbour has taken down my hedge and replaced it with a fence and at the same time taking some of my land. I have Deeds showing it is my fence however there are no measurements showing the size of the land - how can I prove they have taken my land without measurements on the Deeds ?
Francine Vella
- 20-Apr-20 @ 1:09 PM
I would go to the land and register to and if you own your house and you have the deeds to your house it shows you what land is yours and I would go to the local housing trust to see what they would day
Plug
- 13-Apr-20 @ 9:12 PM
I bought my house 14 yrs ago next door an end terrace belonging to the council i erected a panel fence to replace the run down mesh fence ddue to a downpipe from the gutter which sits exactly on boundary from both houses i had to move the fence 30cms on to my side of the boundary. Now the new owner(ex council tenant and now owner?)says this is a joint boundary a he can do what he wants with his side,i told him i need to repair replace panels and that he removes some bamboo screening he has fastend to the fence and to refrain from putting them back up where do i stand
Annoyed
- 8-Mar-20 @ 4:31 PM
My neighbour believes thatmany years the concrete boundary posts were put in the wrong place , He has lived with them for 12 years but now because we have fallen out he is claiming the land has (10Inches ) his to the extent that a new nence panel has been pushed forward , Q dohe he to go through the legal chanels .
david Wallace
- 7-Mar-20 @ 8:25 AM
Our garden was originally separated from our neighbours garden with a dry stone wall.We erected a fence for more privacy and installed it on the neighbours side of the wall around 17 years ago.Property developers have now purchased the house next door.They have torn down the fence without our permission.We have had to put up a new fence on our side to prevent our dogs escaping.We are taking them to the small claims court to try to recoup some of our costs.Could we claim adverse possession of the land up to where the original fence was?
Dr G
- 25-Feb-20 @ 12:43 PM
My brother owes his house . And so does next door to him The problem is his old shed is on My brother's side an we are trying To get our fence back up... We have try taking to the next door Man but he not bother about the shed. What to do.
None
- 5-Feb-20 @ 4:03 PM
We have a parking space that borders a grass verge belonging to the local farmer. The farmer has, only today, said he intends to put a fence directly next to the parking area making it almost impossible to swing the car into the space. We've 'used' the parking space and verge for nearly 14 years. Anything we can do?
Graeme
- 4-Feb-20 @ 11:30 PM
There is nothing under the Limitations Act to prevent an adverse possession claim submission to the LR at any date in the future after the 12 year adverse possession requirement has been met.
John
- 30-Jan-20 @ 12:27 PM
There is a strip of unregistered land at the end of the terrace which is also runs along the back of the houses allowing access to the rear gardens. My neighbour at the end is claiming the strip of land belongs to him and claims he has registered it. My councillor has told us it is still "no mans land" and to register our right of way as per our deeds with land registry. In February he will have owned of the house adjacent to the land for 12 yrs. I have looked on HM website and they only give information to complete a NAP in respect of an adverse possession, but we are not aware that an application has been made. We have been bullied into not using the land and others have been intimidated so we all feel that it will be very unlikely that a claim would become public knowledge to avoid any objections (he would find a way). He has already avoided clearing the land of the rubble by telling the council it his land and has taken legal advice. But my councillor has checked and the land remains "no mans land". I have all the information to confirm our right of way and the other neighbours access points including garage, which has been blocked and is no longer used. Do I use the NAP form or write a covering letter and where do I send it so there is a record of the access/right of way on the "plot".Thank you.
Bellafonte
- 21-Jan-20 @ 7:19 PM
I bought my house in 2006, and in 2012 I noticed a neighbour whose property is in the right-hand street, if one is facing my house, and his garden runs through the back Gardens of about 5 houses, and ended in a narrow garden behind my garden (Which means that his garden is a very long garden). We became friends since then. However, in 2017, the man bought new wooden fence and removed my boundary fence, trying to expand the narrow garden behind my garden. This I stopped him to encroach into my garden. The boundary is clear, because there is a small wooden workshop built over 30 years ago at the end of one side of my garden. To my greatest surprise, I went on holiday outside UK only to come back and found that this man has shifted my fence and build a block of 2 rooms, leaving part of my 30 year old wooden workshop into his compound.I am considering a legal action. Please what should I do?
Mike
- 17-Dec-19 @ 6:26 AM
I'm in the process of purchasing a house, the house beside my house was purchased a year ago. Whenthis was purchased there was small trees and plantstwo Meters on my property. They have now added a fence. I feel they thought this was their boundary and it is a genuine mistake. Can they claim adverse positionif the flower and treeswere there for for fifteen years . Even though they are only there one year.
Bobby
- 14-Dec-19 @ 10:48 AM
I submitted a claim to Land Registry claiming adverse possession of small parcel of land at the rear of my garden, I fenced it off, only access from my house, and have planted and maintained it for ~20 years. The owners (developers apparently) suddenly popped up and objected saying i couldn't prove that I had had possession for that long (I absolutely can); anyway I have been informed that the 'solicitors department' have dismissed my application finding in favour of the owner. Land Registry did not engage in any correspondence with me so how can it be that they can reach that decision without further contact? They are not, apparently, obliged to give me reasons for their decision except for jargon (paragraph something of section something else), no case specific reasoning! I think the owner intends to devlop the land, can they just smash down my fence and bulldoze my plants and trees
Mrs A
- 22-Nov-19 @ 8:22 AM
I am a home owner and live with in block of 4 flats. I purchased my flat in 2004. There is a communal drying green area that none of the other 3flats have ever used. So since 2004 i have maintained the upkeep of this communal drying green myself. I have paid a local gardner since 2004 to maintain the upkeep of the communal drying green area because the other 3 flats had elderly people in them and the said they didnt ever use the communal drying green so they didnt want to share paying for the upkeep. I have also maintained and paid for the up keep of the paths and gated areas that i share with my neighbour. She has never offered Any payment towards the upkeep. I can prove all this with letters and with receipts. Can i claim any rights to this communal drying green area. Can you please help and advise. Scottish jock
Scottish Jock
- 19-Oct-19 @ 2:58 PM
If a neighbour has fenced off part of their property and encroached our land 17 years ago, can we claim it back. Surveyor has confirmed they have come over too far. However original owners did it and moved away 7 years ago. Current owners have been tgere 7 years. Our previous owners moved away a year ago there were always disputes but not in writing and we werent told at time of purchasing. Next door havent claimed adverse possession. Can they? I would obviously object. Also when does their time to claim run out?
when my wife and i bought our house in 2005 it was sold to us with a chain link fence and small laurel bushes at the rear of the property and when i returned home tonight to find that the person over the back has removed the chain link fence and cut my laurels down (to the ground) and removed 2 fence panels that i put up to stop the old occupant looking though ! she said that i have taken her land and is now putting a new fence up on her land (she has only lived in the property for 5 years ) as i have lived here for 14 years am i correct in saying that i can claim the land and have her replace the laurel bushes ? what steps do i need to take next ? thanks
darrenr
- 30-Sep-19 @ 10:09 PM
Kindly advise.The neighbour's dilapidated fence and plants are encroaching and leaning over the boundary line and into my property.I offered to replace the fence at my expense but this was rejected.He feels able to trespass and refuses to fix his fence or plants. I will now be erecting a fence on my property along the boundary line but in order to do so the neighbours' fence and plants will need to be removed, cut back and returned to the neighbour. Am I permitted to do this? Would this be considered criminal damage? If the fence remains I will be giving up to the neighbour about a meter of land along a 40 meter stretch.This does not seem right or reasonable.
Reba
- 20-Aug-19 @ 12:35 PM
Where can I read more about adverse possession expiring 12 years after the claim becomes possible please? this website seems to be the only one to mention it. There is a fence between my neighbours house and mine that my grandad (the previous owner) put up, but in the wrong place. this has stood for 30 years now (the concrete posts, panels have of course been replaced during that time). I want to clarify this to my neighbour to avoid legally losing the land but I'm concerned the neighbour will file for adverse possession as soon as the fence is mentioned to him. If I can point him to the section of legislation that states adverse possession is no longer an option then I can at least put in writing to him that he is on my land with my consent until such a time that I require it back
Ben
- 12-Jun-19 @ 2:53 PM
I'm interested in the part where you mention the "12 year limitation period in which a claim can be made". you see my neighbour has a fence on my land that's been there for decades (unsure how long but as long as I can remember (25 years). my neighbour moved in in 1986 and no adverse possession order has been brought. the land registry deed clearly show I own the land about a meter beyond the point where the fence begins and there is a landmark to demonstrate this (a small section of wall features in the land registries boarder. Does this mean legally they've ran out of time to make a claim of adverse possession? Could you tell me where I could read more on this expiry as I cant find anything on google. Thanks in advance, great article Ben
Ben
- 22-May-19 @ 12:03 PM
Hi I am wondering if anyone can help me my neighbour put up a fence before I bought my home and he put it 7 inches more into his garden resulting in my property gaining 7 inches along the garden. It is the side that he would pay for Now he wants me to move it back and pay for it.I am wondering if I have to pay or he does I am more than happy for him to move it but I don't want to pay
Jod
- 21-May-19 @ 8:19 PM
at the back of my house is a Parish Rooms car park for folk using the rooms for hire. Several times I and my neighbour have had our garden fence damaged due to bad parking. We have just replaced them. The trustees are saying we have to catch them and claim. Surely the responsibility should lie with the trustees who let people park free.We have asked for stumps or some form of barrier so that these bad drivers cant get near our fences to no avail, what more can we do -help please
JEN
- 12-May-19 @ 6:01 PM
We bought a house in 2007. there is a little bit of land at the end of the garden that contains our cesspit (shared with our neighbours). The local farmer says he owns this land, but we have full right to empty and maintain it. When we bought the house there was no fence from our garden into the bit of land, but a few years ago he put up a fence, making it harder to access. he agreed to sell me the land several years ago (and agreed a price in writing) and said he needed to sort out paperwork. Last time I asked to buy it he said he didn't want to sell it anymore. Today I discover that the land isn't actually registered. The acres and acres that he owns surrounding it are registered, but that bit isn't. CanI register it in my name?
elizabethR1
- 30-Apr-19 @ 7:41 PM
i have a strech of land to tge side of my house, i have hinted to my neighbours about detecting a fence half way through the land deviding it. my neighbours have said they woukd be happy to maintain the side closer to them providing they will be allowed to let the dog run free. would my neighbours be allowed to take possession if i did this?
brow
- 9-Apr-19 @ 2:39 PM
We have had a fence along a boundary line for 17years It's isnt in the right place due to my dad and ex husband of our neighbour agreeing where it is now. Her and her new husband have now stated they are moving the fence to where they think it should be A) are they allowed to do this with our agreeing a boundary line first (we have deeds but obviously the fence was put in wrong from her in the first place) B) they have very aggressive dogs and we have young children we are convergence dogs will get in our garden B)
15 yrs ago my neighbour encroached 3ft onto my property he refuses to register with land registry and refuses to erect a fence between the two properties can i claim it back
bez
- 10-Mar-19 @ 3:17 PM
Regards to the below message, Planning permission has been granted since April this year by the way.
Owner?
- 26-Nov-18 @ 10:52 AM
My neighbours have been round. The lady has stated that she legally owns the fence that separates our rear gardens, and also the land it sits on. As far as I can see on my deeds, the land the fence sits on is mine. My boundary line shows a straight line from the right side of my property all the way to the rear fence. Apart from the fence not being very straight and encroaching on my garden, it is attached to the rear wall of my house. The reason this all got brought up is that I have had plans drawn up for an extension. The plans clearly show the wall of my new extension running along my boundary. I have no issue with the fence being attached to the new extension (similarly to how it is currently) and have told the neighbour this, but she is insistent that her fence is left in its current location and that I need to build my wall 100-150mm in from the legal boundary line to accommodate this. I am aware that it would be fairly difficult to build along the boundary line unless my foundation is dug in the neighbours property by 100mm or so, but my plans have a stipulation on the detail that the foundation is to be 600mm (rather than the 500mm generally) wide to accommodate the edge build for the wall over the foundation. I just need to get some advice on where I stand and as to whether I can remove the 1 and a half panels in my garden so the wall can replace it. Thank you for your time in advance.
Owner?
- 26-Nov-18 @ 10:50 AM
We recently bought a house and only this week found out that the neighbour who is at the rear of my garden boundary has advanced about 3 meters into my garden (behind a shed), he even built a paved drive as a side entrance and put a gate on it, all within my land. The boundary on my deed clearly show that land is mine. Talking to other neighbours, this happened about 8 years ago with the (not written) consent of the previous owner of the house I bought. Can I claim the land back easily or do I need to take him to a tribunal? Thanks.
Rafa S
- 9-Oct-18 @ 9:29 AM