Adverse Possession and Your Neighbour's Fence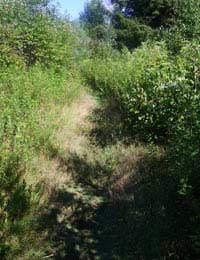 The most common way of establishing who owns land or for example a boundary fence is to look at the title deeds. Usually there will be a clear demarcation of who owns which part of the land and boundaries.
It is however sometimes possible for the original owners of land to lose their ownership due to another party's adverse possession of it.
What is 'adverse possession'?
Essentially adverse possession is where someone who is not the owner of land possesses (has sole use of) it.
For example:
Farmer A owns the Land X. Farmer B owns Land Y. Part of Land Y (owned by Farmer B) has been used solely by Farmer A for the last 20 years to park his caravan and he built a fence around it can only be accessed from his (Farmer A's land)
This land may be owned by Farmer B according to the title deeds, but Farmer A has had sole use and possession of it for a lengthy period. Ownership of the land has therefore transferred to Farmer A due to adverse possession.
When does adverse possession exist?
I have owned my property for over 25 years. There is an existing fence line put in when the plots were separated in the early 70s. The fence is concrete and wire. I've used and maintained the land and retaining wall to the right of these concrete posts for the past 25 years. Our neighbours now want to enforce the legal boundary and move it effectively further towards the right, claiming the land and wall we have been maintaining. Can they do this or have do I have rights under adverse possession?
The test for adverse possession (as confirmed by the House of Lords in J A Pye (oxford) Ltd v Graham) [2002]) is whether the trespasser has possessed the land for the requisite period.
The 'requisite period' is:
If the land is unregistered - 12 years
If the land is registered but the adverse possession period occurred before 13 October 2003 - 12 years
If the land is registered but the adverse possession period did not occur before 13 October 2003 - 10 years

Note:

An application to the court for adverse possession is only recommended where the party taking possession does not have an entitlement to neighbouring land. If the party taking possession has rights to a neighbouring land (like Farmer A above), whilst they may have adverse possession, the application that should be made to the court is one to simply alter their and their neighbour's title plans to show the new boundary.

Application under Options 1 or 2 above (unregistered land or registered land with adverse possession from pre-13 October 2003)

To show adverse possession, you must prove:
That you have factual possession of the land
That you intended to possess the land
That possession is without the owner's consent
That all of the above have been true for at least 12 years prior to the application
Factual possession is very dependent upon the circumstances of each individual case. However the court has offered the following guidance:
The possessor must have exclusive possession of the property
The possessor has been dealing with the land in question as an occupying owner might have been expected to deal with it and no one else has done so (eg cutting the grass / maintaining the boundary)
Erecting a fence around the land is a positive indicator of adverse possession
I have a four foot border at the side of my property and have exclusively used this as a flower bed for 27 years. New neighbours have moved in and have claimed that the strip is part of their property. They are demanding that it is returned to them. What can I do?
A claim can only be brought within 12 years of the right to claim existing*:
Eg: Going back to our example above, the adverse possession by Farmer A commenced 20 years ago. The right to claim existed after possession for 12 years, so 8 years ago. Farmer A has 12 years from when the right to claim existed to actually make a claim, so now has just 4 years left.
20 years ago - adverse possession commences 1996
8 years ago - 12 year possession complete so right to claim arises 2008
4 years away - 12 year limitation period in which a claim can be made expires 2020
* There are slightly longer periods for government departments or spiritual organisations taking adverse possession, along with other specific but rare scenarios.
Application under Options 3 (registered land with adverse possession completing after 13 October 2003)
You must still prove the same criteria for adverse possession as above, but the relevant period for possession is shorter:
That you have factual possession of the land
That you intended to possess the land
That possession is without the owner's consent and
That all of the above have been true for at least 10 years prior to the application
There are however a number of exceptions that prevent an application under the new regulations being made:
The owner is or has been in enemy territory in the 12 months leading up the application (making it difficult to make an application for adverse possession against anyone in active military service)
The owner is suffering from a mental illness which means that they are unable to make decisions about issues such as possession / maintenance of land
At any point during the 10 years leading up to the application, the owner died and their state was passed on, the owner became bankrupt, or (if the owner is a company) the company was wound up
The process of making either of the above applications can be tricky, and your claim will be rejected if the forms are not completed correctly and relevant supporting evidence not provided. It is therefore recommended that you contact a lawyer if you are considering a claim for adverse possession; this is an extremely complex area of property law with plenty of exceptions, loopholes and technicalities!
You might also like...
I have recently ( 12 mths ago ) replaced a falling down fence between myself and my neighbour. it is established that the fence was mine and i have not requested any payment or cost to replace from neighbor ( in fact i replaced fencing all the way round at my expense.) I have lived on the property for 14 years and fence line , even though damaged , has always been defined , meaning there has always been some form of fence however dilapidated between the properties. When fence was installed the installersfollowed the original line , in fact the used the majority of the same holes for new new posts that the old ones came out of. In the last week or so, we have had a run in with the neighbor after i complained about excessive noise . He has now since stated that the fence is on his property and he wants it moving. He seems to spend most of his time looking down the line of the fence to see where it is. To myself and the naked eye its bang on centre, of you measured things exactly it may be a couple of inches out , but which way is anyone guess, as i think its fine. Last year when it was installed and we got on he even complimented it and said it save him a job as he has plans to sort his own garden out ( it is overgrown and he hasnt phisically been in it for over 18mth). Any ideas???
rox2020
- 14-Apr-21 @ 9:24 AM
my experience is not about fences percent, but does have to do with violating ones persi al space (The Crawlspace and The Basement).Thus, it is my nextdoor neighbor's son eldest who declares his mother "wants it done)!"She wants me to kill people".I don't want to kill nobody."But I guess I'm going to have to kill her"! Two decades ago she (his mother) declared speaking, current news, weather was not enough.She decided she wanted to come inside of your life and see for herselfshe began banging into all adjoining walls from the top of the house to the basement. She was duly focused on entrance ways, living rooms, dining, kitchen and bedrooms, later it was the bathroom spy cameras andcreating a climate by threats to my mother and myself specifically *your not going to live in THAT HOUSE and not speak to me. Her son has began as she had done soliciting neighbirs to break into my house and take everything. His mother had been entertaining friends on the porch declaring, that what I needed to do was open the door, and key everybody come in and pick what they wanted!She particularly had a personal interests in a leather coat she remembered I had.She's declared that she watches people's clothes. Since she's six times bigger than I im not certain how thT would be of any value to her. Stalking, threatening, intimidating, harassing, slandering, creating a persecutorial climate among friends, neighbors or strangers to promote her own self aggrandizement and to hinder another's progress and normal right to peace inside of your home and preventing them from. Having an intimate relationship with others as though you were their prisoner and she is the angry, dissatisfied God preventing your threatening to control someone to break in everyday, exclaiming with angst,"when is she leaving" as you embark to go to work. And the purpose is to bring her your earned income."Give me money", was her comment which I ignored her as she feels she is going from generation to generation, as she did my mother by threat of harm to the point my mother stopped going to church because she used these criminal men to lean in my mothers face as she left home. At this day, she felt while I had spent a decade caring for my parents and I would be intimidated as she brought hundreds of men to look at me as though they would kill me because I called the police repeatedly.
none
- 22-Mar-21 @ 5:01 PM
We purchased our bungalow just over 4 years ago and the fence at the back of the property was already in place. A new owner of the property at the back is now stating that the fence is in the wrong place and wants to move the fence back by 18" as his deeds state that we have some of his land. We bought the land with the fence already up, we have maintained the land, it is part of our garden, including a rockery along this fence with mature trees and bushes now in place.Does he have a right to claim back his land?
lozza
- 20-Mar-21 @ 1:21 PM
Hi. My neighbour has lived in her house since 1983. We have been here since 1998. My neighbour extended her 2 bed house in 1983 and we extended our 3 bed house in 2015. There is a side strip of land that she removed a retaining wall from on her side. This was keeping back shale and stone (we are higher up than her). Over the past 18 months she has removed stones (large ones) and now the earth and shale is falling. Getting nearer our path. We have written to her to tell her not to do this as it is going to eventually undermine our path. She replied by saying it's her land and she can do whatever she pleases. I have since investigated this as currently both gardens are 10 metres wide. On the title deed my garden is 11 metres wide and hers is 9 metres. Can I move my fence so my garden is the correct width (she has no fence). Also regarding the missing retaining wall it states in her deeds all walls and fences are to be repaired to their original form so can I make her put it back? If I'd have known my garden was wider my extension could have had an extra 21 square metres could I sue her for lying about the land in the first place? By going for damages as I've worked out the value of square metre of my house based on 2015 values and it equates to £25k!!!
Yorkshire Lass
- 11-Mar-21 @ 11:14 PM
My neighbour put an extension next to his fence, our boundary, and now wants ro replace it which involves access to my garden, on my mature flower beds where space is tight. I he allowed access to my property please?
Emb
- 16-Feb-21 @ 8:52 AM
I bought a house which used to be a village shop. It's straight onto a wide footpath. I have photos before it was a shop and was cottages and they had a railing fence. Can I reinstate that fence as it used to be there, this would mean reducing the width of the footpath to what it used to be. Am I allowed to do this or who do I apply or see about it. Many thanks
Craig'0
- 13-Feb-21 @ 6:21 PM
There is an area at the end of our garden (separate) that is on our deeds as a public access right of way. The covenant in our deeds says that this must not be fenced off or blocked and is to be free for all public use. This area has been fenced off by our neighbor (prior to us moving in) and we would like to take the fence down. Can we take it down?
01aldridget
- 4-Feb-21 @ 2:06 PM
My neighbour is erecting a fence down our side drive today and he's marked out where he it ends to put it and it's on my side. I wondered how I can stop this. Thanks.
Gee
- 19-Jan-21 @ 7:02 AM
I have a dispute over a boundary position with my neighbours. My wife and i live in a local authority council house and our neighbours own their property. My neighbours are now claiming that the fence I erected on my side of the boundary, effectively on my garden belongs to them. I contacted my local council who have been out and measured the distance between the houses and have said that my fence is on my neighbours property and I am not allowed to touch it. When i erected the fence i followed the line of original concrete posts that were installed when the property was built over 50 years ago,whilst all the time placing my fence and posts on my side of the original line. I am at a loss as of what to do,as i haven't been informed where this new boundary line is so i am unable to movement fence. The boundary line I followed is the one that has always been there.
He who is
- 12-Jan-21 @ 1:33 PM
Greetings my friend. It is with a sense of sadness that I respond to your sad tale. My neighbour Torontonomoni is perhaps the same neighbour of whom you suffer such smakings of disturbance. Because he is stealing my rats it is a good idea to smake a fire of your old femces woods. Them new panels you must set humane people traps. Then you can smake some moneys by selling your neighbour as hired help.
Rev.Tchaychamomonomi
- 25-Nov-20 @ 4:41 PM
Please help, the neighbours are threatening legal action over my replacing the old fence panels. Old ones were rotten and falling apart, plus it is my fence. They are saying 22 foot is blocking out the sun, I have tried to reason with them that as the sun is quite a bit further from the ground than 22 foot that this really isn't an issue. Recently this escalated to threats of physical violence against me, thinking of just setting it on fire? Would this then be a smoke nuisance too ?
I was hoping you might be able to help. I have read your article online and was wondering if you could answer a question I have. In a case of adverse possession on a parcel of land, is the easement by prescription to access the land reduced to 10 years, or does it remain 20? I hope this makes sense.
Clar
- 12-Nov-20 @ 2:21 PM
Hi i have lived in my property for over forty yearswhen we arrived there is an established lorol hedgeit is very high and gives us privacy from a lot of houses and their lights there is also a fence that was put up behind the lorol on the neighbours side been there for some 3o years sadly my neighbour diednew nresident wants to cut the hedge down to 6ft saying its their hedge surelya over fifty year old hedge becomes the boundary which is behind their fence on our side
PAT
- 18-Oct-20 @ 12:51 PM
My neighbours have recently erected a fence along the boundary between our property's. They have have put the fence posts in my property can I put slats onto the back of there fence.
Ross679
- 15-Oct-20 @ 9:03 PM
I have small piece of land at the back of my house .do i have more right to buy it .andif my neighbour bought it by trick .can I do any thing . Lalmasood
Lal
- 10-Oct-20 @ 4:54 PM
I need advice re.land in the back of my house .is for sale .do I have more right to buy this land.and if my neighbour has bought it by trick then can i do any thing.
Lal
- 10-Oct-20 @ 4:50 PM
We have lived in our house for 24 years and have always used the neighbors yard and weeded along small retaining wall to gain access to our under house access, all cable and phone wiring on right side of house.There is no other access, you cannot access from back yard.Neighbor has now built a wall next to retaining wall and we are unable to access side yard.What can I do?
Wendy
- 9-Oct-20 @ 10:08 AM
Hi bought a house 4 years ago, sorted all the garden up to existing boundary wall which has been there since 1969, neighbour has now found out that the boundary wall was put in the wrong place, now wants to claim the land of which he has not maintained for the 30years he has lived there, is now taking us to court where do we stand on this, we are in Scotland
Reanie
- 26-Sep-20 @ 1:36 PM
Hello, I'd just like to know if these comments receive answers as I can't see any, and I do have a question! Many thanks ??
HeadacheProperty
- 19-Sep-20 @ 11:27 PM
Hi my disabled mother who is 87 never had problems with her neighbours, she has lived there for 30 years and her old neighbours 50 years or so but sadly died, so new neighbours moved in8 months ago before they moved in done of lot of renovation inside there house, mum had to put up with the banging big industrial drills no notice or polite knock at door to state what's happening, then the builders came through her back room whilst putting still in, mum didn't make a fuss let them come in and fix the damage, then they move in take my mums fence down has it's there side of the fence we have since found out for hi. To build a 6ft brick wall out of grey slabs, ok fine but when work commenced digging footings out they cut back my mums decking stating that it is on he's boundary line and the extension my dad had built 15 years ago is slightly on he's boundary line so he has the right to do this.Is this correct as my dad put all new fence back over 15 years ago and has looked after that side of the fence the old neighbours never had a problem with my dad building the extension or putting fence back up. I'm fuming also they have made my mums decking up safe as it was joined to a post and it's made it loose. How does she stand can they do this.
Posh
- 5-Sep-20 @ 8:23 AM
A piece of land was purchased in 1989 . It was then divided into 4 packages. I purchased one of thes packages. A boundary fence was erected . (It appears that it was not registered correctly with the land registry.) In 1997 my ajoining neighbour who erected the fence, sold his property. The original fence was in situ until 2003/04 when in a state of disrepair it was removed, with my consent by the 'new' neighbour and not replaced. This has not been a problem for over 20 years..... Now the 'new' neighbour wants to reinstate a fence, using the incorrect land registry plan as a guide..... We cannot agree exactly where the fence erected in 1989 was. Any advice please.....
mojobo
- 29-Aug-20 @ 6:53 PM
We moved into a new development last year. we are having issues with fence because adjusant development road ends on my garden fence and no curbs or raised path or bollards. During COVID this was hit by a delivery driver and caused dameged to the fence. My question is, are there any rules on what fence should be in place where the road ends. Brick fence or developer can put any kind of fence of there choice. Is there any law on this issue.
Raj
- 15-Aug-20 @ 10:27 PM
I have a fence separating my back garden from my neighbour to left of me. I had the fence put up 15 years ago when an old one, that our previous neighbours put up, blew down. The fence I had put up is about 2ft on my land, as it couldn't go along the boundary line due to roots from my neighbour's apple tree. My new neighbour's are a young couple that moved in about 10 months ago. They have been doing their garden up during lock down and have been attaching all sorts of things to my fence ( on their side) and have dug a border close to my fence, without asking me first. I am annoyed about this, as the fence is technically in my garden. I want to take the fence down and put it back alongthe boundary line, as was always agreed with my previous neighbours. Can I do this, as they haven't claimed adverse possession. The deeds clearly show that they are responsible for the fence along that boundary anyway.
AndyR
- 13-Aug-20 @ 10:34 AM
We have lived at our property for several yrs we have a double drive and the neighbour updated his drive we still it in half then after 1 yr we put fencing down the side of the boarder he came to. Since then he has sold the house and a new neighbour has moved in we are worried if the drive is slightly out would we have to correct it all?
Andy
- 12-Aug-20 @ 9:58 PM
Hi all, I have a garden, and back of my garden is a fence and behind just unused land about 20meter long and 10meters wide, I only would want 10meters long and 4 meters wide, as I dont want fence straight to be on the road. My new tenant said he could build a door in the fence and start tidying the land up and build new fenced area. than after 12 years I can claim it mine? Can I really do that? I guess if someone comes in 5 years and says the land belongs to them, Than I have to give the land up? Could I claim something for looking after the land? Many thanks in advance for advise. Stay happy and safe Mr Happy:)
Happy2020
- 30-Jul-20 @ 3:14 PM
We have maintained a hedge side and back of our property for 15 years by trimming it on both sides and top. The hedge was planted in 1970-71 and since then the house owners have always maintained the hedge in question. How can I claim Adverse Possession for this hedge. The neighbour who also has this as their boundary line have clearly written and stated that weand our predecessors have to maintain the hedge. Will appreciate some help and feedback.
I have lived in a end terraced housefor 15yrs .The houses in this row were deigned open plan gardens except either end house ,the person that moved in and rents the house decided she would removed the slabs that were laid as a access path for visitors , deliveries,postmen etc in the the front of the house , on erecting a boundary fence I have now got her gutter down pipe and 2 thirds is a presumably sewage drain lid both now in my garden ,which now Ieaves me two gutter drain pipes and tree different type lids in my front garden.When it was open plan it was less noticible soI have no ideawhere my boundary line is they just wanted the fence to be in unison with the rest of the fence regardless and I am feeling bullied and don't need this at 78 yrs old .She has only lived there for 11months before doing all this and it's distressing and never spoke to me about it.I had been away in lockdown for 11weeks and a few weeks later after I got back she did this, but will say I was away and couldn't speak to me which was a blatant lie.This is so stressful and hope you can help. Kind Regards K.Killian.
Shorty
- 23-Jul-20 @ 8:48 PM
We have lived in this property for 32 years. A new development is taking place behind our rear hedge. We have tended to this hedge since we moved in. There was a single strand barbed wire on the farmers side.This now lies on the ground on the far side, approximately 1m from the hawthorn trunks. We have grown the hedge since development started, from 2m to 3m high to screen off the new houses. The hedge also contains some taller ash trees and is habitat to many birds. The original development plans show a 1m exclusion zone around the hedge for root protection. However the latest updated plans now show their legal boundary to be somewhere in the hedge, and the developer says they will cut back the hedge and trees - possibly eradicating it completely. Can I claim possession, adverse or otherwise? How do I do this? The developers are known for their strong arm tactics.
Cliffhanger
- 14-Jul-20 @ 7:46 PM
There's a wall dividing mine and neighbours garden , I want to put a fence up on my side of the wall , but neighbour said he owns a few centimetres of my side of the garden so I have to put the fence not touching our divided wall, whose right
Leen
- 12-Jul-20 @ 11:48 AM
I own a portion of land which previously was the location for an outside WC, the problem is my neighbor has put a fence around the area and added it to his garden, what are my rights. He did this 4 years ago?
Rick
- 9-Jul-20 @ 3:53 PM