Looking Out for Elderly Neighbours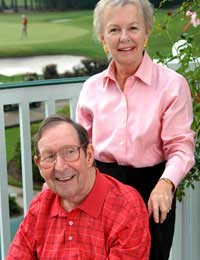 There's a thin line between being a nosey neighbour and being a concerned neighbour, but when you have elderly people living close to you, it's better to be overly concerned and make sure that everything is OK than it is to realise that an elderly neighbour may have been ill or injured in their home and unable to contact anyone.
Many elderly people are very proud and don't like to ask anyone for help, so sometimes it's good to impose yourself on them slightly, pop round every now and again, get to know their habits, and allow them to start to trust you. This way, they will know that if they do need anything they can always ask you for help instead of trying to carry on when they are struggling.
How to Offer to Help Your Elderly Neighbours
The best course of action to begin with is to make yourself known to an elderly neighbour and ask if there's anything you can do to help. Getting older might mean that they have trouble carrying out simple jobs that you could manage with little effort, and they will really appreciate your offer.
Get To Know Your Neighbours first, by Introducing yourself. Perhaps invite your elderly neighbours in for a cup of coffee and use this opportunity to offer to give them a hand with household tasks and running errands - if they need it. It could be that little jobs like changing light bulbs, mowing their lawn, or a little bit of basic DIY need doing but they're struggling and don't want to admit it. The key is to not patronise your neighbours, but offer your help in a friendly way so that they feel comfortable approaching you when they need to.
Offering to Run Errands for Elderly Neighbours
It doesn't take much to ask if your elderly neighbours need anything when you're doing a supermarket run. Offering to run errands gives you an opportunity to keep an eye on them. Calling in regularly on the off-chance they might need something means you can doing some grocery shopping or pick up their prescriptions for them, as well as checking they are OK. Offering help with lifts to doctors appointments, hairdressers or church is often appreciated, too.
If You're Worried About Your Elderly Neighbour
A lot of elderly people tend to be creatures of habit, so if you notice a change in behaviour it's worth checking they are OK. If you haven't seen them about for a few days, or you've noticed the curtains are still drawn after they would normally be, just knock on the door and see if they need any help, or if they need any errands running. It is especially important to
Look Out For Your Elderly Neighbours In Cold Weather
, as they are more vulnerable. If you think that your elderly neighbour might need medical help, see if you can contact a family member or even emergency services if there's been a fall or they are ill.
If you think that your elderly neighbour might be struggling and could be in need of longer term help, the best thing to do is ask them how they are getting on. Although most people won't admit they are in trouble, you may be able to judge this for yourself and if so, try contacting your local council and asking if there's anyone who could visit. Your neighbours may be entitled to help with staying in their own home, home care and assistance with bills and benefits.
You might also like...
@Kel1206 - there's not much you can do if he has genuinely left his taps running, apart from maybe to suggest he sets an alarm when he starts filling a bath etc. If you think he does need help with turning the taps on and off, then there are devices that you can attach to taps to help you turn them off if you're suffering from arthritis etc. Perhaps a nice neighbourly gift?
ProblemNeighbours
- 15-Jan-15 @ 2:07 PM
hello there,i have a situation that has gone on for sxyears when i bought a flat as an ivestment,to rent out,for an income,it is located on the top floor of a lovely block of flats and i am supposed to be a part of a freeholders association,on it there is a managing director who live across from me,ever since i have rented it out,he has complained a bout everything,from,painting the door,leaving paints out side temporarily,to tenants leaving trainers or umbrellas out side the door,to parking,he drove my last tenants out,then,recently,the management companymdidnt inform me of an arrear that had built up,and he phoned up my residents,threatening,that he would put me in the hands of a debter,i tried to arrange to break the bill down,and he wouldent negotiate,and highlighted,this issue to all the residents,in current affair emails,dropping me in it,making my tenants feel unsafe,so i set up a standing order to to break the bill down,now he will not grant me a lease extension,every one else has got theres,making me wairt and wait,when the arrear has gone downmgradually,his solicitor told me,she cant do anything with out his permission,gradually he is black marking me in every way.now i want to sell up to get away,from him,hes using his status to make me look really bad,i couldent get a lone for christmas,i think hes twisted things to ,he demanded a cheque and i ssimply said could i break it down,i feel he is holding me to ranson,the arrear has come down significantly,how could i pay a bill if i was misinformed,please can you reccomend a regulsatory authority,that can question this?i have kept all the emails ect,i really want him investigated,first,by some one who regulates and deals with freeholder associations,i dont know what way to turn I hope you can advise me of the next level,regards wendy Hitchcox
twinkles
- 14-Jan-15 @ 5:57 PM
Hi, my elderly neighbour who lives above me has just flooded my flat as he had left his taps running all night, he says he has trouble turning them off! I've only just moved in below him but I do not believe this is the first time this has happened as there was obvious signs of a previous leak. Who or where can I go to for advice to try and stop this happening again?
Kel1206
- 14-Jan-15 @ 12:10 PM
I have lived across the street from my neighbor (85 years old) for 20 years. Recently her husband passed away and I did help as much as I could when necessary. However, she has made me her main focus in her live and it is driving me crazy.I do visit her on regular basis and do her yard work. But she thinks, just because I live across the street, I must interact with her whenever she feels like it. And I also get phone calls about what she watched me doing in my yard during the day or why she didn't see me all day. It is driving me crazy and starting to make me sick. I am a prisoner in my own house! I love gardening, but have to check first if I am being "watched" . She has plenty of other people in her life and still gets around pretty good in her vehicle. Suggestions for her, like joining a church or other senior clubs to get involved, are not taken. I have put her on my reject list on my phone, but am not sure how long that will work. I have a family and a house to take care of and I work part time. How can I tell her that I need my privacy?
Karin
- 15-Apr-13 @ 9:02 PM
Hi I used to work in caring , because of ill health i can not work paid anyway i can do volunteer work and i am at home in term time a lot my health is getting more under control but stil unable to work.but i would like to any elderly neighbour who needs shopping getting or washing up, ironing making beds anything all for free a couple of mornings a week.i am even willing to clean paths of snow while we still have thiis bad weather.
gabby
- 5-Feb-13 @ 9:03 PM
I am having to deal with my neighbor who is constantly thinking of ways to harass me I am 70 years old. I can't get legal aid as I have too much equity in my home, I am having to pay heavy bills or get into debt with a loan I do qualify otherwise as I am on penson etc. The neighbor does all his own writing to my solicitor and I have to pay for his return letters also ,is there no justice ?
pat
- 31-Aug-11 @ 6:45 AM