Planning a Party: Respecting Your Neighbours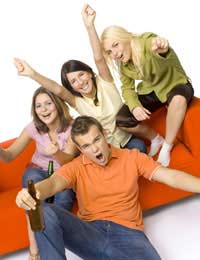 Most of us will want to let our hair down in our own homes from time to time and to hold a party of some kind. Unless this turns into a regular occurrence, most reasonable neighbours will not have any serious objections to this as long as you're respectful towards them and you are not creating Excessive Noise Levels.
Tell your Neighbours First
If you're planning to hold a party, visit your closest neighbours, especially those who live next door, and tell them the approximate time that your party is going to start and when it's likely to finish. You might also consider inviting your neighbours to the party. Not only will that foster good relations, the effects of the party are far less likely to upset or annoy those living around you.
Knowing your Neighbour's Lifestyle
When planning a party, it's quite useful if you've got to know a little about your neighbour's particular lifestyle and regular 'patterns' of behaviour. For example, if you know they always go out on a Friday night but tend to stay in on a Saturday, it makes sense to have the party on the Friday evening when they're probably not going to be there.
Similarly, if they work day/night shift patterns and alternate between the two each week, it's better if you have the party when they're on nights. If they have young children of school age, it's obviously also going to be better if you have the party of a weekend, so that any sleep disturbance which might result will not have as much of a impact if they don't have to get up early for school the following morning.
Information you Should Tell your Guests
Your guests should also be told what time the party begins and, even more importantly, what time it's going to end. Of course, nobody can always be completely certain of an 'end' time to a party, and even though it may go on longer than you anticipate, it's important that you and your guests show some courtesy towards your neighbours as the night wears on.
After about 11pm, you should ensure that any music is turned down to an acceptable level so it would have little or no bearing on your neighbours' ability get a good night's sleep. Loud music might be the most commonly cited complaint from a party, but even loud conversation and boisterous behaviour needs to be tempered somewhat after around 11pm, as that can be equally annoying to a neighbour.
You should also ask your guests to ensure they leave quietly when the party is over. Preferably, they'll have come to the party and left their cars at home but if they've turned up in cars, advise your guests not to be revving engines and slamming car doors, and not to linger outside the house having conversations but to leave quickly and as discreetly as possible.
Practical Things you Can Do
Keeping your windows closed while the party is in full swing is one of the most practical steps you can take to keep the noise levels down. In fact, before the party begins, a good test is to have one member of your family twiddling with the volume controls on the music system while another goes outside and walks down the driveway. When that person can hardly hear the music, that's the point at which anyone closer will be able to hear it, so you can usually gauge an acceptable volume level that way.
As far as next door is concerned, don't position your speakers against any adjoining walls. Move them to the furthest point from any partitioning walls and even suspending from the ceiling can often help. Pay attention to the bass control. It's often the 'thudding' sound of the bass which will annoy neighbours the most, so be aware of how high you have that.
Parties Outdoors
You need to be even more aware of all of these guidelines if you're planning on having a party outdoors. Noise travels much further and has an even greater impact.
Dealing with Repercussions
If you do not pay attention to any of the above guidelines, there is a strong possibility that not only will you damage relations between you and your neighbours, but you may also find that you get a visit from either your local environmental health department and/or maybe the police, too. In some cases, this can lead to fines being imposed, further legal action being taken against you, and you might also run the risk of having your sound equipment seized in extreme cases.
To ensure a problem-free party, following some of these simple measures will result in it being a success, and it should pass off peacefully without becoming an annoyance to neighbours living close by.
You might also like...
I can't sleep at night because too noisy from my neighbors. They drink, smoking and talking too loud.
Tung
- 23-Jun-18 @ 1:48 AM
@Diddy. Firstly make sure you follow the advice in the article above. Your local environmental health officer will advice you on the noise levels that might be considered acceptable. If it's just a "one off" party there should not be too much of a problem.
ProblemNeighbours
- 15-Jun-15 @ 2:22 PM
I would just like to know what the legal level in desibals I am allowed my music as I am having a party in my back garden with bouncy castle in a residential area
diddy
- 10-Jun-15 @ 1:44 PM