How Big a Problem Are Problem Neighbours?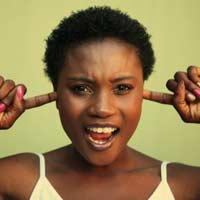 Everyone's worst fear when moving into a new neighbourhood is that they could end up with the stereotypical neighbours from hell. That's hardly surprising when figures released in early 2010 showed that not only did these problem neighbours force a staggering 360,000 people in the UK to relocate to a new home in the previous year, but in some cases the hellish neighbours also managed to knock some property values down by up £30,000.
Sobering Facts and Figures
According to a study of 2,000 homebuyers carried out by Halifax Home Insurance in March 2010:
Nearly 1 in 10 people claim to have moved house because of poor relations with their neighbours.
The number of neighbourhood disturbances has risen by a third in the last two years.
The people next door are a bigger influence on a decision to move house than schools.
The Biggest Complaints
The study also indicated that 1 in 3 neighbours have had some kind of a dispute.
The types of neighbourly behaviour which seem to generate the most complaints, and which are also behind most of the decisions to move house are:
aggressive behaviour (60%)
Neighbours who let their home fall into disrepair (18%)
Neighbours who steal and even excessive nosiness and curtain twitching (12% and 11% respectively)
The True Cost of Bad Neighbours
Frighteningly, it's estimated that in some cases having
Anti-Social Neighbours
knocks thousands of pounds off the value of a house. As this is quite enough to stomach, it's hardly surprising that people who are desperate to move away don't admit that they have hideous neighbours when they put the place on the market, even though they are legally required to disclose any neighbourhood disputes to the buyers when selling a house. It costs just as much to stay put – around 20% of people said that a neighbour had actually damaged their property.
Noise Pollution
Further to all this, a survey by Which? Legal Service in April 2010 discovered that at least three million UK adults claimed to suffer with noisy neighbours - most of the noise being attributed to loud voices or arguing, music or television. Only 15% said that the problem was regular parties, and thankfully only 3% were troubled by the sound of their neighbours having sex.
General stomping around, noisy pets and DIY, occasional musical instruments and even ball games were rated annoying neighbourly rackets by some people. Only 7% of people who took part in this survey claimed that the noise had been so bad that it had made them move.
The Good News
It's not all bad though – government figures also showed that the percentage of people reporting a high level of anti-social behaviour in their neighbourhood fell from 17% to 15% in the past year. Six out of the seven indicators for anti-social behaviour have fallen in the past year, and it seems that it's only noisy neighbours which are on the increase.
You might also like...
Sparkle ,my heart goes out to you and your lovely sensitive son . Here are my thoughts , you are obviously an empath who feels for and considers others feelings when in this world there are many who dont and wont . So you must learn to put your son and your family first and ignore this selfish womans remarks .How dare she criticise your son while he is struggling . Be strong , turn away and live your life without a thought for her . Dont let it cause more issues with your boy . He is a sensitive soul who needs much love from you . If she doesnt like it let her move .Much love x
Samaritan
- 14-Feb-21 @ 10:04 AM
We have lived in our home for 5 years but it was previously owned by my parents. The neighbours have lived there since my parents bought the house 30 years ago.She's always been a bit of a misery and not what you would call a nice neighbour. They have grown up children who have moved out. We have two children aged 15 and 12. Sadly my mum died several months ago (my children saw her every day) and it was sudden and very traumatic and since then my 12 year old has developed a 'tic' which has resulted in him making a barking/throat clearing sound. It is awful and can be constant. We live in a semi detached house and the walls are quite thin. We have been to the GP and he has been referred to CAHMS, Action for Children, etc but we are on waiting lists as they are inundated since the covid pandemic and so many children struggling with their mental health. Our neighbour has knocked to say that she can't take it anymore and we need to do something about it. What she thinks we can do I don't know. He doesn't even know he is doing it half the time. He is so upset and crying now and the best of it is when he is stressed he makes the noise all the more. I feel I don't want to live here anymore even though it used to be my parents home and we have such lovely memories here (my dad has passed away as well). I don't think we could afford to move somewhere else as we are in 'mortgage prison' so I wonder about selling up and renting? I just can't believe she has complained, especially when I have told her of his condition that developed since mum died as she asked if we had brought a dog. I'm so angry with myself as we used to live in such a lovely house and area with nice neighbours but moved here as couldn't bear to see the family house sold to strangers. What a mistake I feel I have made.Any advice?
Sparkle
- 13-Feb-21 @ 12:13 AM
Like ricky3star we lived in a 3 bed semi for 25 years, the next doors neighbours son was 10 when we moved in,already he was swearing and verbally abusing his parents who were too weak to resolve the situation.Over the years it got worse,when he reached 35 he erected an eyesore of a shed and belted rock music out till 2 am,we couldn't, sleep in the rear bedroom of the house, trying to sort it out with his parents was useless,they,by now in their early 70,s were somewhat fearful of him.Somewhat reluctantly we sold up,fortunately we were in a position to buy a detached house,we are not snobs but the thought of buying another semi and perhaps reliving the nightmare again wastoo much.We waited years hoping he would move out when he was in his 20.s, it never happened,my advice to anyone in this situation is get out as soon as you can,because 90% of the time it never gets better,only worse,even if you are reasonable and polite in requesting them to be quieter.My only regret is not getting out sooner,concil authorities can sometimes help but in my opinion after you lodge a complaint the guilty parties know they are lowering your quality of life and do it all the more,also it can make it difficult to sell your house,when we moved our estate agent said he couldn't,t sell terraced housing easily anymore because of noise problems,I think noise issues are affecting semi detached housing increasingly now because more and more people seem to care less and less about the pain and suffering they inflict on others.
Bitsy
- 7-Feb-21 @ 3:51 AM
We are at our wits end. Our neighbour is loud, aggressive, volatile etc. We suffer loud music at random times, day and night. She is abusive and threatening and a danger to others. Police, council and housing don't seem to have any control over this. She has numerous offences against her but because she suffers from mental health issues she seems to get away with it. Myself and my partners quality of life and health have suffered enormously. I am scared to even leave the house. We want to sell up and move but would struggle to sell with her next door. We feel so trapped.
Moo21
- 25-Jan-21 @ 2:02 PM
I had a lovely old guy that moved next door ten years ago. Then a couple moved in with 3 kids in a semi 3 bed house and now have 8 kids and two Rottweiler. My personality has changed and I'm always on edge from the dance music.The guy mends cars he's outside banging past 9pm. Went to the council twice and now can't sell my home properly due to these people who have no understanding of how to behave in a decent way to neighbours. They have reduced me to tears on many occasions and the council have to have constant noise these lot are very clever and it's Radom at different times of the day. It's hell and no one understands unless they have been there, you end up seen as some crazy fool??
Going mad
- 14-Jan-21 @ 5:43 PM
I feel for you all life is torture with bad neighbours , i know ive suffered 3 years until they moved out , the house is now rented to family members who are quiet, but im left with the emotional bruises from the horrendous parties which would go on 12 hours and more . No support from my other neighbours,i dealt with it myself . Anti social team wrote letters but they were ignored . My whole personality has changed thanks to those who own the house attached to mine , i am no longer the smiling neighbour i used to be , at one time i would greet people who lived next door but now i keep my eyes lowered , its best to remain distant , being nice can be seen as being weak , and they abused my nice . My best wishes to you all , i feel for you
Samaritan
- 3-Jan-21 @ 4:28 PM
After 19yrs living under horrible neighbours in a council flat the situation finally came to a head when myself and my daughter were threatened after asking them be be quite at 5.30am. They also threatened to poison my dog. I managed to swap flats and moved. After a few weeks, in moved a lunatic to the flat below me. He beat his girlfriend, there was a young baby in there which was heartbreaking to listen to. He used to shoot the garden birds in my garden and all my solar ornaments with a high powered gas air gun. I reported him to to police and council but didn't make any difference. He also threatened me and my daughter. I finally managed to buy my own home and thought I had escaped to a quiet terraced row only to find I had moved next to a half way house run by the council (not been told by the seller) OMG hell on earth. drugs, drunks, noise, filthy house with rats which came into my roof. We are on neighbour number 9 in only 5yrs it's New Years eve they have just moved in 2 very loud dogs and TV cinema size bellowing through wall. Can't take much more of this. Happy New Year. There should be a law to help protect peoples right to live in peace and quiet also not to be threatened. I have worked hard all my life and to finally own my own home was a dream its fast turned into a nightmare.
Lost Soul
- 31-Dec-20 @ 10:55 PM
Hi there, First of all, thank goodness there is a site like this, to vent common problems and stories to do with horrid neighbours. My family, (though not perfect ourselves, but better than most) have been subject, to general ignorance, nosey ness, intimidation tactics, door slamming, dog barking, and plenty of rudeness over the years. I can't believe these type of people exist, a bit vague in my description of events, there is a hell of a lot to tell! Wow what an eye opener! Did want to say that from reading all of the comments, the re occurring themes I get from you all is that, it is quite a lonely place to be put in this position, it is desperate, and there is very little hope of resolve, I cant believe how disgusting some people have become of modern times, selfish, rude, entitled, and just very very ignorant. I have noticed this past year in particular. Thank you.
MSW
- 29-Dec-20 @ 2:50 AM
I read the comments on here often as i was also a victim of anti social behaviour but a miracle happened and they rented out their house to a quieter family who are relatives of theirs, 3 years of disgusting behaviour too much to mention , my story was on here a couple of times . My heart feels deeply for all of you who suffer . I just do not understand how these people are allowed to create hell for decent living people , why isnt a law brought in to help and protect us . I will move if the vile creatures who own the attached house to me ever move ba k in i could never live with the hell i went through again . So sorry for you all
Samaritan
- 28-Dec-20 @ 3:59 PM
I've vile neighbours also.I complained to the council about their excessive noise and antisocial behaviour waking me up when I've to be up at 4.30 for the day shift.Obviously they dont work or do very little work on the side.Up all night and asleep all day.I had threats from their family members that I'd be beaten up and almost got killed by the grandsons friend mounting the pavement in his car outside my house to scare me.The police havent been any help.Theyre a well-known local "hard" family,the police are often there but it never goes any further. The council sent out the necessary letters,made the necessary phone calls,seemed to work for a while.Now the teenage grandsons taken it outside at all hours,whistling under my bedroom window,shaking the fence,alone and with friends,blowing skunk fumes through the airbrick in the living room.The males are always looking in.The 60 odd year old grandfather lurks about when I go out to work at 5.30 am,whistling so I know he's there.Im a 56 year old woman who lives alone,I own my home,they rent from the council.To say I'm fed up is an understatement,I've had one or another form of harassment for almost a year.Where do these scumbags come from? How do they get away with it? The police have made me feel I'm complaining for nothing and the council want proof of the noise,which is now sporadic once they knew I'd been given the noise app to record them.I can't catch the worst noise,usually in the middle of the night.But it helps to know it's not just me,as sometimes it gets me very down.
Mo
- 27-Dec-20 @ 10:48 PM
Having real problem with my neighbour. When i first moved in they got a huge extension built, whole house renovated etc.working weekends.we had some issues because they ripped down our fence and placed building materials overnight in my garden. Spoke to them/builders about this and at the time seemed sympathetic and that they understood. Only other issue has been once they blared music so loud you could hear it word for word and we asked them to turn it down. Years later, we are in the position of renovating our house along with having a baby. My partner and his dad do most of the work themselves (within recommended hours aside from once which we apologised for) and they were aware of this as we seemed to have a good relationship beforehand. Now they have began working night-shift again ive had posts on facebook about me, my partner being questioned and shouted at in the street as to when and what was being done and when and then yesterday had a man (who didnt say who he was) come to my door to ask me if we were doing anything because they heard noise, when in fact it was someone else on the street. I tried to speak to my neighbour who didnt answer the door. At a complete loss, i have spoken to them before but next day a facebook post again they said they didnt want us chapping letting them know when we were working as its during the day its allowed. But what do they want? I know the noise is irritating but we do try our best. I just can't figure out how to move forward. For me personally it was a step too far. They have never came to the door to ask us or discuss but sent someone else to do their dirty work? Any advice? Thanks
Lou
- 25-Dec-20 @ 11:42 PM
I have to sympathise with everyone on here. We are semi-detached and in the same situation. We live next door to a couple who are old enough to be our parents. They slam every door in their house constantly, have a very noisy dog and have friends round every Friday and Saturday night until 1/2am and keep us up and with whom they sit in the garden with in the summer swearing and being racist and homophobic. My fiancé is a police officer and works shifts and they have taken no notice of what he has said. I have taken the view that we won't be pushed out of the home that we work hard for by people like this and the law firm that I work for has wrote to them. They sent their vile son round and I don't think he probably anticipated the response he got. We will now take them to court and deal with whatever when we want to move but for now, we have had enough and they deserve nothing less than what they are getting.
Lou
- 20-Dec-20 @ 4:24 PM
How would readers handle this awkward situation? My family own a semi-detached property in which we have resided for thirty years. We have a drive suitable to accommodate three vehicles but have only had one car. Unfortunately, we are no longer able to use our drive. The house directly across from us now have three cars parked up on the road. Since the mother of the household bought a 4 x4 this is now restricting us driving up to our house, which is in a cul-de-sac, to manoeuvre into our driveway. We have to try to park on our drop kerb. We cannot back in as the turning circle always has a vehicle parked there, again, restricting us. Of late, this 4 x 4 is being parked across from our vehicle. Bin wagons and delivery vans, also neighbours have started complaining there is insufficient room between the vehicles. I cannot park either side of the drop kerb. I'm at my wits end and my husband wants to move house. Any offer of guidance will be gratefully received. I have approached the owner of the 4 x 4 in person and recently by letter, very polite and courteous but I now have lost patience. This selfishness is causing us a great deal of stress.
Tommy20
- 17-Dec-20 @ 2:55 PM
I have moved to a property 16 months ago and I have a nuisance neighbour who likes to rev his car all day.I have phoned the houseing who dont seem to care and I have phoned the council. I have been told by a neighbour that he has been warned about the cars for years but still decides to rev them even which he doesnt have a licence. No respect for others.Im getting to the point where I want to punch him in his ugly face
Like many of you, I also find solace knowing that I'm not alone. We live next door to a vile family (our story is similar to that of MW1982). The parents defend their teenagers behaviour and say they can do whatever they like. They are renters - letting agent has washed their hands off the problem. The council weren't much help. Now I've approached our local councillors for help - will see how that goes. Definitely worth a shot.
Sunflower21
- 16-Dec-20 @ 8:26 PM
Just reading everyone's comments. It may seem abit selfish that I'm a little relieved im not the only one suffering as most of the time I feel I am. Iv been in my flat 2 years new neighbours upstairs moved in a year ago its been nothing but hell. I'm 25 and hes nearly 40 with his younger girlfriend he bangs on the floor early hours of the morning. Hes been to my door kicking it when iv come in late from work about the bins hes spread rumors about me that are not true and tried to turn other neighbours against me he says its just a game. I feel he isn't wired properly because his behaviour is disgusting. He's been rude to my mum when she has visited he stands outside when I leave my house and stares hes very loud and aggressive and trying to bully me I can't take anymore and I need to move as I am feeling very mentally unstable like I am about to snap any minute I can not take much more of this iv got to pack up and leave. Yet again tonight no sleep as been woken by him on the phone shouting and winding his dog up. The joys of trying to have a peaceful life ey.
Meg
- 11-Dec-20 @ 1:09 AM
Our awful ASB council bungalow neighbours are well known to the police, local council and ASB Team but for some reason they have never been punished. They terrorised one elderly lady out of her home in February this year. We have been there for only a few months but have also had to leave our home because of their terrorist behaviour. The law needs to change to protect innocent people and seriously punish the troublemakers. We are currently in a 'place of safety' awaiting rehousing, hopefully this side of xmas.
ViviB
- 10-Dec-20 @ 10:18 PM
Our family moved into a semi detached house 5 years ago. The neighbours for 4 years would do doy up till 9.30pm most days.Drilling party walls hammering. They built a man cave and would have parties with 30plus people shouting music blaring till 3am. No one will confront them and when they do they say it's not all the time and it will stop at 11pm.Then they had another baby were quiet for 3 months, then back with avengance.Then the converted attic the 17 year old son moved in.The attic is not to regulation and not sound insulated so we hear him shouting all day and night in every room of the house. Have to have tv's and fans on constantly to minimise the noise. Will not complain formally as you can't sell your house.The law needs to change that if it's proved they cause a nusianse a few times a year the mortgage company reposses the house and the police move them on. Why should the victims be the ones peonalised if they complain and then can't sell to have a normal life?
Hi there I took some comfort in realising I am not alone with noise problems. I live in a new build flat and my neighbours above bought a puppy 6 months ago. For the last 6 months my life has been a living nightmare as they have laminate flooring and the puppy jumps about all day and all night! Yes I hear it in my bedroom all hours of the morning .. my neighbours were apologetic and got thicker under lay for living room but it's not made a difference and laminate is not allowed in our flats. Don't know what else to do .. except move :( my home is now my office so I have no escape
I have lived in a block of flats nasty neighbours don t know anything about us makes up stories I have a disabled parking bay and they keep pushing me out I will not move out I have been their 9 years nobody wants to help my wife and I are a nervous wreck sit
wallie
- 27-Nov-20 @ 10:24 PM
We have lived in our lively home for 15 years very happily until may 2019 Young couple in there twenty'sbought house next yearthey are the neighbours from hell We've become so unhappy here but have to stay as were to old to take out another mortgage. I feel desperately sorry for everone who is in a position like us.
Abs
- 25-Nov-20 @ 9:45 PM
I live alone in a small terraced house a couple moved in next door ok for a while she now uses the shared porch area to smoke and shout down her mobile phone at least 15 times a day sometimes socialising out therewith visitors as well going in and out slamming the front door continuously it's so.intrusive I am going to have to move she is not the type to bother about anyone but herself .the smoke comes into my house .my life is in tatters because of this loud objectionable woman ..
Vic
- 27-Oct-20 @ 12:12 AM
I have lived next door to a student house for 9 years. The current residents are a nuisance doing drugs, banging on our walls for their own amusement,shouting over each other, and slamming doors, windows, cupboards etc over and over.It was hard enough getting to sleep but I kept waking up in the night and so began to put my phone on record. To my horror they were knocking on the party wall at night deliberately to wake us up. Now obviously I have gone to the letting agents, who after 3 letters say there is nothing more they can do. I have also asked the council to open a noise complaint, which they have but when I asked the police for help they have said there is nothing they can or will do. Tonight they woke myself up in my room and they were knocking on the wall next to my sons bed and woke him up too. These students are incredibly immature. They get so drunk and then do drugs that they are out of control. Does anyone know if there's any help or support we can get. It's really getting me down. I knocked on their door to complain but they just don't answer. It feels like harrassment and I need my sleep.
Bewildered
- 23-Oct-20 @ 2:19 AM
I honestly feel sorry for anyone who's dealing with neighbours from hell. We've lived in what was quite a desirable area for 25 years, most of the residents down our street were elderly, really good neighbours. However over the past 6 years, they've moved on to assisted living or sold up and moved to a smaller house elsewhere in the country. We happen to live in a semi detached house, so when our elderly neighbour moved out 5 years ago, we honestly thought a nice family would purchase the house next door, we were really wrong. The noisiest and most annoying family moved in, a family with no respect for others, mounting a TV to the party wall in which we can hear quite loudly (we've had to buy air purifiers to create background white noise), they slam the doors unlike normal people, their offspring feels it's a great idea to have ridiculous music on loud when the parents go away on holiday and have their feral noisy friends round to annoy the whole street. A family of people with absolutely zero respect for others, and we're just unlucky that we've had most of our lives here, only to end up winning the worst neighbour lottery, of all the people who could've moved into the house, we end up with this bunch. We're in the process of moving away, I could never have dreamed of how badly nuisance neighbours would affect living standards, not to mention mental health. Will be really happy and relieved when we close the front door for the very last time.
MW1982
- 20-Oct-20 @ 12:13 AM
I have a family that live downstairs from me they slam and bang the doors everytime they come out of building, whole flat shakes, the husband steals my post from communal hall way. the husband stands outside my door when i'm having a bath,and bash's the front door really loud to the point where i'm shaken up. had enough ive put up with it for 10 years and on my way to a mental breakdown.
brooke
- 14-Sep-20 @ 1:01 PM
Have lived here for nearly 13 years and neighbours have been fine, up until 3 years ago! They already had 4 children, eldest one has Down Syndrome. They decided to have another child and then another one a year later! I forgot to mention they live in a two bed house, same as myself. So now there are 8 people in total in there, and all she does is scream at them like a woman possessed. They really are the neighbours from hell
Bobs
- 30-Jul-20 @ 4:01 PM
I have an ongoing problem with my neighbours below me. I live in flat on the top floor (2nd) neighbours below me slam doors shout and swear at us. They have loud TV up in the bedroom which is right below our bedroom. They bang on to things on purpose and laugh. I've complained to the council just have trouble gathering the evidence as walls are thin they know when someone's here. My neighbours are a bunch of bullies they won't say anything to your face but in their flat they will do what they can to cause nuisance.I can't wait to move out from here it's only been 2 years here. They started making noise since we moved in
Mrs LB
- 24-Jul-20 @ 11:13 PM
I have lived in my current home over 20 years & never had problems with neighbours. However, 3 years ago a new family moved in next door & have taken outdoor living to the extreme. They have built a canopied kitchen, bbq & bar area, complete with dartboard & outdoor TV, right up against our boundary fence. All weekend, every weekend & sometimes week nights from spring till autumn they party outside with up to 30 guests. Last September they installed a stove so they could continue into the autumn. The smoke comes into our garden & windows & makes the house smell. All day & late into the night we have to put up with loud music, sport radio & whatever they're watching on TV. They take no notice of polite requests to quieten down & we don't want to get into a formal dispute as it would have to be declared should we try to sell the house, which we can't afford to do at the moment. I honestly don't know what to do other than try to find somewhere to go every weekend. We can't invite friends round anymore or even sit in the garden ourselves. It's good to know we're not alone in having these issues, but awful to think so many of us are being bullied & made miserable in our own homes this way!
Dee Dee
- 19-Jul-20 @ 8:01 PM
I just want to say that I feel sympathetic towards Louise. I also endure persistent and tormenting antisocial behavior from my neighbors. In addition to that, the problems are made worse by living on an estate where everyone lives in close proximity without any soundproof insulation at all. Therefore it is often difficult to sit in my flat and enjoy a measure of peace without hearing doors slamming,children running back and forth with the sound of their feet pounding sometimes all day. My landlord is unhelpful and dismisses it as " household noise" rather than anti social behavior. To make matters worse, my landlord will publish a two page leaflet warning tenants about the " tenancy agreement" while mentioning a growing number of complaints from tenants about noise nusiance; and yet this problem is to a great extent, exacerbated by the poor quality of the flats,cramped conditions and a lack of soundproofing insulation, but they accept no responsibility and place the blame on the trouble making, self serving, woefully inept hypocrites more commonly known as the Government. I hope that you'll endure Louise and that to know that many other people are suffering in similar conditions will comfort you when you feel hopeless. Best wishes to you.
tirednfedupofnoise
- 13-Jul-20 @ 6:33 AM
I am persistently having issues with my neighbours through loud music at all times, sometimes in proper hours, sometimes out of social hours.Slamming of doors to the point the tremors come through to my house.I am woken up by them every evening slamming their patio door, and this can go on unitl 3am in the morning.I have lived with this for 5 years with only speaking to them on one occasion when I had a finger pointed into my face telling me "we are from London, we are used to noise and its our house we can do as we please".I can find ways of trying to cope with it most times, but sometimes I feel excessively trapped as I cannot afford to move anywhere else.
Louise
- 28-Jun-20 @ 11:43 AM