Protection from Harassment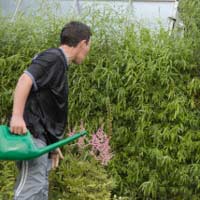 Nobody has to suffer persecution or harassment from their neighbours, no matter what has motivated the perpetrator to do this to you in the first place, and you are protected by the law in this regard. Some instances of harassment arise as a result of a dispute between neighbours which has escalated out of control.
Sometimes it's down to anti-social behaviour by irresponsible youths, other times it may be due to a long-running dispute with a neighbour. Your harassment may be motivated by perceived differences between you and the rest of your neighbourhood by a neighbour(s) and these are usually of a Discriminatory Nature which is dealt with in another article contained on this website.
What Constitutes Harassment?
Harassment can occur in many forms. It's described as 'causing alarm or distress' and also as 'putting people in fear of violence'. It can include, but is not limited to, the following types of behaviour:
Threats of violence against you or an actual act of violence committed upon you
Abusive and/or insulting behaviour or words
Threats of damage to your property and possessions or actual damage to them
Any written form of abuse or threat made to you, including letters, graffiti or any other kind of written material such as posters being put up that are derogatory towards you
Basically, harassment can be any type of behaviour or action taken towards you which threatens your own sense of security and peace or which causes you unnecessary inconvenience. For more detailed information surrounding harssment and the laws governing it take a look at www.cps.gov.uk
What You Can Do if You Become a Victim of Harassment
If you feel that you are being harassed, you should immediately notify the police. It's also useful if you have
Kept Written Records
of all the occasions when any harassment has took place, including what form of harassment you suffered, the date and time it took place, and a name or description of the perpetrator(s). Even if you haven't gathered all of this information or you don't know who might be responsible, just give the police as much information as you can.
The more you can tell them, the quicker and easier it will be to get the harassment to stop and to instigate any legal proceedings that might be necessary. Once you have been interviewed by the police, they will be on hand to offer you any advice while they conduct their investigations.
What Happens Next?
The police take harassment issues very seriously. They will be there to support you although the level will vary depending upon the severity of the harassment which has taken place. They will also offer you all the required information and guidance you might need if the matter goes to court. Depending on the nature of the harassment, they'll also put you in touch with relevant external organisations or agencies that will be able to give you specialised support and further counselling assistance, if needed.
If You Live in Rented Accommodation
If you live in rented accommodation, you should also inform your landlord, local authority or housing association. They can offer additional support which might include fitting locks, vandal-proof letterboxes, fences and lighting, and installing alarms which might even be linked to your local police station. If your perpetrator lives in the same building as you, they can also confront them and warn them about possible tenancy agreement breaches, and the possibility of eviction.
In the case of local authorities and housing associations, they might also be able to assist in re-housing you elsewhere if that's the decision you feel would be best for you. However, if you like living in your present home, you should feel under no compulsion to move, and your local authority will take all the necessary steps and offer you the support to enable you to remain put. Nobody should ever feel compelled to be driven out of their home and neighbourhood against their wishes because of a harassment issue.
Harassment is a serious offence, can cause unbearable stress and will be dealt with harshly by the Police and the Legal System.
PROBLEM NEIGHBOURS IS FOR SALE.
This website is for sale [more info].
You might also like...
My neighbour is constantly telling other residents he is in charge of the estate and he is the one to go to with any problems. He constantly is at his window looking at my daughter everytime she leaves the house to the point she doesnt want to leave the house. He also watching me and my partner entering and exiting house. He homeschools his children who are teens and share a bedroom. Children have no freinds and only go out with the farther. The mother works away. The parents are discusting at night time with bedroom noises that my daughter hears regularly. My daughters 10. Ive no idea how their two own children sleep through it its awful. Im yet still waiting for a housing officer to ring. I dont know where to start with them? He control everything with a heart beat
Dude
- 27-Jul-21 @ 11:12 PM
Just before Covid, my fence was wrecked in a storm. Thanks to covid, LL hasn't managed to get it sorted but there was never any rush but all that changed. It was Eid and my next-door neighbour had family around. There were 3 kids playing in my garden using my kids toys. This lad was trying to tell them they shouldn't be over there but they ignored him. I was quietly watching the events when one of the kids asks an adult next door if they can play in my garden and the answer was YES! Can you believe it, so at this point I went to the window and asked the lad if he could keep the kids on the neighbours side so he told the kids "look the man shouted now, get out of his garden" that's it, this 6ft Neanderthal comes out giving abuse like its some wannabe street gangsta acting like a teen than a parent. Threatening me and all sorts, accusing me of shouting at his neices and nephews. Some people have zero respect & think they can do what ever they want. I've told my LL (neighbour owns his house so can't report it to council) & hopefully my LL gets a new fence up out back. It's been almost a week and I've not yet seen my neighbour out so cannot comment if this will be ongoing or not but hopefully he's back in his cave.
LetsQuibble
- 26-Jul-21 @ 10:50 AM
My 60 year old neighbour Angela Bowyer confronted my 18 year old son this afternoon Friday 9th July 2021 the things she was saying, accusing him of just so juvenile, childish, she raised her voice at him said she could hear him singing Loudly In the kitchen he hasn't sung In ages he used to sing but only In his bedroom he had the sense to walk away she went on to say the strangest, oddest, weirdest most bizarre thing ever she said to my son I know you want to eat my cat I'll know when he goes missing you've eaten my cat chinky. My son Isn't Chinese we're not Chinese. My son just stood there said a bit racist Isn't It. She hid behind her door slammed It shut.
shortie
- 9-Jul-21 @ 9:20 PM
Wow !How lucky I am I don't live in England !
Wally
- 3-Jul-21 @ 8:06 PM
Wow ! How lucky I am I don't live in England !
Wally
- 3-Jul-21 @ 8:03 PM
Horrible people's across the road got me living in fear, abusive and threatening behaviour out side my home. I am disabled with osteoarthritis, fibromyalgia, and a multi chemical sensitivity with extreme intolerance to fuels ,solvents and exhaust emissions. Knowing this my neighbours seem to be harassing me with threats to cause me harm, onley yesterday we overheard an agressive loud done call about, "I onley want you to stab him" agen another call. " i dnot care I will poor petrol all round his house" . I am extremely ill at the moment due to solvent poisoning and I require daily oxygen therapy and weekly cellular regeneration therapy due to a depleted immune system. We now are waiting for the next load of people to start threatening my family and I, words like we can take the disabled one and can you help me with the others are making it very hard to heal. Please can you advise please as I hardly have breathto walk, let alone defend my wife and family. Thankfully J.
It's very disturbing to read how people are been treated and the lack of support from police department and council's mental health is a growing problem and it's direct result of unruly hostile aggressive people that think it's ok to treat people in this way but there aloud to and as atenant myself that has to deal with this sort of treatment I was shocked how much your not taking seriously And to read that people are on the edge or wanting to take the law in the own hands(please don't ever do that)it's very disturbing I have no answers to anyone's problems I wish I did but if anyone from police or council's read this it's about time you protect those who are desperate and put plans in place people's lives are been destroyed at the hand's of people that are obviously hell bent on making other law-abiding people's lives unbearable
Stressful
- 1-Jul-21 @ 7:24 PM
we have been harrased and racial comments made, council told us to record what was being said but police said that's illegal if the perpetrator does not know, council keep treating as petty little things, not understanding this has escalated into a big mass of angriness
nikki
- 1-Jul-21 @ 3:23 PM
Bloke opposite and his wife seem to have it in for my family It started when they reported my dogs for barking To environmental health they where told to keep a diary of all dog barking incidents and it turned out it wasn't our dogs as when questioned about some dates and times by the officer I had been home with my dogs and they are always very well behaved but there's no apology from anyone you just get told you're not being investigated anymore. I am a field engineer working from home so when I need parts for a next day job I have them shipped overnight by specialist courier who has a key to my vehicle he very quietly arrives delivering my order and leaves no one hears them Not even the dogs but on 2 occasions recently they come while that neighbour is awake and he has tried reporting me for that I have spoken to my other neighbours and they don't hear my dogs and they didn't even realise I had been having these deliveries for the past 2 year I'm finding it all a bit stressful I don't want to confront him because I will look like the aggressor I feel quite low and am quite tired of it It's like they have it in for us and I really don't know what to do
Eddie Cocker
- 29-Jun-21 @ 10:36 PM
My niebour next door has been complaining about me since February 21 when she come to my door kicking of and tried hitting my husband witb her cutch I told my housing officer she said if they get and proof of asb on my half she will give me a written warning! But I didn't do anything wrong, since then my niebour has been putting in complaints every day about the TV being loud when I ha e proof my TV was broke from January 7th and we got a new one 16th march when the police turned up we was not aware they was coming round I showed him around my house Ievery room and asked him if he can see a radio that will make loud music he said no there is nothing! Ive got 5 kids she has been putting in complaints when we r not here which I've proved that of my kids running around shouting, kids will be kids and also we have been banging on the wall ive got 5 kids ive got better things to do! She has put in so many lies it's unreal to the stage I don't have my kids play in the back garden and my kids feel like they can't play, my housing is now taking us to court for a anti social behaviour injection if they get it I will not be able to move and the housing officer has also said she is going to get us evicted! We got trail on the 30th 2021 I suffer really bad anxiety depression and pdsd and I'm scared that when I stand in the Dock I could have a panic attack! I need advice please ive got no support where I live and I want to move back to where my family and friends are! And help or advice would be appreciated we have a solicitor. Has anyone gone through this??
Kez
- 26-Jun-21 @ 6:29 PM
The harassment we are receiving comes from the local planning authority/district council. They have systematically made our life very stressful because of actions taken by them regarding our property. In 2006 the local authority suspected there may be contaminated land surrounding our house. We were not informed at the time, but found out in 2017.Which is stressful enough in its own right but has been exacerbated by their refusal to provide information relating to the designation, deliberate obfuscation of requested information which has turned out to be inaccurate. On top of this they have permitted planning permission for two applications one new build and one extension which abut our property almost on the boundary. We do not understand why they have done this.Not only is it upsetting because the new buildings will be so close to our house, but as they suspect contamination at our property and garden why are they granting permission in the first place.They state that actions can be taken with new buildings to mitigate the ingress of landfill gas which they say is being generated in our garden and migrating from our garden.That may well be the case, however in 2006 we were building an extension to our house which was built in the area of the garden affected by the potential contamination.The local authority never once said anything about any suspected contamination. As a result our extension does not have any built in barriers/membranes to prevent the ingress of landfill gas.We feel as it the local authority is persecuting us (probably not, probably just incompetence) but we feel very let down and that our health and wellbeing has been completely disregarded.My wife in particular has been sick with worry as the children and their friends played out in the garden for many years and she shudders to think what contamination they may have been subjected to.
Persecuted by Local
- 18-Jun-21 @ 11:51 AM
I'm an ex Royal Marine Commando, writer, poet and peaceful prodigy! My neighbors a cancerous, violent and brusque man! I'm going to ruin him soon, just rang 999 tonight and the neighbourhood team r going toget in touch with me! Call Council at 9 pm!
coopdeville78
- 18-Jun-21 @ 1:46 AM
I hate living where iam ,neighbours spreading rumours round ,no one talks to me ,these neighbours are always hanging outside my front door cause we live that close together to scared to come in or out of my house if i go to council it will only make matters worse and i will be stuck here ,i have serval illnesss and suffer with mental health ,im actually thinking of living in a tent
Frithy
- 17-Jun-21 @ 12:35 PM
I have been harrassed by my neighbourfor 11years as she is a private tenant my council landlord wont help. She has Cameras on me shes saying that i do this do that and tell the police but they come out on her side .i have had a breakdown im disabled myself but they dont know that . I need someone to believe me . Today my young girls in the pool i heard screaming she shouting at them stop swearing at me And they weren't.I need this to stop .how to i dont know im at the end of my tether .the girls do not want to go out and playpls help me
Hugo
- 12-Jun-21 @ 8:26 PM
this has gone on for many years ,I have a neighbour who lives directly behindme ,who spent years deliberately throwing spent apples in to my pond followed by snails .and one day I went down to speak to him ,to witch he ran into his house .a littlewhile later I choppedthe apple tree down hopingthis will be the end but sadly it was just the beginning. I find sillythings on my patio like small ball-bearings and a largefat ball that you use to feed birds was thrown hitting my window leaving a mark where it hit .on top of this he leaves the curtain corner open ,and I now believe that he has turned the heads of two other houses who do the same thing with there upstairs curtains, this is stickingand hurtful I feel as if I am beingwatched when I go into my garden I feel so uncomfortablewhen I am there .I feel as if I am beingaccused of looking all I believestarted by by this neighbour who was not brave enough to confront meso hurtful
muz
- 10-Jun-21 @ 6:59 PM
I live next door to a mad woman and her partner and son. For years they have killed my plants thrown monkey nuts over the wall were a mix culture family. Made false allegations against us to the police, housing and the DWP admitted to being a racist in front of my children and had cctv with audio fitted in so no privacy what so ever she is so obsessed she's proper sick and to top it all she works as a barristers assistant so she abuses her power yep this is what we have to put up with in 2021
Stressed out
- 31-May-21 @ 2:48 PM
I have a neighbor who assaulted me with a bat and hit me in the head three four times with a bat then put me into a toe cold I called the cops the cops won't do anything cuz they don't have any witnesses and he's black so
Ziggy
- 30-May-21 @ 11:53 PM
I leave in rental house, I have neibours that always harass me verbally both their mother and the children, I tell my husband he tried to talk to them but they change all the topics and said what I haven even do. So nobody even believed me now I am helpless they are such a monsters.
Maama
- 27-May-21 @ 10:00 PM
I have neighbours from hell who get away with anything.They have damaged my property after I have had work done on it. I am not allowed to walk down the shared driveway as the brand a knife at me either through their kitchen window or their back door.This is making me ill. I have to work. The police do NOTHING when I have reported it. But if they report me the police are round like a shot and telling me off and I haven't done anything. I just don't know what to do anymore. I live on my own.I just don't know who to turn to for help.
Julie
- 26-May-21 @ 4:54 PM
I hate sign I was with my cousin onto my way to the store and her boyfriend was in the car and I said something he didn't like he jumped across the sea and he tried to take my feet off and I'm scared and he told me he going to kill me he spit all with my face I'm scared what do I do I need help somebody help me to survive cuz I am scared
Muff
- 23-May-21 @ 9:49 PM
Hi I'm getting bullied by two people that live in the same street as me they have egged my house twice and last week I had tomato sauce all over my door and eggs on my wall . Today I got called name for no reason. I don't know what to do rang the police but not done nothing yet . I don't want to be here no more it's getting to me now ,
Bell40
- 19-May-21 @ 7:05 PM
Neighbor are always , watching us come in and out and come out side to start running their mouth , yelling at us we walk out the door they are sitting on their porch saying can moment when I don't say anything she goes in. My garage and truck had paint pall all over it call the landlord and all he says get a no trespassing against them, cops say I can't. Cops never listen to my side tells me to be civil when I don't ever say stuff, banging on my wall in the middle of the night, they both have a felony record and scales me that she is able to have a gun, he has a cross bow, I want to go outside and every time they have someone to say... I'm a single mom who isn't given up my place but to be harrasing everything needs to stop .
Jen
- 19-May-21 @ 1:01 AM
My mother is a pensioner who suffers from Parkinson's disease she has a husband who's mentally disabled. I am an adult with autism I have two small dogs . I go to my mother's house regularly for a couple of hours in the early evening to have my meal because I'm not able to prepare food. I bring my dogs with me because I feel more comfortable having my dogs with me and they also like visiting my mother and they like her big garden. Couple of months ago I thought outside her neighbour's house this is the only time I've ever done this. It's not a driveway or anything it's just a normal road so you can park that legally but she took issue with me parking there. She came out raving and ranting at me and threatens that she would make trouble for me if I didn't move my car I refused, and she heard my dog bark and said she will call environmental health on me and report my dog for Barking. My dog was only Barking because she was outside having a go at me. I did call the environmental health the next day and ask them what to do because she had threatened me and they told me not to worry they wouldn't take it seriously. 6 weeks later I got a letter threatening my mother with a £5,000 fine and anASBO because my barking dogs outside until 11 p.m. 24-hours a day 7-days a week making noise disturbing my mother's neighbour when she's eating her dinner and sitting in her garden. This is all made up rubbish my dogs are only ever at my mother's house with me for a few hours in the early evening and then they go back to my own house with me. I don't ever leave them out in the garden. I like to have them with me they go out to the toilet or occasionally to play ball with me apart from that there indoors and they rarely bark unless someone knocks at the door or walk down the alleyway. So now I have this threatening letter addressed to my mother and her husband won't allow me to go back to her house even though my mother loves the dogs even her husband loves the dogs. I already called the council and spoke to the animal warden who was really rude I mean really rude and just told me I shouldn't visit my mother's house when I explained that I'm autistic and my mother's my carer ,she's just say while you're old enough not to have a carer. She also said that my dogs must be badly treated which just isn't true I do everything I can for my dogs they get 5 walks a day I spend all my money feeding them and on their vet care. Actually felt suicidal over this I've been self harming. I've called my doctor. I' call my psychiatrist too and I called the police and I called a solicitor because I want this case dropped. it's a load of old rubbish .there's no truth in it. The environmental health did say they would not pursue the case against me however the dog warden refuses to drop the case she said she will leave it on file in case there are any more complaints. I cannot have this hanging over my head apparently this evil neighbour has been writing
Willow
- 14-May-21 @ 9:21 PM
It is simply and literally in the morning when I wake up until I go to sleep, they live like wounds, it seems that they came into the world to harm me.They are verbal provocations and manipulations, but with such a consistency that I equate this to an aberration.They don't leave the house for an instant.Concentrating at home to read a page of a book is ridiculous but it is almost a challenge, I have never experienced anything like it.They suffer from a huge disorder and no matter how much my life experience makes me abstract, with a similarity of this it is not easy to which I already love to use the medication to sleep and to calm me down!!!
Filipe
- 5-May-21 @ 12:11 AM
Terrified to leave my house and the police aren't interested. Found out our tormentors are in a housing association property so we've reached out to them directly. Hoping they'll take it seriously and move these awful people on.
Anxiety
- 25-Apr-21 @ 8:12 AM
I myself have been forced to accept a rental against my will following being assaulted whilst i slept.Almost 7Years Of Abuse Now And My Almost Being Killed By Hydrogen Sulphide Gasses Entering The Property Rendering It Unfit For Habitation. The Police Protect The Council And The Perpatrators.Once Again Suicide Looks Preferable To These Criminals Abuse.
Vulnerable Adult
- 24-Apr-21 @ 11:29 PM
I am living in housing association property but they have done nothing to help me I am lady elderly terminally ill this has gone on for months negative response from housing why
Ruby
- 24-Apr-21 @ 7:13 PM
My neighbour 2 doors up from me brought a full grown man to my house and he assaulted my son and punched him in the face and my neighbour 2 doors up told other neighbours about it and now they are all starting on my family.
Carr
- 12-Apr-21 @ 10:36 AM
My sons were accused of something they didn't do and my sons were assaulted by 2 full grown men and they are neighbours that goes around bullying younger children my family ain't safe
Carr
- 12-Apr-21 @ 10:30 AM
Hey people nobody cares about is abused neighbors so stop saying your gonna kill yourself. Ok hate more than anything when the bad guy wins. If I harm yourselves you let them win.. no get yourself together and take action.. police don't care but I know who does?? The neighborhood association. Go to them each area has one. They will get the point across can even have an eviction if things don't change. Jus keep logs of dates and times and copy's of any reports
Bren
- 3-Apr-21 @ 6:49 PM