Protection from Harassment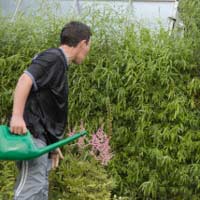 Nobody has to suffer persecution or harassment from their neighbours, no matter what has motivated the perpetrator to do this to you in the first place, and you are protected by the law in this regard. Some instances of harassment arise as a result of a dispute between neighbours which has escalated out of control.
Sometimes it's down to anti-social behaviour by irresponsible youths, other times it may be due to a long-running dispute with a neighbour. Your harassment may be motivated by perceived differences between you and the rest of your neighbourhood by a neighbour(s) and these are usually of a Discriminatory Nature which is dealt with in another article contained on this website.
What Constitutes Harassment?
Harassment can occur in many forms. It's described as 'causing alarm or distress' and also as 'putting people in fear of violence'. It can include, but is not limited to, the following types of behaviour:
Threats of violence against you or an actual act of violence committed upon you
Abusive and/or insulting behaviour or words
Threats of damage to your property and possessions or actual damage to them
Any written form of abuse or threat made to you, including letters, graffiti or any other kind of written material such as posters being put up that are derogatory towards you
Basically, harassment can be any type of behaviour or action taken towards you which threatens your own sense of security and peace or which causes you unnecessary inconvenience. For more detailed information surrounding harssment and the laws governing it take a look at www.cps.gov.uk
What You Can Do if You Become a Victim of Harassment
If you feel that you are being harassed, you should immediately notify the police. It's also useful if you have
Kept Written Records
of all the occasions when any harassment has took place, including what form of harassment you suffered, the date and time it took place, and a name or description of the perpetrator(s). Even if you haven't gathered all of this information or you don't know who might be responsible, just give the police as much information as you can.
The more you can tell them, the quicker and easier it will be to get the harassment to stop and to instigate any legal proceedings that might be necessary. Once you have been interviewed by the police, they will be on hand to offer you any advice while they conduct their investigations.
What Happens Next?
The police take harassment issues very seriously. They will be there to support you although the level will vary depending upon the severity of the harassment which has taken place. They will also offer you all the required information and guidance you might need if the matter goes to court. Depending on the nature of the harassment, they'll also put you in touch with relevant external organisations or agencies that will be able to give you specialised support and further counselling assistance, if needed.
If You Live in Rented Accommodation
If you live in rented accommodation, you should also inform your landlord, local authority or housing association. They can offer additional support which might include fitting locks, vandal-proof letterboxes, fences and lighting, and installing alarms which might even be linked to your local police station. If your perpetrator lives in the same building as you, they can also confront them and warn them about possible tenancy agreement breaches, and the possibility of eviction.
In the case of local authorities and housing associations, they might also be able to assist in re-housing you elsewhere if that's the decision you feel would be best for you. However, if you like living in your present home, you should feel under no compulsion to move, and your local authority will take all the necessary steps and offer you the support to enable you to remain put. Nobody should ever feel compelled to be driven out of their home and neighbourhood against their wishes because of a harassment issue.
Harassment is a serious offence, can cause unbearable stress and will be dealt with harshly by the Police and the Legal System.
You might also like...
i have been harrassed by my neighbours kid for 3 solid yrs .kicking my fencing in with a football .aiming it at windows .jumping fence to get in even my double gates at front of my property .i have filled forms in though my local council to get it stopped .they did nothing at first but then sent her letter telling her to stop her son and his mates from playing football .as the gardens here are very small and its the only garden on whole street where a ball is played ,now the fence is wrecked my nerves are terrible .as its not once and a while but every night ,hols i have this and they think its funny .ive put off get police involved so far as there a trouble makers family.ive popped 11 balls in 1 month which proves how delibrate they target my home .i want advise on what im allowed to do as the mother cant controll any of her kids .
titch
- 6-Apr-17 @ 6:12 PM
Nicky123 - Your Question:
I have been racially harassed by my elderly neighbour.I moved into a nice well to do area about a year ago.My next door elderly neighbour although very welcoming at the beginning with chit chats, soon turned out to be a racist, abusive bullying vamp. It started with her making comments about how she knows people who can help us with the garden, the fence, the hedges etc. She wanted us to trim all the hedges from the front of our drive. Then she complained about where our bins are kept, how tall our tree has grown etc. We told her we love the house as it is we don't want to decorate it the way she wants us to. That's when her true colours came out.She called me racial names and threatened to sent me back home.(I am British)The thing is because she is elderly I dont know what to do. I would be accused of discrimination against the elderly (she uses this to her advantage)but I cant live like this where I am afraid to get out my front door incase she starts her abuses again.What can I do??
---
Our Response:
If the neighbour has called you names based on race and made threats to "send you back home" - this is racist and should be reported to the police.
ProblemNeighbours
- 6-Apr-17 @ 11:36 AM
I have been racially harassed by my elderly neighbour. I moved into a nice well to do area about a year ago. My next door elderly neighbour although very welcoming at the beginning with chit chats, soon turned out to be a racist, abusive bullying vamp. It started with her making comments about how she knows people who can help us with the garden, the fence, the hedges etc. She wanted us to trim all the hedges from the front of our drive. Then she complained about where our bins are kept, how tall our tree has grown etc. We told her we love the house as it is we don't want to decorate it the way she wants us to. That's when her true colours came out. She called me racial names and threatened to sent me back home.(I am British) The thing is because she is elderly i dont know what to do. I would be accused of discrimination against the elderly (she uses this to her advantage)but i cant live like this where i am afraid to get out my front door incase she starts her abuses again. What can i do??
Nicky123
- 4-Apr-17 @ 9:18 PM
I would like to share my story with you. I am a 49 year old woman and I am suffering neighbourhood harassment at its worst. I came with my partner to live in a rural area 14 months ago. The cottage we are renting is truly beautiful and I love the property even though it is not ours. We are able to rent it for a long time and I believed that it was a dream come true. It has a beautiful large garden, only one house adjoining us and that is also rented.The neighbours have two young children and he is a farm labourer. They should have been our ideal neighbours but how wrong we were. The female who is her mid 20s has waged a campaign of hate and lies about me and my partner aided and abetted by her husband. I have caught her spying on me, bullying me, harassing me, she hits our walls, screams and shouts in an attempt to disrupt every part of our social life. Her husband has used other men he knows to attempt to intimidate my partner by acting aggressively towards him. They are evil. If that was not enough the female then proceeded with the aid of her husband to spread lies right around the community about us that are completely untrue. These have now been embellished and elaborated so much by various other people that it is now nasty tittle tattle and gossip. Other so calledrespectable members of this community have now engineered it that even businesses are involved and they spend every day trawling and stopping outside our property spying on us every day and reporting back what we are doing. Every day life has become a nightmare as I am followed to the library, doctors, shopping, getting petrol, going for a walk just for the sheer hell of it. It has become a major pick on me. I have never answered back once nor has my partner who is also followed while working wherever he goes. We say nothing in the vain hope this incitement of hate and lies will stop but each day it just gets worse. More and more people join in and although we have begged and pleaded with the Police to help us there is nothing they can do they say as it is happening in Public Places and it is a free world. They have ignored my pleas. I am alone, isolated and left to deal with stalking on a regular basis and am left shaking with fear when I go out and drive as I have been intimidated driving also. It is sheer hell and there is no help and we have had no help from the Letting Agent. We have done nothing wrong and we take the battering every day literally without saying anything back incase we make it worse but sadly it makes no difference. This is a living hell and we have no help or support from anyone.
happydays1
- 27-Mar-17 @ 9:16 PM
Hi all, Having problems with a neighbour above us. For around 3 weeks+ now we have heard constant stomping nearly every day with no apologies about it after confronting the neighbour. And also loud sawing noises but for only 2-3 minutes max at a time which is a very bizzare amount of time to be sawing for. We made a noise complaint to the council and I have had the neighbour come down this morning with a very threatening attitude about it all rather than just accept the noise complaint, dealing with it and moving on with it. We are keeping a diary sheet of all the noise and have added this confrontation to it but are unsure of where to proceed now. Any advice?
Loop
- 23-Mar-17 @ 7:24 AM
Im in fear of violence from neighbours to get my property from my home.
PADA
- 13-Feb-17 @ 2:52 AM
I'm so stressed , my neighbours keep on having a go at my 9 year old son , really shouting at him , I'm worried how this is going to affect him, they were threatening me last night as well I have called the police , I'm a nervous wreck , help please !!!
Surayyahhh - Your Question:
A17 year old who lives near me been verbally harassing my daughter and on top of all that he also knows everything about her and when she enters and leaves the house. Like this has been happening for the past 6/7 months ?? Can he get arrested?
---
Our Response:
He may not get arrested for this but if your daughter feels uncomfortable she should report it on the non-emergency 101 number.
ProblemNeighbours
- 24-Jan-17 @ 11:38 AM
My partner and I have been subjected to harassment and intimidation for over one year now. We have logged everything down, logged incidents but we feel we feel weare not taken very seriously at all. If anything my partner is made to feel paranoid about it all and is very distressed by it all. We moved into a property thirteen months ago, it is a rented property rented from a Large Agent and it is in a rural area of Cheshire. Before we moved into the cottage it was fully refurbished and underwent extensive renovations. The garden is beautiful and the cottage has lots of land attached to it. We had waited a long time for it to come up and it is close to my work. There is only on other property next door and what should have been an idyllic life has turned into a living hell and there is a concerted attempt to hound us out of the property through an incitement of hate, lies, intimidation and harassment by certain sections of the community because essentially someone wants the property we are living in. We have had everything thrown at us that you can think of by our neighbours who are a couple with two young children who have been hostile from the moment we arrived there. He is a Farm Worker for a local farmer who is well known and respected and therefore he is protected to a certain extent along with his wife who has subjected my partner to the most inhumane and cruel treatment that she could think of along with her so called friends inside and outside of the property that my partner will not stay in the house on her own anymore without me. When I leave for work she lives in a caravan rather than being near to our neighbours from hell. Not one person has ever attempted to talk to us since we have arrived, it has been full on hostility from the start. My partner is subjected to stalking wherever she goes by so called males of all ages. I have also been subject to it. We have been stalked by vehicles round the propertyover and over again intruding into every vein of our privacy peering in like little peeping toms. We are regularly followed if we go shopping, honked at by tractors and various farm related vehicles. The woman next door has made our life hell this last year, from banging, screaming, banging anything she could, hounding us out of our garden with every form of anti social behaviour she could think of and if that did not work she would use other females to do her dirty work for her. Her husband is not much better goading me into a reaction, wanting a fight, aggressive looks and just general nastiness with the aid of other males in the area. They have made our lives hell along with certain members of the community who should know better. It is all based on lies and hate by the female next door and has been compounded by others have also told nothing but lies. And the only reason this is happening is because someone wants out property andwants it for themselves and are prepared to do anything to do it. What shocks us is the suppo
happy
- 23-Jan-17 @ 11:55 AM
A17 year old who lives near mebeen verbally harassing my daughter and on top of all that he also knows everything about her and when she enters and leaves the house. Like this has been happening for the past 6/7 months ?? Can he get arrested?
Surayyahhh
- 22-Jan-17 @ 9:01 AM
Hi please can you help my neighbours are the definite example of neighbours from hell they moved I about 5 years ago the house is a council property mine is owned at first things were ok then started to notice my house was smelling of drugs (skunk) continuously they are both users smoking it 24-7 asked them politely at first if they would mind opening the window then two years ago we had a drive built at the front of our property cus the parking in the street is atrocious the man next door would continuously block the drive every night with the works van that I couldn't get my car a mini in or out my partner was working away at the time one evening he parked the van there when my partner was home I politely asked him to move it and all hell broke loose he was on my property threatening us it ended up him and my partner fighting in the street the police were called but no further action was taken this has been ongoing ever since until a week ago they were threatening me over the garden fence calling me all names accusing us of reporting him to his work for drug driving and blocking our driveway I did not do this tried telling them this but it escalated to me being pushed in the face by him and jumped on by her I retaliated in self defence they called the police and now I am awaiting questioning for abh im at my wits end they are dealing drugs also from the property now but it seems like the law is on their side now
Clj123
- 14-Jan-17 @ 10:08 PM
My neighbours are really getting me down it started because of a dog pooing in my front yard I confronted the lady and she almost attacked me my next door neighbours are her friends so they have started throwing their rubbish in my front yard and meat out my back and then calling the counsel to report me for mice and rats which their are none because I despose of the meat and the creepy little husband peers over the back wall in at my kitchen I have an autistic child and one on the way I really don't need this I am renting and have nowhere else to go I have never come across the likes of these people in my life they don't want me on their road and are intent on making my life hell what's worse is they are older than me they should be able to live and let live and pick up their own rubbish without the childishness of throwing it over the wall I am at my wits end
Stressed
- 8-Jan-17 @ 9:58 AM
A female who was my neighbor 5/6 yrs ago stalks me my boyfriend and my family. She will not stop. Our phones, bank accounts,medical charts, jobs and more. She calls her self classy because she's made tons of money by ripping everybody off. Why is she not in jail??
Mal
- 27-Dec-16 @ 10:00 PM
We had a problem neighbour move in above us in our apartment complex in October of 2015 with his partner. The apartment complex was mostly retired couples and we being late 30's my partner and myself were the youngest there. The lady above us had to leave her apartment and move in with her mother who was elderly and needed help, and who lived across the road from the complex. She owned her apartment and decided to rent it out to her nephew who was in his very early 20's and partners whilst she was having to care for her mother. Literally with in the first 24 hours of moving in is when the problems started to unfold. Being in a super quiet complex, everyone getting on...lets just say a blistering argument from him with his partner was noticeable. My partner and myself were just about to leave for the weekend to visit my family when all hell opened up above us. It was so loud, it was like it was happening in my living room. He was screaming at her and smashing objects and this went on for a good 10 minutes. We had to leave (I wish I had called the police), but a neighbour above them actually went to see his father the next day who lived across from the complex. Apparently the young lad didn't care, showed no respect for his dad or that people have complained about what had happened. This night was just the start of it all...8 months of Hell! We had a good relationship with his auntie who owned the apartment and she was very embarrassed by it all and promised it wouldn't happen again. It did though, it became a weekly thing, could be from being the afternoon or middle of the night. We stupidly at the start just kept going back and forth as residents of the block with his auntie who kept saying it wouldn't happen again and if it did they would be out. It came to a point where in the end I felt for the safety of the young girl upstairs that I did inform the police and they did come around. It was on the third occasion of calling the police and before them arriving going around to the tenants aunties house and being verbally threatened by the tenant for raising the Alarm that enough had been enough. At this point the owner of the flat had promised 3 times that her nephew had been told to leave and they had not and the auntie had said to myself that her nephew had said that he was doing nothing and that is as tenants had a vendetta on him and his partner...the most awful part of it was that even the girl on the recovering end of this all was sticking up for her partner as well saying that we were all lying! Over the months prior to this, the police had said that we needed evidence, so all of the tenants when ever any of the abuse was going on did actually record the audio on their phones so that we could back it all up, logs were taken of events and everything. We all needed a leg to stand on because nothing was being done about it. In the end the auntie and owner of the apartment said that she had issued a one month notice to her ne
Paul
- 24-Dec-16 @ 6:39 AM
We live close to our town centre. Behind our house there is an access road. We have three young children and use our back entrance as main entrance as we regularly use a double buggy and we have steep steps to the front of our house. We have lived In the house for two years and to begin with all was fine. 6 months ago the council introduced parking permits to the road. Since then the staff from a restaurant have been using the access road behind our house as a private car park even though there is a free council car park 5 minutes away. The cars arrive at midday and leave at midnight. When they park down the access road they block our gate and we can't get out of the house if we use the buggy. It is obviously one of only two escapes should, heaven forbid, we have a house fire. We have spoken to the staff and manager and asked kindly if they would stop parking in front of the gate and they refuse. What can we do? We want this problem resolved asap
Jpa
- 17-Dec-16 @ 7:27 PM
I know how you feel I have a neighbor who asked me out with bottle of wine in his hand at 2am banging my door as he had heard I split from my ex. He has since tried to off himself twice outside my door. Gets neighbors to kick balls at my window shouts screams kicks my door. Stalks me nothing done at all he has friends nearly 90% of the area who he deals drugs too. Place was nice in 2012-15 till June when he moved in. daily he throws things smashes his flat up due to mental health and drugs. He has been inside from 2004 for 4 years. now he gets his clients arrive slamming car doors below my windows when they come and go and as he deals to everyone they shout at my window. as I am typing all I am hearing is Bang Bang Bang car doors purposefully slammed. he has damaged communal area with a flick knife up down stairwell, kicked my door wiped blood from self harm on wall and door. of mine. marked wall with pens and terrorised me day in day out why? I turned him and his moldy bottle of wine down. He is a revolting pervert who on earth would want to date that? nobody. as a now single woman he wont leave me alone or his male friends its all males I get issues with. now banging around in a hoody under window taking parts of bikes out of the car. wheels of stolen bikes on floor,yes they sell stolen goods from a van bikes etc so everyone turns up. police are so sick of it that they do nothing at all. I hate living here now yet I cant afford to leave. somehow its all my issue as a single female I want peace and quiet to exit enter my home without scum doing dirty deals. 2am last night this guy threw something in his home and myself and other neighbor woken by it sounded like an explosion went off police never came! they turn up when he had run off. He shouts times dates where he will deal yet when tell police intel do nothing. I wish he'd shut up outside my window pulling stolen goods out of his car. Id like one day where he isnt messing around with dodgy goods.
Louisa
- 4-Dec-16 @ 4:54 PM
I moved it to my new house about 18 months ago nice area and nice neighbours I thought. Then things went down hill the mental alcoholic next door just turned vile. He sent us a letter saying no one likes us in the street doesn't like where my partner parks his van (at the side of our house not even in the cu de sac). The dog barking. Machinery we use ( we used a chainsaw to cut at tree stump out in the middle of th day). The list goes on. We notified the police but didn't take it serious. Then everything seemed fine. Until he can round saying my 10 year oldaughter was raunchy on musically. 1 my daughter is 10 years old and 2 why the hell is watching a 10 year old girl. Again police was informed. Now all we get is reporting and reporting. First from the rspca about my dog. So my partner went round and ask him what was his problem, all we got was abuse with him calling my daughter a s***. So police come again. Then had a letter from the council about the dog. Then a visit from the police that he had reported us for letting down his tyres and damaging his car. Bearing in mind his property is covered in cctv but obviously didn't have any evidence to show the police because we have done anything. I was fed up so I made an harassment complaint. Thinking that would be the end of it. No yet another letter sent to us. Saying, to the local bike and the long streak of p***. No one likes us in the area and no one will accept us as I'm a rotten s***. That we should move house as soon as possible. And he would not relent until we are gone. So off I go again down the police station to hand in the letter and give a statement, now waiting for them do something. How much more crap do I need to take from a mentally unstable person before this is taken seriously. I am not going let this discussing human drive me away from my house. We are hard working people who have worked hard to get what we have got and he doesn't work and sits there drinking all day. It doesn't make sense. I just can't take anymore of his mentalness.
Jeeb
- 4-Dec-16 @ 10:42 AM
I moved in to this cottage flat in June and suffered constant abuse verbally from the upstairs neighbour.Now her son has moved in and he shouts out verbally abusive saying my dogs are barking they barked once. I want to move away I'm so depressed living in fear.
Gailee
- 27-Nov-16 @ 3:14 PM
Hi everyone, I hope you guys can help me, I've been living in a detached bungalow with my partner for over 10 year and I've always in the conservatory since day one. I never had any problems with the neighbours while I was here, I watched tv, play video games and listen to music. Until last year or so one of my neighbour moved away and a new owner bought the bungalow, we were fine until one day he said that he could hear some music or television to one of the neighbours across the road and they told him oh yes it's could be David he likes to listen to his music and watch tv in the conservatory. So one day he came round and said I could hear your music while I'm at the back garden but it wasn't loud enough to make out what it was, so I apologised and said I didn't know it was that loud because no one ever complained or said anything to me so I thought it's ok and I said if it's too loud let me know I tone it down. After I said that few days later he came round knocking on the door and asked me to turn the noise down so I did, few days later he came round again and said I still can hear your tv, again I apologised and turn it down even more and I said to him look can I come round and see how loud it is so I know how much I need to turn down and he said no it's ok so I said ok fine. One night after 12:00am he came round again and this time he was angry and said some poeple needs to sleep and stormed off and I can even put a word in, so next day I went round to his place and I said to him I've been out and I couldn't here any noise so I gave him my mobile number so he doesn't have to keep coming out all the time and I thought that would be fare, instead he keep coming round and complains never once use the number that I gave him. After 5 to 6 times I stopped answering the door but my partner did and he said to him some nasty things so I called the police but the police and told me not to confront him anymore so now he put a note though the door instead. I have tried everything to resolve it but he just keep pushing, to be fare I only play music during the day never at after 18:00hrs and I do have 5.1 surround system since he complained on the second time I stopped using it and used a small portable speaker and even that he still complains I tried to contact to my local council and they can't offer me any help instead they say can't you use a headphone? and I said I don't want to use headphone all day long and why should I? I did asked my other neighbour to see if they hear anything while I was here and they say no not once day or night. So I don't know why he keeps picking on me? Maybe because I'm Chinese different colour than he is? I don't know who to turn to for help, he only moved here just a little over a year and causing that much problem. So please any advice would be appreciated. Thank you.
We have just purchased a property in a small unadopted grove (4 houses). We are in the process of having needed work carried out on the property. I have been very mindful of living where it is a share road and limited access. My neighbour has been quite rude and abusive to tradesman who have been carrying out work. I have contacted the local council to verify what I should be doing as far as parking for loading / unloading and having a tradesman park outside our property. This week we required work to be carried out, due to his previous rudeness I decided to put it in writing that we were having work carried out between certain hours on a certain day and that it would be too much of an inconvenience. The tradesman moved his vehicle when asked but my neighbour has gone absolutely mad. What else can I do
Maggie
- 17-Nov-16 @ 4:56 PM
I've moved into an upstairs appartment. From the time myself my son and his girlfriend have moved here the neighbour underneath is unreal. She complains about music if I play it. Now don't get me wrong I play it once a week in kitchen. And it's of at ten pm or before. She complains if my door slams she is even complaining about flushing my toilet.She stops me in my garden or out on street. I'm sick and tierd of it. She has done this to passed tenants to. What do I do?
sublie
- 4-Nov-16 @ 10:34 AM
I've been living in an apartment complex for a year now and the woman who lives below me has approached me outside saying that she can hear my boyfriend and I walking around,going to the bathroom,being intamit and also complaining about my cat..she bangs on her ceiling when we drop something,when we walk around everything, so I deceided to call the rental office..she found out about the call and it has been chaos ever since.. She threatened me when I was on my way to my car saying that my days are numbered for me and my man...i called the police she wouldn't come to the door.. She followed my boyfriend with her phone recording him saying that if he had a problem to talk it out..she went crazy and her boyfriend came to my door last night looking to start problems I called the police again and filed another report..this morning. I woke up to them arguing about us..she started banging on my ceiling again..what do I do
lulu
- 23-Oct-16 @ 12:24 PM
Im a victim of harrassment everyday over the period of three. Months constant nasty words and dysfunctional talking from people in the community people threating me and my family disgusting words and looks harrassment from the police and everytime i go in a store i cant shop in peace with out one taken pics of me and tryna set me up me and others have over heard conversation of them trying to set me up talking bout any thing i touch id be charged for it due to them taking my finger prints of the items i touched im a law abiding citizen and i do not appreciate them harassing me nor my family i have reported. It to the mayor and to the police department i also contacted my lawyer to this matter im currently waiting on the paperwork .
Mommy23
- 22-Oct-16 @ 4:14 PM
+simone - My next door bullier told authorities the same, - that i am threatening him. He ismentally sick, drug addict,violent creature who threatened to kill me if i dare complain. I am a woman on my own ,who is afraid to approach my home every time, because of him, i am with nobody who could stand up for me. The authorities believed him! Does it make sense....
Mari
- 9-Oct-16 @ 11:31 AM
Well, the authorities do not help. Every time i complain about a bullier from next door he revenge me with even more bullying. I do really start having suicidal thoughts as my health is deteriorating because of all this mess. It is going on for about 5 years. 2 or 3 years of my complaints, endless paper and audiou recordings about when the noise was started and finished... No results. The only solution I was offered by authorities was to move away. Yes! I have to move and not the bullier! I cant afford moving and now i am not even able as my health deteriorated.I live alone . I feel helpless and live in constant fear. I am fed up with living in constant noises from next door,cannabis smoke that comes to my house through the walls and his harrassments. I am afraidthat one day i wont be able to control myself and end my life. My doctor wrote letters to them,but it seems they do not care about what is and will happen to my life. Life here cost nothing if you are not rich.
Mari
- 9-Oct-16 @ 10:54 AM
Hi iam 26 and a single mother to a 3 year old little boy. I have lived in my house since 2013. Since about 2014 the family in the next street who I don't know took an instant dislike to me and started calling me names everytime I walked past their house with my little boy. Every time I walk past if a member of their family is walking on the opposite side of the road they stare at me untilI walk past. Then today I was carrying my little boy to the shops and a male member of the family about 50+ stared at my child with a look of disgust on his face. I really dont understand why? I do not even know these people.Nor have I had any arguments or had any converstations with these people. I really dont know what to do. Coz I have to walk up that street everyday to take my little boy to nursery. M
Mammy90
- 7-Oct-16 @ 5:36 PM
After a verbal fight with my neighbors, i told them exactly how i felt about them and told them never to bother me again . We put up a half barrier up to not see them again . Tha made them even madder. They had planted a palm tree i foot from our drive way that was scratching my husbands new truck and catching on my clothes as i got in and out of the truck. I had the managers to have it removed . We live in a moble home park. They would play their music so loud from 8.00 am till8.00 pm . I had the manager to stop that . Now their madder than ever . Now he is sawing everyday by my drive way . Sawing using power tools etc. Sawdust all over the place. Im trying to get this stopped but i know its going to be something else after this. Its never going to stop . Is this not harrisment ? I think so !
Norma
- 6-Oct-16 @ 3:10 AM
my neighbour upstairs keeps me awake at night with his stumping on the floor till some nights 2am 3am 4am
dale
- 30-Sep-16 @ 11:44 AM
We have a neighbour who has started over some bags she has dumped (how sad) she has been looking for any reason to up her game at us by accessing us of posting items through her letter box to stealing pegs all of which was proven otherwise she has caused nothing but nuisance since she got here via notice or trouble going to her door. Any way this latest problem is she has been caught out and is directing it at me and my wife she started smacking our windows and kicking in our door we had the police out but all they cared about was that her bf was wanted and not the situation we was in this person has got friends of hers to send me death threats and start with my wife all because she was caught out tipping on our street the worse thing is she lives above us and has persons their waiting for us to leave we are scared to leave this property and know all the people she has got on to our backs know where we live like I said over some dirty bags I was wondering if any of you have had a high risk of violence from neighbour and how you went about it as the only way I can think off getting them off my back is by going out and been beaten by them
Snake
- 26-Sep-16 @ 2:56 PM
My life was destroyed when my husband sent me packing, after 13 years we have been together. I was lost and helpless after trying so many ways to my husband back to me. One day at work, I was distracted, not knowing that my boss called me, so he sat and asked me what it was all about, I told him and he smiled and said it was no problem. I never understood what he meant by it was no problem getting back my husband, he said he used a spell to get back his wife when she left him for another man, and now they are together till date and initially I was shocked hearing something from my boss. He gave me an email address of the Prophet Abuvia which helped him get his wife back, I never believed that this would work, but I had no choice coming into contact with the sayings that I get done, and he asked for my information and that my husband was able to propose to throw him the spell and I sent him the details, but after two days, my mother called me that my husband was pleading that he wants me back, I never believed, because it was just a dream and I had to rush off to my mother's place and to my greatest surprise, was kneeling my husband beg mefor forgiveness that he wants me and the child back home, when I gave prophet Abuvia a conversation regarding sudden change of my husband and he made clear to me that my husband will love me until the end of the world, that he will never leave for another woman. Now me and my husband is back together and started doing funny things he has not done before, he makes me happy and do what it is supposed to do as a man without nagging. Please if you need help of any kind need, please contact Prophet Abuvia for help. His email is prophet.abuvia AT g m a i l. com his website is prophetabuviasolutiontemple. webs. com
Sarahcoleman
- 21-Sep-16 @ 8:52 PM