Protection from Harassment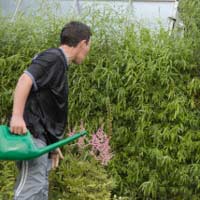 Nobody has to suffer persecution or harassment from their neighbours, no matter what has motivated the perpetrator to do this to you in the first place, and you are protected by the law in this regard. Some instances of harassment arise as a result of a dispute between neighbours which has escalated out of control.
Sometimes it's down to anti-social behaviour by irresponsible youths, other times it may be due to a long-running dispute with a neighbour. Your harassment may be motivated by perceived differences between you and the rest of your neighbourhood by a neighbour(s) and these are usually of a Discriminatory Nature which is dealt with in another article contained on this website.
What Constitutes Harassment?
Harassment can occur in many forms. It's described as 'causing alarm or distress' and also as 'putting people in fear of violence'. It can include, but is not limited to, the following types of behaviour:
Threats of violence against you or an actual act of violence committed upon you
Abusive and/or insulting behaviour or words
Threats of damage to your property and possessions or actual damage to them
Any written form of abuse or threat made to you, including letters, graffiti or any other kind of written material such as posters being put up that are derogatory towards you
Basically, harassment can be any type of behaviour or action taken towards you which threatens your own sense of security and peace or which causes you unnecessary inconvenience. For more detailed information surrounding harssment and the laws governing it take a look at www.cps.gov.uk
What You Can Do if You Become a Victim of Harassment
If you feel that you are being harassed, you should immediately notify the police. It's also useful if you have
Kept Written Records
of all the occasions when any harassment has took place, including what form of harassment you suffered, the date and time it took place, and a name or description of the perpetrator(s). Even if you haven't gathered all of this information or you don't know who might be responsible, just give the police as much information as you can.
The more you can tell them, the quicker and easier it will be to get the harassment to stop and to instigate any legal proceedings that might be necessary. Once you have been interviewed by the police, they will be on hand to offer you any advice while they conduct their investigations.
What Happens Next?
The police take harassment issues very seriously. They will be there to support you although the level will vary depending upon the severity of the harassment which has taken place. They will also offer you all the required information and guidance you might need if the matter goes to court. Depending on the nature of the harassment, they'll also put you in touch with relevant external organisations or agencies that will be able to give you specialised support and further counselling assistance, if needed.
If You Live in Rented Accommodation
If you live in rented accommodation, you should also inform your landlord, local authority or housing association. They can offer additional support which might include fitting locks, vandal-proof letterboxes, fences and lighting, and installing alarms which might even be linked to your local police station. If your perpetrator lives in the same building as you, they can also confront them and warn them about possible tenancy agreement breaches, and the possibility of eviction.
In the case of local authorities and housing associations, they might also be able to assist in re-housing you elsewhere if that's the decision you feel would be best for you. However, if you like living in your present home, you should feel under no compulsion to move, and your local authority will take all the necessary steps and offer you the support to enable you to remain put. Nobody should ever feel compelled to be driven out of their home and neighbourhood against their wishes because of a harassment issue.
Harassment is a serious offence, can cause unbearable stress and will be dealt with harshly by the Police and the Legal System.
You might also like...
My nephew who is 14 is being bullied. My nephew went to school with one of several that do the bullying. Everytime they see my nephew they harass him & have stolen his bike & even his shoes. We reported it to police who did nothing and wouldnt even return phone calls. They informed us that these guys are known for their harrassmentbut since some of them are minors there isnt much they can do. Also these kids no longer live at home so their parents arent responsible. When the group found out police were called they retaliated twice by throwing a hammer through the window, both times at 2am. My nephew doesnt go anywhere alone anymore & avoids any contact with them but because there are many of them and they look for my nephew this has becomea nightmare.
My partner rents a bit of land and theres 4 houses opposite, theres just bushes and rubbish there, hes had it over a year now, everytime he goes over to start moving rubbish 1 lady always shouts over hes disturbing her peace and rather than argue with her, he leaves he is still paying rent for it but hasnt been there for over 8 months now what can we do
Caz
- 17-May-20 @ 8:21 PM
my neighbor has been getting drunk and harassing me and all the cops will say they stay in your house why should I have to stay in my house to keep from being harassed from the neighbor and they won't do nothing to him a switch your words around like you're lying to them they won't even let you explain yourself who do you go to for help
Scrappydog15
- 17-May-20 @ 3:33 AM
To all the people who have commented. If the police and Council aren't doing their job properly. Contact your local MP and explain the situation. In that email to them, cc in every single person you have dealt with beforehand and their superior manager. You will find that the problem will start to get noticed and people will start doing their job.
Miller
- 16-May-20 @ 2:00 PM
I have been living in my upstairs maisonette for 12 year, a new neighbour has moved in downstairs and are harassing me and the neighbours, police are always around. We have a communal garden what they have put a fence around it and a big dog what is out there all the time, and have taken out there back bedroom window and put a patio door. When I come out my door he glares at me And swears. I am 62 and my neighbour is a woman in her 80s , and most of the neighbours are older then me and most of them are lone widows who he has squared up to. They are both nasty persons and we are all frightened of them. What can we do.
Jim
- 15-May-20 @ 1:04 PM
Hi my neibour has bullyed me out my home I have autism and eperleptic so need sleep she has her TV on all night and day and also shouts abuse threw to my wall to upset me and think she got some sort of dermenture as the other month she was talkin to slugs and her trees she also collect s vermin rats and mice to anoy me it's on goin abuse she growin laventer knowin I elergict and shouts abuse and wen I try to sleep me and my pet feel upset as she makin me ill
Doll
- 15-May-20 @ 4:00 AM
My neighbour is trying to stop us from using our right of way by making up lies about us spying on him, looking through his windows and taking photographs of the inside of his house.He came onto our property two days ago after shouting at me in the street, demanding to speak to my very sick husband who is currently suffering cancer and additionally waiting for heart surgery. The only photo taken on the right of way was of blockages to our access, he leaves bins and pots in the way so we can't get round.I want him to stop communicating with us.
Blossom
- 9-May-20 @ 8:24 AM
Hi, we've been living in our home now 3 years our neighbours 5 doors down have been very unreasonable for a while, we live in a semi rural area, we have chickens and had a cockerel( which they objected to) so we re homed him to keep the peace, since then they have reported us to the environments agency on 4 occasions for various reasons, on each occasion the environment agency has dismissed their complaints, this evening they verbally abused my partner whilst he was burning some garden rubbish ( after 6pm) what if anything can we do about this, we feel it's harassment
Jaymay
- 21-Apr-20 @ 7:42 PM
I have an issue with my "neighbours"i am living at my current residence for almost two yrs. On april 19th 2019 i was awaken by loud music. It was my "neighbours". I waited about 40 mins. Thinking at some point they will turn it down. After 40 mins the music got louder. I went outside to investigate ,there i saw my landlord leaning over the railing calling out to them through a window. When he saw me i asked him what's going on over there. Sweating and breathing heavily he asked me togo over there and tell them to slow it down. I was hesitant but agreed. I stood in from of their driveway hoping to attract their attention. This went on for5 mins. When that failed ,i entered the property asked politely and calmly if they could tone it down. I was verbally abused and i left. Since that incident they have been harassing us for almost a full year now.the matter is now in court. With multiple receipts from the police and recordings. Like all other people who have posted here i justwant to come home to peace and quiet.
Jay
- 19-Apr-20 @ 3:11 PM
hi, I have lived next door to my neighbours for 25 years and never had any real issues until 2 years ago. They totally changed with me and had become quite arrogant for no apparent reason. Things got worse and they began spraying over my fence whenever I was in the back garden. This got really bad to the point that I moved out for a short while as every time I went out my garden, I could smell strong chemical smells. It resulted in me getting the poilce involved but I had no proof tat they were doing this,.Overtime, we began talking again but this spraying has just started again out of the blue. Also, they have displayed intimidating behaviour to me too. Think Im going to have to move
Sal
- 18-Apr-20 @ 6:13 PM
hi hopefully someone can help me, a neighbor were i live been harrasing me this pass 4 months to steal are cat, in those apts theirs a creepy ally between two apts thats where they go, back their is dark at night so first i been having a bad feeling in october then november came and i had it even worse so i left the cat in, i have a belcony were he enjoys his naps mostly he stays their and i leave my door open but this time i just had a really bad feeling that i close my door and went to bed around 1am thats when i hear them this person went back their making cat calls and i guess he pass by a window with a camera on it and he got mad and broke the camera that they had on top of their window scaring the family that was inside, i heard it and saw it as well but i was so scared to report it and without evidence it was hard, so since then i let my cat stay in my room while they continue searching outside. In december it was so much activity back their and they even were shaking a bag of cat food, then one night i guess this person was mad and found a cat outside and hurt it...it was bad, i was trying to tell my family but without evidence they didnt believe me but i understood, so it continued, until the landlord notice and put a light it was still dark though but good, i got some sleep...so it cotinued and they started using a stairs that is near are belcony and they check from their and started to call the cat, so it continued until i notice that whenever i turn off my lights they whistle and start their search and if the landlord left her light on they dont do nothing but they continued to check from the stairs however not anymore they even go on the day times and say to the neighbors i stole their cat and im crazy they are just spreading it, but i didnt care i have evidence that it is mine, so i continued with my life however one day i got a phone call from my sister in law it was all good however i notice whispering out my window they were saying what is she saying when i heard that i left to the restroom instead, so it continued like this and i told the landlord, her and her husband told me to tell them when i hear it but i didnt, until today at night i heard whispering around 2am, so i told the landlord without knowing who it was and how they look like, then she came out and checked, i felt asleep later i notice she talk to them and one of them yelled out to me that they are going to kill me and dening that they wanted to steal are cat so know everyone thinks i am crazy, so i dont know what to do, i have a diary that has all this written on however i dont think this could be evidence and right know they are outside, sry for my bad writting, really dont know what to do this the first time something like this ever happend to me,what can i do?
vivi
- 24-Feb-20 @ 3:47 AM
The police were absolutely useless for me. I have autism and my neighbours knew this and targeted me with loud noise which obviously distresses me. Banging on my fire door, making loads of weird noises, shouting literally right outside (to the point where they could touch it) my bedroom window at 3am in the morning multiple times. Stomping outside my property, whistling at me to the point where I am now prescribed medication for schizophrenia and being forced to look into moving. I called the police out and my neighbours said they were just being a little loud so the police just referred me to the council. They then proceeded to mock me at night outside my windows for calling the police out. Safe to say, I believe what I suffered is a form of harrasment and my opinion of the police has forever been tarnished.
Paul
- 4-Feb-20 @ 2:25 PM
I have been putting up with the woman across thhe Road for nearly 2 years threatening me andmy children I have a daughter that suffers bad with mental health she's now said she Can't take anymore and has moved in with my parents this woman calls my daughter some terrible names and always tell her she's gonna beat me up just lately its got Alot worse with this woman she has swung a bat at me in front of my baby nephew and my sister she spreads really awful rumors about me to the point where hardly anyone speaks to us now I wouldn't mind but this is a grandmother of 2 little children it's got. To the point where I can't sleep. Or eat or even function anymore as noow. She tries breaking in my. House to steal our dog most nights she's constantly walking around on my drive and all police do is tell me to stay away from her she. Never seems to get arrested I just wondered where. I stand with this as I feel police are useless
karlie
- 28-Jan-20 @ 1:55 AM
Hi, we just moved in a new flat five days ago, me, my husband and my two sons, 2 year old and 5 year old. We already had three complaints from the neighbors downstairs about mychildren and their running. They are asleep by 8 pm and all day school/nursery until 4 . They are two healthy, normal children who sometimes run, but it's within decent hours and the running lasts for 5 min.Last night they danced for 5 min and the neighbor came. He threatened me thathe has recordings and he will take the issue further. The problem is that I don't feel safe and comfortable in my own home, I don't let me children play anymore anymore, they can't sing or dance. what can I do? he will probably come and harassme every day.
SIL
- 18-Jan-20 @ 8:44 AM
My female neighbour who used to be my close friend and like a second mother to me suddenly starts to impute me in actions what I have not done. Usually those are messages or handwritten notes thrown through mail hole in door. Begins with allegations about littering into her garden any possible waste etc when the same days was extremely big whirlwind which not only broke trees etc but also overturned and scattered all over the city all possible bins. But she stayed on her version. Then after behaved like nothing happened and that she didn't done any mental distress to me when I was needed to jump out of my sanity to prove my innocents because she was threatening me with involving Environmental Health Agencies and even police to take actions against me and my family. Of course I was and always will be scared from such a powerful instances, never ever wanted or caused to do something what could cause any attention to me. Because, yes, I'm struggling with a Social Anxiety and Panic Attacks caused by emotional and physical abuse throughout my entire life. Always have had a grange dreads from becoming punished for things I have not done, but no one believed even if all evidences pleaded guilty is somebody else. So I'm just living my life isolated from society thereby not provoking any kind of attention. Then after she start sending me messages where she was incriminating my underaged sons for antisocial behaviours against her and her property. Reading out those messages ware really disturbing because of the style how she chose words to convincingly blaming them in horrible things they have done, like using illegal substances together with friends, to whom as well she brought claims, simply because, I think, she is jealous about the fact that I have a family and big friendly circle of young people who are not only friends to my sons but like mine childs as well. But she is alone and lonely with immeasurable addiction to alcohol and interferencing into our neighbourhood lifes, calling to many kind of instances and complaining about different kind of community ongoings and demanding them immediately to act the way she wants. Ludicrously. Again for a while was peace like nothing was happened. I think she is like serial killer who have exigency to satisfy their brain-sick penchants. But why need to create such a demoralised lies against someone without a reason? So like about month ago when she turned out again with sequent accusation again against my children I texted her back simple statement of my vision for all that and blocked her number to avoid of receiving further messages which leaves me anxious and worried about our wellbeing and peace. Even if we are living nearby and sharing one passage way and we can came across each other anytime. And today I received a new obloquy, this time handwritten, but this time it looks like straightforwarded menace to handle out devastating consequences for me. Why and what triggers her to commit all thes
Ruby
- 8-Jan-20 @ 12:35 AM
I moved into an apartment a few weeks ago. One of the neighbours (whom is one of the building directors) has tried to challenge me for drying clean laundry in my guest bedroom on a laundry airing rack. Because she can see the edge of the rack from one of her apartment windows into my guest bedroom window..... I politely said Thankyou for bringing this to my attention and went on my way. On reflection I felt this was totally outrageous. This neighbour should not be looking in any of my windows in any case!So I rechecked the rules and regulations and lease and there is nothing related to not being able to dry laundry on a rack in your own home. So I continued occasionally to dry my clean laundry on my rack in my guest room. Now I have heard from another director of the building albeit politely,that their is a storm brewing and this neighbour is seeminglytrying to get another neighbour to complain and for-warning that this nosey neighbour will be coming to me in person to deal with this! Clearly this so called director is trying to abuse her so called power against me. I refuse to allow to be treated this way. Director or not. I just want a peaceful life and astonished with this behaviour. I feel that I don't want to be confronted again with this in person and thinking about legal advice in relation to harassment. Any comments please would be welcome! J
My one nosy neighbour thinks it's okay to harass someone in their own home. They have no life what so ever it seems. They even try to get others involved too,by getting them to callme names and giving me smug dirty looks and saying personal things about me when I'm out and about. They talk lies about me and spread it around town so that others look down upon me.they have been saying that I'm mad. I have no friends ect. I think they have been listening to me threw the walls so that they can get dirt on me as well. They are heartless jealous evil bullys who seem to get pleasure from someone else's torment. I cannot stand them any longer. I hate seeing them ,hearing them and even talking to them.they think they are clever but in actuality they arent.i know it sounds like madness but this reality is real.I even hate walking past their house. I dont want to know anything about them. The bullying from others seemsto happen more when I have been upset,or the next day after they might come out with smiles on their faces andgreet me in front of others to make me seem like themad one. when most of the time they seem miserable alot of the time they are reluctant to even say hello to me. it's only after I have been upset, they bother .they seem get pleasure out of my misery.i try not to say anything in the house no more because of them, because they will use it against me to smear campaign me. Make me look bad ect.
Tormented
- 16-Nov-19 @ 1:45 PM
I have been in my apartment for five years now, Me and my sixteen year old daughter. One year ago I had a young black couple move into our upstairs apartment were there is 4 apartments and two of them renting out to single woman one with a three year old and they've only been here for around two months. Anyways a year ago I had help this young black couple out with a new sectional for the front room a queen size bed and a kitchen table and chairs because they have three young daughters right now they're six five and two back then it would have been five three in one but I didn't want to see them eating separately in the front room or something so I Christian thing to do was I looked on eBay Craigslist and I searched for them and took my time , my truck , my gas and three different times went out and got these items fir them. And then I loan them $400 to boot because they have three little girls and they were losing their car I didn't want to see him use your car so they're going to pay me back while a couple months went by after knocking on the door never even going into their home once after getting all the stuff for him we weren't but real close friends but I've been very kind to them and they ended up after me knocking on the door few times going to management as I followed her to management and said I tried to rob her just so she did not have to pay me the money back she owed me and she called the police out and we'll have fun to have me arrested and I explained to them it was about the money she owed me and they told me Sybil to take Symbicort more or less bottom line is is I let go you're a God she was trying to say something about it and then I got upset until you but you are Thief well we could go I put a note on her door asking if she's seeing a package maybe one of her youngest catch it gotten hold of it by accident maybe not know any better carry in her apartment and I left a note asking if she found it or seen it so please just knock on my door all the sudden she came to my door screaming in my face saying I should call them thieves and when I said I already asked the other to Neighbors about it they seem pretty reliable everything pretty they seem like you're telling the truth and she yelled at me cuz cuz we're black well I have no I don't have a racist bone in my body if I had about it never helped her like I did her and her husband and her kids so you screaming at me and my daughter she's 16 came out and asked her to please leave she didn't I daughter stepped a few steps forward towards her and then she stepped through a fort with my daughter and my daughter kind of pushed her back so she raised the neighbor raise your phone up and said I'm calling the police and so increase came out she shouldn't have you arrested so when the priest came out they asked to Spain by the joke your head because I guess you told the police we try to choke her at this point I didn't happen so I I let it go but the next day they went to
Reggie
- 15-Nov-19 @ 8:24 PM
What do I do if a married lady insult me without doing nothing to her.after reporting her to her husband what do I do again without beating her
Supreme
- 31-Oct-19 @ 3:11 PM
Neighbour just threatend to stab my dog because he barks... And he barks because her boyfriend tormented him when he first moved in next door!!!
CGB
- 19-Oct-19 @ 1:22 AM
Ive been having problems with a neighbor, she has made serious things about my family and splatter rumors and comments about kids on face book. She is delusional and makes up serious lies and she has children her self, ive phoned the police 4 times now and the wont dont anything, until making up a serious lie which resulted in her being told off as they have found out the truth by other witnesses. Council arent helping as she has had over 40 complaints by different people in one month and they wont move her. What do i do ??
Darkbird
- 10-Oct-19 @ 9:15 PM
I have lived in my flat for 20 years and at first it was fine but then new niebours moved in the flat underneath me..at first they seemed ok but after a while they were having showers at 3 and 4 am and waking me up...I asked the man nicely if he would be quieter but he took offence straight away and said he cant do anything about it as he does shift work and needs to wash before bed..I accepted it reluctantly..it continued to annoy me and after complaining to the council it stopped but now they make a very annoying banging sound for hours sometimes and are just very noisy...this has made my anxiety bad and I already suffer fro. Anxiety and Depression and am on medication for it...the man particularly is a very hostile and aggressive person who has shouted in my face when we spoke about it...it is maki g my life a misery.Even after the council wrote letters and recorded noise it didn't help at all as they are very aware of what is going on...
Sarah
- 6-Oct-19 @ 1:02 PM
I can completely relate to the "Herd Mentality" victim and the woman with the bass thudding neighbour. Here in NZ I have been under surveillance of a retired British couple. Wish they'd go back to London. Whilst others around them have all sold up, we have clung on as this is our dream home. They are manipulative, deceitful, gas lighting, narcissistic, sociopaths who thrive on staring at everyone and gossiping about them. Unfortunately for me, my other neighbour is an only child who got his house built for him by his parents. Nearly 40 but acts the age of 16. Thud, thud, thud goes the bass through every inch of our house, it vibrates our walls. We tried 10 years ago to ask him nicely to adjust the bass. His reply: we should move. We live in an upmarket area. Never imagined we'd go through something like this. It affects my sleeping, parenting, everything. We moved cities for a year to get away only to have a property manager put scum in our house and lie about it. One of the tenants was a friend of his daughter's and we were told they were great tenants. I believed him as he was an ex police detective. We returned to smashed walls, broken glass all through garden, filth, rubbish. And of course the neighbours haven't changed one bit. The bass thudder had even thrown his decking scraps onto our property. I am not the same person from this experience. I am more closed off to people, am wary of being befriended by anyone and very distrustful of people's intentions. Very different to the happy, trusting person I was ten years ago. I am also a petite woman, only 5 ft 2. I wonder sometimes if this makes it easier for people to see me as someone they can bully. I can relate to menstrual issues due to the stress too. There truly are some hideous people out there. My advice- try taking withania and rhodiola. I am finding it has helped with the stress.
Kiwi
- 16-Sep-19 @ 10:34 PM
My friend is having threats made against her by neighbours (to beat her up, throw acid, kill her 3 cats ...) and has already had a window broken. The neighbours involved are crack addicts. It is local authority housing, but the council isn't interested. There is an element of hate crime, as my friend is trans. She has spoken to the police today but is so worried that if she gives names, the threats will be acted upon - and the police can't be there 24/7. Local help groups seem limited to domestic violence issues. Brighton & Hove area - but I'm 4 hours' drive away. Any ideas of how to get help?
Tinker
- 15-Sep-19 @ 6:43 PM
So what if your neighbor has an agenda against you, he recruits people, manipulates, and if youas much as raise your voice it is you who is seen as the harasser? And his pals testify. Who are the neighborhood some of whom are afraid of him. (One of my neighbors used to say hi to me only when the boss and his wife were not here. I had no grudge against him, but he also did what he was told by the boss, the salesperson, for example he brought the snow from his garden one very snowy winter on a piece of municipal land next to my garden which is forbidden. He did that with a lorry. The same was done by municipal /town snow plow workers who reveived a bottle of liquor from the boss of this suburb of detached houses. Actually you only have protection against the poor and the weak. The marginalised people. There is no protection against wealthy gangs and what you see in this forum as well you never mention the worst noise pollution but wait till they are teens or talk about their health. I don't think it is right. We should be honest.
Herd mentality victi
- 15-Sep-19 @ 2:38 PM
My sin that started this recruiting campaign, noise campaign, was not to take part in this gossiping, she the cashier used to gather people to gossip about other people that weren't in the street at the moment. I showed i was bored and tried to avoid, but when they had been hanging around right next to my fence not being my next door neighbors for two years , i asked politely if they could move. use their own gardens.That wasn't taken well. That was what they had been waiting for. They became my "victims". I was trying to order them about. By asking why are they hanging around, loitering next to my fence, with company, kids ,what is wrong with their gardens. The recruiting started, they got people to join just out of sheer fun, or because they made out their kids were now my victims. I was "child hater". I should have known not to ask since no normal person hangs around at other peoples garden fence to start with. They had already started this campaign by then.no normal person regards himself, herself welcome , but understand gangs of people are always a nuisance. Or they respected their next door neighbors and their own privacy and plants in the garden, more than me, their cars etc and wanted to socialize but not pay the price but take its toll on me. So i should have realized normal people respect other people, all people the same to start with. Shoyld have seen they are bullies or sadistic manipulative predators and just move, to start with. But was exhausted, with two children, we had just built the house , no support from relatives who live far etc
Herd mentality victi
- 15-Sep-19 @ 8:56 AM
All the participants are wealthy, good jobs, income, health, some university educated, not mostly though, but all are from here, have connections, and many generations here, which I am not. They profit from this a lot. Socially, financially, in every way. Have fun, community spirit roused by a common enemy, energy, and when they complain about me to friends and family, the friends and family come here and help to oversee the children, their grandparents used to stand in the street just staring here. Hardly ever go anywhere. They come here many times a day, take one child dome place so the parents nwver have to anywgere can stsy here keep watch and the rest of the gang stays screaming here. They take some to summer houses but the rest stay yellin, diing sport here. They never do any noisy stuff next to any other neighbor.
Herd mentality victi
- 15-Sep-19 @ 8:25 AM
The prosecutor was very partial and when i took legal channels to complain about his behaviour (he told me to move just like the predator who sued me and has recruited the town, and was outright rude to me as the other side was kid) he admitted being partial but said he had the right since i had asked legal assistanceprovided by town but she didn't help me at all since kids are always more important than women and i paid for nothing. In restraining order hearing the predator who has recruited the neighborhood told they don't play in the street and plenty, plenty of other lies like I attack lone children but they are always here watching and allowing the harassment and when he and his wife got me the sentence they got here and told the rest and the powertool diy kids harassment got worse. The same day or the next the football, soccer, floorball, ice hockey, sport started again, himself pulling the goal posts in the street which he had just denied in the court. These dozens of kids used to hang about here as close they can, screaming and yelling in the street (they all have their gardens, there are many play parks for children within 2 min walking distance, football field, lovely forest behind their gardens etc etc) and at the same time they pretended to be afraid of me, a small woman 50 kg who have never touched them, yes, yelled sometimes. Basically there has been constant noise since 2007. 2018 four of his pals around my house got dogs and they stay in their garden as well. Bark a lot. They take then walking and hang about waiting and standing for long periods of time until someone comes from the opposite direction and then they "accidentally" meet here in front of my house and the racket, barking goes on and on. There has been constant construction project going within 100 metres basically from 2006.. When it starts, the boss who started this and his wife go and chat with the carpenters, the people who work at the site, pointing my direction, some of his pals go as well, same thing, what happens next is they start urinating in front of me if i try to use my garden _(havent basically tried for years without ear plugs), they excrete next to my fence and my childrens play house, they have a circular saw next to my fence. This man who is a salesperson so his wife who has boasted to me about his brother being a policeman, had also been doing this hatecampaign and noise campaign in front of my eyes for years when he tried to make like he had nothing to do with it, like said quietly to me how funny that everyone seems to hate me. I have very high blood pressure because of this, which used to be too low. I used to have a regular heavy period, but I haven't had one since this harassment got rough/ for years, i was very young to have my menopause, like about 40 years old when this stress of dozens of people harassing me started. This is not common in my family who look very young and don't have menopause this early. I have
Herd mentality victi
- 15-Sep-19 @ 8:02 AM
Harassment is on new a whole new level as a family starts recruiting people on their behalf to make noise. This happens when they pretend to be the victim of their victim like saying that if the neighbour complaints about their toddlers and twenty others screaming on the street their toddlers are the victims here. They got this town to harass and participate by first bringing their kids here and then pretending to be my victims. They twenty families bring their childreb here to scream and then say they are afraid of me and if i go to street they call the police and they did and i have recieved the restraining order and conviction of assault which i did by screaming, i assaulted them by scrraming and was convicted of assault when i screamed. Before that my harassment had gone from 2007. My sentence was given 2017 and screaming took place im 2016. I thought this recruiting was just bullying but they use their offspring to harass and powertools and dogs. There has kot been a quiet quarter of an hour from 2007 when this family in it sales business, abd a cashier moved here. His brother is a policeman. I have suffered from hate campaign, noise campaign, mobbing, harassment, targeting, small town terrorism, flying monkeys from 2007 and my children.
Victim of Herd viole
- 15-Sep-19 @ 5:00 AM
how do i get out an injuction out on a ex familey member she rob me his nan he broke in many time is i cant keep him away his nan is abit slow so she lets him in and he robs her how do i keep him away as i will have to leave my mom as i cant cope anymore she lets him rob my stuck...............
johnny
- 9-Sep-19 @ 3:09 PM