Protection from Harassment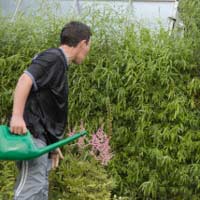 Nobody has to suffer persecution or harassment from their neighbours, no matter what has motivated the perpetrator to do this to you in the first place, and you are protected by the law in this regard. Some instances of harassment arise as a result of a dispute between neighbours which has escalated out of control.
Sometimes it's down to anti-social behaviour by irresponsible youths, other times it may be due to a long-running dispute with a neighbour. Your harassment may be motivated by perceived differences between you and the rest of your neighbourhood by a neighbour(s) and these are usually of a Discriminatory Nature which is dealt with in another article contained on this website.
What Constitutes Harassment?
Harassment can occur in many forms. It's described as 'causing alarm or distress' and also as 'putting people in fear of violence'. It can include, but is not limited to, the following types of behaviour:
Threats of violence against you or an actual act of violence committed upon you
Abusive and/or insulting behaviour or words
Threats of damage to your property and possessions or actual damage to them
Any written form of abuse or threat made to you, including letters, graffiti or any other kind of written material such as posters being put up that are derogatory towards you
Basically, harassment can be any type of behaviour or action taken towards you which threatens your own sense of security and peace or which causes you unnecessary inconvenience. For more detailed information surrounding harssment and the laws governing it take a look at www.cps.gov.uk
What You Can Do if You Become a Victim of Harassment
If you feel that you are being harassed, you should immediately notify the police. It's also useful if you have
Kept Written Records
of all the occasions when any harassment has took place, including what form of harassment you suffered, the date and time it took place, and a name or description of the perpetrator(s). Even if you haven't gathered all of this information or you don't know who might be responsible, just give the police as much information as you can.
The more you can tell them, the quicker and easier it will be to get the harassment to stop and to instigate any legal proceedings that might be necessary. Once you have been interviewed by the police, they will be on hand to offer you any advice while they conduct their investigations.
What Happens Next?
The police take harassment issues very seriously. They will be there to support you although the level will vary depending upon the severity of the harassment which has taken place. They will also offer you all the required information and guidance you might need if the matter goes to court. Depending on the nature of the harassment, they'll also put you in touch with relevant external organisations or agencies that will be able to give you specialised support and further counselling assistance, if needed.
If You Live in Rented Accommodation
If you live in rented accommodation, you should also inform your landlord, local authority or housing association. They can offer additional support which might include fitting locks, vandal-proof letterboxes, fences and lighting, and installing alarms which might even be linked to your local police station. If your perpetrator lives in the same building as you, they can also confront them and warn them about possible tenancy agreement breaches, and the possibility of eviction.
In the case of local authorities and housing associations, they might also be able to assist in re-housing you elsewhere if that's the decision you feel would be best for you. However, if you like living in your present home, you should feel under no compulsion to move, and your local authority will take all the necessary steps and offer you the support to enable you to remain put. Nobody should ever feel compelled to be driven out of their home and neighbourhood against their wishes because of a harassment issue.
Harassment is a serious offence, can cause unbearable stress and will be dealt with harshly by the Police and the Legal System.
You might also like...
My neighbour 2 doors up from me brought a full grown man to my house and he assaulted my son and punched him in the face and my neighbour 2 doors up told other neighbours about it and now they are all starting on my family.
Carr
- 12-Apr-21 @ 10:36 AM
My sons were accused of something they didn't do and my sons were assaulted by 2 full grown men and they are neighbours that goes around bullying younger children my family ain't safe
Carr
- 12-Apr-21 @ 10:30 AM
Hey people nobody cares about is abused neighbors so stop saying your gonna kill yourself. Ok hate more than anything when the bad guy wins. If I harm yourselves you let them win.. no get yourself together and take action.. police don't care but I know who does?? The neighborhood association. Go to them each area has one. They will get the point across can even have an eviction if things don't change. Jus keep logs of dates and times and copy's of any reports
Bren
- 3-Apr-21 @ 6:49 PM
I'm get bullied by my downstairs neighbour and it's unbearable he's trying to get me evicted it's cause so much stress and anxiety on myself and he made a false allegatin which got nfa d can't take anymore any little thing
Murf
- 26-Mar-21 @ 9:18 PM
We first experIenced harassment when rentals moved in. Giving falsehoods to the landlord. Then neighbour decided after two years to buy the house they were unhappy with. He told us to sign a piece of paper to change our boundary lines on plans, we refused. A relative would consistently harass usuntil my hubby told that person to stay away. They then started to make it look like we were the aggressors in our neighbourhood, gaslighting started. Putting 4ft fences on top of a 6ft fence, children throwing sweet wrappers over the fence anything to annoy. They placed a fence over an area we could not maintain we own, ignored our requests not to do so. Accused of being bullies by them, they applied fir retrospective planningbecause they built before permissions granted. They came to our village like bulldozers but claim they are victims. Overtime evidence is gathered to prove the end result is due to passive aggressive behaviour, trying to prove a point to themselves and fellow neighbours.Over 2 metres of our land robbed to accommodate their changes and now we all have to pay. The one whom plays the victim is often the perpetrator the police are experienced enough to figure it all out. Just keep records to present your case. Righteous, pushy and people who ignore rather than work with you are passive aggressors and thrive on the reaction they get from you. Try to ignore them but keep collecting evidence Karma does happen in the end pieces of the puzzle starts to come together .Extend your hand for resolution, if they refuse, the evidence is right there to the kind of people you are dealing with to the police.
Goldie
- 24-Mar-21 @ 9:02 AM
I'm basically at my wits end. My children and I have suffered years of psychological and emotional abuse from our neighbours from hell. The police won't do anything and allow these culprits away whilst we are ensuring endless sleepless nights. I have to take sleeping aids to help me and even when I do I always get disturbed. Council aren't much help, they just don't care. I have to stay strong for my children as they only have me. It's extremely hard I have never come across neighbours like this before who are hell bent in causing mayhem. I have had everything from them the list is endless. I have done nothing but want to live in peace to raise my children the best I can. It's awful how they can get away with it and not one person seems to listen or care that children and myself are put under sheer hell which is a living nightmare. Please let it end!!!
HSD
- 22-Mar-21 @ 11:24 PM
Same situation I'm on the verge of suicide and I don't score high enough nobody will swap a 2 bedroom first floor flat for a 2 bedroom house we a begging me and my daughter we would move any where within Spennymoor we need house DONT score high and I'm not coping but nobody will swap so my life is over
Kendra Milburn
- 21-Mar-21 @ 10:35 PM
Neighbour across the road has CCTV on a blank wall directly pointing at my property a criminal offence took place at my property a few weeks ago you refuse to hand over the CCTV footage to the police saying he CCTV was switched off at the time of the the offence later he told me mi-e won't hand it over because I reported him to the council for continuously having CCTV pointed directly at my property after putting my my views to the council they have asked him to remove the CCTV camera that has no purpose for being on the side wall other than to face my property he said it will take him 3 weeks to get a techniciancancel requested him to switch the CCTV off until it is removed however it is still on.. he also has two CCTV cameras pointing at the front entrance of his door 2-days ago go he repositioned one of the cameras and guess what it is pointing directly at my property My question is number one can I Sue this neighbour for recording my property for no reason number to withholding evidence from the police and lying I mean this isn't a joke my house was deliberately set on fire we all can assume and point a finger but I have no evidence and the only evidence is from the recordings from HisCCTV now I'm never going to get that recording and for me question whywouldn't you want to hand over footage of someone starting a fire in your house with children inside everyone knows that this neighbour never ever switches off his CCTV so on that particular day and time he had it switched off ok ok let's say he did did why did he have it switched off now let's say he has a recording why wouldn't you want to hand it over to the police knowing that children could have died in the fire??! I'm also very shocked how the police did not demand the footage there and then they came back 4 days after saying they have no right to get the footage the fact he said it was off off that day we cannot evaluate the situation. Anyway can anyone suggest what can I do show so this neighbour from hell that he can't have his CCTV pointing at my property and he cannot do what he wants how do I take him to court what proof would I need to say he has been recording me for over a year I have reported this a few times previously but nothing was ever done All my neighbours and myself are furious at the fact that we believe he was withholding criminal evidence and the lack ofthe investigation the police took no responsibility or intention whatsoever in questioning my neighbour about the CCTV footage of the criminal offence he is a very aggressive person and was told how very angry he was that I reported him to the council although I have approached him numerous of times politely asked him to remove the CCTV hesworn in my face and slam the door reported me to police for harassment the day a few neighbours noticed out of the ordinary actions His roommate who was the first person to come out in the street shouting firethe neighbour told me they saw him smiling from his
Joo
- 11-Mar-21 @ 3:22 AM
The police do NOT take harassment seriously at all!! The officer who came to visit me was abusive himself. Shouting at me. I've requested a copy of the body worn video from that officer so I can make a complaint about him and as suspected they are refusing to give me the video. I've contacted their landlord and the housing association and nobody cares. I've no choice now but to kill myself.
KWG
- 11-Mar-21 @ 1:10 AM
I've had numerous issues with my elderly neighbour I'm in terraced housing so she always befriends my other neighbor had three over the 7 years I've lived here making up rompues been shown messages of her saying let's synchronise banging and that she throws things up and down her stairs to make noise she currently slams doors non stop stamps around shouting things at my windows when I've been sat in them minding my own business I'm currently 14 weeks pregnant with a son with disabilities and a 8 year old who are both asleep by 8pm every eve she's moaned we woke her up at 6am and that's because my children went to school that day I feel threatened and vunrable she's been slating me to the ground her 21 year old son who was illegally living with her in lockdown was coming home punching my bedroom wall I reported it and she kicked him out and it's gotten a lot worse since then parking in my car space getting her family to get their children to play on my front garden straring into my living room when me and my children are in there my housing has tried to help but has said there's no evidence when I have sent her loads I just feel like I'm getting absolutely no where when it's not just her it's my other neighbour aswell banging about at one am every night when she decides to go to bed now there in and out of each others houses plotting something and I've told my housing officer this is seriously having an effect on my mental health and nothings been done what else can I do I've had enough I'm trying to move but it's a long process ??
Beth.c
- 10-Mar-21 @ 1:35 PM
My neighbours across the road are causing so much stress don't know what to do my neighbour told them I was the one reporting them when he was. That shout abuse blast out music at all hours, tell lies about me. That got an abatement order three years ago and still there I don't no what to do any more I had enough of everythingother neighbours moved out because of themin the past.
Leese
- 7-Mar-21 @ 7:07 PM
We have been harassed by my neighbours for the past 5 years. They have threatened us and intimidated us with their friends. They play loud music every day for 12 hours. He told the neighbours he wants to kill me and the police will do nothing. Him and his partner have said they hope I die of cancer. All I did wrong was ask him nicely to turn the music down as I couldn't hear my tv on volume 65! We have now been advised by police to take civil action as they refuse to stop them. It feels as though it will never end.
Suewak
- 4-Mar-21 @ 7:53 PM
I have Someone who threatens me every time I comes out my house she threaten me a week ago with a bat I called the police they did nothing about it she even jumped on me on Valentine's Day I called the police they did nothing about it I got it in my Landlord numerous times about the accident she turns her TV up very very loud where it vibrates my walls in my floors in my house she do this every day all day she slams the door is back in for her dogs bark nonstop My landlord isn't responding back to my messages I guess he's getting aggravated with me keep calling and complaining but he's not doing anything about it and to the point where I'm here now I can't walk out my house because this person is threaten me and now she's jumping on me I am 54 she is 62 she keep calling me the N-word and apparently I can't escape this I live upstairs she will downstairs I'm depressed I am emotionally stressed about this whole situation I can't get up and move at this moment I don't have the funds to do that and my landlord is not reaching back out to me someone please contact me and let me know what to do with somebody I can contact to get in and get some help
Shawn
- 2-Mar-21 @ 11:47 PM
My neighbours moved in next to us (semi detached) we would always say hello across the fence etc then at the start of lockdown the neighbour (60 years old ) stated shouting abuse at my children when they were playing in our garden , there's been continued abuse shouted over the fence from him to my children and partner & meI got the police involved they had a word with him and he has continued. Now we are being harassed by having to listen to their surround sound and shouting day / night council informed they have received a noise complaint notice but are still continuing
Dunn
- 18-Feb-21 @ 10:22 PM
Iam living in a flat owned by my relatives..Its a private complex of flats all owners have shares in the flats..but not all the tenants own there's they rent from the owners.. I made a mistake in being friends with the lady upstairs..by helping her when her mum through her out..( where my flat is in the past I have had serious trouble with my son to the point I had to install cctv.both outside my flat but also in the communal hallway outside my front door..(( humberside police knew about the cameras and knew that they were put for my safety)) about four weeks ago the person who I helped after her mother through her out..her mother has been traveling from Bridlington to Hastings and other parts of the country since first lockdown When the law says no unnecessary travel..during this last lockdown she has been reported to the police and now the person I helped thinks it me that reported her mother..she has taken it into her own hands taking down my cctv ,taping over other cameras,and intimidating me so much by putting notes on my front door saying that I am using them to spy on her and other neighbors ECT and also using motion detectors to know when neighbors come out of there flats she also put in the notes that I wander around on the upstairs landing listening in to their private conversations..) she has threatened me with solicitors and to get the police on to me.l( I am a carer for an elderly person and have to go in and out at different times of the day and night to the person.the person who in threatening me is making it very uncomfortable coming in and out to point That I have to sneak in and out she has also got me to the point anymore and I will end up committing suicide.I don't know who to turn to for help please before this gets out of hand and I do something stupid please will someone help me had enough
My wife and I were living quite happily,in our house for 30 odd years. She is now in care,and I'll explain why. I was warned about the behaviour of my new neighbours before they moved in,next door.All night Parties,Drugs,Bullying ,and Tormenting neighbours if they object. The husband is a Drug Dealer. When they moved in,I told them I won't put up with their nonsense. I was a part time Water Bailiff at a local loch,and had found this guy and his pal fishing.His pal was breaking permit rules,but my neighbour wasn't. I put in my shift report,and the committee,put a ban on them.In 2011 I got a call from my wife to say that our neighbour had leaned over the hedge,and started cursing and swearing at her as well as threatening her.She called the police,WHO DID NOTHING ABOUT IT,now my wife was in Early Onset Altzhiemers,and due to the fright,had Wet herself with fear. A month later she phoned me when I was on duty,to tell me him,his son,and his pal,were on their way up to the loch.When they arrived,I told them they could not get a permit as their ban had not been lifted,but leave it with me and I'll have a word with the Manager.They started cursing ,swearing,and threatening me.A picture of my wife came into my head so I closed the caravan door,stood in front of him ( My neighbour ) and punched him on his nose.Now there was no blood coming from his nose,but,arriving at the local police station his nose was streaming blood. After that,the Abuse,Harassment got worse,so did the parties. I had to eventually put my wife into care,cos when she heard his voice she panicked,and started crying.It got so bad,that she used to disappear,and I had to get police to look for her. After she went into care,his family joined in,the Tormenting of .me. I was being wakened up from sleep at all hours of the night,and even during the day,when no one was around they'd bang my doors,windows. So I had cctv and alarm system installed.IT ALL STOPPED. The Verbal Abuse didn't stop though. Before I got the cctv installed their son was at my door Twice challenging me to fight him,as I had supposed to be " A HARDMAN ". cos his dad told him I 'm a hard man.LOL. I did have a reputation of being that,but,at 73 I'm to old to fight,run, and trying to enjoy my LONELINESS, without any bother. Now they wait till summer and start all over again.I know for a fact they want me out of my house,so they can rent it from the Local Drug Boss,who they hope will buy it if I sell out. Advice Please.
Huck
- 15-Feb-21 @ 10:21 AM
After living in my home for the past 12 years, new neighbours moved in next door and have been using freezing cold air fans in every room directed into my property so that it has become like living in a fridge, This is especially ramped up at night so that it is impossible to sleep, This has been going on since October 2020 and although I have reported it to the police and to the council - nothing is done to stop what they are doing.
Orton Grove WV4
- 15-Feb-21 @ 7:17 AM
Police in U.K. must be different than police in USA. Your police take complaints of harassment seriously? Ours dont!I've complained for years about the incorrigible behaviour of my neighbors. Trespassing.Parking on my lawn.Throwing trash on my property.Throwing rocks, snowballs and launching golf balls at my cars. I even got photographs.Police refused to even look at the evidence. Here you have to have police in family or personal friend before any concern will be taken. Or they'll wait until there is an assault or worse. The neighbors kids and many outside family members and friends get a perverse joy from harassing an old man alone. It's so sad I must endure this my last year's of my life. I'm afraid to go outside.
Mitch
- 29-Jan-21 @ 2:16 AM
My neighbours dog is making my life a living hell. They won't accept my pleas to ask them to train their animal but instead have got a solicitor to send me a letter accusing me of 'making their dog bark'!!??.. And I'm a pot head!!??.....I'm on the verge of suicide....the council wont accept my valid proof (videos of barking) because they 'havnt witnessed it)...I AM AT MY WITS END!!!.....
Bengarrion
- 29-Jan-21 @ 2:15 AM
For the attention of the person responsible for the protection of our human rights. To Team. This was taken from CVT's website: Torture is used to control communities and families. When one person is taken and tortured, the family learns immediately to be afraid, to be silent. When a second person is tortured, the community quickly gets the message: you must do whatever the perpetrators want. Torture takes control swiftly. Torture creates such a climate of fear and insecurity that it fractures communities, silences dissent and suppresses civic engagement. The torture of families in their homes is heinous and devastating. For three decades, survivors have been describing torture scenarios to CVT that have nothing to do with interrogations, only with instilling terror, inflicting pain, enacting revenge and enforcing forms of slavery. Men, women and children are all affected; in fact, over half of the survivors CVT cares for are women or girls. This has happened to me, and many others. If I try and get assistance ie police etc, I will be hurt, by the perpetrators. We have Human Rights Laws in place, there is NO torture in the UK. I tried very hard to get out of property, with great difficulty as am a carer for my mum. PM Boris States that we should stay in it's very difficult. I don't understand, why this should happen in the UK. I do not have a criminal record and no health issues. I have tried to be put on the ' Witness Protection Program' and it was denied. Neighbour is pouring a substance into something and its causing me problems in my body, where I react immediately. A list of injustice for sending a complaint. I have been subjected to the below: ? Stalked - No help ? At home if I try and call for help, subjected to pain ie flat is heated up like an oven, causing sleep loss. ? Dryness of the skin to the point of a severe dryness under the feet. ? A neighbour pours a substance into a container, and we cough, even at 2 am in the morning.This is before cough, sweat and headache. ? Treated like a slave where am being watched 24/7, with no criminal record and no health issues. I am bruised and left to get justice on my own. Whoever reads this, please inform a human rights organisation ie UN to get me out of this situation. Please can you help?
Angel
- 24-Jan-21 @ 5:20 PM
my problem neighbour used to be afriendWhen her husband died her previous nastiness towards him was transferred to me.After 18 months of nasty comments culminating in palpitations,I decided to cut contact.I already have a serious medical condition which produces anxietyand her confrontational approach made it worse.I know that she regularly slags me off,she can't accept that the friendship is over.Now she has started leaving her bins outside my property directly under my window. When I open my window I can smell the bins There is no need for this as the bin men have always collected her bins from her properrty. I have returned her bins to her property 4 times now but I fear that sheon't stop. I'm due to start a couurse of radiotherapy shortly so am already worried, her actions are increasingly my palpitations. Is ther anything I can do
dolly
- 23-Jan-21 @ 11:35 AM
Problem with neighbours after their car was damaged by a car.I don't know if it was stolen or not.I didn't witness incident but I have CCTV and she constantly wanted to be allowed into my property to view footage.Nearly two years of abuse from her family and friends but not when they're alone. They only have the courage when in a group. Malicious allegations.Got a new CCTV system installed with audio.The day it was installed they were jumping up and down and waving and shouting "we are on camera".Another malicious allegation and I asked police to charge me.It was alleged that I was the one who was doing the shouting.They didn't want me charged.Checked CCTV next day and you could hear the cursing and swearing.I've had to buy a body camera for my protection when out and about.Now contacted police to visit me and see CCTV footage.Hopefully they will be charged with wasting police time.They even got their grandchildren to lie to the police.The grandmother works as a volunteer at a school!!I plan to contact social services, education department so as to prevent it happening to anyone else.I consider myself fortunate as I'm very strong willed although at times I was distressed by it. Will update when police contact me but got the feeling the police believed them because they were about 16 adults and children.
Boss lady
- 14-Jan-21 @ 10:21 PM
My neighbor and I have been harassed by another neighbor that lives across the street from me and right next door to him.January 1, 2021, they banged on his door accusing him of telling me that they were the ones who were hammering at 10:30 pm.He did no such thing.I heard them yelling at him and stood on my porch and watched them standing on the bottom step of his porch.Then the next thing I know they are on his porch bunching him and pushing him and he's trying to push them off his porch.I called the Sheriff's Dept and got the jail and the person I spoke with wouldn't connect me to the dispatcher.I finally got frustrated and hung up.An officer never showed up.I sent an email to the Sheriff Dept telling them what happened and nothing has been done.The property manager, Sheila Tuddy, told us she was going to kick them out because of the violence against the Dave, the man who was beaten up.Her assistant tipped off the neighbor across the street from me and told them if they put new siding on they wouldn't get kicked out.So they did that and now they get to stay.Hardly seems fair, siding verses assault.
Siding vs Assault
- 11-Jan-21 @ 1:54 PM
My newish neighbours who moved in 3 years ago have said to me numerous times they wish to buy my house and I would be best to downsize and live in a flat.I have no plans to ever sell the house.II have been suffering sleep deprivation as they slam doors in the small hours of the morning I suspect deliberately.They had their house renovated for a year and expected me to do the same but I refused.Its a lot noisier now and I can clearly hear them speak through the living room party wall.They do a few annoying things but I know I can't stop them parking in our drive or garden as that's not illegal.I would like to put something in my Will to say I don't want the house ever sold to them when I'm gone due to all the hell they are putting me through.I really can't find anything about this situation on the Internet so don't know how to go about things.
Beckie
- 30-Dec-20 @ 11:13 AM
Ever since we moved to our new home five years ago, two households in particular have made living here unbearable. It might seem like small things if I were to recount them, but they are constant and so are causing me an increasing amount of stress and distress. As we all own our homes (none of these are rented), there is virtually nothing we can do in terms of having them stopped without it being police action which will just lead to more intimidatory acts; but does anyone know if local authorities can buy homes when harassment is an issue to allow the victim to move away? We are obviously stuck in this situation until we can get a sale, and I would have to disclose their actions too, which could result in it falling through.
Joooools
- 30-Dec-20 @ 12:12 AM
I have lived in the same house for 3 years now with my 3 boys it is rented. The neighbour owns their house plays music (swearing etc) from 6am to 10pm if I have put up a picture they bang the wall if I Hoover they bang the wall they park over my drive. She has called the police before about the garden ( they have evasive bamboo) and shouted at my kids to shut their noise!! Yet they have made a complaint saying I am making all the noise. I can't do anything because they own!! How is this fair? I'm keeping a log etc but what for if no one can actually help?
Janearc
- 14-Dec-20 @ 3:44 PM
Hi I've been getting harassed maybe over a year now neighbours will complain about everything from the volume of my tv (it's normal volume to watch tv) if I play music (normally while I clean my house) they bang Down complain to housing association the male neighbour come screaming in my face in front of my daughter because she was playing with her puppy and just today I had a rspca visit due to a complaint saying my dog is matted and undernourished ( my dog get her tails delivery monthly that is tailored to her she also gets bones and treats in her monthly delivery and she had a flea and worm delivery every 3 month my dog also has a ball pit a toy box and a cupboard full of her own jackets leads and accessories SHE IS NOT neglected at all!! Anytime I've tried to complain to my housing association they never help me ruffle tried 2/3x (for help) but every time my Neighbour complains they are right at my door threatening me sending me threatening letters without any proof (not that they will get any!! I'm a single mum with a 10yearold daughter she doesn't usualgo out and play she prefers to sit in her room and dance or watch YouTube I don't have house party's I don't get many visitors if it is it's my mum or auntie I need help my mental state is getting worse I sleep mostly 1h a night and I always have chest pain
Jilldo
- 27-Nov-20 @ 3:27 PM
Don't know whether my comments are being posted or not this is a test
Paigntonlady
- 27-Nov-20 @ 2:20 AM
To everyone who has commented, I feel for you all especially the lady who is getting bullied and threatened by the police. YOU ARE NOT ALONE!!! It's so easy to think why me and feel like your the only one experiencing the same thing but this site shows there are always others that know exactly what you are going through. I myself was diagnosed with M. E so am at risk from pretty much everything, the only way to describe it is 24/7 torture. I have a virus that attacks my whole body including the brain. And to the lady with emf sensitivity I also have that so know what you mean. I moved into my housing association property in 2016 not knowing the houses out the back had created themselves an access down the side of the garages next to my house. It has been a nightmare, petty stuff but deliberate and there has been a few threatening incidences to and a hate crime against my disability. The day after I had a blue bow on my front door with M. E awareness week sign theystarted driving up onto the drop down kerb inches behind my car. The boy now gets his taxis to block and opening the door right up behind my car, drive up onto the drop down kerb and pull up right outside my window at 12, 1, 5 AM shouting slamming doors waking me up from the 2/3 hours sleep I get a night (on a good night). They have been told time and time again been sent letters and a map but still carry on walking as close to my car as possible, in between my car and my path or my path. The other day they came out came onto my drive then was looking over myfence into my garden right next to my back door. A couple of days later I had random people come walking all over my property and pointing saying that's no 4 there this one!!! I have captured everything but because my housing association and the council don't want to take responsibility for not doing their jobs in the beginning they do everything they can to mold reality to fit me being paranoid, crazy, a flat out liar and just out to get my neighbours. I was blocked in by a friend of my neighbour who I had been reporting since 2017 for being aggressive and blocking back in October last year. Her and her friend blocked me after I got into my car then because I didn't react came over and eventually told me if I wasn't disabled I would be dragged out of my car and my head would be ripped off. After telling me I'm not all there which they all love to tell me. I've been told I'm the most despized person in the area when all I have done is report them tresspassing, blocking and being anti social. My landlords edited the footage so It looked like I had not been blocked in then only showed the police the camera that was 12 feet away so the police couldn't do nothing. They made me doubt my own sanity by telling me what I said happened didn't by withholding footage. I had one of my neighbours knock on my door secretly filming me inside my home without my knowledge or consent and was told by the council that its jus
Shell
- 27-Nov-20 @ 1:38 AM
I've been harassed by my neighbour for a year with party's loud music & antisocial behaviour on a daily basis the music is really loud and goes on till the am council do nothing I've even got noice pollution involved and a court Order an abatement order is in place and he keeps breaking it but have not took him to court can I sue council for aiding & abetting him to harass alarm & distress through his music
Biker boy
- 23-Nov-20 @ 7:52 PM