When you Should Contact your Local Environmental Health Department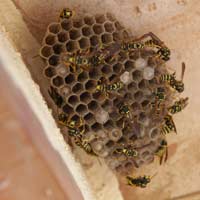 If you have already read a number of articles contained on this website, you will have begun to realise that your local authority's environmental health department covers a vast remit and they often your first port of call if you are experiencing problems with your neighbours or within the community as a whole.
It can be far quicker to obtain a resolution if you contact your environmental health department first as opposed to calling the police when dealing with many neighbourhood issues. In fact, in most instances, even if you call the police, they might refer you back to the environmental health department first. Here are the many issues that the environmental health department would deal with:
Air Quality
If your enjoyment of your own property is being affected by a
Neighbour's Bonfire
or barbecue or if an industrial chimney is causing a problem.
Contaminated Land
Where you suspect that chemicals or associated materials have polluted either a water supply or have contaminated land.
Dangerous Dogs
If you have a problem with a
Dangerous Or Nuisance Dog
in your area or you have been attacked or been threatened by an attack from a dog. You'd also contact the department if you're concerned about persistent dog fouling outside your house or on local parks.
Food Standards
If you are concerned about the hygiene of a particular business which is manufacturing and/or selling food or drink to the public, or you have suffered a health problem as a result of eating suspected contaminated food.
Noise Levels
If you are suffering from the effects of
Excessive Noise
as the result of a neighbour's party, loud music, a nearby factory or some other kind of business which is generating excessive noise or if you have an
Incessantly Barking Dog
in the neighbourhood.
Pest Control
If your own home or a nearby property has been plagued by pests which could be anything from a wasps' nest to rodent control.
Flytipping
If flytipping has occurred on your street or if you suspect a neighbour to be guilty of flytipping elsewhere.
Graffiti and Flyposting
If graffiti or flyposting is happening in your area, your environmental health department will also deal with this.
Litter
If a neighbour is guilty of not disposing of their household waste correctly, or if you are experiencing a lot of litter on your property or street as the result of a business nearby.
Of course, in many of these instances, the problem can often be resolved by speaking to the relevant neighbour or nearby business first. However, if you're unable to obtain a satisfactory resolution to a particular problem from the person(s) involved, or you don't know who might be responsible for causing the problem, then all of the above fall under the jurisdiction of your local authority's environmental health department. They have the powers and the weight of the law behind them to begin an investigation and to enforce a resolution, be that through the courts, if necessary.
What to Read Next...
Dealing With Infestation
.
You might also like...
People at 2024 scraggs Dr apparment B they dump cooking water an cat litter with ?? n cat pee n it smells bad but they never come to the door when people knock we need them to clean it up The landlord told them to but they never did the smell is strong it's worse when it rains some body needs to do something to them
Pat
- 18-May-22 @ 4:14 AM
Our neighbour, who rents her house from her father, has an extremely large amount of rubbish in their back garden and garage . The smell is becoming unbearable. Elderly neighbours are worried about the smell and rats . They have 3 dogs and discard the dog mess outside their back door . There are flies everywhere. Also the concern that the have a young son of primary school age . I've been informed by a worker who is doing repairs that there is dog mess in the house, and the house is a health hazard. Apparently the father of the son has left as he cannot cope with the mess as he works every day and his wife / partner does not do anything to help in keeping the house clean . The boy will be going to the Grandparents at the weekend but will return to the house during the week as he has school . The house also has been associated with drugs and men coming and going . The drug issue has apparently been reported.
Provy
- 25-Apr-22 @ 10:28 AM
I got a fence built to stop my dog wandering and going into neighbours garden that cost £280. Had it for 4 weeks. No problems. Dog never jumped fence even if it seen other dog or cat. The little boy from the house he always runs to coaxed him over the fence. I know it was him coz I saw him, then when I bounded after the dog I saw him slowly close his kitchen door. He obviously got a fright when the dog DID jump the fence. Now the dog knows how to jump the fence we can't put him in the garden anymore. If he DOES escape (which is very rarely) my tough guy neighbour threatens me and refuses to acknowledge it was his little boy that made the dog start to jump the fence. He could build a fence over the space that the dog runs up. Since his wee boy was the one who caused this.
Gerry
- 17-Apr-22 @ 11:12 AM
My neighbor has a rubbish removal service and constantly leaving his van full of furniture rubbish over filling his van which is not enclosed in he also has a drive but parks on opposite side of street away from his house as he also has a Luton van parked outside his house. If it's really windy rubbish is flown everywhere and not safe for people passing by as he often fills corner of street with rubbish when sorting threw it and people with prams mobility scooters have to go around the van walking on road side. Basically he is using his residential address to run business from and not acceptable for neighborsPlease help. Thankyou
Tina
- 17-Apr-22 @ 9:21 AM
Please help tried to speak to mums neighbours about the mess of front garden attracting foxes ,rats and lots of field mice Now the connubial back garden is going the same way with things left lying around My mum used to enjoy the garden but not anymore all this having health affects
I live at 8 DESSOUTER LITTLE STRAND LONDON NW95PBI havea neighbournumber 7 who hasturnedmygardenintoa refuse dampsitehe throwsallhis householdrubbish into my gardenwheneverheard can!I havereportedthe mattertopolice told metoreportto thecouncil!Iemailed thecouncil They sentmea replymessagewith a referencenumberthata caretakerwill contactmebutI not heard from himor hertodateI contactedmy housingofficer yesterday regarding this matterHE alsoreferred me tothethe neighbourhoodteamin havetirelesslycontacted also to no avail,Ifinallytried torisk my lifeby goingtomy neighbours totry andtellthemtoremovetherubbishhe has causedin mygardenremovehe toldmeoff!"he saidthusthewayis gonna be! he can'tdo Anythingabout it. Now! I have micerodents and cocroachesin myhomemy otherneighboursare complainingthattheycan'topentheirwindowsforventilation.I amreallyworriedaboutthissickeningsituation! What? DoI havetodo! ? Eachdaytherubbishis hippinupthroughno fault of my! !in thistorenting problem! I will be glad to hear from youon adirectiveson what to do!Thanks!
R o sen
- 13-Oct-21 @ 4:34 PM
My next door neighbour disposes of her household rubbish in her back garden. It looks like a waste site. This is attracting rats, flies and foxes. My own property had rats running through the rafters as a result of the issues next door. I have complained to the council multiple times over the course of 2 years. Have had pest control add preventative measures in my property, and pesticide. As a result I have had a dead rat located under a floorboard or in a wall. The smell was aweful. That's not the worst part. This all happened while wife was in hospital due to give birth. The council have been informed about all of this. The problem of rats from next door and waste is getting worse. The property is tenanted. And the tenants have clearly been the root cause of the infestation. I've spent thousands on pest control at my.own property. The experts have visited next door and have said that the source of the problem is from them. Who can be held accountable? Council, tenants or landlord? How do I go about resolving this, when the council have not taken any action in 2 years?
Ken
- 3-Oct-21 @ 12:19 AM
with regard to Shh question people are not supposed to do work on a boundary or party wall without serving a Party Wall Notice giving the neighbour one month to respond. I believe the Land Registry records are now an open register (I stand to be corrected, as I have retired but worked in "legal " all my working life) - if you can get a copy of the Register for the property, Title search, you can see if they have a mortgage because work done without observing the Planning laws will breach their home insurance and mortgage conditions and the Mortgage Lender would need to know. Tell your local authority planning dept. Also see if you have a local free Law Centre near you for advice.
nanjay
- 1-Oct-21 @ 10:51 AM
Me (16) and my dad (37) live on ground floor of small 3 floor flat above us on the upper floor lives a mum her two kids and a boyfriend that comes and goes as he pleases, now when they first moved in the noise was fine but it's been a year and the kids are still up until 3 or 4 in the morning BATTERING the walls and yelling and banging, but tonight was the last straw, one of their bathroom pipes burst, flooding our bathroom and my dad goes up to knock on their door to tell them. (No answer they are awake and go silent whenever the door goes) my dad is impatient, hates government and police so would rather be an adult and sort things out himself but he also has anger issues and idk what to do the water isnt pouring but its destroying our hime
Mik
- 22-Sep-21 @ 11:28 PM
My neighbours have 3 teenage children 12, 13 and 18. The parents had a huge argument and were hitting each other. The wife has left and the husband has moved in with his girlfriend. The youngest has gone with the mother (girl). My problem is that the 2 boys have been left to do as they please, they have a large group of friends (6-8) that pile into the house and make a lot of noise through the night in what used to be a quiet cul de sac. The father sometimes is round in mornings to pick the eldest up for work but he doesn't stay. I am concerned about these children being just left to do as they please with no parents. What can i do. Its worse at weekends.
Losingit
- 17-Sep-21 @ 10:00 PM
My daughter lives in a ground floor flat with 2 floors above occupied by leaseholder who also is the freeholder. This person keeps leaving lawn mower and trolleys in the small entrance hall which is outside my daughters front door. She has been asked several times to remove it and says she is the landlord so she will keep it where she likes. She also has the blades facing outwards and my daughter has 2 small dogs Is this person within her rights to store machinery in a flat hall which is not that big.
Sun
- 9-Sep-21 @ 10:19 AM
I've been on to the council for years to get rid of a tree next to my garden due to massive amounts of bird dropping everywhere, I'm constantly having to re wash clothing on line due to birds messing on them, pigeon mess is so bad in my garden, we barely go out there because pigeon mess is dangerous to the health, my grandson carnt even enjoy our garden his only 2 and don't understand, the council promised to come back in July to take the tree, but didn't, I've kept calling and getting no response, I'm at the end of my tether with them, need help as don't know how much longer I can put up with this. What's my rights what can I do.
Worried
- 8-Sep-21 @ 5:58 PM
My neighbour has rubbish all over back garden and dog mess .what can I do about it
I would like you guys to help me ,I am a mother of one child and is 16 years old ,my neighborhood they speak lies about me they say I am sleep with my child how to deal with this will you please help emergency
Khanyi
- 2-Sep-21 @ 10:54 PM
My neighbors has all kinds of trash on their back porch and bugs are every wheres, has this awful smell. They have been asked to clean it several times, and still hasn't cleaned it. Who can I call to come and make them clean it?
Redhdmom
- 2-Sep-21 @ 9:17 PM
Im having a big issue with my neighbor noise all day and night everyday none stop
Sweetie
- 27-Aug-21 @ 11:59 PM
Please can someone help me, I am disabled and housebound, my front & back gardens are very overgrown, the bushes are nearly breaking the fence between mine and neighbours back garden, the paths are covered with moss, weeds are really bad they are growing up the front door and nearly coming into house, I am now getting big slugs coming into porch. I am unable to do anything due to my bad health issues. they used to come and cut the grass as I qualified to have this done but nobody has been what are the disabled people supposed to do, I hope that something will be done and soon.
n/a
- 27-Aug-21 @ 4:23 AM
My neighbour has a bird table right up next to fence separating us.she feeds the Seagulls, pidgeons, and Jackdawsconstantly. We have parent gull now bringing young. We have no small birds around us. We are continually wiping bird poo of our garden furniture and the bread they leave out get dropped in our garden which my dog then tries to eat .we have a short piece of film of a rat eating from their table. We also have a neighbour who covers the top of her fence ,three sides of her garden with pidgeon food. Someone that gardens the other side of her fence says there are rat runs under the fence.we can't put poison down because of the neighborhood cats. What can be done please. Neither neighbour will stop.
Troubled
- 26-Aug-21 @ 11:12 AM
Live in hastoe housing in lovely village,have new neighbours moved in,leaving stinking bins at front of property,when they have back garden !!! What if housing officer can't solve !!! Can anything be done ,, manythanks whippet.
Whippet
- 25-Aug-21 @ 12:43 PM
My neighbors bin stinks like something has died in it!There's flies everywhere and maggots crawling everywhere. It's right near my living room windows so I can't ever have my windows open.I open my front door and the smell makes me gag.Is there anything I can do about this continuing problem please? It's not like they can't know.The black bin is covered in maggots
Loobyloo
- 23-Aug-21 @ 11:33 AM
My brother lives next door and we haven't spoken since mum passed away mainly due to his wife .the problem is he is a farmer and his cowshed is next to my yard .he doesn't clean the muck out all summer until the cows come back in late October .there is a leak and the manure and wee are leaking on to my yard ,every time we patch up the brickwork it starts leaking in another spot .if I report it I get repercussions from his wife .what do you suggest
Judy
- 21-Aug-21 @ 10:52 AM
I live in a private let and keep my wheelie bins in my back garden. My neighbours front door is across from me say about 5 steps away from my front door between us is a public path and she has decided to recently put her 4 wheelie bins under our newborns nursery window next to my front door and against my wall rather than against her own house since then we have had mice in the house and any time we have the windows open there's flies every where amongst all the newborns stuff and in my home (all my windows are at that side where the bins have been placed) I'm having to keep the windows shut so when politely asked to move them she refused and claimed she has no where to put them. I was curious if there's anything against her putting the bins against my wall if it's attracting vermin and flies she has a back garden also so I do not understand why she would put them there according to my landlord her bins should not be there
Letty
- 12-Aug-21 @ 1:02 AM
I moved into a ground floor flat a month before the 1st lockdown and didn't notice an issue as my upstairs neighbour moved away during that period. When she came back the problem started, each night when no one is around she throws food out into the garden. It's attracting fox's, mice and fly's. I have contacted the letting agency as I don't want any contact with her, she is very rude and shouts at people. Nothing has been done yet. The other day I found bones, sausage rolls and today there was cooked pasta all over the grass. How do I stop her?
Stuck
- 8-Aug-21 @ 11:31 PM
My neighboursnext doorgarden is all over grown and has dog mess in with it .also there back garden has 3 empty old cars that have all rubbish in them and over grown weeds . We have had chicken for the past 5 years and have had no problems with rats but now the garden next door is worst than ever I'm afraid they will arber rats that will come to ours
Sausage
- 3-Aug-21 @ 2:59 PM
My neighbour is breeding dogs in his back garden and jet washing all the excrement and urine under the fence onto my garden,plants have died and my garden smells like a cess pit.No matter who i contact I get nowhere.Local Council say call RSPCA,they say phone Trading Standards, they say what is the company name?.Meanwhile we have very unhappy dogs and pups whining and barking most of the day and night. Going to try and contact Public Health tomorrow
FED UP
- 1-Aug-21 @ 7:13 PM
Hi for 38 years we have lived at my other's property,we have a awful neighbour bottom of the garden. She had brambles for years and keeps letting them grow though our fence. Am I in my own rights to cut them back and put them back over the fence were they have came from in the first place. We had a fence put up year ago me and my late father out it too.But looks like a mess because she seems to be digging under the foundations but at a time stealing our land too. My elderly mother had no end of verbal abuse and she spread lies to other people recently moved in I've hear them myself ever time my mum wants to do some gardening I'm there with my phone hoping to catch them in the act. I'm getting sick and tired of it and begin to think the woman bottom of the garden caused the stress of my late farther to die of a heart attach. She's vile her family are just as vile something needs to done a d we can't afford to go though courts
BusterG29
- 27-Jul-21 @ 2:11 PM
My mum is 80 years old and in poor health. My brother who lives with her is an agrophobic and hardly ever leaves the house. The neighbours next door are a living hell. They did not even warn our family they were doing extensive building work in there. They have dug up next to my mums boundary wall, drilled, hammered and banged from morning to night on the partition wall. When I asked them how much longer it would go on for, I was told to mind my own business. Earlier this year they reported my mum to the council for feeding the birds in her own garden, saying it was disgusting and the birds were dirty. This was after errecting a 7 ft fence blocking a lot of her light from her garden. The woman has been nothing but unpleasant ever since they moved in. We are at our wits end. Can any help?
Shh
- 26-Jul-21 @ 6:44 PM
My neighbour moved in a year ago and has never cut the garden.. I have had to erect a fence at the front of the property as the 4ft high weeds were all. Over my drive.. However I still have issues with the weeds coming through and under the fencing. It is privately rented and I'm getting no joy from the estate agents that let it. What can I do?
Karen123
- 26-Jul-21 @ 1:30 PM
Our neighbours stores several large industrial portaloos in their garden/driveway. Unfortunately our back garden is the only area we are able to relax in and we now can see these pieces of equipment from our garden. I have politely messaged to request they were moved when they were nestled closely too our home and this was resolved with a very reasonable explanation however this was some months ago and now they are placed all overdo we can still see them. The address they are stored is not the address of the business. Any advice gratefully received. tIA
loo's
- 20-Jul-21 @ 3:07 PM
My neighbours bin absolutely stinks like something has died. Now the warm weather is here again it means I can't have my windows open because of flys coming into my house. We have a 3 week rubbish collection and by the 3 week there's got to be on average 15 black bags and her wheelie bin. What can I do please.
Lovely
- 20-Jul-21 @ 1:14 PM