How to Deal With a Neighbour 'Stalking' You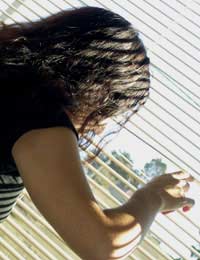 Stalking by neighbours – or anyone, in fact – is one of those crimes that is often joked about, but can be very unnerving and at times even frightening. If you suspect that you are a victim of stalking, whether it's a stranger or a neighbour, one of the main things to do is to try and keep calm. Stalkers and people who are out to harass others are often just looking for a reaction, and if you try to stay aloof and appear unconcerned, even if you are feeling anything but, they may lose interest and leave you alone.
Harassment covers pretty much all forms of unwanted behaviour, from mildly irritating to actual physical violence. Harassment can be a criminal offence and Laws Exist To Protect You . If the neighbour concerned is also watching or following you, making constant attempts to contact you or even sending you unwanted gifts, harassment becomes 'stalking'.
It may seem innocent at first – a neighbour seems to be a bit over friendly perhaps, and in all honesty, it could be a misunderstanding or a one-off. But if the strange or unwanted behaviour happens repeatedly (and repeatedly just means more than once) or you're feeling distressed or frightened by the behaviour, trust your instincts. Stalking is a criminal offence so don't blame yourself and don't think that you have to put up with it, whether it's a neighbour or a stranger.
Keep Hold of the Evidence
If things escalate, make sure that you keep a note of all incidents that you consider to be harassment or stalking and tell people, other neighbours, or your friends and relatives, what's going on. You can enlist the help of willing neighbours who might be able to keep an eye out for the perpetrator – if they deliver anything, or are hanging around your property, for example.
If the person who is stalking you also uses text, email, or the post to get to you, you should keep evidence of these as they can be used if you need to take the matter up formally. Don't be tempted to respond – that's what the stalker wants you to do.
In addition to hard evidence, Keep A Diary Of Events, making sure that you note down anything suspicious, times, dates and events. Write down anything that your neighbour says or does that could be construed as stalking as soon as it happens, as only evidence that's recorded 'contemporaneously' – that is, immediately – can be used in any future court proceedings if they become necessary.
Being Stalked on the Telephone
If part of your stalker's campaign involves telephone calls, you should keep a record of dates and times of the calls and anything that was said. If the caller hasn't disguised their number, make a note of that too, or if being stalked via a land line, try 1471 to see if they slip up and reveal their number.
BT may be able to help if the stalker has your landline number. Call the BT Nuisance Calls Bureau on 0800 661 441 if you are a BT customer. On your mobile, save any malicious text messages for evidence.
If You Feel in Danger
If you ever feel as if you are in imminent danger, call 999 straight away and don't worry about feeling foolish if the threat later dissipates – it's better to be safe than sorry.
Try to stay calm and not show any fear or emotion. Don't lose your temper or attempt to confront your stalker, again, the bully is looking for a reaction, so you should try not to let them have what they are looking for, even if you're angry or frightened. If you notice your stalker, try to get away from them and into a public area or into your or a friendly neighbour's home.
If the harassment carries on, your only option is to Contact The Local Police.
You might also like...
This is 2020...still going through the same thing with an old perverted white man...he needs to grow up...leave me aloneand get a life and a wife....tired of his stalking and harassing me 24/7.... maybe Coronavirusgot him delusionalor he's just insane in the membrane! Old bastard needs to move on and move out....this brother don'tneed or want his nasty trash...??
The Realest
- 24-Nov-20 @ 11:24 AM
what can I do about my neighbor watching me ? I moved into a new home 10 weeks ago. Yea I did make a little noise in my first 2 weeks. I have a large family and many friends where I have just moved to ( in short I came back to where I grew up - so I know the area and people very well) Yes I have a few visitors to my home but nothing different to my previous home, part from more family members popping in. I have a neighbor on either side and it doesn't seem to bother the gentleman who lives on the other side of me. However it very apparent it bothers her. I have been told she discusses comings and going's to my home ( again they could be late at night) with the local shop keeper as well as describing one of my best friends. She has called my landlord and advised them I have people coming to my home at odd times . My landlord even popped to see me 2 weeks back and she made a point of going out and speaking to him after he left my property. I was also overheard part of her conversation with him. She was implying I was possibly doings something illegal from my home. ( which is outrageous). What rights do I have or advice anyone can give
Lyns
- 24-Nov-20 @ 6:57 AM
I can relate. The male that lives beneath me stalks and harass me it's on going since 2016. When I take a shower he turns his cold water on and I have to keep adjusting my water to prevent it from getting to hot. When I go into the bathroom he goes into his bathroom and turn his lights off and on. Twice at 4am he was knocking on his bedroom wall mouning. For three years at 3 a.m. he played a recording of a woman screaming he put it in his window and would turn the volume up loud.He finally stopped when the manager confronted him about it. When I was working he would slam his closet doors at 3 in the morning. He's in his late 50's and doesn't work.I was looking for another apartment when I lost my job now I can't afford to move. A few months ago I detected a camera lens in my kitchen wall its coming from the neighbor next door to me her and her boyfriend are spying on me. I found it on my free glint finder app. I've brought all of this to the attention of the manager and owner of the building apparently they can't do much. These kind of people are evil, bored to death and have lost their mind. I pray that the Lord will fight these battles. When I've done all I can do I pray.
Faith
- 23-Nov-20 @ 1:21 PM
My neighbors stalk and harass me daily and all during the day and night. They spy on me and see and know everything I do in my home. It's sad and pathetic. They have no jobs and do drugs. Best of luck to everyone, we don't deserve this.
Crissy
- 11-Oct-20 @ 5:47 AM
I need advice, please I'm on a very bad path. Leading down that dark tunnel. Now going on strong 2 years. My neighbors watch me 24 7. I hide in my house black out my windows I can't even smoke a cig on my front porch without eyes on me. When I used to hand out at a local coffee shop to use power to charge phone. A neighbor that lives across from me comes in shows one of the staff something on her phone and they was no longer nice t me from here on out.. yes I'm poor I going through divorce I lost my job I don't panhandle or steel and yes I have are out of a dumpster because I didn't collect enough cans for food. But I can't beg or ask for help it destroy me even talking about how I lost everything and I'm imbarrassed to ask for help. So. I hide in my house terrified of life and even people at my grocery store even treat me different.. but neighbor on side of me and 2 across from me watch me non stop. Like right now I went to front porch to smoke guy across street walks to his fence to watch me through the fence. The one on the side of me watching me through his garage side door lights are off.It's getting dark for me. No friends no family no one to talk to.. I'm scared to even leave my house Any advice thank you in advance.. I been through hell and back but this is really taking a mental toll on me
Goat
- 7-Oct-20 @ 8:27 AM
Neighborhood is using a nearby app to harrass and stalk mePenn Hills police said theycan't do anything because they take it down when I call for help
where did my long story go to... I hope you got my story... it is very important to exposed this story as I forgot to tell you as well that my stalker next door threw a brick at me and the cops did nothing because the cops are criminals towards me and are the friends of the corrupt CPS lady who tells lies and the whole story has been swepted under the carpet. THE CROWN PROSECUTION LADY WHO PROTECTED THE CRIMINAL FAMILY ( 8 people in total did something to me from this family, who should all go to jail) The CPS lady knew all about my stalker but she became to be a witness for me and became to be a defender of the whole situation. The police are very evil people and choose who to stick up for. I HOPE YOU GET THIS STORY- WHICH IS THE SECOND BIT.NEVER TRUST THE POLICE THEY ARE A WASTE OF TIME.JUST RUBBISH, SHEAR RUBBISH. My stalker also used to get very large RAT's 24 inch, very , very , long rats, because I told the cops about him.
intelligent
- 22-Sep-20 @ 3:10 AM
Hi Ellie Where Ru from? having thought about talking to this neighbour who is stalking you ? And just explaining how her behaviour is upsetting maybe if she understands that she will stop and maybe she can give her side of the story
Ron
- 19-Sep-20 @ 9:40 AM
File an injunction....ignoring a pervert and stalking neighbor....they get worse......tell everybody...that this is unwanted....get people who know u...write statements....have them come to court testify....call police....do online report....
Delia
- 11-Sep-20 @ 8:56 AM
I have a neighbor who is constantly at her window.She keeps a journal of everybody's activities.I am using my back door to come and go because of her snooping and documenting in her journal. I am a very private person and detest her behavior. Is this considered stalking?
Ellie
- 7-Sep-20 @ 8:32 PM
I have a neighbor 37 years old is creepy and hates women...he has two boys...he refuses to stopstalking me and harassing me....hes constantly in my window,invading my privacy....i closed my blinds there he is in hallway....i moved down hall to get away from him and here he is....he puts his ear on my door,hes taken screen off window when i leave..he digs in my trash...and put dirty plate on my window....hes has 1#parking space..but keeps getting more vehicles....i filed a temporary stalking order...got that..permanet one denied....hes told me to move out...go back to where i come from....then he tells strangers to call and tell owner im harrasing their kids.....owner told him to leave me alone. But he refuses and told his 13 year old to sit and look inside my window...he is a control freak,bully,and thinks all women are beneathhim...im 60 yeat old disabled lady walk witha cane due to 26 car pile up accident i was iyears ago....owner wants to pretend every things ok....its not...he broke me windshield...and e erynight he would wait for me to come ba k to apt...he put cameras iparking lot and had one facing my front...door... He stands in front of my windows and talks on cell....he keeps breaking secure lock on hall way door....and put on building a motion sensor light as bright as staduim lights....they stay on 30 minutes at a time and go off for 5 minutes...then he acts like he ownsthe building threatening to get me evicted...no matter what he has to do....i do not talk to him hes disrespectful....when ever he is super nice acting like hes trying to help u.... He wants to take over ur home and life all ur belongings...i saw right threw him....now i. Filing a new stalkingcomplaint and injunction,and small claims i have filed and talk to police about online reports....he thinks it so funny....but guess who will get the last laugh.... When he sees my head spin round and round...he will become a believer...calling on jesus.....he will see he messed up...bad.....hes always watching me and wants me to know hes there....creepy as hell....in front of my window as if he could kiss it....to much weed smoking....find him a women who hates men and they hate each other.....something is broken inside his head....i do not live in ur house,we have no relationship....im just a tenant...he does not mess with the men...only me a women....this is a learnedbehavior....hes been doing this for a long time...the women divorced him....she wont evesee her kids....she knew he is crazy.....i want him in jail to say hes innocent....lying....its fun for him to go to court....its attention.... all of this will stop or hes going to jail,hospital,cemetary he can choose....im sick of people not minding their own busi ness.....let me live my life without the abuse....i do not want him near me.. .
None
- 3-Sep-20 @ 12:31 AM
Everyone I am being stalked by all my neighbours. I have no proof. But they all talk when i am in certain rooms. It is beyond creepy i guess we have to continue ignoring and stay happy?
happygolucky
- 2-Sep-20 @ 11:58 PM
It's unbelievable what stalkers can do .For years now two friend stalkers and their husbands have been at it stalking me and my family. The couple's are friends and the first couple we live by have done everything from open up our mail,steal our packages,copy,stalk,follow yell obscenities from the window and even the husband has come up behind me at the gate as to grab me but got scared because he was seen by neighbors and was getting himself in trouble.The second couple have done everything from copying,coveting anything and everything they see us do or have from the types of cars we have to our work schedules even though they don't have the same type of jobs .They have followed us,threatened to kill my family and constantly compare themselves to us we went to court with the second couple and won because a judge saw through her fake story and crocodile tears and called her out for stalking me and harassing me and other women on the same block.Funny thing is everyone talks about their obsession with us and see them as weak.This year our lease is finally up and we are getting a new home with God's help.The weird part is both couples are hypocrites,blasphemous, always talking about Jesus and the Lord to portray themselves as children of God to their friends or fake followers online all the while they're beating each other up on the daily and the husband of one slept with his sons wife and she's only with him for money and a roof over her head the other couples woman stole the man from his wife and has no morals and is disliked by many for the false stories she spreads about the innocent.She copies my plants and yard and goes online saying the same things she hears me say about being blessed by God and lies to others about everything .It goes to show you that people that have issues try to go after people that are special and kind and you should never allow stalking .We have made steps to move and I'am counting the months I never have to be around the stalking,harassment,envy's and constant nonsense that I had to put up with when I should have just moved out before.My blessing was being helped by my community and friends and my guardian Angels because the cops can only do so much.Be strong because people like this need to feel some type of way but in the end they're weak and the demonic individuals always lose .
Real Child of God
- 26-Aug-20 @ 9:40 AM
My neighbour is stalking me.. he has very odd behaviour towards me .. he will stair up at my window.. he will come to the door when my door bell rings .. hes been filming me and visitors this has been going on for over 4 yrs now .. I have serve mental health problems where I am constantly being watched .. my doctor is aware and knows this is not in my head .. my mum also has witnessed the behaviour of my neighbour
Kbbi
- 13-Aug-20 @ 6:54 AM
All your advice these last couple months helped me get over a hard time, inspired me to move on, and eventually got my ex to be my next girlfriend again, lol. Thanks, you the man ,for help reach (mag1an@protonmail.ch )– Al Davis
Aldavis
- 11-Aug-20 @ 7:25 PM
My neighbours are trying to kill me because I told my crazy neighbour to stop harming my cats, he did not like it one bit and now has my whole house being watched, I can no longer go in my front yard, now I can't even go in the back yard for a cigarette as everytime I do they see me then set up to ambush me, they have numerous people play loud music, then park a van outside front of home and revs continuously, from there they will go to the flats at the back of my home and wait just behind the wall the devides my back yard from the flats, I hear everything and it's so scary, they won't evter because I have a pellet gun, the worst is they rang the police and gave them my description claiming I'm being aggressive to her husband, he screamed in the back ground, the lengths they are going to is scary, I have evidence from a door bell cam but they sent a man in balaclava into my yard to steel it, poilce even watched it and said unless they come in to my home they CNt do anything, still waiting for the officer to collect my evidenc, I'm going to die or be critically hurt, I have a cctv but can't cover all points of home, I'm surrounded, children are scared, wife thinks I'm paranoid because she doesn't here it, that's because they know every coming and going of my home like clockwork.
Arel
- 10-Aug-20 @ 1:41 PM
My neighbour has been harassing my family on and off for six years, ever since the police were called about her husbands abusive behaviour towards her. She has stalked my family and myself, assaulted a family member, shouted abuse from her windows, banged on the adjoining walls at all hours, filmed my family from her property and cut plants that don't belong to her. We have called the police many times and had contradictory advice many times. Each time they have done very little or refused to do anything to deter her behaviour (we believe this is because her husband is an ex-police officer). In one instance they even tried to reverse a charge they had organised for the neighbour and tried to issue it to one of my family members. She now follows us from garden to garden, sits on her decking all day hoping we go outside, bangs on dustbins, drags her garden furniture about to annoy, sweeps incessantly and watches my family from various windows in her home. We've had CCTV cameras installed, contacted a solictor and the police again all to no relief from her obsessive stalking. Our only option is to move but this won't be for some time due to the pandemic. It has been so eye opening and soul crushing to see how little help there is out there for people who are victims of stalking. I wouldn't wish this type of behaviour upon anyone (aside from those who are already stalkers). It is an absolutely horrendous thing to experience.
So I have a very bothersome upstairs neighbor. The other day I heard (cause it was very loud) him and another woman fighting/arguing. I don't know what started the arguement but it sounded like he was trying to get at her or harm her in some way. I was frozen for a minute and was hoping the worst wouldn't happen. But it was very loud and he was running all over the apartment..I thought he was gonna fall through my ceiling. That's how loud and how heavy this guy is. I didn't call the police or anything cause things calmed down and I tried to block it out. About a week later I start getting this weird feeling like he's stalking me. Like, it may sound funny or stupid but. I'll be sitting on my couch, on my phone, its quiet. Then I'll get up to do something and I immediately hear him start moving around as well. Even when I go to the bathroom I'll hear him going in his bathroom as well because its right above mine. Idk man. Its Its just not a good feeling.
Jane
- 30-Jul-20 @ 7:46 PM
Been harrass for almost two years all for nothing because I stopped barrowing money from her friend for her needs now she stalked us harassing my kids talking about me watching my house following me leaving threnghthing message
Onpoint
- 29-Jul-20 @ 5:54 PM
The harassment started when I complained about the stomping from my upstairs neighbor. He came to my door and screamed at me. I contacted my landlord. Nothing was done. I didn't call the police, I thought it would blow over. The next evening I went to get into my Jeep and thick wax was all over my windshield and hood. I called the police, they said they were too busy to answer my call.At 1 am my doorbell started to ring. I called the police, I told them I'm sure it was my neighbor ringing my doorbell. The police said" It couldn't have been him, his lights are off in his apartment. They told me to disconnected my doorbell. I asked them to look at my Jeep. I'm sure he dumped wax on it from his balcony.The officer said " Did you see him do it? I said no. The officer said than it's the same as it never happened.The next day I was leaving my apartment, my neighbor yelled" You daughter is dead, she's dead. All druggies should be dead". (My daughter died in my arms). I called the police. They talked to my neighbor, he admitted to the officer that he did say it. The officer said to me, He has freedom of speech, he can say anything he wants. Eveytime my neighbor saw me, he would shout" Your daughter is dead or I'm going to get you".. Packages began to come up missing,My laundry came up missing. The police said" Unless you see it happening, it never happened. the officer said,Pack up your things and move. In the meantime, my neighbor was pounding on my ceiling at wee hours at night. the officer said, you do live in a ground floor apartment. one day, I was so tired from everything he was doing to me and was not getting any help from the police. I saw a package of his and I thought maybe if I started to do what he is doing to me, this would stop. I took the package. The police were waiting for me. I was arrested and have a hearing next month.I have moved. However, it's just around the corner from where he lives. I have no more pounding on my ceiling, however he is walking past my house many times in a day. The police said he can walk past my house as many times as he cares to.
Phil
- 22-Jul-20 @ 2:55 PM
ive been being stalked for a year by an old man that ive never even talked to and i think gang stalking my boyfriend and i just met a while ago and are engaged to be married soon and this man is still stalking me. i think he thinks my fiance will leave but unfortunately for the stalker he wont thankful for me hes there for me with this crap. hes yhe onlyone thar believes me. this man is roght above my apartment. he follows me everywhere from room to room when i shower he does whatever wherever i am in my apartment he goes. its getting worse. now he follows me as do the other gang stalkers whenever i leave the building. my boyfriend is very good at keeping them away by being with me all the time. i never go anywhere without him and usually i go everywhere with him to limit the risk of assault or death. the cops wont do anything because of my mental health ive bene forced to remain silent and not speak out or call the police even tho he followed me everywhere. i have videos of him stalking me.
marilla
- 20-Jul-20 @ 4:08 PM
My neighbour above has been unbelievably inconsiderate with loud msic and noise at night since i moved in 4 yrs ago.When i told my housing officer he actually made things bad by the way he approached her. Last yr a shot was fired into her window, i approached her and said how i was concerned it happened, and that she shd contact local MP. She once spoke to me during lock down, and seemed civil.3 weeks ago when i was working from home i turned up my tv cos of her kids jumping and running up and down. She then started shouting & swaering about it down the phone to someone saying how her kids dont go in the garden due to the virus, so they exercise inside and the next thing one of her Rasta ppl came over and i could hear him telling her in his big booming Patois voice "Bully her, Bully her". That was 3 wks ago, and just this weekend when i was out with my son in a park no where near where we live, a blue car stopped by the road and out the window shouted "Shes just vex cos shes got no friends". I didnt see my neighbours face but it was her shouting, as its her accent. Just a few minutes later, as i left the park, there were 2 Rastas sitting on the bench smoking cannabis. The park is usually only visited by ppl who live local and attend the local school (my son attends). These 2 rastafarians, are an unusual to see in the area, and its too coincidental that they were sitting just by park gates after what was shouted outside park....STALKING....
I have a vicious and spiteful female neighbour who has been terrorising people here for years. She is particularly obsessed with me. She's in her 60's, throws tantrums like a child and is foul mouthed. She's made a fool of herself a number of times publicly and now others try to avoid her. The police have now been involved as she was ranting one day and her on/off drunk of a boyfriend shouted at her "You'll go to prison!". She's already had the police round kicking in her door! She shouts about me every opportunity she gets, because she wants me to react-I ignore her. That seems to make her worse. She's aggressive and repulsive.
Jane Doe.
- 19-Jul-20 @ 2:12 PM
My neighbors, husband and wife, are harassing numerous people in the community and they were using online apps to do it. They get lots of people involved to sit in front of their victims houses and work places. As far as the police its just get a ppo and we can arrest them. They have helped but not sure who called them it was not me. But when i have reported them to police it just gets worse almost like they are egging you on or bullying you or daring you to call cops again. I know she is mentally ill but, he must be too as does all the same stuff. I have pictures of her moving stuff on my front porch at midnight and hiding in the bushes to make my dogs bark at night. Shes so weird.
sissy
- 14-Jul-20 @ 2:37 AM
Neighbour who lives directly across from me stares into my kitchen window from his. He will go and sit at his front door everyday when my parents come and go from my house and doesn't take his eyes off them. He has pushed into my mum, as soon as my dad comes to cut my grass he will come out and watch him. He will also glare and myself and my daughter whenever we come and go from our house. We have sat in the garden once this year and he just sat looking at us. Contact GHA and they will do nothing. Very creepy and intimidating
TMAC
- 12-Jul-20 @ 8:01 PM
Hi, My neighbour is actually getting on my nerves now she's constantly watching my children out the window and playing in the garden and as soon as she thinks I'm not their with my kids I can hear her and her daughter taking the piss out of my 5 year old daughter voice when she's playing with her dolls and taking the piss out of her hair this is the 3rd time now and I don't no what to do? It's hurting my heart that a grown woman and her teenage daughter can be so horrible to a young child.. what should I do?
Becks
- 11-Jul-20 @ 4:57 PM
My neighbour stares in my window constantly . Every single day She copies everything I do . My friend bought me flower and I put them at the window with a big bow round it . Following day she had flowers at window with obv the big bow!!! ??? Everything I do she does . This is a form of stalking, harassment and making people feel uncomfortable . I want to keep my blinds down so I don't see her but why should I? ? I am a strong independent person and not changing my routine to suit someone else . The thing is, she is 55 years old and her daughter is 33 it's not Even her house is her mums at 80 years old . She is squatting there rent free both of them because she is a complete psycho and every man leaves her
Hi I live in a small suburb outside York by the babe if H I have a neighbour who lives two doors down he is a weirdo he is white oldhas a slight oval shaped face wearsbucket hat and dark glasses he always looks at every single thing in my garden in a funny way like trying to steal.He never says hello to me when he sees in my garden he ignores meand onone occasion when he was talking to a neighbour he stared at mein my garden he stares and watches me in my garden he did that yesterday yesterday his car drove up outside my house when I came to my window this happened again but with a different neighbour guy he was white had a dark brown bears late 30s had a black dog he stood and stared at me through the window I was seated on my sofa he was looking at me at eye level it frightened me when I came to the window he ran off I never saw him again in other words he never dud it again I'm not sure whether to report it to the police or not I wasn't quick enough to put my cam era onto live should I report it to the police
Ron
- 4-Jul-20 @ 12:05 AM
My neighbour perverts listen to me in my bathroom or having shower I'm going to council and going to get police involved all you guys make your recording and keep diaries for evidence
Oh my goodness. Interesting comments. Thank you for sharing as I thought that I was the only one. Unfortunately mine has been going on for years despite ignoring him and his desperate attempts for attention. More recently, he has been found guilty of harrassment to his ex-wife and yet the police are not concerned despite our children being referred to Safeguarding due to his well documented nature and special, but self claimed characteristics. Question: Has anyone actually received any proactive help from the police?
Nobody
- 23-Jun-20 @ 2:37 PM