How to Deal With a Neighbour 'Stalking' You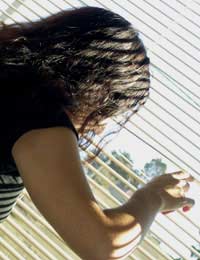 Stalking by neighbours – or anyone, in fact – is one of those crimes that is often joked about, but can be very unnerving and at times even frightening. If you suspect that you are a victim of stalking, whether it's a stranger or a neighbour, one of the main things to do is to try and keep calm. Stalkers and people who are out to harass others are often just looking for a reaction, and if you try to stay aloof and appear unconcerned, even if you are feeling anything but, they may lose interest and leave you alone.
Harassment covers pretty much all forms of unwanted behaviour, from mildly irritating to actual physical violence. Harassment can be a criminal offence and Laws Exist To Protect You . If the neighbour concerned is also watching or following you, making constant attempts to contact you or even sending you unwanted gifts, harassment becomes 'stalking'.
It may seem innocent at first – a neighbour seems to be a bit over friendly perhaps, and in all honesty, it could be a misunderstanding or a one-off. But if the strange or unwanted behaviour happens repeatedly (and repeatedly just means more than once) or you're feeling distressed or frightened by the behaviour, trust your instincts. Stalking is a criminal offence so don't blame yourself and don't think that you have to put up with it, whether it's a neighbour or a stranger.
Keep Hold of the Evidence
If things escalate, make sure that you keep a note of all incidents that you consider to be harassment or stalking and tell people, other neighbours, or your friends and relatives, what's going on. You can enlist the help of willing neighbours who might be able to keep an eye out for the perpetrator – if they deliver anything, or are hanging around your property, for example.
If the person who is stalking you also uses text, email, or the post to get to you, you should keep evidence of these as they can be used if you need to take the matter up formally. Don't be tempted to respond – that's what the stalker wants you to do.
In addition to hard evidence, Keep A Diary Of Events, making sure that you note down anything suspicious, times, dates and events. Write down anything that your neighbour says or does that could be construed as stalking as soon as it happens, as only evidence that's recorded 'contemporaneously' – that is, immediately – can be used in any future court proceedings if they become necessary.
Being Stalked on the Telephone
If part of your stalker's campaign involves telephone calls, you should keep a record of dates and times of the calls and anything that was said. If the caller hasn't disguised their number, make a note of that too, or if being stalked via a land line, try 1471 to see if they slip up and reveal their number.
BT may be able to help if the stalker has your landline number. Call the BT Nuisance Calls Bureau on 0800 661 441 if you are a BT customer. On your mobile, save any malicious text messages for evidence.
If You Feel in Danger
If you ever feel as if you are in imminent danger, call 999 straight away and don't worry about feeling foolish if the threat later dissipates – it's better to be safe than sorry.
Try to stay calm and not show any fear or emotion. Don't lose your temper or attempt to confront your stalker, again, the bully is looking for a reaction, so you should try not to let them have what they are looking for, even if you're angry or frightened. If you notice your stalker, try to get away from them and into a public area or into your or a friendly neighbour's home.
If the harassment carries on, your only option is to Contact The Local Police.
You might also like...
My neighbour who i used to be friends with had a thing for me but i made it clear i wasnt interested, anyway he met a lady and all was fine, until the noise began.. he lives in an apartment above me and was making alot of noise, i had to report him in the end but he managed to manipulate the council buy telling them i was obsessed with him and my reporting of him was mallicious because i was jealous?- this was not the case.... i was given a warning by the council and even with evidence from myself they still chose to believe him!!! What made it worse is this man started watching me from his window and had made it clear before that he was using his dash cam to record anyone and could send live feed to his phone so he can watch us anywhere.... he then went from watching me to following me to the local shop... its the only place i go as im disabled... at first i thought it was all in my head but he has followed me now on more than 15 occasions.. he has since stepped up his game and i found him watching me at the back of the flats near my kitchen window, he has since involved his gf and i caught her sneaking under my kitchen window... i am at the end of my tether, and worst part.. the police do not care and the council think im the harrasser!!!?? I am desperately trying to move away because this guy is a stalker and a narcissistic who has the world convinced hes wonderful.... i do not go out anymore and its now affecting my health and my daughters health.... if i report him for following me , he will convince the police and council that im just being mallicious... if i tell them my neighbours and daughter have caught him .. he will say im getting them to lie for me... i dont know what to do or where to go? Noone cares.....
Bluerain2003
- 11-Feb-19 @ 6:12 PM
My credit score just got raised from a range of 400 to a score above 820 with the help of a hacker i met from an old friend. My credit rating was low and it really gave me problems renting an apartment for myself. I shared my problems with an old friend of mine on facebook then she told me about the good works of a hacker she hires in fixing her credit score among other things. She told me what the hacker is capable of when it comes to anything that has to do with hacking..She said he's a genius.. I reached him for help and to my surprise, he fixed my credit report in few days than i expected. Need help fixing your credit report? Reach him VIA his email address at hackwizardbryan@ gmail . com. Thanks!
clarkee
- 5-Jan-19 @ 10:18 AM
This is a great news that i must share with you all i have been looking for a way to break into my wife phone because she has a pass-code on her phone and always receiving late night calls and text messages i have been suspecting her for past 1 year then i contacted this hacker named hackwizardbryan@gmail. com, who helped me hacked into her phone and got me results under 24 hours this hacker got me results of her call logs, text messages and even deleted text messages i was so happy to find out the truth about my wife i never knew she was a big time cheat until this great hacker helped me he is cheap and his prices are affordable contact him if you want to know more about your spouse and your relationship state. Email...hackwizardbryan@gmail. com Text no..+1(628) 222-2044
caroline hudderson
- 5-Jan-19 @ 10:17 AM
I have these neighbor's for all most two years.Thay are dedicated full time iv meth addicts.The female will spend her whole day following me and stalking me. She even follows me in the bathroom. Thay are listening and whispering in silence all day long.I have told every authority.I am starting a journal. Scary stuff.
Birddog
- 30-Dec-18 @ 3:53 PM
Got problems with "unlicensed home-share" neighbours in below apartment concealing their numbers via "floating" on sleeping racks up to the ceiling right below my floor (appears like they're inside MY apartment to basic security monitoring equipment). They're over-crowding the location indefinitely and attempting to harass me into leaving my rented property at the edge of an inner-city suburb. Spitting saliva into my mouth and body, sucking blood out of my legs/feet, barging/crowding/debalancing my physical movements, disrupting my sleep EVERY night, etc. Can't get my new business started successfully while they're doing this ... the security monitoring equipment HAS to be upgraded to correctly identify "floaters" as being located in the BELOW apartment. The housing crisis will not be solved by this endless anti-social harassment behaviour which will actually discourage new home construction.
INNERCITY-NIGHTMARE
- 24-Dec-18 @ 9:22 PM
I have these lowlife neighbors who have harrassed me and my 2 kids and my husband fior years. I have gotten 4 restraining orders on them. Now I tried to get a 5th restraining order on them and they hired this low life woman to lie for them in court. The Judge believed her and denied me the restraining order.Unknown to me I find out later thus Judge retired the next day.Im going to file again.These lowlifes live across the street from us and when I git home that day they yelled across to me, Ha !Ha ! We won !And now this woman they hired parks her beat up dented car near my kitchen window and sits in the lowlife neighbors house all day and night watching us leave our home.I have called the police and they told me to get that restraining order and then they can make them stop. Why dont the police get it for me.My G od my husband and I pay taxes fior years and these lowlifes dont work .They havent contributed to society in any way .They are so misserable and just dont care who they harrass. They change cars like they change their underware. I have called the police to check on them dealing drugs and the police wont .They came into my work demanding my Boss fire me.I work in a store My Boss told them to leave if they arent going to buy anything. I told my Boss abiut them ahead of time. Then they started sending people in to fight with me but my Boss told me not to worry.They cant get me fired.The anxiety became so high .I git into another store and the anxiety has slowly gone away.
Laughing
- 15-Oct-18 @ 5:00 PM
We have had awful neighbours on both sides for 2 and 3 years respectively. The first problem arose from them smoking right next to our fence and throwing their butts in our garden and on our driveway, she called me sad because we complained! They also throw them all over their paved garden, and now have 4 kids, 2 cats and a dog in the garden with all this crap, all but the cats cause a lot of noise, dog allowed to yap at all hours in the garden from before 6.00am and not stopped and kids cause damage to our property, and throwing stuff at our windows. She makes a point of coming outside to smoke every time I use the back door, even have the curtains wedged back up and downstairs for when I drive back hone whatever the time. Her husband shouts "shes out there" and daughter now calls her out when I open the door. She and one of her sons both told a window firm who had parked properly in the road, not blocking her or over their dropped kerb,that they should not be parked there (as they were changing a window at our house)! He has called me a pervert and accused me of taking photos of their kids! Untrue, not interested in them except if they damage our property. She spreads false rumours about me to other people and told me that the reason we had no kids was that I was a "miserable f...... bitch". She will not shut up even though I ignore her. She told me I am old, not got long to live so why dont I go now! We did contact Environmental Health but they refused to go for mediation, not surprised. She regularly listens to conversations I have with neighbours, not only can I smell her smoke from behind their gate but she has often come out and had a go at us for talking about her, and if confronted as she was wrong, she changes her attack to us talking about other people! You cannot make it up. Other side caused considerable stress before they moved in, they had teams of people come in to work, drilling, banging and hammering, from well before 9.00am to some nights to 1.00am next morning, non stop 7 days a week. Could not hear tv, phone, read or invite anyone to visit, over 3 months. Had to see doctor as not sleeping and was depressed, husband was still working and found he could not relax even at weekends. I got invited to several friends houses as an escape. He told us as we had no kids they could make as much noise as they wanted and when they wanted, and over 2 years later they are still making noise day and night,which at night causes their kid to start screaming waking up us; hammering at 3.00am???Environmental Health wrote to them but they also ignored the letter. She often parks on our drive despite having 3 spaces for 2 cars. Both of them have damaged our car while it was on our own property, wing mirror snapped backwards (he was jet washing his car) and scratches and marks where her door hits ours as she parks too close. They have regularly parked across other neighbours dropped kerbs, even when cars are there, delayed a friend going
CathyB
- 12-Oct-18 @ 7:39 PM
I live in gwail house and my problem is the same with every one here. Please can someone tell me what to do because this has being going on now for 3 good years. I really need help.please cause I'm already losing my mind. Nobody want to do anything about it.HELP
Ken
- 13-Aug-18 @ 11:11 PM
As a U.S.A Resident and citizen, I stumbled on your site by accident while searching for self defense advice against paranoid stalker . I wish I lived in a civilized nations. Alas, I am an American, and although most of us are decent folks..an anomaly rules us at present. Thanks for distracting me from the gun toting moron in my life. Be well, and God bless.
NorthbyNorthwest
- 10-Aug-18 @ 3:26 AM
My neighbor is stalking me and so are the police. I haven't done anything criminal. And I live a simple life. I want my private life back. I don't want to be followed by strangers or have techies telling reporting my every move. I cannot function this way anymore. I feel threatened and do not have any idea why I should continue to endure such treatment.
Ollie
- 25-Jul-18 @ 1:54 AM
I've been having the same problem. My neighborshave affected my life greatly and I'm starting to believe that I live around a group of people who suffer from narcissistic disorder which seems to be accepted in today's society. It's so odd to me because I would walk out of the house and the same thing would happen( neighbors coming out at the same time, their kidshit objects on the ground, their loud dogs, loud music, them spreading untrue rumors or commenting on my every move. The first time I noticed itit just came off asodd and strange.At first I noticed honking, then police sirens. I've never had a bad encounter with the police, ambulance or fire department so it was very strange for me.I've also never had an actual conversation/ altercation with any of my neighbors before this time I didn't really know they existed... I did but I didn't really notice them and I've lived in my neighborhood since I was born. It was not until 2015 where things started to get strange. I come from a middle class familyso money gets spent wisely food, bills, air, water. We didn't have the funds for a new care so we had to buy a used car from the city auction to avoid car payments. Most of the cars were police interceptors. I'm starting to think my neighbors were paranoid about me being the cops. I'm not sure why they acted so hostile or who told them an untrue story. Now it seems more calm. Some neighbors still talk when I come out of the house etc. But it seems like someone told a lie and instilled fear in the whole neighborhood just to have it come back and crumble. Now I noticed people are more nice and it's just one huge mess. The energy in the neighbor hood is definitely strange and not nice. It has affected me so much I feel like I should warn others who are thinking about moving here. I think most people realized it was a lie after a while. My advice is to stay calm and if you can get proof and take legal action or move out to the countryand live on a large piece of land where their is no neighborhood association.At one point I knew that the harassment in the neighborhood had spread through out the whole city. I noticed it affected how I shared my information, my ability to do a job and to just do fun things, but I'm honestly justglad for life itself. There definitely needs to be an organization started to fight this type of behavior. It's unacceptable.
The non-nosy neighb
- 24-Jul-18 @ 9:33 AM
Me and my husband are being stalked by 3 jobless neighbors.one male and his girlfriend as well as theor pal upstairs which is a woman. It started out as over friendly, with the male going out of his way to hold the door for us or helping me up the stairs with the stroller. Then atleast twice a week they would come upstairs and knock on our door asking is someone walking around uphere.It ultimately escalated one night the male knocked on my door at 11pm. My husband had it by that point and yelled at him. He assulted my husband and I called the cops. The behavior got even worst after that.he that began to openly stalk us more aggressively. Waiting outside the building until we got home from work. Holding the door for us. Then trying to talk to my husband as well as me though we have made it clear we donot want anything to do with him. He and his girlfriend would then peep out the door everytime we entered the building. Then blast the music once we enter our apartment. They would do this every time we walked in or had company. Once I became a stay at home mom the music would blast every day beginning at 12pm-3 and then back on again once my husband atepped thru the door at 5:30. As far as their friend in my floor which seems to have had it out for me from day one she makes out loud comments and tries to walk closely to me like she is trying to bump me. Then this week as my husband was going to the store my husband was approached by the male. He said I was arrested for selling deugs out my apartment and I hope you wasnt the one who told. My husband had no I dea what he was talking about. He proceeded to follow my husband all the way ti the store telling him his arrest problem. Talk about crazy!
Jjones
- 23-Jul-18 @ 3:07 PM
I have a group of neighbors that have banned up it seems probably they been wanting me out since day 1. I got our new house 10 years ago. always have 3 other neighbors eye balling me arms crossed mad dogging me any time I step out. openly talking crap...irony all those neighbors finally left over the first 5 years. but it seems that every time someone new moves in the old neighbor go's and tells the new one something then I'm back on everyone's sh!t list. One specific neighbor lives directly in front of me that's bi-polar talks to a rental house next store...new people move in yearly...they been teaming me for last 3 years. Basically I can't step out with out the 2 neighbors walking out. one hops in their car and the other walks to their car goes for a walk what ever. I installed a camera in my garage and I was right but to bad I had it on live mode so it didn't record sadly. they actually said they have code words they send by phone texting "go home" if I show up riding down the street they will pull up every single time either neighbor or both almost exactly at the same time when ever I step out or come home. guy walks his dog waits every day on a corner has his camera on so every time I take my kid from and to school he is right there soon as I'm pulling out. this can be at any time of day even 6 am in the morning. it doesn't matter they are persistent. I really think others are joining in cause I take note other neighbors timeswhen they normally leave and well now I been purposefully changing my schedule by a 30 mins at a time and they keep matching it. I talk to 2 of my neighbors and they gave me both dirty looks and said I'm just being paranoid and there's just no such thing and they back the others 100% said I must be the crazy one for even thinking it. they even defend them saying everyone has to go some where no one is following no one. there is sooo much more so much more I just can't put it all down. I honestly think the they are trying to trap me with harassment cause I'm not the type to back down if someone challenges me. all these years gone by dealing with this slowly elevating situation I just try to look at trevally and say its harmless. cause they are not physically doing anything to me other than following me every where. I'll end it with 1 last note the last new neighborof the rental house has a thing of matching me of everything I buy. 1:bought my kid a power wheel he went got a used exact same one but the bigger version for bigger kids...2: I had some nice deep dish 22 inch rims on my car already Chrysler 300 guess he got jealous when I bought new rims again better ones lol. then he rented the same car for like 3 months wit hout of state plates. 3: I went bought a brand new Kawasaki motorcycle and 2 weeks later he gets a salvage title wreck 1000cc Kawasaki motorcycle. 4: I buy a kids 90cc motorcyclefor my kid and he buys 2 weeks later a power wheel motorcycle for his kid leaves it out on the curb o
stalkers need to fin
- 16-Jul-18 @ 8:11 PM
This is disturbing my next door neighbour is watching daily. If i open my door she comes out and noseys through the fence. Also she has cctv which is pointing on my drive and as soon as i come in she runs upstairs to view her cctv. This has been reported to 101 and the police wont listern.also she has got me to go to court for harrassment because shes using family members and she wont leave me alone.can anyone help as she s not right in the head. She uses everyone to her advantage and to cover herself as miss innocent. The police are a waste of time and the council also my housing association backs her as a private homeowner.
Puppy
- 27-Jun-18 @ 9:44 PM
If I were to get a gun and start shooting up my roof, would I get in trouble?Im so tempted to do this because of the constant torment from low life creeps that harrass me morning, noon, and night.What about if I booby trapped my yard?Would I get in trouble if I hurt these creeps?I think it sounds fair but I would like to know if I would go to jail for declaring war on these jerks.Will someone let me know before I turn into Rambo...
MissChief
- 19-Jun-18 @ 10:33 PM
Yes I need advice I moved into a beautiful handicap apt. on 11- 17-17and the person living above me and the first night after my family left a buzz came to my door which should have been a red flag but I didn't pay any attention at time I lived across from the laundry mat so this lady kept popping up at my door so about 2 weeks after I was slowly getting things in place and I begin to smell these strange orders to make a long story short low and behold it was coming in through the heat vents which is in the ceiling so I get in my wheelchair and take the elevator to her apt on the second floor i knock she answer the door i asked her was she burning anything no baby i'm not burning nothing i smell it to but the strange part was if i'm in my bed room i smell it very strong and so I go the the living room now when I go to the living room the air is all clear but shortly after the smell is coming into the living room i go to her door about 6times same questions same answer so I began to write dates times and what the order smelled like and I had quite a few notes so I got to management and the first thing she said was i can't prove it i asked don't you know your surrounding i showed her my journal she says keep manking note now i'm very upset so I kept complaining management wouldn't do anything about it so I went to her supervisor same results nothing to shorten my issue i just moved into a apt ment on the same floor I think I forgot to say I have empzema and i'm very sensitive to order and i'm in a wheelchair so I just moved to another apartment which I was told no one live above and I have one pedson on the left of me so I moved in 6-1-18 and low and behold theres a person above me and on one side of me so she lyed now I'm faced with the same problem burning following me through my apt even to the bathroom I go to bed their doing something I don't understand but it almost like someone having sex or something because at times it get very rapid like all day and all night i'm talking 24/7 I just don't understand and the only break i get from alk of this mess if I leave my apartment and go outside i get this up over my head so much it like i'm still vibrating and its very very ironing please I need help to get as far away from this place as possible..
Barb.
- 9-Jun-18 @ 9:05 PM
I moved into my apts two years ago. An older lady maybe in her 50smoved above me and invited her daughter and grandkids over almost everyday so they could run back and forth and throw heavy objects above my head in every room I was. I spoke with the landlord and they called her. The woman was very nice so I can't imagine she said anything horrible. Well after that my neighbor wakes up as early as 2am (I know bc my walls are super thin and I wake up to her literally pacing loudly). Like many of you she follows me everywhere in my apt. From the time I wake up until I sleep she just follows me around my apt. I caught her staring into my apt in her car with an angry look on her face. I've sat in my living room and if I wasn't moving enough for her she would stand outside and then try to quietly come back in almost like she wants to catch me moving. This woman is completely crazy and it gets really bothersome.
I've been being peeped in on an low talking no-one believes except my sister who has caught them several times its on going think they have embarrassing pics of me as well it is several people and it's making me look crazy as I do suffer from scitsophrania anxiety mania depression insomnia mood disorders I know what's inside and outside my head pleas e advise any will help
Shitty
- 30-May-18 @ 5:44 AM
I have a neibour who tried knock me down and got put on a hd1 order then the stalking started constantly they sit in the dark watching ours I've caught him video and taking pictures of our bedroom window we have told the council and police and yet he and she get away with it apparently I'm presuming I've being accused by the same couple of hitting my other half and yet nothing gets said or done to them we need help but don't know who to turn too does anyone no any one that could help
Micky
- 9-May-18 @ 7:57 PM
By observing the comments, I can see "some" people seem to have severe anxiety. Seek medical health people, you may have "mental illness" or "schizophrenia". While most of you are likely to experience antisocial behaviour, some of your stories are a little "extra". Like the story about the "homosexual" - why do you care? You are a grown man, just because someone is homosexual doesn't mean he or she is instantly going to stalk you - you are paranoid. And Gracie? You need help most of all. You are all over this website ranting about your neighbour. Solution to most of these problems? Move! And if that doesn't work - your the problem - get help.
G. Samunda
- 5-Apr-18 @ 9:08 AM
I have read all the comments and all of this is the same pattern of my neighbor upstairs, following me round the house to every room, fitting sound monitors, other monitors which I have no idea what they are, laughing, shouting threats, which now have stopped since monitors were fitted, following me to the shop, anywhere, telling lies to other neighbors.The Council as you say, are not fit for purpose, what can we do, we are all victims in our own home, I totally empathize with you all, but do glad I have read theses as I know I am not alone, hope you all get there in the end ??
Mands
- 19-Mar-18 @ 9:11 AM
my neighbor male tenant tried to ask me into his flat to which I outrightly refused. I am now dealing with psychotic behavior where he is reporting me for so called conctaing him directly indirectly there is no proof of this as its in his head. I have reported to police time and time again being followed halfway to the store and never goes as close as the cctv so not caught so it make sme look crazy this time he decided to follow me back I only heard him after he hit me with his bicycle wheel, he had me against the brickwork under the alleyway of the flat door, he told me to scream I did so said ring 999. I couldnt find mobile he repeatedly hit me with his bike and said to me go ahead report it nobody will believe you as im allowed through this entrance ill state this you were in my way and I wanted to get past. I walked off busted leg as he shoved past me...to neighbors knocked door they stated didnt hear me scream...I made my throat hoarse. they said dont know number for police...ok they arent from england but honestly! they wouldnt even let me in the house for help and no wouldnt ring cops...hmmm I wonder if they are dodgy too...everyone knows the police number surely its advertised on tv adverts everywhere well my legs swollen black and blue why the drugged up neighbor slams doors till 2am pounding wall he follows where i walk where I move he lives below me hes psychotic and reporting me as I live alone single he thinks its his right to prey on me, its fun its a game he has stated nobody will believe me and he is right...nobody will my word against his he says and yes it is... im scared...I rang 999 still waiting for them to turn up ive rung 111 as my leg is cut up...ye sim typing here on a tablet...im up im on my own and im scared...
gracie
- 17-Mar-18 @ 12:27 AM
We are suffering a relentless campaign of stalking by depraved, peeping tom neighbours and desperately need it to stop. They are constantly camped outside our house despite having numerous parking spaces outside their own houses and large driveways.Their obsessive stalking appears to be their life-blood - we can't leave the house or tend our garden without a chronically obese, gender non-specific slug rushing out to hold up it's mobile phone to film us on our own property.These individuals are dangerous.We are aware that our terror & repulsion is exciting the stalkers - research shows that all stalkers have abnormal functions and become heavily aroused by their victim's fear.It is truly horrible to be a target of these perverts. Does any more repugnant life-form exist?Can anyone advise us how to get rid of them - we believe that they are planning to murder us?
Freedom
- 14-Mar-18 @ 8:25 AM
And stuff, we NEVER complained to anyone...i wish she would just pretend i'm invisible, that's what i do i pretend she is invisible, my husband just says to ignore her because she's the type that likes confusion and arguing(she used to come home drunk and WAKE the whole neighbourhood, arguing, smashing her front yard metal front gates, fighting.....etc..) so much crap...It's like she is OBSESSED with me,with my life if she could wake up and be glued to my a * * all day i think she would do that! that way she would know exactly what the hell am i doing<---why DOES she even care?
justagirl
- 7-Mar-18 @ 11:21 AM
CCTVexpert - Your Question:
I have video footage of my neighbour throwing sharp objects like nails/screws and broken plastic pens (but sharp) onto my driveway. Police decided not to prosecute as it's not "part of the public interest". How is this justified? As sharp object can puncture a car tyre and cause an accident on the road? Long story cut short, I am a true victim of constant harassment and intimidation but this person has got away with it so much after having harassed other females over many years, it's unreal.
---
Our Response:
The police may have decided not to prosecute but can still consider a private legal action via the courts if you so wish.
ProblemNeighbours
- 6-Mar-18 @ 11:29 AM
I have video footage of my neighbour throwing sharp objects like nails/screws and broken plastic pens (but sharp) onto my driveway. Police decided not to prosecute as it's not "part of the public interest". How is this justified? As sharp object can puncture a car tyre and cause an accident on the road? Long story cut short, I am a true victim of constant harassment and intimidation but this person has got away with it so much after having harassed other females over many years, it's unreal.
CCTVexpert
- 3-Mar-18 @ 3:20 PM
Hi My partner & I moved into our new home last September,our neighbours are a couple in their 70s, she is ok & friendly if a little nosy but he takes it all to another level. He constantly stands either at the window or in his garden watching us. We're doing work to the garden so spend much time outside & he's always there. When we leave the house he then climbs onto a step his side to look over into our garden (we have CCTV) its horrible & upsetting its making us not want to be here. If I'm at home alone I won't go outside for fear he us there. Can anyone offer some advice?
Ali
- 29-Jan-18 @ 11:56 AM
Hello, I'd just like to let people know that I've been a severe victim of Antisocial behavior, harassment, stalking,hate disabidisability crime all at the same time it has been all out abuseand my council haven't done a thing about it even after a number of complaints also this has been taken to the police who like the council have tried to just through it under the carpet none of them want to do anything about itand this has made to people with disabilities very very frightened this man upstairs has been stalking us for 2years now from when I wake up in the morning until we go to bed at night he follows me to the bathroom to my kitchen he comes in and listens to all my phone calls from flat above I'm in those old Victorian houses made into three flats and you can hear almost anything move around and he uses this to stalk us he's a homosexual mañ and I am a heterosexual man this man gas been knocking on my ceiling at me early in the morning when my wife ud a sleep this man is everywhere I go in my own home he is following me from above all day long he follows us to bed every night and stands in th3 hall way trying to listen in to me and my partner when we being intermitt he waits their for hour's he is a pervert when I go oût he runs to the window all of this and I can't get help i feel as though this man is being protected for being homosexual because when I had meeting with council and the police they were both homosexual as well and I believe that they took afence because I said the stalker was homosexual I could tell because they didn't want to help and instead tried too say in other words that It must be in my imagination now I'm going to seek legal advice I am a true victim of all this abuse..
Victim 44
- 19-Jan-18 @ 12:24 PM
I work as a caretaker for a chalet park in the uk. about 7 months ago, a tenant sold his chalet to a heavily tattooed guy, who came across quite abruptly, though affable enough.I intoroduced myself as the caretaker and passed on my bosses details so he, the tenant could contact him. over the next weeks, i saw this tenant a few times, and all appeared well, we met and had a beer and i gave him a few lifts into town. one evening after a shopping trip, having a few beers, he made a sexual pass at me. I was a little embarrased, me being a guy and he the same, and i not being orientated that way.i politely declined and made no matter of it, as i did not want to cause any offence though i was a little troubled inside. we did not hang out again, i did not avoid him, he see seemed to want to avoid me, and i was somewhat relieved. i continued with my caretaking duties, and it was during a mowing session at work that the tenant came out and started to shout at me, telling me i was a fake caretaker. puzzled i spoke to my boss, who is sick with cancer, undergoing chemotherapy and radiotherapy. his elderly mother is at home too, so its a strain looking after them whilst this tenant continues to harras me. Things started to happen, rope went missing, petrol too, then i happened to come across this tenant helping himself to wood from the estate, belonging to someone else, with no permission, its theft. he has made complaints to my boss, complaints to the police, who, fortunately recognise him and his behaviour, for what it is. however, recently, i have heard the sound of a person on my roof, i sleep in a chalet at work, as security for the estate, i have also had a dark figure come into my garden, open my gate to my steps and come to my window when im in bed at 4.30am ish. Three nights go that occured. he regularly walks over my garden patch outfront, ignoring the boundary, footsteps in the recent snow showed he had walked up to my front gates, turned and walked away, funny, i found my padlock encased in ice, yet no rain? next day i found footsteps from his property to my hedge, they abruptly stopped, next day, i discover my water system has been destroyed. i have logged this with the police, but, what will he do next? he comes into my garden at will, climbs all over my roof and decking areas, i am going to get wildlife cameras so at least i can get footage of him trespassing and perhaps causing damage. he has leered at my children when i have to drive past him, stood in our way, shouted abuse at me in front of my children, scaring them. i cannot stand his aggressive behaviour and intimidation of my children, and attempts to itimidate me by all his night time pranks, never facing me as a man. what next?
caretaker
- 20-Dec-17 @ 10:47 PM
You will know the neigbors are stalkers if they have ever done any or all of the following: a: parked in front of your house leaving their own driveway free b: sat in their car outside your house for hours. c:put a spy cam in their passenger seat to film you intimately in your home d:followed you home The above are the standard MO of stalkers. If they: d:Floodlight your house and film you intimately in your bedroom e:Try to break in your property This level of stalking is extreme perversion. Remember that stalkers are without exception sick cowards who get aroused by their victim's disgust.If they have done any of the above, carry a personal alarm at all times.If they haven't they're probably not stalkers .
LeaveUsAlone
- 14-Dec-17 @ 11:45 AM