Problems With Neighbours' Children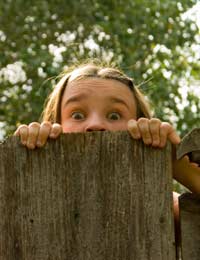 You don't want to be labelled a complainer, but sometimes your neighbours' children can be more of a nuisance than a blessing. Older neighbours may remember a time when you could pay an unruly child's parents a visit and you would know that any issues would be swiftly resolved, but these days you have to be extremely wary of what you say and do about children in the neighbourhood.
What to Do About Noisy Children
Whether you appreciate it or not, there's not much that you can do about excessive noise during the day from children. Kids are exuberant by nature and it would seem a little bit churlish to try to curb normal noise levels, even if the screaming and shouting is getting a bit too much.
If it really is becoming an issue, your only course of action is to ask their parents nicely to have a word with them. If you work shifts or simply need peace and quiet to concentrate while working at home, a quiet word might be the best way forward. Explaining that you need to sleep some afternoons may make the parents try to keep their offspring's noise down.
Noise is a common complaint – recent research by Noise Concern revealed that 43% of people had been bothered by some form of neighbour noise.
Excessive noise levels were also blamed for forcing about half a million people to move in 2006, just to get away from their annoying and Noisy Neighbours, according the National Society for Clean Air and Environmental Protection (NSCA). At the time, their representative Mary Stevens said that many problems with neighbours were simply a result of being inconsiderate, and could easily be resolved by using a little common sense...
What to Do if Children Damage Your Property
Your first course of action, especially if the damage was clearly accidental, is to make a conciliatory approach to the child's parents.
As far as the law is concerned, you can technically sue a child for the cost of the damage if they are old enough to understand what they were doing, but this kind of legal action is rare and somewhat frowned upon by the courts. It's also a fact that not many children have the cash lying around in their piggy bank to pay for the cost of a broken window!
If damage has been done, and an approach to the perpetrator's parents hasn't been successful, you can consider suing the parents of the child. This is only appropriate in cases where there has been negligence on behalf of the parent(s) – for example, if they trusted their child with something dangerous like an air gun. They could also be considered liable for the damages if you can prove that they failed to exercise the control expected of a parent, given the child's age.
"Can I Have my Ball Back?"
It can be irritating but it's just a fact of neighbourhood life that kids playing ball games will occasionally mislay one into your garden. If children throw or kick a ball into your garden or onto your property, you should hand it back to them, keep hold of it for them to collect from you, or throw it back over if you find it later on.
The children should not trespass onto your property to pick it up, although in practice many probably do. If there is any damage to your garden caused by kids trampling over it, you would be entitled to compensation for any financial damages that were caused.
Still need more information? Read more about ASBOs, parenting contracts, penalty notices and parenting orders in our feature: children and anti-social behaviour.
You might also like...
We had to move three years ago.When we first moved in the woman (a teacher unbelievably) came round to introduce herself.All okay or so we thought.We sat out in the garden for the first time and the screaming, shouting etcfrom the two children was really bad and went on for hours and hours. We could not sit in the back garden in Summer. We dreaded warm weather.The situation became very difficult even though we never complained.The husband then decided he liked lights in the garden.Lots of lights directly below out bedroom and they where on ALL night. My husband eventually went round and politely asked him to turn them down or off after 11.He reluctantly did but put more flashing lights out instead...all night.He then put a trampoline in the garden.The children bounced with their friends for hours screaming, shouting, looking directly in our house and the garden we could not use.I do not blame the kids.The parents are to blame. This woman is a teacher!!Selfish, lazy and ignorant. We moved and I fell ill with heart failure, blood pressure. Only just getting a little better. Be considerate please.I lost my home and my health because of these people.
be kind
- 7-Apr-20 @ 4:59 PM
I live in a private rented flat provided to me by the council as I am classed as a 'vulnerable adult'and was about to be homeless due to the rent increase in the flat I had lived in for 10 years. I have mental health problems and am unable to work so cannot simply move out, not could I have made sure I was in a top floor flat as I've seen said on so many other threads. I took the flat I was given so I wasnt homeless. I lived here for about 6 months in an empty building, and then the woman upstairs moved in with her baby. All was okay until the baby became a toddler and started walking; now my life is hell! That child runs up and down the flat on and off all day every day. The woman never takes her out although there is a park opposite. The kid is 1 and a half and is up till 10-11pm running, screeching, throwing toys, banging cupboard doors and jumping up and down, stamping its feet! Sometimes I listen outside the door and can hear shes on a call ignoring the child, sometimes shes encouraging the bad behaviour. Yeah kids make noise, but I totally disagree that its "churlish" to quiet them down. If you live in a flat there are people all around you, and that means disciplining your child or children so that you dont drive those neighbours to distraction! How is it fair that a vulnerable person who has no choice where she lives has to live with this every day!? I tried a note, its been totally ignored. Now I have to go to the council, her housing association and social services. This is out of order!!!
I moved into a house my partner has renovated fully and extended . It is a beautiful house but it's not for me . We have a young family next door who are noisy. Children are noisy by nature and have to play but I felt like there's no respite from it inside or out. I found it so uncomfortable to sit in the living room hearing screaming shouting doors banging and then football game in the garden banging against the party wall. I couldn't take it anymore. I returned to my parents former home which I have on the market for sale but clearly will not sell now due to the Pandemic. I never wanted to come back as I had moved on and it didn't work out . I'm feeling anxious about being here now with the isolation too and my emotional attachment I have to my late parents. I have not yet had the opportunity to speak to them about it and the fact that their noise is intrusive and spoils any kind of enjoyment of the house . So much so we've completely lost interest in it and it is fortune that we are in a position to move on when the situation allows .. still very very annoying and frustrating. What do you think
Kavala2
- 3-Apr-20 @ 11:07 AM
Have lived in our home 15 years surrounded by elderly neighbours. Having autism means I have hypersensitivity to noise sounds and smells. When our elderly neighbours at the back told me they were moving, I begged for them not to sell to a young family and to send to either of the older retired couples who put in offers. Needless to say they sold to the family. 6 year old girl&3 year old girl twins. The day they moved in, is the last time I have been able to go into my garden, my safe place, the place that I sit and listen to the birds sing when I'm suffering with my daily anxiety and depression. I spoke to the parents and gave the mum bunch of flowers, explaining my autism etc and that we would hire the height of fence to save visual distress. It's been 7months. Every conceivable toy trampoline etc have been placed as far away from their back door and as nearer to me. The screaming shrieks and shouting has made me so poorly. We can't afford to move, but my dream forever safe place has been destroyed. My support worker says I should write them a letter to explain how poorly it's making me. What do you think?
Autistic lady
- 30-Mar-20 @ 1:28 PM
we've lived in this house for the last five years, its in a tiny glade and we live right at the end, so we have a steep down hill driveway and we live at the bottom of it, with only one neighbour on our side and no other houses, but as you can imagine going down and playing on our driveway is quite enjoyable which we understand, however we got new neighbours in the last 2-3 years from various houses around our little circle, and the noise is tolerable as we understand they're just kids out for a good time, but they are always playing on our driveway, we haven't said anything for the last few years, but this is getting incredibly frustrating, as they just keep leaving their bikes, scooters and balls in the middle of driveway, and not coming back for days to come get them, so while mum was gardening she politely asked one of the kids to not come into our driveway as its our property and is getting a bit annoying (btw there is a park in the middle of all our house more like a grass area specifically for kids to play on and ride around) i also recently bought a car which lives at the bottom of the driveway, i found all 6 to 7 kids standing at the top of the driveway just rolling their balls down our driveway continuously hitting my car the second i stepped outside all these kids rode off except for one of them who was told by the others to go get it, i got the ball and as i handed it to him politely asked him not to throw it and play down our drive way as they might damage the car and honestly it was also invading our privacy, five minutes later his brother rides his scooter straight down our driveway and just hits his scooter straight up against the car. Anyway personally i feel as though the parents should be supervising the kids but they're not and we've lived in this house for so long but just don't want to create any trouble. maybe im being overly sensitive over the situation but honestly i've just had enough. any suggestions, we just don't want to come across as rude or offensive neighbours, but we just want some peace. (sorry its lengthy but really needed to rant)
ann
- 27-Mar-20 @ 12:24 PM
Inconsiderate kids seem to come from inconsiderate parents. I remember playing as a kid and we played all over the estate, not confined to a small back garden. Specifically kicking a ball against a wooden fence would have got us a telling off right away, so we did what normal considerate kids do and went to the nearest park/playing field(the clue is in the name). It seems to be acceptable now that everyone works 9-5 and it's OK to make noise...until everyone that doesn't have to work shifts needs to sleep, then everyone(including the shift workers) must be quiet. I wonder if we should have similar rules for ANYTHING else. A minority of people have to put up with lack of sleep which leads to many underlying illnesses and early death because of inconsiderate people. Seems fair.
BeConsiderate
- 20-Mar-20 @ 3:52 PM
I hate annyoing kid Name Of Cedar Trail ohio bellbrook here closed apartment this taking make me noisy me argh! saying that everyday this so terrible i can not live here Kid annyoing neighbor all the time i feel upset eve my neigh bor hood upset i hate this why they keep dong like this they need stop doing this seriously period. I hate annyoing.!
Rock
- 11-Mar-20 @ 10:37 PM
Hey John and Max I sure understand how your problems. You can try to talk to the hell kids' parents and if that doesn't work then you should file a complaint though I am not sure the behavior would end but at least they know you are not afraid of them. I've gone through next door neighbors' kids from hell and there were times I would start to cry because they were non stop screaming, yelling throwing balls into my yard until I yelled at them and said they were monsters from hell then threw their balls back at them. The parents came out and yelled at me and I yelled at them. I finally got some of my biker friends (paid them via beer) to park their motorcycles in my driveway and when the kids yelled then threw stuff, the bikers yelled and threw stuff back. The parents yelled the bikers yelled, the cops came but after the day the bikers yelled the kids were a lot quieter and did not throw junk into my yard. Also, someone or some neighbors started vandalizing the place where the junk parents and their hell kids lived. I thought pay back! They finally moved away.
Cats, No Kids
- 6-Feb-20 @ 9:23 PM
I have 2 6 year old football hooligans of boys living in the same estate as me. They use my driveway as a football pitch whether I am there or not. I have spoken to them and also had my neighbours and they run but they come back again when they think no one is looking or if we go away. We came home today to see muddy football prints on the windows. How can we deal with this delicately ??
Smurf
- 14-Dec-19 @ 4:22 PM
its really annyoing have many problem kid always playing around house whatching someting our house its very negative the kid should need stay with mom not playing around with them.they need beave self kid need stop annyoing make noise.. seriously apartment
Rock
- 26-Nov-19 @ 10:18 PM
We used too. Live in the state of New Mexico we used to own property we sold and moved to the state of Oregon .in one matter we used to live in a 1987 wildcat vacationer fifth wheel travel trailer all of the sudden our neighbors kids broke the back window of travel trailer got into RV and playing matches our lovely travel trailer got burnt down we lost $89.00.000 dollars of our stuff because of our neighbors bratty kid's we talked to the neighbors bratty kid's they lied and denied the incident what the bratty kid's have done to all three of us and also talked to the kid's parents about what they have done to all three of us the parents of the bratty kids the parents denied their kids were not playing with matches all of sudden we called the fire department and sheriff's department and police department and state police and district attorney's office and child protective services all of them backed up the parents about the fire the have done every one denied the kids they didn't do this damage we don't trust our neighbors children
Freeman
- 3-Oct-19 @ 11:52 PM
Thwre is a reason that childen used to be allowed to be seen not heard. Like, we tell them not to attack anybody physically. But that is not as harmfull as screaming, since children are physically weak. Their voice compensates for it and parents should be made to realize that their children's voices are a pleasure for their own parents, no-one else. That should be organized. It is a weapon that destroys health and well-being. There is nothing as horrible as their voice. Human loud sudden voices. Like, the family who started this targeting by noise. No-one takes their offspring there ib frobt of, close to their house, their windows. It is only me. My children who everyone wants to harm
Margarite Ivanovich
- 23-Sep-19 @ 7:52 AM
I am almost crying reading these since I have been bullyied and mobbed in the neighborhood for over ten years. One couple targeted me in 2009 and that means that they manipulated this neighborhood to yell in front of my house. If i go away for a weekend there is quiet, otherwise somebody is always outside making noise, yelling screaming... etc I am exhausted and startled by the sudden noises that are constant. My daughter had aappppendicitis, almost died, had 4 different antibiotics, two of them into vein, artery, i worry so much about my children. They have not used their garden for years, neither have i, because the neighborhood kids are screaming doing sport, even ridin bicycle they won't go anywhere. I lost my period when all this noise making started, that was when i was about 40 years old. Now i am near 50. There us always someone here on the street and they yell. I am so worried how thus will affect my children who are teens now. People , parents, grand parents, their kids can be horrible, human monsters to other people. Dozens of adults have tried to harm my children who do not wish anyone any harm, for years, with power tools, circular saws, etc... Thank you for sharing your stories. I do not understand the way children are raised these days. And all targeting, mobbing, flying monkeys, stalking by proxy. They know even loud talk can be heard inside from the street and they are obsessed at keeping their kids there and difgerent families, dozens, one goes away, stops, another comes.
Margarite Ivanovich
- 22-Sep-19 @ 6:47 PM
Hi thereI live in a four in a block and the neighbour who lives below me has a child who is I say probably about 3 years or younger but him and his girlfriend just let the kid run about his flat all day from 12am till 1am and they don't take the kid out anywhere they just sit in his flat all day and I have to listen to his kid every day and it's annoying i know I can't do anything about the noise the kid makes but come on take the kid somewhere so the kid can run about plus I live near a play park so he could take the kid there I think my neighbour is just really lazy too that's why he doesn't take the kid anywhere it's just so annoying my head is banging because all I've been hearing all weekend is banging and crying and screaming and shouting I live alone so it's hard for me and I can't even hear my tv because of it plus my neighbour doesn't even put tv for the kid to watch I think that is why the kid is running about all day. I would love some advice on what to do? Because it's effecting my everyday life and right now I just wish I could go and live somewhere else so please any advice would help thanks
Kimmyxoxo
- 15-Sep-19 @ 1:56 PM
Omg! I live in an apartment building where this lady babysits up to 7 kids at a time ages are 1 up to 8 years old. She had no control over these kids so they're constantly outside my window playing and screaming like they all have a jalapeno in their ass. I totally get it that kids are kids and they need outside play due to limited space in an apartment but my other neighbor has 3 kids and that's another litter of kids for this poor lady. This mother leaves her kids at home alone with no supervision mind you (2 of the kids are special needs) once all the kids get together they yell from the top of their lungs right outside my apartment. My own kids don't drive me up the wall like all these kids do. I'm not only ready to call the apartment manager on the lady who's running a business out of the apartment complex but I'm also about to call DCFS on the girl who doesn't care about get kids and leaves them home alone from 3pm until 2am. I'm not a cop caller but I'm a stay home mother with a 2 year old who naps by the window all these bebe kids are screaming in front of and when I've told both the lady who runs an illegal daycare center and the mother who leaves her kids home alone if they can please tell the kids to keep the noise down especially while my toddler is napping and nothing seems to get through. The lady with the illegal center doesn't understand English and even though I speak to her in Spanish I just think she's in it for the money at 35 dollars a day for 7 full time kids and the other 3 she watches from 3pm until 9pm she's too overwhelmed. But I'm so ready to call DCFS on the other one. Any suggestions?? Sorry for such a long post.
Over the kiddos
- 11-Sep-19 @ 7:50 AM
The Problem is you need Proof & other Neighbours to Complain to Authorities! Thats the Problem when all should take is an Email to Local Authorities & then a Warning Letter should be posted out to these Parents who usually Care more about Social Media Constantly faces on their phones instead of Looking after their Unruly Kids! As long as Parents get their peace They dont give two hoots who their kids Annoy & thats a fact of the way modern life is! Wrong So Wrong though!
Maybe you should contact Authorities as it may be in the Childs interest as it sounds like there could me more going on here if parents are not in a routine with this Child who knows what goes on behind closed doors they may need parenting classes to help them with some tips on how to get their Child in a routine I know it is not always easy with a 3yrs old though it seems these parents have no consideration for neighbours???
My neighbours across back garden put a Huge Trampoline right in the corner of her garden away from her house it faces onto my back door & windows the kids are dropped of by her two daughters and the so called Gran leaves all the kids all ages & their pals out in garden all day & night she shuts her back door on them & they Shout abuse at me they scream shout every time I go out into my garden no privacy & no peace after my work. They were cutting through my garden I put up a higher fence at a cost as my garden is quite big & they stand up on fence they look in my kitchen when my door is opened due to humid heat if I go out to hang washing, mow grass, water plants or try & sit out on my table & chairsthe loud noises & cheek starts banging a metal pole of their swing frame ect There is No Adult Supervision at all? They are making my life a dread & misery. Ive told the parents & I just got a load of abuse back! Which didnt Surprise me as They & The Gran want their Peace away from their Loud Kids & Someone else has to Suffer them Me?
We have a family behind us (gardens back onto each other) and the parents swear a lot and have parties every weekend but they let their young children oldest 8 years old run around the garden swearing at each other. We have young children in the family ranging from 6 months to 8 years old and we obviously do not want them using this language what can we do about this?
Kate123
- 28-Jul-19 @ 7:29 PM
I live in a ground floor maisonette the people above me have two children aged about 3 and six , theyre so loud they wake me up in the morning and they're screaming until sometimes 11 at night ,the parents let them play on the communal landing outside their flat which happens to be right near my bedroom window ! If they're not there they play outside my front yard some times in it until I've told them no .I feel like I don't get a moment peace my own kids don't stress me out so much . Is there anything I can actually do ? The parents are aware that I don't want them playing in my front garden/yard when my kids are not out . But makes no difference. And as for the noise I know it's kids but it is excessive
Arge
- 25-Jul-19 @ 8:47 PM
If I've were you I would call child protective services.and report the problem children.who is playing dangerously this is not right that's is so wrong .all the damages will cost all of you thousands of dollars and get a hold of child protective services to talk to the all of the problem children's parents to give them a really big punishment for all of the trouble all of the problem children is causing .and stop all of the ruckus the problem children are causing
Waylon
- 23-Jul-19 @ 11:54 PM
My neighbours two boys are the size of adults! In a 24 hour period I had four balls in my garden. I probably average 2/4 per week. They have sited a goal mouth almost parallel to my new fence in a pretty small garden. Every night I hear the ball thudding against my fence, I have had numerous broken plants, a broken solar light and now there is damage to a section of trellis on top of my fence. I am sooo fed up.When they were small it was different but they`re 15 and 11 and huge!
Gemma
- 23-Jul-19 @ 8:22 PM
I have a every day problem with the mother standing outside allowing her little child to come onto my property dumping things over and basically trashing the place. The mother just stands there and watches like she's purposely using her little child to do her dirty work.What can i do to stop this cause the matter has been approached and unresolved. Please help!!!
N/A
- 17-Jul-19 @ 5:03 PM
Be hitting people's cars not bet sorry typing error.
Robbie
- 15-Jul-19 @ 9:15 PM
The nextdoor neighbors kids play football out in the street keep hitting people's cars with it I have already told them once they should not bet hitting people's cars don't take any notice the parents don't care seem to let them do what they want told them if it hits my car and damages it there parents will be paying out for it why should I any reply's will be much appreciated want to know what other people think need advice. And also they keep going on people's property to get there ball which is not acceptable.
Robbie
- 15-Jul-19 @ 9:08 PM
Can totally agree with this. I live in a new estate, with a fair few families. Really quiet as a general rule but the little toerags next door are something else. Whenever I go outside to have a smoke I nearly always come out to at least three balls at once in my garden. I throw them back over whenever they're there. Not only that a fence panel was already damaged but the kids dad replaced it but it still continues. Gonna end up losing my rag entirely one of these days.
Jack
- 14-Jul-19 @ 8:28 PM
Almost 4 years ago new people moved in and they have been "a challenge" to say the least......but now they have a little boy---about 3 and they are out in the backyard after 10pm and later -----this little boy is screeching and screaming at the top of his lungs. They have awakened me countless times out of a deep sleep with their son's screaming at 2 AM!!!!It's proven pointless to call the police....from time to time I will get up early and make a racket in the side yard to wake them up----that has helped but they now continue with this screaming kid after midnight to 1 or 2 in the morning....my sleep has been destroyed. I plan to contact child protective services in hopes of getting some help but I do not want to create a trauma for the kid by having him possibly removed from the home. Any recommendations would be most appreciated.
Lulu
- 14-Jul-19 @ 5:07 PM
The property next door is let to a couple who has two children , I was always told that the landlord would never let to parents with kids or pets , so I thought this quiet little cul-de-sac was right for me , but low and behold in they moved ! Worse day of my life , they are so noisy , informed the estate agent that property owners can no longer sit in their gardens to enjoy these nice warm evenings ,our wellbeing has well gone , they don't want to know , told us to speak to their parents , oh yeah and what will they do , yes Jack all , been looking for somewhere else to move to but why should I ? There should be adult streets only , can't like kids never have never will ,
Hi Thanks for the informative article. Actually, I have an 18 month toddler who is hard willed and stubborn. So he cries a lot even with simple things like changing nappies and clothes. He throws a lot of tantrums and every action is actually a nightmare. He still doesn't talk so this makes him more frustrated. All of the noise are during the daytime and he sleeps usually at 8 pm or maximally at 9 pm. M neighbor came to my house and he banged aggressively on the door. He was very angry and shouted at us asking us to take the baby out and control him while inside the house. I admit that my little one is noisy but we tried every thing, got advice from sure start nurse but he still the same. Now, we take him out most of the day but we became very exhausted from being out all that time. My question, what is the accepted noise from someone at his age? and how can we deal with this situation till he passes this phase or till we move away from our neighbor? Thanks
Ahmed
- 9-Jul-19 @ 6:12 PM
At 'Strawberry Gin Girl.' No one is telling you to stop the kids playing. If what your allowing to occur in your household is affecting the lives of others, those others have the right to take action against you. If balls are damaging property, you could be sued.If balls are hitting people, you could be in trouble. That's the law of the First World.
Phil
- 5-Jul-19 @ 11:55 AM