Letter Template: Noisy Neighbours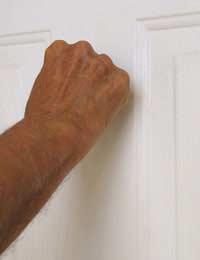 Noisy neighbours are a huge problem for many residents. Whether the noise is caused by people shouting, dogs barking, loud music, or even noisy sex, it can cause a real problem for neighbours left having to listen to it. Often neighbours simply haven't considered how noisy they are and the effect of that noise on others. Bringing this to their attention will usually resolve the issue. If you need to know more about noise legislation and your rights, we've posted links to our articles following our letter templates below.
So how do you go about discussing the problem with your neighbours?
Talk to your neighbour
Initially try just popping round for a quick chat to your neighbour. If they are never in when you go round, or you don't feel comfortable talking to them face to face, try sending an informal note. If this doesn't resolve the problem, then a more formal letter may be required.
To assist, a template informal note and more formal letter are below:
Informal Note to Neighbours About Noise
Dear [name]
Just a quick note regarding the noise from your property. This can be quite clearly heard from inside my house and so prevents me from getting to sleep on an evening.
Please could you try to keep the noise down a little, particularly overnight?
Thanks for your help.
Best wishes,
[Name]
[Your house number]
Formal Letter to Neighbour About Noise
[Your Address]
[Neighbour's name]
[Address / 'Delivered by hand']
[Date]
Dear [Neighbour's name]/[If unknown, just address as 'Dear Neighbour'],
Re: Noise from [neighbour's address]
I live at [address], next door. I am writing in relation to the noise from your property.The noise specifically is: [select appropriate]
Slamming Doors
Loud foot traffic/stomping
Barking dogs
Shouting / loud voices
Loud music
You may have previously been unaware of this noise. However it affects me because it can be clearly heard in the habitable areas of my house [and prevents me from sleeping].
The Noise Act 1996 means that the local authority must take steps to investigate any complaints of noise at night time. I am however, keen to resolve this amicably and do not want to report this to the council at this stage; we are after all neighbours! I would therefore be grateful if you could try to reduce any noise between 11pm and 7am.
Thank you in advance for your cooperation.
Kind regards,
[Your signature]
[Your name]
Want to Know More?
We have lots of useful feature, articles and responses to comments, which we hope will help you handle your own neighbour noise problems. Here are some of the articles you may find useful:
Your Rights Under the Noise Act
What Constitutes Noise Pollution?
The Noise and Nuisance Act
You might also like...
I was working on probation as I had just started a job, and I decided it wasn't for me and as it was within 3 months I walked off. The proprietor of the company has kept my copies of Certificates and won't let me have them and other equipment back. I have lost all my Certificates, a hard drive, several folders and teaching equipment and want to know what I need to do to get my stuff back.
Nick
- 17-Nov-20 @ 2:02 PM
Think they get their frustration of beeing parents knowing they are pissing off other people, making em as misurable as them.gets em off and makes em feel superior, like a angry karen getting her way at the supetmarket as her marrage sucks. Think in big appartmennts should be law small children and baby fam be grouped closest to eachother, all bottom ground floors or stacked on eachother. awsy from the elderly, ill or those that actually need sleep
Köttur
- 17-Nov-20 @ 5:04 AM
Hi All After many years of research there are two ways to fix this: You contact informally and if they are nice (perhaps unlikely if they are inconsiderate) they will either reduce the noise or improve sound insulation between the dwellings. Old converted properties have poor insulation. If someone has hard wood floors, ask them to lay carpet, if they refuse, you can not solve the noise from below, don't waste your money sell up. Option 2: Move. Don't waste your time engaging in protracted battles or escalating beyond informal route. It will not work, you will be depressed and waste years of your life emailing. I am so sorry to any one who experiences this, it's awful beyond. I am camping in my garden due to impact noise from above. Can't wait to move! Luke
Luke
- 11-Nov-20 @ 2:00 PM
A new neighbour moved in downstairs with one small child who is now 4. She always woke us up with her foot stomping around the flat in the middle of the night. To try keep the peace i purchased some earplugs rather than ask her to keep it down. Mistakes were made. Its go louder and later and more frequent. Not only that, she also seems to always have 2-3 kids in the flat running up and down the hallway slamming doors and playing football until whatever time (tonight it was almost 1am) we asked her to keep the noise down because its honestly extremely loud and distressing to not have any relaxing time but she said no i will not ask them to keep it down as she can hear my son walking round his bedroom at 8am? And so we came back inside and could hear her egging the children on to make more noise. Shes basically justifying her excessive noise to the fact my son walked in his bedroom at a time which is too early for her (btw she literally sleeps till 12pm everyday) and i personally dont believe its healthy for children to stay up so late and for them to sleep in so late at such a young age? Also my brother came over today and i greeted him in the front garden and saw her spying out the window and guess what? Hey presto there was not a single noise coming from her flat the whole time my brother was here yet it was continuous before hand and also after he left. Also she NEVER leaves the house. The children have been in for days. I have to leave to get some peace but when we come back its the same old same old. Very upsetting
Jules
- 31-Oct-20 @ 1:37 AM
A new neighbour moved in downstairs with one small child who is now 4. She always woke us up with her foot stomping around the flat in the middle of the night. To try keep the peace i purchased some earplugs rather than ask her to keep it down. Mistakes were made. Its go louder and later and more frequent. Not only that, she also seems to always have 2-3 kids in the flat running up and down the hallway slamming doors and playing football until whatever time (tonight it was almost 1am) we asked her to keep the noise down because its honestly extremely loud and distressing to not have any relaxing time but she said no i will not ask them to keep it down as she can hear my son walking round his bedroom at 8am? And so we came back inside and could hear her egging the children on to make more noise. Shes basically justifying her excessive noise to the fact my son walked in his bedroom at a time which is too early for her (btw she literally sleeps till 12pm everyday) and i personally dont believe its healthy for children to stay up so late and for them to sleep in so late at such a young age? Also my brother came over today and i greeted him in the front garden and saw her spying out the window and guess what? Hey presto there was not a single noise coming from her flat the whole time my brother was here yet it was continuous before hand and also after he left. Also she NEVER leaves the house. The children have been in for days. I have to leave to get some peace but when we come back its the same old same old. Very upsetting
Jules
- 31-Oct-20 @ 1:29 AM
We stretched ourselves with both a mortgage and a larger deposit to get our forever home - a 4 bedroom detached new build. We had no issues with anyone and then next door moved in. The side of our house is at the back of their garden. As soon as they moved in they assembled a huge climbing frame in the centre of their garden. They have two young kids who are playing in their garden from 7am until 10pm and you can hear them constantly. Then they installed security lights at the top of their house and the beam is ridiculous. The light comes into our living room, upstairs bedroom and conservatory. I dealt with the Council over light pollution and on the night when he came out, it neverswitched on at all. They have a beautiful cockapoo, swings and now enormous trampoline virtually at the side of our house which is an eyesore from the front of the house. I asked them times to move the light...they have put this more into their garden but it is still awful. We have blackout blinds now and it is still an issue but I want something sorted before Winter. Why should we have to put up with this...its like living next to a school or vets...its not on..
I lived in my current address for 4 yearsuntil now i lived in blesses which most of myneighbours are elderlies so I always careful about making noise, however, about 3years ago the council moved inthissingle mother with 3 kids next door to me ,So,for the last few year she were a modle neighbours. making sure her kids arewellbehaveandwhenever she have a family eventshe let us knowin advance about the it and was all good......however,she recently started showing unaccaptable behaviour which she started playing loud music,inviting her friends over to have all night party. Untill now I have been letting it go only becaouse iif Imake a complain to the council about the noiseshe may then lose her house which she ultimately become a homeless with her with her young family. I am a peaceful person. So, how can i let her know about her unreasonable behaviour affecting not only me also my elderly neighbours too?
Sammi
- 3-Oct-20 @ 11:06 PM
I have lived in my house for 7 years (owned). I am in an end terrace which is semi fortunate. My neighbours attached for 5 years were very pleasant, and honestly there were a couple of occasions where they had to tell me to turn the music down on a Saturday night over the years, to which I would because they were always good and we looked out for each other. Unfortunately they sold their house to their son (the son is not the issue by the way). The son decided to rent the property, but did not take precautions to be sure EXACTLY WHO he was letting it to, and left it all in the hands of an agent. He told me that the agent had told him the couple were a teacher and social worker. The day they moved in, the volume level completely changed. I was having a barbecue with friends, and one of them said "well that's peace and quiet out of the window". I work a rotating shift pattern, and what was pretty clear after a month of them living here was that whatever shift I was on, they were here when I left and when I returned home. They are utter dole dossing, drug abusing, scum of the earth. They argue constantly, sometimes up to 5 times in a day and it spills out into the street. They have two young children, who are nowhere near as loud as the supposed adults. Heroin is a hell of a drug, and has really damaged their hearing, so every word is shouted. I contacted the landlord and explained the situation, to be informed that he was having issues with getting payments from them. After 3 months rolling of no payments he applied for eviction proceedings, but then BAM! Coronavirus comes. Now these horrible scum are protected by the courts and housing charities, even though they hadn't paid their rent for months before the pandemic happened and do not intend to. I have had to contact police and social services reference the well being of the children, after one night when the woman was screaming at 1am that she was going to kill the children and herself if they didn't stop crying. I could barely hear the crying, it was all blown out of proportion due to her drug impaired mental state. The police accused me of lying, and social services just responded by acknowledging they were known to the system, and that I should keep notes (you know that old brush they use on everyone). Even as I type this the noise is unbearable. They just constantly shout, bang and leave the children's nursery rhymes at full volume on the TV. This is almost constant from 6 30am until 11 30pm everyday. I feel embarrassed living here.
My mum has a nightmare neighbour. She lives in a row of bungalows. The lady to her right has continuously caused problems for the last 3 years. Now she's put wind chimes against the wall to where my mums bedroom is and puts a fan on them at night to keep my mum awake. The police and council have refused to do anything about it. My mum is now so depressed and sleep deprived it's affecting her health. Why won't anyone help????
Del
- 12-Sep-20 @ 1:08 PM
I have a problem with noisy neighbours. This lady that lives on my floor regularly has a friend coming over. They play very loud music, they shout , scream and belt out songs! For example, right now this is happening for more than 5 hours ?? One time they were at it from 1.30 lunchtime to 11pm. It is so frustrating! Absolutely ruining my time at home. I'm dreading to be coming back from work thinking they might be having their party again. Even during lockdown I was working from home, it's been so difficult. I can't understand how people are so inconsiderate and selfish. They know there's other people in the building. They are not the type of women you'd like to approach for a friendly, neighbourly conversation. I am scared for my safety to do that.
Mia
- 17-Aug-20 @ 10:33 PM
I can relate to everybody on this page. We lived in a home we built and had one neighborfor over 20 years in that time they have been riding motorcycles atvs and dumbuggysthing of it is that now the parents passed and the son has it and he is the same way . What do you do we are aging and want to live peacefully it just isnt happening ..It isnt right that someone can cause so much harm emotionally and physically . Consideration should come in there somewhere...
samantha
- 28-Jul-20 @ 6:10 PM
Every night taking to 12.pm can't workor sleep
Jo
- 22-Jun-20 @ 11:52 PM
Alwaysevery night talking not evenbeingnice 12.pm every night can't go to work
Jo
- 22-Jun-20 @ 11:50 PM
I have a problem with my next door neighbor's that lives onthe second floor next to me they're not even above my apartment. This woman lives with her kid ather grandparents.So this three-year-old kid is being taken care of by his great-grandparents. they have no control over the kid, he runs the scooter all day play with his toys and makes a lot of noise. when his mom comes from work she doesn't have any control over the kid either, none of the neighbors that live below her can't sleep he still making noise and running scooter till 2 and 3 a.m.. I live in a condominium, my neighbors have complained to the association andthe office management and have call the police.I have all the police reports and video of the tantrum that the kid has in the hallway,not even with all this proofs that we have they have done anything to help us. I have written to the association my health has declined because I do not get enough sleep neither my neighbors. The management office and Association has spoken to the young lady before but she just doesn't care. To my understanding the asociation or the management office hasno power to enforce any fines the only thing the association or the management office does is put a warning on her door.She's just living there with her grandparents,we are owners we are not renters and it's incredible that in this condominium renters have more rights than owner's do. This has been going on for 3 years.All neighbors are so tired of complaining and nothing has been done how is it possible that we can't get any help so she can move somewhere else, her grandparents are not in condition to take care of a 3 a year old.I've been living here for 30 years, it's incredible that I'm going to have to make a decision to move next year I can keep living like this, I had back surgery last year and it's been hell to recuperate.We are all mentally and physically tired. Well hopefully I can sell my apartment next year and move somewhere quiet
Zombie
- 5-Jun-20 @ 6:34 AM
At present my neighbour has been furloughed. He has started building a vehicle from scratch in his garage, which is next door to my lounge. My daughter in law is working from homein my lounge, on telephone and PC. Unfortunately, in these times it is very frustrating . This man is arrogant as he once laughed at another neighbour who asked him to remove a swing tyre from a large overhanging tree, which was breaking his fence and leaving debris in his garden. He advised he would leave it there just to annoy him. The noise is unbearable, he is using industrial tools which he had previously used in his own commercial garage. His wife has advised that her own daughter has asked him to stop for some peace, please can anyone advise. I have recorded some of the noise from earlier in the year before we were all having to stay at home.
harrassed
- 2-Jun-20 @ 3:43 PM
Hi my house its on farm but opposite garage wich making a lot of noice every day and sometimes on the weekend .I have small baby and its wery hard for him to sleep .Even with windows clouse we can hear how mechanic grinding drilling be ouse he did'nt close garage door and doing everything with open doors.Another problem my landlort without letting me know start bulding another warehouse so the noice from construction side its even bigger please help me
Pawello
- 27-May-20 @ 2:43 PM
They have a really loud party every week, and they have 2 noisy guard dogs which I've asked them to keep the noise down before. I have a baby and I want to push her round in the fresh air but I can't because it will wake her up all the loud music. Shouldn't I be able to live a quiet life!
Katy
- 26-Apr-20 @ 3:43 PM
I have , now suffered from my neighbour countless reports too city council four tenants have quit living below her .plus all around live under the threat complain be beaten up., by family or friends one tenant was pushed too the thoughts of suicide because of noise fighting .the local council have stated until others , come forward no action .i have submitted recordings the females partner has been moved , cause he assaulted her I suffer long term mental health .depression stress ancestry I live in a state of unrest peace of mind , shown little respect from council .how much is enough
The issue I have is i now love in a unit block, which I understood would come with different noises than being in a single dwelling. I live on the second floor of a three level government housing unit block making me the one smack bang in the middle. The unit above me must obviously have removed their carpet and installed I'm guessing floorboards. The constant noises that I hear which generally start from early evenings which can last right up until almost 6-7am are becoming increasingly louder and really getting on my nerves. The constant dogs potter patted running within their unit is amplified for me underneath them, the dog scratching at his or her fleas repeatedly in one spot echos for me downstairs. The scraping of the chairs as they are pulled in and out frequently, the doors closing/slamming sounds for me. The banging of what sounds to me like the end of a broom handle directly at the floor, the tool sounding noises like someone is sanding something that's resting on their floor, the noises and sounds of someone being extremely clumsy frequently dropping things that hit and bounce of the floor, the noises can often wake me (if I'm asleep as I suffer insomnia) so these noises really disturb all my attempts to try and sleep or startle me and interrupt my sleep. Visitors are taken back when they hear the noises for themselves saying things like are your neighbours serious....., The neighbour doesn't speak English well and I have had limited experiences talking with her. She lives alone with her dog which after living here for almost two years no one in the building has ever laid eyes on it. I have written an initial letter regarding making my neighbour aware of the disruption the noises that I can hear from her unit in every room in my unit, the sounds are disturbing my families te together eg watching television together. And the noises are extremely frustrating especially as I suffer from insomnia and my sleep patterns are limited as they are yet every short sleep I can grab is vital to me. The above disturbances which start from early evenings and can go right up until the wee early hours of the morning, anywhere between 5-7am are really beginning to affect my wellbeing. I have yet to deliver her my letter and thought I'd reach out here on this platform to see if there wasanything else I could or should do to save before giving her thelette. Please give me your suggestions as my sanity requires rest.... ??
Donnie
- 15-Apr-20 @ 7:43 PM
The issue I have currently is that my neighbour above me will lift a heavy item in their living room and will bang this repeatedly on the ground affecting my ceiling. I suspect as means to get me to be quiet. This is done whenever I am on a phone call, when the tv is on, when the washing machine is on once a week or when I have friends around which is very infrequent. This has caused the ceiling to shake, particles of paint to fall to the ground and 4 deep holes have formed on my ceiling. This has been ongoing for the last 11 months since I moved into the property. I have even made an effort to change my behaviours, such as lower my voice but it still continues.The walls are very thin so I hear conversations and footsteps, which I did expect will happen with the type of property i'm in. The neighbour has not written to me or approached me, so I am taking up this issue up with police and the London borough I'm in. Also recording each time this happens. Would appreciate any other advice please. Kind regards, C
Charlotte
- 14-Apr-20 @ 9:27 AM
25 years ago I bought a semi detached house, it was pretty quiet neighbours wise. January last year our joined on neighbours started a loft extension which was the 5th neighbourhood extension we have endured in 5 years. Until then we experience impact noise from floors, walls, the full width ground floor door slamming, their neurotic water dog that Howells and barks without pause when they go out and the steel beam diy construction of garden Furnacture, angle grinding and welding 10 foot from my lounge window at weekends and now 4 days in a row through Easter weekend. He has his motor bike against the boundary fence 3 foot from my lounge window. Since he built his loft extension January last year 2019 we suffer from low frequency noise through the night. I don't think it is from them but the neighbours the other side of them, it sound like a cross between frantically talking sports channel or possibly Spanish but only half the frequency and you can't make out words. Something he has done has allowed this noise to be communicated to my bedroom but I can't either record it or work out definitively where it is coming from. My wife has impaired hearing and does not hear it the way I do. However a neighbour on the other side of an adjoining road within view experiences the same Low frequency noise issue. We also only now, have a problem with night time milk an more delivery. Our neighbours use this service. A diesel vehicle, left running for 10 minutes or so, both doors open, 2 operators shouting to each other,moving slowly around ours and adjoining roads. Anytime between 2-6 am. There is no effective recourse. I wasted my time putting a complaint on google and the only outcome was an email from the girl in the office who said she would ask the driver to turn the radio down. This did not happen. My doctor has prescribed addictive sleeping pills which leave me drowsy and I am not supposed to drive. And now with lock down we must remain at home with lock down. I wish I had a chequers like place in the country to escape to. May all who read this find fresh peace at home. Kind regards Gas man
Gas man
- 13-Apr-20 @ 6:14 PM
My neighbor has installed a hot tub against the fence and has it running all day. When my wife and I sit outside on our patio all we can hear is a continuous droning noise. We can't go outside an a warm day because of the noise, and if we have a window open you can hear the noise because it is right next to the house. Is this something we can complain to the council about?
Fred
- 12-Apr-20 @ 5:39 PM
I'm having difficulty at the moment with terribly loud (thumping music all night) and aggressive sounding neighbours. The advice I have received is to note down all the times they are disruptive and to download a sound recorder or decibel metre, if you can, that records the date and time, then to send it all off to the environmental health department within your local council. My particular council also has a specific anti social behaviour department, this seems to be a service for those only in a council house though, but another route of things don't improve. We have also had to call 101 for help on the past as well when their music is so loud even my children struggle to sleep. Good luck with your noisy neighbours!
Katie
- 12-Apr-20 @ 10:01 AM
As a last resort get the baseball bat out and start with their property, then them. These idiots only listen to fear so go scare the f out of em
Violence my friends
- 4-Feb-20 @ 11:24 AM
Hi. I really need some advice and support. I had to move out of my house of 19 years due to divorce and have ended up in a house where the area isn't as nice as I thought and I live next to the neighbour from hell. It started off with us being subjected to the fumes from her smoking weed and the fumes came into the property. We also had banging noises which we can only assume are doors and cupboards being slammed. She also has a bull mastiff dog in there that howls for the entire time when she goes out. The frequency of the noise differs but, she's driven us out of our house twice now and we stayed with a relative for a break. She's frightening my dogs with her noise and both myself and my daughter are suffering physically and emotionally because of her. I'm on diazepam. She's living in a house provided by a homeless organisation and I've tried contacting them and the council but, she's highly manipulative and convinced them that she's a poor frail person and SHE'S getting distressed???? I tried reporting it to the police but all they've done so far is suggest mediation which I'm not happy to do as she's shown her aggressive side and, a neighbour has told me if wouldn't work with her anyway. I'm now in limbo and have decided to sell up. Things are so bad that I'm now looking to find a room to rent (that accepts dogs as they are too close to me to be separated) just until we move again but it looks like I can't afford the prices people are charging for rooms. I've had to call the mental health crisis team over this and it's splitting my family up. Is there any action I can take that won't affect me selling my home?Or, if anyone has a spare room in North Somerset that they wouldn't mind me renting, I'd be more than grateful.Thanks
VStar
- 1-Jan-20 @ 7:52 PM
I've been living in an apartment for 6 years. Haven't had many noice issues every now and then there's a party but always ends at reasonable time. About 3 months ago we have had a new neighbour move in next door and he blasts his music. I contacted building management about and they spoke to him and said it's his first time living in an apartment and explained to him that other people can hear him. I assumed it was then resolved because he was aware of the noice. We left if for another month still getting bombed by his base. The worse is on weekends 8am-12pm we got to the point where we couldn't enjoy our home. I wrote him a letter asking him to be a little bit more considerate as it's long hours and every day we have to deal with this. You can listen to music in your home and enjoy it while having it at reasonable volume. Thankfully he stoped having it at that level. Every now and then he has it loud and we can still hear his base but it's not at the point where our paintings are shaking. It's still very annoying and distributive. Honestly I feel paranoid when this happens as I worry if he will blast it again. It's making us feel very uncomfortable in our own home. We don't want to have a confrontation with this guy but don't know what else we can do to have this resolved. Is there any tips anyone could suggest? We aren't sure if we should try to talk to him, write another letter or contact building management again. We have started to write down the times when he is loud in case if we have to show building management.
lisa s
- 30-Dec-19 @ 2:29 AM
The neighbour is constantly banging, playing loud music and slamming doors. In the past his friend threatened one of my other neighbours who left. This person falsely reports others. It has left me and my partner ill. Clearly these people get off on bullying others. I am going to a national newspaper to highlight how damaging the effects of anti social neighbours are. This time it has ruined Christmas. Enough!
artymuse
- 27-Dec-19 @ 6:13 PM
So myself, my husband and children have been living in a flat above a pub for nearly 6 years now. When we first moved in, the music was minimal and hardly any noise. Three years ago their ceiling fell down and so the "soundproofing" disappeared. They installed very big speakers to the ceiling and it was stopping us going to sleep. They stay open way after 12 most nights with music blasting! We addressed the situation to them and they wanted a "chat". So we met up with them and they said that we would have to pay for the soundproofing because they " the landlords" can't afford it!! So because we can't afford it, it hasn't been done. They allowed members of the public to put the music up as load as they could and had no control over it, because the bar person was fighting with the controls, because they were controlling the volume threw their phones! So because their were so many compliments from "other people" they changed it all. But it's now starting to get out of hand again and I need help. I'm extremely tired, feel bullied and because I work there and live above ( pay rent also!!) they seem to think they can push me around. I'm scared of loosing my home which all I want is for them to stop being so selfish and stick to the law. I've been bidding for council houses for ages now. It's making all of us ill.
Enough now!
- 10-Nov-19 @ 12:26 AM
We have neghbours from hell. They were nice enough people when they first moved here about 10 years ago, but it was when they had a kid shortly afterwards that the problems started. At first there were normal acceptable baby noises, crying etc., but when the kid started school, the practically constant noise of him running and stomping round and round the whole house also started. Every waking hour he's been doing it for 4 years now and we're at the end of our tether. I suffer with migraines and the never ending stomping exacerbates them. It sounds like someone hammering at speed, it's that loud. Normal everyday living noise such as washing machines, vacuum cleaners, etc. are to be expected from neighbours, but not the sound of someone demolishing the house. Yes, it's really that bad. Of course we have asked them to ask the child to stop running and stomping and walk around the house instead, but it has been ignored and we've mentioned it 3 times now. My nerves are in tatters and my Dr. has given me anti anxiety tablets, but they don't solve the problem. The child's feet are growing bigger every day the older he gets, so the stomping's getting louder month by month. Friends and family say we'll have to move, but we're both getting on for 70 and have lived here for almost 31 years. Our kids were young teenagers when we moved in, the house was brand new then and we've both worked very hard over the years to pay the mortgage and get the house and garden as we like it. Neither of us are in good health and we just want a peaceful life. As you can tell, all this has become too much for us now. Although the noise is usually keptbetween the hours of 7 and 11, it's constant monotonous thumping is unbearable. The only respite is in school hours. We can't take much more. No one has the right to make someone else's life a misery, but they're too inconsiderate and selfish to care.
Kia
- 13-Oct-19 @ 1:30 AM
I have the most inconsiderate neighbours... most nights, especially weekends they think I want to hear their so called music, singing and whooping until the early hours!!Sometimes the only way I can block it out and just hear a distant this is to sit in my garage!!!... unacceptable and makes me very angry.Have spoken to them on numerous occasions and nothing changes..
Clarence
- 6-Oct-19 @ 1:50 AM