Your Rights Under the Noise Act 1996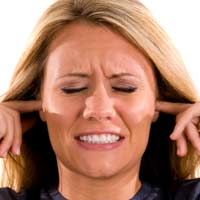 Under the provisions of the Noise Act 1996 and other associated legislation, your local authority has a mandatory obligation to deal with any noise which is deemed to be a 'nuisance'. It's not simply at night where the act might come into force, nor is it restricted to common complaints like music and loud parties – general traffic noise, DIY/construction projects and use of other kind of machinery is also incorporated into the legislation.
Measuring The Noise and Permitted Levels
The
Permitted Level Of Noise
can vary depending on different circumstances and ignorance is not an acceptable excuse. If, for some reason, a person knows that an activity is going to result in excessive noise, it is their responsibility to check with their local authority what level is permitted and what is considered excessive. Local authorities have approved noise measuring devices to determine whether or not a particular 'noise complaint' is breaching the law.
Abatement Notices
If the local authority deems that the noise represents a
Statutory Nuisance
and/or that it's likely to reoccur, they can issue an abatement notice which will stipulate that the noise stops altogether, is reduced to an acceptable level, or is only permitted between certain times of the day.
However, an abatement notice is not normally served immediately. Usually if you Contact An Environmental Health Officer, they will visit the 'offender' first to see if the problem can be resolved without having to take matters further. If the issue hasn't been resolved within a week, then an abatement notice must be served.
If The Abatement Notice is Not Complied With
Once an abatement notice is issued, if it not complied with, then the offender will have committed an offence. There can be fixed penalty notices and both the courts and the police will now get involved. Fines of up to £5,000 can be imposed on individuals and up to £20,000 if it's a business within or close to a residential neighbourhood which is involved.
In certain situations where the noise maker might end up being violent or aggressive, the police, in conjunction with the local authority, have the power to Issue An Anti-Social Behaviour Order and if the noise maker fails to comply with that, it might even end up with them even being sent to prison.
Seizing of Equipment
Once an abatement notice has been served, if it is not complied with, an officer from the environmental health department or someone acting upon their behalf, such as a police officer, has the power to gain entry to the residence and to seize the equipment responsible for the problem under warrant provisions. This can be done by force if necessary and can result in a further fine if the person involved wilfully tries to obstruct the removal of the equipment.
The equipment can be seized for up to 28 days, and it is up to the courts to decide what will be done with the equipment in the long term. If no court proceedings have begun within 28 days, the equipment must be returned to its rightful owner. However, if the court decides to convict a person in relation to the said equipment, then a forfeiture order can be made by the court which deprives the offender of any further rights to the equipment.
What to Read Next...
Your Rights Under Noise and Statutory Nuisance Act
.
You might also like...
Ok winge winge winge old age setting in and I'm becoming my dad! Still, I had an ounce of respect for neighbors when I was a kid and still attempt to have now but it is difficult. Because they have their kids out bouncing on a bouncy castle and bouncing a large ball in their garden at 10pm. My daughter is a couple of years older at 11 and was in bed at 8 although not asleep from the noise being made. That would be bad enough but the screaming on top is Vile! They have an outside security light that points up in the air directly into our bedrooms. Yes we've bought blackout curtains but it isn't perfect and anyone breaking into their yard would not be seen because it's still in the dark only the sky is lit up so perhaps their fearing alien attacks?? Their little darlings also spend some of their social time teasing our dog out of their bedroom window. My dog is now constantly looking up at their window his nerves on edge and barking at any movement. Of course the answer would be to have a word. The issue is,the guys an ex jail bird and apparently punches people who cross him! So if anyone can offer some form of advice that could possibly begin to let us in our house live a normal life and do things like sleep when we're tired or leave a bedroom window open when it's a hot summers night,I would be eternally grateful. I haven't mentioned their dog barking have I yet. Well I just have and yes that goes on at anytime of night, recently at 2.30am and guess what? One of the little darlings opened the door to let it in!
Ivor biggun
- 3-Jun-19 @ 10:08 PM
About two weeks ago on a Friday afternoon our neighbour played an entire opera at full volume for around over an hour. It was so loud that the main part of the sopranos voice in the music sounded like screeming it was so high and loud and shrill. My husband and I do quite like opera but this noise was very invasive and quite disturbing. My husband went round next door to ask her, politely, to lower the volume of the music...which could be heard along the street too....(this was in the next door on the raisedground floor flat in the adjoining house; our flat is on the same level, raised ground floor) flat).She did lower the music a bit and after a while the opera was finished. We thought that this would be the end of the incident. However, we arrived back at our flat after being away for two weeks and as we got out of our car the same lady, our neighbour, accosted my husband in the street berating him for coming to comlain to her about her music and stopping her enjoymentof it, she was really quite aggressive. She mentioned that that her neighbours upstairs to her |(her tenants) had also come down to complain to her and she was blaming my husband for this. We actually did not know this. She was so abusive that I said I would inform the council of her noise as we would not like this to happen again. The neighbour in question is not usually living in her flat as she has been renovating it for over 10 years. We do not want to have a problem with this neighbour, but I think we may have in the future as she was quite unpleasant towards us. I donot expect the council to be able to do anything about this incident but I would just like this complaint to be held on record in case there are further disputes involving antisocial noise. Our address is 18b Riggindale Road Streatham SW161QJ and the noisy neighbour lives at 20B Riggindale Road SW16 and also owns Flats B and C/D. Her name is Ms Mary Geary. We are quiet friendly people who get on with all of our other neighbours and this has been upsetting. your sincerely
Upset
- 14-May-19 @ 10:34 AM
our neighbour is always playing loud music and its always the same italian music as she is italian and old she is a horrible person everytime she sees us out our garden she goes around slamming her door and her bin lids trying to intimiade us . she has complained constantly about us to our landlord to try and get her own way saying we make to much noise and that our rabbits make to much noise. in fact all we ever like to do is to sit out in our garden after we have finished work but she spoils it for us to do this. the latest thing she has taken to do is to place her music system at the back door and turn it up even louder . we have been to the noise abatment but they were not really any help, we really dont know what to do anymore as its really starting to stress me out and looking at moving but i feel that would be giving into her . any advice thanks
fee
- 13-May-19 @ 8:21 PM
My idiot neighbour has taken to starting DIY projects after 10:30pm mostly cutting up metal in his back garden with an angle grinder. He's a very unpleasant person so I'm not keen to speak to him directly, who are you supposed to call these days "out of hours" ? We no longer have a local police station and it wouldn't seem appropriate to contact the national number for this type of complaint.
MickyB
- 4-May-19 @ 10:45 PM
I have a neighbour that keeps chopping up big tree stumps & large branches with an axe 3m from my kitchen window, often weekday evenings & weekends. The noise & vibration is too much. I asked them to do it well away from my house at the end of their garden (about 12m away). So far they continue to do it near my kitchen window. I can't believe how selfish & antisocial people are these days.
Ivanian
- 30-Apr-19 @ 7:30 AM
I have noisy neighbors.. there are 4 flats in our building and the ppl in one of the flats have led us an absolute dogs life for 8months... you just can't fathom the extent of stress, anger and exhaustion neighbors like this cause!! We have had to hound the council constantly as separate complaints for 8months for something to be done, but they finally issued a noise abatement order a wk ago, not that it's made a difference. My little girl sometimes has to complete a week of school on less than 15hours sleep, I have to just watch her sob in her bed ???? More efficient help should be available for non nuisance tenants in this situation. I am now preparing for another sleepless nite, ringing out of hours environmental health every hour, hoping to get assistance from police now that the abatement orders been issued.. we will see ??
Rix
- 21-Apr-19 @ 8:49 PM
Is it classed as a human rights issue that I prefer to sit of an evening with curtains open and just light from TV on. I have lived 30 years in second floor flat and neighbour in flat over road (two car parks in between plus road) insists on standing in window staring until I switch off TV and go to bed. She has never approached me but presume this is why she insists on stalking me, at least that's how it feels because she will stand there for between 4/5 hours every night.
Susie
- 5-Apr-19 @ 11:09 AM
Can someone tell me if playing loud music or video and slamming toilet seat down and stomping across landing is illegal after 23:30hrs in your home and what can you do about it. Please
Problem Teen
- 26-Mar-19 @ 10:34 AM
My neighbour is undertaking some DIY. I wouldn't mind but it's at all hours of the day and night. Does he not sleep?! The doors are being slammed and he sound tests his stereo at 3am every day. It's a nightmare. I work very early mornings and late evenings so it's really important that I get sleep, but it's impossible with our neighbours. I need help!
Bushy
- 18-Mar-19 @ 8:30 PM
My question is, when can a neighbor real and ly complain about the noise of a child. I have a 2 year old son and he is really active, we are only renting therefore we can't really do anything about house improvements like the flooring, the house flooring is really noisy, cracking noise the stairs are too loud even if you are walking normally or slowly and the the floors everywhere including the ground floor. My son likes to run around but he does this only during daytime in the evening we are preventing him from doing this we normally put him to sleep by 7:30 or 8pm and he wakes up 8am and normally he just sings when he wakes up. My neighbor is always knocking on our wall so loud whenever my son is playing this is during daytime like 10am. So this is so disturbing sometimes they are knocking like as if the walls are going to break and sometimes they are shouting, yelling and swearing. Just because my son is playing in the daytime. I had to move and change times when I allowed my son to run around the living room like 11am and they are still doing the same knocking, then I changed to 1pm then 3pm, then 4pm and still the same so this is really frustrating it's like my son can't have a playtime at anytime of the day. I started to just mostly let him play in the bedroom and close all the doors to prevent the noise and now recently they started knocking even in the bedroom so what is this about we can't even do anything in any room of the house.... So I need advice are they entitled to do that because my son likes to run or I have the right to complain about this because this is restricting my child's developmenthe doesn't have freedom anymore we are like. Because of the restrictions my son's communication is becoming poor. He can't even watch TV that much anymore because it is in the living room. Please advise.
Hi My downstairs neighbour moved in last may and ever since then he has made my life hell. I know it's not gonna be peaceful living in a four in a block but my god he is so noisy he sleeps all day and from the afternoon he constantly slams doors, walks about really heavy on his feet and plays his music so so loud it's like living in a nightclub half the time and because of this I am having panic attacks and I have really bad anxiety and depression and am taking antidepressants now because of it. I've even went to police and my housing association about him and I might have to go to police again because living in this flat is making me really ill. I'm not sleeping well either only sleep like 5/6 hours a night. I just give up! Please help?
Weekimmyxo
- 5-Mar-19 @ 10:39 PM
Can someone please help me. Me and my mum both are shift workers, therefore we do early mornings 3am starts and work nights too. Our neighbours who has 5 children are constantly running up and down the stairs. Recently they have decided to keep us awake with her tv being extremely loud I can hear what movie they are playing. I do wonder if i can hear it through my walls how loud must it be in their house. Myself and my mum have spoken to them about keeping the noise level down especially at night but the inconsiderate people that they are they have continued to disregard a very simple request. Currently it's 1.30am in the morning and I can hear their tv, and guess what I have to be up at 3am.... I genuinely don'tknow what to do anymore. Someone please help
Angry neighbour
- 31-Jan-19 @ 1:14 AM
I've been living in a semi detached for 10years now and I've put up with my noisy neighbours for all that time from running up and down the stairs to loud doors banging. I am finally after 10 long sufferable years moving out, I can finally get my sanity's back and sleep too. No one knows hat it is like until you have had nosiy neighbours, it has brought on stress and anxiety with me. As someone posted in one forum, the only option you have is to live with it or move. It will take 3 to 4 months for the sale to go through but I want to move out now I just can't wait.
Marty
- 28-Jan-19 @ 10:53 PM
I have a neighbor who has a gym in his living room if that doesn't make enough noise he then decides to shout instead of talk. He also thinks that hammering at 10pm is acceptable EVERYDAY OF THE WEEK!!!! He keeps waking my 5 month old up from his naps and wakes him very early in the morning with the noise he makes getting ready for work. It's unbearable.
Ceri
- 22-Jan-19 @ 1:40 PM
Hi there, I have a neighbour upstairs that have 4 children I can hear them running, playing ball at all times, even the inúmeros fights between the parents, specially after 8pm. In party times, they make noise all night long, including the children playing noises! I even woke up at 3am with the children playing ball!!!! It's absolutely unbelievable! We talked to them quite few times but nothing has been done. They are polite and say they will improve but the next day it's all the same. I have a 7 years old that goes to school so needs to wake up early and suffers from fatigue as she has SymptomaticHypermobility, she has been sleeping late because the noise is unbearable! Of course she becames exaustaded, what affects her day and her health. I'm getting anxious and extremely irritated but I worry the council will not take my complain serious. How can I sort it out? For my own sanity!
Danicor
- 11-Jan-19 @ 10:43 PM
Last year my neighbour sold her house to a couple for their son who is in his twenties and his mate to live in over the past few months we have had to endure banging doors laughing and messing around and on a few occasions I have been around to their house in the middle of the night to remind them that we are trying to sleep. This has had little or no effect so I got hold of the parents and complained to them and this calmed down. For a bit although the banging of doors has now stopped they are up all night talking and this can be heard. Question is it unreasonable for me to ask them to stop chatting all night as we are having sleepless nights now.
Stevemac
- 31-Dec-18 @ 8:22 AM
My neighbour round the corner uses a chain saw to saw trees. My wife and myself are greatly disturbed by the noise.We would like to know when this happens so we can make arrangements to go out.Should the person using the chain saw inform his neighbours
Grumpyoldman
- 24-Dec-18 @ 3:14 PM
I have moved into the property 5 years ago and from day one abuse started by my neighbour from he'll who lives aboveme. I have tolerated him for 2 years than I went to report him. ImmediatelyHD accused me of homofobia and that I am harassing him and because of that his mental health is deteriorating. I am constantly in court as he and the council are trying to ditch me up. Now I have enough and have no option but to involvepublic expose OV thisindividualas he has been abusing peoplefor years. Good help anyone getting someone like him. My property has been vandalised so Manny times and nothing has been done about. Marina
Nina
- 21-Dec-18 @ 5:49 PM
I completely sympathise with you here Liam.We too have a neighbour who I believe run some sort of business, they come back home late and there's constant banging between 10:30pm up to 1:30pm.Theyare relatively new neighbours who are showing a blatant disregard to whatever activity it is they are doing.Surely after 10/11pm one would apply a bit of common sense and be concious of the fact people are in bed for work the following morning.It's driving me crazy, I just cannot understand people's logic. I have just calmly knocked on their door to ask what all the noise is about, but there was no answer. Hope you guys get your own noise sorted.
Andy
- 17-Dec-18 @ 11:29 PM
My up stairs neighbor has three dogs that constantly bark when ever he goes out or if they hear a bit of noise through the night, I've tried talking to him about it but he just tells me he has to go shopping. I work nights and can sometimes go a week with no more than a couple of hours of broken sleep a day. What are my best options
Carl
- 16-Dec-18 @ 12:17 PM
I have a neighbour who constantly washes his car , rain , sleet or snow , 5am , 10.00pm he's constantly hoovers it , making noises and waking me up , also flooded my front garden killing my flowers with soap suds , please help me is there anyway I can do to stop this , I don't mind anyone washing a car but at a reasonable hour, Andrew
Andrew
- 7-Nov-18 @ 2:26 PM
Our of hours Noise Nuisance Patrol??? Stops at 4am so what's the point as most music will start around that time as they are aware of this!! If & when you do get through they aren't that interested in helping.What is the point of an Abatement Notice or Order if they ignore it??
Yas
- 27-Oct-18 @ 6:36 AM
After filling many forms in our neighbour was issued with an abatement notice!!Yet she still has party's at all hrs and plays loud music with all sorts of aggressive drug dealing people coming in and out of her property. She even leaves people in her hse to come and go all hrs of the night whilst she jumps into a cab and leaves. I've called the so called out of hrs noise patrol time only to be told that they finish at 4am and I need to call 101?? Useless service they were put in hold forever. The polite chap on the 101 tried to help but simply said they have no right to do that and called them back whilst I was in the other line. Sorry it's out of my hands basically the police have No authority in this matter. I'm so tired and stressed needing to deal with this again!!! Please help us?!
Yasmin
- 27-Oct-18 @ 6:27 AM
Hi i have a neighbour who runs 2 off licences he has at 4 to 5 van transit van loads of cases of beer and wine delivered to his home in a residential street.over time he loads his own van up several times a month usually late at night chucking the cases of beer into the van making loud thumping noise.My wife is disabled and is on a lot of medication including Morphine every 12 hours for the pain.We both suffer from sleep Deprivation because of her illness.My wife takes her medication at about 6pm by 8pm the medication starts to work,then about 10.30pm the neighbour starts to load his van up with cases of beer and its bump,bump, loudly we got really annoyed that we were woken up again so my opened the window and gave him some abuse and then I intervened and we had a heated row.He thinks he make noise loading his van up until 11pm. we are both Pensioners.What can I do about this Neighbour.
Liam
- 13-Oct-18 @ 12:32 PM
My neighbour has a small 2yr old child who ever night is running up and down in the living roomin their house i have had the noise monitors from the environmental health 3 times but they haven't done anything I have spoken with her but she said I was racist and phoned the police they have said that if I have any more trouble to contact them but I havent got much faith in them. This is really getting me down which has caused me to have high BP can anyone please help has both landlords will not get involved
Gill1970
- 19-Sep-18 @ 8:57 PM
I've now live in my house 7yrs the noise level from my next door neighbour has in creased gradually to which I now have wardrobes doors been slammed draws been slammed front door also I've filled in countless forms to my local council and have nothing its making me so ill its even waking my daughter who is still at school what should I do police is the last resort
Aimes
- 15-Sep-18 @ 11:21 PM
My neighbor is a nuisance more than a year. Submitted a report to the bury council, police ,landlord.Without result,still it takes.It is private tenat.What can I do more? who can help me?
kris
- 9-Sep-18 @ 4:18 AM
I live in a first floor flat and a couple moved in the ground floor flat a few months ago. First, it started off with police banging on their door ever since they moved in and eventually they arrested the woman of the couple (looking for her) and this was causing me to have panic/anxiety attacks and insomnia - the incident stopped me from sleeping for weeks on end because I knew the police would be back again banging and looking for them. It makes me feel like a criminal even though I've done nothing wrong! I found the incident very intimidating. The guy that lives there constantly slams the front door and his patio door which shakes my entire flat every time he does it! Then on top of that he constantly bangs every door inside the flat which sometimes wakes me up as again it shakes my flat. He constantly blasts music to the point I can't hear a programme I am trying to watch - I have to sit and wait stressed out until he stops so I can continue what I want to do in my own flat! The music also interferes with my studies as I am completing a Master's Degree at the moment and I can't concentrate due to the stress and lack of sleep! He has another woman staying there who I know he has not checked with the housing association and they're constantly shouting at each other or arguing. Quite frankly they are just annoying. I can also hear everything they do, it's as if they are in my flat! I can hear them walking around because they still have no carpets so everything they do has an echo! I can hear them going to the bathroom - just everything, it's revolting. To top it off I have seen them buying drugs on their own doorstep and have more than just me as a witness. It will be past 11 at night and it sounds like they're constantly moving furniture around? It's weird. I have reported everything to the housing association and they haven't done a single thing!! What else can I do?? Is it an incident I can report to the police or the council? And is it going to go that far that it will have to go to court because I see no other options?! Stressed out to the max!
Rhi
- 8-Sep-18 @ 12:28 PM
Builders have been in Tuesday to Saturday. The leaseholder above didn't tell me there was going to loud drilling scraping and banging. I have high frequency hearing loss and now I have earache. Builders also said they would be finished by Friday.
Vicky
- 1-Sep-18 @ 9:04 AM
I've just moved into a property (5 weeks ago) and since the day we've moved in our next door neighbour (terrace houses) has been playing loud music which literally thumps through the walls, I don't mind so much at weekends but both me and my partner work full time and the must is still pumping at 21:30! What can I do? I want to be a good and friendly neighbour but frankly it's 5 weeks to long. I've knocked three or four times now and he simply doesn't answer. What do I do?
Ally
- 28-Aug-18 @ 9:08 PM