Letter Template: Neighbour's Dog Fouling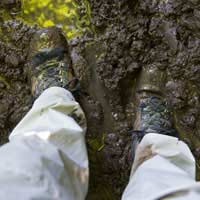 t is a common complaint that a neighbour's dog poos outside your door/gate or in a shared passageway. Not only is this disgusting, unhygienic and smelly, but it means you have to take extra care to avoid it and it creates extra work for you having to clean it up if your neighbour doesn't.
If you are suffering with this problem, what can you do?
As an initial way to tackle the problem, try to have a quick chat with your neighbour. Often dog owners are unaware that their dog is doing this, or are unaware of the problem caused by it. If you've been unable to make contact in this, drop them a formal note before taking more serious action in the form of a formal letter. Our examples below should help:
Informal Note to Neighbour About Dog Fouling
Dear [name]
Just a quick note regarding dog poo [location - e.g. in the shared passageway / outside my gate]. It is both unhygienic and smells.
If it is your dog creating this mess, please can you try to discourage it from pooing in this area and clean up after the dog if it does? If it is not your dog, [I/we] will do some further investigating to find the owner.
Thanks for your help.
Best wishes,
[Name]
[Your house number]
Formal Letter to Neighbour About Dog Fouling
[Your Address]
[Neighbour's name]
[Address / 'Delivered by hand']
[Date]
Dear [Neighbour's name]/[If unknown, just address as 'Dear Neighbour'],
Re: Dog fouling
I live at [address], next door. I am writing in relation to problems caused by where your dog goes to the toilet. The specific dog causing this problem seems to be a [colour and breed of dog].
The dog poos regularly outside my gate / door / in my garden. You may have previously been unaware of this problem. However it affects my enjoyment of my property, is unhygienic and smells.
If this issue is not resolved, the Environmental Health Department may take action. A dog being allowed to poo in a public place (such as the street outside my property) is also a criminal offence that can attract an on the spot fine in many councils.
I am keen to resolve this amicably; we are after all neighbours! I would therefore be grateful if you could prevent your dog from pooing [outside my gate / door / in my garden] going forwards and clean the mess up if you find that it has gone to the toilet in that area.
Thank you in advance for your cooperation.
Kind regards,
[Your signature]
[Your name]
You might also like...