Problems With Neighbouring Trees: Action Guide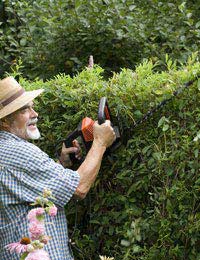 If your property shares a boundary with a neighbour's property, there are a few aspects of the law (and good neighbourliness) that you need to bear in mind when growing trees/hedges. This guide covers what you need to know and also what you can do if you are having problems with your neighbour's trees.
Cutting back trees
You have a common law right to cut back tree branches that overhang onto your property. It is however always best to discuss with your neighbour about any trees / hedges you wish to cut back before doing so.
The law states that any branches cut off belong to the person on whose land the tree originally grew, so you should ask your neighbour if they want them back, or if they are happy for you to dispose of them.
Do not just throw trimmings back over the boundary - this could constitute 'fly tipping'. Ask your neighbour whether they would like any trimmings back.
Equally any fruit on trees, even if they are growing on branches which overhang your property, still belongs to your neighbour. You are therefore stealing if you pick these for yourself without your neighbours' permission.
Neighbour cut my trees right back
My neighbour recently contacted me to say she was going to get the overhanging branches from the large tree in my garden removed and that some branches may end up in my garden. I said I didn't have a problem with her removing any overhanging branches.
I got up this morning to find that my trees had been basically chopped down. The overhanging branches were indeed removed but right down to the tree trunk! I now have a line of bare tree on my side. I understand that they have a right to cut back to the boundary line but these trees are not on the boundary line - do I have any rights regarding this situation?
If you are pruning a neighbours' tree, be careful that you do not damage the tree further back than your boundary.
If you damage the tree on their side, they may claim against you for the replacement cost of the tree.
Be careful to check if any trees are subject to a preservation order - your local authority will be able to tell you this. If you cut down a tree with a preservation order, you will be guilty of an offence under section 210 or 211 of the Town and Country Planning Act 1990.
Can we invoice neighbour for tree cutting?
There is a 20 metre long fence between us and our neighbour with a wall of fir trees growing on the neighbour's side of the fence. We hired a gardener to trim the fir tree branches back to the border of the fence. Can we send the Invoice received from the gardener to the neighbour?
If you choose to cut down overhanging branches, or trim trees, you will have to pay for the cost of doing so yourself. Try speaking to your neighbour however as you may be able to reach some sort of agreement in relation to any gardening work required, though they are not obliged to contribute to this cost. Note that you are not entitled to access to your neighbour's property to enable you trim the branches on your side of the boundary without their permission.
Ownership of trees
Sometimes you may be unsure who owns the trees causing you concerns or the trees may be part of a shared boundary and you are unsure who is responsible for their maintenance:
Trees that do not belong to anyone?
We have several very large trees surrounding our garden who we have been told do not belong to any one we want them cut down just a small amount who can we get to do this. We have phoned the council but they've not been much help.
Trees that form part of a boundary
The boundary line between our house and our neighbour's is clear and undisputed. It presently consists of a wire fence. However, there are some very tall cedar trees planted many years ago on our neighbour's side of the boundary, but close to it.
These trees are essentially on our neighbour's land so we do not feel we have a responsibility to maintain them. Our neighbour, however, feels they are our responsibility as they form part of the "hedge" line to the left our property when viewed from the front. Who is right?
A tree belongs to whoever owns the property upon which the tree trunk originally grows, even if the branches or roots have begun to spread onto another property. The owner has a duty to maintain this tree so that it does not cause a hazard. Therefore if branches are broken and hanging precariously, the owner should remove these.
If a tree is planted on the border line between properties, you should check your Property Title Documents to see if these give ownership to one property. If not, you both share the duty to maintain the trees, and these should not be cut down without prior consent from both owners. To check your title deeds visit the land registry website or call them on 0844 892 1111.
There is no such thing as 'no man's land'. All land and therefore all trees are owned by somebody.
If you can't decide by looking at the original Property Deeds who owns a tree, a court will be able to decide for you. However this is an expensive resolution and so it may be better to simply agree ownership between you and your neighbour.
Damage caused by overhanging trees
Council owned trees damaging my property
Adjacent to my house is some green belt land owned by local council. On this land there are some large trees, 3 of which run adjacent to my property. Last year the council agreed to prune back the lower branches of the trees but only up to 20 ft in height. As a result, the branches at the higher level have continued to grow and some of the branches now virtually touch my property.
There are a large number of leaves coming off these trees and causing blockage to guttering etc. I am also concerned about the potential damage if one of these trees fell in the high winds. What legal position do I have?
You cannot force your neighbour to remove overhanging branches or fallen leaves on your property. However if these cause excessive damage, you can sue them for the cost of repair. It is however always better to try to amicably resolve any disputes with your neighbours before resorting to the courts, which is often a long and potentially expensive process - remember you still have to live next to this person, so an amicable solution will often lead to a more comfortable living environment.
If any damage was caused by a tree from your neighbours' property but this was due to 'an Act of God', such as a thunderstorm, any damage was not foreseeable. Your neighbour will not therefore be responsible for this. If any damage caused to your property is severe, you may wish to contact your Buildings Insurance company about this.
Falling leaves, fruit, flowers, and pollen are annoying, but you cannot legally ask your neighbour to prevent this or remove any fallen debris.
Liability to remove any fallen leaves etc lies with the owner of the Property affected (or the Tenants if they have maintenance obligations which include gardening).
Whilst falling leaves etc are annoying, they are not legally a 'nuisance', which has a very specific meaning.
Right to Light
Neighbouring trees blocking our light
A property we are thinking of purchasing has quite a few trees in the back garden which completely block any sunlight. Some could possibly have preservation orders on them. Is there any way we can have these thinned or removed. Does our right to sunlight override that of a preservation order?
The Rights of Light Act 1959 states that if a Property has received daylight for the last 20 years (the minimum prescribed period), they may be entitled to continue to receive that light. This means that if your neighbour builds a large fence or there are large trees which restrict the daylight your Property receives (for example by blocking daylight reaching a window), you may be able to apply to the courts for your daylight to be restored, or for any injunction to prevent a proposed fence being built.
If trees have a Preservation Order, this suggests that the Property does not have a Right to Light, as it will not have had a continuous period of daylight for at least 20 years. Usually the only way you can prune a tree with a Preservation Order is if it has become dangerous.
There is no right to direct sunlight, only daylight.
Even if you have a right to light, the amount of light is restricted to approximately equivalent to one foot of candlelight.
You do not have any right to a view which is obscured by trees. Equally you have no right to not have a view if trees previously covered an undesirable feature such as a brick wall.
Dangerous Trees
If you are concerned that a tree is diseased or damaged and poses a danger due to having fallen, or being at risk of falling, you should contact the owner of the land on which the tree is growing. If the land belongs to the local council, contact them to request that the tree is cut down or pruned.
If you are unable to contact the land owner or they refuse to take action, contact your local council's Environmental Health Office. The owner is not under any legal duty to take action, but will be liable if a tree they knew to be damaged caused damage to Property or injury to a person.
As prevention is often better than waiting for damage or injury to occur however, the Environmental Health Office may be able to invoke the Local Government (Miscellaneous Provisions) Act 1976 if the tree poses an immediate risk to Property or people. This allows them to serve notice on the land owner to make the tree safe. If they fail to do so, the Environmental Health Office may undertake this work themselves. The land owner would then usually be charged for any gardening required.
More of interest
Sometimes you might need to access a neighbour's property to do essential maintenance on your own...what's allowed and what's not? Read
Your rights to access neighbouring land
.
You might also like...
My neighbour has built on my land and the local council keeps fining them but they keep paying the fines and that's where it ends.They have 2 banana trees that are seriously pushing the new fence and onto my land (we paid for the fence to stop them from intruding any further and for privacy) and the council is not able to address this issue.The trees are even uprooting the fence and my path.I have tried to speak to the neighbours and even tried mediation.Other neighbours have stated my neighbours hate me and will refuse to comply with any of my concerns.I just want my land and fence fixed up.They have built a building added their house and extends to my land without council permission.
Karen
- 19-Apr-21 @ 4:35 AM
My neighbour has approximately 5 Leylanditrees inside his boundary, across the back of my house. They have grown as tall as my house and I dont get any sun on my patio. The roots have also lifted a lot of the slabs on the patio.I wrote to him and explained the damage the trees were doing and he removed some of the lower branches to allow a little more light in. I said I would stand the cost of replacing the damaged fence if he would remove the trees or at least reduce the height to 6ft. This was last year and he has done nothing.I replaced the fence anyway, to prevent my dogs escaping and asked my builder to remove all overhanging branches. Had an argument with one of his family members over who should get rid of the branches. I've ended up standing the cost of the fence (which should have been shared) and now have to pay for a skip to get rid of all the branches and old fencing.We are still no further forward in getting the trees down. Any advice as to what my next step should be. I even offered to pay for my builder to take them down if he would pay for the removal.
Smokie
- 18-Apr-21 @ 1:20 AM
The tree of a neighbour casts shade over the back of my garden meaning that by 5pm the whole garden is in shade and we can't enjoy sitting outside for long in the evening. Wondering what the protocol is in sorting this?
Leenibum
- 17-Apr-21 @ 5:29 PM
Please take this down. Can't believe someone would post something like this on the internet.
Doofenblargen
- 5-Apr-21 @ 6:14 PM
My neighbor has a field that my house borders. I have lived here 22 years. Today he planted 38 conifers/ White Pines 2 feet apart 3 feet from the property line across my entire backyard. He added a Tulip Poplar directly behind my inground pool. Once these trees mature, they will totally block the sun from my pool along with the roots will ruin the pool, commercial/industrial plant farm, flower gardens, etc.The pine needles and Poplar will ruin the pool and add a higher need for maintenance. The needles with acidify the grounds at the farm and block sunlight. He did not do this to any other of the 8 homeowners that border his 5-acre field. I am at the end of the field furthest from his actual residence.He did this as an act of revenge due to the fact that he was asked by the authorities to cease burning toxic materials directly behind my house which affected the entire neighborhood. I must mention that his toxic burns killed my livestock and sent my children to the hospital, etc. Does thenuisance law, harrassment, personal injury and, the Rights of Light Act 1959 all apply here?
ceebee
- 4-Apr-21 @ 2:30 PM
My neighbourhas a hugetree we believe is a protected oak.Its huge branches overhang our shed and when the wind blows they sway so much it's frightening to go down the garden really concerned for my grandchildren my dog and ourselves what can we do.
Sally
- 3-Apr-21 @ 9:19 PM
Did anyone reply to "creed" on the 01st December '20 as I have the same problem!
Anomouse
- 2-Apr-21 @ 7:59 AM
The property standing in a field behind our house as recently changed ha The owner is obsessed with privacy although his house is 500 yards away, he has planted Laurels right up to my 4ft fence and these are growing and blocking my view, is this allowed, should there be a gap between my fence and the Laurels.
Browny
- 1-Apr-21 @ 6:31 PM
Could I have some advice? I have a mature, healthy magnolia tree in my garden. It's trunk is 73cm circumference. It's trunk is 37cm from the boundary wall with my neighbours, and then 50cm between the edge of their side of the wall. My neighbours want to build a 1 storey extension extending at the back of the house. This extension size would fit with permitted development size. But they want to build right up to the boundary line which would mean foundation digging within 1m of the tree. I love this tree and would like to do what I can for it not to be killed? Do I have any right to prevent foundation being dug that would kill my tree or are they free to do what they like on their land? There is no tree preservation order on it, nor am I convinced that it would qualify for one. Many thanks, Sarah
Sarah
- 1-Apr-21 @ 7:09 AM
My garage sticks into 2 other peoples gardens. They both have leylandii trees overhanging the pitched garage roof. The garage is not attached to my house. One of the trees has grown so big it has damaged the guttering that goes all round the double garage. I requested that he cut down the tree that was causing the damage but he decided to get a chain saw so he could cut a V shape round my gutter. However he cut my gutter but not the tree. He says he doesn't have to cut down the tree as it isn't over my residence but just a garage. How do I stand in this situation please.
Mary
- 28-Mar-21 @ 7:22 PM
I have a large palm like tree in my front garden there's no branches just three large trunks one of which leans over my neighbours side. The leaves fall and he wants to cut the whole trunk that leans over can he do this please
None
- 28-Mar-21 @ 10:50 AM
Hi, I have an allotment which borders onto a private Garden. There are several trees which have grown out of control. One of the large branches fell off in a storm crushing my shed roof. There are several more tress which have become unsteady and are tipping into my allotment. The private residence seems to think I am responsible for clearing branches and cutting back damaged trees . He does not want the waste returned. What are my rights
greenfingers
- 22-Mar-21 @ 3:25 PM
Hi, My poplar tree fell in strong winds , mostly in my neighbours garden , luckily causing little damage ! Who is liable for the cost of removing the tree ? I
marydee
- 22-Mar-21 @ 7:56 AM
My neighbour has a large Black Ash tree 2 meters from my boundary, which has grown very large over the last 30 years I have lived here. It overhangs my garden and drops Ash seeds, branches and mess all over my garden and paths. I have to sweep all the seeds of my paths daily and what fall on the garden some take root and are very hard to dig up they have a very long tap root and strong. I am 81 years now have Osteoporosis, have told my neighbour butthey aren't interested. A lot of trees in my area have TPO on them, I have researched this and the tree in my neighbours garden does not fall under one. Can I put my sweepings in a carrier bag and present them to her it is now the 22nd March and the tree still has seeds on from last Autumn.
Georgie
- 22-Mar-21 @ 1:24 AM
Our neighbour has a large oak tree in the front garden that has grown out of control informed for more than thr e years, our house is now getting cracks, he is un Approachable what can we do?
Tizzy
- 18-Mar-21 @ 3:34 PM
a tree surgeon employed by the neighbours felled 3 large trees on my mothers land, he asked permission and she gave permission to prune as before, the neighbours have confirmed their agreement with her was pruning and the surgeon told them he thought she consented to fell if they wanted that, so they paid to fell. they did not check if this was true even though they have stated it was a suprise when he told them. he has not said she definatly said yes just seemed ok if they were felled did. his whole conversation ws about it being a shame they wernt under a TPO ( as he admits ) and then he escallates for more permission with the "problem" not being fixed. my mother was adamant the trees importance and he states her concern was danger not making the neighbours happy. has the tree surgeon been negligent in not confirming in writing his intention and permissions to work on the trees. he is now claiming she has to proove she told him not to and hes sorry if he didnt do what she though he would with the permission she gave.
a.pottery
- 17-Mar-21 @ 7:15 PM
I have bought a plot of land with permission to build a bungalow. We brought in a tree surgeon to prune back overhanging limbs of the tree next door.. This was done with consultation and approval of my neighbour. The tree is a large Eucalyptus and three large branches that overhang by about four metres. Once two branches were removed, the arborist felt that the last one would destabilise the remaining tree with a risk of it falling on my neighbours house. The work has stopped for now and my neighbour was consulted. However he refused to balance the tree on his side. I need to removed the last limb because it will hinder the scaffolding going up next week. I also want to consider my neighbours needs. What is my legal position? If the tree falls will I be held liable?
Ollie
- 5-Mar-21 @ 11:52 AM
These stories are very interesting but it would have been much more interesting if there had been any suggestions as to what these people could do!It seems to me —— and I am one of those who suffer from a selfish neighbour who planted a silver birch hard up against my fence and totally refuses to listen to any suggestions!——-that it would have been MUCH more interesting to hear some helpful suggestions to solve these problems!
Grieve
- 2-Mar-21 @ 1:30 PM
Hay. My neighbor have a tree almost on the border between us and the tree is breaking the panel between us and the roots ruines my plants in my garden. He refusing to take off the tree or do anything.
Shells
- 28-Feb-21 @ 5:28 PM
I recently moved into a 1930s house that has a hedge border with a neighbour. On my side of the hedge are the roots and 3 foot of trunk of a tree that has grown at 70 degrees angle through the hedge and into my neighbour's garden. He treats the tree as his own as the bulk of its upper trunk and foliage have grown upright on his side of the hedge. We wish to build a path alongside the hedge but the roots and trunk of this tree stop us from doing so. Can I legally cut down this tree?
ChrissyA
- 28-Feb-21 @ 2:44 PM
Hi my neighbors has a Walnut tree that is at least 6 stories tall. The branches hang over our drive and drop walnuts. This is causing dents in out vehicles. Any suggestions?
Dawnie
- 20-Feb-21 @ 3:18 AM
Hi My neighbour has a hedge in their garden running 3/4 the length of the back of our cottage.It has grown thick and is compacted against my house causing damp in my house.Where do we stand legally getting them to remove it from touching our wall Thanks
Gavin277
- 13-Feb-21 @ 8:31 AM
Hello I was wondering what should I do with a tree that's grown in between mine and my neighbors property line . This tree is causing damage to my property it's created too huge long cracks throughout my driveway it's branches have grown so long it over one of my house power lines it's overtowered my house and when it rains often with a bad storm it's damaging my roof tiles. Plus sentence between both of our driveways I can't build a fence to separate our properties and they constantly block my driveway making it hard for me and my family to come home too what are my rights what can I do about the tree?
Rose
- 11-Feb-21 @ 6:51 PM
We have large evergreen trees on our boundary. We have been there 6 years. In our first year and again last year we have topped approx. 4 meters off the top of the trees to avoid them blocking light for neighbours without being asked to do this. Our neighbours house is owned by a housing association. It turns out the branches on the other side (that we cant access) have been growing and increasing the overhang over the boundary for numerous years (significantly proceeding our arrival). I can see they were entitled to prune back periodically but they have not. They have now demanded we cut back the overhanging branches from their side of the boundary. I have offered to do what I can with a chainsaw but this would involve a professional trees surgeon. I am trying to understand who would be responsible for the costs of this? My understanding is they could and should have maintained this themselves to abate the nuisance reaching this extent?
TomJ
- 8-Feb-21 @ 11:05 AM
My neighbour whose garden backs on to the side of our garden has a large Leylandii tree in the corner that borders our fence.Its about 30 years old and extremely tall.We contacted said neighbour by a polite letter (due to trying to keep distance under current covid regs), to ascertain if he was willing to do anything about it. Unfortunately, after we had made some enquiries and received quotes of which we gave him a copy and prompted that we were looking to trim back overhanging branches from our side, his opinion was that he'd had assurance that the tree was of no danger and he was happy for us to trim any branches from our side as we saw fit. The cost for us to do this was £180.00 which was fine with us as we at least could carry out some work. Once the tree was trimmed back, it became apparent that the four remaining large trunks looked anything but stable, as there is a large gap in the middle with the trunks spaying and leaning outwards. I've taken various pictures of the tree in its current state and previously before the work was carried out just in case of any repercussions. This neighbour seems pleasant enough but I feel that the cost of removing the whole tree is possibly a step too far as it is expensive. Our side looks much better but I'm still concerned that at some point during a spate of bad weather that it will fail and cause a lot of damage to either his property or ours. There doesn't seem to be a lot else we can do at this point.I wondered if anyone else has had a similar problem?
Ginge
- 1-Feb-21 @ 2:18 PM
the pub our house backstoohas 2 very large trees covered in vines and ivy . we have been told by the guy that actually cut back a low hanging branch for us that was hanging in our garden , that the tree was rotting from the inside. we have asked and sent letters to the landlord but it no avail this has been going on over 6yrs now .what more can we do please !
cath
- 8-Dec-20 @ 4:31 AM
my neighbours trees are taller than the house i now do not get much sun in the garden witch is damaging the lawn and can no longer dry clothes i have asked them to reduce the height but they have refused
ceed
- 1-Dec-20 @ 5:51 PM
Leaf gate now you know how your neighbour feels about having your leaves in his garden.pAT
MikeH
- 16-Nov-20 @ 6:29 PM
Hiya in short my neighbour gathers all the leaves that drop into his garden and dump them over the fence. He's even bought a leaf blower to blow the actual tree to make them drop off into my garden haha! It didn't bother me until I spent all morning cleaning the leaves up and all down the side of my house he'd created one huge pile that buried some gym equipment out there and other things. So I cleaned it up and it was spotless to find 3 hours later he's gone and dumped a new pile of leaves in the same spot. Where do I stand in this I don't want to fall out, I may offer to put my bin there.
Leafgate
- 10-Nov-20 @ 11:05 PM
Hello. I own a house that is rented out and managed by a letting agent. It seems like the owner of a neighbouring property has had a tree in "my" garden pruned quite heavily which I know he is entitled to do.I did not know anything about it until the tenant contacted the agent.It seems that the tree surgeon who carried out the work has just left all of the debris in "my" garden. He was allegedly paid £900 to prune (which I think should have covered complete removal which I still would not have minded) but is stating that he left the branches because if he took them it would be theft.My understanding these days is that they should offer them to the owner and if they don't want them (which I don't) they should remove them.He has left quite a mess and seems unwilling to return to finish the job. He has been paid quite a hefty sum and it somehow doesn't seem right that I now have to pay to have my tenant's garden cleared. Any advice? Many thanks.