Problems With Neighbouring Trees: Action Guide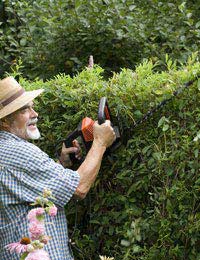 If your property shares a boundary with a neighbour's property, there are a few aspects of the law (and good neighbourliness) that you need to bear in mind when growing trees/hedges. This guide covers what you need to know and also what you can do if you are having problems with your neighbour's trees.
Cutting back trees
You have a common law right to cut back tree branches that overhang onto your property. It is however always best to discuss with your neighbour about any trees / hedges you wish to cut back before doing so.
The law states that any branches cut off belong to the person on whose land the tree originally grew, so you should ask your neighbour if they want them back, or if they are happy for you to dispose of them.
Do not just throw trimmings back over the boundary - this could constitute 'fly tipping'. Ask your neighbour whether they would like any trimmings back.
Equally any fruit on trees, even if they are growing on branches which overhang your property, still belongs to your neighbour. You are therefore stealing if you pick these for yourself without your neighbours' permission.
Neighbour cut my trees right back
My neighbour recently contacted me to say she was going to get the overhanging branches from the large tree in my garden removed and that some branches may end up in my garden. I said I didn't have a problem with her removing any overhanging branches.
I got up this morning to find that my trees had been basically chopped down. The overhanging branches were indeed removed but right down to the tree trunk! I now have a line of bare tree on my side. I understand that they have a right to cut back to the boundary line but these trees are not on the boundary line - do I have any rights regarding this situation?
If you are pruning a neighbours' tree, be careful that you do not damage the tree further back than your boundary.
If you damage the tree on their side, they may claim against you for the replacement cost of the tree.
Be careful to check if any trees are subject to a preservation order - your local authority will be able to tell you this. If you cut down a tree with a preservation order, you will be guilty of an offence under section 210 or 211 of the Town and Country Planning Act 1990.
Can we invoice neighbour for tree cutting?
There is a 20 metre long fence between us and our neighbour with a wall of fir trees growing on the neighbour's side of the fence. We hired a gardener to trim the fir tree branches back to the border of the fence. Can we send the Invoice received from the gardener to the neighbour?
If you choose to cut down overhanging branches, or trim trees, you will have to pay for the cost of doing so yourself. Try speaking to your neighbour however as you may be able to reach some sort of agreement in relation to any gardening work required, though they are not obliged to contribute to this cost. Note that you are not entitled to access to your neighbour's property to enable you trim the branches on your side of the boundary without their permission.
Ownership of trees
Sometimes you may be unsure who owns the trees causing you concerns or the trees may be part of a shared boundary and you are unsure who is responsible for their maintenance:
Trees that do not belong to anyone?
We have several very large trees surrounding our garden who we have been told do not belong to any one we want them cut down just a small amount who can we get to do this. We have phoned the council but they've not been much help.
Trees that form part of a boundary
The boundary line between our house and our neighbour's is clear and undisputed. It presently consists of a wire fence. However, there are some very tall cedar trees planted many years ago on our neighbour's side of the boundary, but close to it.
These trees are essentially on our neighbour's land so we do not feel we have a responsibility to maintain them. Our neighbour, however, feels they are our responsibility as they form part of the "hedge" line to the left our property when viewed from the front. Who is right?
A tree belongs to whoever owns the property upon which the tree trunk originally grows, even if the branches or roots have begun to spread onto another property. The owner has a duty to maintain this tree so that it does not cause a hazard. Therefore if branches are broken and hanging precariously, the owner should remove these.
If a tree is planted on the border line between properties, you should check your Property Title Documents to see if these give ownership to one property. If not, you both share the duty to maintain the trees, and these should not be cut down without prior consent from both owners. To check your title deeds visit the land registry website or call them on 0844 892 1111.
There is no such thing as 'no man's land'. All land and therefore all trees are owned by somebody.
If you can't decide by looking at the original Property Deeds who owns a tree, a court will be able to decide for you. However this is an expensive resolution and so it may be better to simply agree ownership between you and your neighbour.
Damage caused by overhanging trees
Council owned trees damaging my property
Adjacent to my house is some green belt land owned by local council. On this land there are some large trees, 3 of which run adjacent to my property. Last year the council agreed to prune back the lower branches of the trees but only up to 20 ft in height. As a result, the branches at the higher level have continued to grow and some of the branches now virtually touch my property.
There are a large number of leaves coming off these trees and causing blockage to guttering etc. I am also concerned about the potential damage if one of these trees fell in the high winds. What legal position do I have?
You cannot force your neighbour to remove overhanging branches or fallen leaves on your property. However if these cause excessive damage, you can sue them for the cost of repair. It is however always better to try to amicably resolve any disputes with your neighbours before resorting to the courts, which is often a long and potentially expensive process - remember you still have to live next to this person, so an amicable solution will often lead to a more comfortable living environment.
If any damage was caused by a tree from your neighbours' property but this was due to 'an Act of God', such as a thunderstorm, any damage was not foreseeable. Your neighbour will not therefore be responsible for this. If any damage caused to your property is severe, you may wish to contact your Buildings Insurance company about this.
Falling leaves, fruit, flowers, and pollen are annoying, but you cannot legally ask your neighbour to prevent this or remove any fallen debris.
Liability to remove any fallen leaves etc lies with the owner of the Property affected (or the Tenants if they have maintenance obligations which include gardening).
Whilst falling leaves etc are annoying, they are not legally a 'nuisance', which has a very specific meaning.
Right to Light
Neighbouring trees blocking our light
A property we are thinking of purchasing has quite a few trees in the back garden which completely block any sunlight. Some could possibly have preservation orders on them. Is there any way we can have these thinned or removed. Does our right to sunlight override that of a preservation order?
The Rights of Light Act 1959 states that if a Property has received daylight for the last 20 years (the minimum prescribed period), they may be entitled to continue to receive that light. This means that if your neighbour builds a large fence or there are large trees which restrict the daylight your Property receives (for example by blocking daylight reaching a window), you may be able to apply to the courts for your daylight to be restored, or for any injunction to prevent a proposed fence being built.
If trees have a Preservation Order, this suggests that the Property does not have a Right to Light, as it will not have had a continuous period of daylight for at least 20 years. Usually the only way you can prune a tree with a Preservation Order is if it has become dangerous.
There is no right to direct sunlight, only daylight.
Even if you have a right to light, the amount of light is restricted to approximately equivalent to one foot of candlelight.
You do not have any right to a view which is obscured by trees. Equally you have no right to not have a view if trees previously covered an undesirable feature such as a brick wall.
Dangerous Trees
If you are concerned that a tree is diseased or damaged and poses a danger due to having fallen, or being at risk of falling, you should contact the owner of the land on which the tree is growing. If the land belongs to the local council, contact them to request that the tree is cut down or pruned.
If you are unable to contact the land owner or they refuse to take action, contact your local council's Environmental Health Office. The owner is not under any legal duty to take action, but will be liable if a tree they knew to be damaged caused damage to Property or injury to a person.
As prevention is often better than waiting for damage or injury to occur however, the Environmental Health Office may be able to invoke the Local Government (Miscellaneous Provisions) Act 1976 if the tree poses an immediate risk to Property or people. This allows them to serve notice on the land owner to make the tree safe. If they fail to do so, the Environmental Health Office may undertake this work themselves. The land owner would then usually be charged for any gardening required.
More of interest
Sometimes you might need to access a neighbour's property to do essential maintenance on your own...what's allowed and what's not? Read
Your rights to access neighbouring land
.
PROBLEM NEIGHBOURS IS FOR SALE.
This website is for sale [more info].
You might also like...
I have a pl tree, but never get to try to taste them, because of Romanians kids teenagers coming to brake the tree, jums on it, breaking. Under tree we got 2 cars one our another neighbours. I try to talk to them 10 times, and the last time they say fuc... f for me. What rights i have to deal with it? Please help me, because I'm so stressed all the time to dealing with these people?
Gitana
- 26-Jul-21 @ 10:37 PM
I have a complaint from my neighbour where they say that the tree that has Berries in it and bats are making a mess in there driveway . We just spent $700 cutting the tree back last year and now they want the tree gone, the tree has been there for a number of years but they have decided to park their boat underneath.Any chance them payinghalf the cost of the removal,where do we stand?
Loz
- 25-Jul-21 @ 2:12 AM
My parents have got a row of conifers on their land which makes their border Their neighbour has decided they want a new drive and are demanding they cut them down My parents don't want to get rid of them as it stops them looking into their home They haven't a problem with them giving them a trim Nor have they an issue with them cutting the drinks if they run across their land Surely the neighbour can't make my parents take them down
Curly
- 24-Jul-21 @ 7:28 PM
We have a huge willow tree that grows over and into our garden across the boundary line. The debris from the tree is significant and a complete pain! The tree grows so fast and is now 2-3m into our garden. Is it the law that I have to pay to have the tree cut back? Seems completely unfair to me? Any advice would be great.
Sophia
- 24-Jul-21 @ 11:51 AM
Hi. I live in a ground floor flat, that I own. The rest of the block are council. Can the branches from two large trees be cut. As they keep my garden in the shad. Also, pigeons use it to have target practice on our washing. Thanks.
Trev
- 22-Jul-21 @ 4:28 PM
My neighbour has asked me to cut our boundaries trees down so she can have a sea view which belong t us and we're planted in2003 before she moved in which we haven't done for our own privacy the deeds do say no trees shrubs over 5 ft which they r while my husband is in hosp and I'm at a friends being looked after I am reg blind she has cut them down is this legal please
Sue
- 20-Jul-21 @ 3:04 PM
There is a brook at the bottom of my garden and the house on opposite side of the brook has this massive weeping willow tree which is on his property but it is leaning way over my side . It is hollow and getting higher with trunk getting nearer my fence plus all the debris that comes of the tree lands in my garden . I am concerned that if it keeps growing at this rate that it could end up with bad weather and so forth that it could be very unsafe . I am a 75yr old woman I am disabled and suffer badly from asthma type hay fever and bad on my feet and have arthritis every where and waiting for a procedure in hospital . I have been to see the man but is adamant he is not going to do anything .He is an arrogant person .I have rang the council had letter sent to him from a solicitor some years ago also from citizens advice but to no avail. The tree is not listed as I had the Environmental people to see the tree.. is there anyone who can help me please I am desperate .Thank youSIT
Suzzy
- 17-Jul-21 @ 6:24 PM
Our neighbor has a pine tree that has straws and bulds constantly falling.Which causes a nuisance and a mess of our driveway and cars. We are desperate for a lawful answer on how we should go about getting it solved. We are an elderly couple in our eighties.As soon as it is cleaned, within a few minutes it look as though you have never cleaned it.
Boots
- 16-Jul-21 @ 10:29 PM
My neighbours tree trunks Have smashed my fencing and Are now growingon my property I have had new fencing put up but have had to bring them in 20 inches I had planned on putting hedging behind this to Mark my Boundry but my neighbour has now kicked all his fencing into my fencing so it cannot be removed where do I stand can I cut the trunk that is on my property
Chez
- 15-Jul-21 @ 5:29 AM
A neighbour has informed me that squirrels are damaging her property and gaining access to do this via my ash tree. She wants us to chop it down. Do I have to do this? Need to check if there is a TPO.
Treehugger
- 5-Jul-21 @ 6:58 PM
My neighbour agreed to keep his trees fence height (8ft) He has a mixture of Ash, birch, bramble budlia and more Ash. They are now the size of his house. The back garden is even worse. All along the border line are trees twice the size of his house. This is stopping sunlight getting through. The brambles are now forming a hedge and are approximately 6 to 7ft tall.It is unsightly, depressing me and worried that tree branches will damage my greenhouse and shed roof. He is totally un-neighboughly and couldn't give two hoots to anyone.
I wonder if anyone could advise? I have a 10 foot wall attached to my house, part of this wall is used to hold the land up of my neighbours garden as their land is higher than mine. They have, at some stage planted a vine which has grown through the wall and caused considerable damage to the wall, The vine has also attached itself the a nearby tree and has forced it through my fence. This has damaged the fence and its now just all overhanging damaged over my side of the wall. I have advised the landlord that owns the house but he hasn't done anything about it. Is the next course of action a building surveyor to assess the damage?
Merida
- 21-Jun-21 @ 5:13 PM
I'v been living in this property over 5 years.The branches of my neighbours pine trees along the fence covering more thanhalf of our garden.This completely blocking the access to these areas of our garden.I'v showed it to my neighbour and ask to cut them down as they are really big branches.He asked his landlord to cut them down but they didn't.This year asked the neighbour again.Told him otherwise I had to cut them and throw the branches to their garden.He said that it will be fine but he will try once more to convince his landlord.Neighbour then told me cut them down and put them on my front garden that tge landlord will arrange to remove it straightaway.They only removed about aquarter of the branches after 3 days and I'v to ask my neighbour few times again to remove them and otherwiseIhad I had to put them on their back garden. Finally they said they will do it the following morning but they didn't. Following morning I had to moved them to back garden and over to the neighbours garden.I spoke to the neighbours couple of times while I was moving them.He didn't say or ask anything about what I'm doing and I thought he was fine with it as he ageed at the beginning. After I've moved all of them , he wasn't happy and wantedremove them back.I told him that I had waited long enough and he agreed I do this.Buy he wasn't happy and walked away asking me to remove them. After a while,Ispoke to him again and explained him that I didn't want toupset him. I explained it's his landlord responsibility to sort it out.Ask him to throw them back to our garden if he is not happy and if he things that was the right thing to do. He sounded more calmed but I don't know what's going to happen. What should I do?
Ibram
- 19-Jun-21 @ 1:18 PM
Sorry I've one that can beat most previous comments. My neighbour has a large Monterey pine which overlooks my garden. It's height was estimated at 22metres six years ago, but looking from a distance it is the same height as the nearby church spire, and casts a solid shadow across by garden until 5 o/c in the afternoon. We have branches going across the entire width of lower part of the garden. As well as roots that have pushed up slabs in my lawn and arbour. We have many branches fall down, one landing on my cherry tree plus the year round removal of the needles and pine cones. Finally they have built a shed which now cuts out the last of the sunlight at the bottom of the garden.
Wez
- 19-Jun-21 @ 12:45 PM
My nieghbour has a conifer a foot away from our boundary ,its 40ft plus high and the roots are protruding from my lawn causing damage to my lawn and lawn mower blades not to mention tripping hazards ,the roots have already felled a boundary wall belonging to my nieghbour but this supported our back wall which is now leaning and cracked ,the tree itself is around 20ft from our house and when we have stormy weather it gets worrying plus it blocks light from our house and sun from the garden ,can we do anything about it?.
Marcus
- 18-Jun-21 @ 7:59 PM
My neighbour has several trees (of varyious species) that run along the fence / boundary line. These are young trees but are over 6ft tall already and, while they have e been planted several metres from his house, they are less than a metre from mine. This narrow strip along the side of my property in where all the underground drainage / waste pipes are. What can I do to resolve this situation/ regards Patrick Johnston
Patrick Johnston
- 16-Jun-21 @ 6:00 AM
We live at the end terrace building, there is internal road, pavement and then block of flats. We don't take up any light from the neighbouring block of flats, however neighbour doesn't like the trees because he can't watch pigeons flying above my garden. He threatened to burn the trees and to cut them. Recently he cut branches that were o enhancing to a no-one's land (probably council) - was he on the right to do it? In order to cut them, he had to cross the street as we do not stay close- I would say around 8- 10 m between my trees and his fence.
GUNIA
- 15-Jun-21 @ 11:25 PM
A neighbour has 3 conifers of 40 ft which ate over hanging my property and several other properties. It is difficult to get anything to grow in that area plus they are always shedding what can i do ?
Debs
- 15-Jun-21 @ 8:02 PM
Hi, I was wondering if you could help. We have a council ownedAsh tree that is now growing out of control. Thereare overhanging branches in my garden and to make matters worse we canno longer go out into the garden or dry washing due to birds constantly defecating in the garden.We spoke to the council about this tree a few years ago and they were of the opinion that there wasn't an issue with the tree. Do you think the bird poo now poses a potential health risk and they might take action now? Thanks in advance.
Jennifer
- 15-Jun-21 @ 8:27 AM
My neighbour has trimmed down some branches on a tree on public land near my house but hasn't removed the debris. It's been left on the ground. Is he allowed to do this?
Neighbour has thrown a bag of branches from my tree which goes across to her backyard without talking to me. Is this fly tipping and how to report it?
Nam
- 12-Jun-21 @ 9:16 AM
Is it not time that the law was changed so that the person who owns overhanging bushes and trees has to take responsibility for them and bears the cost of trimming and pruning them. Why should you have to pay for the pruning and removal of branches that are coming from a neighbour who has no concerns for your welfare or financial situation. If there was a petition out there, I for one would be signing it to try to get the law changed.
Distressed
- 8-Jun-21 @ 9:55 AM
Can you tell me what is the law on how close a tree truck can to the fence My neighbour tree is rubbing in the fence post and on windy days the noise it makes is like your fingers going down a chalk board( Colorbond fence) besides that the mess this tree make is unbelievable the pine needles are everywhere in my clothes when I hang out my washing under my doors in between cracks in the concrete Please have you any advice for me
Not sure
- 7-Jun-21 @ 3:05 AM
My small tree has moved my neighbor's fence slightly... And uplifted 3 of her flag stones... Who is responsible for the cost of putting the stone flags back to their original position
George
- 31-May-21 @ 6:52 PM
My neighbour wants me to cut my overhanging tree down to a smaller height. At the moment her gardener can cut it back on their side, but as it grows higher the gardener cannot teach up to the taller overhanging branches to cut them down. I am not happy about this at all, so would appreciate a legal standpoint answer.
Tree lover
- 31-May-21 @ 2:13 PM
A property at the back of us has half a dozen conifers about 8-10 meters tall which seriously block the sun from our garden. We have discovered the property is now empty having previously been rented out and is up for sale. How can we contact the owners about getting trees cut if no one is living there?
Elaine
- 30-May-21 @ 11:27 AM
leaves blocking drain, over hanging leaves and fruits (berrys) have caused us to reline out drain pipes on our drive. the trees from the folk next door, constantly fall and cause a nuisance.. and a mess of our drive.. what is the law on this please..
parry
- 25-May-21 @ 9:16 PM
Hi there, Developers are starting to build in the field next to my house/garden. They instructed a tree surgeon to remove 3 trees on our boundary line. To do this they pushed down myfence with a digger and damaged a brick wall. You can clearly see the tree stumps on our land. What can I do about it. Thanks Chris
christopher goodwin
- 19-May-21 @ 10:25 AM
hello, we just bough a house with a large tree at the end of its garden which is less than a metre away from the fence, the former owner told me that the neighbour did not like the tree already and now I hear them digging the ground in their own garden (fair enough), my concern is the following, is he allowed to dig near the trunk and break one of its root that are on his soil ? the tree is quite tall and I'm worried that if made weaker it could fall and I would be liable for the damages/injures best regards
fabien
- 7-May-21 @ 12:55 PM
Overhanging conifer needs cutting back to boundary fencedo I have right to do this
Bullapt
- 3-May-21 @ 10:23 AM