Rules on Hedges & Roots Growing into your Property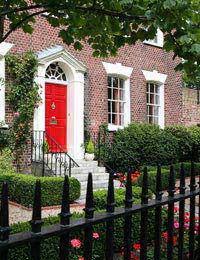 A hedge is often preferred to a fence when being used to separate the boundary between two adjoining properties. It can be more aesthetically pleasing and add character to a property, not to mention the fact that it provides both shelter and food to a vast number of wildlife species. So, that's the good news. What's the bad?
Hedges can sometimes cause disputes between neighbours when they become unkempt, when the roots start to spread, or if the hedge becomes too high and begins to affects the amount of sunlight reaching a neighbour's property. There are numerous legal rights, obligations and restrictions when it comes to hedges which are outlined below.
Your Rights
You do not usually need to obtain permission to plant a hedge in your garden if it is solely within your property's boundary. However, you do need to obtain permission from your next door neighbour if you're considering planting a hedge to separate the adjoining properties right on the boundary line. Provided there are no
Boundary Disputes
, and if both parties agree to the hedge, you will usually both be responsible for the maintenance of the hedge on your own sides. You can cut the hedge right back to your neighbour's boundary, although there are some exceptions to this. (See 'Restrictions' below).
What are the Restrictions?
If you reside in a particular conservation area or any trees which form part of the hedge are under a tree preservation order, you may need to obtain permission from your local authority to cut back or remove a hedge. Some properties have
Legal Covenants
which state both the size and the height you can grow a hedge, and any further information will usually be contained in your property deeds. It's also against the law to trim back or remove any hedges in which birds may be nesting. You should inspect the hedge first before going ahead with any pruning. If you're still uncertain about this, the best bet is not to cut back a hedge between March and September, just in case.
Your Obligations
Sometimes a hedge can become overgrown and overhang the pavement outside your property. In this instance, your local authority can force you to cut it back or even to remove, it if it's causing a danger or obstruction to pedestrians on the pavement.
Up until a few years ago, there was no legal restriction on how high you could grow a hedge but that changed in 2005. If you cannot come to an agreement on the hedge, you need to submit a complaint to your local authority with the reasons why you want a restriction placed on the height of a neighbour's hedge. There is normally a charge to have this matter investigated which is usually about £350, although fees can vary between local authorities. See our guide Unhappy with a Neighbour's Hedge here"
More often than not, no matter who owns the hedge, most neighbours of adjoining properties will simply maintain their side of the hedge. However, it is important to understand the legal position on hedges just in case any disputes arise.
What to read next...
If it's not hedges but trees growing into your garden, read our article on
Your Rights on Trees and Overhanging Branches
.
You might also like...
We need a new fence between us and next door down the left hand side at the bottomthere is a Hawthornehedge the neigbour is insisting we take it out there is nesting birds and other wildlife in there.The fence could start at the hedge it would look ok but they want it removed we don't.
Nelly
- 5-Jul-20 @ 6:16 PM
Mrs neighbour planted a hedge including young trees along his side of the front garden, this has now grown quite tall and has damaged one side of my paved drive way making the paving raise up and loosen the paving.Not sure what to do about. The neighbour has been quite threatening in the past.
My neighbour has a Virginia creeper growing up our fence and it has come under and is strangling our plants. She used to send her gardener to help remove it but she sadly passed away in March and so it's growing voraciously! She had no relatives so no-one will be near the house for the foreseeable future. What can we do please?
Sandra
- 7-Jun-20 @ 7:16 PM
My neighbour has errected a fence on there property. She has left us with the rough side of the fence and her conifers are now on our side. They are turning brown and look to be dying. Should she not of removed the conifers or put the fence up with the conifers on her property.
Dave
- 2-Jun-20 @ 9:37 PM
We have neighbors who planted hedges between their yard and our next door neighbor's--he lives in between us. We used to be able to have a nice view of the local church and the mountain behind it, but now their hedges are growing so high that they're obstructing our view.Can they let the hedges grow as high as possible or do they have to trim to within a certain height?
Jeany
- 25-May-20 @ 6:46 PM
On my boundary fence the other side is a different estate the close had a pathway which drops lower than my garden There is a shrub which had been planted by a person over the fence which had grown and spread now against my fence . I now have to replace a panel .and the branches are stopping us getting out the panel as we will not be able to.slide panel out .I have sent a note saying I will require shrub being cut back to enable the replacement panel to be placed .how do Istand please
None
- 17-May-20 @ 8:13 PM
When my next door neighbour moved in he planted a privet hedge on the border of his front garden and my path without asking my permission, he also planted on the border of his garden and the pavement (without getting planning permission), in addition he filled the remaining space in the garden with shrubs some of which are now over 4 metres high. Despite numerous requests that he trim his shrubs down to the legal 2 metres and trim his hedge from over my path, he refuses to do anything, what should be my next course of action?
JDogg
- 28-Apr-20 @ 10:48 PM
I've lived at a property for 20 years and have never had an issue with my neighbours until recently. The house next door now has a new owner and a leylandii hedge that separates his garden and my rear driveway has now become a point of contention. Ideally I would like to cut back the hedge up to the boundary marker (a steel point that has been in the ground for some years) and erect a wooden fence on my land. My neighbour objects on two grounds (1) the cutting back of the hedge would turn it brown and may kill off the hedge (I won't see the colour as it would be hidden, but would be concerned if I subsequently get sued for criminal damage) and (2) he claims that as the hedge line has for some years grown beyond the original marker there is now a new boundary! I'd love some advice.
pete
- 21-Apr-20 @ 9:44 AM
During storms our neighbours fence panels blew down,they removed the posts and panels, I assumed to put up new ones. They decided to put in a bare root hedge,on the boundary line, hard up against the gravel boards we had installed to protect their panels( there is a difference in ground levels ours being slightly higher. When I said to them that they would need to put a fence up they got very aggressive and that the hedge is a fence. They told me I should put up a fence.Their deeds stipulate they must maintain a fence there is no dispute where the boundary line is,however with time the hedge will encroach on our property. What course of action can I take
Sophie
- 18-Apr-20 @ 6:45 PM
The new owner of the house next door completely removed the hedge dividing our properties without any discussion .We have looked after this hedge for 35 years and believed it was a boundary hedge. The new owner now claims it was entirely on his land. If this turns out to be true is there nothing that can be done?
What is the distance between my neighbour's tree and my fence supposed to be. His tree is ruining my fence.
Sammy
- 15-Jan-20 @ 4:07 PM
I rent out my property. My neighbours vine has grown over fence and tenant let it grow through closed upvc windows of conservatory and break through join between house and conservatory wall. The tenant say it's not there fault and they don't have to pay for damage as plant came from next door. Is this correct please..
Rach
- 11-Jan-20 @ 6:38 PM
I have a boundary hedge and I'm wanting to cut back on my side and then erect a fence on my lane is this doable?
Mary
- 4-Dec-19 @ 1:02 PM
I grew a hedge on my boundary between my neighbour and myself, they moved,so now my new neighbours have said I cannot lower my hedge to my desired height,is this true and what is the brightest a hedge can be between neighbours please.
Hopperty
- 9-Nov-19 @ 1:41 PM
Hi, I am renting a property with a back garden that has a very well trimmed Ivy growing on my rented flat side. It reaches all the way to the top of my house. The only way I can trim it properly is to knock on the adjoining house for the use of there garden. However, he wants me to trim his side as well. From the look of my neighbor's property, it hasseveral years of neglect. Ivy is growing in his gutters and it looks like it will coast me several hundred pounds for a gardner to come and trim it. In the end, I decided just to trim myside and find a more creative way to trim the ivy growing at the top of my flat. Its alot of hard workfor me. Every time I trimmed my Ivy my neighbor would knock on my door asking me to trim his garden as well stating it was my landlords Ivy growing on his side of the wall and that I am obligated to trim his side as well. My landlord will not bare the coast. for his garden to be trimmed. acaould anybody, please offer any legally advise?
Delfina
- 5-Nov-19 @ 9:42 PM
I have a driveway lined with conifers which have been here for 15 years, they have now started building houses on the opposite side of the hedge along side the conifers, where do we stand with the tress being here 15 years before the houses as far as being told to cut them down.
Ceri
- 5-Nov-19 @ 10:08 AM
Am I responsible to collect trimmings that fall into my next doors ganden after cutting my hedge?
lakey
- 16-Oct-19 @ 9:41 AM
When I cut my hedge and trimmings fall into my next door neibors garden have I got to go around to there garden to clear it up .they have made demands that I do.
lakie
- 16-Oct-19 @ 9:34 AM
I was born on a wagon of a travelling show. My mamma used to dance for the money they'd throw.
Cheese
- 14-Sep-19 @ 3:27 AM
Apparently our weeds are growing into neighbour's garden, but only after they erected a fence about a metre back from our we'll established tree hedge letting light through. The trees were planted along the boundary which is now in dispute. JK. N
Frustrating
- 11-Sep-19 @ 5:13 PM
We have a 14' evergreen hedge, with an Ash tree mixed in. We trim the hedge on a regular basis and today took it down by about 2'. We have taken this amount off previous, without an issue. However, the neighbour has hit the roof, complaining that we didn't ask his permission to take this amount off. The hedge isn't the boundary of the two properties, a fence runs behind it. We can understand him complaining if the hedge was coming down to 6' but by 2'?
Fedup
- 8-Sep-19 @ 7:11 PM
My rear fence currently boarders a building site for new homes.A tree root from the site has grown under my fence and is now visible and coming through my lawn.Is it down to them to sort the mess out?
Pm73
- 3-Sep-19 @ 2:22 PM
They do as they like, even though they pay for our services. Need I say more?
Lkp524 Never trust t
- 31-Aug-19 @ 9:46 PM
My neighbours new tenants have cut my wisteria and damage my fence that it grew thru leaving it very unsightly, although my bush will grow back my old fence however will not and will no longer match the rest of my fence panels , as always a knock on the door would have been helpful and friendly! How should I proceed from this point as I've contacted the home owner of his tenants actions and what equates to vandalism of my property?
Rich k
- 30-Aug-19 @ 2:41 PM
Our neighbour has removed her hedge and is now claiming that the boundary is within our garden. Legally where does the boundary lie when an old hedge exist?
Byron
- 26-Aug-19 @ 5:08 PM
RB my neighbour has also done the same without consulting me. I'm very annoyed as it now looks thin and we dont want to lose the privacy. I'm looking to report then for trespassing
I have a hedge which is within my boundary,a small fence runs as a boundary line however my neighbour continues to reach a foot over the fence to cut the hedge back which is back to the spine of the bushes, can you advise of this is trespassing. (Please note the hedge was trimmed a few weeks back by myself to a prevent branches over hanging).
Hi, Our left boundary of the garden is a hedge - but we would like pets which could pass through. Though it's our neighbours responsibility because we want pets we have to pay to stock fence and secure the boundary? We need to make the boundary safe and enclosed. Advice would be very appreciated
Robin
- 24-Jul-19 @ 11:21 AM
My neighbour comes onto my drive to cut his bushes and hedges back and leaves it all in piles on the drive.
Buns
- 19-Jul-19 @ 10:57 PM
Can my neighbors plant bushes without my permission