Rules on Hedges & Roots Growing into your Property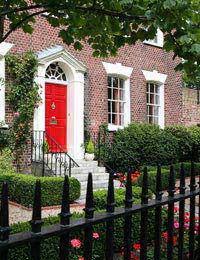 A hedge is often preferred to a fence when being used to separate the boundary between two adjoining properties. It can be more aesthetically pleasing and add character to a property, not to mention the fact that it provides both shelter and food to a vast number of wildlife species. So, that's the good news. What's the bad?
Hedges can sometimes cause disputes between neighbours when they become unkempt, when the roots start to spread, or if the hedge becomes too high and begins to affects the amount of sunlight reaching a neighbour's property. There are numerous legal rights, obligations and restrictions when it comes to hedges which are outlined below.
Your Rights
You do not usually need to obtain permission to plant a hedge in your garden if it is solely within your property's boundary. However, you do need to obtain permission from your next door neighbour if you're considering planting a hedge to separate the adjoining properties right on the boundary line. Provided there are no
Boundary Disputes
, and if both parties agree to the hedge, you will usually both be responsible for the maintenance of the hedge on your own sides. You can cut the hedge right back to your neighbour's boundary, although there are some exceptions to this. (See 'Restrictions' below).
What are the Restrictions?
If you reside in a particular conservation area or any trees which form part of the hedge are under a tree preservation order, you may need to obtain permission from your local authority to cut back or remove a hedge. Some properties have
Legal Covenants
which state both the size and the height you can grow a hedge, and any further information will usually be contained in your property deeds. It's also against the law to trim back or remove any hedges in which birds may be nesting. You should inspect the hedge first before going ahead with any pruning. If you're still uncertain about this, the best bet is not to cut back a hedge between March and September, just in case.
Your Obligations
Sometimes a hedge can become overgrown and overhang the pavement outside your property. In this instance, your local authority can force you to cut it back or even to remove, it if it's causing a danger or obstruction to pedestrians on the pavement.
Up until a few years ago, there was no legal restriction on how high you could grow a hedge but that changed in 2005. If you cannot come to an agreement on the hedge, you need to submit a complaint to your local authority with the reasons why you want a restriction placed on the height of a neighbour's hedge. There is normally a charge to have this matter investigated which is usually about £350, although fees can vary between local authorities. See our guide Unhappy with a Neighbour's Hedge here"
More often than not, no matter who owns the hedge, most neighbours of adjoining properties will simply maintain their side of the hedge. However, it is important to understand the legal position on hedges just in case any disputes arise.
What to read next...
If it's not hedges but trees growing into your garden, read our article on
Your Rights on Trees and Overhanging Branches
.
You might also like...
The new owner of the house next door completely removed the hedge dividing our properties without any discussion .We have looked after this hedge for 35 years and believed it was a boundary hedge. The new owner now claims it was entirely on his land. If this turns out to be true is there nothing that can be done?
What is the distance between my neighbour's tree and my fence supposed to be. His tree is ruining my fence.
Sammy
- 15-Jan-20 @ 4:07 PM
I rent out my property. My neighbours vine has grown over fence and tenant let it grow through closed upvc windows of conservatory and break through join between house and conservatory wall. The tenant say it's not there fault and they don't have to pay for damage as plant came from next door. Is this correct please..
Rach
- 11-Jan-20 @ 6:38 PM
I have a boundary hedge and I'm wanting to cut back on my side and then erect a fence on my lane is this doable?
Mary
- 4-Dec-19 @ 1:02 PM
I grew a hedge on my boundary between my neighbour and myself, they moved,so now my new neighbours have said I cannot lower my hedge to my desired height,is this true and what is the brightest a hedge can be between neighbours please.
Hopperty
- 9-Nov-19 @ 1:41 PM
Hi, I am renting a property with a back garden that has a very well trimmed Ivy growing on my rented flat side. It reaches all the way to the top of my house. The only way I can trim it properly is to knock on the adjoining house for the use of there garden. However, he wants me to trim his side as well. From the look of my neighbor's property, it hasseveral years of neglect. Ivy is growing in his gutters and it looks like it will coast me several hundred pounds for a gardner to come and trim it. In the end, I decided just to trim myside and find a more creative way to trim the ivy growing at the top of my flat. Its alot of hard workfor me. Every time I trimmed my Ivy my neighbor would knock on my door asking me to trim his garden as well stating it was my landlords Ivy growing on his side of the wall and that I am obligated to trim his side as well. My landlord will not bare the coast. for his garden to be trimmed. acaould anybody, please offer any legally advise?
Delfina
- 5-Nov-19 @ 9:42 PM
I have a driveway lined with conifers which have been here for 15 years, they have now started building houses on the opposite side of the hedge along side the conifers, where do we stand with the tress being here 15 years before the houses as far as being told to cut them down.
Ceri
- 5-Nov-19 @ 10:08 AM
Am I responsible to collect trimmings that fall into my next doors ganden after cutting my hedge?
lakey
- 16-Oct-19 @ 9:41 AM
When I cut my hedge and trimmings fall into my next door neibors garden have I got to go around to there garden to clear it up .they have made demands that I do.
lakie
- 16-Oct-19 @ 9:34 AM
I was born on a wagon of a travelling show. My mamma used to dance for the money they'd throw.
Cheese
- 14-Sep-19 @ 3:27 AM
Apparently our weeds are growing into neighbour's garden, but only after they erected a fence about a metre back from our we'll established tree hedge letting light through. The trees were planted along the boundary which is now in dispute. JK. N
Frustrating
- 11-Sep-19 @ 5:13 PM
We have a 14' evergreen hedge, with an Ash tree mixed in. We trim the hedge on a regular basis and today took it down by about 2'. We have taken this amount off previous, without an issue. However, the neighbour has hit the roof, complaining that we didn't ask his permission to take this amount off. The hedge isn't the boundary of the two properties, a fence runs behind it. We can understand him complaining if the hedge was coming down to 6' but by 2'?
Fedup
- 8-Sep-19 @ 7:11 PM
My rear fence currently boarders a building site for new homes.A tree root from the site has grown under my fence and is now visible and coming through my lawn.Is it down to them to sort the mess out?
Pm73
- 3-Sep-19 @ 2:22 PM
They do as they like, even though they pay for our services. Need I say more?
Lkp524 Never trust t
- 31-Aug-19 @ 9:46 PM
My neighbours new tenants have cut my wisteria and damage my fence that it grew thru leaving it very unsightly, although my bush will grow back my old fence however will not and will no longer match the rest of my fence panels , as always a knock on the door would have been helpful and friendly! How should I proceed from this point as I've contacted the home owner of his tenants actions and what equates to vandalism of my property?
Rich k
- 30-Aug-19 @ 2:41 PM
Our neighbour has removed her hedge and is now claiming that the boundary is within our garden. Legally where does the boundary lie when an old hedge exist?
Byron
- 26-Aug-19 @ 5:08 PM
RB my neighbour has also done the same without consulting me. I'm very annoyed as it now looks thin and we dont want to lose the privacy. I'm looking to report then for trespassing
I have a hedge which is within my boundary,a small fence runs as a boundary line however my neighbour continues to reach a foot over the fence to cut the hedge back which is back to the spine of the bushes, can you advise of this is trespassing. (Please note the hedge was trimmed a few weeks back by myself to a prevent branches over hanging).
Hi, Our left boundary of the garden is a hedge - but we would like pets which could pass through. Though it's our neighbours responsibility because we want pets we have to pay to stock fence and secure the boundary? We need to make the boundary safe and enclosed. Advice would be very appreciated
Robin
- 24-Jul-19 @ 11:21 AM
My neighbour comes onto my drive to cut his bushes and hedges back and leaves it all in piles on the drive.
Buns
- 19-Jul-19 @ 10:57 PM
Can my neighbors plant bushes without my permission
We have purchased a beautiful house which borders in a piece of land owned by the council. There is only 15-20 feet from the front of my house to my hedge which runs along the full front of my house. There is another very large Wilde hedgerow which runs the other side of my hedge which how now grown out of control. It is growing over my property and is now that high you can not see my house, other than the roof, from the road. As there is so little space between the hedge and the front of my house it is now totally blocking out the light to my living room and kitchen. To the extent I have to have the lights on in the middle of the day during June. I have been in touch with the council to see if they would trim it down, not remove it as I really like it, but it is now completely overgrown and if continues will be higher than my house. They have told me it is a conservative area and as such they do nothing. I can cut anything that overhangs my house and throw it over but that's it. I asked if there was a compromise but he said no. My concern is this is already dramatically reducing the natural light from coming in to my house and as they are not willing to keep it to an agreed height will just get worse. I love my house but feel very claustrophobic in my own home as it's so very dark. Is there anything I can do?
SAA
- 25-Jun-19 @ 11:59 AM
We have leylandi how tall are they allowed to grow in a garden?
Poosey
- 23-Jun-19 @ 1:59 PM
I live in a council bungalow and my neighbour on my left (I have access through her garden to back gate) keeps leaning over the fence to cut the upper side and recently part of the top of my hedge, which is next to an 8ft by 8ft wall attached to both properties. She has a 6ft fence panel her side, plus the original 4ft wire fence is inbetween both fence and hedge. I have explained the law regarding this countless times, that she can only cut what grows over her fence.Also not to lean over or the top.I cut it to 8 - 9ft and neatly round the end and trim the inside as best as I can.I wait until after nesting season and leave berries on my side and top during the winter. Part of the hedge is a Snowberry the rest is privet. I am sick of explaining nicely to her to please not cut beyond her fence.But yet again one of her grown up children has and messed it up!I am considering if possible,to slide a7ft - 8ft fence panel between the wire fence and my hedge and hoping that the hedge itself would support it, plus bricks at the bottom.Or any other ideas, anybody, please? Looking forward to your replies and suggestions.
Sallyjane
- 5-May-19 @ 10:38 AM
Our neighbours hedge is planted right on the boundary line, so the default position means any growth is immediately encroaching. The boundary line is our neighbours side wall projecting front and back. This line is subject to a tomlin order after we successfully issued legal action as they refused to accept the legal boundary as defined by the land registry, the developers, independant surveyors etc. Having trimmed our side for many years, they recently harrassed me by pointing out where the boundary line is as i was trimming the hedge, they didn't even check first as the hedge branches are right on the line and i was only cutting the spreading leaves. I have now erected a fence just short of the line so in effect passing the problem of maintaining their hedge onto them. The only way he can trim this hedge now is from my side if i remove the fence panels. If he asks me do i have to allow him access?. My belief inplanting the hedge on the boundary line itself and not leaving room for growth he has exacerbated this problem and i dont want any thing to do with his hedge. It is his problem. Am i correct? Also his rear garden wall encroaches by several inches, this was built when we all first moved in and he told me the boundary line was the roof eaves. We found out later this was mistaken, we could have enforced the tomlin order on the rear wall. Now he is causing trouble again can we enforce this order and make him realign his wall, or is their a time limit which prevents this action?. Thank you
The kid
- 29-Apr-19 @ 10:44 PM
my Neighbour has decided tocut my 6 foot hedge right down to the root and put a fence-up about a foot away from where the hedge was. The hedge actually separated the two gardens so theoretically I've been left with know back to my garden now. I'm a council tenant and at the time they were but they have justrecently bought there property.At first the council hadn't really got a clue what do apart from mess me about,I've been very persistence and they have now got the legal team involved which I'm still waiting to hear of them,apparently it's a long drawn out process in the mean time they have been lifting panels up to get there kids ball when ever it's gone over the fence ( when I'm out ) I feel so angry I've now contacted cab due to how long I've got to wait for all this to be resolved... The police have been called and told me to keep a dairy of everything that's happing... Surely they can't get away with this ? No permission of me to do this or with the council Left my garden open access Left the root still in as I believe it's got to go about 3 foot down to get them out That's why I think it was left ( ridiculous) I hope to get some advise on this thanks.
Icecream
- 27-Apr-19 @ 5:35 PM
I live on housing development which was built in 60s on a long plot of land which has a hawthorn hedge as the boundary to an existing house and land which occupied the ground since early 1900s. The land Development was built on was a similar house and plot originally and was then carved up with the 60s development. The hawthorn hedge remained as a boundary to the new properties on the developed land and the adjoining original. Part of the land beyond the hedge has now been sold, the purchaser has planning permission to build houses, and the first thing the builder has done is tear down the boundary hedge and construct a fence. Where would i find details on ownership of the hedge and if ownership is not defined, is the builder liable for damages.
Ccpict
- 5-Mar-19 @ 10:35 AM
We fell out with our neighbors months after agreeing on the species for a hedge. I decided to plant the hedge myself so it could start growing. I planted the hedge about 12 inched inside our land. The neighbor went berserk saying we had no right to plant it. This was not the reaction I expected I thought she would be pleased. She cut one down so I called the police and the promised the police they'd replace it. But told us they had no intention as they did not want the hedge. We took out an AVPO and at mediation after 6 hours without a break they reluctantly agreed to the species but wanted control of the height. Out of sheer exhaustion we agreed. But next day at 9am I called the CJC and made them cancel our agreement. I was advised the agreement was not legally binding so I didn't need to worry. Because of all the activation caused by these neighbours and as the hedge was inside our land, I carefully removed the hedge and planted it on the opppsite boundary where we have no neighbours. Next thing we know we're ordered to attend a tribunal and have been ordered to put the hedge back! The member hauled us over the coals and said the CJC was wrong.
Lynny
- 25-Nov-18 @ 9:25 AM
Hi. I've a boundary hedge which was planted on my side. Literally most of the hedge is on my property apart from a tiny bit which is over grown onto there side. I'm wanting to pull it out and replace it with a fence. Am I able to do this with the hedge actually been on my property?
Cath86
- 22-Oct-18 @ 2:12 PM
I forgot to say we cut the hedge ourselves twice a year to keep it trim
Conwy
- 10-Oct-18 @ 1:59 PM