Your Rights on Trees & Overhanging Branches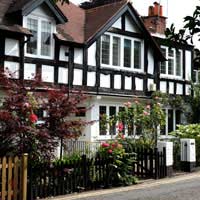 Trees can add a great deal of splendour to a garden. They could be fruit bearing trees, a place in which to retreat to the shade and they can also add a great deal of colour to a garden. However, they can also cause a nuisance to a next door neighbour when they start encroaching onto your side of the fence, with problems ranging from attracting unwanted insects like bees and wasps, blocking out your light and shedding their leaves all over your garden. Therefore, it's important to know what your rights are and what you can and cannot do.
Establishing Ownership of Trees
The tree belongs to the person upon whose land it has originally grown. Even if its branches or, worse still, its roots have begun to grow over or into a neighbour's territory, it belongs to the landowner where the tree was originally planted. Even if the tree bears fruit or flowers on branches which overhang into your land, it's an offence under the Theft Act 1968 to keep them or to take cuttings of flowers, for example.
Obviously, many neighbours will not tend to worry about that too much but should a neighbour, for example, see you collecting apples from their tree even though the branches have grown onto your side, they are legally entitled to ask you to return them.
Overhanging Branches
If the branches of a neighbour's tree start to grow over to your side, you can cut them back to the boundary point between you and your neighbour's property, as long as the tree is not under a tree preservation order. If it is, you'll need to seek further clarification. However, the branches and any fruit on them which you may have cut down on your side still belong to the tree owner so they can ask you to return them.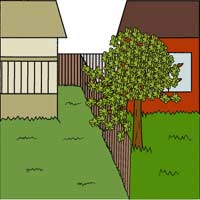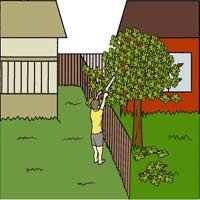 Alternatively, you can return them and ask your neighbour to dispose of them themselves should you wish to do so. What might seem a bit of a strange anomaly, however, is that even though any leaves from your neighbour's tree may fall into your garden in autumn, you have no right to ask them to come around and sweep them up.
On the other hand, should these leaves blow into any of your gutters and block your drains, you can ask your neighbour to pay to have them cleared or to pay for the cost of any damage they might have caused. If they refuse to do so, you can legally sue them and force them into paying. If you lop off any branches on your neighbour's (the tree owner) side of the fence, you are not entitled to Gain Access To Their Property to cut off some more. This is trespassing and you could be prosecuted.
Tree Roots
You are entitled to dig up and remove any roots that have encroached upon your land. Roots can cause a lot of problems and if they're deep and/or causing subsidence or any other form of damage to your side of the property, you might need to get a tree surgeon or some other kind of structural engineer to deal with the problem.
It's always better to discuss this with your neighbour first but if an expert does have to be called in, it's the tree owner's responsibility to foot the bill. They can then choose to pay up front or by claiming it against their own home insurance policy.
Take Action
You may also be interested in our
neighbour's trees action guide - written by a barrister
You might also like...
I recently moved home and my next door neighbour is not very friendly so I cannot speak with her re a problem I have as my neighbour has planted some fast growing hedging ? and its grown taller than my boundary fence of approx just over 5 foot so it blocking my light and the sunshine gettingthrough tomy back garden is there away to sort this out and is my neighbour allowed to let it grow as tall as it is as it approx18 inches?? thank you
charlesina mcerlaine
- 21-Feb-14 @ 1:23 PM
Our friend was chopping wood from one of his trees that had fallen in the recent storms. The gardai were notified to help passing motorist to drive with caution in that area. The gardai arrived in a garda van and helped themselves to the chopped wood saying they were entitled by law to take the wood. Is this true?
Chip
- 15-Feb-14 @ 2:01 PM
the swan councils trees grow over my fence and my roof and fills my gutters this is a fire hazard and along the bottom of the fence is about 3 or 4 inces of dry flowers leaves this is on council land if this goes on fire the wooden fencewould go on firethanks
gusty
- 15-Jan-14 @ 1:28 AM
RECENT STORMS HAVESMASHED OUR NEIGHBOURS2 FENCE PANELS. ANY -WINDCOULD LIFT THEM AND THEY WOULD LAND ON OUR PROPERTYWITH POSS DAMAGE OR HARM.WE HAVE GREAT ISSUES WITH HIM POLICE INVOLVED.IF HE CONTINUES TO IGNORE THEDAMAGEWHATCAN WE DO, HES VERY ARROGANT, HIS TREES BLOCK OUR LIGHT, THEY OVERHANGOVER OUR PROPERTY AND AS I AM 72YRS AND DISSABLED, MY HUBBYIS 75 YRS WHO HAS RECEIVED CRONIC BACK PAIN INJECTIONS FOR PAST 5YRS WE CANT MANAGETO TRIMOVERHANGINGBRANCHES. WHEN HE SWEEPSLEAVES UPHEEMPTIESTHEM OVER THE FENCE ONTO OUR PROPERTY.HES VERBALYABUSIVE TO MY HUSBANDIF HE PASSES HIM. WERE AT OUR WITTS END. THE POLICE HAVE ADVISED US TOMOVE.ASHE GETS AWAY WITH EVERYTHING HE DOESINCLUDING CAUSING £450.00 O0F CRIMINAL DAMAGEAFTER 9 MONTHSPROSECUTORS DECIDED IT WASNT IN THE PUBLICINTERESTTO CONTINUE WITH THE CASE.SO YOU SEE WHAT WE ARE UP AGAINST,COULD YOU ADVISE US PLEASE.THANK YOU, MAZ
MAZ
- 14-Dec-13 @ 4:15 PM
Our house is bordered on one side by a copse containing beautiful birch trees which are owned by leeds city council.Th trees have grown enormously over last 40 years and are now taller than the house and the upper branches actually rest on the roof.I would like these branches to be cut back so that they do not rest on my roof.What is the best way to proceed?Is the council responsible for cost involved.If they were my trees and they were overhanging public highway I know for a fact that I would be asked to remove them and if I did not comply I would be billed for one of their contractors carrying out the work.
maggie
- 2-Oct-13 @ 9:34 AM
I bought property 3 yrs ago and had trees planted in front of boundary line in the 80s. These trees have grown big and braches are trimmed as high as I can reach.My neighbor trims the braches to the trunk and has caused some to die and mows close to my trees and close to the ground constantly and asked him to stop. I cannot trim any higher and have called the sheriff several times due to neighbor being verbally threatening. The limbs that overhang are too high and he insist I trim them. And they constantly throw the limbs and pine cones in my yard, that falls in theirs. What are my rights to the limbs high hanging over and them throwing the pine cones and limbs in my yard? I hear different stories from the Sheriffs!!!
Jo
- 23-Aug-13 @ 10:46 PM
I have a neighbor who has a tree with limbs growing about 15 feet over my yard. It is shading out some of my fruit trees, making them lean.I ofe5red to pay for them to be trimed back to the trunk, but she don,t want too.said that i could trim back to propity line ,but they will grow back out. If they fall on my house, who is responsible to pay for dammage?
peariver
- 15-Aug-13 @ 8:13 PM
My property borders a country park and we have the branches of some very tall trees overhanging our drive. The park rangers have said that they will not cut any tree unless it is unsafe, but they also said we can cut the branches back to our border and deposit the cuttings back in the park but they have insisted that who ever we employ to do the cutting must have all sorts of qualification and be acceptable to the local authority. My questions are as we are cutting on our land can we employ who we like and what if any of the trees haveprotection orders on them does that change the situation. regards
kerry
- 16-Jul-13 @ 8:45 PM
my neighbour has bushes in there garden i have a fence there bushes keeo overhanging into my garden evertime they cut them half there bushes end up in my garden and im left to pick them all up have i got any right concering this matter Thank you
stressed
- 5-Jul-13 @ 6:27 PM
Hi, There are 2 large trees, 1 a sycamore overhanging my garden. One of them is only 3 or 4 feet from my bedroom window. The trees cause constant hassle with falling sap, green fly, blocking the light, not to mention the poss danger of falling branches. My house is on the market and I have lost 3 potential buyers, who were put off by the trees. The trees are not under a preservation order. The owner of the flats (the guy owns the trees) initially said he would cut the trees back, but now refuses. He said he got lots of grief from the neighbours when the flats were built, as they didn't want the trees cutting down. I wasn't one of the neighbours, although I liked the trees when smaller. Should I foot the bill of getting the overhanging branches cut back? Am I within my rights to throw the branches over his fence?
A new neighbour moved in next door a couple of years ago. We have a piece of land which we had shingled and is kept neatly, along the length of our house and garden that her front window overlooks in which there are 4 small trees which were there before either of us bought our properties and definitely there when she viewed the bungalow next door. A few weeks ago we returned from work to find one of the trees had been completely massacred - it looked like a cactus! I knocked on her door to ask if she had seen who had done this. She replied that she had got her son to do it as it was blocking her light and she did not know who owned the land. I did ask if she had not thought of asking us as the land went alongside our property, but she said as it had no fence around it she didn't think it belonged to anyone. There is a 3' fence between her driveway and our piece of land and since this incident, the neighbour has continued to pick the growth from our tree so that it does not grow at a low level. Where do we stand in relation to putting a higher fence all the way round this piece of land?
Furious!
- 29-Jun-13 @ 5:23 PM
Whilst we have been on holiday a neighbour has sawn off large branches from our tree which were partly over hanging his garden and just dumped them over the fence causing damage to our shrubs. Whilst we don't object to him cutting the branches we do object to him throwing them back over. Is he entitled to do this?
villa
- 28-Jun-13 @ 6:29 PM
The neighbour came into ours and our neighbour's garden and put up a fence without permission.(She is verbally abusive).This means he has custody of the boundary trees now.Our back gardens are only small (12 of my paces - I am 5'2").We have offered to pay for the tree, bushes and weeds to be cut to a reasonable size.He said yes at first then changed his mind.Our next door neighbour was going to take them to court but it was just too expensive. Is there a law about light please?
Nick
- 26-Jun-13 @ 1:18 PM
17yrs since we ended up going to court with our neighbours over large overhanging branches in our garden .The outcome was the Judge told the neouched.ighbours that the trees were their property and as such their responsibility to keep the trees tidy and off my property.Since then NOTHING has been theses trees are now twice as tall as my home with branches exteouched.Two of these trees are Oak and now she has one again been asked to cut back her trees she says she has applied for a preservation order.I must state that that these trees are at least twice as tall as my home and branches as you imagine extend far into my garden .I was broken into on two occasions and the police said the trees gave theives a way into my property.I contacted the council who came and cutback the lower branches of one tree that was overhanging their field.They would not cut any further as they said it was the owners place to do this.If I am broken into again by this means then my Insurance Company could dispute the claim because nothing has been sorted with these trees.I preume the preservation order has been requested to stop having to have the trees cut back but should we as owners of our property have to constantly be trying to keep our garden tidy due to someone else's trees.What can I do if there is a presentation order can I go and ask the council to ask the neighbours to tidy them up do I have ANY rights at all in this.I would like to point out that my husband is 81yrs old suffering from cancer,Parkinsons Disease and Angina whilst I have just had major surgery for cancer and a shoulder operation and neither of us are capable of trying to clean the continual mess up from these trees and can well manage without the hassle.As the neighbours were instructed 17 yrs since to deal with these trees does thisnot go in our favour at all .Sorry to drag on just need some HELP
Jean
- 19-Jun-13 @ 10:05 PM
our neighbour has very high trees and over hanging branches into our garden, every year all the leaves cover the whole of our garden.The branches and the height of the trees cut out a lot of light . We need the trees cutting shorter and back who has to pay for this and how high can these trees be ?
pocco
- 16-Jun-13 @ 12:51 PM
Just wondering if anyone can give any advise, my neighbour has a 5 20ft conifer in there back garden, one of which hangs over our garden, a few year ago i asked the neighbour if i could cut the trunks based on is side down because they covered our side ,the neighbour verbally said yes so i cut the largest trunk that hang over our side down to 6ft and left the reminding two to cut down at a later date. a few month ago i started to cut the reminding trunks down to 6ft on this occasion i never asked him because he had said it was ok a few years prior anyway my neighbour saw me starting to cut the tree and never said anything so i assume it was ok (we know what assumed did!!!!!) what i never knew is that my neighbour had gone out shortly after seeing me starting to cut the tree . i think you know whats coming next my neighbour returned the tree had been cut down, he was not happy, i offered to resolve any problem i had cause forhim and explained i was deeply sorry but he just said he was calling the police . the police turned up and said he had accused me of criminal damage and i have to give a statement . any advise please?
lovegarden
- 11-Jun-13 @ 9:13 PM
Hello I have shrubs and trees which can overhang my fence into next doors garden. I keep them pruned and try to make sure they do not overhang. I f any person in next doors garden was injured by the branches if I had let them overhang would I be responsible and what could happen. Thanking you Rose Newby
Dancer R
- 3-Jun-13 @ 11:02 PM
Hi I just want advice , our neighbour has very overgrown trees and are all hanging in our garden , we have got to get an expert gardener in to get rid, But Isn't it the responsibility of the owners to pay the bill
we are a block of flats, we are situated by a main road. we got some trees, which their branches over hanging the main road, up until now, the branches which was overhanging the neighbour garden, was cut by us, but the ones which was overhanging the main rd, never was trimmed by us, we have seen them in the past being trim, or by the council or by the highway people or someone else, (we never bother to ask) but not by our self. who suppose to trim and cut the branches overhanging the main road? allthis trees got a preservation order. how do we go about it? is cutting branches which disturb the traffic not part of the highway agency or the council road maintenance ? thanks for your help.
ilan
- 24-May-13 @ 7:55 PM
I bought a house in 2012, just Received a letter notifying my Blue Spruce tree roots were growing towards her home and some of the roots were popping out of the ground . And of coarse the letter was from an attorney is it my responsibility to have themcut out and take care of it or is it hers These trees have been there a long time they might have been there before her home is it still my responsibility,
Ohno
- 19-May-13 @ 4:40 PM
Our neighbour`s tree broke off in windy conditions into our garden. 15 to 20 feet by 8 inches.My lady asked what would he do about it. He said,he didn`t have time.Next morning he was trying to knock or crowbar our fence down.This alarmed my lady because i was away.Previous history comes into play here.After a hours deliberation she rang the police.They told him to knock the door in future and remove the debris within 5 days. I have cut it all up with a handsaw to manageable portions.( just to tidy the mess because my lady kept looking at it)If he doesn`t comply with police instruction what should i do.If i cart it away he`ll just be laughing up his sleeve. Put it over his fence???
Yound un
- 15-May-13 @ 12:34 PM
Our neighbour`s tree broke off in windy conditions into our garden. 15 to 20 feet by 8 inches.My lady asked what would he do about it. He said,he didn`t have time.Next morning he was trying to knock or crowbar our fence down.This alarmed my lady because i was away.Previous history comes into play here.After a hours deliberation she rang the police.They told him to knock the door in future and remove the debris within 5 days. I have cut it all up with a handsaw to manageable portions.( just to tidy the mess because my lady kept looking at it)If he doesn`t comply with police instruction what should i do.If i cart it away he`ll just be laughing up his sleeve. Put it over his fence???
Ken Morgan
- 14-May-13 @ 11:22 PM
We have lived for over 20 years in a house which is adjacent to local Council woods where we enjoy the view of beautiful trees.(We are tree lovers by the way), BUT one fir tree has grown so tall now that the top 15ft blocks all the sun from our garden. Are we legally entitled to ask the Council to top this?They have lopped overhanging branches from other trees around 8 years ago.
Baylii
- 14-May-13 @ 9:20 AM
I wonder if anyone can help me ? My house at the bottom of a small cliff , the land above the cliff belongs to someone , who has just left it for years , resulting in trees , bushes and ivy covering it , I ve had numerous rock falls and have young children , so I m worried about safety issues . I ve approached the owners , and they're not interested in doing anything . I don't want the ivy taken off , just the trees and bushes at the top maintained as the longer its left the thicker the vegetation becomes , causing stuff to fall down . Can anyone help or point me In the right direction ? Many thanks
Fifi rae
- 10-May-13 @ 11:48 AM
My neighbours have a tree whose branches overhang our garden. Last weekend the branch (which is entwined with other plants) broke and fell into our garden under the sheer weight of it. It is currently laying in my garden. Can I ask my neighbour to pay to have it cleared and the tree pruned back to the fence line?
barnesy
- 8-May-13 @ 10:33 AM
Hello i have lived in my house for twelve years now and have had run ins with the family living behind us all the time, the houses are privately owned, the problem is they have a conifer tree that hangs over the fence and it totally blocks the sun out in the garden due to its shear size, its killed the grass and the plants, its even turned my decking green, they will not chop it down to a manageable height, they have now planted ivy along the back fence and that is now over took my fence as well, when i last cut it on my side they went belistic with me and demanded the cutting back, i am a badly disabled in the line of duty ex soldier and this is wearing me down can you please help me on what else i can do? Paul
suttyp
- 22-Apr-13 @ 8:25 AM
I live on a council estate and my house overlooks some housing association houses, I have lived here 8 years and enjoyed a view which involved a willow tree which had been there since before the houses were built.... I recently was devastated to watch the bloke who lives in the housing association house take a hand saw and cut off all the branches but the top two which he hadn't been able to reach from his unsafe position upon a ladder.... This afternoon I was gazing out the window and witnessed another neighbour start cutting branches off an Oak tree which happens to be on council property... This is truly distressing to me as I am a lover of trees.... So please is there anything that can be done to stop people destroying the things that help keep our planet alive?
I own my own house, and in the garden is a very large tree that was planted by the council long before I bought the property, The tree has started to lean and the front part of the tree has died, It really needs cutting down, but I cannot afford to hire a tree surgeon, Is there any chance that I can make the council cut it down seeing as they planted it . All I have is my pension as income,
Joan
- 2-Apr-13 @ 11:13 AM
i came home from work to find the council had cut down my willow tree they entered my property with out my permission the tree was at the bottom of my garden it wasnt an obstrution to any body they have just hacked it down and it looks a mess what can i do about this
annie
- 22-Feb-13 @ 1:36 PM
I have been a homeowner for 12 years and when we bought our house there are a row of city owned eucalyptus trees 400 fet high and about 10 feet outside my backyard wall/. There are numerous problems that have existed with these trees. First, the trees are not well kept. The tree branches hang 10 feet over into my backyard about 80 feet high. this enables the leaves and acorns to drop on my property and have caused extensive damage to my lawn shrubs and and have stained my backyard cement patio which I have not been able to get rid of. Next, the leaves have fallen on the top of my two story roof and have clogged my rain gutters. I f i decided to sell my house i would not get a fair value due to the damage the trees have done . About 6 years ago ,the city planted a different type of eucalyptus tree that doesnt shed acorns and leaves. Unfortunatleythey have not taken care of these trees and the result is the tree is growing at 45 degree angle and not straight.The last time they were pruned back was 4 years ago and didnt do a good job. What can I do?????
mark
- 17-Feb-13 @ 6:26 PM