Your Rights on Trees & Overhanging Branches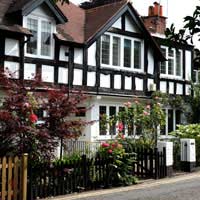 Trees can add a great deal of splendour to a garden. They could be fruit bearing trees, a place in which to retreat to the shade and they can also add a great deal of colour to a garden. However, they can also cause a nuisance to a next door neighbour when they start encroaching onto your side of the fence, with problems ranging from attracting unwanted insects like bees and wasps, blocking out your light and shedding their leaves all over your garden. Therefore, it's important to know what your rights are and what you can and cannot do.
Establishing Ownership of Trees
The tree belongs to the person upon whose land it has originally grown. Even if its branches or, worse still, its roots have begun to grow over or into a neighbour's territory, it belongs to the landowner where the tree was originally planted. Even if the tree bears fruit or flowers on branches which overhang into your land, it's an offence under the Theft Act 1968 to keep them or to take cuttings of flowers, for example.
Obviously, many neighbours will not tend to worry about that too much but should a neighbour, for example, see you collecting apples from their tree even though the branches have grown onto your side, they are legally entitled to ask you to return them.
Overhanging Branches
If the branches of a neighbour's tree start to grow over to your side, you can cut them back to the boundary point between you and your neighbour's property, as long as the tree is not under a tree preservation order. If it is, you'll need to seek further clarification. However, the branches and any fruit on them which you may have cut down on your side still belong to the tree owner so they can ask you to return them.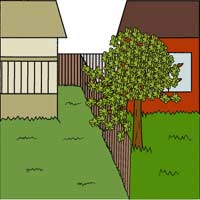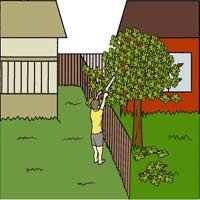 It's a bit of an anomaly really, as while you are obliged to offer the branches back, if any leaves from your neighbour's tree fall into your garden in autumn, you have no right to ask them to come around and sweep them up.
On the other hand, should the trees be causing SIGNIFICANT damage to your gutters (not just blocking them) you can ask your neighbour to pay to have them cleared or to pay for the cost of any damage they might have caused. If they refuse to do so, you can legally sue them and force them into paying. If you lop off any branches on your neighbour's (the tree owner) side of the fence, you are not entitled to Gain Access To Their Property to cut off some more. This is trespassing and you could be prosecuted.
Tree Roots
You are entitled to dig up and remove any roots that have encroached upon your land. Roots can cause a lot of problems and if they're deep and/or causing subsidence or any other form of damage to your side of the property, you might need to get a tree surgeon or some other kind of structural engineer to deal with the problem.
It's always better to discuss this with your neighbour first but if an expert does have to be called in, it's the tree owner's responsibility to foot the bill. They can then choose to pay up front or by claiming it against their own home insurance policy.
Take Action
You may also be interested in our
neighbour's trees action guide - written by a barrister
You might also like...
Can roots be cut on one side of the fence causing the bush/tree to fall over
Ken
- 20-Apr-19 @ 10:50 AM
I own the land around my home and the back of two others in the terrace. They have rights to cross to bins and their own gardens. I want to dig up some areas to lay drains from a garden room in my garden. How much notice must I give. I am aware that I must maintain safety.
Marym
- 20-Apr-19 @ 8:47 AM
Hi, Just two days ago I received a letter from a neighbour whose back garden is joined to my left side of the fence. The neighbour had stated that my tree is too tall and needs to be cut down due to blocking of sunlight. I believe I have three houses on my left side whose back garden fence is joined to mine and his house is the second one. The tree is right at the back in the corner no where touching is garden. As it's sunny today I have watched where the sunrises from. It's between tree and the end house and goes above the house and eventually sets in the west diagonally. The sunlight only hits his window when it gradually moves during the day. Again the tree is no where. I am really having anxiety issues as keeps threatening me with legal actions. The tree had been there before I bought the house 13 years ago. We have never once received any complaints from him or anyone else matter of fact. I found out he had made the same compliant to two other properties. One of them in stress cut his tress when it was again no where near blocking any sunlight. Please can you give me some advice. Many Thanks
Jay
- 19-Apr-19 @ 7:01 PM
Hi. I own a house where my neighbors. Tree.The whole trunk has burst through. A fence panel. And lifted. The concrete partout. .Where do I legally stand. ? When I first brought the house. The neighbor said the tree was protected. I have found out it isn't. And asked about it. But turns. Our neighbor. Actually likes the. Tree for their own privacy .. any advice is greatly appreciated. And I live in. England. If that makes any difference
Patrick Hudson
- 26-Mar-19 @ 7:27 PM
My neighbor cut a bunch of branches off of his tree and left all of them on my side of the fence. Am I responsible for removing the branches?
Suezyq
- 21-Mar-19 @ 10:16 PM
I live in council property tree in the garden has fell on neighbours fence and damaged private tenant fence who is responsible to pay to renew fence.
Kaz
- 19-Mar-19 @ 12:12 PM
Tree in my council property garden has fell on neighbours fence who are homeowners who is responsible for paying for new fence
Kaz
- 19-Mar-19 @ 12:09 PM
Neighbour at back of our garden has a 14m eucalyptus tree which overhangs our back garden considerably, blocking out light, shedding loads of leaves, bark and even heavy branches fall off, particularly in the Summer when our children are out there playing! The roots have broken by fence and are causing damage to our shed. It has a TPO on it and on the council website it says it was here before the houses were built. It really needs to be reduced in size both height and lateral branches. Whose responsible for applying to the council to get permission to have it cut back? If the council grant permission, whose responsible for paying for a tree surgeon to cut it? Urgently need your advice, DS
DS
- 24-Feb-19 @ 11:13 AM
neighbour has a 60ft gum tree in yard for years this tree is shedding leaves in autumn (many leaves) into our yard. I have accepted situation up to now what can be an outcome to this situation
carts
- 15-Feb-19 @ 3:22 AM
Hi, So Ive recently purchased a house and started to arrange the garden,what I've notice is that one of my neighbour has grown like pine trees all along the length of the garden(and I have a big garden) and the trees are very close one to another all along the fence and they are like5-6meters tall, this way that the sun doesn'treach my yard. And I don't have sun during the day more than one meter due to these trees,is there any law that asks to cut them shorter so I can enjoy the sun in my garden? Thanks
Anca
- 28-Jan-19 @ 2:24 PM
You recently stated that people are responsible for the fencing on the right hand side of the property, not true..I have seen a solicitor with the deeds of my property and it states shared...having bad problems with new neighbour on that side as I have during the years replaced panels on both sides and rear..now the concrete stumps have cracked and not holding panels. I have offered to go half ,even went as far as say I would buy them if he would put them in..no joy...any suggestions please.
Maggie
- 12-Jan-19 @ 5:45 PM
Please Sir/Madam, We are still having a lot of problems washing birds droppings on our Cars parked on our drive way, DAILY.We are at No 6 and No 7 although family at No 8 suffers same problems but not as severe or as frequent as we do.The birds droppings are so strong it affects theCars paint Similar issues that affected Houses at No 31 and 32 Tansy Close E6 5NS, few weeks ago is now a thing of the past due to Newham Council decisiveaction, which is pleasing to us all.This is not the first time we highlighted these issues to the Council.However, it looks like those birds are now responsible for the increased intensities of birds droppings on our Cars and drive ways.Some of these birds droppings end up inside the house, picked up inadvertently with shoes into the house as you walk into the house, a form of health hazard. Please help us by also removing only this tree asap.We have other Newham Council trees in the back Garden areas that does NOT constitute nuisance. to residents. Many thanks for your valuable cooperation. Mr Maurice Udebhulu, T.A. Facilitator 03/01/2019
T.A. Facilitator
- 3-Jan-19 @ 12:37 AM
Hi everyone almost month ago one company cut my tree from front garden i paid £500 included they take away the trees they cut.They said needs to be dry will get in 2 weeks which is pass already they not pick up phones or not respond my sms.What i have to do legaly?
Hereiam
- 20-Dec-18 @ 1:46 PM
My issue is a Madrona rooted in my neighbors yard but the entire tree hangs over my yard and potentially could crush the whole kitchen at my house am I allowed to cut that tree down at the property line it would be at least 3/4 of the tree?
Jab
- 16-Dec-18 @ 9:37 PM
I was driving down the road in a uhaual moving truck when all the suden bam the truck came to a dead stop cause the top of tthe truck hit a low hanging limb ...the trees trunk is in a ladys yard ..is she respinsible???? For damages
Billy
- 24-Nov-18 @ 7:22 PM
My neighbour has a huge sycamore tree which overhangs our car park. The sap and bird droppings are causing significant damage to the cars of several of us in the building. Our managing agents have contacted the owner of the tree and have asked them to top and cut back the tree which has to be about 50ft tall. They were contacted about a month ago and still haven't responded. Is there anything else we can do?
Gray
- 15-Nov-18 @ 1:01 PM
A neighbour has two very large trees that overhang the retained land managed by our Residents Association and bend onto the roof of one if the individual house owners. Those running the Residents Association have not arranged any gardening in this part of the commonly held gardens for many years.The house owner has now asked the Residents Association to pay for the cutting back of these trees (which will need to be done from the owners garden). The Residents Association are saying it is not their responsibility and the house owner must pay the cost themselves. Is this correct?Can the house owner go back to the original neighbour boundary or must they only cut to the boundary between their property and the Residents' Association's boundary by them? Who should bear the cost?
Truth2Power
- 11-Nov-18 @ 6:58 PM
Please can you help. I recently returned home from work to discover a tree which was firmly located upon my property had been chopped down leaving only a stump on my property. The branches which provided fruit in my rear garden where they were located and shade on my shed roof, all on my property, were gone. The missing timber was nowhere to be seen. The tree had sentimental value, being a favourite of my Father when he was alive. I belive that the tree, a fruit bearing elderberry, was felled during maintenance perform by network rail. I feel trespassed. This feels like vandalism to my property. A violation. Please may I ask your advice or assistance with bringing my dismay and outrage to the organisation responsible. Ian
Peelie
- 7-Nov-18 @ 12:51 PM
My Neighbour has a row of trees that must be 40-50 high (if not larger) it starts with two huge pines entwines with another type tree a small gap with 2 new trees growing up fast in the gap then finishes of with a maple. they have destroyed any enjoyment i get from my garden, the pine trees are casting needles like you wouldnt believe as are the other trees. my gutters are constantly blocked with his leaves and needles, moss is starting to grow everywhere i get no light and spend weekends filling the 2 brown bins (i had to request a second bin to cope with the leaves and still not enough) I am sick of the whole situation of unblocking drains hoovering up leaves or washing my paths clean of bird muck from pigeons roosting in his trees above my property
Fowlwynd
- 5-Nov-18 @ 12:45 PM
My neighbour has removed a whole corner of my beech tree. Yes, it did overhang their garden but all the trees in my garden have TPOs. The land where the houses were built was originally a large farm and the developers tried to put fences where they could without 'cutting' trees in half. We originally had 11 trees but over the years storms and disease have meant we have had to remove some, with council permission where necessary. The tree looks very strange now. We can only think he did the work when my husband seriously ill in hospital for three weeks. We only have evidence of when he previously removed some branches. He has threatened us in the past, neighbours the other side moved out because of his behaviour, so what do we do? Do we put up with a badly damaged tree and keep quiet or report him to the council?
Angrynan
- 21-Oct-18 @ 9:55 AM
I have the branches of an oak tree with a TPO on it on a neighbouring piece of spare land, never maintained, all summer we have had to put up with sticky black leaves everywhere,meaning no washing could be put out or even sit out,all the gutters have to keep being cleaned out, the council say a few branches over 5mtrs high can be cut, which isn't a great help as a lot of branches are over the land it is on.we juust want to enjoy our home and do normal things
wallyollie
- 4-Oct-18 @ 9:45 AM
We hired an arborist to trim our backyard tree at the request of a neighbour. The branches extended over into two yards. The arborist gave us a quote splitting the costs between neighbours with us paying 50% of the service the other two sharing 50%. Now one neighbour is refusing to contribute even though they were happy with the service. I would like to know what is the general rule about overhanging branches which are not causing damage and how a bill is managed thank you.
Neighbour has cut my over hanging branches at the back of my property( not on there property), it belongs to the water board , in July this year they cut some branches where they were over hanging onto there's but came into my boundary by approximately 18 inches. Do I have a case ??
luckyme
- 2-Oct-18 @ 4:38 PM
I have a alleyway behind my garden, it doesn't lead to anywhere. Then you have houses behind my garden. There are 2 overgrown fit trees which are blocking sunlight in my south facing garden. These trees are effectingmy neighbours garden and two doors away as well. We have spoken to them and they have refused to do anything about it. I have got in contact with my local council if they can tell me if they can tell me if it's a council house or it's privately owned, they said they can't do that as it's a data protection act. So what we could do now.
Jularoso
- 28-Sep-18 @ 1:31 PM
I have tall trees bordering my garden.On one side is a single track road with my neighbour's property alongside it.He wants me to cut down or severely reduce these trees as leaves block his gutters and gather in his yard. He says there are overhanging branches but I 've not noticed these. We have been here for 30 years and our neighbour only 4. We made it clear before they moved in that we love our trees and won't take any down unless they are dangerous. They do not block light. If he takes this further , has he a right to legal action?
Too
- 17-Sep-18 @ 8:32 AM
My neighbour moans as us when the bin men leave our bins by her garage before we have the chance to move them . She is a barrister so will understand the law better than us but she has vegetation encroaching rapidly into our garden and a rapidly growing fig tree that is taking over her garden . My concern is she doesn't keep the garden maintained , what am I able to ask her do before they become a problem ?
Milo2016
- 15-Sep-18 @ 11:32 AM
We have an established holly tree ( which is beautiful and full of wildlife) that is planted in our garden but over the years (prob about 30) the trunk has bended and drifts over our neighbours boundary and then back into our garden. The current fence has been erected to account for the tree trunk.As the fence is wearing the neighbours would like to replace with a higher fence and want all the tree cutting right back to the boundary And have sent us a copy of some legal advice they have been given saying we are trepassing by the tree being across the boundary and going to court if we don't cut it back will cost circa (20k!).( we know the email has come from a lawyer friend of there's so is by no means official) I'am reading lots about common law and that neighbours can cut Back branches and trunk back to the boundary but as the tree owners, do we have to do it if requested?We have tried to be amicable with them but it's turning nasty.We are also in a conservation area so aware we will need permission to prune anyway.Any immediate advice or comments would be welcome please.
Archie
- 11-Sep-18 @ 10:11 PM
I have a tree on the other side of my garden wall which is the responsibility of the Highways department of our county council. Around 3 years ago we requested they cut the tree back, which they did for us and we were surprised at how much light we had gained!We have recently asked them to cut it back again as it is wider than our house and is over half way over our garden. The leaves have started dropping and we only have a small garden so it will get completely covered. We also have a drain in our garden. And I'm worried about my gutters. They have refused to do anything about it stating they only cut dangerous or dying trees. If we were to get it done ourselves, can we bill the council, or if we get blocked gutters from the leaves, can we bill the council? I am really annoyed as, I love the tree but it really is too big and out of control. Any advice would be appreciated. Thank you in advance
Niki
- 10-Sep-18 @ 12:29 PM
Debs - Your Question:
If my neighbours fig tree hangs about 4 foot over my fence can I cut it in my side and give them the branches back
---
Our Response:
You have a common law right to cut back tree branches that overhang onto your property. The law states that any branches cut off belong to the person on whose land the tree originally grew, so you should ask your neighbour if they want them back, or if they are happy for you to dispose of them. Do not just throw trimmings back over the boundary - this could constitute 'fly tipping'. Ask your neighbour whether they would like any trimmings back. Equally any fruit on trees, even if they are growing on branches which overhang your property, still belongs to your neighbour. You are therefore stealing if you pick these for yourself without your neighbours' permission.
ProblemNeighbours
- 10-Sep-18 @ 11:23 AM
We have our neighbours Apple tree branches hanging over over our chalet they are hanging over about 5ft on the roof causing damp when it rains . We have been told by a housing officer we have to pay a tree surgeon to cut the branches our side and and pay them to take them away .We live in a privately owned property .
Bramble
- 6-Sep-18 @ 8:02 PM