Your Rights on Trees & Overhanging Branches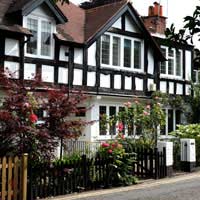 Trees can add a great deal of splendour to a garden. They could be fruit bearing trees, a place in which to retreat to the shade and they can also add a great deal of colour to a garden. However, they can also cause a nuisance to a next door neighbour when they start encroaching onto your side of the fence, with problems ranging from attracting unwanted insects like bees and wasps, blocking out your light and shedding their leaves all over your garden. Therefore, it's important to know what your rights are and what you can and cannot do.
Establishing Ownership of Trees
The tree belongs to the person upon whose land it has originally grown. Even if its branches or, worse still, its roots have begun to grow over or into a neighbour's territory, it belongs to the landowner where the tree was originally planted. Even if the tree bears fruit or flowers on branches which overhang into your land, it's an offence under the Theft Act 1968 to keep them or to take cuttings of flowers, for example.
Obviously, many neighbours will not tend to worry about that too much but should a neighbour, for example, see you collecting apples from their tree even though the branches have grown onto your side, they are legally entitled to ask you to return them.
Overhanging Branches
If the branches of a neighbour's tree start to grow over to your side, you can cut them back to the boundary point between you and your neighbour's property, as long as the tree is not under a tree preservation order. If it is, you'll need to seek further clarification. However, the branches and any fruit on them which you may have cut down on your side still belong to the tree owner so they can ask you to return them.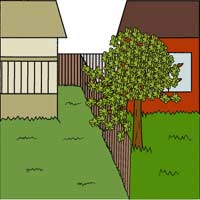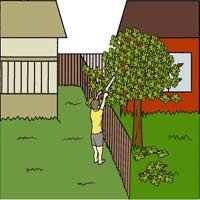 It's a bit of an anomaly really, as while you are obliged to offer the branches back, if any leaves from your neighbour's tree fall into your garden in autumn, you have no right to ask them to come around and sweep them up.
On the other hand, should the trees be causing siginificant damage to your gutters and or blocking your drains, you can ask your neighbour to pay to have them cleared or to pay for the cost of any damage they might have caused. If they refuse to do so, you can legally sue them and force them into paying. If you lop off any branches on your neighbour's (the tree owner) side of the fence, you are not entitled to Gain Access To Their Property to cut off some more. This is trespassing and you could be prosecuted.
Tree Roots
You are entitled to dig up and remove any roots that have encroached upon your land. Roots can cause a lot of problems and if they're deep and/or causing subsidence or any other form of damage to your side of the property, you might need to get a tree surgeon or some other kind of structural engineer to deal with the problem.
It's always better to discuss this with your neighbour first but if an expert does have to be called in, it's the tree owner's responsibility to foot the bill. They can then choose to pay up front or by claiming it against their own home insurance policy.
Take Action
You may also be interested in our
neighbour's trees action guide - written by a barrister
You might also like...
@dj. You can trim back the branches that are overhanging your property. Keep an eye on the sycamore, though it's rare that trees cause as much of a problem as people expect - you can always ask a surveyor to assess the likely impact on your property.
ProblemNeighbours
- 4-Mar-15 @ 11:10 AM
@Sharpnup. There is nothing to prevent you from trimming back any branches that overhang your side of the boundary. This should prevent much of the problem regarding bird dropping etc.
ProblemNeighbours
- 3-Mar-15 @ 1:48 PM
Hi our neighbors have a large laurel tree of which half of it is over hanging in to our garden we have asked him to trim it back several times over the last year but nothing has been done. I am going to put this in writing giving him a further month to do something. If I dont get a result can I then chop the over hang back.I am also concerned about a sycamore tree which is write next to the fence on his side only about 7 years old but growing fast it is only about 5 meters from out property and i,m concerned about the roots and with the foundations and drainage of our property.Any help would be appreciate
dj
- 28-Feb-15 @ 12:50 PM
We live in a Grade 2 listed Cottage (Row of 8)e with a Conservation area covering locally. Our Neighbour to the rear of our garden has numerous trees that have grown in the 2 years we have lived here, and blocked alot of light out of our garden, branches overhanging garden and car park-Where due to the branches birds have significant droppings over our car every day :-( Neighbour doesn't want to trim trees because his past father planted them. Could you please advise what course of action I can do. Trees are not native or of significant rarity. I like the trees but just need them trimmed back and don't think I'm been unreasonable.
sharpnup
- 27-Feb-15 @ 1:51 PM
@Tommo - you may need to seek hire a professional tree company to trim them back if they are bothering you. Unless they trees are looking like they'll cause imminent damage to your property and your neighbour is aware of it, he/she does not have to do anything about them.
ProblemNeighbours
- 25-Feb-15 @ 2:37 PM
Next door neighbour has a Swedish fir tree and branches are coming over into my garden but I wouldn't be able to cut em down from my garden as they are too high to reach.how do I go about getting em trimmed bearing in mind neighbour is very awkward
Tommo
- 23-Feb-15 @ 5:40 PM
@gurd. As the article says, you can cut back the branches that are overhanging your property. You must offer the branches back to your neighbour, but he is not obliged to accept them.
ProblemNeighbours
- 5-Feb-15 @ 10:34 AM
My neighbour has a 50ft eucalyptus tree and half of the tree Is growing over my fence, 2 main branches are the offending parts that causing me a headache. I have spoken to my neighbour and have asked his permission to cut them back, but he has constantly said he would come back to me but he had failed to do so. Can I cut these 2 branches back to the boundary? Do i have to give my neighbour the remains of what is taken down?
Gurd
- 1-Feb-15 @ 11:00 PM
@Davsin. There's nothing to prevent you from trimming back the parts that hang over your property - in fact common law gives you the right to do so.
ProblemNeighbours
- 30-Jan-15 @ 11:08 AM
our elderly neighbours have a very large Hebe in the front garden.it is about 10-12 ft tall and grew right over our front driveway making car parking, opening car doors etc difficult.After a polite conversation last year our neighbours tied it up, but it still hangs over our driveway.We get wet, get our clothes snagged by it and the lady has actually suggested my daughter should park elsewhere if she cannot open her car door because of it.Any suggestions as to how we can resolve this without falling out with these rather thick skinned elderly couple?
davsin
- 28-Jan-15 @ 1:56 PM
@jules. There's not always a great deal you can about a tree that simply has some branches extending into your garden. However,under common law a tree owner is responsible for managing and maintaining it so that it is not a nuisance to anyone else - in the same way that they are responsible for looking after any other part of their property. As the article makes clear,under this common law, you are entitled to trim back the branches(assuming no tree preservation order is in place). If you feel the tree is dangerous, notify the neighbour and ask them to take necessary steps to ensure its safety. The Local Government (Miscellaneous Provisions) Act 1976 enables your council to act if the tree owner will not carry out the work. It is a last resort and the tree must pose a threat of actual damage to a property or harm to a person. It
ProblemNeighbours
- 28-Jan-15 @ 1:52 PM
@sifly. Offer them to the person who is actually living there.
ProblemNeighbours
- 28-Jan-15 @ 12:29 PM
Hi,I have a large pine tree which has many branches growing over my side of the fence. It drops a lot of needles which constantly block my gutters. In addition to the branches the main trunk of the tree also leans over and grows over my boundary. The neighbours will not let me take down the whole tree. I know I entitled to cut the branches (which will leave an odd shaped tree anyway) but what are my rights regarding the trunk?Many thanks
jules
- 26-Jan-15 @ 3:44 PM
Hello, the garden where the tree is on is rented. If I was to cut the branches which over-hang into my garden, legally, who am I meant to offer them to, the tenant or the landlord?
sifly
- 26-Jan-15 @ 1:26 PM
@memz - they should really have asked you if you would like the branches returning. Ask them nicely if they would do that next time.
ProblemNeighbours
- 13-Jan-15 @ 11:52 AM
My tree branches past my fence to my neighbour garden side and they cut branch and they throw my garden again. I know they have right to cut branches but do they have right to throw my garden
Memz
- 11-Jan-15 @ 1:36 PM
@irene. take a look at
this article
and also the responses to comments below as they are very relevant to your case.
ProblemNeighbours
- 9-Jan-15 @ 2:02 PM
There are 2 very large trees in my neighbour's garden that are so big, their branches overhang on the entire width of my garden. In the summer I have very little natural light and cannot use the garden due to the leaves, nuts and fluff that comes off the trees; not to mention the bird mess which covers the entire decking. I know I have the right to trim the overhanging branches but it seems unfair I have to pay for this service almost every year just to be able to use my garden. Is there anything I can do to at least get the neighbour to split the cost with me? I have approached him about this already and he said he will not trim them but I am allowed to do so myself and throw the branches over to his side. However, I do not have anything in writing from him saying it's ok for me to throw the branches over to his side; is this ok? Should I have something in writing? What if he then tells me he never agreed for me to throw the branches over to his side? It would be my word against his.
Irene
- 8-Jan-15 @ 11:41 AM
our neighbour is unapproachable, we have tried in the past and received nothing but abuse. We have recently had an extension built to the rear of our property which was uncontested by this neighbour initially but she soon changed her tune when the builders arrived and started work. She now has claimed a small portion of our land and refuses to allow our builders onto her land to re-erect the dividing fence. We have shown her both our title deeds and a copy of her own which clearly shows the divide location but she is still not allowing access to our builders. Where do I stand legally? What steps do I need to take to have this sorted out?
ridgy
- 28-Dec-14 @ 6:16 PM
@woodnth. No we do not have any agenda here, we do refer people regularly to this guidance, but as you can see after reading the guidance, it's not an easy or cheap solution to follow the recommended courses of action via the courts or mediation so we err on the side of realism.
ProblemNeighbours
- 12-Dec-14 @ 2:47 PM
I find your guidance very negative. Basically you say that victims of nuisance trees have absolutely no real rights. However, the House of Commons Library (Standard Note:SNSC/02999), which is available on line, suggests that victims DO have some rights. Are you promoting a different agenda here?
woodnth
- 12-Dec-14 @ 12:50 PM
hi my elderly neighbour has 10 very very tall conifers growing up against our boundry I have asked very kindly for the last year and a half for them to be cut as they over hang our fence and cut out our light in the summer one of them is badly on the lean and I fear it will come down on to our sheds in high winds she refuses to remove the tree on the lean ,iam I in my rights to remove a whole tree that is lean over our property ?and is there a law on how high conifers can grow many thanks
blossom
- 12-Dec-14 @ 9:31 AM
@arizona1. Yes you could trim them back as far as the fence line until you establish the exact boundary.
ProblemNeighbours
- 8-Dec-14 @ 1:47 PM
I have a neighbor that has planted oleanders and trees on his side of the property line about a foot or so of the property line. Now these bushes have grown over onto my property . When i drive in my side lot driveway My mirror and even the side of my truck can brush up against them causing scratches. I am going to get a inspector to locate exactly where the property line is . My question is can I trim away the sides of them bushes when i find out the exact property line location? There is no wall . Thankyou in advance for your help.
arizona1
- 6-Dec-14 @ 11:06 PM
@Boycierot. You could try approaching the new neighbours when they move in and see if they are willing to do anything about it. Otherwise unless the tree is causing actual damage, there is very little that can be done.
ProblemNeighbours
- 4-Dec-14 @ 12:59 PM
Hi - we own a rental property and the house next door is currently up for sale and is lived in by it's owner and not a tenant. He has a large tree over 30ft in his garden and it is near our fence and several other neighbours fences too who are all really unhappy with the tree as it blocks light but also sheds leaves and dirt all over our gardens. We approached the Council who weren't interested and the estate agent but he said the owner "didn't care about it" - would anyone have any suggestions please on how we should approach this problem? Thanks
Boycierot
- 2-Dec-14 @ 6:23 PM
@Dawn. You should call the council to establish who the tree belongs to. If theirs, they have a duty to ensure the tree does not cause an obstruction and may also be responsible for the blocked drain. They may also trim back the tree that overhangs your property but they are not obliged to do this. You, can trim those branches back yourself but first check to ensure the tree is not subject to a tree preservation order.
ProblemNeighbours
- 28-Nov-14 @ 2:20 PM
Our property is overhung by a large branch of a tree that is on a grassy area to the side of the house (so I presume it belongs to the council?). Not only are we forever clearing the leaves from our garden, our gutters are getting blocked and the drain on the road by the tree is blocked now so when it rains our parking spaces flood... Is it the council's responsibility and what laws are involved so I can have an informed discussion with the council. Thanks
Dawn
- 27-Nov-14 @ 9:48 PM
@Iggy. They don't have to chop down the overhanging branches. You can do so if you like though. Please see the above article for more information.
ProblemNeighbours
- 27-Nov-14 @ 1:48 PM
My neighbour has 2 large trees that overhang my driveway. 1 is a Sycamore & in the winter my drive gets covered in leaves & large seeds/nuts that constantly drop on my cars. Birds also sit on the overhanging branches & mess on cars. If they refuse to chop down overhanging branches who do I contact to try & enforce it?
Iggy
- 26-Nov-14 @ 11:10 PM