Your Rights on Trees & Overhanging Branches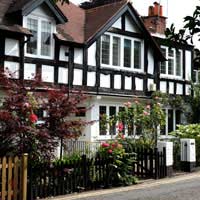 Trees can add a great deal of splendour to a garden. They could be fruit bearing trees, a place in which to retreat to the shade and they can also add a great deal of colour to a garden. However, they can also cause a nuisance to a next door neighbour when they start encroaching onto your side of the fence, with problems ranging from attracting unwanted insects like bees and wasps, blocking out your light and shedding their leaves all over your garden. Therefore, it's important to know what your rights are and what you can and cannot do.
Establishing Ownership of Trees
The tree belongs to the person upon whose land it has originally grown. Even if its branches or, worse still, its roots have begun to grow over or into a neighbour's territory, it belongs to the landowner where the tree was originally planted. Even if the tree bears fruit or flowers on branches which overhang into your land, it's an offence under the Theft Act 1968 to keep them or to take cuttings of flowers, for example.
Obviously, many neighbours will not tend to worry about that too much but should a neighbour, for example, see you collecting apples from their tree even though the branches have grown onto your side, they are legally entitled to ask you to return them.
Overhanging Branches
If the branches of a neighbour's tree start to grow over to your side, you can cut them back to the boundary point between you and your neighbour's property, as long as the tree is not under a tree preservation order. If it is, you'll need to seek further clarification. However, the branches and any fruit on them which you may have cut down on your side still belong to the tree owner so they can ask you to return them.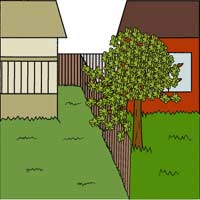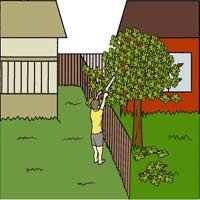 It's a bit of an anomaly really, as while you are obliged to offer the branches back, if any leaves from your neighbour's tree fall into your garden in autumn, you have no right to ask them to come around and sweep them up.
On the other hand, should the trees be causing SIGNIFICANT damage to your gutters (not just blocking them) you can ask your neighbour to pay to have them cleared or to pay for the cost of any damage they might have caused. If they refuse to do so, you can legally sue them and force them into paying. If you lop off any branches on your neighbour's (the tree owner) side of the fence, you are not entitled to Gain Access To Their Property to cut off some more. This is trespassing and you could be prosecuted.
Tree Roots
You are entitled to dig up and remove any roots that have encroached upon your land. Roots can cause a lot of problems and if they're deep and/or causing subsidence or any other form of damage to your side of the property, you might need to get a tree surgeon or some other kind of structural engineer to deal with the problem.
It's always better to discuss this with your neighbour first but if an expert does have to be called in, it's the tree owner's responsibility to foot the bill. They can then choose to pay up front or by claiming it against their own home insurance policy.
Take Action
You may also be interested in our
neighbour's trees action guide - written by a barrister
You might also like...
If I cut the over hanging branches of my neighbours trees do I have the right to put the cut branches into his garden to be disposed of?
Lee
- 21-Jan-21 @ 8:47 AM
I live in a loft-studio flat, second floor. I usually feel the floor vibrating whenever the bus stops in front of the building or even if there's a car with the engine running or if my own fridge is rumbling. Luckily those examples last no more than a few minutes. Things got bad when two and a half weeks ago, my neighbours that live in the basement, had broughtin an industrial dehumidifier to solve a flooding issue they had in their bathroom. They are keeping the dehumidifier on day and night 24/7. It seems to not be causing much problems of noises or vibrations on the lower floors, but it has been causing a constant vibration in my loft. I haven't been able to get almost any sleep in the last 2 and a half weeks and the lack of sleep is really affecting me. They were supposed to be finished in 2 weeks and now they are talking about at least 3-4 more weeks. They are aware that the machine is causing vibrations and that is affecting me but they refused to turn it off during the night. Also because they cannot feel the vibrations in the basement and on the ground floor, they are not taking me too seriously, they think I'm being over sensitive.They are also not living in at the moment, they stay at a different address while they let the machine do the work...I understand they need and want to solve their humidity issue in the shortest amount of time but, do they have the right to have this machine on during the night? Anything else I can do to solve this situation?
Neighbours renting property next door, I have contacted the landlord as there is 2 massive trees in their garden, one for and a sycamore. The latter is a real pain ...cuts out light and sun in the summer, and the leaves and other debris in the Autumn is an absolute nightmare. Now the sap from the falling leaves is taking the stain off my decking. The landlords have had a few quotes and saying it is too expensive to fall the trees, and are suggesting if my neighbour and I want anything done a contribution to the cost would be required Thanking you for any advice. Hun
Hun
- 21-Nov-20 @ 7:41 PM
I have a wooden pergola at the back of my garden. A significant artery of my neighbour's tree is leaning on one of the wooden supports and causing damage to the pergola. The tree has also caused substantial damage to the wall between our properties. After some perfectly convivial conversations with the neighbour, it is clear that they don't wish to fell the tree, and it has already been cut back as far as is practical for the health of the tree. Leaving the wall repair aside, I would like to remove the pergola. As part of that, am I entitled to remove the part of the pergola that is acting as a support to the artery of the tree?
Bob
- 19-Nov-20 @ 1:15 PM
I have been living at my current address for over 14 years and my struggle began the day we moved in, opposite our back garden the owner has massive tree and it's huge branches most of my times during summer and autumn winter goes cleaning and clearing the leaves in our garden sometimes big branches also fell.I can't remember the amount of time I had asked the tenant to tell the landlord to do something also spoke to him over the phone requesting begging him to at least chop the big branches or regularly trim it, but no response, couple of time I had paid from my pockets to trim during summer and twice my next door neighbour had done it himself.We are getting really fed up of this cannot enjoy spending time in the garden without having been cleaning it on a regular basis. Please advice me what can I do. Many thanks
Shah
- 9-Nov-20 @ 3:52 PM
I have a neighbours tree overhanging my garden which drops it's leaves every autumn. My garden is all decorative stone, no grass with only plants in pots. The leaves make a horrible mess and would fill around 6 large bin bags. Am I within my rights to dump the offending leaves minus the bin bags back in the neighbours garden? Not sure it makes any difference but just for info we both rent from housing association. Absolutely sick of the mess every year. Dids
Dids671
- 9-Nov-20 @ 11:17 AM
Hi My neighbour has a 70-80 foot weeping willow tree with some of the branches hanging over our garden , but is to high to reach so we can't cut them back , We recently moved to the house and this was the first year we spendthe summer clearing our very overgrown garden , and have made it looking really nice but the neighbours tree has not stopped shredding leaves and on windy days even branches have fallen in the garden , we keep trying to clear it up but it's alosing battle , throughout the year it also blocks out a large amount of light in our garden , now it's autumn the situation is 100 times worse , we have spoken to our neighbour about it and she got really funny with us but eventually did agree that she would have some cut off in the winter months but she wants us to pay half, if she doesn't go ahead with it do we have any rights to get something done about it Thanks m
Micki
- 8-Nov-20 @ 9:35 AM
My neighbors have overgrowing bamboo in my backyard, I had to replace the old fence and put a new one and now it's pushing my fence I got pictures of dents in my fence and the bamboo it's also over the electric cables, the neighbors don't want to do anything about it, they said they're renting and they refuse to give me the owners number to contact them. Please give me an advice I also have a swimming pool in my backyard and all the bamboo leafs fall in my pool, my backyard is constantly full of leafs this situation is depressing.
Marie
- 7-Nov-20 @ 4:16 PM
Hi, My mother is the owner of a newsagents and above that is a flat which she resides in. The neighbours trees are well over the 2 metre threshold and there are several of them. The problem is that the branches are coming over onto my mothers property, blocking light and signal, also allowing rats to climb into the attic. The neighbour is refusing to cut the trees, and if my mother is to cut the trees, this will be in excess of £1000. Please could someone advise. My mother is 69 and the neighbour is ever so rude.
Preya
- 26-Oct-20 @ 9:21 AM
Hi. I brought property with a massive high 30meters Christmas tree at the front. Over year we noticed a tree start to leaning on one side(corner of neighbour garden and public road) what we should do in this situation? Do we allowed to cut it down before it make disaster? Do we need to inform the council? Maybe they can cut it down? It's a beautiful Christmas tree, perfect for council to use it on Christmas days in the town centre.
Magcz
- 19-Oct-20 @ 4:20 PM
My neiybor has plannedVirginia creeper vine all over her front yard. It is reaching over into my property and all over my hedge. I'm very allergic to it. What can be done. Thanks
frustrated
- 7-Oct-20 @ 9:59 PM
My neighbor has a tree that her pecans are falling on top of my roof hitting it hard on my property I need help I don't know who to contact because she doesn't want to do anything about it she told me and my husband to cut the limbs but that whole tree needs to go she's ignoring us so now I have to go to other links to get her to cut the tree who do I contact help me please.
Punkin
- 5-Oct-20 @ 1:44 PM
My neighbour has a huge Ash tree growing in their garden boundary in a private Alleyway. The Ash tree has grown to a great height and its branches are now overhanging high and in all directions with a distance of 6-7 meters away from my property. There is a risk of it snapping and falling onto the property. I have also seen signs of subsidence in my property (first floor) with cracks appearing on walls and ceiling. My neighbour has just ignored requests for it to be cut down and thinks it is the councils responsibility to cut it down. However the council will not touch it as it is in a private alleyway. What action can I take? Currently the neighbour's property is on rent and I have no address to write to the neighbour. What can I do to resolve this.
Joy
- 2-Oct-20 @ 11:18 AM
My next door tree is over growing in my garden I've jist do my garden out and the tree branches keep falling n my garden I've asked them to cut it back but they are not assed
HelloFresh
- 30-Sep-20 @ 2:45 PM
Hi my neighbours at back of me have a non edible tree overgrown the berries n leaves keep coming in my garden n nearly had disaster last week my grandson put berries in mouth luckily I got them out everyday my garden looks a mess I sweep up everyday artificial lawn which I had done as my grandson has cerebral palsy can I cut the tree bk so it doesn't come in my garden without her permission
Shell
- 28-Sep-20 @ 5:58 PM
My neighbour lifted a fence panel came into my garden and drilled into the base of a tree. I reported both to the police for criminal damage and to the council as they are tenants. The letter they had from the council sort of did the trick but they did come round being aggressive and thought it hilarious when I said it made me feel unsafe in my home. I would still advise anyone to make a report. Its bullying and they wont get away with it.
Witchy
- 6-Sep-20 @ 2:28 PM
My daughter has a fruit bearing tree (non/edible) overhanging her back garden but the tree is full over wasps after the fruit and she is unable to let her children (one has already been stung) or even her dogs (also been stung) into the garden at all now? She is so terrified that the wasps will attack again, they have been literally smashing against her windows trying to get in! She contacted the farmer who said he would allow the nest to be removed but the pest controller said that there was no nest in the tree and that the wasps were literally being attracted by the berries and therefore he could not help her! Our question is, can the farmer legally refuse for the tree to be trimmed down in this case as that appears to be the only way to stop the wasps according to the pest controller?
Lily58
- 5-Sep-20 @ 11:47 AM
My neighbour keeps cutting the leaves off my yucca tree that is about 2 Ish from the boundary are they allowed to cut it when it's in my garden we do not get on and don't speak what can I do to stop them thanks
Bob
- 27-Aug-20 @ 5:15 PM
I have a problem next door neighbour that keeps cutting the leaves off my yucca tree past the boundary we do not get on or speak what can I do to stop them and will my yucca survive
Bob
- 27-Aug-20 @ 5:10 PM
There are two silver birches overlooking my garden. My neighbours gardens are higher than mine and the trees are at least 50 ft high. The branches hang over my garden and the mess is awful, I can't open my windows without them covering my bath and even getting into my bed. I've asked them to trim them down but they've refused. I think I can cut down the branches that overhang in my garden and give them to her but I just wanted to know if there's a law regarding the height of the trees.
Pinklady
- 22-Aug-20 @ 11:02 PM
Hi. I'm struggling with my neighbour. He has two very large eucalyptus trees next to my boundary. They have TPO on them. Don't ask me why? They are very large And overhang my garden deposit branches and leaves everywhere I have asked him to trim them as advised by the local authority tree officer. He refuses. Where do I go next? Any advice.
Janus
- 21-Aug-20 @ 3:11 PM
The neighbour who back on to my back garden have been cutting down trees at 6.30 am my concern is that we have had birds nesting in the trees. I'm also worried he will try to cut my trees down behind my summerhouse as last year I had to stop him from doing this as he thought they were on he's land I did dhow him that the neighbours to both sides of us they fencing was in line with mine so he should not cut my trees down
Vanessa
- 20-Aug-20 @ 8:24 PM
I have my private parking spot, and to the side of my car is a boundary fence and beyond that belongs to the council, there is about six cherry trees that are overhanging the car park and my car gets covered every year with cherries and when they are ripe they sick all over the car and windows and leave stains on my car . I've informed the council about this problem and nothing has been done about it, is there anything I can do so this problem doesn't occur again, thanks
Magoo
- 18-Aug-20 @ 11:57 AM
My neighbour is a local authority. The trees in their woodland,which abutts my land, are growing through my fences,overhanging my garden andblocking sunlight. What ard my rights to enforce them to manage their wood and coppucd their immensely high trees.
Rosierainbows
- 18-Aug-20 @ 1:28 AM
My neighbour has trees under a preservation order and a hedge that are causing structural damage to my property, can I cut off the overhanging branches and who pays for the tree surgeon? How much would a solicitors letter cost to write to the owner of the trees approximately?
Lindylou
- 14-Aug-20 @ 10:26 AM
I have a neighbour who asked if they could cut their trees from my side of the garden and then left the branches in my garden. Can I throw them back over to them.
Prehysteria
- 12-Aug-20 @ 12:10 AM
If its damaging your house get a solicitor involved as the tree owner needs to pay for any damages and work needed to repair what his tree has done. This is by law
Rob54231
- 5-Aug-20 @ 5:01 PM
My neighbour has a rose bush at the front of our terraced properties and it overgrows over to our side of the drive every year making it very difficult for me to get children in and out of the car! I cut it back last year as it was awful but this year husband is saying I need to ask first because of the flowers on it. Is this right? We don't get along with them so I'm not really wanting to have to knock on the door to ask permission to cut it back! Any advice greatly appreciated!
kbakes
- 5-Aug-20 @ 8:47 AM
Where do I stand? My neighbours silver birch trees and conifers are taller than my house, over hang my land, block out light and are damaging my roof. Where do I go for help? I'm not council I own the house in question Help - he's an awful, selfish little old man
Clare
- 1-Aug-20 @ 6:35 PM
I have tree growing wildly behind my fence at back of garden. It is pushing my fence down. The land the tree is growing on is owned by a building company. I wrote to them, have made several calls and left messages, asking them to cut the tree. They are ignoring all my messages. My neighbours also have trees growing, owned by building company, with branches going in their gardens. The building company is not maintaining any of these trees. What should we do next?
Cazz
- 19-Jul-20 @ 8:53 PM