Your Rights on Trees & Overhanging Branches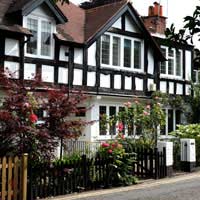 Trees can add a great deal of splendour to a garden. They could be fruit bearing trees, a place in which to retreat to the shade and they can also add a great deal of colour to a garden. However, they can also cause a nuisance to a next door neighbour when they start encroaching onto your side of the fence, with problems ranging from attracting unwanted insects like bees and wasps, blocking out your light and shedding their leaves all over your garden. Therefore, it's important to know what your rights are and what you can and cannot do.
Establishing Ownership of Trees
The tree belongs to the person upon whose land it has originally grown. Even if its branches or, worse still, its roots have begun to grow over or into a neighbour's territory, it belongs to the landowner where the tree was originally planted. Even if the tree bears fruit or flowers on branches which overhang into your land, it's an offence under the Theft Act 1968 to keep them or to take cuttings of flowers, for example.
Obviously, many neighbours will not tend to worry about that too much but should a neighbour, for example, see you collecting apples from their tree even though the branches have grown onto your side, they are legally entitled to ask you to return them.
Overhanging Branches
If the branches of a neighbour's tree start to grow over to your side, you can cut them back to the boundary point between you and your neighbour's property, as long as the tree is not under a tree preservation order. If it is, you'll need to seek further clarification. However, the branches and any fruit on them which you may have cut down on your side still belong to the tree owner so they can ask you to return them.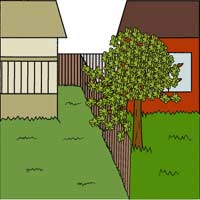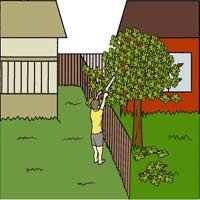 It's a bit of an anomaly really, as while you are obliged to offer the branches back, if any leaves from your neighbour's tree fall into your garden in autumn, you have no right to ask them to come around and sweep them up.
On the other hand, should the trees be causing siginificant damage to your gutters and or blocking your drains, you can ask your neighbour to pay to have them cleared or to pay for the cost of any damage they might have caused. If they refuse to do so, you can legally sue them and force them into paying. If you lop off any branches on your neighbour's (the tree owner) side of the fence, you are not entitled to Gain Access To Their Property to cut off some more. This is trespassing and you could be prosecuted.
Tree Roots
You are entitled to dig up and remove any roots that have encroached upon your land. Roots can cause a lot of problems and if they're deep and/or causing subsidence or any other form of damage to your side of the property, you might need to get a tree surgeon or some other kind of structural engineer to deal with the problem.
It's always better to discuss this with your neighbour first but if an expert does have to be called in, it's the tree owner's responsibility to foot the bill. They can then choose to pay up front or by claiming it against their own home insurance policy.
Take Action
You may also be interested in our
neighbour's trees action guide - written by a barrister
You might also like...
@shorty. If you feel you will gain anything by this you could complain for damages in a civil action.
ProblemNeighbours
- 26-Mar-15 @ 2:22 PM
My neighbours asked if they could trim the overhanging branches from my fence i agreed to this.When Icame back later that day he had been in my garden without. Permission&hacked all my hedges andtrees down and he left all the trees lying. I'm so upset by him doing this.What is my rights and should I have phoned the police
Shorty
- 24-Mar-15 @ 1:08 PM
@Mags. You can find out whether the tree belongs to any other property via the boundary details (the land registry will have these). The owner does not have to cut this tree down if it's not dangerous. If it's only blocking sunlight from your lawn, this will not constitute sufficientreason to get the tree removed. If it is blocking light from a window in your house you may be able to acquire the right to light with the help of your local council.
ProblemNeighbours
- 24-Mar-15 @ 12:01 PM
@youngatheart1. No you do not have to remove them unless they are dangerous (which is unlikely). There is some (very small) scope that the neighbours could complain under the high hedges section of the antisocial behaviour act but it's unlikely they'll get very far with it - read through
this guide to check
ProblemNeighbours
- 24-Mar-15 @ 11:22 AM
I used to have a large tree in my garden and had it removed as was too tall and blocking the sunlight from my lawn. Now since my tree has gone., the tree behind had now got so much bigger and is blocking all the sunshine and light from my garden. The leaves fall on my lawn and every year I have to de-moss it and start again the lawn again is in such a terrible state. The property with the Tree is rented, so I got in touch with the estate agent who told me to carry on. Asked a tree surgeon to give me a quote for the work to be carried out professionally and was prepared to pay. Anyway, rang the estate agent out of politeness today and was told that the owner of the property was checking his deeds to see if it was his responsibility and found out that it was his land and according to the owner of the property he said I was not to touch the tree which was a surprise not only to me, but the estate agents too as the tree is nowhere near is property doesn't give anyone any shade it only effects me with no sunshine or light on my gardenand causes me year on year the cost of replacing my lawn. Is there anything I can do, Ive tried being reasonable.
Mags
- 20-Mar-15 @ 6:08 PM
Long story will be quick, have two llylandii at side of garden which back on to end of neighbours garden, (houses built in a horseshoe shape) they have hated the trees for years even before we lived here. We maintain them on a yearly basis at a cost to ourselves.The tops have been removed and they are about 12 feet tall, about 40 - 50 feet away from their garden. Every year they moan and ask for them to be removed.This year is has escalated they put a note through our door a couple of weeks ago as they were about to go on holiday asking us to remove them asap, we had a quote a couple of years back £750, plus the cost of replacing them with grass and other plants just to placate the neighbours.We will been badly overlooked and therefore our enjoyment will be spoilt.My husband spoke to them and said we will not remove them, we will happily cut them.Yesterday we received a solicitors letter asking us to CUT THEM, for gods sake that is what we had said we would do.The solicitors letters said they could get the council to enforce us to cut them, we are happy to cut them, I do not see the problem.Anyway I sent a long reply to the socilitor including photographs of the garden ablaze with light, the shed they say is ruined by over hanging branches, with not a branch in site and pictures behind the shed where we are unable to get a ladder to trim their side.They put the shed up in the last couple of years knowing the trees were there.We have said we will consider removing them if they pay and are we just awaiting their instructions of what happens next.This has upset my husband and I badly.The solicitors letter said they hoped we could go back to a friendly neighbourly basis. Can we be forced to remove them, if they go to the council it will cost them £320 which I doubt they will pay.What would you do.
youngatheart1
- 20-Mar-15 @ 4:29 PM
@kimmysam. First of all speak with the neighbours. They may want to keep the beech trees in place and you might be able to negotiate something mutually acceptable regarding a fence.
ProblemNeighbours
- 17-Mar-15 @ 12:22 PM
I moved to a bungalow that has trees at the bottoms of the garden. They are mainly beech that were allowed to grow into trees. They are infringing on the back neighbours boundary and our shared fence. The fence needs replacing but the boundary would be blurred. I do feel bad but at this time I cannot afford to have them removed. How do I stand. I wonder why they haven't dealt with it before. They have been there some years!., but now rent it out. Thank you in advance for any helpful advice.
Kimmysam
- 14-Mar-15 @ 5:27 PM
@operator - see the responses to other comments below. You would need an independent 'expert' to decide how dangerous the trees actually are.
ProblemNeighbours
- 11-Mar-15 @ 2:32 PM
@none. You can inform your neighbour that you consider the trees dangerous but you cannot insist he cut them back. If you believe the trees are an immediate risk you should inform the owner - he/she may be liable for any damage caused.The "Local Government (Miscellaneous Provisions) Act 1976" enables a local Council to serve a Notice insisting that the owner removes the danger.
ProblemNeighbours
- 11-Mar-15 @ 10:25 AM
@titch. Tree owners will often be asked to trim the tops when they start to come into contact with overhead wires. Other than that there will not be much you can do about this tree unless it looks likely to cause damage.
ProblemNeighbours
- 10-Mar-15 @ 12:18 PM
@eeore. This stems from old common law where branches were given back as they were important for firewood etc. Nowawdays you can ask your neighbour if they would like them back...you can even ask if they are able to dispose of them for you. Usually it's more courteous to simply dispose of them yourself.
ProblemNeighbours
- 10-Mar-15 @ 9:49 AM
Our neighbour has two old oak trees in the bottom of the garden, which are very tall.I like the trees but they are getting too tall and with young children playing in our garden I think they are getting DANGERIOUS.I have asked him to reduce the height down and trim the branches, but he will not do anything to his beloved trees.As we don't get along with this neighbour it proving a problem.Can I ask the council to intervene.
operator
- 8-Mar-15 @ 5:19 PM
My next door neighbour has two tall trees on his side of the boundary fence, and therefore belong to him. The branches are overhangigng my garden, and during summer prevent a larger amount of sunshine from entering my garden. The trees are some 60 feet high, so lopping for me is not an option. Am I within my rights to ask him to lop the trees? I would certainly permit a tree person onto my land to attend to them.. I fear that if they are not attended to soon, they will cause damage to property and possibly people.
none
- 7-Mar-15 @ 5:22 PM
im thinking about buying a house its in a housing scheme, only thing im worried about is this massive and I mean massive fir tree at the bottom of a very average sized garden the tree belongs to a house that garden backs onto it ,its extremely imposing,and it seems to be blocking pretty much most of the light but my biggest concern is that its actually touching wires overhead even though its way taller than them what can I do about it ?any ideas welcome!
titch
- 6-Mar-15 @ 4:15 PM
living in rented property. Larger lilandie tree at bottom of garden. Tree getting out of control and causing problems next door. If next door remove over hanging branches (fine by me) am I responsavle for there disposal, or the neighbour that removes them?
eeore
- 5-Mar-15 @ 7:43 PM
@dj. You can trim back the branches that are overhanging your property. Keep an eye on the sycamore, though it's rare that trees cause as much of a problem as people expect - you can always ask a surveyor to assess the likely impact on your property.
ProblemNeighbours
- 4-Mar-15 @ 11:10 AM
@Sharpnup. There is nothing to prevent you from trimming back any branches that overhang your side of the boundary. This should prevent much of the problem regarding bird dropping etc.
ProblemNeighbours
- 3-Mar-15 @ 1:48 PM
Hi our neighbors have a large laurel tree of which half of it is over hanging in to our garden we have asked him to trim it back several times over the last year but nothing has been done. I am going to put this in writing giving him a further month to do something. If I dont get a result can I then chop the over hang back.I am also concerned about a sycamore tree which is write next to the fence on his side only about 7 years old but growing fast it is only about 5 meters from out property and i,m concerned about the roots and with the foundations and drainage of our property.Any help would be appreciate
dj
- 28-Feb-15 @ 12:50 PM
We live in a Grade 2 listed Cottage (Row of 8)e with a Conservation area covering locally. Our Neighbour to the rear of our garden has numerous trees that have grown in the 2 years we have lived here, and blocked alot of light out of our garden, branches overhanging garden and car park-Where due to the branches birds have significant droppings over our car every day :-( Neighbour doesn't want to trim trees because his past father planted them. Could you please advise what course of action I can do. Trees are not native or of significant rarity. I like the trees but just need them trimmed back and don't think I'm been unreasonable.
sharpnup
- 27-Feb-15 @ 1:51 PM
@Tommo - you may need to seek hire a professional tree company to trim them back if they are bothering you. Unless they trees are looking like they'll cause imminent damage to your property and your neighbour is aware of it, he/she does not have to do anything about them.
ProblemNeighbours
- 25-Feb-15 @ 2:37 PM
Next door neighbour has a Swedish fir tree and branches are coming over into my garden but I wouldn't be able to cut em down from my garden as they are too high to reach.how do I go about getting em trimmed bearing in mind neighbour is very awkward
Tommo
- 23-Feb-15 @ 5:40 PM
@gurd. As the article says, you can cut back the branches that are overhanging your property. You must offer the branches back to your neighbour, but he is not obliged to accept them.
ProblemNeighbours
- 5-Feb-15 @ 10:34 AM
My neighbour has a 50ft eucalyptus tree and half of the tree Is growing over my fence, 2 main branches are the offending parts that causing me a headache. I have spoken to my neighbour and have asked his permission to cut them back, but he has constantly said he would come back to me but he had failed to do so. Can I cut these 2 branches back to the boundary? Do i have to give my neighbour the remains of what is taken down?
Gurd
- 1-Feb-15 @ 11:00 PM
@Davsin. There's nothing to prevent you from trimming back the parts that hang over your property - in fact common law gives you the right to do so.
ProblemNeighbours
- 30-Jan-15 @ 11:08 AM
our elderly neighbours have a very large Hebe in the front garden.it is about 10-12 ft tall and grew right over our front driveway making car parking, opening car doors etc difficult.After a polite conversation last year our neighbours tied it up, but it still hangs over our driveway.We get wet, get our clothes snagged by it and the lady has actually suggested my daughter should park elsewhere if she cannot open her car door because of it.Any suggestions as to how we can resolve this without falling out with these rather thick skinned elderly couple?
davsin
- 28-Jan-15 @ 1:56 PM
@jules. There's not always a great deal you can about a tree that simply has some branches extending into your garden. However,under common law a tree owner is responsible for managing and maintaining it so that it is not a nuisance to anyone else - in the same way that they are responsible for looking after any other part of their property. As the article makes clear,under this common law, you are entitled to trim back the branches(assuming no tree preservation order is in place). If you feel the tree is dangerous, notify the neighbour and ask them to take necessary steps to ensure its safety. The Local Government (Miscellaneous Provisions) Act 1976 enables your council to act if the tree owner will not carry out the work. It is a last resort and the tree must pose a threat of actual damage to a property or harm to a person. It
ProblemNeighbours
- 28-Jan-15 @ 1:52 PM
@sifly. Offer them to the person who is actually living there.
ProblemNeighbours
- 28-Jan-15 @ 12:29 PM
Hi,I have a large pine tree which has many branches growing over my side of the fence. It drops a lot of needles which constantly block my gutters. In addition to the branches the main trunk of the tree also leans over and grows over my boundary. The neighbours will not let me take down the whole tree. I know I entitled to cut the branches (which will leave an odd shaped tree anyway) but what are my rights regarding the trunk?Many thanks
jules
- 26-Jan-15 @ 3:44 PM
Hello, the garden where the tree is on is rented. If I was to cut the branches which over-hang into my garden, legally, who am I meant to offer them to, the tenant or the landlord?
sifly
- 26-Jan-15 @ 1:26 PM