Your Rights on Trees & Overhanging Branches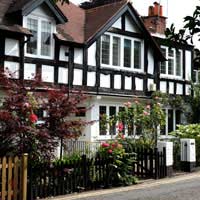 Trees can add a great deal of splendour to a garden. They could be fruit bearing trees, a place in which to retreat to the shade and they can also add a great deal of colour to a garden. However, they can also cause a nuisance to a next door neighbour when they start encroaching onto your side of the fence, with problems ranging from attracting unwanted insects like bees and wasps, blocking out your light and shedding their leaves all over your garden. Therefore, it's important to know what your rights are and what you can and cannot do.
Establishing Ownership of Trees
The tree belongs to the person upon whose land it has originally grown. Even if its branches or, worse still, its roots have begun to grow over or into a neighbour's territory, it belongs to the landowner where the tree was originally planted. Even if the tree bears fruit or flowers on branches which overhang into your land, it's an offence under the Theft Act 1968 to keep them or to take cuttings of flowers, for example.
Obviously, many neighbours will not tend to worry about that too much but should a neighbour, for example, see you collecting apples from their tree even though the branches have grown onto your side, they are legally entitled to ask you to return them.
Overhanging Branches
If the branches of a neighbour's tree start to grow over to your side, you can cut them back to the boundary point between you and your neighbour's property, as long as the tree is not under a tree preservation order. If it is, you'll need to seek further clarification. However, the branches and any fruit on them which you may have cut down on your side still belong to the tree owner so they can ask you to return them.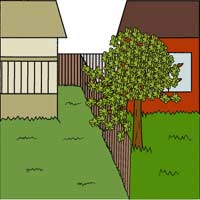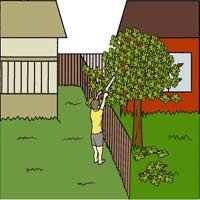 It's a bit of an anomaly really, as while you are obliged to offer the branches back, if any leaves from your neighbour's tree fall into your garden in autumn, you have no right to ask them to come around and sweep them up.
On the other hand, should the trees be causing SIGNIFICANT damage to your gutters (not just blocking them) you can ask your neighbour to pay to have them cleared or to pay for the cost of any damage they might have caused. If they refuse to do so, you can legally sue them and force them into paying. If you lop off any branches on your neighbour's (the tree owner) side of the fence, you are not entitled to Gain Access To Their Property to cut off some more. This is trespassing and you could be prosecuted.
Tree Roots
You are entitled to dig up and remove any roots that have encroached upon your land. Roots can cause a lot of problems and if they're deep and/or causing subsidence or any other form of damage to your side of the property, you might need to get a tree surgeon or some other kind of structural engineer to deal with the problem.
It's always better to discuss this with your neighbour first but if an expert does have to be called in, it's the tree owner's responsibility to foot the bill. They can then choose to pay up front or by claiming it against their own home insurance policy.
Take Action
You may also be interested in our
neighbour's trees action guide - written by a barrister
You might also like...
Hello, I have a major issue with my next door neighbour. They have a massive horse chessnut tree in the back garden. The tree is so big that is compare to trees found in large parks or biggers. The tree might be 80ft or higher. It covers half of my 120ft garden. It blocks out light and leaves and hundreds or thousands of horse chessnuts drop into my garden each year. I cannot use half of my garden and the neighbour resuses to get it cut. In the 20 years that I have been living here. The neighbour have never got the tree pruned and I shell out money once for a tree surgeon to cut the over hanging branches. This cost me a fortune then. Today the bill will also be very high. Is there anything that can be done legally to get the neighbour to prune the tree and to get the roots looked at, as I am sure that the root are damaging my property and this tree to me is a health hazzard. They also let trees grow onto my mini shed which is now damaged. They also let their son kick his football constantly in to my garden and against my fence. Its ruined now. Why should I foot the bill? Can anyone help please as this is causing my stress. Many thanks for any feedback
raymondo42
- 13-Sep-21 @ 4:54 PM
I live in a lovely road with horn beams planted along the public highway which obviously belong to the county council. The tree has grown to maturity, leaning towards my bungalow with virtually a third of its size growing over my front boundary which is preventing light into my front bedrooms.It isand its branches are also entwined in electricity and phone wires. I email the council frequently requesting the tree be reduced and reshaped and have no requirement for it to be cut-down as we have birds nesting each year and I have offered to pay for the work myself to keep it trim but I get no response or if they do respond they say that the tree has been inspected and there is no problem.They never answer half of the questions I pose.Do I have the right to cut the tree to a reasonable size taking into account the requirements of BS3998:2010.
TMK
- 11-Sep-21 @ 1:13 PM
Our elderly neighbour has refused to tend to her trees for many years. As a result our house has suffered dry rot, lack of sun light and we cannot hang out the washing. Everything is covered in sap and the lawn is ruined. Although elderly, she has a regular gardener and her lawn is pristine. We asked the gardener to discuss cutting the tree back and she refused. We had to cut back the branches but the fir tree just towers above the house just 12ft from the house. We have raised a complaint with the council as this dispute will need to be declared if the house is sold. It is so unfair. Whilst we appreciate she is elderly, her gardener reported that she was just stubborn and had refused to listen to his advice over many years. Now we look like the bad guys even though we have had to spend money buying tools to cut back her trees!!!
No Light
- 9-Sep-21 @ 11:33 PM
We have a narrow path from our back gate leading to the garages we and our neighbours have. The path is used by two other neighbours and has a further 4 gardens that just back on to it with fences. Another neighbour whose garden backs on to this has tons of Ivy, bamboo and other plants which have grown over his fence and is now blocking this path. Can I just cut this back myself so we can still use this access.
SDunk
- 27-Aug-21 @ 6:22 PM
We have a beautiful magnolia tree in our front garden, 2 branches overhang next door. The people RENT this property. Do they have the same rights as the person who owns the property to cut them down or are they required to get his permission - afterall, it's not their house. We would like to know if they are permitted to chop them down and can we challenge them if someone does start to?
Mand
- 26-Aug-21 @ 4:56 PM
I absolutely hate this topic and it continues to cause me distress! My neighbour doesn't like gardening (yet has a huge garden). He never cuts grass and it's full of nettles and brambles. I've replaced the fence which on deeds is his responsibility however he was happy for it to be down forever following storm. His trees are over hanging my garden and roots ruining the patio. I've cut the overhanging I can manage however need a professional to cut the higher and bigger branches. Law states noting I can do for the tree roots which are ruining my patio and garden (they will be in foundations), and I can't afford to pay £100s to remove over hanging trees. I truly believe those who have the trees should be responsible for upkeep and damage they cause!
MissC
- 22-Aug-21 @ 11:36 PM
Hello. I have a very large old tree in my garden that is growing at a 45 degree angle over a newly built garden room (garden studio) cabin type structure at the end of my neighbours garden. If the tree falls it will do significant and expensive damage to that cabin. My insurance company say I'm not insured and they don't insure for that type of damage by a tree, only damage to houses. What are my rights if my tree falls and damages that garden room in my neighbours garden?
Mord
- 20-Aug-21 @ 11:10 AM
My neighbours garden has gone wild, my eight year old fence has broken and is flapping in the wind because trees have seeded and gone wild next door,a huge Willow that has self seeded and been left to grow unchecked, Ash with dieback also graces our boundary along with invasive ivy and huge brambles. I need to replace/repair fence. I have sent a polite note but no response.What can I do about this?
None
- 17-Aug-21 @ 11:05 AM
I have a hedge new people have moved in so the bottom off the gardenis there boundary but the have killed my hedge where do I stand it was dangerous so had to cut it back to save it collapsing I know you can cut back over hanging but are the allows to kill it from the roots?
I have an edge made of crab apple type tree between my garden and my next door driveway.They never trim the branches on their side and I always wonder that perhaps they waiting for me to do it. I am 73 years old and small, so I decided to call a gardener to trim this small edge at the top and on my side leaving my neighbours untouched The man next door came at my door screaming at me because the gardener went onto his driveway to collect branches that fallen off. Really so bad, I live on my in and this man is a teacher! Really?
My neighbour insists that I cut down trees in my garden which drop leaves into hers. I have told her that I am not prepared to cut them down but that she is entitled to cut back any foliage which hangs over the fence. She then throws all the off cuts back over for me to dispose of. Is she within her rights?
None
- 4-Aug-21 @ 2:58 PM
Hello, I have a country bowls club behind me back fence. My property has designated parking spots and mine is next to my house besides the fence to the bowls club. The club has many bushes and a large tree which overhang the fence and come in to our garden and over my car. I'm not too bothered about the garden. But I have a white car. And the sap which is falling from the tree/bushes is beginning to stain my car. I am cleaning this and bird droppings daily. I have tried cutting the bushes on my side but it's too much work and would be a professional job. What rights do I have? Should the bowls club be doing anything about this? Thank you kindly
Shaun
- 27-Jul-21 @ 1:05 PM
There's a service road behind my house which serves the garages of the houses on the other side of the service road. They road is not public highway. The road has an access gate which is kept locked. Only those whose garages back onto the road have keys and access to the service road. I've had problems with ivy growing from the side of the service road over my garden fence at the rear. I keep paying for someone to cut back the ivy. The ivy has damaged my garden fence as well.I'm looking to put a garden room at the bottom of my garden. Can I get someone to get rid of the ivy on the other side of the fence? I can't have the garden room built with if the ivy is still there as it will damage the garden room.
RA
- 26-Jul-21 @ 12:12 PM
I have lived on my property for 45 years. I have a garden 120 ft long. What is deemed to be my side was, until recently, a mixture of trees and hedges giving me complete seclusion and privacy. The new owner of the property has dug out and destroyed those trees and hedges which main roots he considered were in his garden. I am left hedge, gap, hedge, gap,hedge, gap, tree, gap etc etc for the whole length of my garden totally taking away my seclusion and privacy. He has completely ruined my garden. . Was allowed to do that?
bradnooks
- 24-Jul-21 @ 12:02 PM
I have a large magnolia tree with branches that go over my fence into a neighbor's driveway. They are cutting down a tree in their backyard and the tree people are tearing up the tree. They told me any branches over their property are theirs. I need an answer quickly
Suzi-Q
- 20-Jul-21 @ 5:22 PM
My neighbour has 2 very large cherry trees and some kind of very tall pine tree all growing within a foot of a 5ft boundry wall.The tree roots are pushing the wall over.The branches are overhanging the wall bt about 25ft in places. When we moved in 10yrs ago they gave permission to top one tree and remove the other. When tree surgeon started work she refused for us to remove the tree and was angry the 1st tree had been topped saying this wasnt what was agreed. If they see us the go inside! What can i do??
Mac
- 16-Jul-21 @ 1:59 PM
If I cut overhanging branches on my land am entitled to put them back on there garden? Regards John
Smudge
- 6-Jul-21 @ 5:55 PM
My neighbour has removed my fence and cut down trees in my garden when I was out I own my property and they are housing association tenants, they said the housing association to,d them they can cut them down, I am so angry the Treena have been in my garden for over 60 years and help with the drainage, they also provided a bit of privacy from the properties behind , along with be a haven to many birds and at set times of the year owls, we now have no privacy in our garden and have to have curtains up at the Windows so people can't see into my house,I am now seeking legal action but who do I aim it at them or the housing association .
Angry muma
- 24-Jun-21 @ 8:33 PM
My new neighbour has cut so much of our big tree which over hung his garden that the next big gust of wind will fell it. It's a horn beam and 60ft tall, but has now been made completely unstable. Bloody cheek!
Angry of Aldershot
- 23-Jun-21 @ 10:03 PM
I have two very large trees at the bottom of my garden in my land, they have been assesed by a tree surgeon and they are unhealthy and dangerous and at risk of causing damage by falling branches.have tried twice now to have them taken down bit on both occasions the neighbours in the property behind me have created a nusiounce. the first time they told the tree surgeon they had a preservation order on them and he would have to prove that they did not or they were reporting him. I was at work and had the email stating that they were not presevation trees. Second time, the tree surgeon went as a courtesy to say they were coming down today and the neighbours kicked off again telling the tree surgeon that they have a conservatory at the bottom f their garden and if any branches fall off and damage it during their removal he would sue! Now I am using a very well known and respected tree surgeon who most definitely has liability insurance but he said he could not do they job. Does anyone have any experience of this? The neighbours are not being asked to contributing to the cost of removal and are very short sighted as if the trees do break naturally their property stands to be damaged as much as anyone's.
Kimberley
- 22-Jun-21 @ 8:13 PM
We have access rights using a neighbours driveway to get to the parking at the back of our property. Problem we have is that they are refusing to cut back the bushes that line the long driveway and making it impossible to get the car down with it damaging the cars. I've resorted to parking my car on the main road out front (which will probably end up invalidating my car insurance!) Is there anything we can do? Its on their land and we only have right of access. If we touch it they'll probably have us for criminal damage. They don't use it as they have parking out the front so they're just being nasty as we objected to them building houses in their back garden. They used to cut them back all of the time
NickNackNoo
- 17-Jun-21 @ 12:18 PM
I live by a graveyard. Trees overhang into my garden and block my light, I am told I have no right to light so quoted right to light act 1959. They are huge trees but they prune to hand height on their sideonly! I am left to prune the overhanging branches and anything my side! Do I have a right to insist they prune my side as trees are theirs? They are horrible pine type trees and their spindles get everywhere and are impossible to clear up. Overhanging branches once took my fence panel down but I repaired it as couldn't be bothered arguing but now I am so fed up of being expected to just put up with it
Majik
- 17-Jun-21 @ 10:06 AM
Hi,neighbour on he other side of the fence cut the branches of his tree and dumped all the cuttings in my garden.He told us not to worry ,he will definiteky come back to remove it but 3weeks gine and still he hasnot remove it. I already put a lot in our brown bin .Worst is he cut the branches long in a way that I cannot just chuck it in our brown bin.I need to use a saw or a cutter to cut it in right size. Do I have the rigjt to complain to the council.Please help!
ysabel
- 6-Jun-21 @ 2:11 AM
The person who owns the house at the back of my garden (the landlord) had 2 enormous conifers growing,they were taller than the house. He finally agreed after many years that he would contribute towards the cost of removal.I found the cheapest quote I could find from a so called reputable local company. The landlord said he would pay on receipt of an invoice. I had the trees removed, local company did a good job, I was happy I finally had sunlight back in my garden.But my problem is because I paid cash to tree man, hes refusing me a receipt & the landlord won't reimburse me without one.Can anyone please advise me on what to do next?
Hel
- 23-May-21 @ 4:37 PM
I own a lease hold flat we have to use steps to enter and leave, their is a tree either side of the steps one a sycamore the other a line tree witch give total cover over the steps birds nest and poo is on the steps and hand rail the sycamore sheds seed pods and sap witch cover the steps and the hand rail is covered sticky sap the branches are growing over the guttering so sap falls and the windows covered in sap if anyone slips on the steps due to seed pods and poo who would be responsible
Deck
- 16-May-21 @ 2:41 PM
our neighbour has built a big wall on the boundary of our gardens and now declares that he owns the wall and we must ask us if we wish to attach anything to it.We did hang baskets on the previous wall?
marg
- 26-Apr-21 @ 9:13 AM
My neighbour has a long leylandii hedge which borders my property. This had not been pruned for 3 years and is now about 8ft tall and so wide that it entirely covers my garden path which runs down my side of the border which means I have to walk on the uneven garden soil. I am an 88 year old widow living on my own so cannot tackle this job myself. What are my rights regarding this issue? I have asked him on several occasions to cut it back, he says he will but this never gets done.
Mum
- 18-Apr-21 @ 3:04 PM
My neibhbor has cut down her tree in her front garden and removed all their roots but left all.the large roots on my garden they have also tied a 6ft trellis fence to our 3ft fence in the front garden wich looks monstrous an I entitled to complain to have it removed as talking to then is impossible as they are really disagreeable
Sandy boy
- 17-Apr-21 @ 4:51 PM
My neighbour has cut down their tree and removed their roots but left all the roots on my side are they responsible for these roots, plus they have tied a 6ft trellis fence to and a 3ft fence between our propertys on the front gardenwich looks monstrous and obstructs most of my view discussing this with them is out the question as they are totally disagreeablethankyousandra
Sandy boy
- 17-Apr-21 @ 4:45 PM
For the past 6 months I've been living with constant vibrations and very loud noises due to a structural fault and a new neighbour who uses her washing machine, dryer and dishwasher multiple times every day. I live in social housing and getting them to even assess the situation was impossible until I contacted the environmental health dept at my local council. To cut a long and tortuous story short: it is now established there is a structural issue and this will be corrected albeit the work proposed doesn't seem adequate for the reach of the noise and vibrations to 6 other flats. What I'd like to know is what can I do to ensure the work is done properly so I'm not subjected to this any further, what could the environment health dept have done to reduce my neighbour's usage and why hasn't this been either classed as a health and safety issue or statutory nuisance? It seems my neighbour's right to use her appliances for up to 12 hours a day so long as it's not late into the evening or during the night are upheld whilst my rights to enjoy the comfort of my home without risk to my health are ignored. I've reached out to every service, authority and MP but am told the same repeatedly, that being there's nothing that can be done other than wait for the work to be done whilst my health has suffered tremendously. When I've spoken with my neighbour, which was, of course, my first port of call she duly increased the usage, has lied and reported me to the housing association and police for harassing her. She has now been found temporary accommodation so the work can begin soon is all I am told, I'm hoping she chooses to remain in the property offered her but now I need to address the issues that weren't in regards to making official complaints and compensation claims. It's been a painfully long 6 months with a lockdown to add.
Boots
- 7-Apr-21 @ 12:39 PM