Your Rights on Trees & Overhanging Branches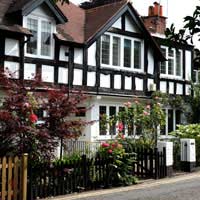 Trees can add a great deal of splendour to a garden. They could be fruit bearing trees, a place in which to retreat to the shade and they can also add a great deal of colour to a garden. However, they can also cause a nuisance to a next door neighbour when they start encroaching onto your side of the fence, with problems ranging from attracting unwanted insects like bees and wasps, blocking out your light and shedding their leaves all over your garden. Therefore, it's important to know what your rights are and what you can and cannot do.
Establishing Ownership of Trees
The tree belongs to the person upon whose land it has originally grown. Even if its branches or, worse still, its roots have begun to grow over or into a neighbour's territory, it belongs to the landowner where the tree was originally planted. Even if the tree bears fruit or flowers on branches which overhang into your land, it's an offence under the Theft Act 1968 to keep them or to take cuttings of flowers, for example.
Obviously, many neighbours will not tend to worry about that too much but should a neighbour, for example, see you collecting apples from their tree even though the branches have grown onto your side, they are legally entitled to ask you to return them.
Overhanging Branches
If the branches of a neighbour's tree start to grow over to your side, you can cut them back to the boundary point between you and your neighbour's property, as long as the tree is not under a tree preservation order. If it is, you'll need to seek further clarification. However, the branches and any fruit on them which you may have cut down on your side still belong to the tree owner so they can ask you to return them.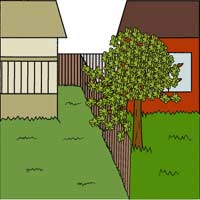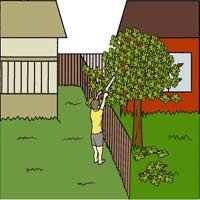 It's a bit of an anomaly really, as while you are obliged to offer the branches back, if any leaves from your neighbour's tree fall into your garden in autumn, you have no right to ask them to come around and sweep them up.
On the other hand, should the trees be causing siginificant damage to your gutters and or blocking your drains, you can ask your neighbour to pay to have them cleared or to pay for the cost of any damage they might have caused. If they refuse to do so, you can legally sue them and force them into paying. If you lop off any branches on your neighbour's (the tree owner) side of the fence, you are not entitled to Gain Access To Their Property to cut off some more. This is trespassing and you could be prosecuted.
Tree Roots
You are entitled to dig up and remove any roots that have encroached upon your land. Roots can cause a lot of problems and if they're deep and/or causing subsidence or any other form of damage to your side of the property, you might need to get a tree surgeon or some other kind of structural engineer to deal with the problem.
It's always better to discuss this with your neighbour first but if an expert does have to be called in, it's the tree owner's responsibility to foot the bill. They can then choose to pay up front or by claiming it against their own home insurance policy.
Take Action
You may also be interested in our
neighbour's trees action guide - written by a barrister
You might also like...
@Kathie. Your neighbour cannot make you cut your tree down because of the roots. He is entitled to dig up and remove any roots that encroach on his land but should note that in doing so, if the tree is rendered unstable, he could be liable if your tree falls down because of this. If the roots are causing real structural problems or subsidence (unlikely) he should ask a tree surgeon/or structural engineer to check it out and then follow up with any necessary action via his insurance company.
ProblemNeighbours
- 20-May-15 @ 2:45 PM
So upset my neighbour has just called me over to request we cut down a tree ethe bottom of the garden, in truth it sprung up from nowhere but we love it, he does not want its roots in his garden, the part in question is right at the end of the garden by were we have a stream going through, he has told me to pay to get it done if we can not do it we are in our 70s, This is going to make our life hell I do not know what to do he wasvery nasty.
kathie
- 17-May-15 @ 7:55 PM
@Frustrated. If the tree is on 'crown' land you should contact the crown estate to see if there's anything they can do. If you do not live in the UK (e.g you're in a commonwealth country), the term 'crown land' is often used to refer to public land, but UK laws will not apply. It's unlikely that you'll get action if the only issues are leaves, moss and bird droppings though.
ProblemNeighbours
- 13-May-15 @ 12:45 PM
@Khokon. You can remove any branches that are overhanging your side of the boundary. You cannot ask your neighbour to cut the tree down though. There is no real "right to light" in a garden. If there is more than one tree and they are evergreen, the High Hedges legislation may help you.
Here is more information
ProblemNeighbours
- 13-May-15 @ 10:10 AM
@wonderwoman. You can cut back any branches that overhang your side of the boundary. This would help to prevent the bird droppings on your side. Alternatively you could put a cover (overnight for example) on your car to prevent damage. You can't ask for a tree to be cut down because of this though.
ProblemNeighbours
- 12-May-15 @ 9:54 AM
We have a neighbours tree which is next to our drive and it attracts lots of birds, branches over hanging, tree never taken care of at all.The attraction of birds has caused severe damage to my car through bird droppings which has resulted to my car needing a re-spray on the bonet and side, the drive has bird poo too.No tpo on the treeWhat can be done as ultimately I don't want to pay for a re-spray of my car for this to keep happening every year.
wonderwoman
- 12-May-15 @ 9:28 AM
There is an ash tree with branches overhanging land belonging to me and my neighbour.We have year round problems with leaves, moss, sap, pollen and other debris including big bird droppings which have caused damaged to our cars parked on the drive in front of our garages.I've complained a number of times to the local council who seem reluctant to do anything about it and claim that the tree is on crown land.What are my rights in this case please?
Frustrated
- 8-May-15 @ 9:49 AM
I am facing same type of above problen with my neighbour's tree.branches of tree blocked my light and privacy .I want getread of it.I informed police station as well as local councellor but come forwad to help me. Please advice what to do wher shall I go what type of legal assistance can I get regarding the same.
khokon
- 7-May-15 @ 10:56 AM
@natty. No unfortunately there is not much you can do about this unless they are evergreen trees in a row (eg. forming a hedge).
ProblemNeighbours
- 1-May-15 @ 2:44 PM
@Sweden. Are the new trees not simply killed/cut back when the grass verge is cut? If this is not being done regularly your should contact your local highways department. Regarding the trees, you might want to consider asking your councillor to liaise on your behalf if you think that they could be cut back a little more.
ProblemNeighbours
- 1-May-15 @ 11:52 AM
@Jambo. The neighbours can cut back any growth that is on their side of the boundary, you do not have to do this. If your trees cause any serious damage, you may be liable to pay for any repair.
ProblemNeighbours
- 30-Apr-15 @ 12:52 PM
I have a boarder at the back of my garden that has 2 lime trees growing through it. I have pollarded the 2 trees and managed them for many years I deal with the waste on my side and let the branches that fall on their side stay there. The trees have got very big and lean into my garden I have got one with a third of the trunk in the garden and the other is leaning with in the end 100% of trunk in my garden. The owners of the development dont bother to return our calls or have an interest so I am tempted to get contractors in to deal with the problem The roots are disruptive and the over hanging heavy trees are growing towards the light are in one case a danger.
Nimby
- 27-Apr-15 @ 1:51 PM
My neighbour has big trees in her garden and they are blocking any sun from bein in my garden now because they have grown that big, her garden is badly overgrown - is there anything I can do about the big trees? I want sun on my garden to sit outside no shade!
Natty
- 27-Apr-15 @ 11:54 AM
Hi my query is regarding Sycamore trees self seeding on a grass verge running between the road and houses. When I moved here over 17yrs ago there were about 4/5 trees along the road but over the years this has increased and they are all obviously growing full height. The trees are so tall that they prevent sun getting into the gardens until late afternoon and also overhang the garages causing damp, moss growth and leaf debris. My neighbours was so bad they had to have the garage roof recovered.Mine is starting to leak.We are unable to get ariel tv reception due to the trees being in the way of the transmitter so Sky, etc it is. The council every few years send people round to cut the odd branch (and I mean the odd branch) but only the side facing the road,they never cut back the side overhanging our gardens and garages even though they have easy access to them. My neighbour has spoken to the Local council about this but they put the onus on the County council, who in turn put it on another department who said it was the local council so it was a vicious circle with no joy or help from anyone. The trees are too big to cut down but are we allowed to kill the new seeded ones with tree killer or just let the forest continue?
Sweden
- 26-Apr-15 @ 6:59 PM
I have conifer trees all around my garden . The trees are growing over and through next door neighbours fence. I cut my side of fence back. Is it my responsibilty to cut back trees at the other side of fence? Had the neighbours landlord come tell me to get them cut. Thanks
Jambo
- 25-Apr-15 @ 2:09 PM
My neighbours tree is over 10 meters high And even though it was planted in their garden from close to the ground the trunk bends into my garden.What rights do I have over cutting it down, As my wire fence is damaged and I want to put up a new fence?
ACROWN
- 17-Apr-15 @ 7:52 AM
@boo. Nothing, you do not have any right to light in your garden especially if it's only at certain times of day that the tree is blocking your light.
ProblemNeighbours
- 16-Apr-15 @ 10:24 AM
Our house back garden backs onto others. opposite but one. They have a large tree and it blocks all the evening sun. What can I do and what rights do I have
boo
- 15-Apr-15 @ 10:26 AM
@lala. It sounds like you may be able to take action under High Hedges legislation. Our full guide is
here.
ProblemNeighbours
- 14-Apr-15 @ 1:49 PM
@Yagga. No he cannot claim any costs for leaves falling into his garden or gutter. If any 'serious' damage is caused to his property, for example the tree fell down, then he should claim from his insurance. His insurance company would then pursue the claim via yours.
ProblemNeighbours
- 13-Apr-15 @ 1:48 PM
My neighbour's back fence backs onto my side fence, along this fence within a 5 metre stretch there are at least 5 possibly 6 evergreen trees that are metres above my properties roof. This not only stops my garden getting any sunlight but also keeps my downstairs very dark and dreary. I have been at my property for 4 years and not once have these trees been pruned. summertime is becoming increasingly miserable as my neighbour's enjoy there sun filled garden yet plunge us into darkness. Is there anything I can do to force them to at least trim these trees?
lala
- 12-Apr-15 @ 10:50 AM
A man has come knocking on our door about 3 times in the last year complaining about a tall tree in our back garden saying that the leaves are falling in his garden and blocking his gutter. First of all, he is not a neighbour but on the road behind the alleyway. There are no overhanging branches over his garden from this tree. This tree has been there since before we moved in and is very tall indeed - maybe the tallest in Isleworth I've seen so far, it survived the hurricane in the 80's and is maybe over 100 years old, who knows. Right now, there are no leaves on the tree, it blooms leaves summertime, leaves then fall off in Autumn, standard. No one else has complained about this tree at all - not even our neighbours. We unfortunately can't control the winds and we don't have a problem raking leaves in the garden and cleaning our gutters once a year - like everyone else does. Does he have a right to sue us for this? we simply cannot afford to payout £450 to have it cut down and I can never seem to get through to the environmental department of Hounslow. What should we do please?
Yagga
- 10-Apr-15 @ 6:02 PM
@muzza. Single trees are not covered by the high hedges legislation. A common law remedy is available but is a bit complex/lengthy. Government advice is as follows: "A tree or hedge belongs to the owner of the land it is growing on and, under common law, that person is responsible for managing and maintaining it so that it is not a nuisance to anyone else - in the same way that they are responsible for looking after any other part of their property. Where the branches of a tree or hedge cause a nuisance by trespassing onto an adjoining property, the common law allows the neighbour to remedy this by cutting back to the boundary any overhanging branches - provided there are noother legal restrictions in place. The other way of enforcing these common law responsibilities is through the civil courts, by pursuing an action against the owner of the tree or hedge for trespass, nuisance and/or negligence. The law on nuisance/negligence is complicated and so such a step is not to be taken lightly. Anyone consideringsuch action would be well advised to seek specialist legal help".
The Local authority does have the power to serve a notice on an owner of tree that is dangerous, but you may need to be sure of the danger before reporting it as such. We have more information on this and nuisance trees in our action guide. There's a link to this at the end of the article above.
ProblemNeighbours
- 8-Apr-15 @ 2:19 PM
@Barbie. You will need to check any documentation that you received (and the title deeds) when you purchased the property.Unless there's a tree preservation order or something specific (such as a covenant) in place then it would not be illegal to cut them down.
ProblemNeighbours
- 8-Apr-15 @ 9:54 AM
We moved into our home about 10 years ago and either side of our garden were two very tall trees. About 5 years ago the one neighbour had the top 40ft removed and has kept the bottom part at around 25ft tidy. Our neighbours on the other side seem quite happy to let the other tree keep growing. It is now probably about 90ft tall and if it did come down it would reach over our house and into the front drive. It's roots drain the moisture from about 1/5 of our lawn and it keeps our garden in darkness for a large percentage of daylight. What are our rights please?
Muzza
- 6-Apr-15 @ 5:47 PM
Our house along with 3 others is situated on a plot of land at the back of a business. The houses were built for some of their employees which my husband was. About 27 years ago the business decided to sell the houses to the occupants (which we are the only original ones left) and the adjoining land to another neighbouring business. To reach our houses we have to come up a private road which is about 200ft long. The bottom of the road is right of way to all the houses and the 2 businesses. So part owned by everyone concerned. The top part is jointly owned by the occupants of the houses. There are trees at the front of our properties that divide us from the neighbouring business. At the bottom of the road there is one tree that had some broken branches. One of our neighbours took it upon himself to cut the branches off. One day when everyone else was out he cut the whole of the top of the tree off. We weren't too concerned as we thought it would grow back. But then we saw the had actually cut through the middle of the tree trunk. The top of the tree was left to balance. He said he couldn't take the top right off as it was entangled with the wire fence stopping him getting at it. Then today he has been down there hacking at the base of the trunk and we are worried what damage it will cause. Has he got the right to cut this or any of the trees on the jointly owned land off his own back? Or should he have consulted the rest of the residents and the businesses? And is it legal for him to touch these trees?
Barbie
- 4-Apr-15 @ 7:26 PM
@shorty. If you feel you will gain anything by this you could complain for damages in a civil action.
ProblemNeighbours
- 26-Mar-15 @ 2:22 PM
My neighbours asked if they could trim the overhanging branches from my fence i agreed to this.When Icame back later that day he had been in my garden without. Permission&hacked all my hedges andtrees down and he left all the trees lying. I'm so upset by him doing this.What is my rights and should I have phoned the police
Shorty
- 24-Mar-15 @ 1:08 PM
@Mags. You can find out whether the tree belongs to any other property via the boundary details (the land registry will have these). The owner does not have to cut this tree down if it's not dangerous. If it's only blocking sunlight from your lawn, this will not constitute sufficientreason to get the tree removed. If it is blocking light from a window in your house you may be able to acquire the right to light with the help of your local council.
ProblemNeighbours
- 24-Mar-15 @ 12:01 PM
@youngatheart1. No you do not have to remove them unless they are dangerous (which is unlikely). There is some (very small) scope that the neighbours could complain under the high hedges section of the antisocial behaviour act but it's unlikely they'll get very far with it - read through
this guide to check
ProblemNeighbours
- 24-Mar-15 @ 11:22 AM