Your Rights on Trees & Overhanging Branches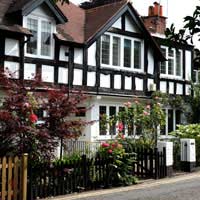 Trees can add a great deal of splendour to a garden. They could be fruit bearing trees, a place in which to retreat to the shade and they can also add a great deal of colour to a garden. However, they can also cause a nuisance to a next door neighbour when they start encroaching onto your side of the fence, with problems ranging from attracting unwanted insects like bees and wasps, blocking out your light and shedding their leaves all over your garden. Therefore, it's important to know what your rights are and what you can and cannot do.
Establishing Ownership of Trees
The tree belongs to the person upon whose land it has originally grown. Even if its branches or, worse still, its roots have begun to grow over or into a neighbour's territory, it belongs to the landowner where the tree was originally planted. Even if the tree bears fruit or flowers on branches which overhang into your land, it's an offence under the Theft Act 1968 to keep them or to take cuttings of flowers, for example.
Obviously, many neighbours will not tend to worry about that too much but should a neighbour, for example, see you collecting apples from their tree even though the branches have grown onto your side, they are legally entitled to ask you to return them.
Overhanging Branches
If the branches of a neighbour's tree start to grow over to your side, you can cut them back to the boundary point between you and your neighbour's property, as long as the tree is not under a tree preservation order. If it is, you'll need to seek further clarification. However, the branches and any fruit on them which you may have cut down on your side still belong to the tree owner so they can ask you to return them.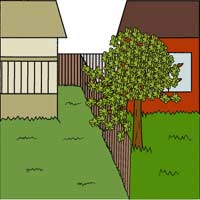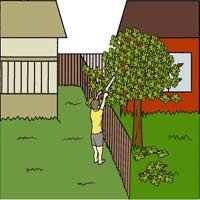 It's a bit of an anomaly really, as while you are obliged to offer the branches back, if any leaves from your neighbour's tree fall into your garden in autumn, you have no right to ask them to come around and sweep them up.
On the other hand, should the trees be causing SIGNIFICANT damage to your gutters (not just blocking them) you can ask your neighbour to pay to have them cleared or to pay for the cost of any damage they might have caused. If they refuse to do so, you can legally sue them and force them into paying. If you lop off any branches on your neighbour's (the tree owner) side of the fence, you are not entitled to Gain Access To Their Property to cut off some more. This is trespassing and you could be prosecuted.
Tree Roots
You are entitled to dig up and remove any roots that have encroached upon your land. Roots can cause a lot of problems and if they're deep and/or causing subsidence or any other form of damage to your side of the property, you might need to get a tree surgeon or some other kind of structural engineer to deal with the problem.
It's always better to discuss this with your neighbour first but if an expert does have to be called in, it's the tree owner's responsibility to foot the bill. They can then choose to pay up front or by claiming it against their own home insurance policy.
Take Action
You may also be interested in our
neighbour's trees action guide - written by a barrister
You might also like...
My neighbours trees are making my garden a right mess.i have leaves and dead bits of tree falling in my garden al year round.also I have pigeonmess Every day all over my garden furniture As fast as I clean it.it reappears.al over the seats and path.what can I do
Harry
- 17-Jan-20 @ 6:36 PM
Interested to read the reply to one letter
Mandy
- 16-Jan-20 @ 8:42 AM
A neighbour who I believe is privately renting 2 doors from me allowed a tree to establish 1 m from his back door. I told him he should cut it before it became established but he ignored me. It is now fully grown and I notice it has lifted his patio. I am concerned because it is line with the sewer pipe that could be damaged. Also concerned as we are in a terrace, if his house suffers subsidence, can my property be affected?
Moose
- 10-Jan-20 @ 3:17 PM
Hi we have a problem with the next door neighbours. we have a hedge that is hanging over the border line fence approx 18 inchs and has grown in higher than my guttering. the owners came round to have a look and told me he likes a high hedge and he will cut his side and I will have to get pay a gardener to do my side. I told him no way if he dont get someone to do I will cut it back myself and throw it all over the fence. can I do this?the neighbour before them had a gardener come round and cut it and take the rubbish away but looks like the new ones dont want to know. can anyone put me on the right track to my rights please
Kieron Moore
- 30-Oct-19 @ 7:33 AM
There is a silver birch tree just outside the bottom of our garden that is owned by Cambridgeshire County Council. It is a dangerous nuisance. Last year, whilst putting rubbish in our wheelie bins, a thick branch fell and struck me on the head, causing a graze. Branches regularly fall onto our property and the leaves and "bits" off the tree are all the while clogging our pond filter and getting into our house when the windows are open. The leaves also make our paths slippery. My wife is disabled and have limited mobility and it is becoming difficult to clear everything up from the tree now. Cambridgeshire County Council will not do anything about it and there doesn't seem there is a lot we can do about it. The tree is dangerous but they won't have it. Our only option would appear to be, if we are injured, sue the Clowncil.
Bodie
- 16-Oct-19 @ 5:32 PM
my next door neighbour is alway drilling the walls the concrete above my bedroom window feels off I'm sure it is with the constant drilling it cost me to get it put write and he is drilling again he came in last week with a photo on his phone my son had been cutting the hedge between our houses and a little bit went into his and he had it on his phone my son said throw it back and I will pick it up for god sake neverknown anything like it the drilling is driving me nuts
thoma
- 15-Oct-19 @ 5:30 PM
Hi We have lived in our house nearly 4 years we have spent a lot of money on establishing andkeeping our garden neat & tidy and our plants and tress ,bushes etc have always thrived but when our next door nierghbour does his garden he leaves the grass cuttings / weeds to blow onto everyone's garden and his sick trees have actually started to kill the streets trees because he lets the infected leaves and cuttings from them blow around onto everyone's garden. We have asked serval times if he could please clean up after doing his garden, but it doesn't happen What can we do pleases help
Blossoms
- 11-Oct-19 @ 11:05 AM
My neighbour has large chestnut tree that overhangs my garden, who is responsible for the maintenance of the tree his or ours? Please help thanks
Morry
- 10-Oct-19 @ 3:31 PM
Moved into house 18months ago and been busy updating inside of house, neighbour who has lived next door for last 40years seems to think its ok to keep making comments on my gardens. First it was the flowering bush in pot in front garden, I forgot to water it as I had been busy moving in, she took it upon herself to come into my front garden and water it while I was at the shops and proceeded to tell me when I returned. Then it was the rose bush which is on her side of the front gardens, told me it wasn't planted by her so it wasn't her's and she couldn't reach up to prune it, so I said I would do it if she wanted me to while I was out in the garden, so I did. Now I have received a note letting me know that a bush has grown and she thinks I want privacy because I seem to be letting things grow, I give up.
Pookey53
- 8-Oct-19 @ 11:41 AM
We live next door to a primary school They have re sited theschool with the play ground now along out gardens boundary (before it was approx 50 metres from our garden ) They left us with a small wire fence between us and the playground so every time the garden are playing or have PE we don't only have no privacy but the noise is horrendous We contacted our local council and sports for England that were the builder and a decibel reading was performed The noise was well above what should be tolerated so Sports for England built an acoustic fence. The agreement was after construction a new decibel reading would be done to attain the suitability of the fence and if the issue was resolved We contacted the council as we have not heard anything and was told the person dealing with our complaint had left We were contacted by his replacements who has informed us because the acoustic fence has been built there nothing else they can do in this matter, We feel totally let down the noise is horrendous every day from 8.30 am to 18.30 at night The play groundneeds to re sitedin the similar position to its original spot where we were not experiencing this unbearable noise This has affected my health, my work life and my enjoyment of my home What can done ? I'm at the end of my tether how do we stand legally Thank you Had enough
Had enough
- 29-Sep-19 @ 11:18 AM
There are two large trees overhanging our property blocking light & blocking the gutters. The will cut down one but not the other. What can we do please? Thank you.
diamond
- 17-Sep-19 @ 12:52 AM
I have a tree in my garden which grows entirely into my neighbours at very shallow angle and it appears to me that the weight of foliage above is likely to cause the trunk to break. I would like to have my tree trimmed right back to my boundary but would need access from his property to cut. The neighbour and I don't get along so I wrote a letter explaining the dangers of my tree breaking onto his property and that I would trim it at my expense and would need permission to go on his land. Two weeks later he still hasn't replied. Where do I stand in trying to cut my own tree to avoid any damage or injury to neighbour please? Am I protected form being sued if something does happen as I've made every effort to have the tree cut? Thanks.
Hi My neighbour has with in her rights removed an overhanging branch from our mimosa tree which was drooping over our joint fence....however she just bent and twisted the branch and has left that side of the tree badly damaged..is this considered as criminal damage or an offence of any kind
Lvms
- 30-Aug-19 @ 3:34 PM
An overgrown 15ft willow shrub in my neighbour's garden overhangs my garden by 8ft.I normally trim it back despite pushing 70, but 2 weeks ago I saw it had attracted a large number of wasps.The nest isn't there so pest control won't help.I've been stung and am now terrified to go outside.The neighbour (a tenant) isn't at all sympathetic – she cares only about the wasps, insisting they mustn't be killed - and the landlord continually ignores my text messages. Is there anything I can do please in view of the imminent danger to myself as well as my own cat and others in the neighbourhood who are fascinated by the pests.
Laylamog
- 30-Aug-19 @ 8:20 AM
Hi. One of my neighbour's blackberry branches are overgown and hang over the public path . They're full of thorns and a few times when walking at night I nearly poke my eye out. I suspect other neighbours on the street feel the same. The tenants are very inconsiderate (late night parties etc) so no point talking to them. What can be done? Thank you
JJ
- 24-Aug-19 @ 12:03 PM
how can we trust this site when there isnt a SSL certificate on this.
James P
- 22-Aug-19 @ 4:45 PM
My neighbours trees braches are growing on to my side and I have been cutting them and disposing them. Can I throw the branches in to his garden as it is his tree
Zed
- 13-Aug-19 @ 5:08 PM
We have a small hawthorn tree that sometimes hangs over a neighbour's parking space, but we have recently had it cut back to just behind the property boundary so that it is now entirely within our garden. However, the neighbour constantly complains about leaves falling onto his car. Are we responsible for the cleanliness of his car?
Jazzy
- 7-Aug-19 @ 12:21 PM
We are housing association Tenants and the two flats next door (Also Housing Association Tenants) have ivy bush growing over our fence that we put up. This has hung over, destroyed and broken the fence panels and timber. Can I sue them for all the damaged caused to our broken fence panels, posts and plinth's? We have already asked for them to sort this out but to no avail, where can we now go from here?
Pete
- 6-Aug-19 @ 3:33 PM
What if I cut the branches back, but have no way to dispose of them, can I chuck them over the fence or pile them on their lawn? who has to dispose of them?
Andy
- 25-Jul-19 @ 11:19 PM
My neighbour has me to cut back a shrub as it has grown tall and giving some shade in his garden. Am I obligated to do so, or it is up to my discretion?
CPD
- 24-Jul-19 @ 7:29 AM
My neighbours climbing shrub is taking over my garden and killing my shrubs it is about five foot into my garden and very oppressive.I'm too old to get up a ladder as I used to and dispose of the twigs etc myself.If I cut down which is doable for me can a throw over their garden.Any ideas welcome.Thank you
Fedup
- 13-Jul-19 @ 6:30 PM
Our rear neighbour is a housing association with a very high silver birch tree near the boundary which is causing several problems1/ the roots are approaching our property and spoiling our garden by standing above the natural land surface 2/ the light is now blocked from reaching our garden and rear windows for most of the year. 3/ there are numerous branches overhanging our property. 4/ the number of both leaves and twigs blowing / falling onto our garden and bungalow roof is taking many hours of work to clear. The neighbouring land is owned is by the Town council so we asked for an inspection by their representative who deals with such problems who said that he would normally arrange for the tree to be removed within a few days but, unfortunately the land is leased to the housing association so the council could not do anything. We then called in the housing association maintenance manager who said that he would not be spending any money on removing or trimming the tree. He would only arrange for a slight pruning which may allow a little more light through. He warned us that if we arranged for the overhanging branches to be cut, this could destabilise the tree and we would be sued for any resulting damage. We asked for the tree to be replaced by three small trees but he refused saying it was too costly. We told him that we were here before the neighbouring land was built on by the council who were considerate enough to ask each property owner (in about 1987) if they wanted to have trees planted near to their property which we declined. we think the offending tree was not planted but was allowed to grow as a result of a falling sapling. We also explained that the local council would be prepared to remove the tree but he was just not interested. Any suggestions would be welcome?
almar
- 6-Jul-19 @ 11:46 AM
About eight years ago my local authority purchased the farmers' field adjacent to my 50-year-old bungalow and built a new school on it.Part of the approved plan provided for planting a screen of trees and shrubs along the boundary between bungalow and school. This was fine in theory but whoever designed the detail of the screening and/or carried out the planting paid no regard to the impact on my property. In particular, a willow tree was planted less than five metres from both one corner of the bungalow and from the line of the sewage drains which run parallel with, andless than one metre from, the boundary for about 12 metres. As willows are well known for rapid growth and extensive root systems which damage drains the planting feels almost like an act of deliberate vandalism on the landscapers' part, or at least gross negligence. There are signs that roots have begun to interfere with the drains. There were no trees in the vicinity prior to planting of the willow so it is almost certainly the culprit. What are my rights here? Can I demand removal of the willow? If not, can I ask for an undertaking that any damage to my property is put right by the school/local authority at their expense? Would the school's or LA's insurers consider them culpable for the damage?
Amadeus
- 1-Jul-19 @ 12:04 PM
I live in a council bungalow which backs onto school grounds. Around the school are several sycamore trees which are fully grown the trees hang over the garden, house and conservatory.They are making a dreadful mess. I have on 3 occasions asked the school to cut them back or remove them which they refuse to do. Are they obliged to do this or can I have the overhanging branches removed myself or by the council.According to the law I can do this as long as I tell them what I indebted to do and give them the branches back if they want them. We are in our 70,s and are finding it harder each year to clean up the mess the trees make with falling sap etc Your advice would be apprecited
Jackie
- 27-Jun-19 @ 2:05 PM
I don't know why we pay house and property taxes when we have ni rights or laws to protect us. My neighbors trees are breaking through my fence and roots coming onto my property. I am expecting to take care of their trees. They're trees are also reaching the power line and caused a fire in my back yard and I am told by the city it's nothing I can do. Can anyone help me
Patty
- 21-Jun-19 @ 8:22 PM
My neighbors hired a third party to trim their tree.However, he never informed us that he would be cutting branches off of our tree.I understand that the bottom branches that overhang can be cut, but this guy cut all the way to the top of the tree so now it looks like I have a half of a tree.We were never informed in advance, and we never gave permission to have this done or even asked if we wanted to do it ourselves.We are both senior citizens and have never done anything to these neighbors.We also have a 6 foot fence between the properties and the tree was in no danger of falling.The neighbor told me it "bothered" her.I don't believe the trimmer is licensed or insured.We are planning a lawsuit.
Mom
- 16-Jun-19 @ 1:39 PM
This is regarding my neighbours's tree Overhanging branches in to my property. Am I allowed to throw the cutted branches back into their property. I have informed them several times about the overhanging branches, but they are not addressing the issue.
DJ
- 11-Jun-19 @ 12:18 AM
the article says you have no right to pick fruit from branches overhanging from an adjoining property but it fails to state what the legal case is for fruit that falls off a tree onto your property
Ged_K
- 6-Jun-19 @ 1:24 PM
I have a problem where neighbors are selling their home, both having great jobs and doing well financially. I'm a retired woman in my late-60's and there is a $1,000 bill to remove limbs and destructive roots encroaching on and causing structural damage to my home from their tree. Until she researched her responsibility to discover that she is, in fact, legally liable to take care of the $300 root grinding portion of the entire bill, she wouldn't talk to me about the problem. Now she will only pay $300 to avoid Small Claims Court action and the rest is being left to me. Our laws need to be revised for sure. Call your District Representative and demand a fair revision of our tree laws to protect innocent homeowners. But, I am writing because I am shocked at the audacity of those writing on this page about how mad they are at their neighbors for expecting them to be decent human beings and do the right thing to care for their own trees. The hatefulness displayed is unbelievable! Take some responsibility for your trees BEFORE but particularly AFTER they become a hazard to your neighbor! Is THAT how YOU want your neighbors to treat you?? Do to others as you would have them do to you--and be decent!
Disgusted
- 1-Jun-19 @ 9:00 PM