Your Rights on Trees & Overhanging Branches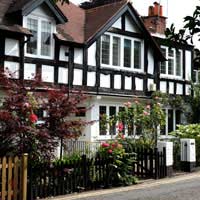 Trees can add a great deal of splendour to a garden. They could be fruit bearing trees, a place in which to retreat to the shade and they can also add a great deal of colour to a garden. However, they can also cause a nuisance to a next door neighbour when they start encroaching onto your side of the fence, with problems ranging from attracting unwanted insects like bees and wasps, blocking out your light and shedding their leaves all over your garden. Therefore, it's important to know what your rights are and what you can and cannot do.
Establishing Ownership of Trees
The tree belongs to the person upon whose land it has originally grown. Even if its branches or, worse still, its roots have begun to grow over or into a neighbour's territory, it belongs to the landowner where the tree was originally planted. Even if the tree bears fruit or flowers on branches which overhang into your land, it's an offence under the Theft Act 1968 to keep them or to take cuttings of flowers, for example.
Obviously, many neighbours will not tend to worry about that too much but should a neighbour, for example, see you collecting apples from their tree even though the branches have grown onto your side, they are legally entitled to ask you to return them.
Overhanging Branches
If the branches of a neighbour's tree start to grow over to your side, you can cut them back to the boundary point between you and your neighbour's property, as long as the tree is not under a tree preservation order. If it is, you'll need to seek further clarification. However, the branches and any fruit on them which you may have cut down on your side still belong to the tree owner so they can ask you to return them.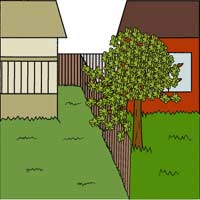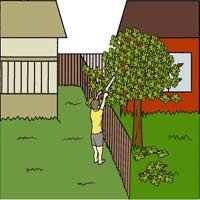 It's a bit of an anomaly really, as while you are obliged to offer the branches back, if any leaves from your neighbour's tree fall into your garden in autumn, you have no right to ask them to come around and sweep them up.
On the other hand, should the trees be causing siginificant damage to your gutters and or blocking your drains, you can ask your neighbour to pay to have them cleared or to pay for the cost of any damage they might have caused. If they refuse to do so, you can legally sue them and force them into paying. If you lop off any branches on your neighbour's (the tree owner) side of the fence, you are not entitled to Gain Access To Their Property to cut off some more. This is trespassing and you could be prosecuted.
Tree Roots
You are entitled to dig up and remove any roots that have encroached upon your land. Roots can cause a lot of problems and if they're deep and/or causing subsidence or any other form of damage to your side of the property, you might need to get a tree surgeon or some other kind of structural engineer to deal with the problem.
It's always better to discuss this with your neighbour first but if an expert does have to be called in, it's the tree owner's responsibility to foot the bill. They can then choose to pay up front or by claiming it against their own home insurance policy.
Take Action
You may also be interested in our
neighbour's trees action guide - written by a barrister
You might also like...
I have lived in my home for 27 years and never got on with the neighbour he as always complained about something or another we came to an arrangement 25 years ago to put a row of conifers trees Inbetween both of our properties he said he didn't want to see us , now is kids have grown older lift home he wants to downsize so he's got is House up for sale now he wants me to take the conifer trees down so he can sell his property easier , the council have been involved and now they are telling me to reduce them down after 25 years can they do this ??, it does not block any of the light from their garden or home !!, Is there not a time limit as it has been 25 years someone said that if a tree as been up for so many years and there's never been a complaint before they should not be able to make you take it down is this right ???.
I have a dispute with my neighbours because the branches of their oak tree are significantly overhanging my rear fence. This tree is not subject to a preservation order.The neighbours do not wish the the branches to be cut back to the boundary because they believe the structure of the tree will be "destabilised and unbalanced". I have a quotation from a respectable and well qualified team of tree surgeons who seem quite happy to do the work (from my side of the fence) despite the neighbours representations.My view is that tree should be properly managed and that i am merely doing what the neighbour should bd doing on his side thus mitigating any remote possibility of destabilising thd tree.My tree surgeon carries the usual insurance for this type of work ....my question is this....if my surgeon carries out the work and the tree does in fact become unstable is this my surgeons responsibility or do i have some responsibility for paying him to do the work ?
AlGee
- 31-Jul-15 @ 4:20 PM
My neighbour gets nasty if we try to trim her trees to the fence which is our fence her trees are overhanging and also pushing on our fence and making it bow out from her side can i trim the trees back without her permission im am quite happy to dispose of the debris
fizzgig
- 30-Jul-15 @ 2:37 PM
Our part time next door neighbours have just turned up and started hacking off bits of the trees outside of our joined semi's. The trees are on neither of our plots and do not overhang either of our plots so they are nothing to do with either of our ownership and do not intrude in any way. Is it right that they should be hacking bits off if a tree that they do not own and does not encroach on their land?
mccrowlie
- 30-Jul-15 @ 1:22 PM
@GarfyG. Yes unfortunately you do need the neighbour's permission to climb the tree. The only other solution would be to use some kind of cherry picker etc.
ProblemNeighbours
- 30-Jul-15 @ 10:14 AM
My neighbours tree is right over the boundaries. In fact some of the roots are in my garden. I understand under common law I have the right to cut the overhanging branches. This is a very high tree the tree surgeon informed me that he needs to climb the tree. However, my neighbour is refusing permission for himto climb the tree unless she is in. She has been given a number of dates when the tree surgeon can do it but she is stalling. Any dates given is not suitable for her. What are my rights? am I at her mercy until she agrees to a date. Any given date is not suitable to her it seems!
GarfyG
- 28-Jul-15 @ 8:02 PM
Hi, We have large conifers at the bottom of our garden over 20 foot tall and getting taller , the problem being the overhang over our fence is now 4ft and growing ,Other neighbours have requested that they be cut lower and back to no avail. phoned council no joy, what are my rights to cutting back overhang, and disposing of cuttings
kazza
- 20-Jul-15 @ 1:28 PM
hello need some advice my neighbour opposite me has a tree in his garden and a couple of branches was hanging over into a alley way and every time I walk out or drive my car out of my drive the branches scrape the top of my car, so I just cut the branches that was hanging over and put the branches in neighbours garden.i don't see eye to eye with neighbour and was told by neighbour that I should have ask first before I cut tree.
suzy
- 17-Jul-15 @ 4:10 PM
@sallycooper15. You are entitled to cut back the roots as far as your property boundary as long as it does not de-stablisize the neighbour's tree.
ProblemNeighbours
- 17-Jul-15 @ 2:14 PM
@Someone. Not necessarily, but the tree is effectively "trespassing" so you may need to seek the advice of a professional here as we do not have all the details.
ProblemNeighbours
- 17-Jul-15 @ 12:22 PM
We are getting our garden re-landscaped, our gardner cut the roots of the neighbours tree as it would affect the cementing and cause damage later on.The neighbour is now threatening us with legal action.The roots are on our property and they have not go over the boundary. What are our rights
sallyCooper15
- 14-Jul-15 @ 10:16 PM
My neighbour has a very tall palm-like tree that over hangs over our garden and sheds long sharp leaves and the straw-like flowers. It also cuts all the sunlight off our patio from mid afternoon until sunset. It also blocks most of the natural light and is an eyesore from our conservatory. I have asked them nicely if they would consent to a tree surgeon (at our cost) to cut it to fence height and they had refused point blank. What rights do I have ?
Deb
- 14-Jul-15 @ 5:13 PM
My neighbour is making us cut down a giant conifer (over 60ft ) at our expense because the trunk has grown onto his land by 4cm. This will cost thousands. Can he do this?
Someone
- 13-Jul-15 @ 10:02 PM
My neighbour has two massive pine trees both with TPO's, one is probably only 5 or 6 metres from our block of 6 flats.2 years ago we had work done as the trees had caused subsidence in our block, this has decreased the value of our flats and we have to now pay increased building insurance, £600 a year for each flat!The branches now span our garden some 30 foot so it is now covered in needles and pine cones which is also limiting light to our windows.The branches are now touching our roof and our gutters get blocked with all the debris.Also our dividing wall and paving slabs on our path are now cracking and starting to lift. Does a TPO on trees mean the neighbour responsible for the trees has no responsibility for their damage and the expense they are causing to a neighbouring property?Is there anything we can do to recover any of our costs or protect our property from the trees damaging it further? Thank you for any advise you can give.
Powelly
- 13-Jul-15 @ 9:09 AM
@Emma Dale. You can trim back the branches that are overhanging your garden. Your neighbour is not responsible for the leaves or pine needles that fall into your garden so you cannot force them to do anything in relation to the trees. Have you thought about erecting some kind of canopy to keep the pine needles out of the dog's water bowl? Much kinder than expecting your pet to try and get at the water without a mouthful or needles, or simply going without water.
ProblemNeighbours
- 9-Jul-15 @ 10:12 AM
My neighbour has cut into our hedge about 2 foot into our garden over the boundary fence right up to the main branch,while we were away.I've spoken to our housing officer but he days he can't do anything. is there a course of action I can take?
@Kat. As the article says, you should not simply throw the branches back. You can offer them back, but your neighbour can say he/she doesn't want them.
ProblemNeighbours
- 6-Jul-15 @ 2:47 PM
I live next door to a neighbour who has two very tall trees. One of the trees is overhanging into my garden, and sheds leaves and blossoms. The other tree does not overhang, but it is so tall that the pine needles blow all over my garden, accumulates in my gutters. The most annoying thing is that I keep my pet in the garden, and these leaves and pine needles constantly fall into his water making it not fit to drink, and therefore my pet either has to try to drink the water full of leaves and pine needles or he has to go without drinking which could affect his health. There is nowhere else that I can put my pet, and even relocating his water bowls does not help as the tree mess covers the whole garden until I cannot even see my path, and is slippery on rainy days. What rights do I have as I am concerned about the welfare of my pet? Thanks a lot.
Emma Dale
- 5-Jul-15 @ 11:27 AM
@tony. You cannot force him to pay or simply dump the cuttings on his property. You could ask him if he is willing to do so but he doesn't have to. There is action you can take to get him to cut down his trees to a reasonable height or even entirely. See the
High Hedges Guide
for more information.
ProblemNeighbours
- 3-Jul-15 @ 2:34 PM
@Wedding. It's an unfortunate situation to be in, but not one that is easily resolved. You cannot force a neighbour to cut down trees because of leaves, sap or light. If the trees are evergreen and there are several, you may be able to take action under the
High Hedges legislation
. You are also entitled to cut back any branches as far as your boundary (at your own cost) as long as doing so does not significantly damage or destabilise the tree. Check also that the trees are not the subject of a Tree Preservation Order.
ProblemNeighbours
- 3-Jul-15 @ 10:03 AM
My neighbours tree has grown so much onto myside that it is blocking the garden and the sap from the tree is destroying my grass ! My question is if I cut down branches that have grown in to my side of the garden do I have the right to throw them back over the fence into my neighbours garden as it is not my tree and why should I dispose of his waste ?
@rupert. They can cut the branches back as far as the boundary.Whilst it's courteous to ask, they do not have to. The tenants can do this and should not have to go through their landlord (depending on the terms of their tenancy agreement).
ProblemNeighbours
- 2-Jul-15 @ 12:14 PM
@TEE. He can trim them back as far as the boundary, but should check with the council first in case any Tree Preservation Orders are in place.
ProblemNeighbours
- 1-Jul-15 @ 2:02 PM
Hi, We live in a Birmingham council house with a neighbough on the right hand side who owns his property. They have a run of conifer trees going about 24 feet down the garden. These trees are about 12 feet in height which is not a problem. The trees overhang our garden by 2 to 3 foot. In Birmingham we have to pay for garden waste to be collected or we can take it to the tip in our car. With such a large amount of foliage to dispose of, the cost of hiring cutting equipment and having to take all the waste through the house to the car then the waiting at the tip and clearing up the garden, house and car plus transport costs Can I force the neighbour to pay towards the expense of the cutting equipment, fuel and time? I also do not want to spend a day or two transporting his waste in our car and having to clean it out of both tree and insects. Can I just pile the cuttings on his side of the fence further down the garden without breaking the law?
Tony
- 1-Jul-15 @ 11:56 AM
@bossman. This is both criminal damage and trespass. Depending on what remedy you want, you could take legal action. It may be wise simply to send a solicitor's letter requesting that they do not do so again.
ProblemNeighbours
- 1-Jul-15 @ 10:50 AM
@anon. Much of neighbour-related law stems from the common law and/or tort. The criminal justice and public order act act also refers to trespass more information is
here
ProblemNeighbours
- 30-Jun-15 @ 12:59 PM
My neighbour's garden is very over grown the problem we have is the large trees. Which block out the sun light from our kitchen windows. Also the leaves get in our gutters and the our garden is always covered in their sab and leaf's. We have even offered to pay for the trees to be cut down. I can't understand my neighbour as his garden is just a jungle which he doesn't look after full of rubbish and old tyres and washing machine's. M.law
wedding
- 30-Jun-15 @ 8:55 AM
I own my property but i live nxt door to a private rental property my trees are over hanging into their garden and i think they want to cut them back are they oblighed to ask me or do they need to ask the landlord?
rupert
- 29-Jun-15 @ 3:17 PM
@sally. It could constitute both trespass and criminal damage so legal action would be an option. If you do not want to pursue that course of action, then a quiet word about future trimmings may work. If lasting damage has been done to the trees you could try your insurance company who may be able to follow this up with your neighbour's insurance.
ProblemNeighbours
- 29-Jun-15 @ 2:27 PM
My neighbour lives in council property, the trees outside his fence are overhanging the fence which is not courseing any problems apart from a few leaves dropping in his garden, he has now decided to lop the branches that overhang the fence, could you tell me if he needs permission to do this from the council that own them, or can anyone cut trees with overhangin branches.
TEE
- 28-Jun-15 @ 3:19 PM