Curbing Dog Barking for Dog Owners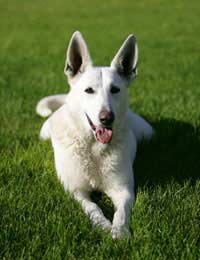 First, it's important to state that barking is a natural means of communication for a dog and occasional barking is not a sufficient reason to approach your local authority as this does not represent a Statutory Noise Nuisance. However, if the barking persists over a prolonged period of time or at unreasonable hours of the night, then it may result in an investigation being carried out by your local authority.
Understanding Reasons Why Dogs Bark
The most common reasons a dog will bark are:
To seek attention
To defend its territory
To display pleasure or excitement
To express boredom, frustration or loneliness
It may have a medical problem which is causing it discomfort or pain
Preventing your Dog from Becoming a Barking Nuisance
Any incessant barking should not be ignored by a dog owner. If the behaviour isn't checked in some way, or you just ignore the dog completely in the hope that it will stop, the chances are that the dog will perceive your inaction as permission to carry on barking. That's not to say that you should punish the dog each time it barks. It might simply be expressing its excitement at seeing you, or as the result of you playing a game with it which it enjoys.
But your dog needs to understand when barking is permitted and where it needs to restrain itself, and that only comes with proper training. There are plenty of training manuals you could use or, alternatively, you could always enrol your dog in a training class or have a dog trainer visit you at home.
More often than not, the main problems arise when the owner is not present to check the dog. Therefore, if you go out for long periods, this could trigger the incessant barking. And, unless your dog is highly trained, don't keep it outside in a kennel if it's the type of dog that has an incessant barking problem.
Training your Dog
All responsible dog owners should
Deal With Their Dog's Barking
.While proper training can usually help to resolve most dog barking problems, there are other things you can do to alleviate the problem. First, make sure that even when you're in the house, you don't always allow the dog to be in the same room as you. Many dogs will naturally follow you around from room to room like a 'shadow' without you even noticing. Try putting your dog in another room and leave it for a few minutes. Tell it to 'stay' and if it follows you, take it back and admonish it.
Lower tones of voice are better than higher tones in terms of a dog's understanding that it's being told off, whereas higher tones signify an owner's pleasure or praise. If it persists in barking when separated, go back to the room and, in a low tone of voice issue the command 'QUIET'! Repeating this exercise over and over until the dog understands what you want it to do will often work.
Once it responds to this action repeatedly, go back into the room and praise the dog using a higher tone of voice and make a fuss of it. These types of high and low tone communications will often help a dog understand what you expect of it in all kinds of situations, not simply barking related.
Understanding your Dog's Needs
You should, by now, have mastered the art of training your dog to obey commands when you're at home, but what about when you have to go out to work or to the shops? In these situations, there are still steps you can take to ensure that your dog's barking does not become a problem. Here are some things you should bear in mind to ensure your dog does not become a
Problem Pet
:
Make sure your dog has been exercised and fed before you go out, and that it has access to fresh water.
If your dog barks incessantly whenever anyone passes by your front window, put it in a room or other location where it cannot see out of any window. Make sure it has its own bed or other comfortable area in which to rest or sleep, even if that's just a pile of old blankets. It needs to be able to associate with a place of quiet and rest.
If your dog is the type that likes to always be mentally stimulated and plays with toys a lot, make sure you leave some for it to play with while you're away.
Make sure that the room you leave the dog is not too hot and is kept well ventilated.
Some dogs respond well to soothing music or even the sound of other voices, so it can often be useful to leave a radio on while you're out.
If you're going to be out for quite a lengthy period, make sure you arrange for someone to have access to your house who can come in periodically and check on the dog, can let it out to go to the toilet and, perhaps, someone who could even take it for a walk.
All of these things can help alleviate dog barking problems but should they persist, you should call upon the help of an expert dog trainer.
You might also like...
New neighbors have moved into our rural road and their dogs are roaming about. The other neighbors and myself can no longer walk our dogs up the road, as one dog (Rottweiler) is quite aggressive. One of the male walkers has tried to approach them but the owner got quite aggressive (a bit like the dog!) who can we turn to for help?
Charliebigpots
- 20-Apr-18 @ 10:00 AM
Hello. 2 days ago, we bought a puppy, he is a great little chap, friendly, loving and cute.. But, when we leave the house, our neighbour complains that our new puppy is crying and howling.. I have tried to explain that he will be feeling insecure and lonely for the first few weeks until the little chap settles in, but our neighbour is relentless, complaining endlessly.. Without seeming to defensive, our neighbour has alway been a bit of a nightmare, she complains about everyone and everything.. We simply don't know what to do, because even though we have only had our puppy two days, our neighbour say she is going to ring the council and report us.. Where do we stand with this matter..? Our puppy has water, food, lots of toys and we leave the TV on for company for him.. Regards. Lee.
lee
- 31-May-13 @ 11:17 PM
I have a neighbour he frequently leaves his dog in the house while he goes to work during the day and some nights when it appears there is no one home all night with the dog. The incessant barking is driving me mad as I do 7 nights and have 7 off. I have spoken and texted the landlord day and night when this happens and his response is he has spoken to the owner and it won't happen again.
hotjean
- 22-May-11 @ 9:43 PM