What Can we do About a Neighbour's CCTV Camera?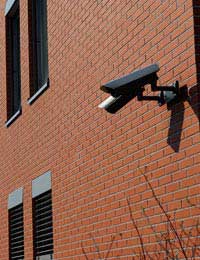 Q.
I was wondering what action I can take with regards to a neighbour who has just recently moved a CCTV camera into his bedroom and is pointing it directly at our front door and two bathroom windows.
We live in a courtyard development (5 houses) and the camera is about 10-15 metres away and clearly visible. He already has an external camera pointing towards his own door which is absolutely of no consequence, but I feel the second camera is in violation of our rights to privacy. We have recently had some flooding issues, although his property was not affected. The emergency services were called and he was seen standing watching everyone and even the fire brigade felt the need to comment. Later that day when council representatives were on site, in front of witnesses he "flew" at my wife and invaded her space and verbally attacked her. What can I do?
(D.M, 16 October 2008)

A.
The main laws surrounding the use Of CCTV are contained within the Data Protection Act 1998 but these do not cover domestic residences. It is perfectly legal for a resident to install CCTV (even with recording and playback capabilities) and, in the normal course of events, this will be done to protect one's own property against the threat of intruders and trespassers.
When installed correctly and used for the right purpose, residents who have installed CCTV will tend to have a positive effect on the reduction of crime and anti-social behaviour occurring in the neighbourhood, as would be perpetrators of such actions would be less inclined to commit offences for fear of being caught on camera.
The problem, as you rightly pointed out, lies in the fact that you perceive that one of your neighbours' CCTV cameras is pointing directly at your property and this is a Privacy Issue. As far as the law goes in this regard, it would be covered by the Human Rights Act under your rights to privacy. Article 8 of the Act entitled "The Right to Respect for Private and Family Life, Home and Correspondence" means that your neighbour might well be breaking the law here.
Ideally, it would be better if you could speak to the neighbours politely, explain the situation to them and request that they make certain modifications to the CCTV system so that it does not infringe on your privacy. However, given you stated that the man verbally attacked your wife, the likelihood would seem to suggest that he would not be prepared to listen. Incidentally, the fact that the man verbally attacked your wife might be also covered under the Human Rights Act in terms of harassment alone. It's also likely that his behaviour will have been mentally noted, at least, by the council representatives so that could obviously go in your favour.
Therefore, I think you have every right to contact your local authority or local police force and have them come out to investigate. They would obviously need to be satisfied that the installation was basically Causing Harassment, perhaps even bordering on voyeurism, and they could then take action. Alternatively, get some advice first from a solicitor who has specialist knowledge in this area.
You might also like...
We have a self employed builder with a criminal record in the Trentham area, done for assault and cautioned for it, realigned a camera to view our property and watch our kids. Police were sent round and he refused to show them the footage proving he has no other reasons for the CCTV other than to harass and watch our children. Council can't be bothered to get involved as they're pretty useless and he's refusing to move his camera. We have been advised we can take him to Civil court under grounds for privacy and harassment, but you'd think the Police would have more authority in dealing with A-Holes like this.
Gonnagetcha
- 28-Dec-16 @ 2:12 PM
People who complain about cctv are normally doing something they shouldn't be... I have 3 of them. There are trouble makers on my street who dont like us having them.. why not? Because they can't get away with their illegal activities anymore. Imagine urinating in the street and public intox while fighting with golf clubs and being seen and having that shown to law enforcement.
I keep greg in line
- 27-Dec-16 @ 5:56 AM
It is not true that domestic CCTV is not covered by the dat protection act, it is. Contact the ICO for more information.
John55
- 17-Nov-16 @ 11:51 AM
I have just spoken to my elderly mother ands they have just noticed that the next door neighbour who has always been troublesome, has CCTV cameras pointing into their back garden. The main problem we don't know how long it has been there but my younger brother has been building annexe so that hew can move back home due to his arthritis condition so it is possible it has been there while building has been going on and I think she was one neighbour who objected. I advised my mother to contact CA first thing Monday morning or should she ring the council first also should contact a solicitor too? any help/advice asap Ican give when I see her tomorrow would be gratefully accepted
Gaz
- 22-Oct-16 @ 1:41 PM
I have been thinking of getting an action camera to wear while doing a newspaper round am I breaking the law filming on private property and possibly in peoples property if a door is open while I am working
matt
- 14-Oct-16 @ 1:48 PM
Planning permission is also required if: • any part of the camera would be less than 250 centimetres above ground when installed, altered or replaced; • any part of a camera would be less than ten metres from any part of another camera on the same building; • where there would be more than four cameras on the same side of the building; • where there would be more a total of more than sixteen cameras on the same building. If any of these are true then you can contact your local planning department.
Hello I have a question I lived on a shared property. I live in the upstairs flat and my neighbours live on the ground floor below us. Now we have different front entrance to the property, but the path to the back garden is shared. I noticed that the neighbours have put up 3CCTVson the property. oneon their side at the front , one over their door which is the path to my garden. they have also put CCTV in their back garden, which I have to cross before reaching to my back garden. I am very troubled by this and I feel that my privacy is be violated.
I have a neighbours who have a CCTV cameras facing ward my house number 32 Barrett's street Smethwickshe looks in people house and street her CCTV camera show a light flashing on it can this be legal she cause so much troubles her CCTV camera causing problem what can l do l all ready told the police they not doing any think she have lot of things go on
Kaur
- 2-Sep-16 @ 4:26 PM
My my neighbour has cameras front and back of council property. The front camera is in the inside of down stair window looks out right down the right side of our street where we all park our cars. He parks his out the back on the street. The back camera is in the up stair window which looks out above his garden hut which is right next to our fence. He has eye ball cameras which looking in sitthe houses facing us and the square out back where the kids all play.if I go 5 steps out my back door to my garden I am on camera. He has moved the cameras in the past to watch what has been going on in the street. When we were putting up a 5:8 fence to stop them watching in our kitchen window all the time. The camera was derected down watching the fence being put up. I want to be able to put out my washing. To go to my bucket and to let my 3 year old granddaughter to play with out being on camera. He is happy just now moving it from the gate or the hut as he can watch the new neighbours build their extension. I would not mind so much if he put it in his down stair windowwhere he could still see his hut and all his garden.
Bash
- 18-Aug-16 @ 5:18 PM
I am living next door to a convicted sex offender. He is not allowed by law to be in sole presence of any child between the ages of 3 and 16 His family stood by him but his grandchildren are now never in his presence He has erected 2 cctv cameras one front and one rear of his property He can clearly see right along the pathway at the front I can see the lens in from my garden at the rear I have 4 grandchildren between the ages of 6 and 15 As this person was only convicted Nov 15 and had only just moved in in January 2015 we had no knowledge about him This will be the first summer since we found out that my grandchildren will be playing in the rear garden What steps can I take to ensure the camera cannot see in my garden The camera is pointed towards his garden but I can clearly see the lens in the dome camera from my side
Whoveruare
- 29-Jul-16 @ 8:57 AM
Iv lived in my house for 4years now and never had any problems with my children playing out the back. Where I live we all have children and from day one they have all played out there together with no trouble. We have had a lady move in she lives in a flat and all she do is tell the kids off and stare out of her window at them. Nothing has ever happend to her car or anyone else's in all the years we have lived here! But she has reported the children for playing out there and is now getting cctv put in. She has her own drive but her sons car is parked in a visitors space she is getting cctv on both cars! Children are always playing out there I don't think this is right. Can she do this? and she also lives in social housing do she need the go ahead from them? Can anyone give me some info on this please.
Beanie
- 21-Jul-16 @ 10:07 PM
Natandmike - Your Question:
Hi I've got problem neighbours doing all sorts, which ended up my partner n the neighbour fighting. They then called police after my partner was jumped by two of them. They called police and said they had a camera. It showed all of it but strangely they got away with it. They have now had another camera fitted it's facing the street surely it's not right as there is a lot of children playing outside. The problem neighbour has also been having someone in his house that is on the sexoffenders register in his house what can I do??
---
Our Response:
Tell your local police, on the non emergency 101 number. They should take a look at sighting of the cameras and can ask the neighbour to move it.
ProblemNeighbours
- 22-Jun-16 @ 10:00 AM
Hi I've got problem neighbours doing all sorts, which ended up my partner n the neighbour fighting. They then called police after my partner was jumped by two of them. They called police and said they had a camera. It showed all of it but strangely they got away with it. They have now had another camera fitted it's facing the street surely it's not right as there is a lot of children playing outside. The problem neighbour has also been having someone in his house that is on the sexoffenders register in his house what can I do??
Natandmike
- 21-Jun-16 @ 9:44 AM
I've had my CCTV installed to look over my car night and day. My space is 77 but I've had it positioned so I can see anyone who may do criminal damage. I can see from 75-84 behind my car about 30 foot and unfotunitly it over looks someone's back garden. I've recently had criminal damage done to my car which the culperate can be identified but because of the way that the CCTV is installed the police have said to me its not valid evidence as I'm looking at other people and breaching their privacy! It will cost me £300 to have the damage put right. How do I stand thanks Keith
Tilerbox8
- 15-Jun-16 @ 12:19 AM
Hi it's come to light that my neighbour is recording every think we say and do in my back garden is he allowed to do this and if so can he repeat what he hears and sees we feel we have to whisper in our own house
bernard
- 12-May-16 @ 8:10 PM
My neighbour has cameras and they hav told me in an argument that they new what i was doing in my kitchen on saturday nite at a certain time. The police wont do anything. This cannot be right.
shazza
- 5-Apr-16 @ 6:29 PM
I have a relation living in a block of 17 flats and the freeholder has allowed cctv cameras to b e erected and one is pointing at the front door of one flat where 80 year olds live . I have mailed THE POLICE AND THEY SAY NOTHIN G TO DO WITH THEM BUT CITIZENS ADVISE are they right or should they be advising the freeholder to move the camera, is it harassment and contravening the human rights act
charlieboy
- 11-Mar-16 @ 8:02 PM
Hi I am a registered childminder i work in my own home which is a domestic premises.. We have had a spate of burglaries in the area.. i cant to install cctv in the house for crime prevention, but because i am a childminder do i have to register with the ico under the dpa 1998?
j1969
- 7-Mar-16 @ 2:07 PM
Just pointing out that the law as it applies to domestic CCTV has in fact changed. Need to check the most recent ECJ ruling.Significant outcome of this is residents with CCTV need to comply with the provisions of the DPA, previously they did not.The law allows a person to survey their own property only.Unless they can show the ICO just cause for capturing images beyond their boundary they will be in breach of the DPA.Having just cause means that they must comply with all of the principles and practices of the DPA, in the same way as any business or organisation must.
getitright
- 3-Mar-16 @ 11:35 AM
To who it may concern Im staying in a council flat my vehicle and my wifes vehicle was broken into alot of times scratches on our vehicles was done many times At the washing lines many times our clothing was stollen from the line I then installed 3 cctv cameras outside 2 facing the parking entrance and 1 cctv camera to the washing lines
Tommie- Your Question:
I have problems with one neighbour and they keep banging the wall and booting my door and I have a buzzer entry system and they keep pressing it in The early hours of the morning and its starting to frighten me plus they keep rapping the letter box don't know what to do???
---
Our Response:
Is your property rented? If so you could try asking the landlord to take action. There may be CCTV that provides evidence. If they are continuously banging/knocking at your door and pressing your entry button, you might want to contact the local police for advice (on non emergency number)
ProblemNeighbours
- 16-Feb-16 @ 10:56 AM
I have problems with one neighbour and they keep banging the wall and booting my door and I have a buzzer entry system and they keep pressing it in The early hours of the morning and its starting to frighten me plus they keep rapping the letter box don't know what to do???
Tommie
- 15-Feb-16 @ 7:01 AM
Hi If the CCTV films any part of a public road, or someone else's property, then the they are subject to the Data Protection Act 1998.There was a case last year which states that the householder exemption does not apply if the CCTV covers areas that do not belong to the owner. CCTV does not require planning permission if there is one camera (see GPDO) if it is for security purposes. Human rights act only applies to a public body
Seq
- 8-Feb-16 @ 11:16 PM
Nieghbour have CCTV camera facing in private area of property she have her CCTV Camera facing her door way she has been causing lot trouble with neighbour please confirm only take silly picture of her house she has been telling neighbour and watching them and causing lot trouble any neighbour will causing with her she so rude lady
Kaur
- 19-Jan-16 @ 11:58 AM
We have recently fitted a CCTV system at a resident's home. The cameras we fitted do cover the street and are very high resolution cameras, but we informed the all of the owners of the areas covered and they had no problem with the cameras pointing where they were. One of the cameras was an Axis Communications Q8665-E, the Q8665-E is a HD 1080p PTZ with a powerful lens. We set up Privacy Masks (Basically digital covers) over all of the windows in sight so no matter what the owner does with the Q8665-E, they won't be able to see into anybody's windows.
Woods CCTV Systems
- 15-Jan-16 @ 10:31 PM
My neighbours have cctv pointing on my garden and my back door the police are aware of this and are doining nothing. What can i do ?
shazza
- 30-Dec-15 @ 8:51 AM
We rent our home of a private landlord, which has residential parking. Our car has been knocked numerous times, and my car was wrote off earlier this year due to someone reversing into it but yesterday woke to a huge dent in the back bumper of my partners car. Spoke to a resident in the road whose car was parked next to ours and convientiently has a dent in the back bumper' but is adamant he never hit our car!! Where do we stand with placing cctv in our front bedroom window so it is focused on the carpark?
Theboysmum
- 27-Dec-15 @ 4:34 PM
I have pre approached cctv but since the dvr packed up, i bought a new one with comes with a ptz camera. Yes, the camera could be pointed at someone's window but its preset to the area i need covered which is on my car in a communal car park with a square foot of a public pathway. Is this allowed because there is potential to to peep on people? Its a council flat that im potentially buying.
110110
- 22-Dec-15 @ 11:05 AM
I live in an independent living flat., My neighbour has installed 5 cameras on the front of his house. I contacted the DOEH and they sent the police to investigate.The cameras were pointing into public areas as well as his own . The police said they were satisfied he was not breaking the law but one camera is still covering the car park and 2 into the public area. I have spoken to fellow residents and they were unaware of their existence. Should there not be signage indicating the presence of private cameras as a deterrence to the potential and to make those concerned about voyeurism?
Schulzie
- 26-Nov-15 @ 6:33 PM
If you believe someone has a private cctv camera pointing into your property; and you have tried appealing to them to point it elsewhere, then try this. Buy a lazer pen and some kids pastercine ( both will be less than a few quid) point the lazer beam at the camera and use the plastercine to make a prop to hold it in position. I will guarentee it will get relositioned.
justice for all
- 9-Oct-15 @ 7:08 PM