What Can we do About a Neighbour's CCTV Camera?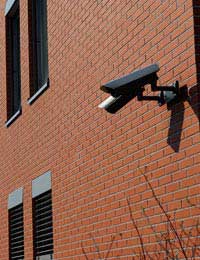 Q.
I was wondering what action I can take with regards to a neighbour who has just recently moved a CCTV camera into his bedroom and is pointing it directly at our front door and two bathroom windows.
We live in a courtyard development (5 houses) and the camera is about 10-15 metres away and clearly visible. He already has an external camera pointing towards his own door which is absolutely of no consequence, but I feel the second camera is in violation of our rights to privacy. We have recently had some flooding issues, although his property was not affected. The emergency services were called and he was seen standing watching everyone and even the fire brigade felt the need to comment. Later that day when council representatives were on site, in front of witnesses he "flew" at my wife and invaded her space and verbally attacked her. What can I do?
(D.M, 16 October 2008)

A.
The main laws surrounding the use Of CCTV are contained within the Data Protection Act 1998 but these do not cover domestic residences. It is perfectly legal for a resident to install CCTV (even with recording and playback capabilities) and, in the normal course of events, this will be done to protect one's own property against the threat of intruders and trespassers.
When installed correctly and used for the right purpose, residents who have installed CCTV will tend to have a positive effect on the reduction of crime and anti-social behaviour occurring in the neighbourhood, as would be perpetrators of such actions would be less inclined to commit offences for fear of being caught on camera.
The problem, as you rightly pointed out, lies in the fact that you perceive that one of your neighbours' CCTV cameras is pointing directly at your property and this is a Privacy Issue. As far as the law goes in this regard, it would be covered by the Human Rights Act under your rights to privacy. Article 8 of the Act entitled "The Right to Respect for Private and Family Life, Home and Correspondence" means that your neighbour might well be breaking the law here.
Ideally, it would be better if you could speak to the neighbours politely, explain the situation to them and request that they make certain modifications to the CCTV system so that it does not infringe on your privacy. However, given you stated that the man verbally attacked your wife, the likelihood would seem to suggest that he would not be prepared to listen. Incidentally, the fact that the man verbally attacked your wife might be also covered under the Human Rights Act in terms of harassment alone. It's also likely that his behaviour will have been mentally noted, at least, by the council representatives so that could obviously go in your favour.
Therefore, I think you have every right to contact your local authority or local police force and have them come out to investigate. They would obviously need to be satisfied that the installation was basically Causing Harassment, perhaps even bordering on voyeurism, and they could then take action. Alternatively, get some advice first from a solicitor who has specialist knowledge in this area.
You might also like...
For 2 years now, the next door neighbours have been slamming shut 2 external doors, outside my bedroom, of my detached house, causing me to lose sleep every night as it is anytime in 24 hours. The police won't do anything, neither the council as there is no proof. I now believe it is pure harassment and bullying as it is 4 of them, and toileting a dog endless times a day/night plus barking. I am 71 and quality of life is zero. I am getting 2 cctv cameras and microphones, to pick up the noise, and possibly view who is causing this harassment out of the 4 of them, for proof to the authorities....do I have rights to do this?
Sally
- 17-Sep-19 @ 5:30 PM
My nieghbour admits camera are looking in my garden. I am worried about grandchildren as they seem weirdo's how can I stop this
Deb
- 17-Sep-19 @ 11:41 AM
i live in flatsmy next door nieghbours are horrific they have had to sign numerous anti social behaviour ordersi got my self a small cctv camera to put outside my front door that is on a communal landingthe housing association said this was a good ideai came back from shopping and decided to see what the activity had beenwhen i checked it showed the next door neighbour at 6 am signaling to her boyfriendthen she strolled over staring in to it and then moved itcan she do thisi did confront her but she said she hasnt touched it i said what part of it being a camera dont you understandbut she still denied it this is why its been put up cos she just constantly lies is this ilegal for her to touch it
willow
- 15-Sep-19 @ 1:23 PM
My neighbour has reported me to the localPCSO, (who is only just out of nappies) . I have a CCTV camera, INSIDE my property on the 2nd floor bedroom pointing out over my garden. There is a bunker in my garden, and parfof itsits in the neighbours garden. He and his inlaw, has made numerous attempts to vandalise. As he doesn't want it in his garden. The bunker is shown on the deeds, as always being there. He has also threatened my wife, on countless occasions. The PCSO is not aware of the deed layout, and has said my camera, cannot point at my property.! The neighbour is saying it is pointing into his garden. But it isn't.Am I entitled to protect my property and fence?
Sir Galahad
- 22-Aug-19 @ 11:07 PM
i am writing to ask how i stand i dont speak to my neigbour we have had a few issues over the last year and she had some issues with my other neighbouurshe has now but a cctv camera up on the corridor directly on my door and my neidour on the other side of me the gengle uest to come to my door and talk to me now he feels uncomfortable and we both dont want to come out because the rumours and we are stating in our flat can i do anything about this i getting very depressed and paranoid please can someone help me
luckylady
- 21-Aug-19 @ 7:07 PM
Hi there.I have a problem with my neighbour. She said to me that she took a pictures of my private area, of my inner environment of my flat, as we are on ground floor. She exactly describes what we have in the bedroom. Please help me what I can do. I think is not legal, this is voyeurism. I'm frightened, I can't sleep, I still think somebody watching me. I don't know what of everything she made a picture. We could be in intimate situation or she could recorded my valuables, jewellery, whatever.... I really not feel safe anymore in my home. Please help my what to do. Thank you very much in advance.
Claire
- 20-Jul-19 @ 3:29 PM
A garage opposite me just had new CCTV installed but I think the camera's are watching my bedroom window because in the night I can see the inferred lights through my phone camera from my bedroom window am I right or wrong I thought if they weren't watching my window I wont be able to see the inferred ??
Rollsy
- 30-Jun-19 @ 1:54 AM
I live on an end of terrace property. I have just purchased a Ring Video Doorbell 2. When I installed it, I realised that the doorbell obviously mainly records my own path, on my property, and my garden, however it also captures people on the public footpaths outside my property boundary (as doorbell cameras are set level and not pointed downwards). The camera only starts recording when there is movement on my own footpath and the recordings are approximately 31 seconds in length. Do I need to register this with the ICO or other parties?
JamJam
- 30-May-19 @ 1:40 PM
My neighbour who we have had problems with over the years has installed cctv at the back and front of the house on the wall between our two houses.The cameras look as though they are pointing at our fence but are the same height as the second floor window.Can we ask the police to check it as it feels like they are invading our privacy.We have a 6foot fence at the front which the camera can see over and 7 feet hedges at the back and that camera can see over these too.Before they installed it we were sent a letter asking if we had problems with our plants as theirs were dying.They have a huge overgrown Jasmin which is against our fence and growing beautifully in their garden but against our fence (as there is no sun) is so overgrown it's not sprouting leaves so we think they are insinuating that we are killing the bush.Can we get them to move the cameras?
Unhappy
- 28-Apr-19 @ 5:55 PM
Hi, I have a right of way over my neighbours driveway that allows for unlimited crossings on either foot or vehicle. The neighbours have recently installed a cctv camera which watches us as we use the right of way. They are watching everyone who visits us and us every time we leave the house. What are my rights regarding this?
Prof
- 6-Apr-19 @ 12:04 PM
My neighbours have verbally abused me for years and just recently it has turned physical which the police are currently investigating. I put a camera up inside my house that shows my drive way and cars and the path way and some of the road outside the front of my house none of there property. The reason for this is I'm worried they may vandalise my car etc as I've been complaining to the council and reporting them to the police. Every time I step out my front door there in the windows watching my every move. I've had enough of being made to feel uncomfortable so I put a 6ft fence between my house and there's (semi detatached) they complained tried to get the council to make me take it down but I have permission so I've been allowed to keep it up. I've came home tonight and noticed they have a camera in there upstairs bedroom window pointing straight on my drive way and property. So because I've stopped them spying by putting the fence up they have now done this. Is there anything I can do please? Any advise would be brilliant thanks.
Lauraw
- 20-Feb-19 @ 9:40 PM
My neighbour has cctv cameras on his house.One is pointing over the fence into my back garden and another camera is pointing at my drive and the front of my house.I contacted the police who came round and agreed that the cameras appeared to be pointing at my property.They went round to the neighbour who pretended he wasn't at home.They have tried several more times, but without success as my neighbour will not allow them into his property to view his cctv monitor.What can I do?
Jesse
- 5-Feb-19 @ 8:30 PM
Hi guys I need some advice. so to run through quickly- 1. Had a neighbour- he died, left the house(private owned) to his daughter. 2. She gave it to the council for 4 years- bad tenants 12k worth of damage 3. Shes repaired it and given to an estate agent 4. Estate agent (hunters) has rented it out to what he said was a family- mum dad x2 kids 5. Whoever passed the tenancy has sublet to different people 6. Past year has been hell- noise, running a catering business from 5am (yepthey're Nigerians), suspecting a prostititute is in there. Banging of everything into late hours. never open the doors to anyone they are not expecting. Dont sign for deliveries left to the neihbours to do it. 7. Im not sleeping my wifes not sleeping- contacted the estate agent- he isnt bothered. 8. Knocked on the door 3x and emailed estate agent 3x include head office.no reply. 9. Last week knocked on their door at 1130pm. Was told to not knock on the door again and its just the begining of problems! So now i dont feel safe ( im 1 man 3bed terraced house) 10. Now the noise is the same but is now deliberate to annoy me at late hours. so now constantly anxious 11. Emailed the local council- they sent a letter to me, them and the estate agent. 12. Emailed the neighbourhood police- they are coming to visit me at mine. Please has anyone been through similar or can offer advice. im going through hell. Not sleeping calling in sick a lot now. Dont really feel safe and dont want to leave my house. Got a dummy CCTV as a deterent. Saw them taking pictures of it today. hence the urgency in this email.
alix
- 29-Jan-19 @ 1:31 PM
My neighbour has just installed a "device" which seems to have a lens and in low light conditions has 2 red lights on it. This device is supposed to be guarding their oil tank from intruders. Unfortunately their oil tank is only about 1 foot away from my sitting room wall , so the device is directed at my wall. This wall of this sitting room is only 4 foot high , with a sloping ceiling. The ceiling has a velux window, located just above the oil tank. Consequently, the device appears to be looking into my room . It just so happens that I usually sit under this velux window. so possibly this device can see me sitting in my room. My problem is 1. I do not know what this device is. I happened to see a man installing it ( unmarked van) I asked him what it was and all he would tell me was that it was to guard the tank. I cannot ask my neighbour directly as I am in the midst of a noise dispute with him ( me complaining). So how can I tell if it is a camera or something else? 2. If it is a camera, is there anyway I can find out whether (possibly inadvertently) it can see into my room? 3. If it can see into my room is there anything I can do?
Jackie
- 30-Dec-18 @ 12:25 PM
My next door neighbour has bought the other house at the other side of us. He has installed a cctv camera at the top of the garden looking at his new property.Not sure if it catches ours but the bathroom window is on that side. Also he has put a camera on a wall facing up the shared path that crosses our back yard. I let the dog out at night. The camera turned blue and heard a voice saying what you looking at??? Is this 1 illegal?
Tomo
- 10-Dec-18 @ 10:38 PM
Hi, I have two acquainted neighbours from same country of origin who placed surveillance camera 2 feet from both my windows. The neighbours could have placed their respective cameras between their bedroom windows, I.e 6 feet away from my bedroom windows. The other neighbour placed surveillance camera into direction of my door entrance rather than the other way. Again that neighbour catches all my privacy. The surveillance cameras 2 feet away from my bedroom windows record purposely all my private conversations. I also noticed a covert camera into neighbour's car towards my direction (drive in path). I strongly believe the neighbours' action is based on prejudicial views about social tenants. I retire from professional life following chronic illnesses, regarded as disability. I lead a quiet life with my 7 year old child. My family has never been known for anti social behaviour. I view the neighbours' action as intentionally invasive. I am petrified of having neighbour dispute about this. The neighbours are not reasonable people, prepared to remove their surveillance cameras away from my property. Please advise if what neighbours are doing is legal and how can I counter such flagrant privacy intrusion. Thank you
Alice2018
- 8-Oct-18 @ 5:51 AM
I have a cctv camera that can move 360 degrees and I have it pointed down my drive and I make a point of not moving the camera over to any of my neighbours areas but one of my neighbours has complained about the camera breaching her human rights. So my question is where do I stand legally?
Goose
- 17-Aug-18 @ 9:37 PM
My neighbor will stop @ nothing to cause my families eviction I have low income and already dislike the conditions she has a lot of illegal activity and is using anything I do to cover hers up she has a camera pointed @ my walkway it's obvious it's not to protect her property it's to watch me and my kids the most unsettling part is supposedly the fees is live which nobody is comfortable with I hate it and I have children and her convicted child molester father watches it with her sadly she sends her kids with him for nights to get some space and he has a lifetime restraint against children what can I do it's pointed @ me I want to move anyway there's a lot of shady charecters here whom she tells inaccurate information too about myself I feel very violated and she's dealing hard drugs and had an overdose and a domestic assault against her baby daddy whom she regretted putting in jail and went to admit she made it up I already worry about my kids seeing her company nodded out with a needle stuck in his arm she was supposed to be evicted but discarded his cell phone to cover up her sales of the substances the sad part is I mind my own business and try to not cause problems and been getting in trouble for petty things from her going out of her way to put two kids and there Mom on the streets to satisfy her quiet drug dealing lifestyle everything I have done which is have the father of my kids visit us throughout the day and the management is more worried about that then what she does however they don't know she's had multiple men live in her house she puts her phone car everything in somebody else's name she even goes to see the father of her baby with her sisters I d because she is not supposed to besides the fact they have tried to evict her in last 4 years @ least twice a year because her house is the most disgusting unsanitary dwelling you can imagine but she knows the law and pays people in drugs to clean she also paid a new neighbor whom we don't even know file a harassment order on us and she admitted to the neighbors who disagree with her actions that she only records us and calls cops because she was given morpheine they want the father of my kids gone because he knows the law and defends our kids and us unfortunately it's working for her she even threw something @ my truck as I was driving it was @ my sons window I didn't know what it was so I swerved it was a cupcake but I didn't know that so I had enough and went to the police and they laughed @ me and told me not to be so petty it's only illegal to have my kids dad live here he does not but she claims otherwise so the management broke my shed door and barges in to tell him while he's here watching our kids they told him he's trespassing and harassing I need help and want a new place I never likes it here to much drama and drugs as well as people mislead of my character so I got a lot of incorrect rumors about myself
Bran dee
- 3-Aug-18 @ 4:39 AM
Jesse - Your Question:
My neighbour has his drive fenced in by large wooden gates - he has a short drive that leads up to his gates that is parallel to my drive which is open and not fenced in. He has put up cctv cameras on the outside of his gates which he says is to monitor his short drive, but in reality the cameras are pointing at my open plan drive and side on to my front door so that he can see my every move - is there anything I can do about this?
---
Our Response:
Ask if you can look at the footage to see where the camera is focused? If you're not happy then get your local police to have a word with the neighbour.
ProblemNeighbours
- 22-Jun-18 @ 2:53 PM
My neighbour has his drive fenced in by large wooden gates - he has a short drive that leads up to his gates that is parallel to my drive which is open and not fenced in.He has put up cctv cameras on the outside of his gates which he says is to monitor his short drive, but in reality the cameras are pointing at my open plan drive and side on to my front door so that he can see my every move - is there anything I can do about this?
Jesse
- 21-Jun-18 @ 8:15 PM
What can l do when our neighbour has positioned a cctv camera on the upper wall of his house directly facing our house, bedroom, living room and garden. I'm having to keep my curtains closed. l asked him to move it. He said he would do it. But he still hasn't moved the angle to his own garden. What can l do ?
Nosey neighbour
- 8-Jun-18 @ 10:45 AM
CCTV i have cctv fitted on our property because football game on my street and damage to my wife car by neighbour kids.i made sure my cctv is register and i pay a fee every year. cctv is a very good thing in a neighbour wood,it made people think twice before they break the law,if one dont have notting to hide,then they wont worry a bout cctv. bellmust.
bellymust
- 27-Apr-18 @ 4:59 PM
We have recently objected to an oversized and overlooking outbuilding that our new neighbour is proposing. The local planners have yet to decide on this issue, however we have installed a new fence to limit being overlooked should the office/storage unit get approval. Today the same neighbour has installed 4 CCTV cameras (he does not reside at the property it is tenanted). The two rear cameras are clearly visible from our patio and our garden. I would suggest given their 180 degree capture they are capable of filming my entire rear garden and our coming and goings from our rear access and onto our patio. This feels somewhat in retaliation to our planning objection. Ultimately this neighbour will now remotely be able to monitor our own activity and coming and goings as well as his tenants. What would be the best way of tackling this?
Natty
- 28-Mar-18 @ 7:09 PM
My next door neighbours have a camera on the front of the house. Whenever it goes dark, it picks up the slightest movement and shouts loudly... WARNING YOU ARE BEING RECORDED ON CCTV CAMERA WARNING WARNING it makes you feel like a criminal when you just want to get into your own house. Its a nuisance and now i hear it all day long in my head wether im in work or in bed i hear it what can i do
Tilly
- 11-Mar-18 @ 8:34 PM
Hello. I am receiving police support over a harassing neighbour. I have footagecand photos of them being harrassing which the police are going to use for the Cps possibly. Now these nightmare neighbours have fitted a CCTV and correctly so but sit in their front doorway out of camera shot taking pictures of myself and my children and filming us when we are just going about our daily life. My issue is this if I film them on my phone doing this or take a picture of them doing this (as they live opposite me) I'm I doing something illegal if it is to prove what they are going?
Yoyo
- 1-Mar-18 @ 10:11 PM
Hi all, I too have lived in an ex council flat for years without problems. However 2 yrs ago we had new neighbours who work from home and despite requests to stop the banging of heavy boxes. The problem escalated to using domestic noise to annoy me . Despite contacting the council and hoping for support i was targeted by the rest of the neighbours( some new residents moved in at the same time and have grouped together. I own my property and i have come to the conclusion there is no prptection for those that follow the law. I am targeted and seen as the problem for not tolerating her behaviour). This couple are on benefits and the council did decide to put recording equipment into my flat but they sent them a letter advising them. The neighbours have placed cameras up and i feel that whatever they do the council accepts. I am being forced out my flat by the majority who dont work and are claiming some benefit or other. The neighbours dont live under her so im really shocked at the conclusions being made. I own my property so i am proactive in raising issues if i was also having my rent paid maybe i wouldn't care either about what is happening on the estate. The council are not bothered about my health, the footage i showed about boxes being delivered has been met with contact the DWP yourself. This has been going on for 2 yrs.
App
- 13-Oct-17 @ 10:22 AM
My neighbour is a child minder and has installed CCTV to monitor the kids in her front garden, I do not have a problem with that, however the camera on the side of their house that faces my house, has the camera pointing straight at my house, this became more evident yesterday when my grandson looked over the party wall to wave at the kids, and my neighbour came out straight away to tell her wards off for climbing up my wall to speak to my grandson, so the camera is clearly filming my property, my view is that the camera should be sited on the corner of their property facing back on the their own land, and not facing my house, am I being unreasonable.
Tbone
- 25-Aug-17 @ 11:11 AM
About 6 years ago,we got new neighbours next door,knowing this guy'sn reputation,i told him point blank,that i wasn't going to put up with his nonsense, " BIG MISTAKE ".Two weeks later they held a house warming party,which was a nightmare for my wife and i.I asked them politely to keep the noise down a bit," Politely" ,i was called all the names you can think of. They started setting smoke alarms off,etc.This behaviour went on until it was so bad,i got the police to stop it, " would've been better with a shotgun" However,eventually they were told by their Landlord to stop or be evicted. I was out one Saturdaywhen he took his temper out on my wife,and terrified her,so badly that she would shake when she heard his voice. They stsrted to knock on our doors,or bang on adjoining wall,to waken us up during the night. Him and his pal got banned from fishing a local Loch where i was a baliff, so they decided to force me or frighten me into giving them a permit to fish. After some arguing and shouting,i stepped forward,and can't remember if i hit him or not,but there was no blood from him,But,when he arrived at the police station to tell them,i was charged with Assault. Since then it's got progressively worse,my beloved wife,has gone into residential care,and i'm alone in this house which is bought and paid for. I thought they would think " He's got enough on his plate, "but no,they're not finished yet,this i know,and all this is over fishing. How can a person be so Petty ?.
Big Harry
- 24-Aug-17 @ 12:50 PM
I live in an area of social housing where the majority of residents are on some kind of benefit and do not work. However they are surprisingly fit and competent enough to be anti social, have parties, arguments, drug deals, shouting matches, door slams, fight with other dealers, create damage and so on. I have reported their activities to the council, the local police where necessary, environmental health and so on. All that is ever done if anything is that they will log it and send a letter, maybe visit once a year. So basically they are just ignoring the behaviour and abuse of the system. Although I am shocked and disappointed at this response what galls me is the flagrant misuse of our tax payer money on people who do not deserve it and the tolerance of this from those in power. It is obvious that they do not want to go through the hassle of warnings or eviction because they have an easy cash cow. How do I get serious people involved to take action? My MP and local Benefit fraud agency do not respond either. Should I go to he Secretary of State?
DeathWishPaul
- 3-Jul-17 @ 6:31 PM
Three years ago I bought an ex council house which is lovely everything was fine until our council tenant nneihdecided to cut down the border fence between theproperties with out asking me which leaves all our gal
??
- 23-Jun-17 @ 11:39 AM