What Can we do About a Neighbour's CCTV Camera?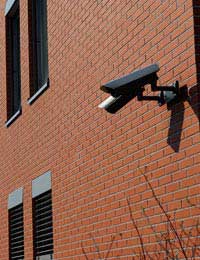 Q.
I was wondering what action I can take with regards to a neighbour who has just recently moved a CCTV camera into his bedroom and is pointing it directly at our front door and two bathroom windows.
We live in a courtyard development (5 houses) and the camera is about 10-15 metres away and clearly visible. He already has an external camera pointing towards his own door which is absolutely of no consequence, but I feel the second camera is in violation of our rights to privacy. We have recently had some flooding issues, although his property was not affected. The emergency services were called and he was seen standing watching everyone and even the fire brigade felt the need to comment. Later that day when council representatives were on site, in front of witnesses he "flew" at my wife and invaded her space and verbally attacked her. What can I do?
(D.M, 16 October 2008)

A.
The main laws surrounding the use Of CCTV are contained within the Data Protection Act 1998 but these do not cover domestic residences. It is perfectly legal for a resident to install CCTV (even with recording and playback capabilities) and, in the normal course of events, this will be done to protect one's own property against the threat of intruders and trespassers.
When installed correctly and used for the right purpose, residents who have installed CCTV will tend to have a positive effect on the reduction of crime and anti-social behaviour occurring in the neighbourhood, as would be perpetrators of such actions would be less inclined to commit offences for fear of being caught on camera.
The problem, as you rightly pointed out, lies in the fact that you perceive that one of your neighbours' CCTV cameras is pointing directly at your property and this is a Privacy Issue. As far as the law goes in this regard, it would be covered by the Human Rights Act under your rights to privacy. Article 8 of the Act entitled "The Right to Respect for Private and Family Life, Home and Correspondence" means that your neighbour might well be breaking the law here.
Ideally, it would be better if you could speak to the neighbours politely, explain the situation to them and request that they make certain modifications to the CCTV system so that it does not infringe on your privacy. However, given you stated that the man verbally attacked your wife, the likelihood would seem to suggest that he would not be prepared to listen. Incidentally, the fact that the man verbally attacked your wife might be also covered under the Human Rights Act in terms of harassment alone. It's also likely that his behaviour will have been mentally noted, at least, by the council representatives so that could obviously go in your favour.
Therefore, I think you have every right to contact your local authority or local police force and have them come out to investigate. They would obviously need to be satisfied that the installation was basically Causing Harassment, perhaps even bordering on voyeurism, and they could then take action. Alternatively, get some advice first from a solicitor who has specialist knowledge in this area.
You might also like...
I have my naighbour CCTV pointing at my garden is this breaking my Wright to privacy.
Phil
- 13-Oct-21 @ 9:03 AM
A friend has a neighbor who has a CCTV who records everything that is said on there driveway and is now saying they are being harassed and intimated by my friend incidentally my friend working afternoon this person works mornings they are now trying to get my friend evicted
Chester
- 13-Oct-21 @ 5:12 AM
we have had trouble with our neighbour (antisocial) so on advice of the police i fitted a small CCTV camera that only faces our door.today i was told by the housing officer (we live in social housing) that it had to be removed because of GDPR.any advice would be great.
duuuudewheresmybra
- 31-Aug-21 @ 11:20 AM
I don't get along well with my neighbour they have installed a motion sensor light on their building looking directly into my garden this is triggered once I come into my garden.This makes me uncomfortable that I'm being monitored. Any advice please.
Dessy
- 16-Aug-21 @ 1:02 AM
I live in flats. Our neighbour opposite (front door is around 1.5 meters away) has installed a ring doorbell. Every time I enter or exit my property the camera activates and records through my entire hallway. I have 2 children of which run around naked a lot. We recently wrote her a letter as we do not get on and she responded with a letter basically saying she isn't in the wrong. Any help is appreciated. Thankyou
Emzoh
- 26-Jul-21 @ 4:31 PM
My neighbor that we don't get along well put cameras facing my property. Recently she started to scream at us threw those cameras while we minding our own business, enjoying our garden or backyard. What steps can we take to stop this.
Lory
- 25-Jul-21 @ 12:10 AM
My neighbor that we don't get a long put cameras facing my property. She also screams at us threw those cameras when we mind our own business enjoying our garden and life in backyard. What steps can we take to stop this neighbor bugging into our life.
Larisa
- 25-Jul-21 @ 12:05 AM
My neighbour whom i dont get on with has installed a dome camera under the canopy of a large garden bar.its approx 2 foot higher than the boundary fence and about the same distance away meaning they can see straight into our once private garden.no consultation or anything,it just appeared. I cant put a trellis up to make fence higher..their fence..any ideas ? Dealing with a person who thinks its acceptable to screw stuff to their fence so the points penetrate well through to our side.
Kray
- 12-Jul-21 @ 6:48 PM
Hi i have put cctv in my councilhouse as i was treatedby somone and the treated to damage mycars thats in my front yardso i put camerain my windows but they take images of other people house and they have moaned at the councilbut the camerasare on the person house that treated me need some adviceplz
Sugerplum
- 8-Jul-21 @ 2:33 PM
Hi my neighbour has a hot tub which she placed 6 feet in front of her house and next to our fence. It's directly under my daughters bedroom window.She's put a marquee over it but has started having s*x in it late at night with her boyfriend. You can hear it very clearly and quite loudly. The Police say when it happens again they'll come out but it's likely they'll just deny it. I'm in Scotland btw. Our local authority is supposed to deal with these issues under anti social behaviour but East Lothian council aren't good at that. Any tips from anyone on here? When confronted, as you would expect, she's abusive and vile. I don't have an issue with her doing what she wants in her hot tub but we don't want to hear it. I think they might get off on knowing folks can hear so there's no chance of them moving the hot tub further down the 80 ft garden.
Micmax
- 29-Jun-21 @ 12:17 PM
The neighbors adjacent to me have installed a light or possible camera directly at my bathroom window I have a basic right of privacy am I right ? These neighbours are hateful and have been nasty for a while now. Help me please.
Willow
- 20-Jun-21 @ 1:50 AM
Hi good morning I'm very quite disturb and want to cry because this lady across from me has been very strange from the first year of I moved in she instantly would pop out side with her robe when she she my boyfriend and me like every day until we broke up it happened she then put up a camera when he would come by at times then we completely called it quits I recently engaged back in a relationship with my daughters father and now she doing the same thing she continues to change her camer views pointing it directly towards my door I also not sure if she could have a device listening because I mentioned to my grandma how she had the camera pointed over towards me then the next day she put it somewhere else when I get for work it's like she knowsI'm just so tired of it all I'm a very kind person and easy to get along with and it really makes me want to hurt her and I really don't want to feel that way I feel as if she's picking and very sick woman its rude frustrating buts a bad feel on me what should I do
Rudy
- 12-Jun-21 @ 4:45 PM
Neighbours next door have installed a ring door bell to the front and back of there house which activates a sensor alarm outside the property everytime I walk up my own drive or up the side of my property do I have any rights to make them turn the sensor alarm off as it is loud enough to hear from inside and extremely frustrating
Caz plum
- 12-Jun-21 @ 3:55 PM
I have been having trouble with my neighbour her son attached methen she spat at me we have told the police now she has cameras pointing at my house so when I step out of my door her cameras come on what can I do about this thanks
Nicky
- 31-May-21 @ 9:37 PM
The man in number 4 Holmere cottages has put up a CCTV that records anyone who is walking on the green and last week moved it higher so I am not able to do anything on my property without being recorded.He is unreachable and unreasonable so no way to express my displeasure.He already stolen some of my land and has made hell for going on two years.I am not sure this is a police matter but know the DPA he is breaking and there is no sign stating he is or has CCTV.
donotlikeit
- 9-May-21 @ 8:06 AM
My neighbor's cameras to individual neighbors are facing the front of my house where a crime was committed and is being disputed witness word to witness word do I have any rights to make her provide that video for him to provide his video since it clearly documented a crime
Neighbours next to me has camera pointed at my front door 24/7 ! What can I do ? He live nested to me not across the street next door what the hell?
Ferg
- 7-May-21 @ 11:25 PM
My next door neighbour as installed cctv all round but on my side front and rear they have installed external microphones which I find an invasion of privacy
Bigshot
- 26-Apr-21 @ 12:05 PM
My neighbour as all round cctv but on my side front and rear they have external microphone is this legal as I see it as invasion of privacy
Bigshot
- 26-Apr-21 @ 12:03 PM
I live in an apartment block and our Nextdoor neighbour has 21 cctv cameras on his house including a PTZ. These cameras film us everytime we are driving in and out of our car park, we have a 7 month old daughter who is also being filmed when we get in and out of the car. The PTZ follows people that walk past their property and this can obviously zoom in aswell. The alarming thing is we have a primary school at the end of the road aswell. What can be done about this matter? He has now installed another one in the bushes pointing across the entrance of our car park. This isn't even covering his property at all.
Annoyed neighbour
- 19-Apr-21 @ 1:44 PM
Hello I would like to report a neighbour as I find every time I myself or my son goes out anything they have a cameras front and back at my house they have already sent housing offices to my address as well as police over children playing there is no fences around we're any of us live so the kids can't even get a ball with our them shouting this is private property I think I am sick off all this and am now going to seek leagal advice on this matter as I feel like I and my little 7yesr old boy are constantly being watched for some strange reason I do not know but I don't like feeling intimidated by anyone or harassed kind regards miss s rowson
San
- 19-Apr-21 @ 1:40 PM
You can go to dollar store but spinners those flashy things that spin you hold or plant when wind blows..these cameras are motion activated. If neighbors cameras are catching spinners they see your area.They will get phone alerts every 5 seconds when wind blows..abd they will adjust caneras..I mooned my neighbor abd he immediately came out so I said if you cant see me on camera how did you know. Perverts mr Mrs bowers. They moved
Ahole
- 17-Apr-21 @ 3:16 AM
Thanks for article. The act has been updated Data Protection Act 2018. I can have an outdoor camera but it shouldn't be pointing to the neighbours garden.I would have to adjust it accordingly so that it was only filming my property boundaries. Unless of course you've got permission from your neighbours, perhaps there is q common thief who is harrassing more than one neighbour.
I have caught my neighbours 45 year old daughter ..pearing over the wall a couple times shes not married no kids..and always at her mothers house next door to me ..one day I asked her if her mother would mind me highering the back wall which is below eye level......no she said I like the wall this height ..I told her I wanted a bit more privacy ..no she said I like it I've told you ..... Now this lady has installed a door bell on her mothers terraced house ...were she can record me in my front garden I feel.like I am living in a gold fish bowl.....this doir bells are great if you have a drive way ....but a night mare when you have a nosy neighbour like I do ! I work.6 days a week and can not enjoy one day in my front or back garden with out being watched or recorded ... And it's clear to see this woman is getting a kick out of it ..its soooo wrong people should have rights to.privacy in there own home ... It should be a basic right ..and you shouldnt have to pay solicitors £300 for advice
Jan
- 26-Mar-21 @ 7:52 PM
What more proof that people don't have enough space to themselves, AND have too much CCTV available but not enough police to be a deterrent to crime, than all the above stories?
The Green
- 26-Mar-21 @ 3:55 AM
Hi my next neighbours have put a security camera up really high and its recording all the time he watches it on his phone but 2 days ago he has put another security camera up in the back so he is recording me when I go out the front and he is recording me when I go into my back garden is there anything I can do it is really stressing me out im a private person and suffer with mental health issues and they no it they are doing everything that they can so will move i love it here its very quiet but they are driving me suicidal what can I do
Tilly
- 20-Mar-21 @ 3:20 PM
I stay across from sheltered houding and inside there land they have camera but it goes round and points onto myself and neighbours Windows we feel that's invasion of privacy is thereanything we can do .
nic
- 19-Mar-21 @ 11:41 AM
I'm having problems with my neighbour's Cctv I have a,camera that points straight at my property and side window of my property I have to keep blinds closed as it's straight through my living room side window And on my driveway not on hers. I've called the police but they said it's a,civil matter It's a,housing association property Shes saying its a shared drive way When it's not There is as a,pathway that leads up to the back of 4 houses back gardens That breaks the driveway up Shes saying that's why she can point it at my house as she recording the shared drive Is so distressing I have bioplar and ptsd is making my life unbearable. She has front Cameras as well which doesn't bother me but they are on motion and follow cars people in the street. It's so intrusive as she won't point the ip cctv camera on her own drive. It's directly on my property I have grandchildren. How can I find out who owns the path And what is classed as a shared driveway...
I am the ground floor owner of a converted house, split into 2 apartments with my neighbour occupying the upstairs flat. The land in the front yard belongs to us, though the upstairs owner has right of way on the footpath leading from the pavement/street to the shared entryway that both apartments use to gain access to each respective flat. Due to recent criminal activity on our road, I am concerned for the wellbeing of my family and overall security of my property.I have bought a camera that I have paced on the window sill (behind my living room window) - in full view of everyone - that looks outward in the direction of the street and has been angled towards the footpath and shared entryway. I have placed this camera on motion sensor between certain hours at night.It does not record sounds. The issue is that my neighbour has claimed that we are 'spying' and are infringing upon rights to privacy.As mentioned, the camera does NOT view the up stair's flat in anyway, but only looks out at the shared entryway and the 'right of way' footpath leading up to it.He as instructed us to remove it immediately. The intention of this has never been to snoop, but only to act as a security measure and added deterrence. What are my rights regarding this - do I need to remove the camera?
Anna
- 26-Feb-21 @ 1:09 PM
I live in an apartment block and our Nextdoor neighbour has 21 cctv cameras on his house including a PTZ. These cameras film us everytime we are driving in and out of our car park, we have a 7 month old daughter who is also being filmed when we get in and out of the car. The PTZ follows people that walk past their property and this can obviously zoom in aswell. The alarming thing is we have a primary school at the end of the road aswell. What can be done about this matter?
Annoyed neighbour
- 15-Feb-21 @ 7:55 PM