Bonfire Nuisance in Your Neighbourhood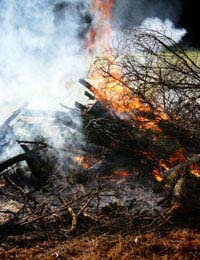 If the type of domestic property you live in is suitable, it is perfectly legal to have a bonfire on your land and, contrary to popular belief, there are no restrictions as to what time of the day or day of the week you can have it on. There is, however, firm legislation in place which you must comply with to ensure that your bonfire does not contravene the Environmental Protection Act.
In addition to the legislation, it's also important that you consider how the bonfire might affect your neighbours. While the law does not restrict you from doing so, it would be highly inconsiderate to light a bonfire in the middle of the night. As a general guideline, don't light your bonfire any later than one hour before dusk, and if possible do it in the morning or early evening.
Choosing your Site
You need to think carefully about where in your garden you're going to place your bonfire. Not only do you need to consider your neighbours, but any kind of fire can be extremely dangerous if not managed properly. Keep any bonfire well out of the way of windows, trees, fences, hedges and other combustible materials.
Even in the summer months, when there are lots of green leaves around, it's easy to forget that they are simply light covering for a lot of dry wood and, should an ivy bush catch fire, for example, one that grows along the side of a fence reaching right to your house, it's amazing how rapidly that can take hold and spread.
Informing your Closest Neighbours
It's common courtesy to let those neighbours who might be affected by the smoke know when you intend to have the bonfire. Obviously, not everybody has the same day for doing their washing and hanging it out on the line or inviting guests around for a barbecue, but by letting them know in advance, your neighbours can plan washing days and outdoor activities accordingly.
While on the subject of barbecues or using other smoke-causing devices such as a Wood Burning Stove, the same common courtesy rules should apply if you think you are going to cause excessive smoke problems.
General Advice
First, try to have as few bonfires as possible. These days, and with the encouragement to recycle, there is far less need to burn garden rubbish than there may have been a few years ago. Recycling bins are often provided for garden waste and many gardeners will use much of the stuff that they may have previously burned and use it as compost.
Don't include any wet or green materials on your bonfire as that will just cause excess smoke. For safety purposes and to reduce annoyance potential, it's best to burn a small bonfire and then adding to it as opposed to making one great big bonfire. Keep a hosepipe handy or have buckets of water already prepared in case the fire gets out of control, and never leave a bonfire unattended.
You should not burn anything which is likely to cause excessive and pungent black smoke. For example, rubber tyres and plastic containers do not belong on a bonfire. You should not attempt to light a bonfire when it's a windy day, as wind will blow the smoke further, causing annoyance to even more of your neighbours.
If a Neighbour's Bonfire Causes a Problem
If a neighbour is burning a bonfire which is causing a nuisance, you should go round to their house and ask them politely to extinguish it or if they could do anything to reduce its effects. Quite often, they are so engrossed in what they've got to burn and get rid of that they can be pretty oblivious to the effects the bonfire is having on nearby residents.
However, if they ignore your request, you can contact your local authority's environmental health department who will write to the neighbour, and include the relevant legislation about what they can and cannot do. Further legal action can be taken against them if they continue to flout the law. Keeping a written log of dates and times when the problems arise and taking some footage of the effects of a neighbour's bonfire if you have a camera or, better still, a camcorder, will often help to enable your local authority to prosecute them more quickly if they are breaching the law.
Generally speaking, however, there are far fewer reasons for anybody to be having to burn rubbish on a bonfire in their garden these days. Waste can be often be recycled or disposed of in other ways so, if you are thinking of having a bonfire, consider the neighbours and think of less damaging ways in which you might be able to dispose of certain kinds of waste.
You might also like...
it's now 11pm the new neighbour has left unattended & clearly smouldering a bin of garden rubbish, without a lid, three feet from wooden fence, smoke billowing over, noticeable smell upstairs as windows open—-the HOTTEST day of the year!!. Ground is tinder dry, lots pf dry undergrowth, ivy etc. and heatwave forecast. This is second night of the little bonfire—Btw new tenants trying to tidy garden, not courteous - reckless? Please help.
Zee
- 24-Jun-20 @ 11:27 PM
I got a similar situation. You said, that you contacted Environmental health. How they did react?
Mary
- 21-Jun-20 @ 10:53 PM
I have lived in my property for 23 years. We haven't had a garden remodel in about 10 of those years so it really is needed. We started by ripping old sheds down, and taking the decking up. Cutting back hedges and a few other bits. At the moment I can not get a space at our local recycling centre. How else am I supposed to get rid of such a large amount of garden waste that is perfectly fine to burn? Its even in a mid sized metal bin converted into an incinerator yet apparently after trying several times to contact the local neighbours there's always the same one that says no I can't do it! He complained about 6 months ago because my puppy at the time barked at 6:58 and it was apparently too much before 7! He has only been living there 8 months!
Chezney
- 21-Jun-20 @ 7:10 PM
My neighbours had a huge bonfire 18 months ago on Bonfire Night - they didn't warn us and there was thick smoke and sparks flying through my garden! The next day my sons went out to use their trampoline and found holes in it where the sparks had melted it! Spoke to them and they said if we replace the mat they will pay for it so we tried to get a new one. The mat for our trampoline was constantly out of stock and so 18 months later we decided because the boys use the trampoline a lot we would buy a new one and just charge them for the price of a new mat! They haven't even offered the money and the trampoline has been up for over a week now. After all of this I have noticed that there is a pile of wood in their garden including some old decking which has been either treated or varnished and it looks like they are planning on having another bonfire very soon! I politely sent a message asking if that is what they were planning and said that burning treated or varnished wood gives off toxic fumes and they have completely ignored me! I have asthma and do not want to be subjected to this smoke any time and also we have just put up our new trampoline and I really don't want it damaged again!Where do I stand with this as if it goes ahead it will cause damage again and we can't keep replacing things damaged by their fires|!
Babs
- 5-Jun-20 @ 5:37 PM
I moved into a council property 3 years ago the amount of over grown hedges trees grass poison plants shed was falling down, i am still cutting back the over grown mess the only way i can get rid of this mess is to burn it, why should i have to spend hundreds of pounds to have this amount of foliage removed i can not have my windows open because the amount of bugs this creates, i get complained about but my attitude is no one complained when the garden got in this state so why complain now it is getting cleared and if they want to pay to have it removed feel free so i shall continue to burn it,
Bessie
- 4-Jun-20 @ 10:21 PM
Currently in bed during uk lockdown and there's a heat wave it's now gone cool so would love to have my bedroom windows open for some much needed breeze and fresh air.... oh wait I can't Cos my selfish neighbors are burning there nightly fire pit right next To my fence I'm so angry right now breathing in the fumes whole house stinks and I can't even have my windows open during a hot night
Katieross
- 30-May-20 @ 11:28 PM
I have a problem with two neighbors who make fire every day and burn all sorts of things.I would like to know how I can claim them, because I can no longer open the window.I honestly can't stand it anymore, I can't breathe clean air anymore.please suggest me what I can do and how I can complain to them.
Gorbilian
- 30-May-20 @ 10:52 PM
I really wish it was illegal to burn fires in urban areas FULL STOP! This would solve a lot of these complaints. I have 5 neighbours that just love having fires, often burning garden and household waste. becuse one has one, the others think ah well he had a fire, I might as well. They always do it when strong winds blow the smoke away from their houses and straight into ours. I've been polite and kept records and now started to reported them. Sinse lockdown it's gotten way out of hand though. My wife and I ard both key workers and find it really insulting how its just a government paid holiday for these idiots.Polite does not seem to work. I am so close to knocking one of them out!
Smoked Out
- 28-May-20 @ 7:39 PM
Just received letter from landlord of having a fire pit. Can he say no fire pit allowed. Where as other landlord had no problem with this. The city says this is fine to have one.Does he have rights to say?
honey
- 28-May-20 @ 7:10 PM
Hi JB, Firstly with the bonfire is it a regular occurrence or a one off? If infrequent my advice would be to wait it out. With regards to the weed most people who smoke are regular people to and have you actually tried speaking to them? Your first action should always be to have that discussion about an issue before even researching/proceeding elsewhere. It's easy to critique a situation from an outside perspective.
Batman
- 25-May-20 @ 11:49 PM
Anyone had any success in stopping these selfish neighbours gassing us out, can't even have the windows open on a hot night, if I do the house ends up smelling like ash!! My neighbour seems to be a nonconformist,he's a law of his own, stinks of weed too.
Jb
- 25-May-20 @ 10:19 PM
Back in March,our fence blew down in the storms. Because of lockdown,and no one available to fix it,it remains blown down. Our neighbour has decided,he wants it fixed regardless of the current situation,so has set a fire right next to our patio where we sit. He threatened us verbally about a week ago,and has since set the fire,burning lots of household waste saying hes going to "smoke us out" until we get the fence replaced. My 3 year old granddaughter lives with us,and cant play in the garden because of what hes doing. I've reported his actions to Environmental health,but I'm wondering,should I involve the police as his actions are affecting our other neighbour,who has COPD? Any advice on this would be greatly appreciated as our lives are being blighted by this idiot. I have video evidence of his action.
Shelly
- 19-May-20 @ 12:37 PM
I too have a neighbour regularly having fires burning their garden waste. It goes on from early evening until late at night. There are very large trees next to their garden that house many wild birds.The smoke is so thick smothering about 8 gardens near theirs.My house stinks of smoke, and I too have to go outside then stink of it all over my hair and clothes.My dog hates it and stinks of smoke too.Its unreasonable for people to have to burn, especially greengrass or other vegetation as it makes so much smoke.This is not good for the environment or people and animals/wildlife.There is a waste service every 2 weeks taking garden waste.No need to have to burn it.Wood burning or garden waste should be banned unless someone absolutely have no other way of getting rid.It's just really annoying especially if burning often and for a long time.No consideration... It should be taken more seriously with the environmental health how much it gets people pi**** off having to live with it!
Midge
- 14-May-20 @ 11:33 PM
We live in South Lanarkshire and unfortunately we have neighbours who have recently started burning green Leylandii and logs in their garden, the smoke needs to be seen to be believed and the fumes that fill our house are so pungent that our son has ended up with a very bad cough. I contacted the Environmental Health dept and showed them pictures and videos of the issue, they came to our home and saw (from our garden) for themselves the smoke issue, they went and advised the neighbours of the smoke issue but nothing has changed, they still burn, not caring about everyone else. We got a reply via email from Environmental Health stating that their officers said at their visitor the smoke was "INTERMITTENT" so was not an issue, we asked how long it would take for the intermittent smoke/fumes to fill our sons bedroom but as yet they have not replied! SURELY THIS IS AN ENVIRONMENTAL ISSUE?
Zuko666
- 14-May-20 @ 12:22 PM
Marko213 this is just a general advice site. You need to contact your local council/environmental health to report problems.
Still cant see a contact form I can email to report a neighbour that is continually doing this?
Marko213
- 2-May-20 @ 3:49 PM
If you read the documents given to you to sign when you took over you're property it states that you will not cause a nuisance to you're neighborhood you signed this as everyone else did if you think you have a right to stop them breathing fresh air think of the Ill. and elderly they need all the air they can get get a life and help others it could be you some day
Tonto
- 1-May-20 @ 1:51 AM
My neighbour keeps having fires not fare from my houes like just out the back of my house as I have no garden.
Jamieo
- 27-Apr-20 @ 8:05 PM
You should be able to get local council environmental health to stop them.If it is a nuisance it is not allowed. I have the same with my neighbours and am keeping a record hoping the council can act. If not I shall be getting the hose out!
Millyc
- 19-Apr-20 @ 7:45 PM
Ps... Its 10 am too n now there at it again wtf
Pickled elf
- 19-Apr-20 @ 9:54 AM
Our neighbours but one are having fires every day close to there house today its become a joke and has absolutely stunk our place out they've been doing this for over three weeks now what can we do.... Whilst lock down is in place we feel choked out from it ????????
Pickled elf
- 19-Apr-20 @ 9:52 AM
I am sending this my neighbour having bonfire to close to the payment bottom of pear tree elms
Chris
- 4-Apr-20 @ 8:29 PM
My neighbour often has a bonfire to burn garden waste. His bonfire location is the furthest possible point from his house about 100ft ie the bottom of his garden but probably the closest possible location to our house about 20ft. Therefore his 'smoke' continually billows into our garden and around our house so we cannot open windows etc... but nowhere near his house. Should I tell him to move his bonfire?
cojomo
- 3-Apr-20 @ 12:01 PM
Burning of rubbish or garden waste in gardens should be banned completely. In days when we are all talking of reducing air pollution due to aeroplanes, cars, buses, coal fires.wood burning stoves (with wet wood), etc. it is a simple matter to outlaw rubbish burning in gardens. The garden waste collection system in the borough is very good and at a reasonable cost for the year, a pint of beer or two cups of coffee a week. Think of all the people who are extreemly sensitive due to health reasons to the smoke and have due consideration please. Bromley council, please take action and make a decision on this.
Stu
- 1-Apr-20 @ 11:54 AM
Our neighbour had lit a bonfire it is a windy day I don't live nxt door but I'm quite away from the them yet my eyesand inside my house full of smoke it's white outside with the smoke blowing everywhere The whole of common lane is white also with the smoke swirling alaround it's spread to the council estate the brewery and to the private house there It's very bad how inconsiderate on a sat afternoon
Flower
- 28-Mar-20 @ 2:40 PM
My neighbor lights up every night and burns off plastics and other noxious waste causing me and my wife who suffers from inphosima with respiratory problems . I take my rubbish to the tip every week. Some people will burn off at nighttime deliberatly to upset their neighbors NOBODY has a right to interfere with other people breathing space
Hands up any of the moaners above who use their car/public transport/smoke... Central heating/gas cooker ect every DAY? Who are you to complain when a neighbour lights a bonfire 5/6 times a YEAR about environmental issues? Bonfires are a human right.... Who are you to judge.... While we are at it who of you came here as a means to restrict your neighbours rights?
JD
- 28-Dec-19 @ 12:14 PM
Tonight around 7.15pm could smell smoke in our lounge, doot and windows shut! Looked out, next door had some sort of fire pit going full.blast, against our fence, which incidentally is less than 4 months old and he has already damaged it. Some 6 feet away a BBQ is going also. Went upstairs bedroom full.of smoke smell, windows only open a small amount, but it got in. Result, asthma attack, they are aware I have lung issues, but do not care, coughing badly, still coughing nearly 2 hours later, and now have chest pains. Hope this does not happen on a regular basis or council, police and fire brigade will be consulted, not to forget I may end up in hospital again. If I cough upstairs, she bangs on the walls, so guess what, plenty coughing tonight and not deliberately!
CathyB
- 7-Sep-19 @ 9:01 PM
He is outside now cutting down a holly bush. Also trying to dig up the roots stuck right against the corner of out end terrace property. I can't believe he has 2 grandchildren & he doesn't even realise how much he is doing wrong he is causing for their future. By the time he has burnt another fire maybe I should mention about the environmental issues. He is leaching behind for his family.
The fires these people have are disgusting, to the person saying people should take it, rubbish, it's about common decency towards your neighbors. That's the point of being a neighbour, we all have to live next to each other, life is much nicer if you're friendly and respect others. One or more of my neighbours have been burning junk for hours. Councils have recycling centers in multiple locations, they do collections regularly. The people that do it near my house drive and have the time to take their rubbish to the local tip, so why not do so? Garden cuttings can all be composted very easily, make no nasty smell and actually put something back into the soil, which these inconsiderate morons end up buying from garden centers, rather than plan ahead and make their own, saving themselves some money. It's just laziness and downright rude!