My Neighbour's Home Improvements: Can I Object?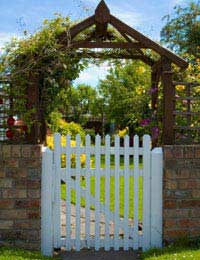 UK law does support the adage that an Englishman's home is his castle, so in most cases your neighbour is perfectly entitled to add to and take away from his property at will, so long as the adaptations that he makes don't impinge on your own castle!
It's perfectly acceptable to make minor changes to your property without planning permission, by putting up walls and fences, for example. This sort of work is classed as part of your 'permitted development rights'.
In October 2008, these rights were extended so that they cover more building projects. The sort of work that can now be carried out without having to apply for permission includes:
Conservatories
Home extensions
Installing solar panels
Roof alterations
Laying patios and driveways
Some of the work, such as conservatories and extensions, does have to comply with regulations that take into account the dimensions or the position. If you think Your Neighbour's Work Doesn't Comply With Regulations, you can check the legal position on the UK Government Planning Portal website.
Projects that do Need Planning Permission
Extending a flat or maisonette
Dividing off part of your house to be used as a separate home (self-contained flat, for example)
Building a completely separate house in your garden
Dividing off part of your home to use as business or commercial premises, like a workshop, or adding a parking space for a commercial vehicle
Anything that could obstruct the view of road users
Anything that might need a new or wider access to a trunk or classified road
Loft Conversions
Under the new rules, you no longer need permission for conversions that don't exceed 50 cubic metres, if you live in a detached or semi-detached home and the conversion will not go within 20cm of the eaves. However, any work your neighbour does which might impact on the structural strength or support of any party wall (a wall that sits on the boundary line between you) must be notified to you in writing, giving you a chance to inspect the plans and make sure they don't impinge on your property.
Party walls are covered by the Party Wall Act of 1996, which clarifies the procedures that anyone has to follow if they intend to make any changes to a party wall. It says that any works carried out to a party wall have to be agreed in writing at least two months before the work starts. If you're the neighbour being notified, you have a duty under the law to not be 'unduly obstructive', so if you have a reason for objecting to the work, it has to be valid, and can't just be that you don't want to put up with the noise of the workmen, for example!
Conservatories and Extensions
Around 60% of conservatories will need planning permission due to their size and location. If the planned conservatory takes up more than 50% of the available land, or faces a road, then it's going to need to be approved. If it's being built on the side elevation, it's not allowed to be more than 50% of the total height of the house without permission. There are also regulations that set out the total allowable height and depth of a conservatory, depending on whether the property is detached or semi detached. You can find all these regulations on the Planning Portal.
Extensions are also subject to similar regulations, and again if your neighbours planned work falls within the guidelines there is no legal need for him or her to ask your permission or seek planning permission.
You might also like...
Hi people building a summer house / bar / games room in garden , do they need permission
My neighbour has gone ahead and proceeded to do a lot room. He has not ask us for a party wall agreement he it doing the work himself. Unfortunately his not a neighbour whom you can talk to to discuss anything. We can her the rubble coming down the cavity walls. He has also installed steel beans . I have contacted the council whom has told me they can't do anything. He has also add to sky to the front roof and did want to add a further two to the rear which we stop as the roof needed attention. Our property this the end property which is attached to his .We don't know what to do and he stay carry on with the work. We not seen any paper work or if it done to fire regulations etc . Awaiting you reply
I am seeking advice regarding my neighbours proposed extension. I have just received a letter from surveyors confirming the proposed extension, it states that foundations will be excavated and that the Party Wall Act applies to me. Since my neighbour moved in (7 months ago) it's just been constant banging which I accept as he's just moved in, however, his constant noise (also no soundproofing on his front room floorboards in a semi detached house) and now this is more than I can bear right now especially being in lockdown. My question is, can I legally make my neighbour put off the extension for a few months as his noise is really impacting my mental health. Another issue is that he is the freeholder where as I am only a local authority council tenant so I am not sure whether I have any rights at all. Any advice would be greatly appreciated.
Titch01
- 26-Jan-21 @ 1:26 PM
Hi I wanted to know the in my garden after my fance how many inches should be a gap to building a extensionIme and my neighbour
Shu
- 22-Jan-21 @ 6:14 AM
So I share a roof ridge line with my neighbour. Our semis are chalet bungalows separated on each side of the roof pitch. So I own one side of the roof pitch and neighbours own the other side roof pitch meaning the ridge line is shared between us both. So my neighbour, rented property, has today taken of their tiles and the joint ridge line, without notifying me. It has been left bare no cover over the ridge line. They are having their roof replaced so have new felt all up their pitch side. Can I complain about this? Should they have notified me of removal of a joint ridge line? Does this come under the party wall agreement?
gm3087
- 30-Nov-20 @ 8:14 PM
I own a flat with a drying room that has an wooden louvre panel that forms the end external wall. The panel itself covers both my room and a similar room belonging to next door. My neighbours are looking to turn their drying room into a small office. This will require removing their side of the lourve panel. They have suggested that they would be willing to place plastic cladding over the combined areas but I'm worried that the work will compromise any work I might want to do on my drying room and I would need to unpick the work they're having done now. I don't want to stop next door from making these improvements but how do I ensure I'm no worse off now of in the future if I want to make alterations or the structure leaks?
deanobeano
- 25-Nov-20 @ 9:38 AM
My neighbour has informed us he would like to build a permanent spray paint shop for old cars he does up. He is now on his second car and we thought that that would be it but now he wants to do more. He has a converted shed at the moment and the noise is the problem. We can sit in our garden and it's like being in a dentist waiting room plus the noise of the sprayer. Do we have any rights?
Bodyworks
- 25-Oct-20 @ 8:14 AM
Am I allowed to put up a pop up gazebo over a hot tub in my garden on the patio
Mags
- 20-Oct-20 @ 5:59 PM
My neighbor has done house extension and extended the roof in our area. All rain water is coming in our area.
Ria
- 12-Oct-20 @ 3:29 AM
Hi All, I'm seeking a bit of advice here. My wife and I live in the Ground Floor Flat of a shared Freehold between us and the First Floor Flat (which includes a second floor). We bought the downstairs at the same time as somebody bought the Upstairs, and we had ten happy years with the upstairs neighbour who pretty much kept the flat as-was, bar a few improvements - the bedrooms above us were carpeted, the bathroom was insulated and the kitchen was on the second floor. Unfortunately, the upstairs sold their flat towards the end of 2015, and in moved....well, builders, initially. Living above us for about 6-8 weeks as they ripped everything out, stripping back walls, tearing up floorboards and living on site, so we could hear everything they did in the echo chamber now above us. It became an extended period of hell as Christmas approached. It was only going to get worse. During the first week or so, the new owners had knocked on our door one evening with a card, bottle of wine and some nibbles, apologising for the noise over 'the next few weeks'. Over the course of the builders' tenure above us, I would occasionally see one of the owners, and I tentatively asked when carpets would be going down. I was greeted with a hesitant 'oh...soon!'. This was a lie. They installed wooden flooring in pretty much every room of their house, except the kitchen, which is tiled and now relocated above our lounge. We went from no problems with upstairs neighbours in ten years, to the last four being like living in the basement of a bowling alley. Every thud, bang, drop of a teaspoon, cupboard door slam, washing machine, the shower (which has continuously leaked into our kitchen off and on over the last few years, with numerous attempts from them to get it fixed with mixed results). Their wooden-floored lounge (now above our bedroom) means we can hear every early morning conversation, phone conversation, phone vibration, footstep (they seem to wear hard shoes - a lot!). To make matters worse, in the time they've lived above us, they've had children, so now we have a toddler thundering up and down the length of our flat all day, and a newborn crying day and night. The toddler is the worst, as we hear every nursery rhyme, tantrum, toys being dragged across the floor or across the walls, etc...and with two children, the washing machine is on pretty much every day, shaking our lounge. We've never been up there since they moved in, and were never 100% certain of what they had done to the place until they tried to sell in 2018, where online photos on Zoopla showed the kitchen above us and the wooden flooring installed throughout. I've checked a copy of their Lease (obtained through HM Land Registry), and that pretty much states that they should have carpets or floor coverings to deaden the sound - with the exception of the kitchen and bathroom - but that is based on the fact that the kitchen was on the second floor, well away from us. Can t
BoardMaker
- 20-Aug-20 @ 12:34 PM
I am building a rear extensionI am in an end terraced house, my neighbour is objecting because of light which he is losing for two hours in the morning fro 8am till 10am and then he has full sunight, thus is causing me great distress and I am still waiting on the plans Been given the all clear they have only been given in retrospect, please give me any information possible.
Chico
- 14-Aug-20 @ 11:39 AM
Hi I no long bought and moved on toba semi detached house. Now once I got over a few problems. I realised that there was vibrating going through my house constantly. Ask my neighbour if she could stop putting her washing machine ans dryer on till after 10pm at night and not right on 7am but she still doing it as she got family to wash for. I put sound proofing walls in its not done much. I realised they put a tile floor down straight on to a concrete which they didn't admit but it explains why am feeling all her appliances on and the foot fall and the rest on the house since they created a speaker. They put a glass out and said no vibration for us. I gave at that point feel like I was talking to a wall. Can I get any advise it driving me up the pole.
Pepigirl
- 17-Jul-20 @ 11:36 PM
I am in a semi detached house built in the 1940's. The other house of the semi has being renovated in a completely hideous out of keeping with all the other houses around with a massive roof extension, bright red roof tiles, pillars on a double front door, white plastic gutterings and lit up like a christmas tree with floodlights everywhere all night, gardens concreted over - it's tasteless and awful. Already found that a valuer has devalued our house because of it. What can we do?
Sal
- 11-Jul-20 @ 6:16 PM
I live in semi det Victorian cottage - neighbour has now built conservatory on boundary 1.7m from my kitchen window and 0.6m from my patio door access to garden and emergency exit doors. Built from the rear wall it extends 8m and is about 2cms under 3m high.Light is now blocked to kitchen and living room with previous views of sky and trees gone as 0.75 plastic fascia blocks them out. Never had any formal sight of plans etc just told that they were building it. Right of Light comes into mind?2m brick wall then 6m of windows along the side but now fence 1.67m been erected to give privacy. Very trapped in feeling and what happens if they sell and new owner removes fence?advice please Thanks Cashy
cashy
- 10-Jul-20 @ 11:12 AM
Neighbours using loft space as a bedroom. ( not done to safety code , no firedoors etc) Wall between both ours and their loft spaces is single brick . Is this legal ? If a fie was to break out in that room is our house at more risk ?
Daz2020
- 21-Jun-20 @ 4:48 PM
My daughter lives in a council house but the neighbour joined on next door has a chimney which part has fallen off during the early hours, I am concerned for my family worrying if anymore falls off and my daughter or grandchildren are out in the garden, I'm worried for there safety . Who is it she contacts if the owner of the house next door does not do anything about it.
Andy
- 21-Jun-20 @ 10:33 AM
We live in a terraced house in a rank of six. These houses were built in the fifties and according to builders that did some minor work in my kitchen, they were built using good quality materials, including Bath stone. Four of the houses have had people that have lived here for 30 years and more and neighbours at my end of the rank are very good. There is no road at the front nor at the back of these houses and we are fortunate to have large back gardens. The end three houses have become almost a nature reserve as it backs onto a field and we get wildlife and birds in our gardens on a regular basis, particularly since building on green belt has been allowed. A new neighbour has recently bought a property on the other end of the rank and the first thing they did was have an extension built on the back; it is the only extension and it is large reaching to the second floor windows. I was unaware of this until building works were started as the notice of this was placed on a lamppost outside their property on part of the path I never walk by. All the neighbours had to tolerate building works some of which carried on during COVID-19 lock down and vibrations travel through all the houses when certain works are carried out. I am away a lot at the moment so when I saw the extension and people standing on the steps looking over at me in my garden, I realised the elevation is really high. I have talked to a city planning officer who has replaced the planner that allowed this extension; apparently decisions are made case by case and they 'should be in keeping with the surrounding properties'. This extension is certainly not in keeping and it will be rendered and not look like local stone. Immediate neighbouring properties were not taken into consideration by the planners. Now I have heard they want to add a veranda; this is not on the plans and will certainly overlook everyones' garden in the rank and destroy privacy. Am I able to prevent this? Having read some of the horror stories of what people are being subjected to in the previous posts, my situation pales in comparison. Often the person having the extension done won't enjoy all the noise and disruption which can go on for months. It seems like everyone has the right to extend their properties and in many cases at the expense of surrounding properties and those who live in them. Fortunately I have good neighbours, long may they remain!
Mary
- 20-Jun-20 @ 10:32 AM
My neighbour is building an extension which he's been working on for about 8-10 months. It's a terraced house. However, he didn't serve me notice about the work he was doing to the party wall to me or the neighbour the other side of him. Has he done anything wrong as I thought this was law and that I had to agree with the work being done before he could start?
Sprinter
- 18-Jun-20 @ 9:57 AM
Neighbour is building an outbuilding to replace a dilapidated shed which is huge and now dwarfs ours and neighbouring gardens. It appears they have local council permitted development rights but have failed to inform us or any of the neighbours despite walking us through extensively there other plans for loft and rear extensions. Everyone feels hoodwinked and now not sure what rights we have....this is further complicated by the fact that I rent my property out so am reliant upon the tenants advising me of any letters sent to us about the works...need advice as to what my options are
amp
- 14-Jun-20 @ 3:11 PM
Live in detached house. My neighbour decided to build a wall at front where plot of lawn was shared without a boundary wall built. The wall is built on our side of land, going by house deeds. They also removed a small boundary line we'd put in place which was a 1 layer of bricks making the boundary. We'd initially agreed to the wall when neighbours informed of their initial wall plan. The wall however, was a lot bigger than they made out and consists of pillars too. Could we have a case of getting them to remove this as I want to build a wall of my own within my land?
My neighbour has a semi detached property next to my detached property. He wants to build a side extension which will cover all the infill space between two properties (2,5mt x 2,mt x 8 mt.) leaving no gap inbetween two properties, I will lose status of my property and it will become a semi detached . Is this legal under Permitted Development.
Nash
- 6-Jun-20 @ 12:47 PM
Hi everyone I need an advice on my neighbour's conservatory. He was to build the conservatory on the fence, and want to have a window on it through which we will lose our privacy. He is adamant that there are no issues planning permission wise. Thanks
Saify
- 31-May-20 @ 9:19 AM
My neighbour is halfway through building an outbuilding. The ground is higher than ours and this new building is directly against our fence. Currently I can see treetops out of my window which will now be obscured.I'm also worried it will make our garden look worse as our house is currently on the market.I have brought this up and asked how high the building will be, he said just over the fence but I think it will be much higher. Not sure what to do next?
Nick Name
- 29-May-20 @ 7:03 PM
Hi my family home is a semi detached house and the neighbours next door have a wall between our home and theirs we have a entrance between both houses which when it was a council house they put fencing up at mine to separate both sides but they are extending their garden down to the same length of mine because we are semi detached can they drill into my garden wall at front to make it all one
Caz
- 28-May-20 @ 5:46 AM
Hi We are looking to tear down an existing inadequate kitchen bathroom extension and start again. Weirdly the old extension is on next doors house and over their boundaries as agreed years ago? Can we get planning permission to build the new extension where this one has been or will we be laughed out of the planning permission office if we ask to build our extension on the neighbours home?
Becka
- 25-May-20 @ 1:54 PM
Hi We are looking to tear down an existing inadequate kitchen bathroom extension and start again. Weirdly the old extension is on next doors house and over their boundaries as agreed years ago? Can we get planning permission to build the new extension where this one has been or will we be laughed out of the planning permission office if we ask to build our extension on the neighbours hone?
Becka
- 25-May-20 @ 1:53 PM
My neighbours built a conservatory that now means from the front of my house I am looking straight into and through their new conservatory due to the giant windows they put in. Its a bit like living in a cramped caravan park now and devalued my home, is there anything you can do if it cannot be resolved amicably? It does not encroach on my land nor is it within 3 meters what it does is take any feeling of privacy from my home. Thanks a mill
Jay
- 19-May-20 @ 11:31 AM
I live In terraced house.. my neighbour has been drilling last few days.. I noticed he's drilled into what is the side of my house so he could put up a fabric gazebo.. (So the side of my house is the wall to his yard) But he's done it at the height of his bedrm window. Just wanted to ask is he allowed to drill into that wall? I was panicking thinking could be damage the wall?
Bon
- 29-Apr-20 @ 12:31 PM
Hi. I live in an end terraced house and my neighbour has put in planning permission to extend to our house. They have confirmed the roof will be connecting to our property and sitting just under our eves. Therefore making our property look like a mid terraced house. Can they do this or can I object? Also will this devalue our house?
My neighbor has just built a granny flat looking right into my patio doors into my living room and looking into my 10 year old daughter bedroom. This was one of my main reasons why I broughtthis property because it was very private. I am gutted is there anything I can do ?
Cookie
- 9-Dec-19 @ 6:20 PM