My Neighbour's Home Improvements: Can I Object?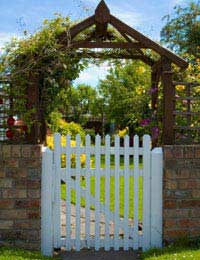 UK law does support the adage that an Englishman's home is his castle, so in most cases your neighbour is perfectly entitled to add to and take away from his property at will, so long as the adaptations that he makes don't impinge on your own castle!
It's perfectly acceptable to make minor changes to your property without planning permission, by putting up walls and fences, for example. This sort of work is classed as part of your 'permitted development rights'.
In October 2008, these rights were extended so that they cover more building projects. The sort of work that can now be carried out without having to apply for permission includes:
Conservatories
Home extensions
Installing solar panels
Roof alterations
Laying patios and driveways
Some of the work, such as conservatories and extensions, does have to comply with regulations that take into account the dimensions or the position. If you think Your Neighbour's Work Doesn't Comply With Regulations, you can check the legal position on the UK Government Planning Portal website.
Projects that do Need Planning Permission
Extending a flat or maisonette
Dividing off part of your house to be used as a separate home (self-contained flat, for example)
Building a completely separate house in your garden
Dividing off part of your home to use as business or commercial premises, like a workshop, or adding a parking space for a commercial vehicle
Anything that could obstruct the view of road users
Anything that might need a new or wider access to a trunk or classified road
Loft Conversions
Under the new rules, you no longer need permission for conversions that don't exceed 50 cubic metres, if you live in a detached or semi-detached home and the conversion will not go within 20cm of the eaves. However, any work your neighbour does which might impact on the structural strength or support of any party wall (a wall that sits on the boundary line between you) must be notified to you in writing, giving you a chance to inspect the plans and make sure they don't impinge on your property.
Party walls are covered by the Party Wall Act of 1996, which clarifies the procedures that anyone has to follow if they intend to make any changes to a party wall. It says that any works carried out to a party wall have to be agreed in writing at least two months before the work starts. If you're the neighbour being notified, you have a duty under the law to not be 'unduly obstructive', so if you have a reason for objecting to the work, it has to be valid, and can't just be that you don't want to put up with the noise of the workmen, for example!
Conservatories and Extensions
Around 60% of conservatories will need planning permission due to their size and location. If the planned conservatory takes up more than 50% of the available land, or faces a road, then it's going to need to be approved. If it's being built on the side elevation, it's not allowed to be more than 50% of the total height of the house without permission. There are also regulations that set out the total allowable height and depth of a conservatory, depending on whether the property is detached or semi detached. You can find all these regulations on the Planning Portal.
Extensions are also subject to similar regulations, and again if your neighbours planned work falls within the guidelines there is no legal need for him or her to ask your permission or seek planning permission.
You might also like...
Neighbours using loft space as a bedroom. ( not done to safety code , no firedoors etc) Wall between both ours and their loft spaces is single brick . Is this legal ? If a fie was to break out in that room is our house at more risk ?
Daz2020
- 21-Jun-20 @ 4:48 PM
My daughter lives in a council house but the neighbour joined on next door has a chimney which part has fallen off during the early hours, I am concerned for my family worrying if anymore falls off and my daughter or grandchildren are out in the garden, I'm worried for there safety . Who is it she contacts if the owner of the house next door does not do anything about it.
Andy
- 21-Jun-20 @ 10:33 AM
We live in a terraced house in a rank of six. These houses were built in the fifties and according to builders that did some minor work in my kitchen, they were built using good quality materials, including Bath stone. Four of the houses have had people that have lived here for 30 years and more and neighbours at my end of the rank are very good. There is no road at the front nor at the back of these houses and we are fortunate to have large back gardens. The end three houses have become almost a nature reserve as it backs onto a field and we get wildlife and birds in our gardens on a regular basis, particularly since building on green belt has been allowed. A new neighbour has recently bought a property on the other end of the rank and the first thing they did was have an extension built on the back; it is the only extension and it is large reaching to the second floor windows. I was unaware of this until building works were started as the notice of this was placed on a lamppost outside their property on part of the path I never walk by. All the neighbours had to tolerate building works some of which carried on during COVID-19 lock down and vibrations travel through all the houses when certain works are carried out. I am away a lot at the moment so when I saw the extension and people standing on the steps looking over at me in my garden, I realised the elevation is really high. I have talked to a city planning officer who has replaced the planner that allowed this extension; apparently decisions are made case by case and they 'should be in keeping with the surrounding properties'. This extension is certainly not in keeping and it will be rendered and not look like local stone. Immediate neighbouring properties were not taken into consideration by the planners. Now I have heard they want to add a veranda; this is not on the plans and will certainly overlook everyones' garden in the rank and destroy privacy. Am I able to prevent this? Having read some of the horror stories of what people are being subjected to in the previous posts, my situation pales in comparison. Often the person having the extension done won't enjoy all the noise and disruption which can go on for months. It seems like everyone has the right to extend their properties and in many cases at the expense of surrounding properties and those who live in them. Fortunately I have good neighbours, long may they remain!
Mary
- 20-Jun-20 @ 10:32 AM
My neighbour is building an extension which he's been working on for about 8-10 months. It's a terraced house. However, he didn't serve me notice about the work he was doing to the party wall to me or the neighbour the other side of him. Has he done anything wrong as I thought this was law and that I had to agree with the work being done before he could start?
Sprinter
- 18-Jun-20 @ 9:57 AM
Neighbour is building an outbuilding to replace a dilapidated shed which is huge and now dwarfs ours and neighbouring gardens. It appears they have local council permitted development rights but have failed to inform us or any of the neighbours despite walking us through extensively there other plans for loft and rear extensions. Everyone feels hoodwinked and now not sure what rights we have....this is further complicated by the fact that I rent my property out so am reliant upon the tenants advising me of any letters sent to us about the works...need advice as to what my options are
amp
- 14-Jun-20 @ 3:11 PM
Live in detached house. My neighbour decided to build a wall at front where plot of lawn was shared without a boundary wall built. The wall is built on our side of land, going by house deeds. They also removed a small boundary line we'd put in place which was a 1 layer of bricks making the boundary. We'd initially agreed to the wall when neighbours informed of their initial wall plan. The wall however, was a lot bigger than they made out and consists of pillars too. Could we have a case of getting them to remove this as I want to build a wall of my own within my land?
My neighbour has a semi detached property next to my detached property. He wants to build a side extension which will cover all the infill space between two properties (2,5mt x 2,mt x 8 mt.) leaving no gap inbetween two properties, I will lose status of my property and it will become a semi detached . Is this legal under Permitted Development.
Nash
- 6-Jun-20 @ 12:47 PM
Hi everyone I need an advice on my neighbour's conservatory. He was to build the conservatory on the fence, and want to have a window on it through which we will lose our privacy. He is adamant that there are no issues planning permission wise. Thanks
Saify
- 31-May-20 @ 9:19 AM
My neighbour is halfway through building an outbuilding. The ground is higher than ours and this new building is directly against our fence. Currently I can see treetops out of my window which will now be obscured.I'm also worried it will make our garden look worse as our house is currently on the market.I have brought this up and asked how high the building will be, he said just over the fence but I think it will be much higher. Not sure what to do next?
Nick Name
- 29-May-20 @ 7:03 PM
Hi my family home is a semi detached house and the neighbours next door have a wall between our home and theirs we have a entrance between both houses which when it was a council house they put fencing up at mine to separate both sides but they are extending their garden down to the same length of mine because we are semi detached can they drill into my garden wall at front to make it all one
Caz
- 28-May-20 @ 5:46 AM
Hi We are looking to tear down an existing inadequate kitchen bathroom extension and start again. Weirdly the old extension is on next doors house and over their boundaries as agreed years ago? Can we get planning permission to build the new extension where this one has been or will we be laughed out of the planning permission office if we ask to build our extension on the neighbours home?
Becka
- 25-May-20 @ 1:54 PM
Hi We are looking to tear down an existing inadequate kitchen bathroom extension and start again. Weirdly the old extension is on next doors house and over their boundaries as agreed years ago? Can we get planning permission to build the new extension where this one has been or will we be laughed out of the planning permission office if we ask to build our extension on the neighbours hone?
Becka
- 25-May-20 @ 1:53 PM
My neighbours built a conservatory that now means from the front of my house I am looking straight into and through their new conservatory due to the giant windows they put in. Its a bit like living in a cramped caravan park now and devalued my home, is there anything you can do if it cannot be resolved amicably? It does not encroach on my land nor is it within 3 meters what it does is take any feeling of privacy from my home. Thanks a mill
Jay
- 19-May-20 @ 11:31 AM
I live In terraced house.. my neighbour has been drilling last few days.. I noticed he's drilled into what is the side of my house so he could put up a fabric gazebo.. (So the side of my house is the wall to his yard) But he's done it at the height of his bedrm window. Just wanted to ask is he allowed to drill into that wall? I was panicking thinking could be damage the wall?
Bon
- 29-Apr-20 @ 12:31 PM
Hi. I live in an end terraced house and my neighbour has put in planning permission to extend to our house. They have confirmed the roof will be connecting to our property and sitting just under our eves. Therefore making our property look like a mid terraced house. Can they do this or can I object? Also will this devalue our house?
My neighbor has just built a granny flat looking right into my patio doors into my living room and looking into my 10 year old daughter bedroom. This was one of my main reasons why I broughtthis property because it was very private. I am gutted is there anything I can do ?
Cookie
- 9-Dec-19 @ 6:20 PM
Hi my neighbor has had a rear extension built which I have no problem with but since then we have excessive rainwater coming from under our fence he says it has nothing to with him, i know it has rained a lot recently but I have lived here for over forty years never had anything like this before any suggestions
Mike
- 25-Nov-19 @ 8:59 PM
Why do the responsesuggest civil action, why is it that residents who have not done anything have to seek civil action because they are effected by others?Why is this?
text
- 11-Nov-19 @ 11:11 PM
Sorry it is not correct in the responses as the neighbour to one side of my home who is on higher ground built a outbuilding with internal drainage which is just three paving slabs from the boundary so about 4 foot from the boundary and this outbuilding is 4 m high to the roof ridge, the roof is apex which the roof slants down towards the 4 paving from the boundary and this outbuilding is brick built with double ie inner blocks and is a aprox 5 to 6 m long all done under Lawful development.So my place has had water because the LA sent a photo of where the owner had paved vast area of hard paving with sand and cement under but where it come toward the boundary had dropped area of the paving so near to boundary knowing that the neighbour is lower alongside.The the owner erected shelters with the roof backing into the boundary by cutting out section into the boundary hedge where he has a wooden fence the otherside so the roof of that shelter then slopes towards this way into the hedge. Also there is not just one outbuilding but many others. Also that neighbour has at the back in his new upper rear extension a bank of velux windows and a glass roof terrance and glass patio upper doors.This owner was given favourable planning permission the reason was that a old rear single storey extension was to be removed.But hey, it was never removed just built through with the new reardouble storey extension which was classed then as a 1 1/2. So then it was said it was not attached to the main dwelling because it was said to be a bbq building. But then the next applied to have the link to the main house so then to have another building and then another building. Here in this area the neighbour extensions are so vast built out at the back; past the front of the original dwelling; ie one of the neighbour extension is so high and built all the way down the side then out past the front of the original dwelling some aprox 4m and also this extension goes extended also out past the back of the original dwelling; but that is not all.There is then another large upper roof extension over what was a old single storey approx 5m extension, the roof dormers added at the front.
tex
- 11-Nov-19 @ 11:06 PM
My neighbour has put his extension roof slope in my garden when it rain fast all the water comes in my garden can he do that .
Yasir
- 14-Oct-19 @ 7:36 AM
My neighbours have built a Pd extension which over shadows my garden and conservatory. Council have said there is nothing I can do. Just need some advice really as to what I can do.
Dodger
- 3-Sep-19 @ 5:48 PM
My neighbour has built an e tension that over shows my garden and my conservatory. They didn't advise me that they were doing this. As it was PD.The council have said there is nothing I can do. Is there any thing I can do about this. Thanks
Trish
- 3-Sep-19 @ 5:45 PM
Our side of the house passageway between our garden and the front of the house lies between neighbor's garage wall and our house wall. We both have detached houses. The original passage gate in the front is already using her garage wall for main fixing post, which was built by the main builder from 1978. We want to construct a UPC canopy above this 20 feet passageway where our 3 garbage bins are placed. This canopy will need to use her exterior garage wall for top fixing, about 4 in numbers. Can our neighbor object the building of this canopy? Cost of this canopy will be about £1,000 and it will be built by a professional builder.
Babs
- 27-Aug-19 @ 7:42 AM
My neighbour in a semi detached house reconfigured his house (somehow this passed council building regulations!) and moved his kitchen to the front of the house. His kitchen is now next to our living room and he has placed his washing machine on the party wall between our houses. We now have to listen to his very noisy, room vibrating, washing machine on a two hour spin cycle. It is like it's in the room with us. Council are no help as say it's a party wall civil issue. Neighbour is horrible so probably did this on purpose.
Bill
- 2-Aug-19 @ 9:54 AM
Hi I was wondering if there is anyone hat could help me out with my question. We have a semi detached house which the previous owners had extended with a loft extension. We have just had a baby and could do with extra space downstairs and would like to have an extension on the back of our house. The extension would be 4m out if we could get planning permission or 3m out if not which I believe does not need planning permission. The only problem is we have spoken to our neighbour next door, (who has had a double extension on the side of his house) and have told him what we would like to do to be neighbourly. He's said he wants to see the plans and thinks it will be a problem due to light! (We have sun more at the bottom of the gardens not really where the extension would be anyway). I would like to know where we stand with this, I know he could not agree to going 4m out but if we don't need planning for 3m could we go ahead even if he tries to stop us and say that his light/view is affected? If anyone could help that would be great. Thanks
millsybaby
- 22-Jun-19 @ 9:31 AM
Hi My neighbour owns a large piece of land at the side of my property and a smaller piece to the rear overlooking our back garden. Along the boundary line is a 2ft high fence with a variety of trees on my neighbours side forming a natural barrier. At the back of the property we have added 4ft trellis to the top of the fencing to deter our whippet from jumping the fence as the property is on a main road. We now know that they are not prone to leaping heights as is the whippet trait. The neighbour felled one of his fir trees on the boundary line today and advised us that he was employing a gardener to tell the rest of the trees on the boundary line. He then advised he was intending on removing all fencing panel along our boundary line at the side and back and replacing them with a 6 foot high solid fence. This would make our small back garden very oppressive. It may impact light to our side window in a new extension we have just had built It would cancel any view we would have whilst using our back garden It would cancel any view from the French doors and patio area outside of the new extension The neighbour lives 40 minutes away. When asked the reasoning for the height of the fence he replied, because I can He then said it was for security as he didn't want anyone coming over our side of the property over a 2ft fence onto his land however I pointed out that access could easily be gained via his metal fence on the main road right next to our own front gate. The concern I have is that we have spent £60000 on a new extension and we are currently revamping the back garden and then will go into lay a new drive and revamp front garden with a seating area where we can see across the fields. The fence will take this away from us My husband is a retired firefighter and a vulnerable adult who suffers with PTSD symptoms anxiety and depression. He has become agoraphobic so the house and the garden is his safe haven but he will feel suffocated with very high fencing around the boundary because the rear garden is small. Is there anything we can do? The deeds are silent to the boundary affected. They show we are responsible for the left side and front boundary if we were stood at the front of our property looking out to the road. Regards Lea
Lea
- 22-Jun-19 @ 2:21 AM
Terraced house with covered alley way between the two houses. Neighbour extended hse so to the left of me is blank wall until on sat installed on wall 3 air con units one of the fans near my bedroom window .I told them they were unsightly and poss noisey when turned he has refused to move them to the back of his hse or to lower them down the wall contacted building regs and they have passed to planning . I dont know what to do next or if I have any rights . They are unsightly and intrusive will it affect the value of my home . We have never complained about anything in the past to our neighbours
Sadlee
- 18-Jun-19 @ 7:53 PM
We have a shared drive between six people using it for their garages, now on one side an outside toilet has been built making the drive look awful it is not in keeping with the brick built house but is covered in cladding, after having my house valued was horrified to find out that it devalued my house because of the appearance of it ! Can I do any thing ?
Floss
- 31-May-19 @ 6:44 AM
hii our neighbours and previous owners both have done extension along party wall by mutual agreement. they have felt roof on their extension, ours is a glass conservatory. We moved in about 2 yrs ago. our conservatory roof is now leaking and the leak turns to waterfall during heavy rains. we need to replace the roof, we r planning to get fiberglass roof with skylights. for this we need to build a wall along party wall - along our neighbours extension to rest beams om which the new roof will pitch. building control have given their approval but our neighbour is objecting big time.his main issue is we shouldnt touch his roof. to do so, we have to build our side of wall seperatly. about half a foot inside our boundary line whilst our neighbours extension sits bang on party wall. i m soo annoyed i have to loose almost a foot along the length of our existing conservatory just to please our neighbours. i m not too keen to do that. what r my legal rights and other options
deea
- 12-Feb-19 @ 4:19 AM
My neighbour has been converting her basement for residential purposes. I understand no planning permission is required. The problem is that the work has been going on for over five years - on and off. It starts without warning from early morning to evening. The hammering, drilling and sound and vibration and smell aside there is the dust and filth and mice and cockroaches this forces into our house. Then, all of a sudden, the work stops for weeks and months. It starts all of a sudden and this length of work is affecting our health. Can we do anything?
Mohammed
- 1-Feb-19 @ 4:04 PM