What to do if you Suspect Your Neighbours of Drug Offences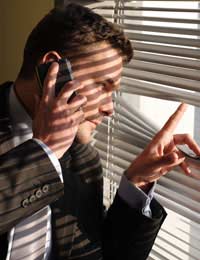 Quite often it may take some time for you to realise that neighbours living nearby may be involved with the supplying or buying of drugs. The whole world of illegal drug dealing is often a 'cloak and dagger' affair where activities are carried out in a very quiet, unassuming manner and there is often no specific 'visual' clues as to what a drug dealer looks like. Many of them can be dressed very smartly and drive around in luxury cars.
It's also a myth to assume that drug dealing only occurs in deprived pockets of inner city areas. While this stereotypical assumption is perfectly understandable as many inner city communities are indeed blighted by the supply and use of illegal drugs, they are certainly not the only areas where drugs are a problem. In fact, this is far from being the truth.
Expensive suburbs and rural areas can have a problem with drugs and it's not just a matter of 'down and outs' and those who you might assume would be your 'typical' drug dealer or drug addict who will always be on the lookout for their next 'fix'. Many professional people whom you might think are responsible citizens and even 'role models' within your local community can fall prey to drug addiction. Therefore, drug dealing and related offences can occur just about anywhere.
Spotting The Signs
Some of the telltale signs that drug dealing activity may be going on in your neighbourhood include the steady flow of visitors to a nearby residence. Other things like watching out for brief encounters at the likes of your local park, bus stop or even on the street can also arouse suspicion. If you do suspect a neighbour of being involved with some form of drug dealing or trafficking whether as a seller or buyer, you should inform the police.
What You Should Be Observing
To help police with their investigations, you should
Keep A Record Of Your Observations
. These should include the nature of your observations and the times and location of where they took place. Also try to provide the police with a description of the person or people involved, and their vehicles, preferably with number plate information too, if possible.
If You're Worried About Being Identified
If you are concerned that you will be identified as a result of you 'shopping' a suspected drug dealer to the police, don't be. The police will guarantee that any information which is supplied to them is treated with the
Strictest Confidentiality
. If, however, you're still concerned, by using a public payphone or writing into the police anonymously, you will still be able to assist the police with their investigations which they will appreciate.
Drugs and drug dealing have the potential to ravage a neighbourhood and can, left unchecked, turn what may once have been a prosperous and peaceful neighbourhood into one which becomes riddled by crime and anti-social behaviour. Therefore, it is important that you act as soon as possible if you've a strong suspicion that drug offences are taking place within your neighbourhood, as failure to act quickly will often mean that the problems associated with drug offences will only escalate and further disrupt and damage your local community.
Still Not Sure?
If you're still not sure if you should get the police involved and how to contact them read our feature about
When to Get The Police Involved.
You might also like...
LN1 3RD numbers 3, 5 and 11 are involved in drug dealing.
Dellboy
- 6-Aug-20 @ 9:17 PM
Dr Seb and J clearly have little empathy or in Dr seb's case not much of an education. Drug dealing at any level has a detrimental and degrading effect on the environment and neighbourhood. This builds up with all sorts of low lifes hanging around causing aggravation and intimidation. Vehicles visit the properties in the early hours, often uninsured, untaxed and with no MOT.The resentment from neighbours expressed here is because these scum don't have jobs, take benefits paid for by their neighbours who work. Even if cannabis were legalised these scum would still thieve and be a social menace.
Mirror Man
- 6-Aug-20 @ 10:00 AM
Leicester police are a joke when it comes to this stuff. Crack cooking and dealing neighbours on the street. They've been reported numerous times, police have raided once. They got let off. Crack dealing continues, he threatens the neighbours with violence if anyone reports him. Whole street is terrified, some of us report anonymously through crime stoppers for fear of being attacked, police have given up trying to solve this issue. Continue reporting the drug dealing and violence, nothing anymore. Destined to live locked up on my house, afraid to leave my own front door. Thanks Leicester police.
JoeJohnson
- 22-Jul-20 @ 12:19 AM
Where I live the owner of the house is a habitual smoker and was a dealer until he was arrested and imprisoned in 2010 for stabbing somebody 7 times.He let out the house to pay his mortgage and then threw out some tenants and said he was moving back.Not ideal but nothing I could do to stop him.He put up a sophisticated security system and then didn't move in but a young couple did.The smell of cannabis coming through the walls was dreadful the moment she had her first child.He was dealing and always had a brand new car - Mercedes, BMW, Audi - never worked.They were cheating the benefits system as she claimed to live alone.Then the owner converted the garage and moved in and as he is a heavy smoker the smell was even worse coming through the walls.Lots of people have reported the drug dealing due to the taxis constantly coming but it seemed to have gone away.Then the police found out the male tenant had a second property which they raided and found piles of cash (now confiscated) at.He is still walking around as if nothing has happened and they have returned his latest Mercedes to him.I have decided against involving the police as I am a single parent and don't want the violence but they always assume it is me who calls the police and the abuse I get is horrendous.I am going to ignore any further incidences and sell up and move away from the street - if the police are not going to deal with it after 3 years then they never will.Just feel sorry for those decent people left behind.Sadly Bedfordshire Police are just not dealing with them.
No Hope
- 21-Jul-20 @ 10:38 AM
Listen the police have much better things to be getting on with , resources are stretched as it is and all you lot can do is complain of a few people smoking cannabis , get a grip , I have to listen to drunk people on their way back from clubs , women wearing next to nothing , broken heals , vomit smelling taxies you name it, men fighting over a kebabs ! , I can't find anything more self degrading than drunk tosser in the street every single weekend , well from Thursday usually !! And listen the real threat to our societies and young generations are that of crack cocaine let me tell you !! Decriminalisation of cannabis , crack down on large scale operations sure , but focus the bill on stopping disgusting gangs throwing out crack like smarties ! Now please do get a grip and stfu
if the police dont help ive even got a photo s of the drug dealer who do i report it to and yet noones caresthat ppl r selling ectyet it hit the news when ppl die from pillsdrugs ect
ticketstop
- 4-Jul-20 @ 1:10 PM
My next door neighbour is blatantly selling drugs and smoking cannabis. Staffordshire police force are a disgrace and will not to a thing, I've put my house on the market but it's very unlikely to sell due to the clown next door
there is drug use at my neighbours place where its to the point where I can actually smell it through my walls and its to the point now where I can not sit in my living room or even have my windows open. I live in Sheffield (s36 2sz) btw
rosegold1991
- 26-Jun-20 @ 10:24 PM
No. 25 PE23 5JE Dealing drugs AND has kids in the house. Police not bothered. Is it any wonder why some of our kids end up the way they do when they have THAT as a role model?
whistleblower
- 26-Jun-20 @ 9:40 AM
TS1 3LY, No 57. Involved with drug dealers
Tired
- 25-Jun-20 @ 2:30 PM
Greensboro Bellevue st a lot of drugs and prostitution and I never see any police
Noticed drugs
- 25-Jun-20 @ 1:02 PM
Police are a waste of time in London and don't take drug issues seriously. Even though illegal substances police do nothing about drug smoking and others just have to put up with it. Noticed a lot more drug smells in my area since lockdown. Mental health has been a big issue for years imagine now with people having been sent to their rooms and had their toys taken off them for several months!
Now iv read all these notes.realise I will have to put up with cars reving up to take drugs to sell across were I live disappointed.
Dot
- 28-May-20 @ 12:52 AM
I have asthma and copd, I have to sleep with my windows open to allow fresh air to circulate. My next door neighbour's partner is constantly smoking something, doesn't smell like marijuana, doesn't have that distinctive smell . But its playing havoc with my breathing!!! I don't even smoke cigarettes anymore, stopped smoking 7 years ago, so my sense of smell is very good .What do I do , I live in a housing association property.
Beaches
- 22-May-20 @ 10:54 PM
Anyone looking for Coke,Weed or Painkillers can contact via: Telegram.. @tplug28. Wickr..... tplug05.
Edden Cartar
- 17-May-20 @ 11:53 AM
We have a neighbor who is a council tenant who for the last 4 years is constantly on drugs we get the smells coming through to our property (witch is not cannabis!) I have cctv due to our house being damaged down to them owing money to a dealer, so cctv constantly seeing cars pulls up a them Collecting from, different people visiting and staying for days/weeks, I'm constantly sending images to council and wen I get a reply they say it's being delt with, police say the same. Only 2 weeks ago they had there own smashed aswell!
Bish
- 11-May-20 @ 8:02 AM
I've had to put up with drug dealing since December 2019. I've informed the police,but they don't seem to care.While on lock down due to this virus,I've had to pass people to get to my flat because there buying drugs next door to me. The police don't give a damn. I've lost faith in them. They don't care
red
- 26-Apr-20 @ 5:32 PM
We have just had a couple move in dom rae and his wife Cheryl harkins they moved to river Street and they have already started on there neibours first of all going around spreading story's that this person was some one on facebook who he clearly wasn't causing the person nothing but trouble to be honest we all think it's actually them then you have them dealing drugs mainly cocaine and cannibas people at there house constantly dom seems to think he's some type of hard man picking on the girl who lives below them he was out not long ago shouting and bawling at her and her son then drove of in his car drink driving my mum herd him giving his girlfriend a beating just before he started on the girl below them they are real low life's who clearly make nothing of drugs because they always wear the same cloaths they look like they could have been junkys they have that yellow tinge to there skin there nothing but scum
Lea
- 13-Apr-20 @ 9:39 PM
5 years ofongoing hell evenings start up motor then all night humming and buzzing with vibrations i know my nieghbours are running a generator and possible cannabis farm but the authorities wont take action iv been sleep deprived and sufferingfor over 5 years of tormenting vibrations buzzing and droning noise like heavy duty pumps and fans iv talked until im blue in the face regarding the authorities EH equipment had picked up on unusual frequencies and an idling deasel generator but still wont budge for some reason my alcoholic dysfunctional nieghbours are immune from being investigated by Cornwall council and police im at my wits end and im stuck with this as im unable to move its soul destroying and misserable and speaking with my nieghbours dont get me anywhere as they deny because they are doing something thats illegal
Redwhale
- 3-Apr-20 @ 12:10 AM
I have a problem with my next door neighbor's cuz they have drugs and they have a white van that keeps coming by every day to give them the drugs
Daisy duke
- 26-Mar-20 @ 7:01 PM
Our phones are great for voice &/or video. Do this as your undeniable Proof!
NoOne
- 7-Mar-20 @ 11:33 PM
The police dont seem to be interested and just say refare to you Environmental agency and they do nothing eigher but make out to be interested in the mean time iv suffered 5 years of sleep deprivation and stress from the ongoing horrendous noise of pumps venting and vibration its just hell and iv got absolutely no where with the authorities in Liskeard Cornwall because the authorities are simply not interested my health and safety is bottom of the pile whilst criminal activity because they are dysfunctionals get looked over ....my life has been a hell hole
Redwhale
- 4-Mar-20 @ 7:09 PM
Dr seb your negative comment is unsubstantiated as people who smoke and grow cannabis are the lowest of the low lifes, they do use generators, venting systems, heat lamps and fans also often bypass tge electricity and mess with gas systems also they are a health and fire hazard my neighbour's have been getting away with such activities for years and have caused no end of sleep deprivation torture there should be a law where such people are evicted from the premises and imprisoned for putting other peoples health and safety at risk ..iv put up with years of this hell i hope one day karma will evade
Redwhale
- 14-Feb-20 @ 10:11 PM
I reside in Berwick and my neighbors Jon and Jeremy who live on sixth St at 418 are quite Stoopid for being dealers! There door is busted from an unpaid deal you constantly smell marijuana and you always have dirty ppl of all race in and out and they are up all night and you smell the chemicals ! I wanna report the situation but how and to who I fear of my life because they will know who reported
Birdie
- 10-Feb-20 @ 2:31 AM
Yes I really feel for you all. Here, bags of weed lying around, constant stink of it, crowds of nasty dishevvelled young men going in and out all night. Council ASBO woman thinks it's a ' personality clash' and it should be taken to a mediator! Looking the other way. Same with the police, you learn you're you g to get no help, so, decent folk are now moving out. Now this pretty little market town has few shops of any quality and recently the news stated that it's biggest industry is now weed and coke. The council and police have made it so, by looking the other way . Folk need to grow a backbone.
Twiddlingthumbs
- 5-Feb-20 @ 11:20 AM
Hi my mum has recently bought a new build flat as she is disabled and cant use the stairs much everything seemed okay until xmas eve when a woman turned up at the neighbours flat smashing the place up and screaming I'm going to kill you etc my mum was petrified and even sent me a voice note of the screaming and it went on for nearly 2 hours Everything was fine until tonight where she said a man had turned up this time screaming he was going to kick her f***ing door down and plenty of other things the site manager has told my mum this woman is involved with drugs and to keep herself to herself which she does anyway and her son always smoked weed downstairs in the rubbish unit She is too scared to obviously approach them or even phone the police what can we do??
Steph
- 3-Feb-20 @ 12:23 AM
I'm living next door to someone that smokes drugs and dives and sales it to under age people. And drives when smoking drugs. It also comes into my property the small. What can I do
Ozzie
- 13-Jan-20 @ 1:19 PM
I have a neighbour across the hall who is selling . The ' boo ' arrives on a Thursday and Paul starts dealing as soon as his dealer is gone . The evening is pitted with doors from our mutual door entry system being open and closed every fifteen minutes . It's invasive and a pain in the arse . Paul was ill for a long time with a life threatening disease and I was reluctant to indict him but he obviously doesn't give a rat's arse about HIS neighbours . Last night the front door was wide open so now that's it . He's crossed the line .
Brad
- 10-Jan-20 @ 10:45 PM
My children have to sleep downstairs on the floor sometimes because the smell of cannabis is so bad in their rooms. Where is law and order! Prisoners in our own home!
Billy
- 4-Jan-20 @ 3:07 AM
My neighbor always smokes marijuana and i can smell it because the wind blows it in our open windows ,i close my windows everytime i smell my neighbor smoking marijuana thats why i dont make friends with him or i never did say hi to him
Joseph
- 29-Nov-19 @ 3:01 PM