Making New Neighbours Feel Welcome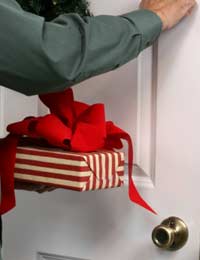 It's human nature to be curious about the new people who are moving in. You'll be sharing your community with these new neighbours potentially for some time to come, so make a great impression on the newcomers by welcoming them to your neighbourhood in style.
Before the New Neighbours Move In
If you know the people who are moving out, it should be easy enough to find a bit out about the people who are buying or moving into their house. This information is vital when it comes to working out how best to welcome them, as an elderly couple will be less receptive to a party invite than a young couple, and if you plan to welcome them with a gift, you will be able to tailor it appropriately.
When they Arrive
It's important not to be too overbearing when you spot the removal vans and the boxes going in. The new arrivals are likely to be harassed and exhausted, so won't really take kindly to being watched – unless you're going to offer your services and help them shift some furniture, which is always likely to make a favourable impression.
There are many ways you could Get To Know Your Neighbours. You could consider being especially friendly and making them up a welcome box or basket of the things they are likely to need on that first day. A welcome gift is a lovely gesture that will be much appreciated by most new neighbours. All you need to do is think carefully about what they're likely to appreciate most - a bottle of wine (and a corkscrew just in case theirs is boxed up), some nice coffee and biscuits, homemade cakes, all these things tend to go down well. Top it off with a little card welcoming them to the house.
Along with a basket, why not also give the new arrivals a house plant or something for the garden if they have one?
Keeping the New Neighbours Informed
Once you've introduced yourself, you could give the new arrivals some useful addresses and phone numbers, a local magazine or guide to the village/town, bus timetables, local take-away menus – all the things that are likely to be really useful in that first few weeks in a new area. You could even make a list that includes doctor and dentist numbers, and the days the bins are collected.
Involving the New People in the Community
Try to involve your new neighbours in local events and groups, introduce them to other people and generally integrate them to the neighbourhood. In some cases, this might not work as some people prefer to keep themselves to themselves, but you'll be able to gauge this fairly early on and keep your distance if appropriate.
Invite them to a party, a meal or just for a quick coffee. If there's a barbecue in the summer, invite them over to enjoy a meal on an informal basis. If they have children, they might be at the same school as your own children, so this can be a great ice-breaker too.
If you're a member of a local group, whether it's an adult group, such as a Neighbourhood Watch, or something for the kids like brownies or cubs, invite them along to join in where appropriate. Local fêtes and festivals are a great place to meet the wider community so pop over and ask if they will be going, and invite them to go with you. Eventually they will start to feel more comfortable with you and the rest of the neighbourhood, and they will stop being the 'newbies'... then it will be their turn to do the same thing for the next new arrivals!
You might also like...
When our old neighvours first arrived we sent a card to welcome them to their new home. For the next 2 and a half years we had to put up with parties all through the night. Luckily for us they moved out a year ago after having to have words with them about the noise on more than one occasion.. Now in come the new neighvours. We've said hello but there'll be no card. They haven't even moved in properly yet and we've had slamming doors. Shouting and screaming to put up with so no. No more nicey nicey from us. If you roll over from the beginning people seem to think they can do whatever they like! I absolutely hate having neighbours attached!
Probably not a good idea to go round with alcohol. Some people find it offensive.
Des
- 14-Aug-18 @ 10:50 PM
Being kind and welcoming isn't always received! We are a polite family, but we keep to ourselves. We are busy in the medical profession but we still smile and greet people and would help anyone who needed it. We took flowers to our new neighbour. Two bunches actually. Our kids handed them to her. She snarled, took the flowers and shut the door. We sent Christmas cards. I have smiled on passing and she has snarled at me, my husband and our children. She constantly blocks our driveway and is inconsiderate to say the least and always appears angry. (She is a divorced lady, in her 60's) However, she has made very good friends with the man two doors away, a man in his 30's who has never worked. They sit around drinking and maliciously gossiping about people. Misery loves company!I'm thinking there may be some racial issues. My husband is African and I am white. Being kind and welcoming works well, but only if you have healthy people ready to receive it.
Rosemarie
- 9-Aug-18 @ 3:47 PM
When our new neighbours were moving in some eleven years ago, I greeted the man of the house (if that's what you could call him) with a cheery hello. He, and his brother, both ignored me. On the second occasion our paths crossed, again I said hello and once again was met with silence. On the third attempt I was greeted with an intimidating stare, as if to say 'how dare you speak to me'. Thereafter, we didn't speak for five years, not until I did him the kindest of favours, don't know why, but I allowed the family to use our outside taps as their pipes had frozen one cold winter. Since that time, he has repaid me by building an enormous breeze block garage forty centimetres from our border and another breeze block outbuilding not nearly as big but much closer to our property than the garage. When I questioned the resentment towards me and my family since day one, he turned everything around, stating I had ignored him when he first moved in. The real reason he resents me is because in the eleven years we have been neighbours, I once dared to ask him to erect some screens so as to give us some privacy from the 150 cm high decking he has built in front of his gigantic garage. Neighbours from hell.
barratty
- 24-Mar-17 @ 3:17 PM
@kingoftheclose. Certainly is!
ProblemNeighbours
- 13-Jan-15 @ 1:56 PM
I gave new neighbours a card when they moved in to welcome them to the area, and at Christmas I also did them a Christmas card. They not only gave me a Christmas card back,but also a present! It's good to be sociable most of the time.
KingoftheClose
- 11-Jan-15 @ 4:52 PM
Agree with Zed - I tried to say hello to the young couple who moved in next door last year, but both of them ignored me as they walked past. They're the same age as we are so I thought we'd get along. Of course, then the noisy parties started so no wonder they weren't interested in knowing their neighbours.To be honest though, going round with a 'welcome basket' is a bit over the top. I'd find it really overbearing if I moved in somewhere and that happened. Probably applicable if you live somewhere very rural though.
Jewel_peacock
- 4-Oct-11 @ 9:52 AM
Sorry ... that's a typo ... I meant Those tips are all very well if the (etc)
Those 'tips' are all very very if the new neighbours are blessed with social skills that could be described as 'normal'. unfortunately though, when I attempted to say "hello" to the people who moved into the detached property next door to me they turned their backs towards me! Quite what would have happen if I presented them with a home-made cake is anyone's guess. (NB: I don't look odd, outlandish, dishevelled or dirty. I'm a 62-year-old woman: a retired lecturer, and very 'ordinary').