Problems Living In, or Near a Student House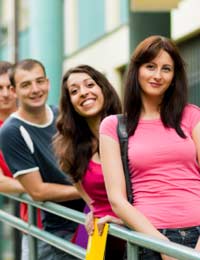 It's not what you really wanted to hear – the person who bought the big house next to you has converted it and is letting it out to a group of noisy, Young Ones-esque students. Of course, you might be lucky and find out that the students over the road from you are only ever up late revising for exams and you hardly hear a peep from them. But with a group of teenagers living away from mummy and daddy for the first time, that's not likely, and there are bound to be a few teething troubles.
The Law and Student Accommodation
As of April 2010, any residential rented property that is shared by three or more tenants (who aren't related) has to be specifically licensed as a 'House of Multiple Occupation' or HMO.
This should stop landlords from deciding to let the property out to students without telling anybody, as specific planning permission is needed to convert an existing building into an HMO, or to build a new one from scratch. So at least you'll have a warning and potentially a chance to object. If you suspect that a Landlord Hasn't Got Planning Permission, of course, it's your right to alert the appropriate authorities.
These rules aren't just there to protect neighbourhoods from marauding groups of students, they are also in place to make sure that student homes (and any property likely to be lived in by multiple tenants) have the correct facilities, and comply with all the correct fire, health and safety standards.
Anti-Social Behaviour
It's not the prerogative of students to engage in anti-social behaviour, but student homes can be noisy, messy and rowdy, so if this is bothering you, you need to know who to contact. Local councils and universities are all attempting to crack down on
Anti-Social Behaviour
from students, and in some cases badly behaved students can give landlords cause to evict them.
You don't have to put up with things like noise, loitering groups of people and litter from students parties. They are subject to a letting agreement just like any other tenant, so if you suspect that they may be in breach of the rules, report the offending household to the accommodation officer of the local university.
If a student house is owned by a private landlord, the students will have signed an assured short hold tenancy agreement (AST), which sets out both the tenant and landlord's obligations to each other. It will also give details of the grounds for eviction, in extreme cases. Anti-social behaviour should also be reported to the police, if it goes beyond the occasional party or gets out of hand. There is no need for anyone to put up with constant noise, abuse, or even violence. If you are subjected to any kind of discriminatory attack, whether verbal, physical, you must also inform the police as well as the university.
Noisy Neighbours
If you are living next door to the student party centre of your town, it can make your life miserable. If a quiet word with the perpetrators gets you nowhere, and the university accommodation office doesn't appear to be able to solve the problem, you also have the option of getting in touch with the local authority Environmental Health or Noise Pollution team, who will decide if there is
Noise Pollution
. In a last resort scenario, they can help by issuing a noise abatement notice.
Of course, the other way to get your own back on students is to bang doors very loudly first thing in the morning after a party... or get your drill out on a Sunday morning. Sometimes, just a taste of their own inconsiderate medicine might make them appreciate the effects that their noise has on others!
You might also like...
We have issues with the neighbours children across the street. They aren't controlled at all by their parents ( seen one as young as 3/4 running about gone 9pm unsupervised by adults. The issue is street football. We have asked the kids not to playopposite our driveway as they were basically using our newly laid driveway as a football and bike park riding their bikes up and down. It got so bad I told the kids off. I got a mouthful of abuse from the creature who calls herself a mother, apparently they are just kids. So tell them to stop playing football in the road! The ball has hit our car too. We have had to spend more money getting a fence put in, but I am just fed up. There are green spaces close by for them to play on. They go anywhere they like and trespass on other peoples front gardens too. Playing football in a road is just dangerous- they are left to do exactly what they want. My anxiety over this is so bad I don't want to be in my house anymore, sadly we are stuck as we own and cannot afford to move. No one else in the street lets their kids play in the road,. I'm fed up, angry and upset my peaceful home is shattered because of this family who don't care about anyone else or their feral kids.
Fed up.com
- 9-Jun-22 @ 5:08 PM
To whom it may concern, I am a student who is living in a student accommodation which is in vicinity to a sky lounge (public amenity). I have frequently heard a loud music, noise from people scream or shout before 11pm and even after 11pm. I have complained to the staff about this grievance however they only mentioned that the sky lounge is for everyone and they can justify their noise level whatever they want. It already violated to the tenancy agreement and the law that they bring nuisance and affected to my enjoyment. In addition to this, the most significance aspect is they escape the responsibility to improve the sound proof and this is out if my expectation that the sound proof is so weak. Therefore, may I know is there any way to help me as I have already suffered from depression with respect to this issue. Thank you. Kind Regards, Kati Li
zebramoney
- 11-Dec-19 @ 10:50 PM
I'm a land lord Have a good professional Tenent and partner and 4 week old baby I a semi I own There nice people They had a party for there daughter who is 15 and got a little noisy The neighbour complained to me saying it was all to noisy and playing songs and singing She is now going to inform the council to get me in trouble She is a very controlling women with friends in the council She has done this to the last three out of four Tenent's On this occasion she refused to return a new foot ball that had gone into her garden Can I do anything to defend my Tenent and allow them freedom to have a party once a year
Billy
- 1-Jul-19 @ 8:57 PM
Based on considerable experience I can tell you none of your advice is of much use. Trouble caused by students living next door should be directly reported tot he police and the resident MUST insist on an incident number and in making a written statement, which is our right even if the police try to dissuade us from so doing. This should be done every time there is disturbance. Badly behaved out of control students should be treated no differently to any other adults behaving in a criminal way. The strategic solution is to get students out of studentified community areas and into appropriate dedicated accommodation away from residential and working areas (even if sometimes that means intrusion on greenbelt)which should be returned to mixed residential occupation by the elderly, workers and families.
JANICULUM
- 30-Nov-14 @ 4:29 PM
@Skater2013 If I were you I would avoid proceeding with your planned 'torture' at 0430 in the morning as that make you the problem (and therefore the culprit of an actual crime) when according to you all that they are actually doing is talking during the evening (not shouting / playing loud music which would constitute anti-social behavior). It is unreasonable to expect people to stay in total silence or to have to whisper to one another just because you have a very thin party wall. The amount of time / money you have likely already spent on this problem could have easily been solved by bringing your property into the 21st century and installing a small amount of noise insulation. This may also reduce your stress levels and prevent you from being aggressive / angry towards your new neighbors in a wall they obviously feel is very threatening.
Jon
- 17-Dec-13 @ 10:15 AM
We have put up with 'young professionals' too close to University age. They are not students but around 25 years old. We had terrible noise problems from the two girls that rented the 'buy to let' property. Or mre specifically one of them. There was no stereo's involved, just loud talking from 18:30 to 22:00. Sometimes later up until 23:50. After 3.5 years of complaining to the landlord, they eventually moved out. Not sure who decided, but we were glad they were just gone. Now the new pair have moved in (boyfriend / girlfriend) it is the girl that is now bringing her mates back. I complained to them 1 month ago and they called the police saying I was aggressive. I told the police the story and stated clearly there is a difference between being angry and aggressive of which I was the former. I also showed them the council forms that I had received from our local council and the letter which was dated before the two made the accusation. So to the police, i was dealing with it in the right way. Now here is my problem. The noise is not every day / night. It is say 3 times per week where I cannot relax and read in my house. The walls are thin and I cannot escape it. As the noise is not continuous, I have abandoned the idea of the council getting involved. I think that they will simply 'throw it out'. But that don't help me. I have two options, I either move (which I am very loathe to doing after being in my house 23 years and very close to finishing paying my mortgage) or, I retaliate. For me to move, it would cost me another £100k to get a detached house with no joining walls. Quiet people do not disturb noisy people, noisy people always disturb quiet people. But they are all the same type. Cannot tell them, they are arrogant and selfish. And usually university 'educated'. So the fact that the noise has increased rather than decreased is no surprise at all. Especially bearing in mind what we have already suffered for the 3.5 years previously. So now I really do think it is time to give them a dose of their own medicine. How would they like to listen to a chinese water torture knocking all day on the wall (automatic machine) which interferes with there conversation? Also, I would set it off at 04:30 in the morning also. It is a sad state of affairs but as I STILL take care when I close my doors so they don;t bang, I keep my TV low etc, that is because I am a respectable person. I know how to behave. But I am being 'noise bullied' and I no longer am going to take it. I feel now it has to be a fight fire with fire situation. We have moved into the rooms away from the joining room so we can have some peace. But I am very angry about that. My house is not my home. Be grateful for any advice. For me I think there should be planning permission for ANYONE who wants to run a buy to let business. And the immediate neighbours have to have some input into the contract prior to permission being granted. Regard
Skater2013
- 22-Sep-13 @ 7:19 PM
Don't forget potential action against the landlord under Tort law (type tort into Wiki for more info). Basically, landlords have a duty of care to their neighbours, and if they do not take action to stop any nuisance they can be sued. This may seem a bit like kicking the dog when one's football team loses, but why the hell should it be you who suffers when you are working hard to keep a roof over your head? A letter from your lawyer to the landlord may be enough to encourage him to enforce the likely terms of his tenants' lease. Good luck.
EscapeFromHell
- 19-Nov-11 @ 4:16 PM