My Rights Regarding my Neighbour's Trees?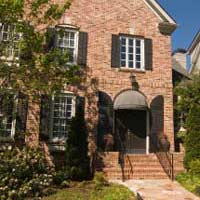 Q.
What are my rights about my neighbours very tall fir tree which is only about 5 yards from my property? The tree was already existing before my property was built.
I spoke to the owner and he made it clear that he does not want it cut. Please help as it might damage my property.
(Ms Gloria Wright, 10 September 2008)

A.
You don't say where the problem lies here in terms of the potential damage it may cause to your property. However, if any of the tree's branches are overhanging Into your property, it is within your rights to cut these branches off, even if your neighbour has told you that he doesn't want you to do so.
It doesn't matter if the tree was there before your property was built. The important thing here is to establish your property's boundary lines, which will be contained within the deeds to your property or by contacting the Land Registry office.
There are two provisos here, however:
Firstly, you must ensure that the tree in question is not protected by a tree preservation order. These orders are granted by your local authority's environment department and make it illegal to fell, uproot, prune or lop off any part of a protected tree without the express consent of the local authority. Should you do that without permission and the tree was protected by a preservation order, you could be liable to a fine of up to £30,000 or twice the value of the timber of the tree, whichever was the greater.

Secondly, if you do have the right to chop off the offending branches, it is your duty to return them to your neighbour.
Recoup costs from neighbour
If the problem you're experiencing lies within the tree's roots, you are also entitled to remove any roots which are invading your property. If they are very deep, you could decide to get a professional to come in and remove them for you, and then recoup your costs by claiming on the tree owner's household insurance policy.
What your neighbour is NOT liable for
One of the important things to remember is that your neighbour would not be liable for any damage caused to your property with respect to any fallen leaves that might damage your lawn, block your drains or block your gutters, nor can he be held responsible for any trips or slips caused by wet leaves on your driveway.
With a fir tree that doesn't shed its leaves, however, this won't present a problem, but it's worth bearing in mind for those who may have similar problems with other types of trees owned by neighbours. In other words, apart from overhanging branches and potentially damaging roots, there are other legitimate reasons why you may seek to cut down part of neighbour's tree which is encroaching upon your property or in danger of causing other damage to it.
The best suggestion is to have another chat with your neighbour and try to resolve the issue amicably. You may need to explain to him that you know your rights, and should they physically try to prevent you from removing parts of their tree which is on your property, then seek further advice from your local environment department.
There is a full
Action Guide here
which is a great reference point for further advice.
You might also like...
Hello, My neighbour, which is a church, has a tree in his garden. The tree is quite tall and its branches are laying over my roof and creating moss over the roof. I know had to hire someone to come in and scrape of the moss from the roof floor. I haven't approached my neighbour yet as I have been cutting bits and pieces from my side in the past but now some of the branches are too high for me to safely perform the trimming. By law should my neighbour maintaining his/her tree and be held liable for the moss? I wanted to ask before I approach them. Many thanks.
mossy
- 28-Sep-21 @ 1:11 PM
Neighbour has a conifer tree right under window , which is now as high as the bedroom on first floor . My concern is can this cause structural problems because we a linked to them ( semi detached) if it grows any higher or problems withthe roots under my house ? Thank you x
Concerned in Coventr
- 10-Aug-21 @ 1:48 PM
Neighbours have tree taller than house which drops yellow petals/seeds,his side of house is to our back of house we cannot have windows open as all these seeds enter. They are even in front bedrooms. They block the drains on roads which then cause blockages. He's not interested in cutting down.
I realised my tree part got dry and brunches died. I removed died brunches. I looked over the fence outside into my neighbours garden my trees roots were growing intoto their shed . The brunch was broken and looked dry too. I think my neighbour tried to poisoning roots and caused a damage to my tree in my garden. What to do with this issue?
Natalia
- 20-Jun-21 @ 3:08 AM
Hi. Our "over the back" neighbours keep trying rope around ours trees, to create a make shift washing line. To do this, their rope is from their house, across their garden, OVER their shed/shed roof, across our fence / boundary finally being tied around our tree. I've cut the rope, but they have just done it again. They haven't spoken to us about it, they haven't asked if they can do it. They know who we are and where we live, but have made no effort to talk to us. Am I within my rights to keep cutting the rope?
BB31
- 17-Apr-21 @ 2:52 PM
The pathalongside my house is 1 metre wide and the neighbour has a fir tree right next to the fence which is now taller than my house. The branches are knocking on the sloping roof of my bedroom when there is a wind. The adjoining fence to our properties, just a metre away, is on a small brick wall, which has now been split by the roots of the tree. Above this is a concrete panel, also now split, and then a wooden fence which is now being pushed out towards my path. I have asked the neighbour ( with whom I am on good terms)now 6 times to attend to the problem but nothing has been done. What can I do now, and what are his responsibilities? I am 78 years old and don't want any hassle but the problem is really getting me down.
Labrador
- 15-Jan-21 @ 9:47 AM
I'm in Ca, neighbor behind us (40 years) has 4 over grown eucalyptus trees and 3 Queen palms. Whatever comes up from the ground is not managed so becomes a huge mess, it has become a complete block of the sun for us. We frequently call code enforcement to force him to remove the dead leaves, brush, the constant fire hazard, etc. and now have a rat, squirrel, possum & raccoon population which has my dog barking constantly at all hours. We have constant branch damage, we've replaced our patio, water fountain and the fence we share with him all at our expense. My grass & plants have all died due to the eucalyptus trees taking all sun, water and have been told plants cant compete with them as they have a toxic oil to the soil. We would like to know legally what our options are as we have spent 40 years being nice and we have lost thousands of dollars accomplishing nothing.
Shell
- 11-Dec-20 @ 9:01 PM
Hi. We have a footpath between our house and our meighbours wall. However their tree roots have grown underneath the footpath and pushed back two of our housebricks below the damp course. Is there anything we can do?
beth
- 10-Nov-20 @ 1:38 PM
There is council owned land at the bottom of my garden [ a reservation area] recently a branch from a very tall pine tree fell in a gail and damaged my shed and fence. I had previously got in touch with the council regarding the fact that the tree was leaning towards my property. I got in touch with the council regarding the damage. The damage was inspected by someone from the council and I was told they had put it in the hands of there insurance. Despit getting back in touch with the council I still haven't had anything back from them or there insurance what are my rights regarding this.
tell
- 7-Nov-20 @ 4:19 PM
Hi I brought a house neighbours had a tree in garden I was evening garden out pulled roots out council came out and said I can be fined for pulling roots out when tree is on the neighbours garden the tree is protected the council say what is going to happen now
Bali
- 20-Oct-20 @ 1:17 PM
my next door neighbours rent the house which has more than doubled in height and width in 20 years i have lived hereI have paid several times to jhave the overhanging branchescut down now they are worse than ever and have spread to almost half way across my garden Do i have some sort of right to have it cut right back
Barbara
- 5-Sep-20 @ 1:59 PM
Neighbour is currently up for sale. He has a sycamore tree in his garden very close to our fence the roots are now quite visibly in our garden. Probably span 1/2m by 1/2m, so quite a big area and that's all we can see, we know there are roots much lower into the ground. They are stopping us from plantingand very close to our patio. The roots are being to grow Sycamore off shoots We'd like it removed- where do we stand in terms of cost? Can we claim from his insurance ? We have a cordially relationship with them any advice would be greatly appreciated
Frustrated
- 1-Sep-20 @ 7:35 AM
I have a neighbour who has a very big pine tree and all the pine needles are Shedding into my gutters and blocking them. The pine needles and acorns fall all over the garden and pathway making it dangerous for me to walk and risk falling. I need your advice what to do ?
Nat
- 26-Aug-20 @ 9:07 PM
So let me get this straight - the maximum height I can build an outbuilding within 2m of a boundary is 2.5m or else I need planning and my neighbours permission, but I can plant an 80 foot tree ON the boundary and that's perfectly ok?? Who comes up with this drivel.....?
Joel
- 11-Aug-20 @ 11:45 PM
I need advice regarding next door neighbour tree, which is about 60ft and hangs more on my garden than theirs. i am constantly sweeping up needles and it has killed loads of plants and grass. also there are loose branches which are dangerous. when i managed to get hold of owner, his aunt lives there, he just took my number and has not got back to me. i am an old age pension and feel worried when it is windy in case a branch blows down. many have done so, one having broke fence of neighbour other side of me.what are my rights? the coucil when contacted said not their problem as not a council property. am very angry and worried over situation,. any advice/help please.
kathy
- 10-Aug-20 @ 2:24 PM
my next door neighbour has a huge tree whose branches or more in my garden than theirs. it is at least 60ft high and my garden is constantly covered in needles. also there are several loose branches that are hazarous. ii contacted the owner, his own lives there, he took my phone number, but have had no response. i contacted the council who were no help at all, stating that is the property is not council they wont help. i am an old age pensioner and i am afraid to go near the tree for fear of falling branches when it is windy. any advice please.t
kathy
- 10-Aug-20 @ 2:20 PM
A neighbour who lives two doors away has made some comments to me re a tree at the bottom of my garden. He was quite sarcastic & seemed annoyed that it obscured the sunshine for part of the day. I wouldn't mind so much but he has a 120 foot garden to move around in & chase the sunshine. I'm less inclined than ever to trim it back but i'm not sure if i'm breaking any rules.
Missy
- 6-Aug-20 @ 11:20 AM
my nieghbour is planting 4 conifer trees 2ft away from my property is there anything i can do about this ?
Neat
- 4-Aug-20 @ 12:43 PM
Hi my neighbour planted a tree 40years ago but has planted it dead in the middle of my garden and theirsand now it's not only grown half in my garden s that big it now blocks sun in my garden and not theirs its killed all my grass but not theirs its affected my garden more and more each year is there anything I could do for the tree to be cut down.
Patsy
- 13-Jul-20 @ 2:32 AM
Hi, Unknown's to us, our neighbour planted a eucalyptus tree right next to our fence. Three years on and it has grown almost as tall as our house and drops leaves and bark all over our garden, in fact it hangs more in our garden than his, it also emits an awful smell. Can I insist he removes it holds no benefit to him as it may as well be in our garden. Hope this makes sense. Thank you
Brown Owl
- 5-Jul-20 @ 7:41 AM
I have a very disrespectfull neighbour who I cant communicate their plants taking over my shed roofs and damaged their trees and roots fences broken damaged all fences and posts.have pets they can't control they get in to my garden and inside of my house I'm allergic to cats any help ??
Rain
- 20-Jun-20 @ 8:53 PM
Hello, my next door neighbour has a tree growing about 5ft away from our houses on the other side of our fence growing rapidly, if it is left there it would definitely damage hers & my foundationsas were mid terrace, With its roots we do not speak as I find my neighbour unapproachable, I own my property while she is renting from the council is there anything I can do help very much appreciated.
I give up
- 16-Jun-20 @ 4:17 PM
I have a neighbour that has 2 huge oak trees in her garden growing way above our houses. We have relatively small gardens. I get no sunlight from 11amtill 3pm. The huge branches are growing over my garden but are so out of control we cant get at them. Any advice please
Roby
- 8-Jun-20 @ 8:36 PM
Hi My neighbour has a yellow laburnum the whole tree is poisonous. It is planted behind a 6 ft fence which partitions our gardens but has grown about another 5 ft over that. When it flowers and the foliage sheds it blows all over our garden and is impossible to control. My worry is 1: my young children 2. Our puppy picking up any foliage when playing in the garden. I have spoke to my neighbour who has cut the overhanging leaves off however this doesnot prevent the foliage blowingover in the wind. Is there anything I can do to make him remove the tree?
Smudge
- 1-Jun-20 @ 9:40 AM
It started with my brother cutting the neighbour tree, the neighbour said he wanted it cut, so my brother cut them down abit as they were overhanging our garden. My brother than asked if he wanted the branches back.the neighbour said we could throw them over. However my brother was busy with work being it a pandemic and he being a key worker. The council had moaned about the mess in the garden that wasn't even ours. So I decided I would slot the tree branches into the tree we had cut so that it didn't hurt anyone. Then the wind picked up and the next day the neighbour knocked on the door and said I got it in his garden and has been moaning even now. My mum broke her back recently and I been trying to help but I haven't been feeling well since October last year. My only guess that the neighbor is Angry maybe it damaged a plant when the wind hit it but I think. Am I liable for a plant damaged by his tree branch from his tree.
Trying to help
- 24-May-20 @ 9:10 PM
Hi there, I wonder if you could help me. When I purchased a bungalow 8 years ago there were 2 x silver birch tree at the end of my next door neighbour garden which do look nice but, I've noticed that they have been planted over there boundary line in the farmers field (and a good chance without permission) these have been here years but I was wondering who would legally own them now? Would it be the farmer who's land there on or the property who planted them? There about 400mm over the boundary and a right sun block on our property on an evening. Any help would be much appreciated.
Twinkle
- 12-May-20 @ 5:30 PM
We live in a small culdesac, in the neighbours garden opposite our driveway is a huge tree 80-90ft tall.It is 15-20ft away from our cars but as you can imagine the branches over hang the road. When a truck drives up the road they knock the branches and we have often had these strike our cars.Also in high winds there are always smaller branches coming off, I am concerned in higher winds that the whole tree could go, is there anything I can do? They are not at all approachable
Lindy
- 30-Apr-20 @ 11:39 AM
Abbey, your neighbour is allowed to cut anything that overhangs the boundary, and they should then offer to return to you whatever they have cut off (you are not obliged to accept it). Obviously beyond that they should not be entering or damaging your property without permission.If that is the case I would be politely but firmly asking her to stop.Take photos.
Clive
- 18-Mar-20 @ 4:19 PM
I have a tree in my back garden and the neighbour is leaning over cutting down rather large branches and throwing them back over to our garden is this allowed? There is quite a feud over it she is leaning over to cut them when nobody is around. I have two small children here and it's dangerous. Could you help please where do I stand we both own our own properties ahead havnt asked permission or anything she has just simply took it upon herself it doesn't affect any gutters or anything like that it's at the back of the garden APPROX15 foot away from the house. Thanks
Abbey
- 16-Mar-20 @ 9:21 AM
I have two problems with two different neighbours; 1- One at the back of my house who has a set of tall fur trees with their trunks are with 3 inches from my fence. The roots of the trees have now lifting the fence up and pushing my fence away. I have asked them very politely to remove the trees and I offered them contribution towards removing the trees and plant new trees away from my fence. Apart from cutting the tip of the trees, they don't want to do anything about it.This has been going on for the past 30 years and I don't know what to do. 2- At the time of construction of the propertied in the 60th, the sewage manhole that belongs to my neighbour on the right side of my property has been located within my property. This has been causing some problems whenever there is a blockage. It either flowing over out into my garden or men have to come into my property to deal with it. Do I have the right to ask my neighbour to relocate the manhole to within the boundary of their property? Grateful if you could let me have your advice on the above two problems. Best regards Khatab