Dealing with Noisy Neighbours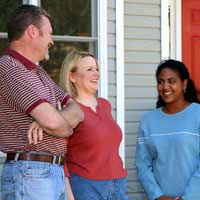 Some of us will have had to deal with noisy neighbours at one time or another. Often, this might be simply because of the types of personality they have and not because they want to be disruptive.
Remember, we're not all the same 'types' of people. You might prefer the quiet life or you'd much rather enjoy doing all of your socialising down at the pub. Others, however, might enjoy socialising at home and having parties, they might be DIY enthusiasts, or have a small tribe of children and we're all aware of how much noise a group of kids can generate.
The problems arise when the noise becomes excessive and it can escalate even further over time if ignored. It can cause stress to those it affects as well as inflicting sleepless nights and can, in effect, completely ruin your enjoyment of your own life in your own home. However, you might be surprised to discover that many people who are considered 'noisy' and disruptive are often totally unaware of the effects they are having on others, and a simple polite conversation will often resolve the issue.
Speaking to your Neighbour First
No one should have to tolerate
Excessive Noise Pollution
, but it's not very neighbouring if you immediately call the police or your local Environmental Health Department at the first sign of any loud noise. Many noisy neighbours might consider this to be a bit like 'going behind their back' instead of speaking to them first and, if a complaint is made anonymously, it can often cause an even deeper sense of resentment. They may then become suspicious of everybody in their immediate neighbourhood, and their mistrust can sometimes lead to them becoming even more disruptive.
That doesn't mean you, as the person under sufferance, should have to put up with their behaviour, but talking to them first about the situation can often nip in the bud a potential long-term noise problem. What is important, however, is the way in which you choose to speak to them and, quite often, the timing.
Choosing the Right Moment
Even if you've been tearing your hair out, it's important that when you go to speak to your neighbour, you stay calm and remain polite. Simply point out to them what effects their behaviour has had on you and your family. You can be firm and get your point across in a polite manner. Most neighbours should be reasonable enough to understand and to take your views on board which should keep things harmonious between you, and also should ensure that they do not repeat the same mistake again.
If you've hardly spoken to them previously, you'll naturally feel a little apprehensive about doing this, but it's usually the best solution and stops the problem from escalating. However, the other crucial issue is the timing and not simply what you say and how you say it. A house party is a good example.
The Right Timing
If a party is in full swing yet the noise is excessive, it'll be no doubt very tempting to go and confront your neighbours there and then. The best advice would be to leave it until the following day, as they may have had a few drinks too many and be right in the party spirit. So, if you confront them when the party's in full flow, they may simply see you as a 'killjoy' and/or will simply not be in the frame of mind to give any thought to how their behaviour is affecting you. So, whether it's a party or a DIY project that's giving you grief, you're much more likely to get your points across and produce the desired result if you wait a day or so.
The fact is that most excessive noise problems with neighbours can often be better resolved between neighbours themselves. Sometimes it's even more effective if a few neighbours who have been affected go round together and state their case, as nobody likes to feel a social outcast within their own neighbourhood.
This all said, however, there may be several reasons why you might not wish to have a chat with your neighbour first to try to resolve matters. Perhaps they are renowned for making people's lives difficult, or they might want to provoke you into a confrontation that might get out of hand. So, it may be a 'judgement call' depending upon the 'personalities' involved.
However, no one has the legal right to make someone else's life a misery through excessive noise, so don't feel guilty about Contacting Your Local Environmental Health Department or even the police, if you strongly suspect that by confronting the issue directly yourself, you could be putting yourself at risk of harm in any way.
You might also like...
Over a year ago, I moved into a rental terrace house(with v thin walls) and have been here for over a year. Within this time I have been living next a DIY enthusiast. Anytime I don't hear drilling,hammering and banging,I call a good day. It can be all weekend, evenings and even up to late at night. I barely hear their five kids! God knows what he is doing as they are tiny houses. The only way I can cope is by wearing ANC headphones. I would love to move out,but rental houses are few and far between.
Mad cat lady
- 8-May-22 @ 2:10 PM
I've been living in a semi detached house next to a multigenerational Pakistani family and the only way I can describe it is hell Screaming coming through the walls regularly from their grown up adult sons whether it's about the football or the bloody playstation that still live with them. They don't give a toss about anyone else, have 5 cars between them and regularly entertain visitors late at night on weekdays. They couldn't care less about keeping my young children up even on school nights and have made multiple threats to my family including hurling sexist abuse at me when confronted. Neither the council or police are the tiniest bit interested in dealing with them despite the fact their noise is a nuisance to the neighbouring properties. Honestly sometimes I wonder what I did in a previous life to end up in a situation like this, I now hate my own home and get anxiety at night or anytime I know the football is on
Fedupofneighbourhell
- 29-Apr-22 @ 9:51 PM
I want to say that my situation is same the comment writing by nmf! The only diffrent is my noisy nighbour is a psychopath woman in her 40 and feel jealous of me,so she keep banging literally all the time,she keep make one bang every second,not every hour or every minute,no,i am serious when i tell you she make bang every second,so i live in my flat and this upstair sick jealous psychopath make me sufffer in every second. I record her and police and council do nothing as everybody said here! And i am exactly same nmf situation,can't move out and have nowhere to go. Situation make me very depressed and drive me to think about suicide. I am left under dirty evil woman control who is dirty by her jealous and evilness. What make it more painful is council and everybody take her side and believe her lies,and every time i complain they return accuase at me and accuase me that i am the one who make the noise which is a very big evil dirty lie.
Victim of noise
- 3-Apr-22 @ 4:32 PM
I'm STILL in the same property since before 1st lockdown and EVERY. SINGLE. DAY. ALL. DAY its BASS. BASS BASS BASS from an elderly woman in her 80s. Pop music. ...YES!!! THUMP THUMP THUMP THUMP THUMP THUMP THUMP. ON and ON and ON. EVERY. DAY. ALL. DAY. WHY haven't I moved? Because there is literally NO WHERE to go to, seriously, NO WHERE. I'm TRAPPED. Council and landlady won't do anything. I just want it all to be over. Everything ended. I can't even sleep. As she plays music at night too and there is random loud crashes and bangs all through the day and night. Her daughter is terrifying, her own family is afraid of her and she controls the situation. She wants me out because I dared to complain once Sunday morning when it was blasting at 9am. They completely dominate the entire property. I sit in a 2m x 2m space all day every day with headphones on and I can still hear it. I'm mentally ill, I'm not right in the head now because of it, it's gone too far for too long.
My neighbour said he'd moved in to get away from noisy neighbours. He seemed nice at first (always a bit noisy) but then became strange (watching me in the kitchen etc). We started to avoid him and he's turned. He does diy from around 8 until 2am sometimes. Hammering loudly on the wall that we share-upstairs and down. I then got my back done and started to sit out reading. He decided to basically copy what I'd done but move his frequent nightly guests out there. I've just been woken by him and his friend laughing in the back. I can hear every word they say.He's definitely an alcoholic so it's every night he's got people round and he gets louder as the night progresses. I've already spoken to him about playing a trumpet at 1am! I just don't know what to do. I'm exhausted and I now hate him.
Maz
- 25-Sep-21 @ 11:41 PM
OK I really wish I could move i think housing associations should also have child free housing I hate the noise of kids would kill to live in an area without them I know it sounds mean but I hate other peoples darling little snowflakes and can't understand how some people reproduce when they obviously don't like kids I think it should be optional to live next to people with children and should be part of the initial housing registration process if renting just think how much simpler life would be for families who want to make friends with other families or the people who just want a quiet life
Tired as
- 20-Aug-21 @ 5:21 PM
My neighbour runs a beauty business from home. We have lived in our house for 16 years and she moved in 13 years ago. Her beauty website says its open from 8am until 8pm but she has customers pulling up on her driveway as late as after 11 pm. She ran her business throughout lockdown and also sold food from her house during lockdown too despite having no food hygiene certificate. Her children has thrown food in our garden as well as nitrous oxide canisters which they get high on and continue to make our lives a misery. The mother also has another job which she leaves the house for at approx 5 am and when she returns from at around 7 am plays the stereo in her car full blast in her driveway directly outside our house for around 10 minutes until she decides to leave her car. I have not had a lie in since she moved in and i can honestly say she's the nightmare neighbour from hell. Never move to Groundwell Road Swindon
Nee
- 29-Jul-21 @ 9:22 PM
We were woken at 2.45am today by our neighbours shouting in their garden. They were having another party. They also had a party on Sunday night, July 18th that ended at 5am on Monday July 19th. I shouted out the window and asked them to be quiet. They told me to F off. We then went round and received verbal abuse. They said a one month old baby was in the house so If the baby was asleep then we should be! I have notified the local housing office as their house is owned by Incommunities housing in Bradford. I did phone the police at 3am when they became abuse at us but the police never turned up.
My neighbour runs a childminding business from home, the day to day background noise doesn't bother me but it does when kids are screaming , fighting,she's shouting at them and then starts arguing with them herself.One kid was screaming so hard that they kind of did a loss of breathe moment,the boy is shouting "kill you kill you",and its generally very loud,she doesn't seem to break it up.She turfs them out in the garden early morning until teatime, so its all day that I can hear them unless I put my TV on loud. I have complained once and it was a bit quieter for a while.,worse thing is that I have had viewings on my house and there is constant kids noise to an increased volume which I am sure has put people off. They are generally shouting at their own kids and arguing , do I really have to put up with this ?
Bedsblonde
- 24-Jul-21 @ 4:01 PM
My neighbours are about to start a loft conversion to their 1930s semi. They plan to put a skip on the very small drive (we each have a drive that accommodates one medium sized car). We have a downstairs bedroom used by a lodger and the skip will be placed along the boundary, inches from her window, and have a chute from the first floor and roof. I am concerned about noise and pollution, and that basically for the 12 weeks of building work that her room will be very dusty, she'll be unable to open the window and there will be a lot of noise. She works very early shifts and usually sleeps when she comes home. They do not consider putting the skip on the street to be a viable option, especially as it costs more. I have asked the builder to put up some kind of screen, however he says inevitably she will still have a lot of disruption. My lodger's rent pays my mortgage, although I feel I should lower the rent while the work goes on, but I do resent bearing the financial cost of the disruption my neighbour's building work will create. The neighbours will be moving out while this goes on. Any advice on what is reasonable for me to ask and whether there are any regulations about waste going into a skip so close to a bedroom window?
Stella
- 24-Jul-21 @ 11:19 AM
My neighbours keep having parties every Saturday night it does my head in goes early hours in the morning I took got the morning off or cut me up at 16 sometimes and it just goes on all night and stuff like that it does my head in I think the neighbours are getting emptied do it every Saturday night is the same and it does my head in the end of the day it's not fair on us when We're all in this together and stop like that
Graham
- 22-Jul-21 @ 9:11 PM
We moved last year just before the pandemic to what we thought would be our dream home. We moved from a city where we had lots of neighbours always out playing music and partying and really thought we would not have the same issue here. How wrong could we be! The people who are one side of us (luckily we are detached so we don't have to put up with noise inside our house) think they are in Ibiza or Vegas as soon as the sun is out and start to blast music from smart speakers in their garden (which are in a summer house so it amplifies the sound even more!) for the whole neighbourhood to hear. When they have people over it's even worse and often all you can hear is her cackling and screeching at the top of her voice for attention ….. it's awful! I'm so so sad it really gets me down. I just think they must be absolute morons to not realise! Selfish and inconsiderate ones!
Welshcake
- 23-Jun-21 @ 2:00 PM
At some point all these noisy neighbours have to sleep. That's when to start blasting music and making noise yourself. From personal experience, it's the only way to make them understand how inconsiderate they are.
Lisaxlfc
- 31-May-21 @ 8:06 PM
i live in a two bed semi terraced house, and my neighbour is noisy as hell, she was rude when i asked her to keep the noise down, she also has a dog which makes matters worse the dog barks loud, i can hear her run up down her stairs in her heels, she brings over her friends to party sings loudly on purpose just to piss us off, i live with my mother for which i care for who is elderly and fragile, we both struggle to sleep she does this every weekend fri- sat at 1-4am, police do nothing, councils do nothing, i am at the end of my tether, especially since losing a loved one from covid this past year, cant move elsewhere as can't afford to do so and have settled here i am now thinking of bricking her f****** window just to shut her up or worse, that might seem bad but way she is going and nobody giving a single f***, thats the only option i can think of that seems to work that or do something to her dog
Nathan
- 9-May-21 @ 2:31 AM
I'm sorry but your arguments are vapid. Some neighbors don't give a monkies s**t about anything other than themselves and the fascist government will do nothing about them so long as they either pay tax or their wokeness panders to their self-indulgent back patting public image.
Boucher
- 3-May-21 @ 2:45 PM
I have a really nice neighbour living above me, he is leasehold I am council tenant, the only issue is that he is a bit of social nightmare, every weekend he has his friends around and they are playing music and stomping on the ceiling, I have been woken up in the early hours of the morning when his friends are leaving and I can't get back to sleep. I have a few mental health issues and I am beginning to get fed up with all the social events he has in his flat. I drove his renters out when he wsz renting out the rooms and I am very close to making his life a living hell, I am an early riser and I am considering buying a blue tooth speaker and putting my music on at 6 am when I get up in the mornings, should I put up with this or should I give him a taste of his own medicine ????
Hi. My neighbour owns his flat above my rented one. We live in a converted brewery and the other 6 flats are in a communal building next to us. He works away for a couple if months at a time but when he is back, he is constantly gaming. It is like a rumbling sensurround noise and the shooting is like a fast bass beat that is contimous. It gets louder as he goes on and has often played till midnight. I have asked to to turn it down as I can even hear it in my bedroom and he does for a few days then gets loud again. I am thinking of buying him a headset but I am on furlough so I can't afford to. It is so frustrating as it is a constant white noise in the background & so quiet when he is away. I don't think it is loud enough for the council as doesn't record on my phone as its quite muffled but still very disturbing.
Tenant
- 2-Apr-21 @ 11:08 AM
My neighbours are 50 & 60 years old and have loud parties (even during lock down when it's just them and their 3 children) they once threatened to beat my husband up when he went around to ask them to turn down the music then turned ut up louder. They had a log burner fitted right outside our living room window and everytime it's lit the whole of our house smells of smoke. He's an electrician and has put lights up everywhere and when they are on they light up the back of our house and sometimes they leave them on all night. And the other day I heard the husband in the garden discussing building a bar! We want to put our house on the market but think they might put off people
Fed up
- 17-Mar-21 @ 11:13 AM
I've had multiple problems with noisy neighbours over the years.The following things help.Making them think you're a psychopath.Complaining to the Council.Particularly late night noise. They will come round.They will write letters. Leaning on their landlord.Lean on your MP to lean on the Council.Easier if you're a leaseholder.You have to have several lines of attack and be persistent.When they think they might get fined or their arse kicked out they eventually give in and complain but its a long hard road. Trouble is you sort out one nutter then there is another...
MrAE
- 7-Mar-21 @ 9:57 PM
My neighbours bang on to things when it goes quiet in my flat. I have small children when one takes a nap my neighbours start banging on to my ceiling or their walls. They also make that banging noise when I go to sleep around 11pm.
I have a neighbour who is lovely until a weekend. Fro and Saturday she goes to pubs and brings people back to her house drunk to party. Other times her end her partner fight andargue.I have to work shifts and at 1-2am when they all get in and start it wakes me up and I can't get back to sleep. It makes me anxious. The laughing end carry on shouting on. She's been asked numerous times in the past but she ignores and has no consideration for others. Now lock down is over she's building a bar in her garden to host parties. It makes me anxious I can't go through another year with the partying starting.It ruined my weekends as I was so tired. Ive lived here for 30 years and this is the first problem I've had. I really don't know what to do.
Pat
- 27-Feb-21 @ 4:40 PM
After years of peace a couple moved in next door and it has been 6 months of hell. They scream, shout, blast music so loud that it has been reported by people who live half way down the street! As an NHS worker its been a very hard year, sometimes working multiple 12 hour shifts in a row and naturally I'm exhausted by the end but my neighbours will be having one huge part from 3pm until 5am. I regularly go multiple days without sleep. Police can't help, council won't even with 6 months of complaints by various people and even as I type this they are blasting music so loud its audible from my noise cancelling headphones. I just don't understand how some people can lack such common decency.
Elle
- 17-Jan-21 @ 11:07 PM
I am on the other end of noisy neighbours. I live in an upstairs flat and my neighbour downstairs is complaining about noise. I have a 14 year old son who, as well as myself, suffers from anxiety, which her complaining just makes us worse. Only thing is, her complaining is about floorboards creaking, doors and drawers opening and closing at night, things that can't be helped. The drawers in my bedroom are noisy, and I try really hard to open and close them quietly, so I'm not sure how she hears them. I dont slam doors. The first thing she said to us when we moved in was that she has a loud voice but that's OK, and she will tell us if and when we are overly loud. And she's been right so far. She's had parties until after 11, she has a really deep voice that we hear day and night, especially when she has someone stopping over with an equally deep voice and they talk until the early hours of the morning, keeping me awake. Its just me and my son, I've never had anyone stay over, but I feel like I can't live in my own home. I have to tiptoe around so I don't make any noise. Its ridiculous. I do feel for people who genuinely have noisy neighbours. But I try really hard to be quiet, but creaky floorboards... drawers and doors opening.... really!
Fozzie
- 3-Jan-21 @ 12:22 AM
Once you get a noisy neighbour, it would be your life time disaster. You would find people don't sleep, and you are strange to sleep at night. Talk? Council? Police? Kill him? In Britain, all above are useless. Nobody can be changed. Do you believe they don't know after 11pm, neighbours are sleeping. Do you think they are totally unaware of the effects they are having on others? So, this article is useless. It's teaching you how to be a good citizen, or how to be a good victim. The only solution is not politely to talk or call police. Instead, only when many noisy guys are killed, the law will start work and the police would start to warn people that if you want another party then stop it at 11pm.
brits
- 29-Dec-20 @ 9:11 AM
My mum and dad have been complaining for years about a couple up stairs who have small children stomping around and screaming all day from 7 in the morning until sometimes 10 o'clock at night I said you can't stop kids playing but my dad passed away recently and I have moved back in to help my mum and can now see what they have had to put up with the noise is really bad the oldest kids which is about 7 constantly jumps up and down stamping on the floor and my mum has heard the dad saying come on you can jump harder than that well I bumped into him a few weeks ago and had a go at him and so did my mum and he reported my 72 year old mum for racial comments as they are black well I'm sorry that is a complete joke because we have another black family either side of us and two black families opposite and we all get on like a house on fire and even those families don't like the troublesome neighbour so what do we do without knocking him out or getting arrested for being a racist I've had enough and it is really stressing my mum out
Tex
- 24-Dec-20 @ 6:25 PM
Hi, I am currently experiencing some issues with my neighbour. He leaves the apartment to its relatives for days, sometimes they invite additional people ( for instance, this week there are all teenagers and despite they are kind of quite I can dill hear their music, doors slamming, teenagers in and out at every time of the night and day. Furthermore we are in Tier 3 so they are not supposed to do that. I am planning to speak for the last time with the owner and tell him that if he does not control the people that are here we will be forced to ask additional help as we do not feel safe by not knowing which people are below us. I can't believe people really do not have responsibilities in life such as jobs or studies in order to carry on a normal life....any additional advice on how should I deal with this situation?
Gm22
- 16-Dec-20 @ 8:45 AM
We've moved into a rental flat for a while. Downstairs is an elderly couple. They're nice but the noise travels up, especially when they slam doors, which they do loudly and often. My husband is on the autism spectrum and can't handle noise. It's got me on edge too knowing how it affects him. He slammed the door back recently which gave me a huge fright, I thought he'd had an accident at first. Not sure how to deal but think I'll need to say something to them, hate confrontation though.
Seren
- 27-Nov-20 @ 9:59 AM
My neighbour below bangs on my ceiling whilst I'm deep in my sleep it gives me a sudden scare and ruins my sleep quality of life. The council are not doing anything about the problem. The neighbour takes drugs is a single middle aged male from Iran. He insults me and my family bangs early hours in the morning from 4AM 5:30AM 6AM 7 and does this everyday even in the weekends he takes cannabis that I can smell it in my flat
Ali
- 16-Nov-20 @ 1:00 AM
I live in an A and B flat with a shared communal area front door, The neighbor slams and bashes the door every morning, at 6:30 7:00 oclock, it's not one slam it's bashing opening the door and slamming it continuously I'm woken up every day with this. I suffer from insomnia so I don't get to sleep until 4 o'clock in the morning so being woken up continuously every day and having broken sleep is really afffecting me, I'm at my wits end with it as I'm a quite living person and have to put up with this family.
Boo1
- 2-Oct-20 @ 12:32 PM
Must I have to tolerate a noisy motrbike (chopper or Harley) being revved loudly in the neighbourhood? I tried to have small nap but someme one decided to start revving that noisy bastard bike for more than an hour didn't got nowhere just revved that bloody junk at stationary at an irregular intervals for at least an hour! Why must we have to tolerate that annoyig noise emitted that piece of junk? Are there any noise laws on public roads that all vechicles must comply with?
Anonym
- 9-Sep-20 @ 4:05 PM