What You Have to Declare About Neighbours When Selling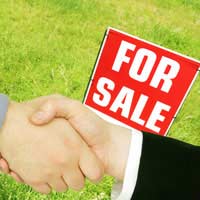 If you've decided to move home, whether to escape problem neighbours or not, you'll have to own up to any issues you've had with the neighbours when you're selling your home. The guidelines are slightly grey as to what you need to declare to a prospective buyer, but there have been cases where new owners have sued previous owners for not telling them about particularly awful neighbours, so it pays to be aware of the law.
Neighbourhood Disputes
If you've been unlucky enough to become involved in an actual dispute with
Problem Neighbours
, this will have to be mentioned on the form that your solicitor sends you – called a Seller's Property Information Form (or SPIF). What constitutes a dispute is open to interpretation but in general, if you've had to contact a neighbour in writing, or complain to the council or another authority about them, then the dispute will have to be declared.
Obvious examples of things that need to be declared on the SPIF are Boundary Disputes (disputes involving land or fences/hedges) or anything that involves Shared House Maintenance.
Buyers could potentially take action against you for years after the sale of the property has been agreed, so don't just assume that once you've moved out, the problem has gone away if you haven't told them.
Not a Problem?
In some situations, it's not necessary to mention an issue that's come up with a neighbour. For example, if a neighbour had a penchant for having noisy parties but this is now in the past, or a problem has been dealt with amicably. Issues like children, noise and pets are also extremely subjective, so the
Noise Of A Dog Barking
may drive you insane but if the person buying the property also has dogs, it may be something they don't even notice.
If you're asked by a solicitor to give details of any disputes or problem neighbours, this is where the situation becomes more difficult, as any false information or 'omitted information' could lead to legal action being taken by buyers. So seek advice from your solicitor if you think that a neighbour's behaviour could be considered problematic, and ask if they think it's something you need to declare.
Taking Legal Action
The SPIF is legally part of the contract between you and your buyer. Because you are required by law to complete the SPIF, and because the buyer of your property is entitled to rely on the information being accurate when they buy a home, they may be able to claim against you if the sale has been completed and a problem neighbour dispute comes to life. If the contracts haven't been exchanged when the dispute comes to light, they could pull out of the sale.
In one case in 2009, when Home Information Packs were still in force, one buyer was told by a seller that her potential new next door neighbour was 'as quiet as a mouse', and the HIPS declared that there had been no disputes with any of the neighbours.
Unfortunately, this neighbour made her life 'a living hell' with loud swearing and banging on the walls during the night. The buyer sued the seller and accused her of telling lies on the HIPS form, but lost, despite the seller admitting the neighbour in question had threatened to kill her and thrown stones at her windows in the past.
Resolve It?
If you think there's a chance you can resolve a dispute (especially when your neighbour knows you're planning to move!)...then
read about how ways you can go about mediation
.
You might also like...
My neighbour is trying to move the boundary she has already done so in the back garden I rang to police who said it was a civil matter and I should take her to court something I can't afford to do. Now I've chosen to move as this neighbour is a nightmare she has now contact my agent stating she will be moving the front boundary too what can I do ? The land registry map seems so vague on where the boundary lies
Charly
- 13-Apr-22 @ 4:10 PM
I bought my first house from my sister and brother in law. Two years later one of my dogs bit a little girl as a result of the neighbor children teasing and tormenting my dogs while I was at work. I got sued and lost my home. Some time later my sister revealed to me that they had problems with the same children and their dogs. My sister told me that she had to go to the neighbor and suggest that they put a fence around their backyard to contain the kids before someone gets bitten. None of this was disclosed when I bought the property. I knew nothing of the problem until I lost my home. Could I have any recourse against said sister and brother in law?
Snkbrdr
- 28-Jul-21 @ 3:10 AM
I have been pushed to leave my house by the 22nd of March as my buyer wanted in before the initial stamp duty holiday was about to run out. Because the house I have purchased is not ready to move into yet I have arranged alternative rental accommodation, a removal van and a storage unit. However I was contacted by my estate agent less than a week before im due to leave, saying that my buyer is in a neighbour dispute and might have to pull out of the purchase.i can't believe that this has not come to light until now. I accepted her offer on the 17th of December.
Sally
- 15-Mar-21 @ 9:52 AM
My garden is long and narrow backing on to other people's gardens. I want to move.I have issues with two neighbours. (1) One of the houses appears to be empty and has large trees growing in it.They are now very close to my fence and overhanging a lot.I have cut off as much as i can reach of the branches overhanging but I am concerned about my fence.I have put a note in the door asking for the owner to contact me but no response.I have paid for a a report from land registry to identify the owner but it just tells me the address of the empty property. (2) I also have a neighbour at the bottom who has removed a couple of fence panels (not the ones I put in - I don't know who owns that fence). She keeps saying she is either going to put them back or get new ones but she has been saying that for two years now. Has anybody any advice?
JAS
- 27-Dec-20 @ 1:31 PM
Hi, my neighbour, who is not attached to me has a dog that barks as soon as its let out of the house! Whether its the front or back garden. From 6.10am to 01.00am the next day. This is round about every 2 hours and it just barks for 15 mins sometimes 10 sometimes 5 but it is right under my bedroom window. Im disabled and practically bed bound, I only leave the house for medical appointments. I need to be stretched out otherwise my pain is too much for me to cope with. I struggle sleeping, so when I'm dozing off at 10pm then this dog starts barking im wide awake!! Then I start to doze again then the dog wakes me up. Then I cannot get to sleep at all, im in a vicious circle! I can't even rest throughout the day because of it! This dog also wakes my son up, who then gets irritable and loses concentration at school. Next door have had the dog for years and I've noticed it barking, but not to this degree, you can even hear it barking when its inside its house! They don't seem that bothered, but I have noticed that when I got ill with covid and came home from hospital they did seem to stop it barking as much! I just don't get it! It stands there and barks at nothing! What should I do apart from quit moaning, wind my neck in and get some ear plugs!
MamaJ
- 10-Dec-20 @ 1:33 AM
I live in a terrace house ,the middle one of three. guttering on the roof has a downpipe at both ends,so my property has no downpipe One of my neighbours is changing his guttering and sayshe will put an end cap on my side as his new guttering will not line up with mine ! Can he do this ?
Petres
- 27-Nov-20 @ 11:59 AM
what was the answer to EL's query made on 16th October 19?
alway
- 30-Sep-20 @ 11:09 AM
Can estate agent tell others how much lve paid for my house when it's next door they are selling not mine
Hazy
- 23-Sep-20 @ 6:51 PM
Hi, The previous owners of my house disclaim a dispute about a tree with a TPO on it. I realised of this a year after they moved, I had to resolved the dispute myself and had to pay £1650 to remove the tree after the council removed the TPO. I don't have the owner contact details to chase them legally and the solicitor who acted on the sell is not responding to me, saying she is no acting on their behalf and won't provide the current address or contact details of the previous owners. What can I do please?
Gema Grueso
- 4-Sep-20 @ 12:11 PM
The house next door is up for sale it's been empty for 2 years most of the plumbing has been leaking into our party wall I have spoken to the person handling the saleno response also the estate agent they are not interested either the person buying is a builder but does not know anything about he leaks what can I do
Von
- 15-Aug-20 @ 10:25 PM
We are selling our house but the other day our neighbour (house next door is empty and they live up the road) accosted the agent outside with potential buyers screaming there was a dispute with the garden wall (we've just had a 2nd one built as the original one built in May 2019 was not safe) and that we couldn't sell. What can I do? It's 18 months since they agreed to the wall being built and 5 months now since it was completed!!
Evie
- 31-Jul-20 @ 7:33 PM
I moved in to my new home. There was issues with our new neighbours. I was shocked when they said they and the previous owner had called police on each other. Where can I find out if this is true. What check do I ask the Council and police for to get this info. Am I allowed this information.
Howto
- 7-Jun-20 @ 8:04 PM
Hi, How do I go about selling a flat with aggressive loud neighbour upstairs?It's gotten worse since shutdown and we have decided we've had enough. Lived here over 10 years and although the guy is ok when he's not been confronted about something he loses his rag if something has happened and you approach him. Do I need to tell the seller about calling the police about noise issues? I think the police have intervened when there's been a party.What about if I'd contacted CAB and insurance company about water ingress?I didn't actually go through with the claim but they visited me (excess was too much).I believe that an letter was sent to him as well but he never collected it from the post office. How do we get rid of this place and move on?It seems such a nightmare designed to keep people trapped in their homes with awful neighbours.
Avidhouse
- 27-May-20 @ 11:05 PM
Our neighbour has sold their property, however she has caused nothing but problems to everyone in the street. She was given a caution by the police for attacking one neighbour. Will they have had to declare this? She has caused upset about my disabled child, attacked & damaged our property. She's constantly called the police. So much so they are not bothered with listening to us.
Marple50
- 11-May-20 @ 1:48 AM
We had an incident with our neighbour just over a year ago we were doing diy at 430 on a saturday afternoon she came round & was very aggressive straight away she swore at me so I closed the door then she tried pushing it open so my partner had to come help me shut the door . She then decided to rant very loudly in the street threatening to kill me with blue language . Little did I know the neighbour on the otherside caught the whole thing on her phone . By the time I found this out it I had call the police when they came they spoke to us with 1 officer visiting next door to acquire evidence . Upon his return the officer had told his colleague that their senior colleague had told them to arrest her , I was a little anxious however we agreed as otherwise things had got to a level where they had almost backed us into a corner . She was taken to court fined over £400 & a restraining order was in place for a year. She had been a problem from the moment we informed her we wanted to extend the property , which other neighbours have done around us . Since lockdown they have been playing their tv loudly & we just want to move . I have tried to hold out an olive branch before all of this happened as I explained we don't have to like each other but it would be nice to get on & until that saturday evening things have been quite sporadic with her anger kicking off swearing at either her partner ,dogs or kids. How do we manage moving
Hi i have justbrought a new house with my partner and currently in the process of doing it up. We are very mindful of our neighbours and have apologised for the noise. Also we make sure any loud work is done between 9am and stop at 7pm. However we are finding that one neighbour is being very aggressive towards us. E.g i was talking on the phone in my house with the door open( due to painting), then aling came the neighbour walked past my house and back within minutes waving her arms about. Then when i was banging all of 10minutes, she started banging on her wall. Is there anyway i can find records to see if she has had disputes in the past with old neighbours? Kind regards Amy
Amy
- 27-Mar-20 @ 3:39 PM
Just want to add to that comment. They say you won't be housed if you have a history of anti social behaviour yet they are quite happy to keep moving normal quiet law abiding people next to these problem Tennant's who have a history of anti social behaviour.
Clair
- 8-Mar-20 @ 6:56 PM
As a social housing tennant and Having moved many times due to anti social behaviour from neighbors including neighbors one stalking, another playing loud music which abatement notices were served, another that harraassed me bybanging on walls and shouting in the middle of the night charged with causing alarm and distress. Each time I as the victim choose to be moved away and each time I have been moved next to another anti social neighbor. I choose to be moved because all I want is a peaceful life. Why are social landlords not obliged to tell you that there is a problem with anti social behaviour before offering you a place?
Clair
- 8-Mar-20 @ 6:49 PM
Hi We moved to our new home 2 years ago now and from last year the elderly man over the Rd has become a night mare when our children come home from uni andpark out side our house one car I might add and lots off room to get by and not blocking anything , he has become very aggressive and abusive and he's very nasty , found out from others on the Rd he attacked the former lady that lived here and has been in consent arguing with others on the Rd , There was nothing about this in the records when we brought the house Question is should we have been informed of this man by the previous owners
Jobe
- 8-Nov-19 @ 4:51 PM
Hi, do I have to declare dispute with a 'former' neighbour, who moved away in 1994 ?.........the dispute involved the local Council, but was resolved (by Council) without a court case, who gave them an enforcement order to remove the nuisance (commercial machinery)
Mark O
- 8-Nov-19 @ 12:36 PM
I am living in semi detached property and my neighbor has just installed his gutter but is using my drain and downspout. Can i refuse and close my gutters so he has to install his own downspout?
EL
- 16-Oct-19 @ 11:49 AM
Thank you I need some advise my grandpa sold the house we staying in without informing us where can I get help we've got no where to go
jimboo
- 9-Oct-19 @ 9:49 PM
Hello, I hope you will be able to help me. Our neighbours put their house on the market. We have on going dispute with them about the wall which was build in the boundaries, shared gutter which has been kicked off to our side and poorly designed drainage on front of the house. We have complained to our neighbours several times before house was put on the market and then to their estate agent. We have received no answers either from next door or agent. Today, I have seen on the Rightmove that house was sold. Our issues are still not resolved. What else we can do to ensure issues will be solved before they move out? Thank you for your help.
Kate
- 1-Oct-19 @ 9:58 PM
We bought our house roughly 4 and half years ago and have had continued problems with them. From leaving mess everywhere which results in mess in our garden to rats coming through. My partner has been threatened. They seem to only be awake at night time causing loud noises which isn't great when you have two little ones trying to sleep. That have 6 cars when there only three people who can drive live in the house and there is always drugs going around leading to some unpleasant people hanging around the place. My partners has called the police who have been out for many reasons about there behaviours and not just from us, and they have single handily ran out two other neighbours in the past year. I have a feeling well more like I know the previous tenants to our house had issues because the environmental people have told us! My gut feeling is they got out because of them. They never declared to us any issues with any neighbours in the paper work. Would there be any claim achievable because I definitely feel the house is worth dramatically more than what we paid for it just because of these neighbours. Any help would be great!
Luke
- 29-Jul-19 @ 10:19 PM
Can someone complain if I go into my garden naked ?
Naturist
- 16-Jul-19 @ 3:13 PM
ABY - suffered with this, and this could be viewed as stalking! No chance you could park out there to stop him, or a neighbour.. good luck. Some people are just....words fail!
Observer
- 27-Jun-19 @ 12:59 PM
I really pity anyone having a hard time with anti-social behaviour issues and trying to sell.We're basically left to our own devices, lose money on your property, do the decent thing and declare or move on and say nothing, either way. Our society is broken! - sorry..fed up with no help, what are we all supposed to do? Politicians living in cloud cuckoo land, so far removed from every day society, just want to scream some days... Sorry rant over!Good luck to any poor soul in a no win situation with louts!
Observer
- 27-Jun-19 @ 12:55 PM
hi i had some trouble with loud neighbours partying had to get the police involved , the police wouldnt do anything as said its an environmental health problem , phoned environmental health dept at council who investigated and also said there was no evidence even though our lives were unbearable with not being able to sleep etc , the noise has now stopped as the neighbour who was making the noise has moved out just leaving his mates living there , its been quiet for months now but we are putting our house on market , do we have to declare this to potential buyers even though the noise has stopped
andy
- 16-Jun-19 @ 9:40 AM
Hi, hope you can help? My husband and I live in a private estate and a guy from the council estate across the road has started parking his large transit van right in front of our living room window - causing a nuisance and it's intimidating.This is following a car collision between him and me last year where he admitted liability and all my damages were covered by his insurance. Due to his persistent parking and inability to heed police and his landlords warnings, we have decided to move. What do we tell prospective new owner? His gripe is with my husband and I so if we move he may stop parking at the window? But he may continue to do so as may think this is now his rightful parking place?? Thanks
Hello, We are in the process of buying a house and probably 2 weeks from exchange and 5 from completion. Having done a quick search on the road I have come across 6 anti social behaviour police reports listed in that road within the past 18 months.The most recent was in January this year.The road only has 11 houses so this is something I am now really concerned about. Need some advice on what I should be doing now?Can I call the local police station for more information? Thanks in advance
Emmalou
- 3-Jun-19 @ 4:53 PM