Neighbour Drainage and Guttering Issues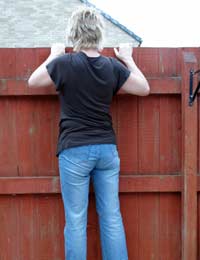 It's nobody's favourite scenario – there's a blocked drain and you aren't sure who's responsible for it. There are three possible outcomes to this one, depending on whether the blockage is a drain, a private sewer or a blocked public sewer. There are actually strict definitions of all three, according to Public Health law, so hold your nose and try and establish which one is your issue.
What is a Drain?
A drain is simply a pipe that only takes drainage from a building or buildings within the same property boundary. It might be a drain for foul water like toilet waste or for surface water such as rainwater from the roof, but whichever it is, if it's on your property, you are responsible for unblocking or repairing it until the point where it reaches someone else's property.
What is a Sewer?
A pipe becomes a sewer at the point where it takes drainage water from the private drains(and then lateral drains) groups of properties.
When it comes to any problems, the law generally requires owners or occupiers of the properties that use and connect to the sewer to repair any damage and remove any blockage that occur in drains within their own property boundary.
Your local Water Company is responsible for clearing blockages, maintaining and repairing public sewers. Before a 2011 law change, some groups of properties were connected to what were called private sewers - and the owners in that group of properties were responsible for the upkeep (including blockages) of those sewers. Since the law changed you are now only responsible for maintaining and clearing drains within your own property boundary.
How do I Know Who is Responsible?
Since the law changed, it has become clearer and generally works as follows:
Detached homes - Before 2011 you were responsible for maintaining drains up to the point where they met the main sewer pipe. This meant you may have been responsible for the drains under the pavement and possible part of the road outside your home. Since 2011, you are responsible for the drain only up to the point of your property boundary e.g end of your drive/front garden.

Semi-detached homes - Before the changes you and your attached neighbour were responsible for the drain up to the point where it met the main sewer (often under the road outside your properties). Since the 2011 changes, you are responsible only for the part up to your boundary with the adjoining house. If the drain runs across your property from your neighbour's before continuing towards the sewer then your responsibility ends at their boundary (the water company is responsible for the remaining part across your property) - so even though that part of the drain is within your property boundaries you are not responsible for it.
Terraced houses - Before the changes in 2011, each home was responsible for any part of the drain that crossed their property boundary before it reached the sewer. Since the change, you are only responsible for the part immediately before it connects to the drains of the other terraces in the row. So if the drain runs from one end of a row of terraces to the other you only need be responsible for the part of your drain before it connects to it (the water company is responsible for the rest of the drain).
Other Privately Owned Sewers
Some properties, particularly those in rural areas do not connect directly to a public sewer - those with a cesspit, septic tank or treatment plant have not been affected by the law changes and will normally have their own arrangements for blocked drains and maintenance.
Private Pumping Stations?
Some small groups of properties are not connected directly to a main sewer but via a private pumping station. Previously the owners were responsible for the pumping station, the pipes and the connection to the main sewer. This is going through a phased change and by 2016 the water companies will (in general) be responsible for maintaining the pumping station and the pipe work.
Blocked Sewer or Drain?
If you think there is a problem with a blocked sewer, contact your local water company. If they discover the blockage is actually within your drain (the part for which you are responsible), then you will have to take steps to clear the blockage yourself.
If Neighbours are Uncooperative over a Blocked Drain
Most drain un-blocking companies will invoice the person who called them out, no matter who is actually responsible in law for covering the costs. If you live in a terrace or semi detached home for example and discover the blockage is due to a neighbouring drain then you will have to approach them for payment. Your local council has powers to serve legal notices on anyone who fail clear a blockage under various Public Health acts.
What About Guttering?
Shared land also means shared responsibility for repair, and so if there are damaged gutters, it's reasonable to share the costs of repairing them. If guttering and water egress drainage is shared between two properties (look at your deeds and it should say whether this is the case) there is normally a joint responsibility (and liability) for maintenance and repair.
Talk to your neighbour before you organise anything, once you've checked the deeds to make sure you're in the right. Most neighbours will be reasonable, especially if you have the deeds to back you up, and a polite request should be all you need. If they refuse, you have no choice but to get the work done and then request reimbursement of their share in writing. If they still won't play ball, you'll have to get down to the county court – but the law is certainly on your side…
You might also like...
I live in a terraced hous a have three down pipes because I take the roof load off 5 houses and get a overflow in bad rain should each property have to see to there own watershed
None
- 8-Nov-23 @ 11:02 AM
My Neighbour has the only stack pipe for the gutter water and it is in the middle of 3 properties, his gutter is blocked, so our gutters are over flowing causing damage to our property because the water has nowhere to go, he will not clean his gutter, what can I do make him clear.
We live in a semi detached house. Our neighbour (who isn't attached to us) only has one downpipe to take all the rainwater from theguttering around their property. That downpipe is on the side of the property and does not drain into a soakaway. The result of this is all of the rain water from their roof drains over our driveway and onto the pavement and road. It's an adopted road. I don't think this should happen but I'm not sure who to address it with. We've already spoke to the neighbour and they have no intention of doing anything about it. Any advice would be gratefully received.
My neighbour before him has blocked all his rain water drains so all the water is flowing to my house and overflowing over the troughing this is making my walls mouldy. I have had people out to fix it but just ends up overflowing again.
Moose
- 1-Nov-23 @ 10:44 AM
My neighbour has a gutter that drops streight onto my garage roof that garage was leaking so we have had it replaced and asked the neighbours to remove the gutter but she refuses saying she has no drain to drop it in where would I go from here I'm not after compensation I just want the gutter removed so it doesn't cause anymore damage thanks
Syl
- 17-Oct-23 @ 12:39 PM
Me and my neighbour have a common chamber for sewer line which connects to main sewer line but my plot backside owner have erect the his sewer line in our chamber please guide whether it should be legal or not
Puja
- 29-Aug-23 @ 5:09 PM
I share a cess pit with my neighbour.He wants a new drain cover as the cess pit is in garden who is responsible for buying this cover?
Dixie
- 15-Aug-23 @ 10:38 AM
I hope somebody can give me some help. I live in a semi detached house and the neighbour that isn't attached had a flat roof towards my property but has now put a sloped roof on it towards my property. How do I go regarding guttering and down pipes, should he put these on as the eaves and roof edge is basically on my property (air space). Please help.
Markar
- 7-Aug-23 @ 8:18 PM
I live in a semi detached victorian house , my neighbours changed the guttering yo a bigger one and never attachedback to my side , it'snow 3 years later so much damage to my homevyhat a roofer said there fault , the land registry says they needed consent , they expect me to ckIm of my insurance , but have ignore me all tear trying to rectify the problem , HELP
Millie Fogarty
- 7-Aug-23 @ 3:03 PM
I live in a semi detached victorian house , my neighbours changed the guttering yo a bigger one Nd never attacked he'd back to my side , it's only now 3 years later so much damage to my homevyhat a roofer said there fault , the land registry says they needed consent , they expect me to ckIm of my insurance , but have ignore me all tear trying to rectify the problem , HELP
Millie
- 7-Aug-23 @ 2:25 PM
My neighbours have had repair work done to the sewer pipes (we live in a terrace). Wewere not aware of any issues with the drainage but they recently had an extension to their house with lots of heavy machinery on the ground. They apparently unblocked our sewer pipe during the work and have sent us a bill for the costs. The work was done by a family members business, no communication or consent was given at all about the work. The first we knew was a bill that came through our door.They have now sent us a letter threatening court action unless we pay. What are our rights?
Mags
- 4-Aug-23 @ 4:14 PM
My neighbours have put up a conservatory, but have not put guttering up on my side. So every time it rain it floods my side , is there a legal requirement to gutter my side , answers please ??, …
Den
- 25-Jul-23 @ 9:31 PM
I live in a flat, 4 in a block, the house above me is rented out, usually to short term working guys, their garden is a mess over grown grass and weeds, I enter my garden via there's, bit it's getting dangerous with the pathway getting overgrown, I struggle in and out the property with my baby in a buggy, who can I complain to get the garden sorted, or at least the pathway cleared. I dont know who the landlord is, and the guys living there are not interested, or pretend they dont understand as they are foreign workers and only stay for a few months until another crowd of men come. Looking for advice.
Grass
- 8-Jul-23 @ 2:07 PM
I recently had my house painted, I arrived home from work to find my neighbour has taken down our shared downpipe to clean off some paint that my decorator had got on it. But now he is refusing to put it back up, and in fact it has now gone missing along with the three brackets, I suspect my neighbour has taken it, but cannot prove it. He maintains he is not putting the downpipe back.I do not own a ladder, so am not in a position to put it back up. Not that I can anyway because it has gone missing. My neighbour is a stubborn character and particularly unapproachable. But surely the onus is on him to replace the downpipe?
Green
- 10-Jun-23 @ 4:10 PM
My next door neighbour has mounted his fence across the top of my drain cover, clearly over 18in off my land, he has also concreted over the drain cover on his side. Please help
cheyenne
- 10-Jun-23 @ 4:05 PM
My neighbours have built an extention, we are 3 houses in a row with downpipes betewwen us, thay want to put a drainpipe from this extention into a drain my side of the fence, however their main 'house' drainpipe comes down and into a drain myside of our properties.Is this the type that the local council accept responsibility for please. Thank you in anticipation.
Chris.
- 29-May-23 @ 1:45 PM
Hi I live in a terraced property in London. My neighbour has carried out a massive loft conversion.i now see that the way they have done the flashing onthe new unit majority of the water falls on to my roof .The company did not discuss the new roof design. The neighbours have water seeping in to the new wall when it rains .I got a roofer to make good any flashing etc..for my peace of mind I am unhappy about the fact that it was not discussed prior to the build I did sign a party wall agreement. Are they allowed to sent water on to my roof? A very concerned owner . The eork only gimished in February and they have an issue with a damp wall ThNkking uou N Kelly
Nel
- 27-May-23 @ 4:50 PM
Hi my neighbour has block paving which was done before we bought our house. We have noticed a pipe coming from under paving and running in to my guttering drain can I ask for this to be removed.
Doddy
- 26-May-23 @ 6:51 AM
Have a down pipe from gutters on my. Property I'm homeowner. Collects gutter water from 4/5 houses .Struggles to cope with heavy down pour .. am I liable to sort it repair. Would it be going into soakaway and do you get discount on sewerage charges .M
Jammy
- 10-May-23 @ 10:57 AM
My neighbour is getting water into her house from my downpipe help,what do i do
Lindyloo
- 4-May-23 @ 4:10 PM
There are 5 properties in a mid Terrance block. They all share a down pipe that comes down my wall. It is overflowing And damaging my property.Can i force them to get a down pipe for themselves..what are my rights?
Lozaroo
- 1-May-23 @ 6:39 AM
My neighbour gutter joint with my gutter at back and all the water comes to my side. It's go over fluiding when rain. I have requested many times to get down pipe on there side but not doing. Please tell me what to do and who to complain.
Baz
- 30-Apr-23 @ 4:14 PM
Our neighbour has three out buildings where the roofs slant towards our garden . They have no gutering and no french drain , so when it rains the water runs into our garden ! Is there any recourse ?
None
- 22-Mar-23 @ 8:39 PM
My neighbour has a downspout that doesn't run into a drain. The water causes damp in our wall. Where do I legally stand with this issue?
Jonny
- 22-Mar-23 @ 8:11 PM
Hi, We have a similar problem on a converted house/block of flats, whereby they have no downpipe into a drain and it comes into ours, causing blockages. Do they legally need their own drains? Thanks
Zowee
- 7-Mar-23 @ 9:19 AM
Hi we have a downpipe on our house taking on also our neighbours water. Are we able to get them to get their own down pipe and cap their water from getting across ours as at the moment it is effecting my property causing damp with the amount of rain and water. Do I legally have promise to cap this off as I own my house?
Tizzard
- 27-Feb-23 @ 7:04 PM
Hi we have a downpipe on our house taking on also our neighbours water. Are we able to get them to get their own down pipe and cap their water from getting across ours as at the moment it is effecting our property causing damp with the amount of water
SL12
- 19-Jan-23 @ 7:10 PM
My neighbour and I share guttering between our houses. The Dow pipe is on his property. Recently we had water seeping in on the inside wall of our building and had it investigated - they found that the down pipe was blocked and causing the water seepage. The neighbour has ignored our requests to get the down pipe drain unblocked. What are our rights to get the drain unblocked and is there any recompense we can get for the internal damage to our property
my neighbour had an extension built and took away the down pipe at the back and so my downpipe connects two extended houses(mine and his) is this allowed? he did not ask me he just connected his new guttering to mine
babby
- 2-Jan-23 @ 11:59 AM
I wanted to know what my rights are as I own the wooden fence which I also own the chain linked fence in front of it but my neighbour has removed my property without my consent ! Do I have the right to remove my wooden fencing and replace it with another chain link fence as my neighbour continues to cause harassment and stress and is hanging plants on my fence which I legally own and he has also damaged my wooden fence with vines and other various plants damaging the wood so badly and refuses to remove it so I can paint it. He has also allowed Virginia creeper on his garage roof to damage my garage roof which are joined garages but separately owned on each of our boundary and broke my tile on garage roof removing his Virginia creeper, it has grown into the roof and wall of my garage and I have suffered water damage to my garage. He has also been harassing me for years and police have called it a hate crime. What are my rights please and how can I get some help ?
Wildstrawberry298
- 19-Dec-22 @ 5:10 PM