What Can we do About a Neighbour's CCTV Camera?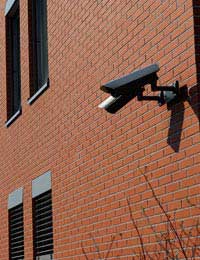 Q.
I was wondering what action I can take with regards to a neighbour who has just recently moved a CCTV camera into his bedroom and is pointing it directly at our front door and two bathroom windows.
We live in a courtyard development (5 houses) and the camera is about 10-15 metres away and clearly visible. He already has an external camera pointing towards his own door which is absolutely of no consequence, but I feel the second camera is in violation of our rights to privacy. We have recently had some flooding issues, although his property was not affected. The emergency services were called and he was seen standing watching everyone and even the fire brigade felt the need to comment. Later that day when council representatives were on site, in front of witnesses he "flew" at my wife and invaded her space and verbally attacked her. What can I do?
(D.M, 16 October 2008)

A.
The main laws surrounding the use Of CCTV are contained within the Data Protection Act 1998 but these do not cover domestic residences. It is perfectly legal for a resident to install CCTV (even with recording and playback capabilities) and, in the normal course of events, this will be done to protect one's own property against the threat of intruders and trespassers.
When installed correctly and used for the right purpose, residents who have installed CCTV will tend to have a positive effect on the reduction of crime and anti-social behaviour occurring in the neighbourhood, as would be perpetrators of such actions would be less inclined to commit offences for fear of being caught on camera.
The problem, as you rightly pointed out, lies in the fact that you perceive that one of your neighbours' CCTV cameras is pointing directly at your property and this is a Privacy Issue. As far as the law goes in this regard, it would be covered by the Human Rights Act under your rights to privacy. Article 8 of the Act entitled "The Right to Respect for Private and Family Life, Home and Correspondence" means that your neighbour might well be breaking the law here.
Ideally, it would be better if you could speak to the neighbours politely, explain the situation to them and request that they make certain modifications to the CCTV system so that it does not infringe on your privacy. However, given you stated that the man verbally attacked your wife, the likelihood would seem to suggest that he would not be prepared to listen. Incidentally, the fact that the man verbally attacked your wife might be also covered under the Human Rights Act in terms of harassment alone. It's also likely that his behaviour will have been mentally noted, at least, by the council representatives so that could obviously go in your favour.
Therefore, I think you have every right to contact your local authority or local police force and have them come out to investigate. They would obviously need to be satisfied that the installation was basically Causing Harassment, perhaps even bordering on voyeurism, and they could then take action. Alternatively, get some advice first from a solicitor who has specialist knowledge in this area.
You might also like...
my nextdoor is nightmare form hell he just had cctv put upit on my doors and windows and over my hottub and kid poolI need help
help me please
- 27-Jul-22 @ 2:01 PM
I live in a small town and recently have been being harassed by the mayor of the town.I was renting a camper from her and she became verbally aggressive, and being g la bully. I would let her control me, she kicked me out with out warning.In hand written post it note, no names.All and all one week later in the heat of the day she had the power company shut off power.I had just purchased a camper trailor I needed to clean up to move into.I'm having a full knee replacement in a month I need a place with a bathroom witch I didn't have in her camper I rented, she told me to use a bucket.. now I've moved my camper off her property right next to city hall I seen tonight there is a camera pointing right at my front door activated when I open my door.. is this legal major harassment say the least she tryed running me out of town but I didn't go.I have text messages hoe she calls me delusional drug addict.She is asking people that leave my house if they give me drugs, get me hi.I smoke weed.Please what can I do to make see she can't bully me
Kristina
- 5-Jul-22 @ 11:14 AM
My neighbour installed cameras in their garden. They only record when motion is detected, but last night I noticed the cameras started sensing motion and turning on when I was walking around in my garden. They clearly didn't realise that people can see when their camera starts recording, but now I feel like I'm being watched every time I'm in my garden. It sets off their camera maybe halfway into my garden which is A LOT. I can't speak to them as they just threaten violence and have even attacked my mother in the past.
Ste
- 2-Jul-22 @ 12:26 PM
Someone complained because I have seizures. Everyone in the neighbourhood is calling me crazy. This is extremely upsetting as I feel my privacy has been violated and I have a family. I feel absolutely broken. There is no doubt there are people talking on mobile phones about my health from which I was recovering. Is there anything I can do?
Lewis
- 11-Jun-22 @ 10:38 AM
I'm have problems with my neighbour, old lady and making conflicts between neighbours on the little private area. Last week installing Ring doorbell to watching what happened around. The ladys living opposite on my house. The doorbell making 24hours surveillance on me. I'm not happy with that. I'm have two little children. Trying to speak with him, but go very aggressive. Contacting police and ICO to helping to remove the doorbell - but not any not anyone powered to making that. Please for advice. Thank you.
Just me
- 17-May-22 @ 8:06 AM
Hi everyone I have Councill flat me my wife 2 kids my Neighbor his move in Opposite our door we leaving block of flat his not work to many people coming his dealing with drag his giving very hard time to my family kids I involve police Councill that don't do nothing lat Sunday he come out smashing my cctv outside my door been recorded after he come punching my door saying come out I one Kill all of you I call police they come they take him next day his back I ask police if you release him please let me know they never call or contact me please I really need help someone give me advice please
Nabaz
- 12-May-22 @ 11:28 PM
Hi I have the true definition of the neighbour from beyond hell. From her constantly banging on the wall at all hours to trigger my dog barking so she can make anonymous complaints to the council. To telling people of colour that I'm a racist. And I've had said person verbally abuse me with vile racist remarks. Now this horrendous neighbour has installed two cameras that point directly into my front and back garden clearly breaching Article 8 of HRA 1998. The police refuse to help me as does the housing council. The latter because next door is a homeowner. I rang the police and initially was told "they are too busy to attend" then when I rang about the HATE CRIME, I was told that …"They're were not enough police to attend" when I rang back a few days later as theman who racially abused me did it again, I was told…"they didn't have any vehicles to attend". I was so fed up I asked, " who was running Blackpool Police Station "NODDY" and would they like me to place an add in the local newspaper asking for donations of run around cars so they can do their jobs? To which I was told I was being rude. No I wasn't being rude!! No one will help me! This awful neighbour tried to get neighbours to beat me up last year. The individual that abused me last year apologised and we are now friends, so now the neighbour from hell has gone to neighbours down the road to verbally attack me. I'm trapped in my home, I cannot sit in my garden as her and her son watch me. I'm disabled, the only reason she has installed them is to perve, because I've never done anything to her!Help!!!!!
Macky
- 4-May-22 @ 10:17 AM
I have CCTV inside my property facing the pavement leading upto my community front door. This is for security reasons as I have a dispute with one of my neighbors. The other day I was looking back at my CCTV footage and caught my neighbor taking photos of my CCTV. Is this allowed. I have contacted the police about this and they say that it's okay as it's a public place however I think she is taking photos for her self and passing them round. What is the law on this. I'm in UK so must me UK laws.
Grahamds
- 28-Apr-22 @ 7:51 AM
I have 2 cctv cameras pointed out the front of my property one fixed to the wall and one in my front window due to harassment from my neighbours directed towards my autistic son they also have cameras but our housing association have told me i have to move the camera in my window because is gets a small portion of their front yard dispite the fact that with it's placement where it is i have been able to capture multiple incidents of antisocial behaviour directed towards my sonbecause they deliberately keep themselves out of site of my fixed camera and keep lying about us doing things we haven't done i have spoken to police and the ICO and both have said it's fine and that cctv cannot be antisocial I'm just held to data protection laws but housing have threatened legal action if i don't move it as its antisocial but if i move it I won't be able to capture when they target my son and housing have done almost nothing towards my neighbours even with evidence and have put a final tenancy warning on us with either no evidence to back up claims or they have tampered with their videos to hide how they have knowingly triggered my son's autism which comes under protected characteristics and even though i have pointed this out routinely they have never asked to see unedited copies of their videos i now have backing from our local mayor and the head of antisocial behaviour and housing have ignored all of usand at a safeguarding meeting for my son all my housing officer was concerned about was MY camera placement not protecting my son yet they have also done nothing about my neighbours camera at the back of their house which looks into our back garden from under their gutter when all i have asked is that it be lowered because in the summer they can view my children in the paddling pool i need help and advice please desperately!
Rotti79
- 19-Apr-22 @ 4:10 PM
The man that live,s across the road from me has a camera that points at my window, i live on second floor in a flat so don't see how it help,s look after his house or his mobile home or the wife,s car or his taxi car
Unhappy and sad lady
- 30-Mar-22 @ 1:25 PM
I thought domestic cctv was covered by law General Data Protection Regulation (GDPR) and the Data Protection Act 2018 (DPA18) therefore a neighbour can request a copytheir data (audio and visual of them and property) over a given timeframe and then request it's deleted and for it not to be captured in the future ? https://ico.org.uk/your-data-matters/domestic-cctv-systems-guidance-for-people-using-cctv/
Gilz
- 12-Mar-22 @ 4:04 PM
Hi, my neighboursput the camerawhich is pointed in my driveway , is it legally what can I do about it?
Gita
- 7-Mar-22 @ 7:22 AM
I have my naighbour CCTV pointing at my garden is this breaking my Wright to privacy.
Phil
- 13-Oct-21 @ 9:03 AM
A friend has a neighbor who has a CCTV who records everything that is said on there driveway and is now saying they are being harassed and intimated by my friend incidentally my friend working afternoon this person works mornings they are now trying to get my friend evicted
Chester
- 13-Oct-21 @ 5:12 AM
we have had trouble with our neighbour (antisocial) so on advice of the police i fitted a small CCTV camera that only faces our door.today i was told by the housing officer (we live in social housing) that it had to be removed because of GDPR.any advice would be great.
duuuudewheresmybra
- 31-Aug-21 @ 11:20 AM
I don't get along well with my neighbour they have installed a motion sensor light on their building looking directly into my garden this is triggered once I come into my garden.This makes me uncomfortable that I'm being monitored. Any advice please.
Dessy
- 16-Aug-21 @ 1:02 AM
I live in flats. Our neighbour opposite (front door is around 1.5 meters away) has installed a ring doorbell. Every time I enter or exit my property the camera activates and records through my entire hallway. I have 2 children of which run around naked a lot. We recently wrote her a letter as we do not get on and she responded with a letter basically saying she isn't in the wrong. Any help is appreciated. Thankyou
Emzoh
- 26-Jul-21 @ 4:31 PM
My neighbor that we don't get along well put cameras facing my property. Recently she started to scream at us threw those cameras while we minding our own business, enjoying our garden or backyard. What steps can we take to stop this.
Lory
- 25-Jul-21 @ 12:10 AM
My neighbor that we don't get a long put cameras facing my property. She also screams at us threw those cameras when we mind our own business enjoying our garden and life in backyard. What steps can we take to stop this neighbor bugging into our life.
Larisa
- 25-Jul-21 @ 12:05 AM
My neighbour whom i dont get on with has installed a dome camera under the canopy of a large garden bar.its approx 2 foot higher than the boundary fence and about the same distance away meaning they can see straight into our once private garden.no consultation or anything,it just appeared. I cant put a trellis up to make fence higher..their fence..any ideas ? Dealing with a person who thinks its acceptable to screw stuff to their fence so the points penetrate well through to our side.
Kray
- 12-Jul-21 @ 6:48 PM
Hi i have put cctv in my councilhouse as i was treatedby somone and the treated to damage mycars thats in my front yardso i put camerain my windows but they take images of other people house and they have moaned at the councilbut the camerasare on the person house that treated me need some adviceplz
Sugerplum
- 8-Jul-21 @ 2:33 PM
Hi my neighbour has a hot tub which she placed 6 feet in front of her house and next to our fence. It's directly under my daughters bedroom window.She's put a marquee over it but has started having s*x in it late at night with her boyfriend. You can hear it very clearly and quite loudly. The Police say when it happens again they'll come out but it's likely they'll just deny it. I'm in Scotland btw. Our local authority is supposed to deal with these issues under anti social behaviour but East Lothian council aren't good at that. Any tips from anyone on here? When confronted, as you would expect, she's abusive and vile. I don't have an issue with her doing what she wants in her hot tub but we don't want to hear it. I think they might get off on knowing folks can hear so there's no chance of them moving the hot tub further down the 80 ft garden.
Micmax
- 29-Jun-21 @ 12:17 PM
The neighbors adjacent to me have installed a light or possible camera directly at my bathroom window I have a basic right of privacy am I right ? These neighbours are hateful and have been nasty for a while now. Help me please.
Willow
- 20-Jun-21 @ 1:50 AM
Hi good morning I'm very quite disturb and want to cry because this lady across from me has been very strange from the first year of I moved in she instantly would pop out side with her robe when she she my boyfriend and me like every day until we broke up it happened she then put up a camera when he would come by at times then we completely called it quits I recently engaged back in a relationship with my daughters father and now she doing the same thing she continues to change her camer views pointing it directly towards my door I also not sure if she could have a device listening because I mentioned to my grandma how she had the camera pointed over towards me then the next day she put it somewhere else when I get for work it's like she knowsI'm just so tired of it all I'm a very kind person and easy to get along with and it really makes me want to hurt her and I really don't want to feel that way I feel as if she's picking and very sick woman its rude frustrating buts a bad feel on me what should I do
Rudy
- 12-Jun-21 @ 4:45 PM
Neighbours next door have installed a ring door bell to the front and back of there house which activates a sensor alarm outside the property everytime I walk up my own drive or up the side of my property do I have any rights to make them turn the sensor alarm off as it is loud enough to hear from inside and extremely frustrating
Caz plum
- 12-Jun-21 @ 3:55 PM
I have been having trouble with my neighbour her son attached methen she spat at me we have told the police now she has cameras pointing at my house so when I step out of my door her cameras come on what can I do about this thanks
Nicky
- 31-May-21 @ 9:37 PM
The man in number 4 Holmere cottages has put up a CCTV that records anyone who is walking on the green and last week moved it higher so I am not able to do anything on my property without being recorded.He is unreachable and unreasonable so no way to express my displeasure.He already stolen some of my land and has made hell for going on two years.I am not sure this is a police matter but know the DPA he is breaking and there is no sign stating he is or has CCTV.
donotlikeit
- 9-May-21 @ 8:06 AM
My neighbor's cameras to individual neighbors are facing the front of my house where a crime was committed and is being disputed witness word to witness word do I have any rights to make her provide that video for him to provide his video since it clearly documented a crime
Neighbours next to me has camera pointed at my front door 24/7 ! What can I do ? He live nested to me not across the street next door what the hell?
Ferg
- 7-May-21 @ 11:25 PM
My next door neighbour as installed cctv all round but on my side front and rear they have installed external microphones which I find an invasion of privacy
Bigshot
- 26-Apr-21 @ 12:05 PM