What to do if you Suspect Your Neighbours of Drug Offences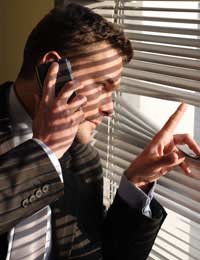 Quite often it may take some time for you to realise that neighbours living nearby may be involved with the supplying or buying of drugs. The whole world of illegal drug dealing is often a 'cloak and dagger' affair where activities are carried out in a very quiet, unassuming manner and there is often no specific 'visual' clues as to what a drug dealer looks like. Many of them can be dressed very smartly and drive around in luxury cars.
It's also a myth to assume that drug dealing only occurs in deprived pockets of inner city areas. While this stereotypical assumption is perfectly understandable as many inner city communities are indeed blighted by the supply and use of illegal drugs, they are certainly not the only areas where drugs are a problem. In fact, this is far from being the truth.
Expensive suburbs and rural areas can have a problem with drugs and it's not just a matter of 'down and outs' and those who you might assume would be your 'typical' drug dealer or drug addict who will always be on the lookout for their next 'fix'. Many professional people whom you might think are responsible citizens and even 'role models' within your local community can fall prey to drug addiction. Therefore, drug dealing and related offences can occur just about anywhere.
Spotting The Signs
Some of the telltale signs that drug dealing activity may be going on in your neighbourhood include the steady flow of visitors to a nearby residence. Other things like watching out for brief encounters at the likes of your local park, bus stop or even on the street can also arouse suspicion. If you do suspect a neighbour of being involved with some form of drug dealing or trafficking whether as a seller or buyer, you should inform the police.
What You Should Be Observing
To help police with their investigations, you should
Keep A Record Of Your Observations
. These should include the nature of your observations and the times and location of where they took place. Also try to provide the police with a description of the person or people involved, and their vehicles, preferably with number plate information too, if possible.
If You're Worried About Being Identified
If you are concerned that you will be identified as a result of you 'shopping' a suspected drug dealer to the police, don't be. The police will guarantee that any information which is supplied to them is treated with the
Strictest Confidentiality
. If, however, you're still concerned, by using a public payphone or writing into the police anonymously, you will still be able to assist the police with their investigations which they will appreciate.
Drugs and drug dealing have the potential to ravage a neighbourhood and can, left unchecked, turn what may once have been a prosperous and peaceful neighbourhood into one which becomes riddled by crime and anti-social behaviour. Therefore, it is important that you act as soon as possible if you've a strong suspicion that drug offences are taking place within your neighbourhood, as failure to act quickly will often mean that the problems associated with drug offences will only escalate and further disrupt and damage your local community.
Still Not Sure?
If you're still not sure if you should get the police involved and how to contact them read our feature about
When to Get The Police Involved.
You might also like...
Eu04 rzt vaulhall blue van. Drug driver nearly killed dog walker. Drug dealer drives erratic. Possibly armed. Name Marcus. 13.Dunham close bedford.
Pedro
- 2-Nov-23 @ 2:02 PM
I live in Lancashire, ive lived in my council ground floorflat nearly 3 years now, my neighbour who lives not far from me is doing drugs she as a child she as called me and had a go at me, if i hit her i would get done, while she can get away with doing drugs, i have to put up with it, or move out, or hit her, if i hit her i will get done while she can get away with it, i was under mental health put they have just walked away ive got other illnesses put the council or the police just dont give a F.... S as long it never happens to them. , i should have carer's in to help me put nobody want's to no becausenobody gives a S.... T anymore, all the do gooders think, people who take drugs need help, they don't need help, they got the selfs on drugs, they can get the own self of drugs im disgusted how the council in Lancashire and the police just turn a blind eye to whats going on. Lancashire is full of drugs and user's, disgusting
My girl
- 8-Oct-23 @ 9:39 PM
I have issues with my neighbour. I thought after she had her baby, and had various attacks on "our" communal building that her; "visitors" would stop coming in and that she would stop using her flat as a; "walk-in" business. After 3 solid years of reporting license plates, giving descriptions of very frequent (and even late night) visitors, the smell of weed, the 6 month old baby enduring drunk men coming in and out the flat; you'd think that this would stop. The police do nothing. They have zero power. The council (who are our landlords) cannot act until the police act; (Which will never happen) the council cannot evict the young lady until she is; "convicted" - so I am living opposite a nightmare. My other neighbours in the block are tight-lipped and refuse to get involved. So I'm the only one complaining and I just look like a moaning neighbour. The young lady has verbally abused me many times and has told me to; "get anf….. life." This young lady is a serious problem. But she must be seen as some; "special case" or something as she is bulletproof. Nobody will cross her and tell her what she is doing is wrong. I have tried everything you can think of. She is UNTOUCHABLE.
NR
- 29-Sep-23 @ 10:05 PM
I have issues with my neighbour. I thought after she had her baby, and had various attacks on "our" communal building that her; "visitors" would stop coming in and that she would stop using her flat as a; "walk-in" business. After 3 solid years of reporting license plates, giving descriptions of very frequent (and even late night) visitors, the smell of weed, the 6 month old baby enduring drunk men coming in and out the flat; you'd think that this would stop. The police do nothing. They have zero power. The council (who are our landlords) cannot act until the police act; (Which will never happen) the council cannot evict the young lady until she is; "convicted" - so I am living opposite a nightmare. My other neighbours in the block are tight-lipped and refuse to get involved. So I'm the only one complaining and I just look like a moaning neighbour. The young lady has verbally abused me many times and has told me to; "get anf….. life." This young lady is a serious problem. But she must be seen as some; "special case" or something as she is bulletproof. Nobody will cross her and tell her what she is doing is wrong. I have tried everything you can think of. She is UNTOUCHABLE.
NR
- 29-Sep-23 @ 10:04 PM
We have had neighbours move in a few months ago now and the heavy use of them using canibus especially last night 22 August 2023 has caused health issues with my wife of 61 & son of 25. The windows have to be closed causing further health issues. Reporting the heavy use of drug parties to the local police has had no effect, together with giving vehicle details of certain drug driving issues. We have loved on Milton Keynes since 1991 at our address in Walnut Tree and never before had this problem, drug parties quite often carry on all night. It seems that police are not interested with this heavy drug use problem.Pp
Lukeskywalker
- 23-Aug-23 @ 2:49 AM
Almost 3 years ago, the mother moved in with my direct neighbour. Since then we experience stress and terror every day. She incites her son against us. They incite our neighbours against us. He threatens us if we just put our noses in our yard. Both smoke drugs 24/7 and spray extremely perfume. The garden hasn't been usable since she moved in. I can neither open the window for ventilation nor does my dog like to enter the garden. Our daughter suffers from insomnia. The said neighbou threatened us three times, wanted to jump over the fence and aggressively knocked on our door. We just kindly asked that he drive his van away in front of our entrance. His children run across our front yard and ride their bikes across the lawn. They insult our child and dog, both of which no longer enter the garden. I get malicious sayings thrown at my head in the garden. He threatens my husband with a beating if he touches the garden. The situation is now so tense that even the police were involved. However, they are not interested in the terror against us. The only thing they advise us is a door camera. However, the fact that this is 3 years of constant stress and that we are at the end of our nerves is of no interest to anyone here. The landlord was involved several times and we experience pure cynicism here too. That would only be a neighbourhood dispute. The said neighbour already had an eviction lawsuit, which we kindly dropped again. Yes, we were honestly gullible. The area is a new development. It took us a lot of effort to move into a new house and now we are trying to escape from hell. Our health is ruined. Financially we are ruined. An end to terror is not in sight. Our street has been the subject of many police actions in the last two years after the houses were released. Drugs class 1 and B, cultivation of drugs, weapons, sexual assault, theft, fraud ect. All in front of small children. Triggered by a couple of crime families. A few families have already moved away. I just want out of this nightmare.
Charly
- 28-Jul-23 @ 12:33 PM
I live above these neighbours and they intake in certain activities involving drugs(crack) they are always quite all day then when it's time to sleep they suddenly wake up and think it's okay to play music all night and bang around like crazy , the smell of burning metal is disgusting , they have a child to and he runs around the flat block at night unsupervised,
My neighbours smoke weed every day all day,passing around bongs to my other neighbours.. my house smells horrendous, I can't have my windows open and in this weather it's bad, I can't sit outside because of the smell, as I'm writing this the music is boom boom boom, I love music I'm not a prude just turn it down at 3, 4 am.
I haven't got 1
- 24-Jun-23 @ 8:46 PM
16 year old with mates about same age. Signs of class A dealing by him. Frequently in and out late at night. Use of bicycle taken out for short duration. A ruck sack seems to be being passed around between a few of them. Been going on for at least a year but ramped up recently with frequent visitors to the house which he shares with his mother and brother. I think they are users to. Recently amount of strange callers has increased just for short duration. Slang words for class A drugs are being used out. Being harassed by the family already. Probably trying to intimidate me into not reporting them. Have reported several times to police and other authorities. Nothing is being done and I am not being taken seriously.Most likely linked to county lines supplies
Mmmmm
- 10-Jun-23 @ 7:32 PM
I passively smoking my neighbours weed it's making me ill I to scared to get the police involved but I think someone has been targeting me for a while know I just trying to live my life
Fred
- 22-May-23 @ 10:19 PM
There is a young drug dealer going round North Somerset selling skunkweed, heroin, cocaine, mdma, crack and more. He mostly operates in Backwell, Cleeve, Claverham, Portishead, Pill and Clevedon. He is covered in tattoos down to the fingers on both arms and drives a red Skoda Monte Carlo edition Fabia estate on a 68 plate. Rumours around North Somerset are that he owns several cannabis grows.
Uncle Mickey
- 4-May-23 @ 5:35 PM
I'm writing this in order to gain some perspective as I am at my whits' end. I live in a 3 story that was turned into 3 Apts. I reside in the middle. Basically, I'm the cream in the middle of a METH OREO. People above me smoke it whilst living in a place that's had no power for over a year is filled with trash and they haven't had jobs or paid rent in almost 3 yrs and they get visitations from the males child every weekend ( the childs birth giver honks the horn every Friday to dump her in that hell hole and then honks again Sunday night to pick her up. As if not entering the apartment absolves her of the knowledge that its not a safe space for a child. Now onto the People below me, unfortunately I am related to these ass hats who after almost a decade of sobriety decided it was a great idea to start shooting up again.Now this place has 2 adults without jobs, living off disability, food stamps, and for the last 2 years ME. Ithought I was helping with bills and then I find out they haven't paid rent in over 2 years and still keep asking me for money, oh.and did I mention the almost 300lb 14yr old daughter that they have pulled our of school to allegedly homeschool. Homeschool= playing GTA and smoking weed and cigarettes all day while enjoying a balanced diet from the convenience store. I need to move and can't afford it.Why are there so many resources and housing options for people who made the conscious decision to put a needle of dope in their veins but for me and those inside my 4 walls, I get to go to work everyday on 3 hrs or less of sleep (methican Americans are far from quiet and considerate) I have to pay my bills and be a productive person. Local law enforcement and dhhs are a joke. They literally do nothing. I have photos of vehicle and license plates and the drama and stress just continues. Ineed to get away from this place as the stress is going to kill me. Where are the resources to help my household move. Oh, and did I mention that our landlord isn't an option as he actually believes that the 150lb weightloss and blackened stumps for teeth are from having cancer, and he doesn't even pressure them for rent. But let me get behind, and he is up my backside harassing me and threatening eviction. OK, sorry so long, but I needed to get this off my chest. my questions are as follows.. How do you get DCYF to investigate UNANNOUNCED AND ON THE WEEKEND? WHY CANT LAW ENFORCEMENT FORCE SOMEONE WHO IS USING IN THE PRESENCE OF THEIR CHILD BE DRUG TESTED? WHY WON'T THEY DRUG TEST A MINOR WHO IS CLEARLY SO OBESE SHES GETTING WINDED PUTTING ON HER SHOES?ARE THERE ANY RESOURCES TO HELP ME GET MY HOUSEHOLD AWAY FROM THIS NIGHTMARE? AND LAST QUESTION... IS IT HORRIBLE THAT I KEEP HOPING, BOTH ABOVE AND BELOW ME, THAT THEY GET A BAD BATCH AND OD? AGAIN sorry so long and thanks for reading.
EnoughISenough
- 30-Apr-23 @ 1:39 AM
Hello, My neighbour is taking hardcore drugs and I have a baby, we've reported to police and local authorities nothing is being done. Nothing has ever happened about this. Does anyone know if that mg neighbours smoking crack and heroin can travel through their floorboards down to me??? Only because I have a baby I'm worried about
Maryhuk
- 14-Apr-23 @ 10:56 PM
|I have drug using neighbours in my housing block. complained to H O, with no anvil. All they did they gave me diary sheets. This has been going on for years and nothing has been done. they smoke weed in their flats andin the stairwells and corridors, they do hard drugs too, the smell is awful, these druggies have connections with county lines gangs. Also told the police but they don't do nothing. we have vandalism and endless intimidation from these groups. I live in a rundown housing estate in the UK and NOTHING HAS BEEN DONE!!!
Lady R
- 1-Feb-23 @ 4:25 PM
Drug dealing witnessed @ 10 Pondwicks amersham Ongoing today Drugs in home
Looper
- 1-Oct-22 @ 6:28 PM
I live in Malakoff Texas off 10th Street couple houses down from a known drug dealer they just moved to travel trailers in down there and there's cars in and out all hours of the night they got Ducks running around everywhere I smell septic tanks I don't know what's going on down there I just know I moved here a year ago and everything was straight and now it's like traffic is every day it's like more and more there's more cars every single day and I just don't know what to do anymore I can't even let my kids go outside and play cuz I'm worried about what crazy guy is going to come flying down the road or which one's going to be towed off on that s*** I just worry about my kids and and I bet the neighbors around us are worried too I just wish there was something that we could do to stop this
dd
- 10-Sep-22 @ 10:54 AM
My neighbour sells weed. I know this because he offered it to me too. He has people arriving every day, they go into his house and 1-2 minutes later they come out again. The entire street stinks of it since he moved here. We called the police, they said they would not investigate.
Floyd
- 8-Sep-22 @ 1:52 PM
Ditto ditto ditto ( especially the message with the dogs!!...I feel for you as I'm going through it too) Local drug dealer ( Mr& Mrs) has now involved his crackhead friends to harass intimidate and threaten me. Mr & Mrs drug dealer are denying they have put their "friends"( m&f) up to doing this and are masquerading as a ' decent couple." Obviously the stners have no intelligence at all in their denials, because their friends have only been giving me trouble since a row I had with them over my dog barking.. sick of it. What must happen before the police take action?( I've asked them...have I gotta be lying dead on the floor/ your evidence/ before you do anything?)
Tesd
- 12-Jul-22 @ 12:30 AM
Is he/she getting visitors all hours off the night. The visitors. Do they all look like the unusual types. Looking Lacking malnutrition, lost of teeth, scabby spots, very ghoulish? Lot of them with teeth. Are they twitchy, always moving about. Showing disgusting habits like have they put their finger in their noses and licked that finger afterwards. (often addicted cocaine users do this) Has the person you suspected doing drugs purchased a bicycle recently and using it to go out all hours of the day or night and only being out for like 10-15 minutes at a time anything about 8-20+ times a day. They may use the bicycle to pickup or delivery drugs and bicycle is not only a great method for them to get around, but it's also used as a good getaway vehicle from the police, especially if they are local and know the footpath areas where cars can't go through. Have you noticed an appearance in your neighbor, loss of weight and fatigue, they might be using as well as dealing. My suggest is, have two logs. 1 logs for his/her for amount of times going and coming, mark it down if they are walking or using their vehicle (etc. car, motorcycle, bicycle...etc) and the other for the kind of people coming and going to the property, describe what they look like when they arrived, when they left. Note it's always good to get a cctv and go through the footage every day on x10.5 speed, slower if it's a regularity. After all you don't want to spend all day looking at footage that has nothing to do with what's going on. If you do get a cctv to record everything, make sure it has a time stamp on it or you know some way of exact time the activity happens, keep all the logs where suspicious activity has been going on, you don't really need cctv footage of their outgoing and incoming unless they are using their "Mobile/cell PHONE" and the reason for this, if you have to show the police and they've done a police raid. One of the things they do is go through their phone logs and if you got a recording of them waiting for a drug supplier/buyer/dealer or going out to deliver drugs. BANG you may of caught evidence of a possible drug activity that can help to be used against them. Police don't always have to use your footage for court, which means the criminal doesn't have to see the footage but it's more to help them to build a case against them, if they see something happening, they can refer to another evidence to use against them but they can ask your permission to use your footage in court in which the criminal will see the footage but it's up to you. Chances are if your lucky, they will raid his/her property within 4-6 months. More if they still haven't got enough evidence. Make sure you let as many authorities that deal with this issue knows to ensure the issue is raised and the right people know about it. Ideally, the council, crimestoppers anonymous, a police officer. If you still haven't got any results, put everything you
bangers&mash
- 10-Jun-22 @ 3:43 PM
I have for the past four years been the victim of hate crimes from my next door neighbour and her whole family.This we found was because when we moved in my two dogs were made very aware of someone constantly in a wooden wendy house in there garden at night. We have since found out after having to install cctv that the Wendy house thing is because of cocaine use which is why the hate crimes started so we would move.I have cctv with audio yet the police do nothing, I have given the dealers name and car reg, make model etc they do nothing, he meets the dealer in the street and is so cocky about it. They have managed to even make the police believe that because I have to take very strong pain killers with morphine on top that I am crazy. I maybe riddled with pain but one thing I'm not is crazy and certainly not stupid yet I was told to keep gathering evidence and believe me I now have plenty.I am however starting to believe that the reason the police will not do anything is because the new sergeant who started just over a year ago came to see me and he lied to my face so I had strong words with him and ever since I've been made to feel like the nasty thugs my neighbours are.You can't trust the police because they actually did tell my neighbour I mentioned about him and drugs which the police later told me this was the new approach to policing. Absolutely shocking and sad when innocent people are made to feel like the criminals.
Bonny
- 26-Sep-21 @ 2:05 AM
@Tina: I would not call the police out on false pretences, as this would just make things a lot worse for the rest of us that really do have an issue with people stinking out our properties with illegal drugs. If your issue is still ongoing, you need to record the abuse. That is a hate crime, so you don't need any other excuse to call the police. But you do need evidence, otherwise the people doing it will deny it. Hope this helps.
Blue
- 14-Jun-21 @ 2:19 PM
I have this issue too. Smell of drugs coming into my property on a daily, and/or nightly basis. Life has been brought to a complete standstill because of this. Police do nothing, and housing association did the absolute minimum. Have taken this further, and will update on here, if I have any success. I think we need to start a campaign. Police are treating the victims as the perpetrators. This needs to STOP!
Blue
- 14-Jun-21 @ 1:52 PM
Yes it's amazing the local corrupt cops haven't arrested me as two years ago a sergeant threatened me with harassment of the begging alcoholic drug dealing drug addict. Now my health has crashed and the police and the landlord are adamant they have evidence of illegal drugs and that the tenant is as pure as the driven snow. I have every reason to believe because I have been told by someone who works for the housing association that she is a police informer and under police protection. Only this year did a housing officer give the truth away by asking me " but how do you know that? It's data protection". Well there you go I have asthma. Breathing difficulties. And now a cough but I don't smoke. And usually that con and her chums are smoking in the early hours.
Truth
- 10-May-21 @ 12:48 PM
I live in Liskeard Cornwall this is the 6th year iv been subjected to torturing LFN and vibrations due to suspected drug manufacturing and dealers next door to me a generator is also used in the proccess I cant believe the authorities have allowed this hell to carry on for so long,it's like they cant be bothered to act on information and complaints ..there is zero justice in this country for the victims of these vile selfish criminals activities...
Redwhale
- 29-Apr-21 @ 9:07 PM
Do not bother reporting you will get accused of harassment and receive threats of arrest for waisting police time. From 2017 reported smells of cannabis within in fathers home had visits from police and threatened with arrest for waisting police time. Neighbours sister came round in January 2019 and made a threat that her father or husband was going to assault me through my father. Had further visits from police then on July 30th 2019 was walking up street after finishing work was assaulted by neighbours father rang police when got home told police changed name by deed poll in 4th August 2019 police officers from area team came again threatening to arrest for waisting police time. Made a complaint to professional standards did not here any thing regarding assault was asked to go to police Station on the 28th August 2019 for a voluntary interview attended and felt police did not believe me. Sometime in September 2019 police officer who was investigating the assault came to my home address said issuing me an adult community resolution order for assault for 12 months and stated neighbours father put a counter claim for assault when father and uncle present stated if I did not sign the order would arrest me for affray and may end up going to police station for second voluntary interview when looking at order got my name wrong and issued it in my previous name. Made another complaint to professional standards and they apologised for this. Neighbour made a malicious complaint and stated that she was frightened and harrased and wanted me thrown out of the house called my father's landlord and police tried getting me evicted. Police came and was asking for letting agents details unofficially visited letting agent and tried making me homeless. In March 2020 neighbour was doing house up out side when lock down just came in was removing paint from house and made mess in garden father went outside and asked neighbour to clean mess out of our garden neighbours boyfriend refused and stated you tried getting my child took off me. Made further reports to smells of cannabis in home. On the 23 of April 2020 police officers once again came to home address when I was at work demanded that me and father went to police station on the 29 of April 2020 father refused and was once again threatened of arrest if we did not attend when in interviews made a load of false allegations and did not here anything after that. Was still getting smells of cannabis in home in May 2020 same police officers who was harassing me and father came to our home address tried issuing harassment warnings claiming were harassing neighbour with camera. Other police officer sent email to letting agent issuing me and father harresment warning claiming harrased neighbour and whole street tried getting me and father evicted when letting agent contacted police officer. Did not here nothing after making another complaint to professional standards and Iopc
Hello. I have problem with my neightbour. When we move in is nice and quiet place. After month we know they start somke canbis on the garden with no problem when they kids play on it. After that i gind out her son is a drag diler. I give all video when I record him to police oficer in my town and after 2 month notjing change he still go on car parks and sell drugs. Someone have any idea what can I do?? I think to sell my hoise....
Kotson90
- 12-Apr-21 @ 4:44 PM
We have a neighbour who openly deals drugs, the cars pull up outside his house, he goes out and you can hear what they say. He isnt bothered at all. Police dont seem to give a crap either. We want to sell our house but cant because of him. He smokes it himself and used to have kids in his house too. How we ever ended up living next to that I have no idea, and its us that have to move!!! Welcome to 21st century Britain
Stubzy
- 31-Mar-21 @ 4:28 PM
I just got a new neighbor who doesn't work but has purchased expensive furniture. Everytime they smoke weed it stinks up my apartment through the vents and causes headaches for me. They smoke weed and drink alcohol with children in the house. The landlord won't do anything as long as she pays her rent. She has a purple porch light that stays on unless she leaves. Sick of it
Skeet
- 23-Mar-21 @ 10:40 AM
We have a no subletting on our lease.Yet when the downstairs neighbor moved out, she sublet to her family members,who seem to be processing some kind of drugs in the place. I've complained to management about it....so far, they've done nothing.The fumes are causing to lose sleep and making us feel sick. We are elderly disabled.I've even reported this to the police....They came out once, but problem continues.
Tee
- 14-Mar-21 @ 3:29 AM
5 Allandale View Lincoln. There are cars and people going round constantly. Lee and Molly are the dealers names. Keep intimidating and invading the privacy ofother neighbours by gathering up and looking into windows and gardens. Clear and obvious signs of drug dealing and usage going on there.
Dellboy
- 28-Jan-21 @ 4:15 PM