Problems With Drains: Who is Responsible for What?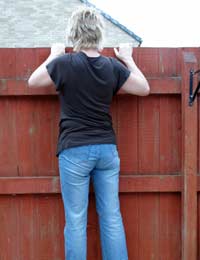 You might have a good relationship with your neighbours, but neighbourhood relationships can often be sorely tested by life's little problems. One thing that causes many a neighbourhood disagreement is who is responsible for drainage – an issue that you probably don't even think about until the worst happens and the drains become blocked.
Who is Responsible For a Blocked Drain?
The responsibility for dealing with a blocked drain will depend on the place in the sewer or drain that's actually blocked. The first thing you'll need to do is establish whether the blockage is on a public sewer or a private drain.
Public or Private?
The pipe that exits your house is called a drain. When a drain from your property joins with a drain from another property, it becomes a sewer. Sewers can be public or private, and the responsibility for unblocking them if a blockage occurs all depends on whether the sewer is public or private. Typically, it's not always easy to determine, so you might have to make some enquiries.
A public sewer is a sewer that's been taken on by a sewerage undertaker, usually the local water authority. Once a sewer has been adopted by a water authority, the maintenance and cleaning, plus dealing with any blockages, is their responsibility. The local water authority (or sewerage undertaker) should have plans of all the sewers they are responsible for.
Private Drains
If yours is the only property using a pipe, it's a 'private drain', which means that if it gets blocked, you are solely responsible for dealing with the blockage, and you'll have to pay for it to be cleared by a private contractor.
Private Sewers
If your property and those of your neighbours all share the same pipe, it's a 'private sewer'. If a private sewer gets a blockage, every household that uses it should share the cost of having the blockage cleared. If there's a dispute over who's responsible and it's causing a problem, contact your local Environmental Health Officers (EHOs).
They have the power to serve a notice on everybody using a private sewer, ordering them to have it cleared within 48 hours. If an agreement still hasn't been reached and the sewer is still blocked, the EHO will make arrangements for a private contractor to clear the sewer and will bill everyone involved – this is called 'works in default'.
What to Do if your Drain or Sewer is Blocked
If you're not sure which type of sewer or drain is affected, contact your local EHO. They can come to the property and find out what the problem is, and where, and give you advice on what to do next. They will also be able to tell you whether it's just your responsibility to clear the blockage, or whether your neighbours need to contribute.
If you know that the blockage is in your private section of drain, rather than in the sewer, you need lift the inspection chamber, if possible, and check whether there's any backed up sewage. It's also a good idea to check with the neighbours and see if they have been affected at all, even if the blockage is definitely in your pipe.
If you own the property, you'll need to call out a specialist drain clearance company if you can't unblock the drain yourself. If you rent your property, it's the landlord's responsibility so call them first if you're a private tenant. If the landlord or letting agent is unhelpful, call the EHO and they should be able to deal with them on your behalf.
What if My Neighbours Refuse to Pay Up?
If you've established that the blockage is in the shared sewer part of the pipes and you are all responsible, you should share the cost of having the blockage removed. Unfortunately, some people may refuse to pay or deny responsibility. The first option, if negotiating with the neighbour concerned has reached an impasse, is to contact the EHO. They have experience of this type of problem and may be able to help you reach an agreement.
If there really is no way forward and the work hasn't been done, let alone paid for, EHO can issue a notice on everyone concerned – but bear in mind that this will push the costs up, as they don't do it for nothing and will add an administration fee.
You might also like...
Hi. I live in an end terrace house with a shared down pipe with next door. The down pipe runs on my drive so I had to have a soak away installed and aco drains which run to the soak away. My neighbour is having a large full width of house canopy built and wants to run the water of the canopy into my aco drains to my soak away because he has no drainage at the front of his house installed I'm not happy with this as my drive is on a slant to my house and it takes in a fair amount of water for a soak away and adding extra water will become an issue as it floods and then the water sits at the bottom of my house wall which will potentially cause damp
Ben
- 2-Nov-23 @ 12:28 AM
Hi i have a drain which goes under a wall into next door. The next door are tenants, the drains became blocked as i am a plumber of 73 years old i dug the drains up to find that a clay pipe was broken & collapsed in next door. I proceeded to clear. I had already had a camera down so that conclusion was correct. I put in a itemized bill into the Estate as we live out in a village & most property's are owned by them. Theestate say as it has not effected there tenant why should they pay. They have paid £350 towards the bill but they have 2 property's on that drain. They say i should have waited 4 days so that 1 of there labourers could have dug out the drain so i could renew it. We have 4 adults in our house so we could not wait i was washing down human feces down with a hose pipe. Could you please tell me where i stand in this matter. Many A J Evans
togger
- 29-Jun-23 @ 9:28 AM
Hey myNeighbor cameto my house to tell methe sewer line is Plug to his house his waterrunning slowandHehave to Dig in my house becausehis piperunningundermyProperty but my water go rightdownand neighbortoo we don't have no problemwith sewer line for 27 years
Hi, an underground soil pipe crossing my garden, which is not connected to my property, regularlybecomes blocked with wet wipes, cotton wool and raw sewage. Lifting the manhole cover of an inspection chamber on this run reveals the cause of this blockage. The blockage can be cleared at this junction. Four old terraced Properties are connected in series to this system and the blockage backs up to affect them all. Once again the soil pipes and inspection chamber are in my garden But are in no way connected to my property. Ami correct in assuming I am not Legally liable for any costs to rectify this problem? Thank you.
John
- 27-Feb-23 @ 2:26 AM
So next doors drain in the back garden is leaking, I have had my water supplier out and they have checked their drains and they are all fine, so it is next doors private drain that is leaking. They are not replying to my messages and when asking for information they are also not providing this. It is leaking into and through my foundations. What are my next steps that I can take
Swiftlozza
- 24-Oct-22 @ 12:52 PM
Hi my house is a mid townhouse with a fall pipe, my neighbours fall pipe goes into mine. I have had Yorkshire water round, there is no drain, so that is why every time it rains my garden floods. I have spoken to landlord next door and he won't help with anything. What do I do, any advice greatly appreciated Thank you
Soaked
- 14-Sep-22 @ 6:41 PM
Hi, I've lived in my Victorian terraced house for 23 years it has sheared access between my house & next door. I've just had new neighbours move in who has watched a few too many DIY programs, anyway they are looking to put an ensuite shower room in the front bedroom but that would mean running the soil pipe down the wall of the sheared access. Are they aloud to do plumbing work for their house through the sheared access without asking us or even informing us of their intentions. Please can you help me? Thank you
Fed up!
- 14-Aug-22 @ 10:12 PM
Next doorhad issue with blocked drain. There connection was in my grassed backyard. Backyard now is damaged. Can I get compensation
John
- 29-Aug-21 @ 8:02 AM
Just bought a townhouse a month ago. Got a sewer backup yesterday. Management sent a sewer company which determined that this is a constant problem with the Two houses adjacent. Not a sewage problem. The plumberjust worked on our home in the winter with the previous owners and there was no clogged pipes. The toilets are back to back in the basement of each townhouse. The sewer company has worked 7 times in the house we bought. Today will be an 8th time. And 3 times in the next doors house. Who do we go after to correct the problem and pay the cost
Ang
- 23-Jul-21 @ 6:22 PM
Just bought a townhouse a month ago. Got a sewer backup yesterday. Management sent a sewer company which determined that this is a constant problem with the Two houses adjacent. Not a sewage problem. The plumberjust worked on our home in the winter with the previous owners and there was no clogged pipes. The toilets are back to back in the basement of each townhouse. The sewer company has worked 7 times in the house we bought. Today will be an 8th time. And 3 times in the next doors house. Who do we go after to correct the problem and pay the cost of the sewer work that will be done today??Please advise. Thank you Ang
Ang
- 23-Jul-21 @ 4:14 PM
I have a flat in a block mine is on the ground floor and it got blocked over the weekend. Contacted the management company I was told it is my responsibility as my flat is the only one that was blocked. The report from the engineer said he had to unlblock the drains that run under the flat. It is a leasehold. Just want to know am I responsible for the drainage of my flat?
Tambu
- 21-Jul-21 @ 8:42 AM
We have a Harron home which is 5 years old, one of the drains which is shared, keeps getting filled up with bricks debris, and mud, and keeps blocking, Yorkshire Water have attended on several occasions, and cleared it out of good will, they have now said the can no longer respond, as the shared drain is not yet adopted, and that Harron Homes are responsible, we have contacted Harron Homes, who have said that they only cover the drains for 3 months after build. We have called in an expert, and had cctv in the drains, and one of the outlets have not been capped off, causing all tye debris to fall in. We are really concerned, and don't know what to do, please help.
Many
- 6-Jul-21 @ 7:43 PM
Hello .. My neighbours single sewage pipe is perched on my private boundary attached to my wall. Both homes are privately owned and he is refusing to remove it. I have my own separate single sewage pipe and they are no way connected. His sewage brackets have caused wear and tear to my brick work. He isn't co-operating as he said his single sewage pipe has always been there. I've only had the property for 3 years and it is rented and I can't afford to lose my current tenants who are very nice and understanding. I've spoken to United Utilities and I was fobbed off two say that it's a private matter but if he was to block his sewage who is responsible of the cost? i have also spoken to the local council who have said to refer back to the local council. I feel like it's going in circles with no answers and I don't want to go down the legal route until I know the facts?? Can someone help with some solid advice please?
Lakh
- 24-Jun-21 @ 1:12 PM
I live in a society where six row houses are attached to each other. Society is not formed. I have face problem from last 2 years regarding Drainage line and chember. There are two chembers in my premises and always blocked after 2-3 months frequently. Drain water is stored for 8 to 9 days in my premises. Neighbors not cooperate. This causes due to my one neighbor hide chembers in his premises of common line, separated his drainage line. As he is of short tempered , other neighbors not give attention in this matter. How can I make them all cooperate?
Ashu
- 11-May-21 @ 11:03 AM
I have a driveway that slopes which has 2 shared drains on. They are both 7ft deep and have concrete surrounds that are around 4ft in diameter. The problem is that the ground around these have subsided and made my drive dangerous, we have had someone trip on this and twist thier ankle as a result of this already. The previous owners had a 10 year warranty on the house and had it repaired under this multiple times. This warranty has now expired. I have had 2 engineers come out and say they are a seven trnt asset and that thier company is responsible for fixing the poor construction of these drains. Seven trent keep sending to thier waste department who then say its not thier responsibility and then referring me back to seven trent corporate. This has happened 3 times now. They are saying the drains have no faults on (which they don't) so it's not thier problem but the drains should have a foundation around them to support the land around them. I am loosing my teather and don't know what to do next. Any advice? The drain is thier asset but it has caused damage to my property due to its poorly constructed foundations.
Chris
- 19-Apr-21 @ 2:51 PM
We live in a block of 4 maisonettes. All are privately owned and are leasehold. Two flats, one above the other, have an ongoing problem with a joint sewer. The water company comes and clears it pronto but one chap said that as the one pipe has subsided, the owners should replace it. Problem: do all 4 naisonettes pay for this? What about the freeholders of the property?
Typhoonlulu
- 4-Mar-21 @ 12:41 PM
Hi we recently had a new extension to our house. The builder got a digger in to dig the footings but had to dig out the manhole to resite it further down the garden, he took out the pipe and stuffed the remainder with a bag so the concrete didn't fill it up then somehow forgot about it until it was time to rejoin it. Now he cannot rejoin it because he cannot find it and there is now concrete footings and a house on top. He approached the neighbour who's driveway goes over the junction of our sewerage with his sewerage and then runs down his drive, but the neighbour is refusing to let him dig the 1 metre of his drive up to reconnect the sewer pipewith our new sewer pipe. What can we do as at the moment our waste water is just running into a hole in the garden.
Debbie
- 2-Mar-21 @ 9:03 PM
Please confirm If I'm in the right not to let the water sewage company cut few trees at the back of my garden so they can enter woth some machine to unblock the drain, leaving my back garden exposed to the main street and devaluing my house, putting my security at risk and no privacy and main reason to buy this house was a secure private garden and they want to cut a chunk that's ridiculous, I will not feel safe in my house, anyone can enter! I also have a feeling my neightbours blocking it on purpose, we share a pipe recently they started harrasing us and twice in one Wem blocked the pipe...
HilaryMathews79
- 21-Feb-21 @ 1:32 PM
We live in a bugalow weare not on mains sewage and have a ses pit in land next to us in front on our neighbours land is the drainage pipes and drainage for run off waterits only our drainage but our neigjbours have put a large rainwater harvester in and the run off which is huge volumes they have put in our drain which is causing back flow and our run off flooding out into garden is this allowed
our sewage pipe runds through a communal car par for our neighbours.We have been advised that the pipe is close to the surface and that if it is damaged in any way that it will be our responsibility.If the pipe is damaged by a falling tree, bin lorries driving over it, or retarring of the parking area above it, would this be our responsibility?
colleen
- 17-Dec-20 @ 4:39 PM
I live on a shared courtyard. RainWater runs down it through an archway passing over a grid which spans the archway. This has become blocked with dirt etc Who is responsible to clear it
I live in a courtyard of 4 homes...and 3 garages. Where the rain water runs down and threw an archway there is a drain full width of arch way and around 5inches in depth. It has become blocked with dirt and grime running into it. Who would be responsible to get it cleared out.
Your information about shared drainage is wrong. Since 2011, any part of drainage that is shared is the responsibility of the Water Authority, even if it is in private property, and none of you has to pay. My neighbours' drainage comes across my garden and joins mine before it goes down to the main sewer. They have blocked it three times recently by putting things down it no sane person would, resulting in their sewage across my terrace and path, and previously refused to even share payment for it being unblocked; I found out that it was Welsh Water's responsibility, phoned them, and they were absolutely brilliant - came straight round, unblocked it, cleaned up, established whose fault it was and that there is nothing wrong with the drain, and are sending the neighbours a letter about it. If they carry on doing it (previous pleas not to put ridiculous things down the toilet have been ignored), WW will continue to unblock it but have the power to prosecute. The relief of not having to find the money to pay drains people and not having to deal with these unpleasant neighbours myself is enormous. Please change this page so that people don't continue to pay and have stressful confrontations when they have no need.
Louise
- 4-Dec-20 @ 1:28 PM
My neighbor complains blockage. And he said it's from our house. Our water runs down as it should. They checked the man hole on our property, done pressure clean and it was quiet for a month or so. Now he complains again. What should I do?
AJ
- 12-Nov-20 @ 11:01 AM
My neighbour has concreted over our shared sewage inspection cover in order to stop me coming into his back garden (he told me himself because he can not come into our back garden!!). Is there anything we or Yorkshire water etc can do. Best regards Nigel and Paula.
nigel51
- 18-Oct-20 @ 2:23 PM
My upstairs neighbour has a redesigned bathroom her WC is located across the room from it's origiinal position. The soil pipe travels along a wall and then turns 90 degrees along another wall to reach the drain pipe. I think there must be three elbows used and I don't think there is much of a run. The drain pipe is shared between us and I have never had any trouble with the drains in thirty years. Three years ago when I was on holiday her WC was backing up and I came home to wet carpets etc. I had to suffer three weeks of water dripping through. Eventually she got the Dynorod people to clear the blockage in her soil pipe in her bathroom. She eventually had the join to our drain pipe lowered from the outside of the building to improve the run. Two weeks ago while I was watching TV I heard this terrible noise coming from my bathroom, I could hear my neighbour using her plunger and then I had this sewage backup flooding over my WC and all over my utensils and carpet etc. I phoned Dynorod right away and they came an hour later. The engineer agreed that this was all due to a blockage upstairs. I paid £180 plus an extra £30 tip for vacuuming up this disgusting mess. I also spent £40 replacing the carpet. The proprietor of the house refused to pay me saying they were not to blame. Can anyone advise me where to go from here both financially and making sure this will not happen again. Oh yes, I tried to claim from my Halifax insurance and got nowhere due to exess' for water ingress and they would not pay for Dynorod either.
Jim
- 29-Sep-20 @ 8:19 PM
Hi We live in end of terrace cottage , our external pipe connecting to sewer Keeps blocking every few months , already paid hundreds of £ to unblock it , we suspect there could be a fault/damage with pipework underground , another company is coming tomorrow to put camera down to hopefully establish what causing it. Sewer/water comes up in pipe on our side of the house but as far as I am aware it's all connected underground , couldn't this be joint responsibility? We are the ones that are getting angry knocks in the door but we are Not doing anything to block it . Thanks in advance
Hi, My flat is on the first floor at the rear of a block of flats. My neighbour's flat is on the first floor at the front. He thinks there was a previous leak from my bathroom water pipe which somehow damaged his bathroom. I don't see how it's possible for water from my flat to travel to his, especially as all the water pipes from my bathroom seem to exit to the rear of the building. Also his flat is at least 20 meters from mine. Any suggestions?
Our neighbours sewer connects to the main sewer via a pipe under my property, they are the sole user of a short sectionofpipe whic runs from their property to the manhole in our garden .This pipe is damaged under our house. I'm not sure if we are responsible for it asour service have no connection to this section. Any advice please
Some of the problems others have mentioned might be helped by checking the title deeds and those of the neighbour for any mention of the drain/sewer. Sometimes there are easements that allow you access to fix a problem or stop a neighbour interfering with a pipe, or require them to maintain it. Others might be helped by knowing that ownership of _shared_ sewers transferred to the water companies a few years ago so they might now be responsible for the pipe and have powers to get it fixed. Some house insurance policies include legal protection and if you have to go to court this may pay for it.
Colin
- 8-Aug-20 @ 4:20 PM