Anti-Social Behaviour & Children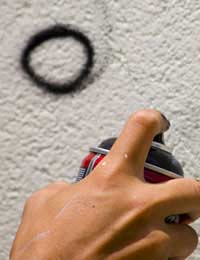 When children become involved in anti-social behaviour, it is often as a result of either bad parenting and/or they have simply 'got in' with the wrong crowd. Peer pressure can be extremely powerful when you're young and, even though children may well have been brought up to hold decent values and to understand the concept of respect, they can still get into trouble and so blame cannot always be laid on the parents.
Nevertheless, parents themselves have a duty to try to ensure that their child is not engaging in activities deemed to be anti-social in nature or committing Criminal Offences.
Common Problems
Anti-social behaviour by children can manifest itself in a variety of ways but some of the more common problems include:
Verbal abuse, harassment and threatening behaviour
Assault
Criminal damage to shops, cars and property
Throwing missiles
Joyriding
Vandalism and graffiti
Underage drinking or drug abuse
Measures to Tackle Anti-social Behaviour in Children
Although an individual member of the public cannot apply for the likes of an Anti-Social Behaviour Order (ASBO), the police, local authorities and registered landlords can, and there are also other legal measures which the relevant authorities can take. Here is a breakdown of what each course of action means.
Group Dispersal Orders
Police and local community support officers can break up a gathering of youths who might be harassing other members of the local community. They can be banned from revisiting a particular area for up to 24 hours and, if they fail to move on or return within that timescale, they can be issued with a fixed penalty notice.
In conjunction with the local authority, the police can also make certain areas out of bounds for specific groups of people by creating designated 'no-go zones'. Here, the police have the power to take home any unsupervised children seen in the zone after 9pm.
Acceptable Behaviour Contract (ABC)
This is a voluntary agreement which is drawn up between somebody who has been involved in anti-social behaviour and the local authority or police. In signing the contract, the offender has made a commitment not to continue with any further instances of such behaviour and, if they break this contract, they can then be served with an Anti-Social Behaviour Order.
Anti-Social Behaviour Order (ASBO)
This will usually be issued if either a child has broken an ABC or where their behaviour is causing alarm or distress to others. It prevents the offender from engaging in specific anti-social activities and/or going to certain area or associating with certain named people. An
ASBO
can be issued to a child as young as 10 and they can last for a minimum of 2 years. You can also be arrested if you break an ASBO.
Holding Parents To Account
Although some instances of a child's anti-social behaviour will be as a result of peer pressure, many problems arise due to bad parenting or neglect of children, yet there are measures which can be put in place to make parents more responsible and accountable for the behaviour of their children. These include:
Parenting contracts – which are voluntary agreements drawn up between the likes of schools or a local authority's youth offending team with parents of the child in question. They are for the likes of parents whose child has been playing truant or has been expelled from school and are aimed at improving the child's behaviour.
Parenting orders – these are issued by the court and can be used when a child has either been already convicted of a crime or when they have engaged in anti-social behaviour. They involve parents attending a course aimed at offering them guidance and advice for responsible parenting and making sure that their child goes to school, keeps away from places they are not permitted to go unsupervised, and/or for making sure that their child is at home by a particular time. They can be issued for up to a period of 12 months.
Penalty notices – schools, the police and local authorities can issue fines to the parents of a child who is playing truant. And if the parents fail to pay the fine, they can be prosecuted.
For the most part, tackling problems associated with children and anti-social behaviour is a joint effort where parents, schools, local authorities and the police all need to work together with children to educate them about moral values and respect, both for themselves and for others.
When that is achieved, anti-social behaviour by children inevitably tails off and, if it doesn't, then some of the measures above and further measures are in place to ensure that the behaviour of a child is not allowed to blight the whole community.
You might also like...
This informtion is very out of date now.
ASB Professional
- 25-Apr-22 @ 1:04 PM
Hello I live with one family in the same flat . Parents and 3 kids . They doing a lot of noise
Houbla
- 28-Jul-21 @ 11:19 AM
For about 3 weeks now I have had neighbourhood kids playing football at the back of our block of flats. they are loud, agreesive, use foul language and kick footballs at our windows. I do not know what to do. When one of them saw me looking out my window he disappeared and then his dad came banging on my window and called me a pervert. Any advice welcome
soso
- 17-Jul-21 @ 9:03 PM
We're in a semi detached house and every night liek clockwork our neighbours son has a meltdown. He screams, swears, bangs on the walls, it wakes my two children. We have spoken to the parents and they have told us he has ADHD amongst other things. They have tried getting help from social services but to no avail. We too have gone to the environmental health, kept a diary log which is daily, nights and early mornings. Also recorded him but again they haven't done anything. We feel exhausted as it's been going on for so long now and we can't seem to get any help. Has anyone else experienced this and if so how was it resolved. I did wonder if it's because he's a minor (teenager approx 13) with mental health issues that no one was doing anything. But we can't live like this, it's impacting on our lives too.
hi everyone i have lived with the problem of football outside my housefor years &years its dreadful thuding ball hitting the wall shouting; hits your property they comeon your property as if its there right police dont do anything nor the housing we should all send a letter to the government ('yes the government)make them take note what we all putting up with on a daily basis. playingof football on a public highway is an offence.its so stressful ruinins your life your home should be delight to come home to not a nighrmare .
gettogether
- 15-Jun-21 @ 8:06 PM
Hi I live in London on a estate but my masonettes connected with the flats like all connectedlike cul de sac situation .even through lockdown these kids out all day but they have a new game let's see how many windows they can break with footballs they all gather outside my house I hate going into the kitchen Thier mouths are disgusting we get had a go at for looking out our windows ..we have a little kid likes playing with lighters I get it kids have to play but it proves that no parent control grows little anti social monsters there language is awfulmy neighbour told me she never comes to supervise her kids yet they instigate most of the trouble both our security gates are broken where they run bikes into them ..electric and gas boxes are smashed because of the football games windows being broken. And I don't know what to do really I have kids but they go outof the area to Thier own Freinds bit like a break from the chaos I can't even have Thier Freinds over one of the kids threatens to punch her face in in the first week we moved in .
Demps
- 23-Apr-21 @ 7:57 PM
SHAW.. CROMPTON BOWLING CLUB ... GLEBE STREET.. DUCHESS STREET.... YOUTHS DRINKING ALCOHOL. USING DRUGS. DAMAGING THE BOWLING GREEN PLAY FOOTBALL. RIDING BIKES.. THEY ARE MAKING A MESS THE OLD PEOPLE HOW RUN THE BOWLING CAN NOT AFFORD TO REPAIR THE DAMAGE THEY ARE DOING IT SO SO SAD TO SEE THE POLICE NOT DOING ANYTHING AT ALL WHEN THEY ARE CONTACTED.. IS THIS HOW WE ALLOW THE YOUNGER GENERATION TO JUST DAMAGE ANYTHING THEY WANT TO...... THERE IS SO MUCH DAMAGE THAT AS BEEN DONE TO THE BOWING CLUB AND THE GREEN.. THAT THE PEOPLE AROUND THE CLUB ARE TIRED OF PHONING THE POLICE AND CAN NOT GET THROUGH AT ALL.. WHAT HAS THE COUNTRY BECOME.. PLEASE IF YOU SEE THESE YOUTHS CONTACT THE Police ... Before they do more Damage or we will be forced to close the club and the Bowling green...
BRISBANE
- 7-Feb-21 @ 2:50 PM
CROMPTON BOWLING CLUB ... KIDS DAMAGING THE BOWLING GREEN PLAY FOOTBALL. RIDING BIKES.. THEY ARE MAKING A MESS THE OLD PEOPLE HOW RUN THE BOWLING CAN NOT AFFORD TO REPAIR THE DAMAGE THEY ARE DOING IT SO SO SAD TO SEE THE POLICE NOT DOING ANYTHING AT ALL WHEN THEY ARE CONTACTED.. IS THIS HOW WE ALLOW THE YOUNGER GENERATION TO JUST DAMAGE ANYTHING THEY WANT TO...... THERE IS SO MUCH DAMAGE THAT AS BEEN DONE TO THE BOWING CLUB AND THE GREEN.. THAT THE PEOPLE AROUND THE CLUB ARE TIRED OF PHONING THE POLICE AND CAN NOT GET THROUGH AT ALL.. WHAT HAS THE COUNTRY BECOME..
BRISBANE
- 7-Feb-21 @ 2:41 PM
Hi Not sure what to do in this scenario, I live near to the school and from past 4 weeks I can see school kids randomly hitting/kicking our door both morning and afternoon times when they going home. I recently caught one of them but they blaming others and I have reported to the school via email and there is no response. Today I have visited the school and reported this issue to the care taker as I caught the guy who was doing but unable to take him with me. I point what is the best thing to do in this scenario and how too stop this, this is effecting my little one as he is just 2yrs and whenever he is in sleep the school kids make this issue by kicking the door. CAN I DO MYSELF ANYTHING TO STOP THIS? ARE THEY GOING TO BE ANY LEGAL ISSUES IF I PERSONALLY INVOLVE? Many Thanks
We own our home but the housing association has bought the house next door in our row of terraced houses, we've had many families live there and we've made many friends. We now have the children from Hell moved in and it's a nightmare, both parents are unapproachable and the two girls ( 7 and 5) are running up and down the stairs crashing and banging at midnight and 0100. We've tried to contact them through the Housing Assoc. who are totally useless and not interested.....We are struggling here I personally am in bad health and my wife is also not too good! Any ideas?
I have a funny one! What if it's an adult doing it?! We have a childless couple and one of them throws stones at our fence. Admittedly, they didn't like the fence, but the behaviour for an adult 'professional' just seems pretty far gone. They don't hide it either!! We put so much into why a child might do it but what about an adult?!
Justbenice
- 27-Aug-20 @ 9:37 AM
We have recently moved to a new property and 1 of the children next door has a disability (autism) This child is alway playing in the garden as kids do but the problem I have is he is always naked. My 16 year old daughter won't have friends round or sit downstairs in the living room as she is embarrassed by this child. The social work said it is not something they deal with unless the child is in danger. Help please
Barebum
- 16-Jul-20 @ 1:36 PM
My partner and I live in a rather undesirable part of London in a house that's been converted into flats. We are on the ground floor in a 1 bed, the flat upstairs is I believe is a 2 bed flat. We are both professionals the people upstairs don't appear to work. It's a 2 bed flat but seems to be many men living there, I've counted 7, how 7 grownups are living in a little flat is beyond me. There are also young children living there and they are the problem. The kids are allowed to run around and jump off furniture, well, that is what the random banging and thuds sound like on my ceiling. I love children but don't want to hear them in the evenings and at times late into the night. Recently, during the this lock down the noise has become unbearable! No one speaks English and so can't really communicate with them. It's got so my partner and I can't enjoy our evenings and weekends. Last night the constant banging and thuds screaming and shouting went on till past 2am! My nerves are frazzled I just want some quiet! The council say they don't deal with complaints about children's noise but I think it's excessive, it's like they are literally in the next room. Do we have no redress?? Has anyone ideas what we can do? I don't think it's fair to have to listen to all this noise.
LauraLou
- 14-Apr-20 @ 3:43 PM
Kids throwing stones from alley across road damage done police told don,t care told not to do anything what are we paying for. will take pics and leaflets my area to find there address and take parents to court
Hi I'm so so mad ?? I live in a four in a block but the neighbour below me I live on top of him has kids I know its not everyday I hear them but ffs everytime they are in his flat they are constantly noisy I live near a play park and he can't even take the kids to it to let them run about or doesn't let them outside either so when he has them they just run about his flat all day/night they jump about and kick walls/doors etc and he just lets them do whatever they want I've had enough I feel like I'm walking on eggshells living here cos it's just constant noise and anytime I'm noisy which is never he threatens me I've been to police on him but they can't do anything and I'm at my wits end. Why can he not keeps his kids under control? I know kids will be kids but who lets their kids run about all day and sometimes it 9 hours I have to listen to it please I would like some advice on what to do thanks
Kimmyxoxo
- 19-Jan-20 @ 1:28 PM
I need to tell people this. This disintegration of society, family, law and justice are all by design. Police are non-existent and are merely a private security firm controlled by the 1% so called elites. Look up New World Order and "Order Out Of Chaos" also look into "Deep State". The powers that be worship Satan and do his bidding (only they call him Lucifer). A huge part of the problem is the Freemasons. They are evil. Some people are low level and are kept in the dark but once you climb the degrees you find out that they worship Lucifer/Satan. You may balk or even laugh at loud and scoff at this but have you had any help so far? Do you feel powerless? Are the criminals being protected? Do you know what you need to realise? This is a spiritual battle. These children that you are all complaining about have demons inside them. If you do not have God's spirit within you are vulnerable to the demonic. Do the children, even the really young ones, sometimes seem evil? That's because they have an evil spirit inside them that tells them to do these things and the child then believes that the voices they listen to are their own thoughts. I'm not saying they are not responsible for what they do (as we all have a sin nature) but they give themselves over to worse sins than they on their own would be capable of. What you need to do is rebuke the children in the name of Jesus Christ. Command the children to go home in the name of Jesus Christ. You will be shocked at how effective this is! This will only work though if you believe in the power behind Jesus Christ name. Christians especially will have greater protection from these evil entities. Yes the children and parents are possessed by evil entities. Can't you see darkness rising in our culture? It coincides exactly with God being removed from our schools, our homes, our country and even our church. Seek Jesus Christ, repent and accept that He died for you, resurrected on the third day and is seated at the right hand of our Heavenly Father. Time is running out. We don't have much time left until the Great Tribulation from the book of Revelation. The violence and rottenness and lawlessness seen in the world today are signs of the "birth pangs" of the coming of the antichrist. Do not take the mark of the beast. Seek Jesus now while there is still time!
Follower of Christ
- 7-Aug-19 @ 10:27 AM
My neighbours older kids are throwing stones our and next door neighbours windows but our neighbour has a Heart condition and not supposed to get stressed out. The child is 11yrs old and really should know better but everytime you tell the mother she Verbally abuses us..the language is horrific and she doesn't care that the kids are standing right next to her... she doesn't really give a hoot. Have phoned the police but there is nothing they can do apparently and there was supposed to be a community police officer coming to speak to them and us but this happened about 2-3 weeks ago and still no visit. My main worry is if it continues and the lady next door has an attack that the kids have caused then What will the Authorities/police do then.(prob nothing again)
Sunny
- 4-Aug-19 @ 8:49 PM
@Jody I'm having the same issues.... kids and parents of the kids verballing abusing my kids and myself I've had cctv installed and the police are involved but the police are reluctant to put any kind of order on the parents due to the kids ages so in the mean time were still ducks to this verbal abuse so if you find anything out that the police will actually do please share!
Lea
- 26-Jul-19 @ 11:13 AM
What powers do I have to stop kids from threatening violence & property damage & harassing me? They play chicken in the road on their bikes & scooters. Their parents do nothing as they don"t parent & don"t care as they are just as unpleasant. I'm afraid that I will get to the point where I do something stupid but what else can I do? Any advice welcomed as I"m sick of it all.
Jody
- 13-Jun-19 @ 7:10 AM
My new downstairs neighbour (3 flats in a converted Victorian house) moved in at 1am in the morning with her screaming children. I had to be up at 5am the next day so was amazed at her arrival time but also when I stated to her the noise and the time she shrugged her shoulders as if she was doing nothing wrong.This, I soon realised, was only the start of things to come.Roll on 3 weeks later and my life is now dominated by a screaming toddler who is allowed to be up at all hours and scream the morning, day and evening away. Sometimes I get the double whammy with him stamping on the laminate flooring and also screaming.I've tried to talk to her about it but again there's nothing. More then this she's taken to playing loud music from 0845. She's a council tenant & doesn't work whereas myself and the other leaseholder work and we are at our wits end. We know children make noise but she seems to let him scream to his hearts content & doesn't even want to discuss it with us. I feel helpless about this.
Cat
- 10-Feb-19 @ 9:49 AM
I finally moved to a beautiful house in a nice area, with perfectly behaved neighbours. They have become backyard breeders now though. They never have any contact with the dogs, apart from feeding them, although they are on the thin side. Because the dogs are hungry, they bark and fight constantly, and are very aggressive. I have a dog and she is petrified of them. They throw themselves at the fence and even chew pieces out of it, they are constantly snarling. We started to smell Cannabis wafting through the wall, and when I complained, it stopped. We are elderly and disabled, and we had trouble getting the water pressure up high enough to take a shower. This has gone on for a long time. We have shared water pipes and for some reason, they had been running water all the time. The new neighbour the other side complained and now the water pressure is fine. We usually get up late, but this morning I got up at 8am, just in time to see him and her walking into the kennels holding a white carrier bag, followed by several people.They locked the doors and were in there for an age. The dogs were in the yard at the time. Should I report it?
Rachel
- 8-Aug-18 @ 10:11 AM
I am an expert on anti-social behaviour. I lived next door to an appalling family for years, I watched the two boys(I also had 2 boys) from birth to 16. It was clear that they were going to be a problem. Their parents treated them with indifference, not allowing them in the house and keeping any food under lock and key. I had a weak husband, so I had to deal with it, he said he didn't want them to damage his car. They did anything and everything to disturb me. If their parents went out, they would break in and put the music on full blast. When they got older and were allowed in, they would watch me every second of the day, from their rear bedroom window. I used to love gardening, but as soon as I went outside, the music would go on full blast. We had a downstairs bathroom, and I had to walk through the kitchen to get to the toilet. They would throw things at the bathroom window and shout obscentites. I never had peace. Of course they played football, outside my house, regularly breaking windows. They would round up latchkey kids in the evening to cause a nuisance for us, and they gave kids as young as 5 cannabis. They were raided a few times for drugs and after the eldest had been kicked out, the youngest, aged 16 would gather as many kids as he could to annoy us. The end came when one night I said loudly, what's a 16 year old doing with young kids? His mother ran out and fetched him in, and he never played outside again, lol
Rachel
- 8-Aug-18 @ 9:51 AM
I've got nuisance neighbough think his peado his got camera on my little girl when I open her roller blind in morning his in his back garden staring up at her window his causing my little girl to be very depressed when she's on trampoline his watching her his sick in the head I've been to police I even called him peado I got pulled in by the police there's just no justice these days reported cameras on my property facing her trampoline then when police go to his door he moves cameras
Reggaeguy
- 9-Jul-18 @ 9:28 PM
i am really sorry to hear the problems you are having,please dont give up.made notes of what is taking place and each it happen call the police and report the problems.each time ask the police for a crime number,just keep on calling everytime and made sure they record it and give you the number, and you may get some results. good luck
belly must
- 25-Apr-18 @ 6:08 PM
my heart gose out to every one, not very nice not to be able to enjoy your home.i have problems with kids damaging my car with football and rugby ball and the father dont care.the problem is some of those kids i dont think is more than between 6 to 8 years old,the street they play on is a main street,car have to keep slowing down not to run them over but no one look as if they care.i reported this to the police time and time again, at one time i was told when the car get damage they will come out. i have been on to the housing association,and each time i call them i can see a result.. so please dont give up,made notes of what is happening and the time and dates and keep reporting the problems. good luck
melly must
- 25-Apr-18 @ 5:54 PM
We own our home in a street which is currently being terrorised by children under 10. The adults who clearly know the kids (know these neighbours have children but do not know who each child belongs to) turn a blind eye to everything and have even stood outside their homes and watched the children cause a nuisance to other neighbours and laugh. They are constantly kicking our door every night, throwing verbal abuse and swearing when we or other childless couples pass them and at one point kicked a football at my stomach after they found out I was pregnant. We can't shout at them because they bring a bigger group and start kicking the door everytime they pass. They also harrass other neighbours in our street and the street over but so far nothings ever been done about them. I'm a nervous wreck coming home, I'm staying out later to avoid them but I can't do it every night. I don't know what to do since we don't know who their parents are or where to go, I just sit and cry until they go to bed around 9pm
Carollynn
- 8-Jan-18 @ 4:48 PM
I'm at my wits end with the kids around here! They are constantly throwing things at the windows this happens at least 6 times a day! My neighbor has just had his window smashed! The only thing i can do is tell them off! But as you would expect they just throw lots of abuse at me! They beat my son up on a-couple of occasions. And that's just the start of it. They don't even live on this estate. They live in council houses a-round the corner! I just don't no what to do?!? I can't harm them as they are minors and I'll be the one in trouble! It's like I've just got to sit back and take the abuse! Need help!!
Craig86
- 30-Nov-17 @ 6:55 PM
Hi, wonder if anyone out there can give me advise - its a own house, kids around 15 years old have been consistently throw large slate stones at my windows.(got a broken window last week) They came friday, saturday, thurdsday and a week after on firday. The heavy rain and wind these past few days has stopped then coming. I feel target by these kid form the area, scared and frightened and times. I feel its all related to this boy 1 back in early March throwing stones at our street and had cctv installed.Boy 1 was name on this Octember and have police given warning not taken to court because I did not what further trouble.Boy 1 must have talk to his friends/gang and now I have kids consistently throwing stone at my house, same boys but with different people at times.Polices have came and can't idenfield them. I had shock window alarm put on window, admit a loud sound when hit. Not stop them coming back. I don't know what to do anymore- friends told me to ignore them, let them throw and they will go away. I'm a sitting duck no matter what. last resort sell and move out!
scared
- 22-Oct-17 @ 10:42 AM
Hi I can sympathise with most things our estate isn't as bad as some yet we have the dreaded 'football' issue, last night I was relaxg in front of tv when heard the familiar faint thuds of the football hittg the front of my living room, (am in a bungalow), the thuds got louder and after 20mins stopped but needless to say I struggled to relax. Saw two policemen today and I've had advice not to approach the youths, just ring 101 and they'll try to come over. Our council don't do anythg but sadly, this time of year is my least favourite because of that football. I wish I could move my bungalow and live in a field. If anyone has same trouble KEEP phoning as it does help...sort of!
Unhappy
- 3-Jul-17 @ 5:09 PM
We have a group of kids in our area who are running riot. This has been going on for 2years. They have assaulted my son many times been cautioned and charged parents spoken to. They have also attacked my car. Thrown stones at windows shout abuse vulgar things harass myself my son and my parents. Police have been involved for 2years we keep getting told it's difficult to stop this because of there ages which range from 8-12. My son can't go out and we can't walk the streets is there anything else we can do to stop this.
Jackie
- 30-Mar-17 @ 10:38 AM