Problems With the Neighbours at Christmas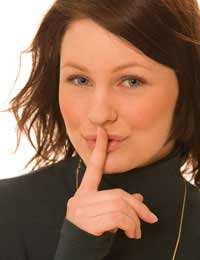 It's the season of festivity and goodwill, but there are some situations that can severely test your patience over Christmas and New Year, and living close to nuisance neighbours can be a nightmare before, during and after Christmas! The most likely cause of friction between neighbours at this time of the year is noise, parties and socialising.
While it's fun to have a party, and of course there's nothing stopping you from enjoying the get-togethers with your neighbours, if you don't have anything in common with the neighbours that seem intent on holding noisy parties, it can feel as if your own Christmas spirit is being sorely depleted.
Dealing With a Neighbour's Partying
Dealing With Noisy Neighbours
can be tricky. If you're on the receiving end of rowdy parties, you have every right to complain, but think about the context first. If it's a one-off, annoying as it is, it could be in everyone's best interests to grit your teeth, unless the noise is really unbearable and there are no signs of people leaving.
Your first course of action if it's all too much is a polite request to the offending neighbours to turn the music down. There's no need to make a big issue of it, just explain that you would really appreciate it if they'd reduce the volume as you have children/need to get up for work or just need sleep.
If the problem is repeated, and the noise is unbearable, you could Contact Your Local Environmental Health Team. But this solution is only really an option for repeated bad behaviour, and it's unlikely that the police or environmental health would get involved for an isolated incident at Christmas or New Year.
Operation 'Silent Night'
A crackdown on unruly residents by Glasgow police and Housing Association resulted in 'known offenders' being warned off having noisy parties in the run-up to Christmas and Hogmanay 2010.
Dozen homes were targeted in the city, as part of the operation codenamed Silent Night. The task force used information gathered over a number of weeks, leading them to search homes for drugs, and also warn rowdy residents about their behaviour. Repeat offenders were told that they could be arrested, face losing their homes, or be issued with on-the spot fines if the warnings were ignored.
Having a Christmas or Party Yourself?
If you're thinking of throwing your very own Christmas or New Year house party, avoid stirring up any tensions by holding the event at a time and place that's not likely to cause too much of a disturbance. For example, hold the festivities indoors (not much of a problem at this time of the year of course) and try to keep the noise levels down as the night progresses. Don't be over adventurous on the number of guests – too many people in a small home can cause nuisance as they will inevitably spill out into the garden and create more noise.
Give the neighbours some advance notice that you're having a party, and maybe you could even consider inviting them along? Even if they decline, the very fact that you've warned them and involved them in the party by inviting them can take the wind out of their sails when it comes to complaining later – especially if you are considerate about it. However, the fact that you invited them doesn't automatically give you the right to be as noisy and unruly as you like.
Music is one of the key things that people dislike about other neighbours' parties, so be considerate when it comes to your choice of party tunes. Keep the volume down, especially later in the night when neighbours might be trying to sleep. Remember that the insulation in a house does not match the standard of a pub or a club, and there's no excuse for deafening the neighbours with loud rap, rock or dance music trying to recreate a night out. If loud music is essential to your evening, it would be best for you to hire a club and not annoy neighbours!
Make sure that you keep the windows and doors closed as much as possible to keep the noise contained, and encourage people not to keep going outside in the garden and make a noise, as that's also likely to irritate the neighbours.
You might also like...
If you don't like living in houses, try a caravan. Isaac.
Isaac Lee
- 26-Nov-20 @ 4:32 PM
.....all the time I keep seeing contact your housing environmental health dept., for problems similar to mine....but what good are they if they keep saying nothing can be done about barking dogs and slamming doors shut. Apparently a dog has to be barking constantly for 3 to 5 hours, for a complaint to be taken seriously...a few barks from this dog next door, I'm awake then can't get back to sleep.Slamming shut doors is just general living apparently..and again once I'm awake I can't get back to sleep. The whole issue has changed me from the happy go lucky listening to my music person I was, to a recluse wearing earplugs 24/7 and just existing.there is no way I'd slam my doors shut, knowingly disturbing people, and I definitely wouldn't have a barking dog either.Anyone got any suggestions...the council ARE NOT INTERESTED, nor the police, and now feel like they are thinking I'm just some old mentally disturbed woman.
Jasmine
- 17-Feb-19 @ 6:42 PM
This has helped me know the law on cctv and what to do in certain situations. Although it won't necessarily help me any more as I am moving I can let my neighbours who are having problems about this information.
pinki
- 16-May-16 @ 7:54 AM