What to do if You're a Victim of a Neighbour's Violence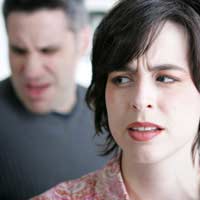 Most disputes between neighbours can usually be resolved between each other and, even if things might have got a bit heated, there will, more often than not, be a solution or compromise which can be agreed to by both parties once the dust has settled.
Disputes Between Neighbours are commonplace, and the police will not normally get involved unless a crime has been committed or a situation has escalated to the point where a crime is likely to occur.
On rare occasions, however, tempers can become frayed to such an extent that one neighbour may lose their self control and become violent, which could result in a physical assault. In very extreme circumstances, an attack can occur 'out of the blue' and can be apparently unprovoked.
What You Should Do if You Are Physically Attacked by a Neighbour
If you find yourself in a position where you are being attacked by a neighbour, your immediate thoughts should be of making as much noise as possible to alert other neighbours close by who might be able to come to your assistance. Defending yourself to avoid serious injury is also a priority, and it will very much be a judgement call on your part as to whether fighting back is the right thing to do. However, the most important aspect you need to concern yourself with is getting to safety and away from the attacker.
Calling The Police
Once any assault is over, call the police. Obviously, in doing this, you need to ensure that you're satisfied that you want to
Get The Police Involved
. If the violence was relatively minor, or you've reason to believe there were mitigating circumstances for the violent assault – your neighbour being drunk, for example – you may decide to leave the police out of the situation for the time being and wait until things have settled down sufficiently enough for you to go and discuss the situation with your neighbour in a calmer, more rational manner.
That said, you should also bear in mind that an assault is a crime, no matter what the circumstances are, so you should never feel the slightest bit of guilt in calling the police if you have been the victim of a neighbour's violence if that's the decision you choose to make.
Seek Treatment If Needed
If the violence necessitates you needing hospital treatment, go to the hospital straight away or have someone take you there. If you decide to press charges later, the more evidence that an assault has taken place in terms of medical records and, perhaps, photographic evidence of the nature of your injuries, the better it will be for you. If you don't need to seek treatment but still wish to press charges, you'll need to call the police anyway, who may also wish to take any photographs which might help in securing a conviction later.
Getting Counselling
Some people can be so shocked and traumatised as a result of being physically attacked and, especially by someone whom they know and who lives close by, that they may need counselling later. Therefore, once you've physically recovered from any attack, this is something you might wish to consider.
Being attacked by a neighbour is, thankfully, quite rare, but it does happen from time to time. It's therefore important to understand that, for the most part, these kind of physical assaults are often preventable if you think about how to approach any disputes or disagreements you might become engaged with in the first place.
Neighbour-on-neighbour violence is more often provoked by both sides becoming very heated about a situation to the point where neither side is willing to compromise or to walk away when a dispute threatens to get out of hand. Therefore, it's always better to try to calmly and rationally discuss any differences and to try to reach a compromise before tempers flare, or to walk away and to say that you'll come back and discuss things another time when both of you can have a civilised discussion.
You might also like...
I am a victim of punishment for no reason. Police do nothing when a crime is reported. I am being surveillance 24/7. With no criminal record and no health issues to be subjected to pain, suffering and being used without my consent, when it comes to the Nuremberg Code, forced to inhale toxic substances which are not A Class drugs, being pumped into my mums flat. As a carer it's very danagerous whilst looking after mum. My phone calls are sometimes cut and I have to radial, stalked and victimised. There has been false misleading statements made up against me, plus I was kidnapped, its shocking. I made a complaint and received reprisal in another form, which resulted to assaults. We need to protect our human rights. And to clear my name if their illegal databaseçk I call out for someone, the navy if possible, this who is not scared, to help us. Thank you
Ain't dieversity grand? Our country isn't our country, let alone our neighborhoods.
DrO
- 10-Jul-21 @ 10:49 PM
It's called discrimination cause anyone else is assualted or threatened the person gets arrested for it but cause hes got hate issues &mental health hes allowed to get away with it & nothing is said to him, police didnt even visit him he is not I'll but I am with multiple illnesses including copd&resp. & many other health issues, I am a very high risk cev under medical grounds who should be safeguarded but it dosnt look like I am I feel discriminated & unsafe living here incase he attacks me again as hes always threatening to kill me but it seems as if hes allowed to do this cause he has mental health problems, but I will not ask for nomore help & if he attacks me I am going to defend myself. All I want is to live my life I have left without all this trouble it's making my health worsen I dont want this neighbour in my life I dont know what hes like or does but I dont care as long as he stays out of my life & away from me.
Evelyn
- 8-Jul-21 @ 8:13 AM
My mom bought an 1acre of land the neigbor built a fence 30 feet into my mom property and i asked if he can take it down i gave him 30 days to take the fence down and he didnt so i decided to take the fence down with my budied the neighbor came out shoting at us with a shot gun
Jacks
- 17-Apr-21 @ 1:54 AM
My manor is my brother, he started this 5 years ago the rumors about me being lesbian, a prostitute, I sleep with anyone and will sell my self for what ever kind of dope. He has made falus police calls in two different county's called in on alot of people for doing drugs and used my name . He lays to my mom sisters and brothers about me and we went as far as saying I should do the world a favor and hang my self . This morning he almost got his wish. I tryed letting the housings know but of course nothing, I called the police station they said they were going tevect me. My mom and family don't help me or him. I was talking to a man that my brother alvin was or maybe still is seeing . Alvin was or still is , sleeping with Tina demery belgrade , Tina married tommy and he has passed on and is sleeping with her cousin and my brother alvin she is also a victim in his appt. He bitten her ear almost off and was beating her now he quit but she still suffers with the mental abouse. She had all the proof on her cell phone to prove he is jay . Alvin demery I don't care what he is that's his business but 5 years ago he made it mine . Can I get help from someone out there. I've been in fear of my life. Expecally the last 4 years. Eather he takes it,or has someone do it orhe actually got again what he wonted, me to do the world a favor and hang my self.
Babygirl
- 10-Apr-21 @ 11:10 PM
I have lived in my neighborhood for 52 years, on and off, as it is the house I grew up in. All of my life I have had cats, as they have been a big part of my life always.In both my private and professionalal life, as I went to school and got my license in the veterinary field becoming a registered veterinary technician, in which I spent twenty years working in the field in high stress areas until shortly after my daughter was born, where I managed to stay home with her.At that time we had about five cats. Well through the years we stayed at about three to five cats until the time my my mother fell ill and my daughter and I moved back into the family home.Just prior to moving home, I was given a female kitten from a friend for my birthday and a male kitten from my daughter.Both of them un neutered.Well with the circumstances with my mom and the reality we were back at home living on a fairly large piece of land, my daughter began to breed research cats. We were not just backyard breeders, S these cats were ell taken care of and loved greatly. In truth never reaching over twenty.And to Ny of the surrounding neighbors, you would never of known there were twenty as the property was big and there most times were only about five seeable attime. Except at night we Except at night where the cats would come out from the woodwork, and I would take a good chunk of them out for a walk. Being there was no traffic in the area and it was she, they would follow until, I decided it was time to turn back around and head home.which they would then do the same.It is these cats which made up the elders of the cat colony. Today the eldest of the cats being at eight is nine years. Well as it turned out while my mother was ill the eldest cat, the father of the whole of them disappeared. Thinking he had run off like some of the others I just did my best to understand the reasoning or possibility as to what could have run him off so as not to have it occur another time. Because it was odd, S the cats all liked each other and got along well. At night or even in the daytime it was not uncommon for them to all come into the room in the garage and sleep on the bed which was in there. They at times would go into the house, however. Ost of them were outside and inside garage cats.It was sometime after, I found it to be that I had one neighbor who had been king the cats and another neighbor who had been taking the cats for his own personal self. As I discovered a few of them which he kept in his house never letting them out.Well when I discovered them, I did not know if I could do anything though in reality they had been my loved cats. So I kept quiet. Then my mo. Passed away. ND THE CATS BEGAN DISSAPPEARING . IN TBE OAST TWO MONTHS THE REMAINING FOUR OF MY EDEST MALES , CATS I HAD HAD FOR SIX, SEVEN, AND EIGHT YEARS DISAPPEARED. WELL HAVING SEEN ONE OF THEM IN THE WINDOW OF A NEIGHBOR I ASKED FOR IT BACK, BEING TD IT WAS NOT THEM WHO TOOK IT OR WHO HAD
Me and my eight month old Australian Cattle Dog were walking out one night and noticed that our lights didn't work one of them broke in another dismembered in the other motion LED just been some how long tampered with so there's no lights on the outside and one thing led to the next I was asking the police officer's wife next to her about looking at the surveillance so you said yes as the other neighbor across the street she said she didn't have surveillance so the downstairs neighbor of my apartment place literally ran and attacked me in my little puppy in our truck as I was already hurt by my ex-fiance I did call 911 they made a joke of it all the neighbors lied and nothing is ever been done so I have lived in fear alone with my little puppy ever since people Come in when we leave like I'm scared day in and day out for my little puppy dog she's a nice little dog and she is being lied about I'm being lied about knowing believe I'm being set up set up set up cuz that's what the downstairs neighbor to sing so now I'm sitting in my driveway with my little puppy almost in tears as to what to do there's a water leak in my car and I'm scared to call my landlord no protection 911 or protection still to go tell the neighbor about anyting somebody's been tampering with stuff all day everyday around here and I'm scared to death and doing nothing wrong because all these people or Horde and lying and I don't know what to do But I don't want to attack again I don't want lied about and I don't want Set up I am talk texting a few to again the disability on my right side along with my left side my ex got my right side the neighbor got the left side and I have not been right since I have contacted I'm at my wit's end but I know that I don't know what to do right is right and wrong is wrong and I don't have a problem coming then but my ex does and my downstairs neighbors got her window open waiting for me to leave and I don't have one person but in my area is got my back man they even live with to talk to the cops 10 years please help me in this cute puppies
Jjpb
- 1-Feb-21 @ 4:37 PM
My neighbor will not stay on their side of the property line. I and my son have warned them. It is causing a big problem. What should I do?
I have a neighbor that is off his mental medication and he has been assaulting different people in the complex i never did anything to this guy but he always trying to harm me i call police and went to the office manager about this problem what other step should i take
Lois
- 11-Jan-21 @ 7:42 PM
I have a neighbor that literally assaulted me and I did call the police and they did absolutely nothing and now it is to the point that she every time am I getting my truck stands at her door lets her dog out causes in my puppy to to act out I am literally on the right side and been assaulted by my ex she's assaulted me in my truck while holding the door open and swinging at me after running she's claiming to be disabled but obviously she's not if she can do that also do and I'll believe that when I leave my apartment she goes in my apartment when I leave my puppy at home I believe that she poisons my dog and I need serious help in the police will not help what do I do? Also I believe that she's lying to our landlord my mail has been being stolen since I moved in here along with my health is diminished she stood outside while I was taking apart an air conditioner this summer and glared at me the whole time now she's saying out loud off report that I'm just lazy and don't want to work it's due to assault is what my problem is please help I hope this all came out right eyes I'm talk to texting
I was at my mother's house on my way out of her apartment her neighbor attack me will I still be able to go over to my mother's house or what apartment be able to kick me out but she hit me first
Bre
- 2-Dec-20 @ 12:38 AM
My neighbor came in tomy house last evening I woke up to a man snoring in my living room. I woke him up asked him what he was doing in my living room he was very drunk and he beat me up real bad when the cat scratches my tennis swollen and I'm just very scared I put padlocks on the inside of my doors so he can't get in but I don't want to be locked in my home and live in fear from a man that I've never even been with he's just being drunk neighbor and his girlfriend's been trying to get rid of him for a long time he won't go away. but I never did nothing to provoke this beating nobody deserves to be beat like he beat me. He was trying to kill me I felt. He said he was going to break my neck can I talk to him down and then he got his boots on and can then he came back at me and I ran in my room and locked the door . Then he left I went to find the phone that he had thrown out in the snow and I called my boyfriend and he wanted to go out after him and I said no please no so I can he came back and now he's at home I'm locked in my house and I don't know what to do I have to let dogs out to go potty I'm not scared because I know I can't get in but I think he needs paid for this but not by abuse he needs a mental health for wanting to hurt a human being like he did me. No woman should be like he did me I have never been beat up in my whole life and I'm 59 years old what do I do
Nanny
- 19-Nov-20 @ 5:58 AM
We have been assulted by neighbor they have had two friendsof our cars towed they have pushed me and my mom and other tenants around bullied us went to the police and managementand they did nothing now it has esqulated to forcibly coming into our home and assulting my partner who has never said any thing to them they did it a second time and 911was on the phone when it happened the police come and want to know why a fifty year olddidn't fight back and after they threatened us said now it's on for calling them still nothing and now they ganged up and four people attacked him and all his ribs on left side fracture orbroke black eye concussion and his body bruisedevery where and the police call it a fourth degree assult and never talked or even said a word to them so we are not safe and can't even get a restraining orderdo to no one will give us there namesso now can anyone help me
Scared
- 3-Nov-20 @ 3:08 AM
My nextdoor neighbor has bullied and harassed me on many occasion. The final time was sucker punching me out on the front stoop out of nowhere. I fell to the ground and suffered an acute concussion,broken collar bone, and broken ribs. I got a restraining order on her...but can Icharge her to add to her record? Is there a time restriction to do this?
Susie
- 25-Sep-20 @ 4:22 PM
I was physically attacked and threatened with a weapon By my neighbor but police did nothing in San Francisco. I now understand why people are against police. Wow! I guess unless your dead is when police will have reason for protecting the citizens of this state or country they call USA.
Brown people matter
- 20-Sep-20 @ 5:53 PM
Was stabbed by my neibourson my forehead and eyebrow so I opened a case one was arrested then released then two ranway but sometimes they show up ...then when I call the police whenever I see them they dont come so I fear for my life. Need an advice as to what to do because im not getting help
Mamiki
- 15-Sep-20 @ 1:01 PM
After 3 years of verbally abuses from my neighbor who thinks he owns my driveway( he doesn't and i have the proof, I have 30 acres)on the first of April he attacked me with a metal pipe On my own driveway, hit me in the head, and hit my mail friend who came to help me with it to. Was taken to hospital and had 5 stitches behind my ear the police took him away and had him home 3 hours later and i have had no luck getting information about the incident since and his still out and about saying thing's like, see i can do whatever i like and get away with it, what do i do im so scared to even go down to check the mail and if i go to town I have been going through the property behind mine so I don't have to go past his place I got this place to get away from a 20 year abusive marriage please can some one help I have trubbel doing this sort of thing now with my head I get headaches and can't concentrate to well I don't know what to do
Roo
- 7-Sep-20 @ 10:13 PM
It is clear that calling the police is a useless endeavor. I, personally, am trying to find a way to sue them But so far unsuccessful. No lawyer will touch it and they say it is a civil matter. I am on my own, reading legal texts that I dont understand really, but trying to get through anyway. I am so alone and very frightened.
Cheri
- 2-Sep-20 @ 1:12 AM
I have been harrassed for two years by two individual neighbours one attacked me abusively and the other set fires outside my door and stalked me and abusive comments to my family I think stand up for no bullying no more I have warned them with a letter that I will report to police but no change. Investigation been done on arson attacks.
Kate
- 19-Aug-20 @ 5:16 PM
Wish I could help.The Euclidpolice department won't help me with the constant verbal and physical assaults from people living on 1853 Braeburn Park DriveEuclid.He's in the Reserves police said they won't do anything
Maureen
- 10-Aug-20 @ 8:01 PM
Please anyone know a lawyer who helps in neighbor physical assault these situations? Police won't help.. He is in the military.
Maureen
- 10-Aug-20 @ 7:53 PM
I live in a duplex house. My neighbors party all night; every night; and they have had the police called on them mostly by me; but other neighbors too. It's has made the neighbors become real bad people by using some device: I think electronic; to assault me. It makes my ears ring, bad headaches, and dizziness. I can't explain, but the feeling in my head feels very bad; like something physical is occurring. I do not have anybody to help me, and the neighbors are clever to call the police and state I am doing what they are doing. I am a us army vet, and my neighbors are gov check drawing people who don't work. I have the only go home for necessities, then leave; because they have networked with another to monitor my coming and going. Please help me
Anti-terrorist
- 20-Jul-20 @ 10:57 AM
Prob'ly two years my neighbor has been banging the dents out of the front of his car fenders over and over again spray painting over and over again Sanding over and over again and fightingtoo loud music during the day/night the banging all the noise of the car he was sanding in his parking spot and my house is the carport and it makes so much noise I finallyparked my car in front of his car that doesn't andeliminated his opportunity to harassment noise he has since moved my car into the street sliced myTire shattered my windshield in my other car what do I do
ibdmomme
- 10-Jul-20 @ 9:41 PM
My neighbour attacked us (it's been going on for a while, she's been throwing racist and very demeaning comments and foul language). She has been arrested but threatened us she will attack again when she's released. What can i do to ensure my safety and my family's?
Sara
- 4-Jul-20 @ 12:40 AM
My neighbour upstairs from me has threatened to brick my windows and burn me and my dogs alive basically murder me what can I do
Kylie1986
- 3-Jul-20 @ 4:13 AM
Myself and son wife were assaulted by neighbor because his dogs got in my garden. Dogs attack me and wife. Neighborkick garden gate in on my property went straight to me and started attacking me, son intverned, neighbor hit him, then went to hit wife.i suffered injuries to my mouth, face, legs and serious issues to chest from the attack. Went A&E. Police rang...came out ten mins later, did nothing and went away. All was on CCTV, police now told me no charges to neighbor......we live in fear of the next attack...
Out to get um
- 14-Jun-20 @ 12:47 PM
Was assaulted by drunk old man neighbour yesterday hitting me a backhanded armswipe across my shoulder and face - which did not hurt but is completely unacceptable. I called police . The WPC was supportive and helpful and said it was assault and he would be arrested if I chose to pursue it further. The old man is in poor health . I'm thinking about it. This is relatively minor compared to other comments / experiences on this site. However another previous neighbour attempted to kill me and there was a witness police attended didn't look at the evidence or question the witness they turn out to have been responding not to my emergancy call but exclusively to the killers cover up call they believed a load of garbage the killer told them and did nothing. I fled for my life.
Hero
- 9-Jun-20 @ 5:06 PM
my neighbour has been harassing me for the last 16 months verbally last month he physically assaulted me to which the police did nothing he then put an AVP0 out against me and then verbally abused me a week later After having put the AVPO in place what kind of person is this a psycho possible schizophrenic bipolar affective disorder What on earth can I do to stop him This guy is a complete freak at 32 booyun st brunswick heads nsw 2483
mos
- 24-May-20 @ 11:10 AM
Our street neighbours who's selling drugs.is been fighting with my family.and this has been an ongoing thing.the drug seller and his wife with his daughter beat up my aunt who's a chronic patient.they best up her son,daughter and my lil sister. The drug seller and his wife went opening a case against my fam. Wich my family also dd. The drug seller than hired a hit man.to destroy my family.wich he dd with my child's father.they got someone to kill him......so this cases that was open was withdrawn as they matter was resolved by the police..then today the police came again after the matter was resolved. They came to lock up my aunts daughter who was fighting with drug seller's daughter...she said that this case was made because she saw the video of the fight and she feels embarrassed after she also fought with my cousin..so she reopened the case. ...so the police is not helping us cause they working with the drug seller...pls help...this guy is threatening US.he said he will get the gun man to kill us all....pls help
Antonita
- 15-May-20 @ 8:49 AM
After my husband was assaulted by our car his arm was bleeding I took him to the nurse next morningshe attended to it.Police said it a neighbourly dispute it wasn't neighbours friend pushed him trying to get into the car. The neighbours friend could have let my husband get in first it was intentionalafter with his mental health hemessed the bed himself fr over a month I got a doctors letterit's rediculous he has schizophrenia diabetes anxiety depression 1 leg
None
- 12-May-20 @ 11:48 PM