Problem Dogs: the Law and Who to Contact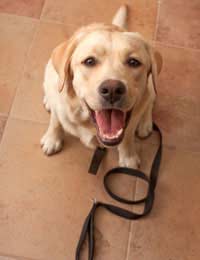 "My neighbour's dog keeps breaking through the fence and attacking my dog"
"My neighbour's dog regularly poos outside my gate and she refuses to clean it up"
"A neighbour has an aggressive dog that he uses to intimidate all the local residents"
Unfortunately these and similar complaints are all too common. The first step is always to try to politely speak to your neighbour, explain the problem and how it affects you, and try to agree a way forward. But what can you do if your neighbour is not prepared to make changes and resolve the issue between you?
Who Can Help with Dog-related Disputes?
Your Local Authority and Policing team may be able to assist with dog-related disputes and dog-related anti-social behaviour issues. Here are some of the measures that can be implemented:
Acceptable Behaviour Contracts
Community Protection Notices
Dog Control Orders
Civil injunction or Criminal behaviour orders
The Anti-Social Behaviour, Crime and Policing Act 2014
This act gave the police various powers to try to tackle these sorts of problems at an early stage. The stated purpose of the Act is:
'to encourage responsible dog ownership and reduce other incidents involving dogs such as straying and the use of dogs for intimidation, through early engagement and education, and overall to prevent problems becoming more serious and thus reduce the number of dog bites.'
The Act extends the remit of the Dangerous Dogs Act 1991 to make it an offence for a dog to be dangerously out of control anywhere, including in the owner's home. It also specifies that an attack on an assistance dog (such as a guide dog) is an aggravated offence due to the impact on the more vulnerable owner.
The Act created two ways for Local Authorities and Community Police to try to tackle more minor dog-related incidents before the problem becomes more severe:
Acceptable Behaviour Contracts
The aim of these contracts, (often called "ABCs") is early prevention of issues and re-education; they provide an opportunity for Local Authorities and / or the police to engage with a dog owner and give them advice on animal care and training. They can also discuss the impact of the offender's actions on those around them.
These agreed behaviour contracts are not legally binding and breach of an "ABC" is not an offence. However breach of a contract may be used as evidence by the police when prosecuting an individual under statutory offences (discussed below).
Community Protection Notices
These notices are used for lower level incidents involving dogs, such as failure to control an animal (where no one has been physically hurt) or where an animal is causing a nuisance to other people or animals. Only organisations or those over 16 years can be given a Community Protection Notice.
The test for applying a Community Protection Notice is as follows:
Is the animal's behaviour having a detrimental effect on the quality of life of those in the local area?
Is the behaviour persistent and continuing in nature?
Is the behaviour unreasonable?
A Community Protection Notice can specifically prohibit or require a dog owner to carry out certain actions. (For example, a prohibition to walk their dog near a local school around school start and finish times.) Owners must be given a reasonable amount of time to comply with the notice. What is a reasonable period of time will depend upon the requirement or restriction; 10 minutes may be reasonable to put a lead on a dog, whereas 7 days would be a more reasonable period of time for a fence to be fixed.
If a Community Protection Notice is not complied with, an individual may face a £100 fixed penalty, or for more serious breaches, be prosecuted (breaching a notice being a criminal offence) and potentially fined £2,500. For organisations, the potential fine upon conviction is £20,000.
Common Prohibitions:
Entering certain areas (eg playgrounds)
Not exercising at certain times
Certain people to not have control of the dog (eg small children)
Common Requirements
Keep on a lead / muzzling in certain areas
Neutering the dog
Fixing fences to prevent dogs escaping from a property
Installing a letter cage to protect postal workers
Properly disposing of dog waste / cleaning out kennels emitting foul odours
Clean Neighbourhoods and Environment Act 2005
This Act contains various provisions to assist Local Authorities to look after their areas and consolidates some provisions (such as those in the Dog [Fouling of Land] Act 1996) in one place. Of particular relevance here, the Act allows the Local Authority to make a Dog Control Order.
Dog Control Orders
The Order can require a dog owner (or anyone in control of a dog, such as someone who regularly takes care of the dog) to do / not do various specified tasks as specified in the order. Common specified issues are to keep the dog on a lead in certain areas (eg playgrounds / farmers' fields) and to clean up dog faeces.
The Order applies to any land open to the air and to which public are permitted access (with or without payment). Arguably, this could therefore include shared residential passageways, as any member of the public visiting a neighbour's property would be entitled to and may even require use of the shared land or easement.
If a Dog Control Order is breached, a fine may be imposed. The amount of the fine will be specified in the Order. However if for any reason a sum is not specified, the standard fine will be £75. (This allows the Courts to increase the sum for repeat offenders). A Community Support Officer can also require a dog owner to give their name and address under the provisions of the Act. Refusal to do so (or giving false details) is in itself an offence.
Other options
The Local Authority will always try to engage with a dog owner using one of the above provisions. However if a dog owner's behaviour is so bad that none of the above are successful in preventing their poor behaviour, Local Authorities are committed to take further steps, particularly where the risk of a person being physically harmed by a dog is high. This may include the need for a civil injunction or Criminal Behaviour Order in serious cases.
Other relevant provisions of which dog owners should be aware
Wearing a collar
Under the Control of Dogs Order 1992, any dog whilst in a public place must wear a collar with the owner's name and address including postcode. Owners can be fined up to £5,000 if they fail to ensure that their dog is wearing a collar.The exceptions to this rule are:
Police (or military police) dogs
Sporting dogs when competing
Working sheep dogs
Emergency rescue dogs
Guide dogs
Microchipping
Under the new Microchipping of Dogs (England) Regulations 2015, it is compulsory for all dogs in England to be microchipped. Owners have until 6 April 2016 to chip and register their dogs. For any dogs purchased / born after 6 April 2016, owners must ensure that they are microchipped and registered by the time they are 8 weeks old.
The only exemptions are dogs which cannot be chipped for health reasons. You will need a vet to certify that that is the case.
Note: Microchips come in different sizes so even very small dogs such as Chihuahuas can be microchipped!
If owners fail to ensure that their dog is chipped and registered, they may be served notice to comply by their local authority or community policing team. If after receiving notice, the dog is not both microchipped and registered within 21 days, the owner may be fined £500 for failure to comply.
If you are a dog owner, make sure that you get your dog chipped and registered asap - don't wait until next April as vets will likely be very busy!!
You might also like...
A neighbour's dog continually barks for hours on end because the owner leaves him outside, the dog is obviously distressed by the tone of his barking. One time this went on for 10 hours, I have tried to contact Police and SSPCA but without success. The owners are obviously not responsible to look after a dog which is quite thin. Please please send an inspector to: 114 Craigentinny Road, Edinburgh EH7. Thank you.
None
- 8-Nov-23 @ 1:23 PM
My neighbours have 2 dogs (jack russells)and the owners occasionally leave them at night, barking to all hours.This had been going on for years and the neighbours, and myself are sick of it.I've logged all the barking noises and its in the hands of the Council as its classed as noise complaint.The owner doesn't even walk her dogs.They just got their dogs to breed and make money out if it.
Etta
- 4-Nov-23 @ 6:19 AM
My neighbour has 2 German shepherd's and they are aggressive towards people. We share a garden path but have separate gardens. My little lad went out this morning and the dogs were out in the front garden when my little lad went down the garden path they started to bark and kept jumping up at the fence which is a tiny fence. My little lad is petrified to walk down the garden path when the dogs are out. I have reported issues with the dogs to my local housing and they said to log it down. Can I report what happened to the police
Clai
- 30-Sep-23 @ 5:57 PM
My Neighbore, has a dog boarding business without licence, they have 4- 5 dog at time . They are always bark .
We have dog barking every day for hours at night it bark at anywhere between 2100 an 2300 I have several conditions including triple heart by pass an it wakes me most nights spoken to council but they don't care I even posted a letter to dog owners as they work at unknown times they aren't bothered.Help
I have a horrible little girl living upstairs from me she has lived in building for 9 weeks she said I threatened her and her dog. I didn't. She got police out they didn't do what she wanted so she sent a lawyer after me. When this didn't work she got another dog and they winde the dogs up about 11pm till back of 1 in morning. I am at breaking point. I have a fear of dogs also they have a bad habit of coming at my because of my health related problems, so I don't know what to do anymore I spoke to council I got in contact with my HO I also contacted the MP for my area. I feel as if she is trying to push me beyond my head space limit so what do I do? As I can't go on loving this way. She had 2 kids took off her she couldn't look after the 1st dog and now she has 2 what the f*#k
Tilly
- 10-Jun-23 @ 10:52 AM
My neighbour has 8 adult German shepherd dogs and a birch business. Now few beaches are pregnant and a few have about 20 puppies. The smells are incredible, adult dogs are trained but puppies are barking very early and late at night. Has someone idea what to do?
Jenny
- 18-May-23 @ 4:45 PM
My new neighbour has told his landlady that he's a dog trainer and will have 2 well behaved dogs, now he's moved in it's turned out that he trains dogs to attack and is keeping them nextdoor. Theyve escaped multiple times into my garden and he's denying that it's happened, they bark at unsociable hours and when we've confronted him he was aggressive to my wife. The Police say there's nothing that they can do,so now I can't let my son out alone for fear of the dogs attacking him. I've no idea what else to do
Ste
- 30-Apr-23 @ 1:27 PM
My neighbour top floor tennant Has dog that smells bad dog poo It leads into my bottom floor apartment Silent but clear and deadly , covering all areas Tennant upstairs doesent give two hoots About dirty virouses and fecies plus dirty dog pee ? If dog is filthy owners must be filthy Report is being evaluated aboutthe area
Cinders
- 10-Jan-23 @ 9:22 PM
We have a neighbours that let there dog wonder off for hours and the dog has attacked my dog so I talk to the ladie about her dog and she gets aggressive with me sorry love your dog is the problem he wonders around the hole estate and she dont look for her dog the dog should not be out with no humone or no lead and is a danger this happens every week and i dont no how to go about this
Miss
- 11-Dec-22 @ 12:59 PM
We have a shared yard and my neighbour was attacked by another neighbours dog.we cnt open our doors.its been reported but our landlords aren't doinganything. Police said it has to be muzzled but this hadn't happened
None
- 9-Dec-22 @ 7:19 PM
My neighbour has four English bull dogs, they are mostly left at the rear garden. They always are aggressive towards my jack russel or us and have started destroying my fence. there have been encounters were they have almost broken into our garden. Owners of these bull dogs are not taking responsibility for their dogs behaviour nor are they ready to fix the fence. I have spoken to them thrice about this issue they are unapologetic. What options do I have?
Hello my neighbors have 3 dogs dogs all the time barking noises and the neighbors' daughters bring their dogs. the smell of dog urine from the neighbors' garden is so strong that I can't open the kitchen windows.
Justyna Szachnowska
- 9-Nov-22 @ 10:39 PM
Live in ground floor flat, just witnessed yet again neighbours dog upstairs loose in shared back garden yet again jumping up at bedroom window at my cat just sitting there, are they allowed too let dog roam freely in communualarea and garden?
Boo Boo
- 22-Oct-22 @ 3:53 PM
My neighbour rented out his home and for many years I got on with the people who moved in . The new neighbours have been a nightmare. Shortly after moving in they goaded their dog to attack my 2 cats . I actually whitenesses their child holding their dog in front of one of my cats . Luckily I got my cat in before anything happened. I had a word with the parents but they didn't seem to care.My oldest cat became unwell not long after and I had to have her put to sleep.Thekids often laugh when I go out of the houseand had put RIP chalked outside my drive. Recentlythey had another dog down and it also tried to attack my other catwhen I asked if the dog did try to attack my cat they laughed and said yes. I'm so sick of it all. I have had no peace . I feel like I can't leave my poor cat out when I'm at work as I fear what they will do .It seems there are no laws for if a dog attacks a cat . Please someone can you give me advice on how I deal with them . I own my own house and am now thinking my only option is to move home.
Walking past somebody's garden on the front the dogs run up behind almost jumped over grabbed Hold of My Hood on my coat turn it off if I don't bring a couple of inches closer and I've been fit there was no sign on the game saying keep distance from fence and it's Ripped My Hood completely off my coat if it was a child walking past it's a big dog there's no nothing saying woke up from the fence it's dangerous I'm just worried child walking past and the dog jumps and its brands of the child so I'm wanting to know who do I contact about it it I didn't do anything when it's Ripped My Hood off I was shocked so I just left it and walked off so I'm wanting to do something about it
Louise
- 4-Oct-22 @ 5:31 PM
We live in a bungalow for disabled people the couple next have a daughter who goes around to their home regularly nearly every day she gas a puppy that cobstantly barks , every time I go in my garden its barks at me we have no peace from it ,Ive spoken to the guy who lives there and it did get vetter for a while now its back to barking again ,it drives you mad when your poorlyin bed .What can I do about it please .
BevsieB
- 21-Aug-22 @ 7:11 PM
I live in a cul de sac and my neighbour to the left has a dog walking and pet sitting business, however he is boarding he says he is not but he clearly is, the peace and quiet has gone the dogs start barking early every morning (up to 10 dogs). The most I have seen in the garden is 16. The smell of dog dirt and dog urine means I cannot sit out and relax or eat, there are so many flies I have to keep the house windows closed. How can a business be allowed in such a tight area, there have been a lot of complaints and nothing seems to be getting done about it.
Buggles
- 9-Aug-22 @ 1:41 PM
Hi. We have a puppy and we know some of our neighbours don't like dogs. We live in a flat. We have asked management company if we can have a dog before we bought him no written permission as lease doesn't state that we need one. We have received a letter that directors received an official complaint about barking and we need to remove our puppy. We haven't heard any complaints before from the neighbours. If our puppy was barking , shouldn't they come a talk to us first? We have a camera so we know what our puppy is doing when we are not at home. And it was only a few times when we left him for a couple of hours. He was hauling at first but only for the short period of time. And it happens twice only. Can anyone advice what our options are?
Loud
- 26-Jul-22 @ 6:50 AM
Hi can someone contact me regarding very bad dog poo smell and neglected dogs also rubbish not been collected by rubbish men it's that bad the smell is coming through to my property 07816066889
Tucker
- 10-Jul-22 @ 3:04 PM
My neighbor 3 little dogs. Since I moved in 2 tears ago ..They never go out to the park. All they do is bark in the garden , I have recorded them few times .. when neighbors leave they are in the garden barking all day all night. I feel so bad for them ...there is no even grass in that garden ...all three dogs fitting and barking..who shall I contact..that's so cruel to the animals..s
Laura
- 1-Jul-22 @ 11:53 PM
My neighbours dog frequently gets out and is completely out of control of the owner, the owner cannot get the dog back in as the puppy thinks it's a game, & just keeps running away. It takes several people to get the dog back in, & treats/toys etc do not work. This dog is used as a police training dogs usually and it has been said it shouldn't be a pet by professionals. However it's got to the stage we cannot take our own dogs on our own front for the fear it will attack our dogs, as it's always off the lead when it gets out, she says it won't harm you but then she can't even grab her own dog to me that's fear, the dog will just intimidate you by barking at you, and even though ours are or the lead when out it doesn't stop the dog coming over and attacking. As a wheelchair user I find getting out in the back garden more difficult so we purposefully built something on the front porch to have parties/family barbecues. We have now had to change where it is to the back garden which is difficult for me & we shouldn't have to, me and my pets should feel safe where we live. It's absolutely ridiculous and the dog just won't listen. I don't want the dog destroyed or anything like that, like I said it would be an amazing police dog, but the owner is not capable to control the dog which isn't fair on the dog or anyone around them. The police said they won't do anything unless it bites, but by then it's too late. This is ridiculous, any advice?
Dee
- 26-Jun-22 @ 4:20 PM
The dog in the road opposite to me (their garden faces my house) barks all day and I am trying to get better from health issues but it's driving me and my neighbours crazy. We've heard her shout at it and the poor dog is out in all weathers. She's just in Allen rd, 3 bungalows, and she's the last one before you turn into Morgan Way. Any advice please. None of us will knock as she sounds a very loud mouth person, and I can't go as I've got bad mobility problems. Thanks.
Gill
- 5-Jun-22 @ 12:24 PM
My neighbour, s dog barks no stop the lady is eldly not a nice lady were you can talk to her about it she has 2 dogs they fright all the time it's that bad one dog ends up yelping she sometimes stands in her back door and watch,s the dog fright and bark people are shouting shut it up but she takes no notice you can not even sit in your own back garden without it barking please can some one help
Claire
- 6-May-22 @ 9:41 AM
This neighbor lives at 75 Thriston drive Mayfield Dale Cramlington Northumberland she got three dogs them barking up to 12 day all the time iam we got a one problem with her dogs them barking all the time she does not takes her dogs for a walk they all in the her garden we got little puppy he has not left that long time and we come back from shopping we go out to shopping we does not leave our puppy four or five hours day we are back home but they are not
Shaz
- 4-May-22 @ 9:20 AM
Over the rd from me dog is constantly barking Iv not been in good health had COVID and doctors said I need rest i sleep in frunt bed room and dog is driving me mad Iv put letter in there door but no luck thay turn a blind eye on it Iv reported it to Bristol city council no luck wait can I do pls ??
Mags
- 30-Apr-22 @ 7:50 PM
I back onto a field and with the winds one fence panel keeps coming down as cannot put in deep post due to tree conservation order, it is a favourite place to walk dogs, there is one person who doesnt control their dogs and the dogs come into my garden, when I said control your dog so they dont come into garden I was told fix your 'FING' fence, I am 60 this year and cannot fix the fence myself so have to wait for other people, I have young grandchildren so do not want dog poo in my garden nor for them bounding about as the dogs are not controlled appropriately what can I do?
Sam
- 29-Apr-22 @ 6:48 PM
My mums neighbour is elderly and having problems with her next doors dog getting in her backgarden & fowling in there the dog is outside mostly all the time anyway the police have been out and are doing nothing
Arty
- 12-Apr-22 @ 11:32 AM
Our neighbours flat roof runs alongside our yard and he has recently started to look after his daughters dog a big American bulldog Cross. He let's it out on the flat roof and it lears into our yard barking and growling. I asked him if there was any way of putting a fence along the perimeter of the roof because the grandchildren are afraid and we are worried it might jump in. He replied with a barrage of abuse and basically said if you don't like it don't let the kids in the yard because that dog is going nowhere. I contacted the police who advised me to contact the council and they advised me that its not really something they can help with
Barry
- 20-Mar-22 @ 9:21 PM
Hi we have an aggressive dog who lives next door to us the police have been involved but to no avail she still keeps it off the lead and it runs into both our gardens and if we were outside it would definitely bite us AGAIN it never stops barking and the dog warden won't help and the police told us to phone them!
Shazza
- 7-Oct-21 @ 3:08 PM