Problem Dogs: the Law and Who to Contact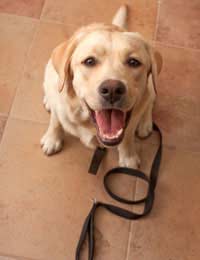 "My neighbour's dog keeps breaking through the fence and attacking my dog"
"My neighbour's dog regularly poos outside my gate and she refuses to clean it up"
"A neighbour has an aggressive dog that he uses to intimidate all the local residents"
Unfortunately these and similar complaints are all too common. The first step is always to try to politely speak to your neighbour, explain the problem and how it affects you, and try to agree a way forward. But what can you do if your neighbour is not prepared to make changes and resolve the issue between you?
Who Can Help with Dog-related Disputes?
Your Local Authority and Policing team may be able to assist with dog-related disputes and dog-related anti-social behaviour issues. Here are some of the measures that can be implemented:
Acceptable Behaviour Contracts
Community Protection Notices
Dog Control Orders
Civil injunction or Criminal behaviour orders
The Anti-Social Behaviour, Crime and Policing Act 2014
This act gave the police various powers to try to tackle these sorts of problems at an early stage. The stated purpose of the Act is:
'to encourage responsible dog ownership and reduce other incidents involving dogs such as straying and the use of dogs for intimidation, through early engagement and education, and overall to prevent problems becoming more serious and thus reduce the number of dog bites.'
The Act extends the remit of the Dangerous Dogs Act 1991 to make it an offence for a dog to be dangerously out of control anywhere, including in the owner's home. It also specifies that an attack on an assistance dog (such as a guide dog) is an aggravated offence due to the impact on the more vulnerable owner.
The Act created two ways for Local Authorities and Community Police to try to tackle more minor dog-related incidents before the problem becomes more severe:
Acceptable Behaviour Contracts
The aim of these contracts, (often called "ABCs") is early prevention of issues and re-education; they provide an opportunity for Local Authorities and / or the police to engage with a dog owner and give them advice on animal care and training. They can also discuss the impact of the offender's actions on those around them.
These agreed behaviour contracts are not legally binding and breach of an "ABC" is not an offence. However breach of a contract may be used as evidence by the police when prosecuting an individual under statutory offences (discussed below).
Community Protection Notices
These notices are used for lower level incidents involving dogs, such as failure to control an animal (where no one has been physically hurt) or where an animal is causing a nuisance to other people or animals. Only organisations or those over 16 years can be given a Community Protection Notice.
The test for applying a Community Protection Notice is as follows:
Is the animal's behaviour having a detrimental effect on the quality of life of those in the local area?
Is the behaviour persistent and continuing in nature?
Is the behaviour unreasonable?
A Community Protection Notice can specifically prohibit or require a dog owner to carry out certain actions. (For example, a prohibition to walk their dog near a local school around school start and finish times.) Owners must be given a reasonable amount of time to comply with the notice. What is a reasonable period of time will depend upon the requirement or restriction; 10 minutes may be reasonable to put a lead on a dog, whereas 7 days would be a more reasonable period of time for a fence to be fixed.
If a Community Protection Notice is not complied with, an individual may face a £100 fixed penalty, or for more serious breaches, be prosecuted (breaching a notice being a criminal offence) and potentially fined £2,500. For organisations, the potential fine upon conviction is £20,000.
Common Prohibitions:
Entering certain areas (eg playgrounds)
Not exercising at certain times
Certain people to not have control of the dog (eg small children)
Common Requirements
Keep on a lead / muzzling in certain areas
Neutering the dog
Fixing fences to prevent dogs escaping from a property
Installing a letter cage to protect postal workers
Properly disposing of dog waste / cleaning out kennels emitting foul odours
Clean Neighbourhoods and Environment Act 2005
This Act contains various provisions to assist Local Authorities to look after their areas and consolidates some provisions (such as those in the Dog [Fouling of Land] Act 1996) in one place. Of particular relevance here, the Act allows the Local Authority to make a Dog Control Order.
Dog Control Orders
The Order can require a dog owner (or anyone in control of a dog, such as someone who regularly takes care of the dog) to do / not do various specified tasks as specified in the order. Common specified issues are to keep the dog on a lead in certain areas (eg playgrounds / farmers' fields) and to clean up dog faeces.
The Order applies to any land open to the air and to which public are permitted access (with or without payment). Arguably, this could therefore include shared residential passageways, as any member of the public visiting a neighbour's property would be entitled to and may even require use of the shared land or easement.
If a Dog Control Order is breached, a fine may be imposed. The amount of the fine will be specified in the Order. However if for any reason a sum is not specified, the standard fine will be £75. (This allows the Courts to increase the sum for repeat offenders). A Community Support Officer can also require a dog owner to give their name and address under the provisions of the Act. Refusal to do so (or giving false details) is in itself an offence.
Other options
The Local Authority will always try to engage with a dog owner using one of the above provisions. However if a dog owner's behaviour is so bad that none of the above are successful in preventing their poor behaviour, Local Authorities are committed to take further steps, particularly where the risk of a person being physically harmed by a dog is high. This may include the need for a civil injunction or Criminal Behaviour Order in serious cases.
Other relevant provisions of which dog owners should be aware
Wearing a collar
Under the Control of Dogs Order 1992, any dog whilst in a public place must wear a collar with the owner's name and address including postcode. Owners can be fined up to £5,000 if they fail to ensure that their dog is wearing a collar.The exceptions to this rule are:
Police (or military police) dogs
Sporting dogs when competing
Working sheep dogs
Emergency rescue dogs
Guide dogs
Microchipping
Under the new Microchipping of Dogs (England) Regulations 2015, it is compulsory for all dogs in England to be microchipped. Owners have until 6 April 2016 to chip and register their dogs. For any dogs purchased / born after 6 April 2016, owners must ensure that they are microchipped and registered by the time they are 8 weeks old.
The only exemptions are dogs which cannot be chipped for health reasons. You will need a vet to certify that that is the case.
Note: Microchips come in different sizes so even very small dogs such as Chihuahuas can be microchipped!
If owners fail to ensure that their dog is chipped and registered, they may be served notice to comply by their local authority or community policing team. If after receiving notice, the dog is not both microchipped and registered within 21 days, the owner may be fined £500 for failure to comply.
If you are a dog owner, make sure that you get your dog chipped and registered asap - don't wait until next April as vets will likely be very busy!!
You might also like...
My neighbor 3 little dogs. Since I moved in 2 tears ago ..They never go out to the park. All they do is bark in the garden , I have recorded them few times .. when neighbors leave they are in the garden barking all day all night. I feel so bad for them ...there is no even grass in that garden ...all three dogs fitting and barking..who shall I contact..that's so cruel to the animals..s
Laura
- 1-Jul-22 @ 11:53 PM
My neighbours dog frequently gets out and is completely out of control of the owner, the owner cannot get the dog back in as the puppy thinks it's a game, & just keeps running away. It takes several people to get the dog back in, & treats/toys etc do not work. This dog is used as a police training dogs usually and it has been said it shouldn't be a pet by professionals. However it's got to the stage we cannot take our own dogs on our own front for the fear it will attack our dogs, as it's always off the lead when it gets out, she says it won't harm you but then she can't even grab her own dog to me that's fear, the dog will just intimidate you by barking at you, and even though ours are or the lead when out it doesn't stop the dog coming over and attacking. As a wheelchair user I find getting out in the back garden more difficult so we purposefully built something on the front porch to have parties/family barbecues. We have now had to change where it is to the back garden which is difficult for me & we shouldn't have to, me and my pets should feel safe where we live. It's absolutely ridiculous and the dog just won't listen. I don't want the dog destroyed or anything like that, like I said it would be an amazing police dog, but the owner is not capable to control the dog which isn't fair on the dog or anyone around them. The police said they won't do anything unless it bites, but by then it's too late. This is ridiculous, any advice?
Dee
- 26-Jun-22 @ 4:20 PM
The dog in the road opposite to me (their garden faces my house) barks all day and I am trying to get better from health issues but it's driving me and my neighbours crazy. We've heard her shout at it and the poor dog is out in all weathers. She's just in Allen rd, 3 bungalows, and she's the last one before you turn into Morgan Way. Any advice please. None of us will knock as she sounds a very loud mouth person, and I can't go as I've got bad mobility problems. Thanks.
Gill
- 5-Jun-22 @ 12:24 PM
My neighbour, s dog barks no stop the lady is eldly not a nice lady were you can talk to her about it she has 2 dogs they fright all the time it's that bad one dog ends up yelping she sometimes stands in her back door and watch,s the dog fright and bark people are shouting shut it up but she takes no notice you can not even sit in your own back garden without it barking please can some one help
Claire
- 6-May-22 @ 9:41 AM
This neighbor lives at 75 Thriston drive Mayfield Dale Cramlington Northumberland she got three dogs them barking up to 12 day all the time iam we got a one problem with her dogs them barking all the time she does not takes her dogs for a walk they all in the her garden we got little puppy he has not left that long time and we come back from shopping we go out to shopping we does not leave our puppy four or five hours day we are back home but they are not
Shaz
- 4-May-22 @ 9:20 AM
Over the rd from me dog is constantly barking Iv not been in good health had COVID and doctors said I need rest i sleep in frunt bed room and dog is driving me mad Iv put letter in there door but no luck thay turn a blind eye on it Iv reported it to Bristol city council no luck wait can I do pls ??
Mags
- 30-Apr-22 @ 7:50 PM
I back onto a field and with the winds one fence panel keeps coming down as cannot put in deep post due to tree conservation order, it is a favourite place to walk dogs, there is one person who doesnt control their dogs and the dogs come into my garden, when I said control your dog so they dont come into garden I was told fix your 'FING' fence, I am 60 this year and cannot fix the fence myself so have to wait for other people, I have young grandchildren so do not want dog poo in my garden nor for them bounding about as the dogs are not controlled appropriately what can I do?
Sam
- 29-Apr-22 @ 6:48 PM
My mums neighbour is elderly and having problems with her next doors dog getting in her backgarden & fowling in there the dog is outside mostly all the time anyway the police have been out and are doing nothing
Arty
- 12-Apr-22 @ 11:32 AM
Our neighbours flat roof runs alongside our yard and he has recently started to look after his daughters dog a big American bulldog Cross. He let's it out on the flat roof and it lears into our yard barking and growling. I asked him if there was any way of putting a fence along the perimeter of the roof because the grandchildren are afraid and we are worried it might jump in. He replied with a barrage of abuse and basically said if you don't like it don't let the kids in the yard because that dog is going nowhere. I contacted the police who advised me to contact the council and they advised me that its not really something they can help with
Barry
- 20-Mar-22 @ 9:21 PM
Hi we have an aggressive dog who lives next door to us the police have been involved but to no avail she still keeps it off the lead and it runs into both our gardens and if we were outside it would definitely bite us AGAIN it never stops barking and the dog warden won't help and the police told us to phone them!
Shazza
- 7-Oct-21 @ 3:08 PM
Hi my next door neighbour never puts there dog on a lead at all can be very intimating towards my two children ie growl towards them and sometimes stalks them and very worried one day he might attack them.we have asked for him to be put on a lead but they never listen and causes arguments also when you are out he runs towards you and jumps up you and has also ruined clothes of ours has hes stained them from dirt :( where do we stand in this and can this be reported we live in flats and have a big communal area and now we can't sit outside because of the dog
Harry
- 5-Oct-21 @ 10:25 PM
Hi - does anyone have any experience where the dogs causing you a problem are police dogs? My neighbour has 2 police dogs which are kennelled outside and bark non-stop (at seemingly nothing), as a result they are destroying mine and my partners mental health. We have a dog, as do every single other one of my neighbours, so I fully appreciate it is normal for dogs to bark sometimes...but this is relentless. We have tried shouting over the fence when we have all been in the garden and asked them to politely quieten their dogs down, which they do, but it lasts all of 5 minutes and then they resume. I work from home full time and did prior to Covid-19 so this is not only affecting my personal well-being but also my ability to complete my job. My question is, being as they are police dogs, is the government advice still the same or do we have some grounds to complain given the fact they are working dogs being housed at home? We live in a new build development and the neighbours only got the dogs last year but I can honestly say I would not have purchased my home had I have known that we were going to have to put up with this, we have even discussed selling the home. So sad as it's our first home as well and we love it here despite the pesky dogs next door! I really am at the end of my tether and would greatly appreciate any advice from anyone. Thank you.
Anny Mous
- 8-Jul-21 @ 3:16 PM
What can be done about people who antagonise your dog? I have neighbours who bark, growl and try to scare my dog, which he reacts to. Telling them to stop makes no difference, if anything they seem to make more efforts to rile up my dog more. Sooner or later this could escalate and yet they won't stop. I fear that though they are the cause, me and my dog will be lumped with the consequences. Anyone able to advice? Is there anything in law that can stop other antagonising your dog?
MRunner
- 8-Jul-21 @ 7:18 AM
Im having problems with my neighbours dog, they have a staffy and a spocker, the spocker is sweet and friendly but does not stop barking and the staffy keeps trying to get to my golden retriever. He is so aggressive and has broken through there fence to get to my dog. (they had to put a fence on to my fence, because of the dog). They never walk them, keep them shut in a cage all day. And when I'm home all I can hear are the dogs barking hours on end. To the point I end up leaving the house to get away from it. ( I work from home). The staffy has attacked other dogs in the past. And almost Killed one. He has bit both the owners one had to go and get stitches. They have 4 children in that house!. I have message and confronted many times asking them to sort the barking out but nothing. I have asked them to Secure the fence at the back as he keeps trying to jump over it. one of these days he's going to jump over or break through it and I will end up losing my dog. What do I do. He is so aggressive towards my dog . Help!
Mel
- 15-Jun-21 @ 12:45 PM
Hello there, My next door neighbour door no 11 dogs always leaving without led the dog charge on me couple of time today he charges on my daughter she was get scared keep running jumping behind on her.
Shak
- 7-Jun-21 @ 5:01 PM
My neighbours 2 dogs got out and bite my legs just below the knees at the back hurts like hell
Pretty
- 21-May-21 @ 1:35 AM
My neighbour has 4 dogs, they dont get walked just let out into the back garden , where they bark if we go out into the garden or our dogs go out into the garden may I stipulate that my dogs dont bark unless they want to go out or want something eg a treat. My neighbours go out and leave their dogs for up to 12 hrs at a time most weekends and sometimes during the week without anyone going to let them out or walk them and then after a couple of hours being left they bark constantly till they get home we have had conversations about this and it goes in one ear and out the other. They had 6 for a few months 2 dogs were her daughters they were given back the landlady said they told her they had 2/3 dogs yeah till they got another dog during the first lockdown. Its driving me nuts and my hubby as he works nights and during the day they go out and the dogs bark and wake him up. But they just dont care about leaving them knowing they bark when they are out. Helpppppp!!!!!
Smog
- 25-Apr-21 @ 9:32 PM
I live in a col-de-sac and a nights has a medium sized dog who rushed me the other day, when I open my door to a deliver.The dog was on a lead with the owner child and when I open the door the next thing I was taken back a rushed backward as this dog want to enter my property so I shouted loudly and told it to f.....k off.The next thing the police was call.Whatcan I do?I dont speak to this neighbour..
nutty
- 7-Apr-21 @ 2:34 PM
I have a Disabled woman who stays down stair from me(I stay in a 4 in a block type house)the dog Craps at my front door all the time,Barks nonstop when she is out,recently, sounds like she is locking it in the toilet,I can hear it whining in there,it will also go for you when it gets out...I've reported it to the Council umpteen times,but nothing seems to happen,I really don't know what do do now....Help
Steven
- 27-Mar-21 @ 12:22 PM
I have searched for somewhere to report this strange situation . I noticed in July 2020 that two dogs older fatter one brown Jack Russell one Brown and white also older a bit fat. Seen in the window end of July 2020 a white yorkie older 6 ish. Never seen outside. Hard to see they have been adopted correctly. Also seen December 2020 two white JR with brown/black dots. Also seen JR white small Brown dots.at 2 Brampton road. The people are new to the area 2yrs as far as I know. Pe13. Could have diplomatic amunity as Chinese.
A person who lives in my street let's her dog off the lead all the time. It then chases cats, including my own cat and recently it chased my cat into my back garden and absolutely demolished my back gate by throwing itself at it. This has happened a few times now but never with enough force to break the gate completely. What should I do? I suffer from anxiety, depression and PTSD so I'm petrified of even talking to her.
Neil
- 19-Jan-21 @ 1:46 AM
My next door neighbour has 11 dogs.They're kept in a large kennel in the garden.The problem is the smell.They have artificial grass and allow all 11 dogs to urinate and defecate on this.When the do take it upon themselves to clear up the mess, they put it in a large plastic 10kilo bag which they lean against the fence between theyre and my property. What can I do about it?
HelenT
- 9-Dec-20 @ 8:20 PM
My neighbour has 2 malamute and 1 boxer i see them every day in a small yard no walking no playing no toys even when man walk in yard they go to their kennel poor dogs i feel so heartbreaking when I see them what can I do for them please let me know im sure they don't have any walking it's 6 months I'm seeing them now.
Nash
- 24-Nov-20 @ 8:57 PM
Me n my next door share a drive am confused on how her dogs allways out i fear when i get in out the house whenever i come in the dog runs up to me everytime the dogs does that am shavking n very scared for my life i dont like dogs any dogs am sacred for life as a kid a dog bite me i dont kno who i can ask for help or anything plz tell me what rights she has n what rights i have her dog has messed my grass up poo n weed all over the garden cuz of that we have flys in our house
Son
- 11-Nov-20 @ 1:32 PM
My neighbour keeps leaving her dog for 2 to 4 days at a time. Locked up in a small kitchen. What can i do or report to. Ive spoken to her a few times about it. Told her its abuse andd neglect but she just says its no ones business.Breaks my heart thus dog us alone for so long obviously not enough water.I can hear her whining through the night
Abs
- 8-Nov-20 @ 11:26 PM
l deliver pharmacy prescriptions to peoples homes/flats/mansions all day long and occasionally come across bad dogs but more often bad owners. I wish to report one such lady, who has a small Pomeranian, or what looks to be. She always answers the the with it barking and snarling, and often just lets it run at you, as its trying to bite my ankles she`s just laughing, do you want her name and address?
DRIVER
- 26-Oct-20 @ 6:48 PM
The man who lives a few houses down from myself is constantly allowing his dog to be out of control. He has two fenced secure gardens where his dog can do it's business as it pleases and be free to roam but instead he opens his gates, allows his dog to get into the street off-lead and when it does it poos on pavements, outside people's gates and on some occasions he has actually opened gates to allow the dog to do it's business in other gardens. Of course, because people aren't physically seeing the dog doing it's business but are hearing the man drawing that much attention to himself shouting over the top whenever it's being done (by pretending the dog is escaping his garden when he's actually letting it out himself and opening people's gates) I expect it's being done either maliciously or to get negative interaction because he lives alone and that's the only interaction he will get from someone. He knows the dog is doing the toilet as complaints have been put in before not just in this area but in other areas of the town but he refuses to pick up at the back of him and expects everyone in the street to do it for him. It's also clear the dog does not have a good diet. The dog is friendly, but that could always change. Getting the evidence is a bit of a pain, what legal routes could myself and other people living here go to get this issue solved? Obviously I wouldn't want someone's pet being taken away from them that would be heartbreaking especially if the pet is their only company, but it's clear they are not listening to authority, not able to control their pet or to provide it with the care it needs.
Leah
- 14-Oct-20 @ 5:53 PM
There is this 12 week old puppy next door and the owner leaves it every weekend on a Thursdays and a saturday and a Sunday and the dog is always barking
Chlo
- 1-Oct-20 @ 9:40 PM
I live in afirst floor flat , share a garden with the neighbours on the below flat below. They have lived there 20 years and been good neighbours, so they are 2 adults 1 17year old boy and 1 dog in a small 1 bedroom flat. There 17 year old boyand wanted a dog , the parents gave in and he now has a Staff bull terrier, I say now 4.5 months old. We share a garden and the dog has been doing it crap on my side they do pick up the crap but they do not put cold water on the grass, for the wee in parts the dog has destroyed parts of my grass but they are not bothered. The garden is quiet small and there is no point in putting up a fence as soon as the dog is older and stronger the dog may be over the fence. So my opinion this dog need a lot of space and exercise biggest concern is the boy of 18 and is lazy and they never take it for long walk or run at the park what is at the end of my road, this boy sooner lay in the bed and keep letting the dog out into the garden. They rent the property and I do know there landlord , but I feel he likes a easy life. I really feel sorryfor the this breed need outside space. So I would appreciated your advice and help and support. I would never entertain a dog in these small flats
Peter Davey
- 1-Oct-20 @ 2:04 PM
I live in afirst floor flat , share a garden with the neighbours on the below flat below. They have lived there 20 years and been good neighbours, so they are 2 adults 1 17year old boy and 1 dog in a small 1 bedroom flat. There 17 year old boyand wanted a dog , the parents gave in and he now has a Staff bull terrier, I say now 4.5 months old. We share a garden and the dog has been doing it crap on my side they do pick up the crap but they do not put cold water on the grass, for the wee in parts the dog has destroyed parts of my grass but they are not bothered. The garden is quiet small and there is no point in putting up a fence as soon as the dog is older and stronger the dog may be over the fence. So my opinion this dog need a lot of space and exercise biggest concern is the boy of 18 and is lazy and they never take it for long walk or run at the park what is at the end of my road, this boy sooner lay in the bed and keep letting the dog out into the garden. They rent the property and I do know there landlord , but I feel he likes a easy life. I really feel sorryfor the this breed need outside space. So I would appreciated your advice and help and support. I would never entertain a dog in these small flats
Peter Davey
- 1-Oct-20 @ 2:02 PM